2022年2月,蓝睛灵共开展了3期常规活动、3期看健100无障碍健身活动、1场特别活动。"做你的眼睛"视障陪跑公益活动参与上海市新时代文明实践和学雷锋志愿服务项目评选,并获得第一名。
In February 2022, beYoureyeS carried out 3 regular weekend activities, 3 Fitness 100 accessible fitness activities, and 1 special. The public welfare activity of beYoureyeS was nominated and awarded for Shanghai's best Leifeng Spirit New Era Civility Service. 
翻译 Translator:胡文倩 Hu Susie 王弘毅 Wang Yoyo 
编辑 Editor:张睿莹 ZHANG Rain 李纪元 LI Annie
蓝睛灵编辑部 Lanjingling Editorial Office
"做你的眼睛"视障陪跑公益活动参与上海市新时代文明实践和学雷锋志愿服务项目评选
beYoureyeS nominated and awarded for Shanghai's best Leifeng Spirit New Era Civility Service
2月23日下午,陈晓斌作为蓝睛灵公益组织的代表,在2021-2022年度上海市新时代文明实践和学雷锋志愿服务项目评选活动时进行演讲。
"做你的眼睛"视障陪跑公益活动从无障碍运动开始,把大众印象中的"不可能"变成了"可能",逐渐消除了视障者运动、沟通、就业等各方面的障碍。
Chen Xiaobin, on behalf of Lanjingling, gave a speech during the award ceremony of the Leifeng Spirit New Era Civility Service program in Shanghai on 23rd Feb Pm.
Since the start, beYoureyeS has transformed what, in public opinion, is impossible to reality. 
感谢所有参与、支持、关注蓝睛灵的伙伴们,我们正在齐心协力建设一个美好的无障碍家园!
It started with accessible sports and is now striving to achieve accessibility in sports of greater scope, communication, and the workplace.
During the award ceremony, beYoureyeS was awarded the first place.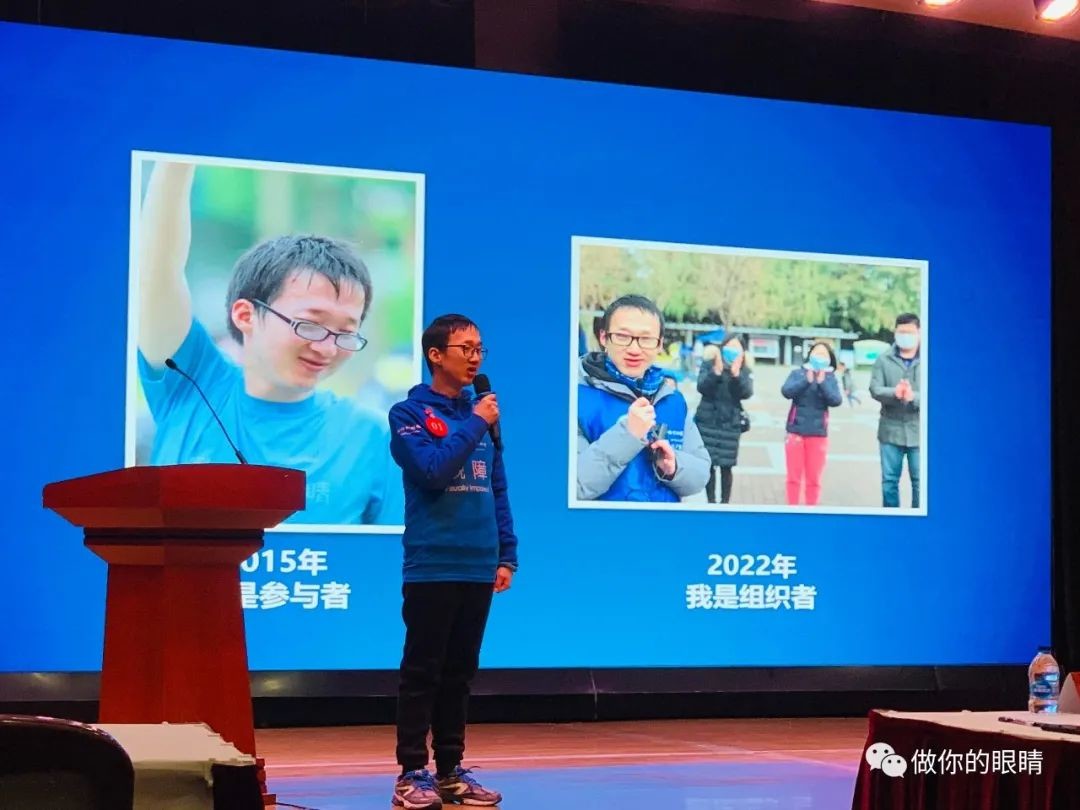 REGULAR WEEKEND ACTIVITIES 
做你的眼睛第274期至276期的常规陪跑活动于2月13日、20日和27日在世纪公园、闵行文化公园开展。
The 274th to 276th beYoureyeS regular weekend activities were carried out are Central Park and Minhang Cultural Park on 13th, 20th, and 27th of February, respectively.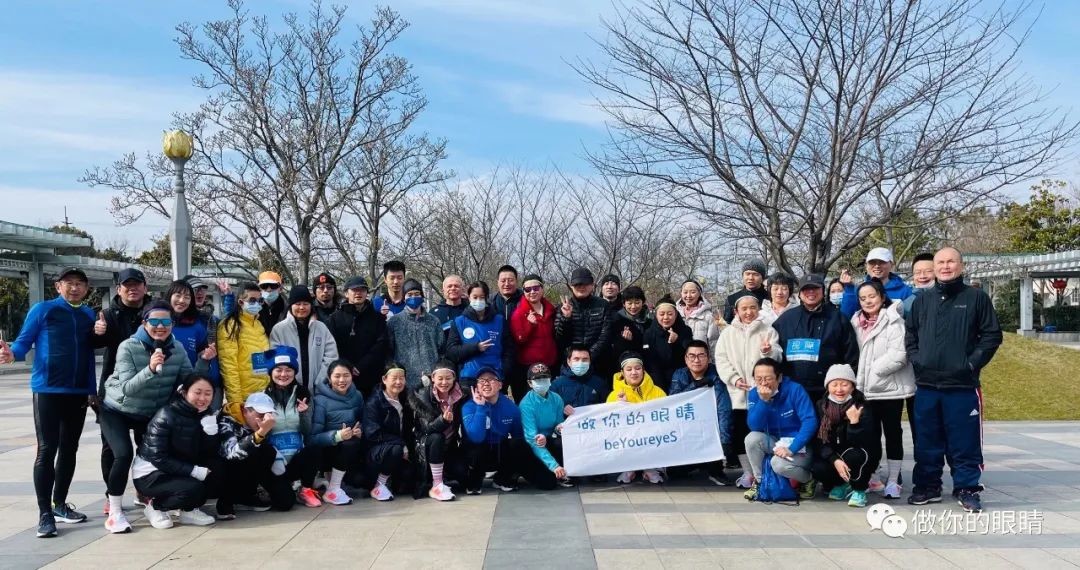 2月27日第276期常规活动中,90后刚毕业正在找工作的小伙子周禹承和陪跑员姜姐边跑边聊,有了第一次户外无障碍运动的体验。
很高兴蓝睛灵又多了一位视障伙伴,希望小周也能实现运动无障碍和就业无障碍。
Regular weekend activities weren't scheduled for the Spring Festival.
In the 276th activity held on 27th Feb, Zhou Yucheng, freshly graduated and searching for work, experienced outdoor accessible running. He chatted with Miss Jiang, his guide runner, while jogging.
We hereby express our warmist welcome to Zhou for joining Lanjingling and wish that his dream of accessible fitness and inclusive employment will soon come true.
她分享到:从第一次参加活动,到今天考核大白通过……跑过的路,看过的风景,携手并肩的视障和健视伙伴,每一步都告诉我,这世界比想象中的宽阔。大家聚在一起,把无障碍的理念、平等的意识,传递给更多人。与此同时我们获得的幸福感,在平凡的生活里仿佛砂金一般熠熠发光。 
During the same session, Ge Yongjing qualified as a Dabai runner.
She said: "since the first time I participated in beYoureyeS regular activities, the roads I ran, the sceneries I saw, and the visually impaired and sighted partners who walked hand in hand with me, every step led me know that the world is bigger than I imagined. Everyone gets together to pass on the concept of accessibility and the awareness of equality to all people. At the same time, the joy and love we get shines in ordinary life.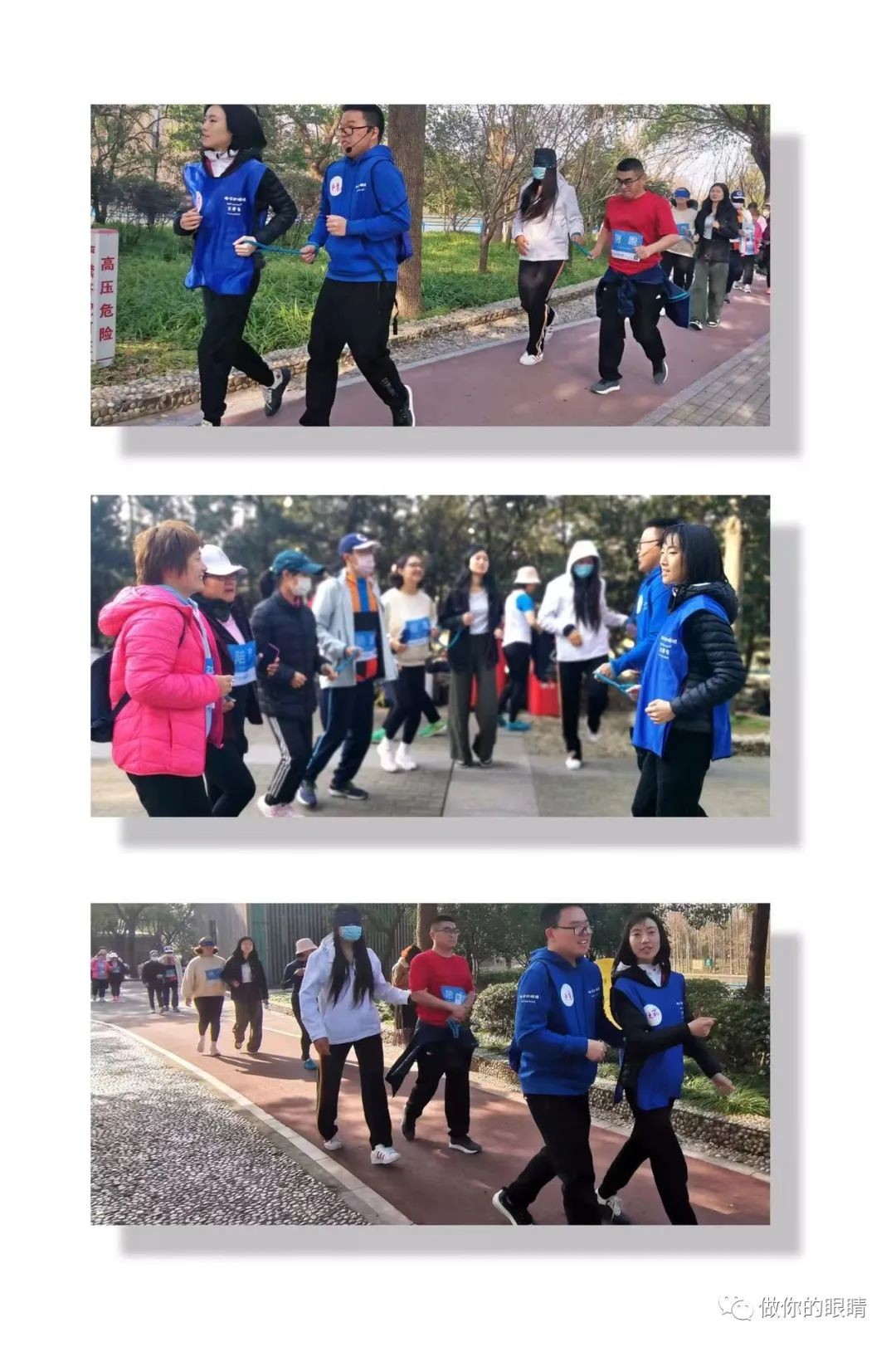 图:每周常规活动 Weekly beYoureyeS activity
2月14日、21日和28日开展了第55期至第57期看健100无障碍健身活动。
第55期看健100活动的时候,Aidon教练和视障伙伴拜访了一家专业健身俱乐部。
有更多的场地,更多的参与者,看健100无障碍健身活动能让越来越多的视力障碍者走进健身房,体验无障碍的健身。
The 55th to 57th Fitness 100 accessible fitness activities were held on 14th, 21st, and 28th of February, respectively. 
In the 55th activity, participants and coaches visited a professional fitness club.
With more gym rooms available for persons with visual impairments and more volunteers, Fitness 100 has laid a solid foundation in the realm of fitness for accessible athleticism.
Lanjingling Spring Singing Bowl Activity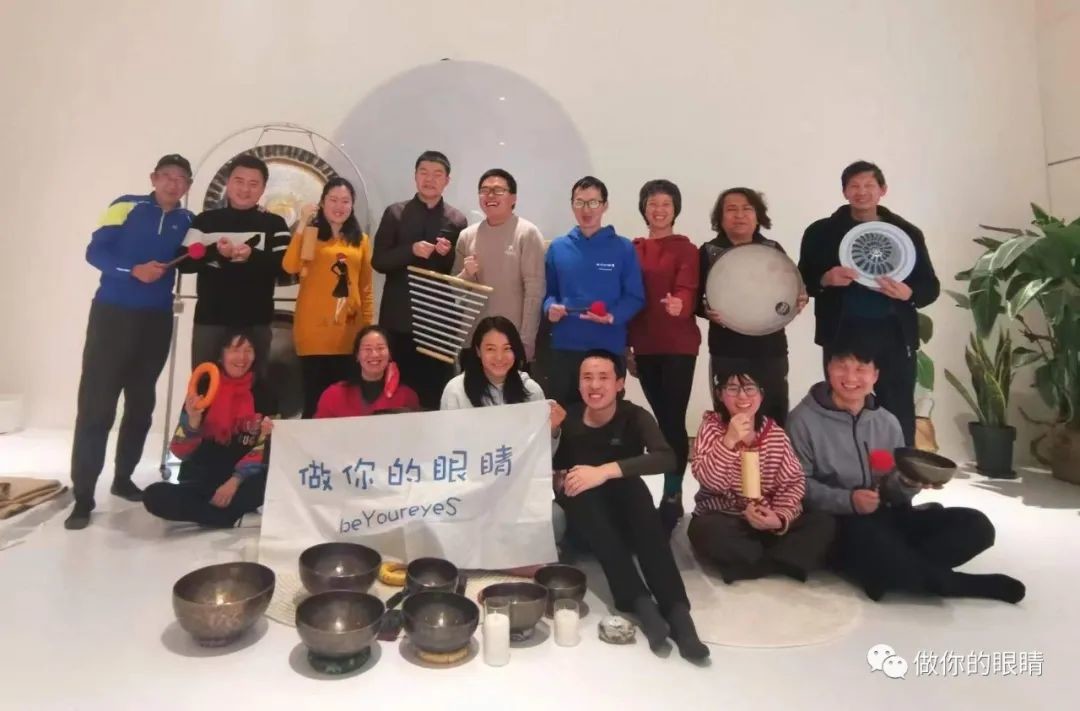 2月4日,立春,万物更生之日,蓝睛灵开展了虎年的第一场特别活动——颂钵体验。
在Creative Shelter 发生所的瑜伽教室里,蓝睛灵的老朋友、瑜伽教练Karen老师那亲切的声音让平和的心境随着春意慢慢地发了芽。大家在一个个颂钵小音符的触摸下,被流水声、海浪声带走了繁杂的思绪,全身心地体验了一次声音与身体交流的心灵之旅。
On February the 4th, the burgeoning of spring, the day when all things come to life, Lanjingling launched the first special event of the year of the tiger - the singing bowl activity.
In the yoga classroom Creative Shelter, the voice of Lanjingling's old friend, yoga instructor Karen, made a peaceful introduction of spring to the mind. Under the touch of the small notes of the singing bowl, complications within the mind were taken away by the sound of running water and ocean waves. Participants experienced a spiritual journey of communication between sound and the body.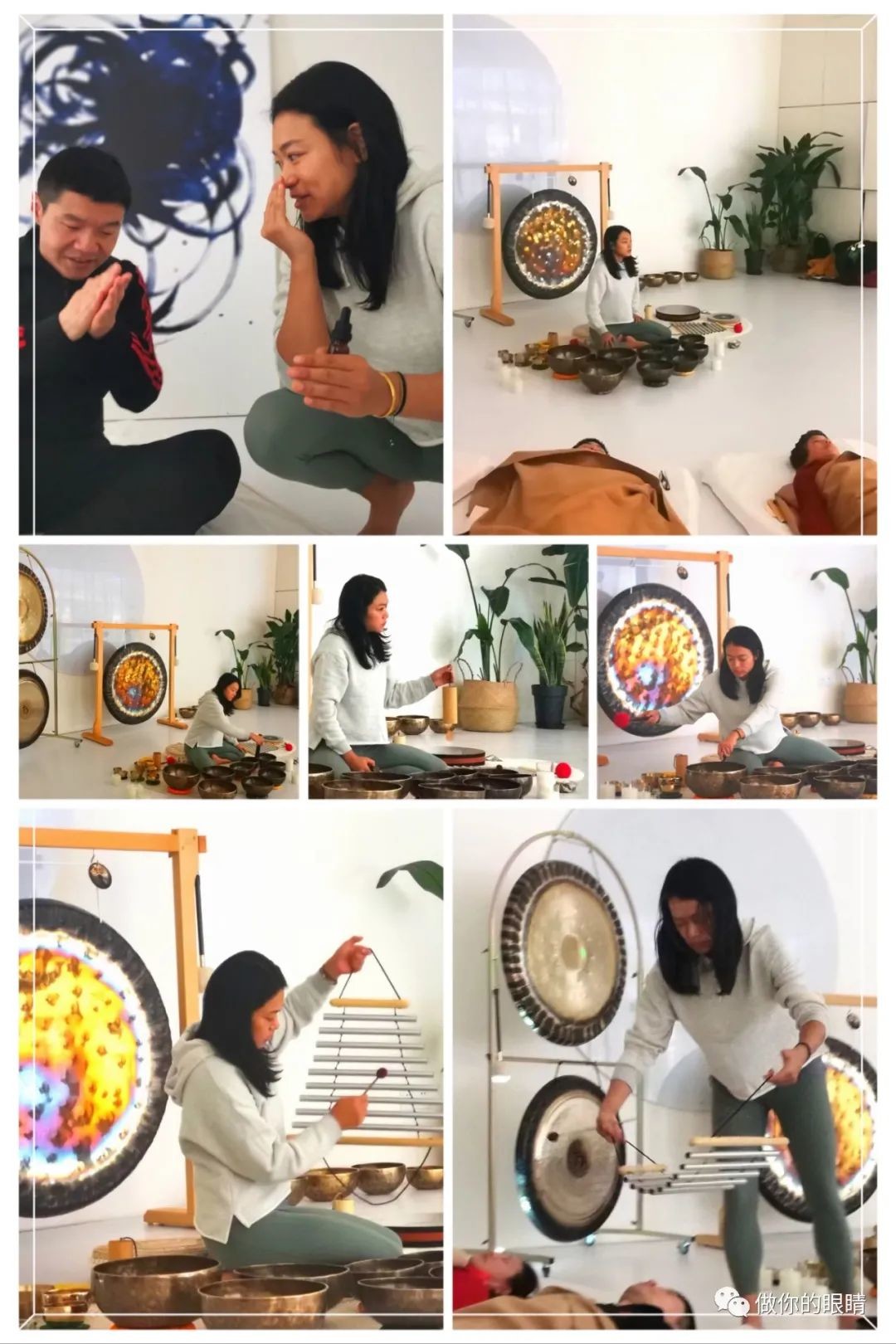 Lanjingling's Colorful Lives
牛年的除夕夜,蓝睛灵编辑部发布了小伙伴们送上的新春祝福,祝大家新年快乐。
On the new year eve, the Lanjingling Editorial Office released its new year blessings.Happy new year!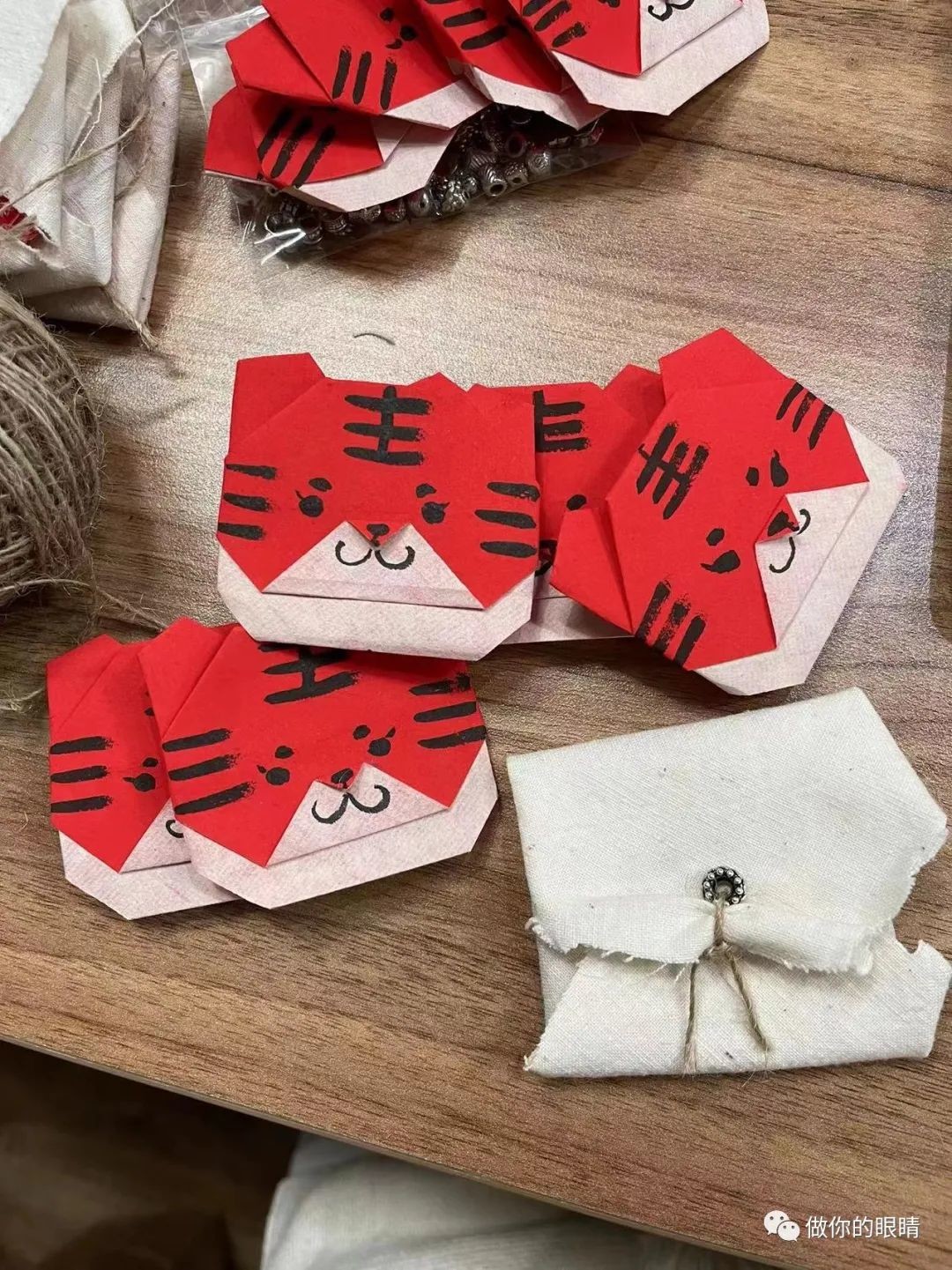 更多的祝福请点击 For more details, please visit:
https://mp.weixin.qq.com/s/gQaKOfS0AJ4jA0QZPA5VkQ
This marks the end of this month's newsletter, thank you for reading.
蓝睛灵参与上海市新时代文明实践和学雷锋志愿服务项目评选

蓝睛灵周刊 | 虎啸风生迎新年,蓝睛灵在颂钵声中感受春天的来临~ 2022第6周(总第286期)

蓝睛灵新春特刊 | 龙腾虎跃迎新春,蓝睛灵把虎年祝福送给您~写在2022虎年除夕 
做你的眼睛是一个民间自发的公益活动,于2015年1月在上海发起,致力于推动运动无障碍,让视障者参与运动变得简单。
beYoureyeS is a local NGO founded in January 2015, in Shanghai, and is dedicated to promoting sports accessibility, making it easier for those who are persons with visual impairments to enjoy sports.
在我们的活动中,无论视障者,还是健视者,都称呼彼此为蓝睛灵,我们的公益组织也叫这个名字。
Whether a runner with visual impairment or unimpaired runner, all of our participants are called "Lanjingling", which is also the name of our NGO.
蓝睛灵的愿景、使命与核心价值观 Lanjingling's vision, mission, and core values
Vision: allow everybody to live in an accessible society
Mission: promote development towards an accessible society through diversity and inclusion focused events
Core Values: Diversity, Inclusion, Equality, Empowerment
beYoureyeS:体验式公益活动、企业社会责任CSR活动、校园融合活动、赛事活动,职场赋能计划;
Weekly running activity, CSR activity, school inclusion activity, race, Vocational-education program
beYoureyeS+100:看健100 、绳上100 、职场赋能百日计划 
Fitness 100, Rope 100, 100Days Engagement
WeChat id: beyoureyes or scan QR code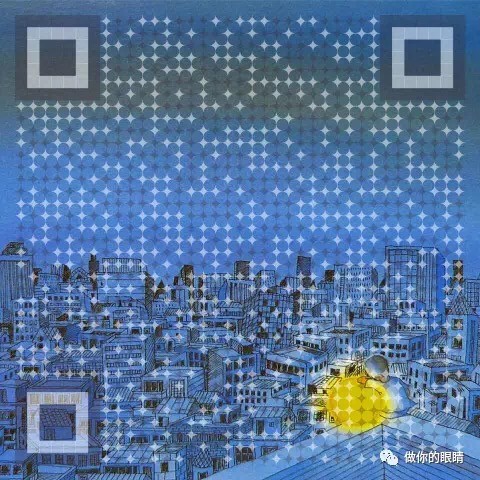 希望我们在比赛中汇集的能量,可以流动到需要它们的人们那里,
希望我们在运动中得到的勇气,让更多的人有力量面对困难。
We hope that whilst we're in the competition together, we may all converge our energy as one to make each and all strong,
We hope that whilst doing sports together, we are able to find the nerve to be strong enough to face challenges head on.