纪元入选2022GMSP"Global Sports Mentoring Program"全球体育运动指导项目。
Jiyuan(Annie) was selected for the 2022 Global Sports Mentoring Program.
In April, Lanjingling carried out 5 online Regular Weekend Activities.
翻译 Translator:童雨萱 Barbie Tong 王弘毅 Yoyo Wang
编辑 Editor:张睿莹 Rain Zhang 李纪元 Annie Li
蓝睛灵编辑部 Lanjingling Editorial Office
Release date: May 25th, 2022
Jiyuan(Annie) Selected for "2022 GSMP" Global Sports Mentoring Program
近日,做你的眼睛联合创始人纪元入选2022GMSP"Global Sports Mentoring Program"全球体育运动指导项目,由于疫情影响,纪元通过线上参加为期一个月的专业课程学习,此举将为蓝睛灵融合体育、无障碍运动的学习和探索注入新的思考与实践。
该项目由美国国务院联合田纳西大学于2012年发起,致力于在全球范围内通过体育运动赋能妇女及残障人士。参与成员均来自世界各地为残障领域做出各自努力的优秀人士。
Recently, beYoureyeS co-founder Jiyuan(Annie) was selected for the 2022 Global Sports Mentoring Program. Because of coronavirus, Jiyuan(Annie) took a month-long professional mentoring program. It will help to bring in new thoughts and practices for Lanjingling in future learning and explorations of accessible and inclusive sporting.
The program was initiated in 2012 by the US Department of State and the University of Tennessee, dedicated to the empowerment of women and people with disabilities by means of sporting. Participants include outstanding chapters from around world that contributed to the empowerment of the disabled.
纪元的项目导师罗伯特(Robert)来自于全球知名无障碍体育中心Ability360。
*Ability360是一个无障碍体育中心,有41年历史,提供各类残障运动(Adaptive Sports) 和融合运动(Inclusive Sports)项目和设施,同时它也是亚利桑那州的独立生活中心(Independent Living Center),提供独立生活、独立工作咨询和服务。
Living Center),提供独立生活、独立工作咨询和服务。
Jiyuan's(Annie) program mentor, Robert, works for the world renowned accessible sporting center Ability 360.
*Ability 360 is an accessible sports center with 41 years of history that provides a variety of facilities and services for adaptive sports and inclusive sports; additionally, it is Arizona's independent living center, providing the people with consultation and other services on living and working.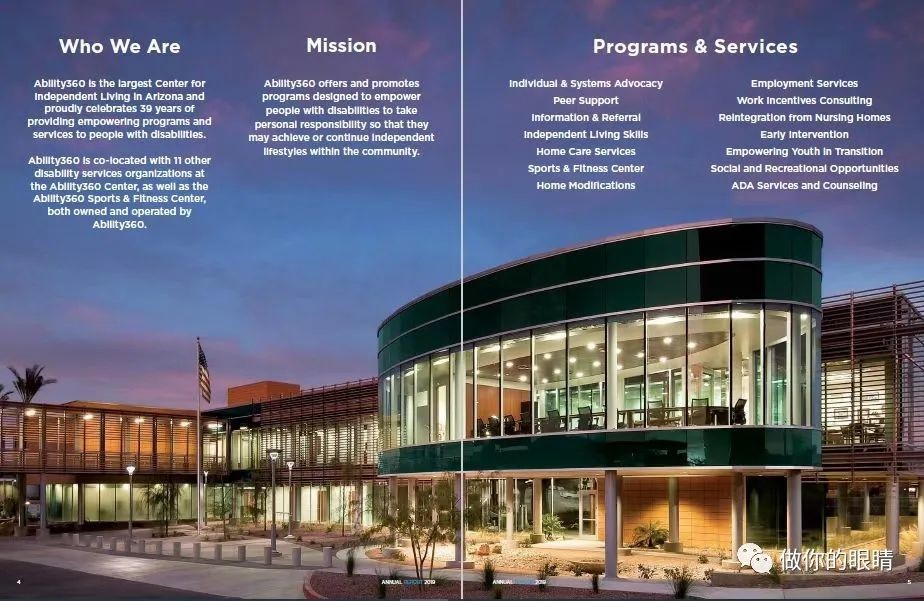 图:全球知名无障碍运动中心Ability360,图中为无障碍运动场馆和独立生活中心。
此前,2019年,蓝睛灵联合创始人向东便前去美国拜访拥有70多年历史的无障碍体育中心TurnStore,他们都是从一个小小的组织发展起来。所以,我们有理由相信并期待做你的眼睛(beYoureyeS)的未来。
蓝睛灵公益组织将助力国内融合体育、无障碍运动接轨国际,使蓝睛灵残障人士获得更多更加专业、可持续的发展机会以及无障碍生活的可能性。
In 2019, Lanjingling co-founder Xiangdong went to America and visited the accessible sporting center TurnStore, whose scale and influence grew over its 70 years of history, starting as a small local organization. We look forward to the day that beYoureyeS gains the same wide influence.
Lanjingling will assist the internationalization of inclusive sports and accessible sports in the domestic sphere, giving professional and sustainable development opportunities and accessible possibilities.
REGULAR WEEKEND ACTIVITIES
做你的眼睛第279期至第283期常规活动,既第2期至第6期挑战100线上活动和线上瑜伽活动于4月3日、10日、17日、23日和30日在腾讯会议APP上开展。
因疫情防控要求,自第278期常规活动开始,常规活动在线上开展,活动主题为挑战100。
The 279th to 283rd regular weekend activities, including the 2nd to 6th online "Challenge 100" activities and two online yoga sessions were carried out on Tencent Meeting App on April 3rd, 10th, 17th, 23rd, and 30th.
Due to Shanghai's lockdown, regular weekend activities turned online with the 278th activity as the first session; the theme was "Challenge 100".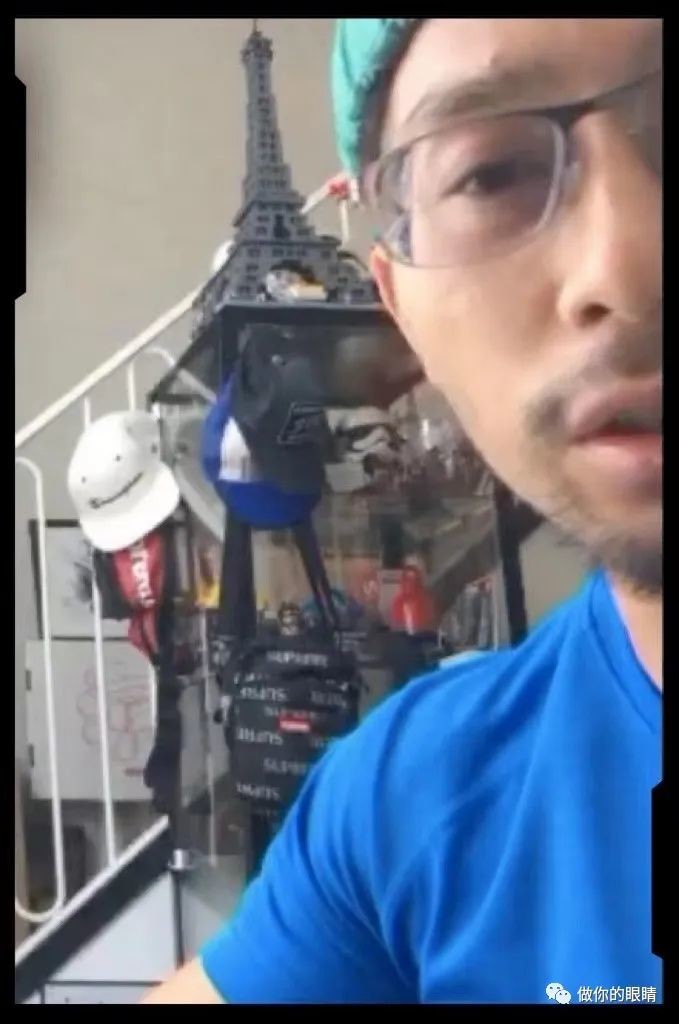 第2期至第4期挑战100线上活动中,蓝睛灵们分享各自练习深蹲和开合跳的感受及经验,还一起在线上练习这两个动作。
In the 2nd to 4th "Challenge 100" online activities, Lanjingling talks about some tips with doing squats and jumping jacks. And practices the two exercises online.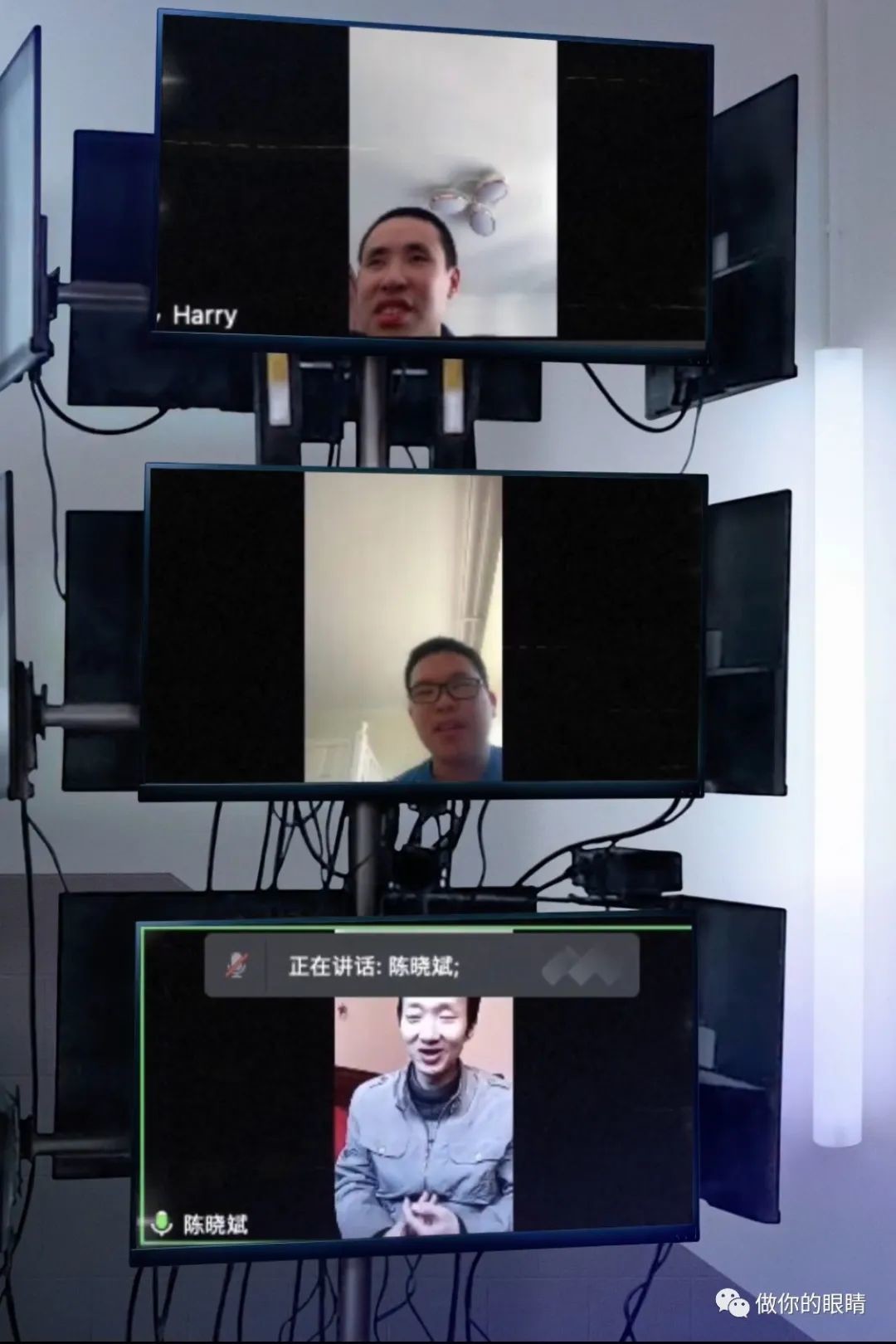 瑜伽教练Karen老师带领大家伸展身体的各部位,调整呼吸放松身心。
所有在线的蓝睛灵小伙伴跟着Karen老师无障碍的引导语,听着一对一的调整指导,了解了动作要领,动作做的越来越到位。
The 5th and 6th "Challenge 100" activities were Yoga sessions.
Yoga instructor Karen guided participants in stretching the body and adjusting the breath to relax the body.
Participants followed Karen's accessible guidance and 1-to-1 instructions. They became better at doing Yoga exercises.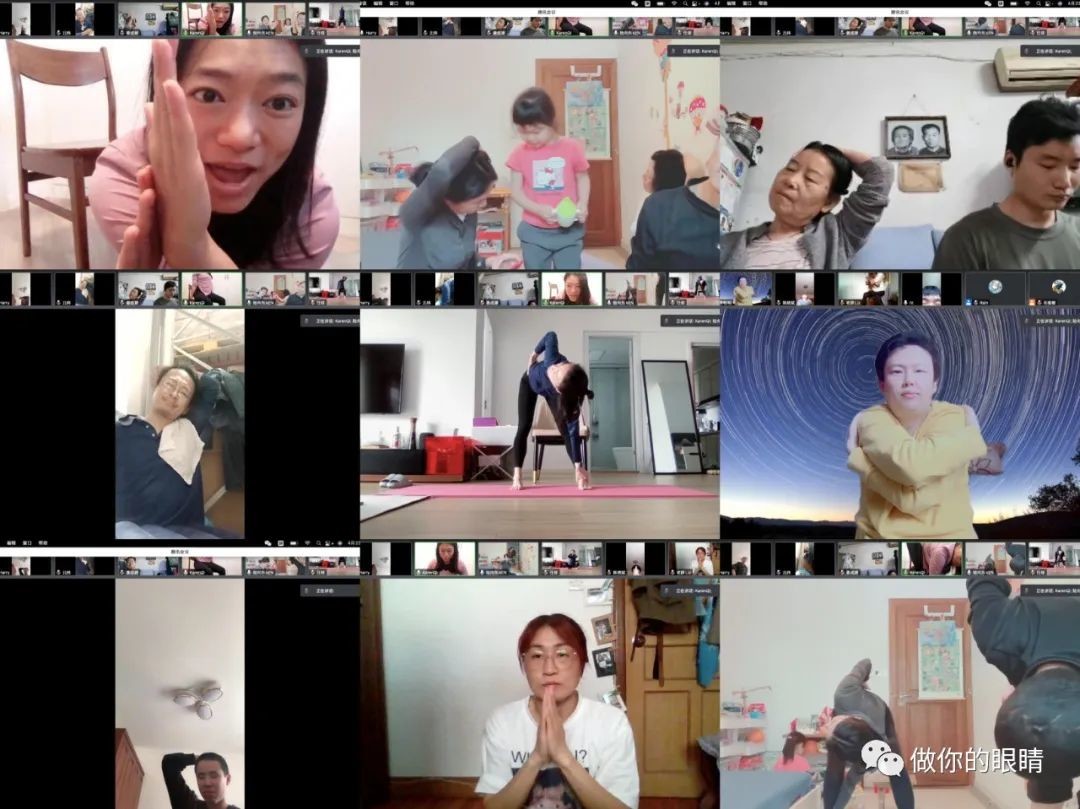 蓝睛灵们坚持无障碍的理念,隔离不隔心,相聚线上一起云健身。
Lanjingling adheres to the concept of accessibility. Quarantine is no separation. "Cloud sporting" will continue online.
"Birdsong Radio" Creative Art Activity
4月6日,做你的眼睛发布公众号文章《"鸟鸣电台"艺术共创邀约——来自艺术家刘毅,Arts Access/融艺,做你的眼睛beYoureyeS》,联合发起"鸟鸣电台"艺术共创邀约。活动陆续收到蓝睛灵小伙伴的作品。在这里,我们诚挚邀请上海、全国各地的蓝睛灵,拿起手中的手机,记录下你家阳台的鸟鸣声。让我们,不负春光,传递爱与温暖,共同守"沪"上海,为上海加油。
On April 6th, the beYoureyeS Official Account published the article "'鸟鸣电台'艺术共创邀约——来自艺术家刘毅,Arts Access/融艺,做你的眼睛beYoureyeS", jointly launching invite for "Birdsong Radio" creative activity. Since then, we received numerous artworks from different Lanjinglings. We hereby invite all Lanjingling members, whether from Shanghai or from other regions, to lift your phone and record the twitters from your balcony. Let us make the spring meaningful, pass on love and warmth, and stand with Shanghai.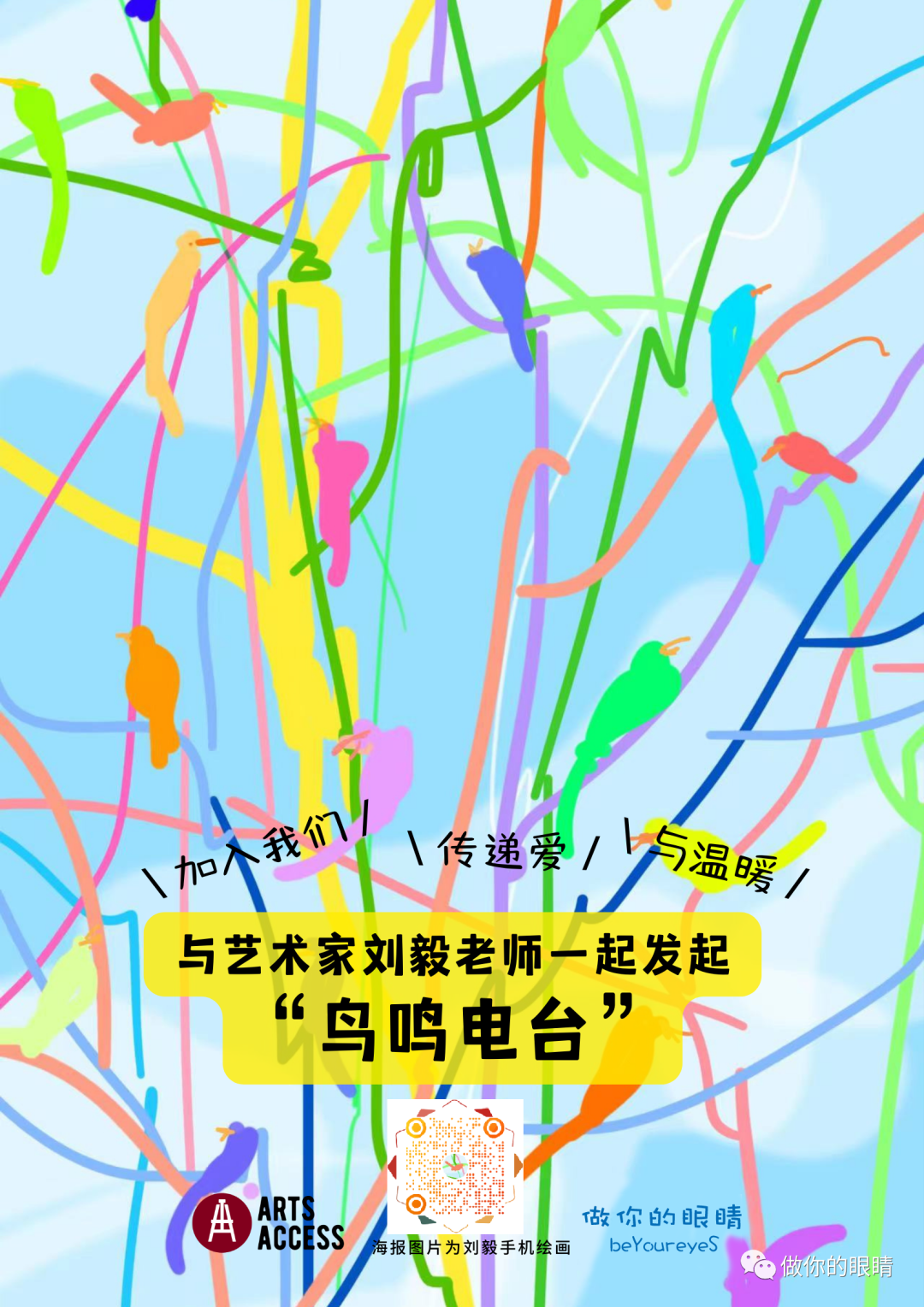 图:"鸟鸣电台"声音提交海报 "Birdsong Radio" Poster
"鸟鸣电台"的创意源自于4月3日,艺术家、大学教授、公共艺术策划人刘毅将自己在疫情期间,家中阳台上听到的鸟叫声录下来并转发在了朋友圈。此举迅速得到积极反馈,越来越多的朋友加入到"鸟鸣电台"的录制中。
The idea of the "Birdsong Radio" came from a WeChat Moment by Yi Liu, an artist, university teacher, and public art designer. In the moment, he shares the bird twitters he heard from his balcony. The act made wide influences as more and more people join in the recordings of their own "Birdsong Radios".
Follow along and record your own birdsong radios; make the colorful spring a memorable one.
视频:鸟鸣电台三个视频 three videos of Birdsong Radios
This marks the end of this month's newsletter, thank you for reading.
蓝睛灵周刊 | "挑战100"第二期线上活动, 我们在云中同频健身 ~2022第14周(总第294期)

"鸟鸣电台"艺术共创邀约 ——来自艺术家刘毅,Arts Access/融艺,做你的眼睛beYoureyeS

蓝睛灵周刊 | 守"沪"上海~当你开始想和花花草草对话的时候,请加入我们的线上活动吧~2022第15周(总第295期)

蓝睛灵周刊 | 居家健身,带来开心好心情~2022第16周(总第296期)

蓝睛灵周刊 | 瑜伽,修行自我锻炼身体,控制情绪释放身心的焦虑和烦恼,带来宁静与安定的内心~2022第17周(总第297期)
做你的眼睛是一个民间自发的公益活动,于2015年1月在上海发起,致力于推动运动无障碍,让视障者参与运动变得简单。
beYoureyeS is a local NGO founded in January 2015, in Shanghai, and is dedicated to promoting sports accessibility, making it easier for those who are persons with visual impairments to enjoy sports.
在我们的活动中,无论视障者,还是健视者,都称呼彼此为蓝睛灵,我们的公益组织也叫这个名字。
Whether a runner with visual impairment or unimpaired runner, all of our participants are called "Lanjingling", which is also the name of our NGO.
Lanjingling's vision, mission, and core values
Vision: allow everybody to live in an accessible society
Mission: promote development towards an accessible society through diversity and inclusion focused events
Core Values: Diversity, Inclusion, Equality, Empowerment
体验式公益活动、企业社会责任CSR活动、校园融合活动、赛事活动,职场赋能计划;
Weekly running activity, CSR activity, school inclusion activity, race, Vocational-education program
Fitness 100, Rope 100, 100Days Engagement
WeChat id: beyoureyes or scan QR code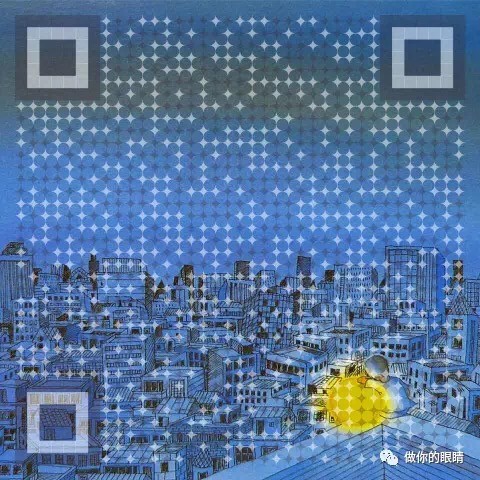 We hope that whilst we're in the competition together,
we may all converge our energy as one to make each and all strong,
We hope that whilst doing sports together,
we are able to find the nerve to be strong enough to face challenges head on.