1月蓝睛灵共开展了2期周末融合活动和2场特别活动,"百日计划"3期开展了4期导师专业辅导课和一对一辅导。
January 2023 marks the 8th anniversary of Lanjingling!
In January, Lanjingling carried out 2 weekend inclusive activities and 3 specials. The "100-Day Engagement" program had its fourth consulting sessions and one-to-one tutoring sessions.
文字 Writer:金星宇 Kimi JIN 陈晓斌 Clark CHEN
翻译 Translator:陆妮可 Nicole LU 王弘毅 Yoyo WANG
编辑 Editor:张睿莹 Rain ZHANG 李纪元 Annie LI
蓝睛灵编辑部 Lanjingling Editorial Office
Release date:Apr 15st, 2023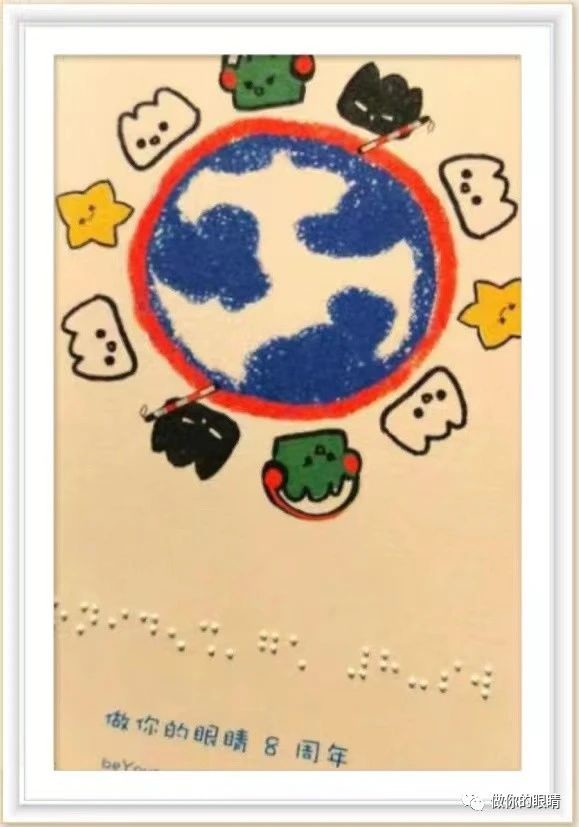 Photo: Lanjingling beYoureyeS Eight Anniversary Booklet Cover
Lanjingling officially turned 8 in January 2023!
一年又一年,不知不觉蓝睛灵8岁了。蓝睛灵除了为大家制作了传统的蓝睛灵周岁纪念本之外,还定制了专属口罩和无障碍宣传卡片。
今年的纪念本的封面上有代表着非残障者、视障者、听障者和心智障碍者的卡通形象,我们在同一个地球上,有着相同的需求,也有着一样的理想。内页中写的是:从"心"认识公益。新的一年,让我们一起向着我们心中无障碍的社会再出发!
A year after another… It's hard to believe that Lanjingling is already eight years old. To celebrate this joyous occasion, Lanjingling not only followed our tradition of producing anniversary booklets, but also made customized masks and accessibility advertising cards to give out to our participants.
This year's anniversary booklet cover features cartoon figures representing people with no impairment, with visual impairment, with hearing impairment, and with intellectual impairment. We hope this conveys the message that we all share the same community, the same needs, and the same dreams. On the flip page, we wrote: "Rethinking public interests with the 'heart'". In the new year, let's work together towards the accessible society in our hearts.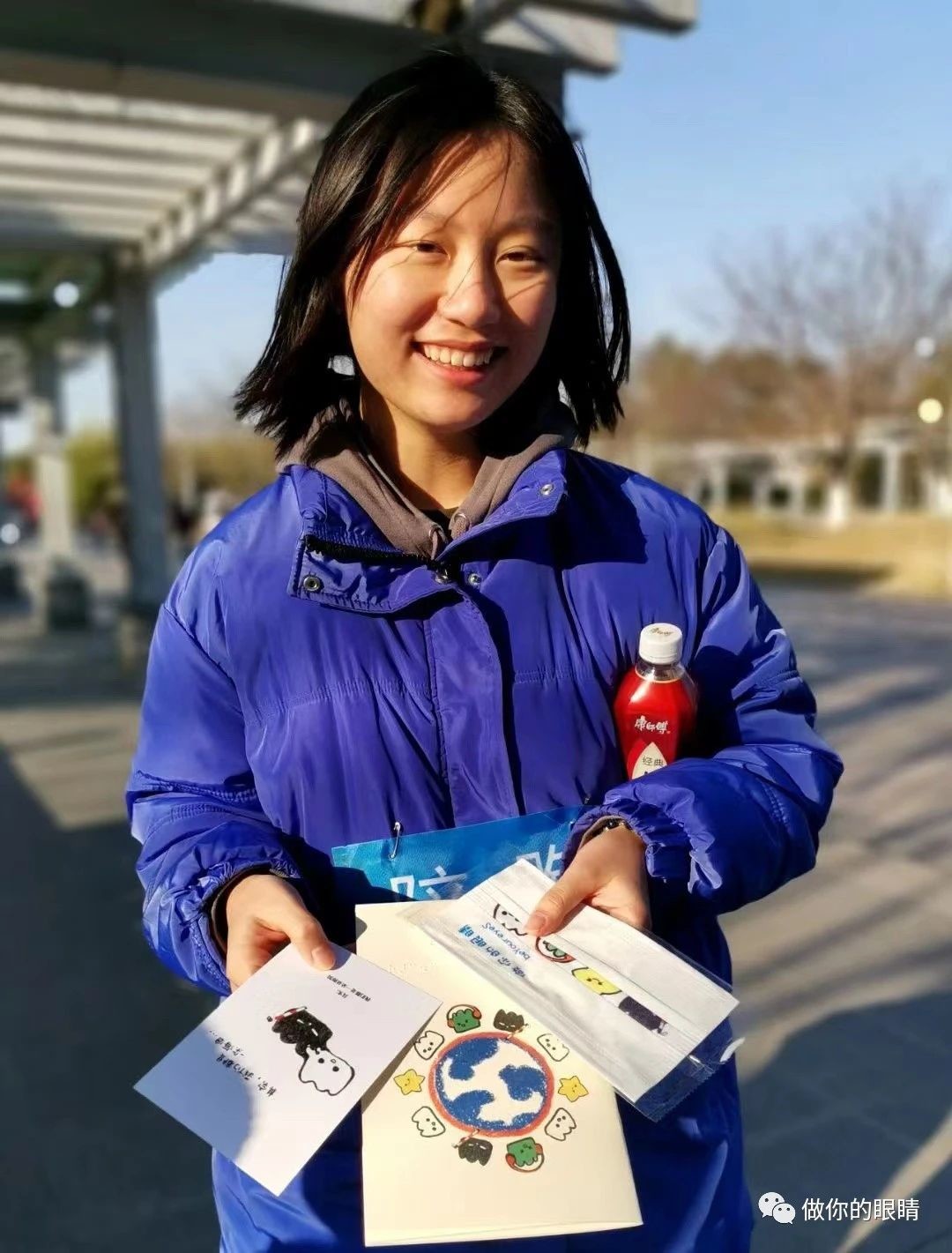 图:蓝睛灵做你的眼睛8周岁纪念本、专属口罩、无障碍宣传卡片
Photo: Lanjingling beYoureyeS Eight Anniversary Booklet, Customized Masks, and Accessibility Advertising Cards
REGULAR WEEKEND ACTIVITIES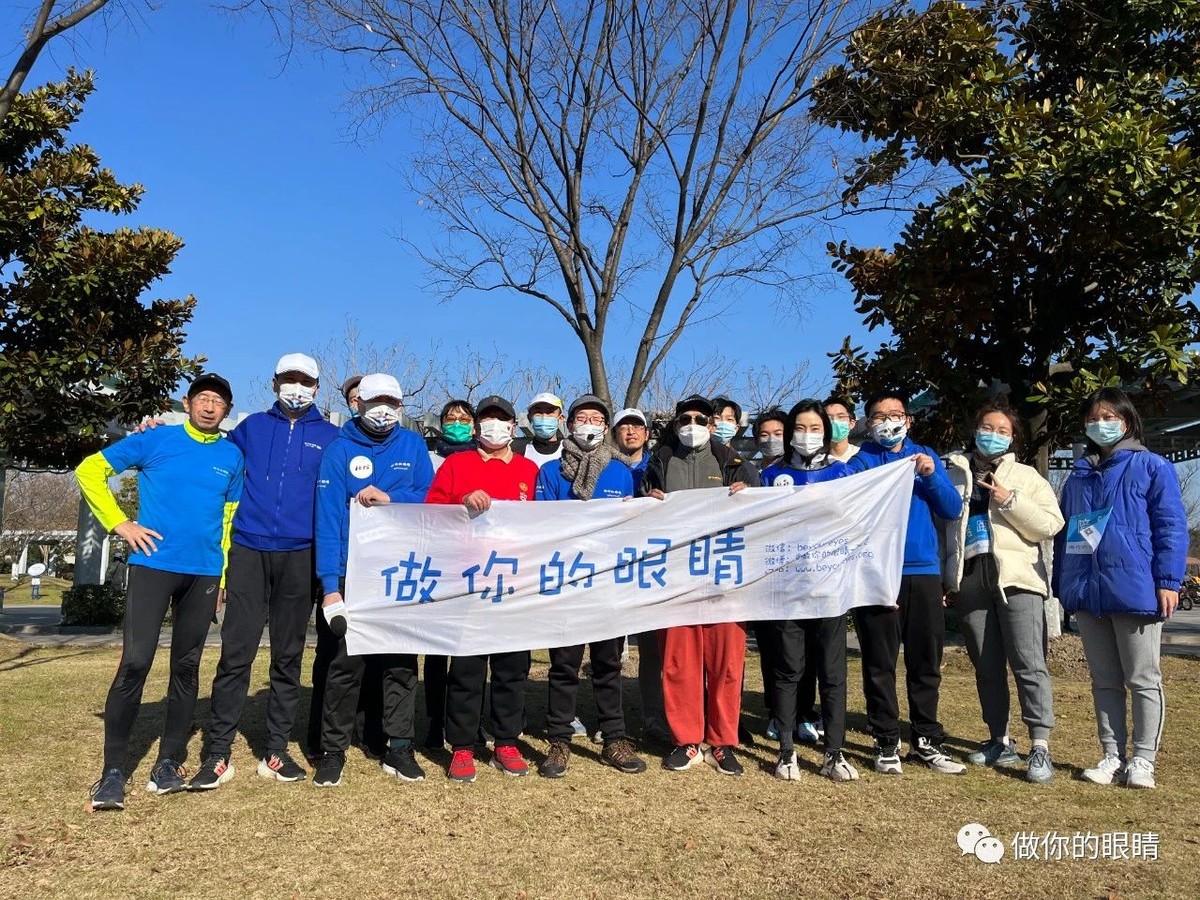 图:第315期融合活动及beYoureyeS 2023 一公里迎新跑集体照
Photo: The 315th Inclusive Running Activity and beYoureyeS 2023 Annual One Kilometer New Year's Run Group Photo
做你的眼睛第315期、316期周末融合活动于1月8日和15日在闵行文化公园、世纪公园开展。
1月8日,因为疫情原因,蓝睛灵们时隔1个月在线下久别重逢,开展了新年第1期活动。
活动中,开展了蓝睛灵传统的beYoureyeS1公里迎新跑活动。随着队长的一声令下,大家一同向前奔去,用运动的热情迎接2023新一年的到来。
1月15日,虎年最后一期活动,大家在世纪公园内踏雪、赏梅,在欢声笑语中迎接兔年的到来。
1月1日因疫情影响、1月22日和29日因春节长假未安排周末融合活动。
The 315th and 316th beYoureyeS weekend inclusive activities were carried out on January 8th and 15th respectively, in Century Park and Minhang Cultural Park.
On January 8th, Lanjingling members participated in the first event of the new year after a one-month hiatus due to the pandemic.
The event featured the annual beYoureyeS 1km New Year's Run. On the referee's note, everyone took off, welcoming 2023's arrival with their passion for sports.
On January 15th, the last event of the Year of the Tiger was held. Participants walked on snow and appreciated plum blossoms as they embraced the coming of the Year of the Rabbit.
The January 1st weekend inclusive activity was cancelled due to the pandemic, and the ones on January 22nd and 29th were cancelled due to the Chinese New Year Festival break.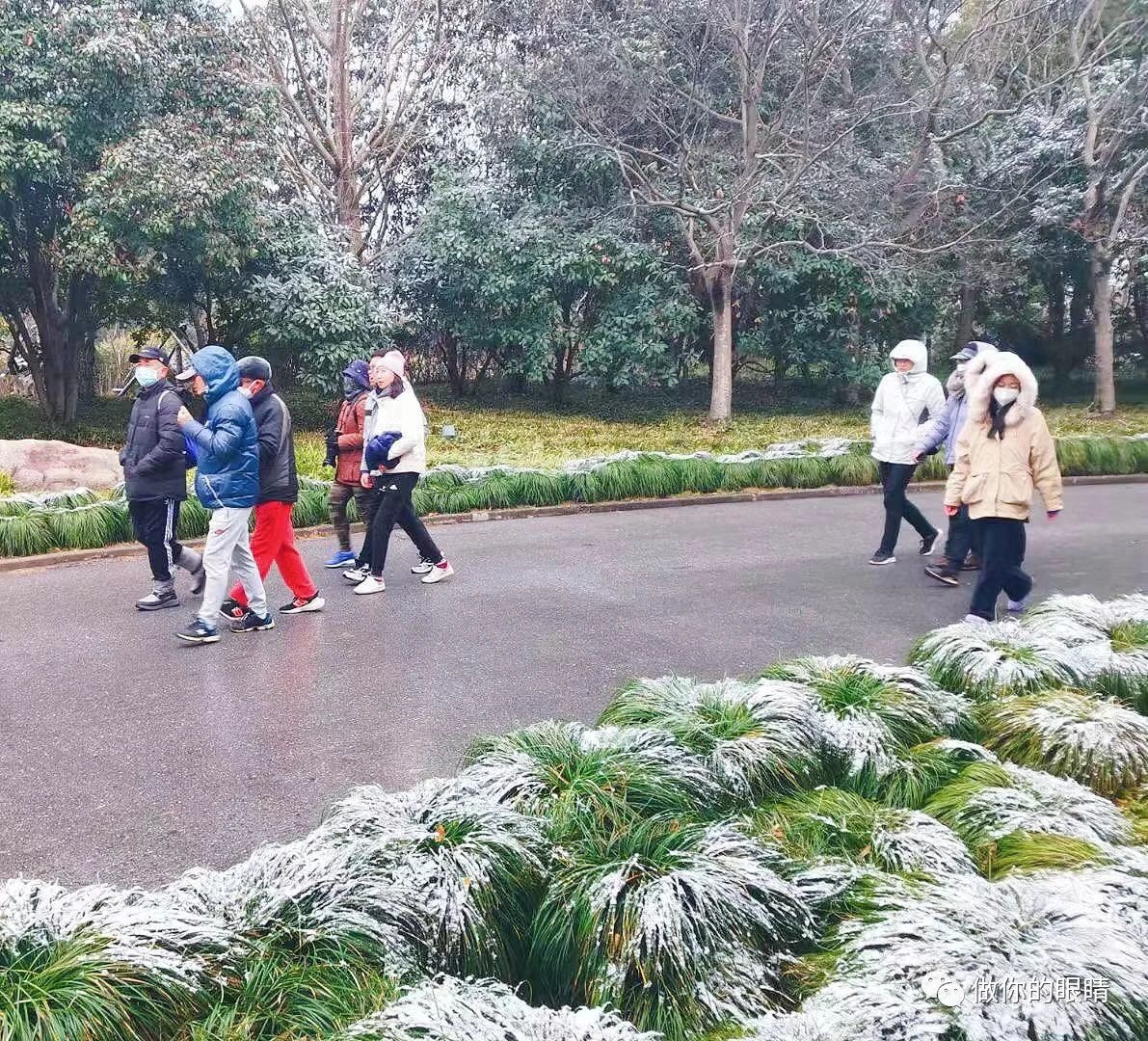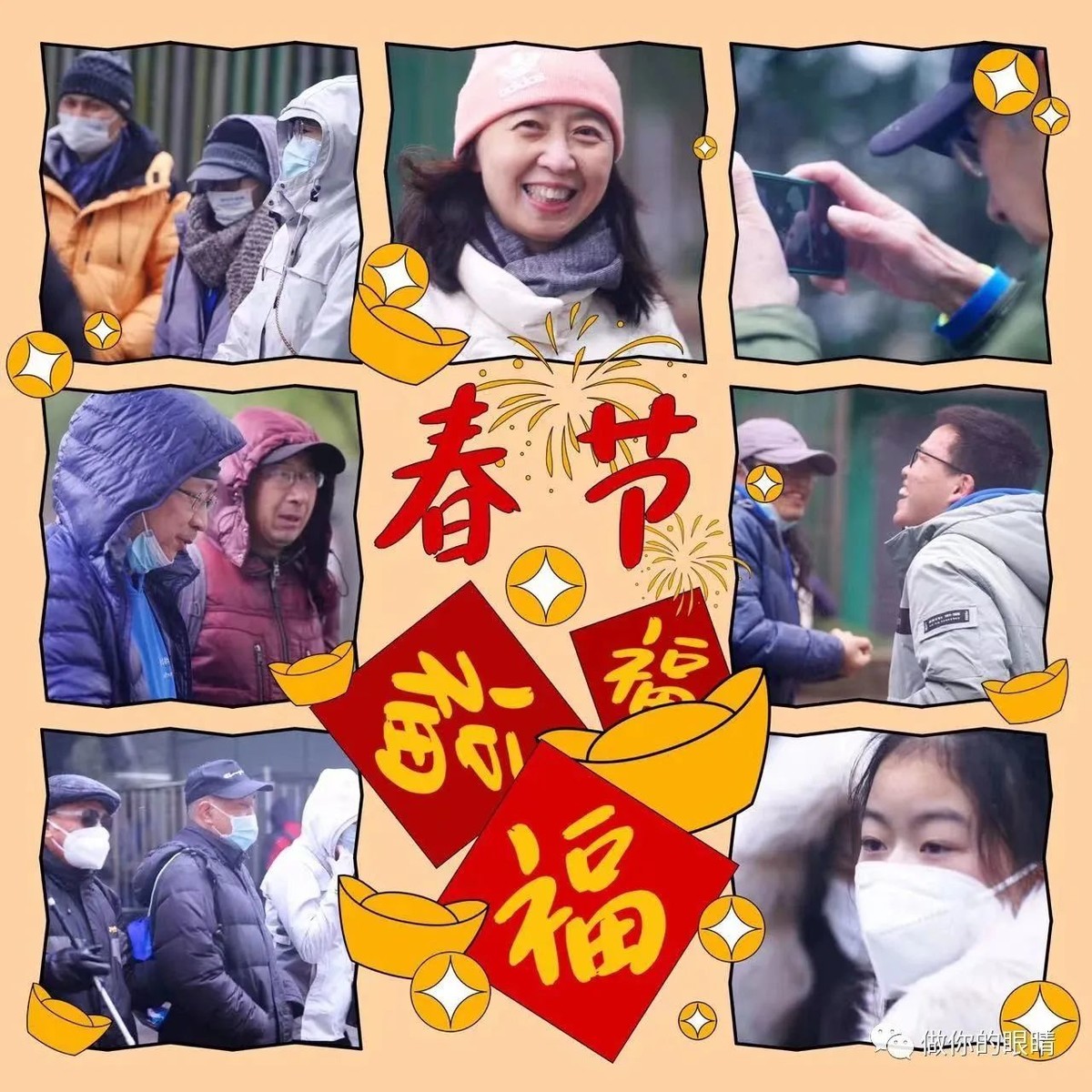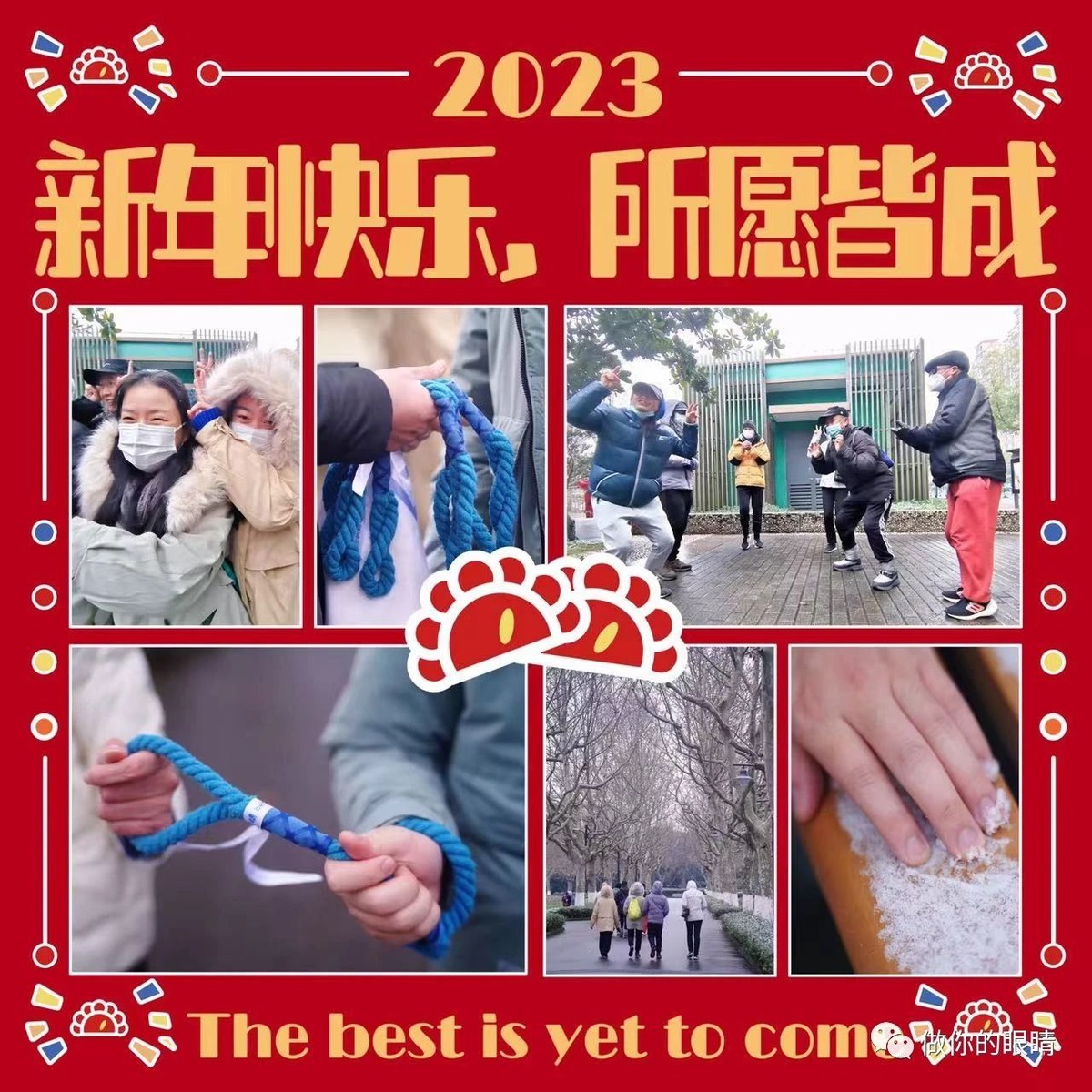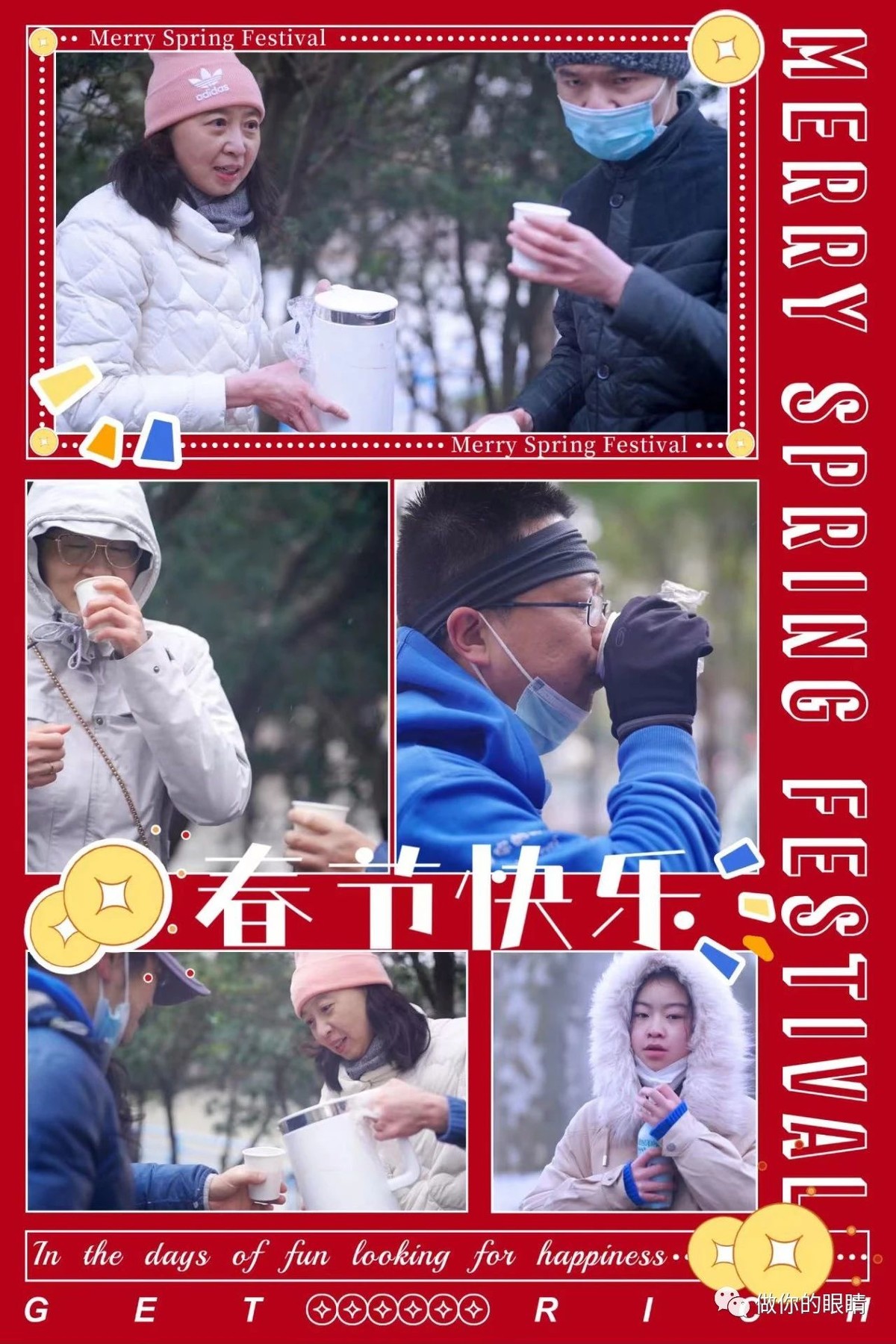 图:我们与世纪公园的初雪,在雪中慢跑,泽华的姜茶-冬日的温暖
Photo: Us and a Snowing Century Park, Running in the Snow, Zehua's Ginger Tea – Warmth in Winter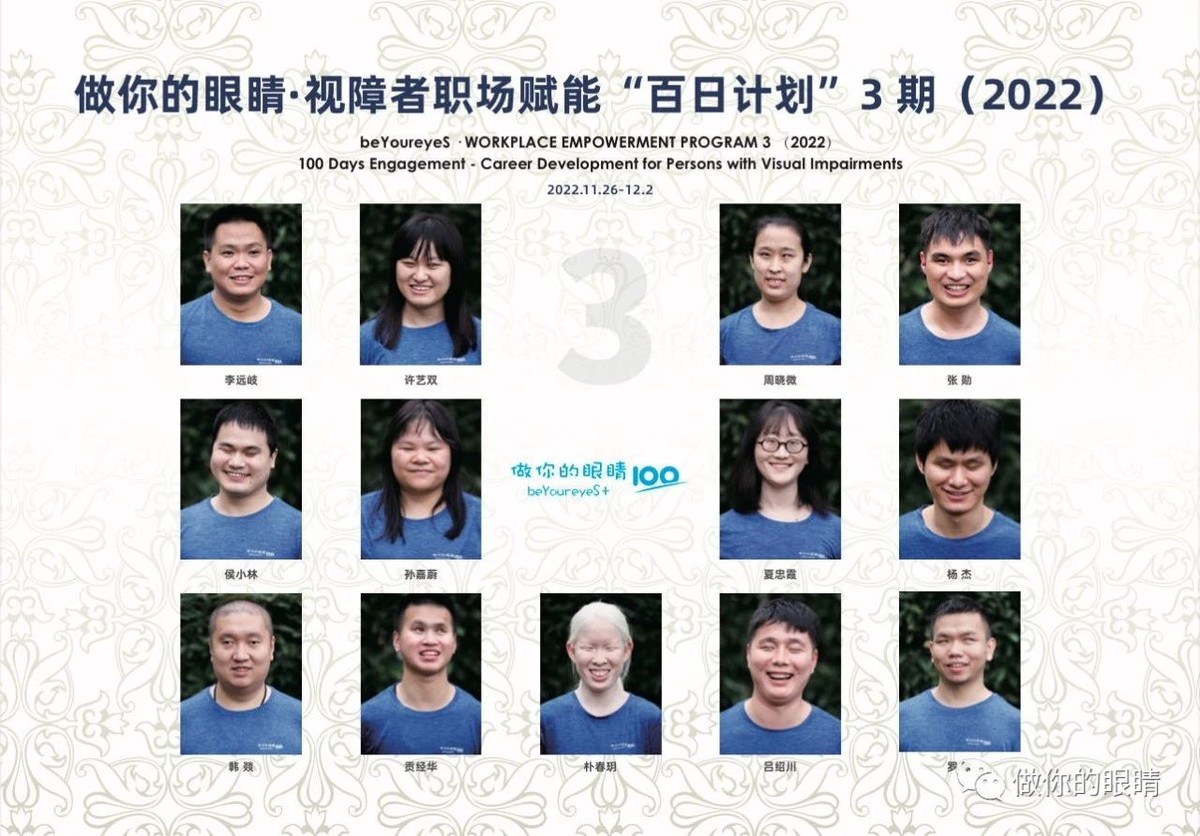 Photo: Group photo of the third "100-Day engagement" program
1月4日、11日、18日和25日晚上8点,"百日计划"导师专业辅导课持续开展。来自不同企业,在职场拥有丰富经验的导师们为大家带来了丰富的主题课程。
Tony老师分享了如何进行有效反馈,Kitty老师通过现场互动和课后辅导带领学员们练习更洋气的英语。
学员们还聆听了广荣老师分享的信息无障碍工程师之路,和Cici老师分享的如何提升故事力。
本月,"百日计划"导师一对一辅导课也在按计划开展。学员们在课程中强化职场能力,完善职场技能,学习如何将学到的技能转换为自己的能力。
On January 4th, 11th, 18th, and 25th, the "100-Day Engagement" program consulting sessions continued. Mentors from various companies utilized their experience in the workplace to create diversely themed courses.
Tony shared his thoughts on giving effective feedback, while Kitty interacted with her students and engaged in after-class tutoring to help students develop a better English accent.
Students also listened to Guangrong's journey to becoming an engineer who specializes in communication accessibility and attended Cici's presentation on engaging storytelling.
This month, "100-Day Engagement" one-on-one tutoring sessions also carried out as planned. Students strengthened and perfected their professional skills and learned how to convert experience into personal skills.
1、Lanjingling 8th Anniversary Souvenirs produced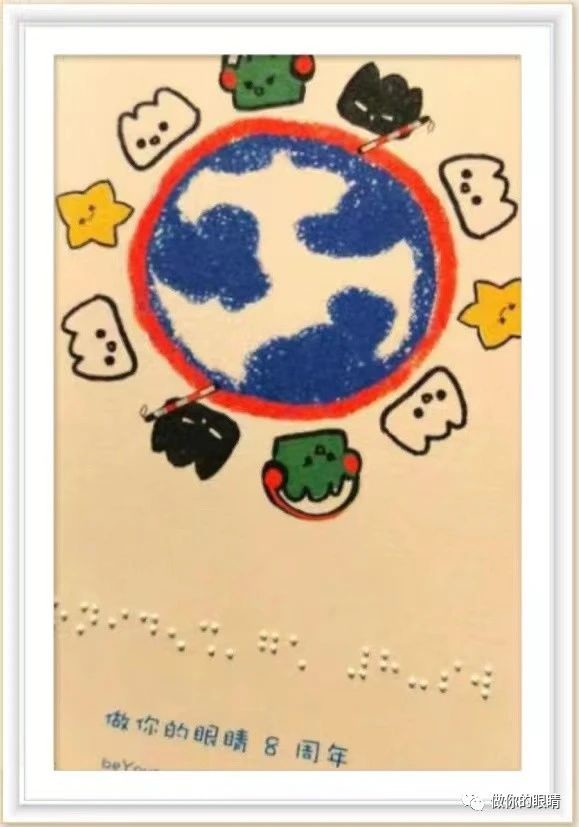 Photo: Lanjingling beYoureyeS Eight Anniversary Booklet Cover
在1月8日的周末融合活动上,大家都收到了一份特别的礼物蓝睛灵8周年纪念品。纪念品包含了印有可爱卡通形象的纪念本、口罩和无障碍宣传卡片。
岁月如梭,时光流转,蓝睛灵转眼就8岁了。变化的是从青涩走向成熟的经验,不变的是从2015年起就立下的初心——让每一个人,都能生活在无障碍的社会里。
让我们团聚在一起,携手共进,促进融合、多元社会,共创无障碍的平等环境!
During January 8th's weekend inclusive activity, participants received a special gift – Lanjingling 8th Anniversary Souvenirs. The souvernir package included an anniversary booklet with cute cartoon figues on the cover, customized masks, and cards advertising accessibility.
Time flew, and Lanjingling has officially turned eight years old. We've matured as we gained experience, but our values have stayed the same since 2015. We always hope that everyone can live in an accessible society.
Let's join together to support our community, promote inclusion, and encourage diversity so the society we live in can become accessible and equitable.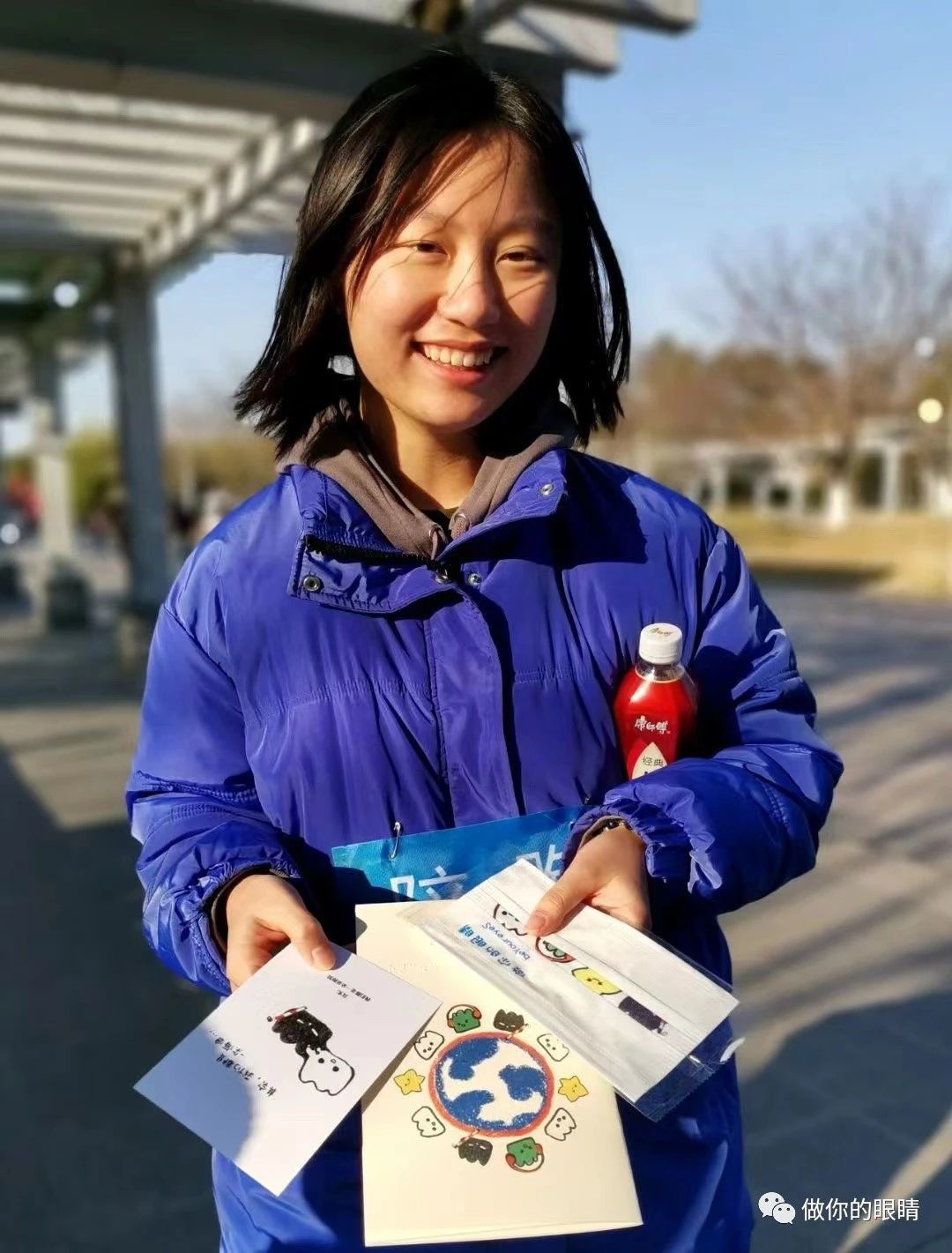 图:蓝睛灵做你的眼睛8周岁纪念本、专属口罩、无障碍宣传卡片
Photo: Lanjingling beYoureyeS Eight Anniversary Booklet, Customized Masks, and Accessibility Advertising Cards
2、Lanjingling 2023 New Years Celebration Package
Photo: New Year Blessings Collection
1月23日的周刊中汇集了蓝睛灵们的新春祝福集锦。新春佳节之际,蓝睛灵们通过文字、视频等形式,向全国各地的蓝睛灵们送上了最真挚的祝福。
The weekly periodical published on January 23rd consisted of New Year wishes from various Lanjingling members. During the New Year holiday, Lanjingling members shared words, videos, and other forms of expression to showcase their blessings for fellow Lanjinglings across the country.
Audio: Lanjingling Member Pei Lian's Saxophone Performance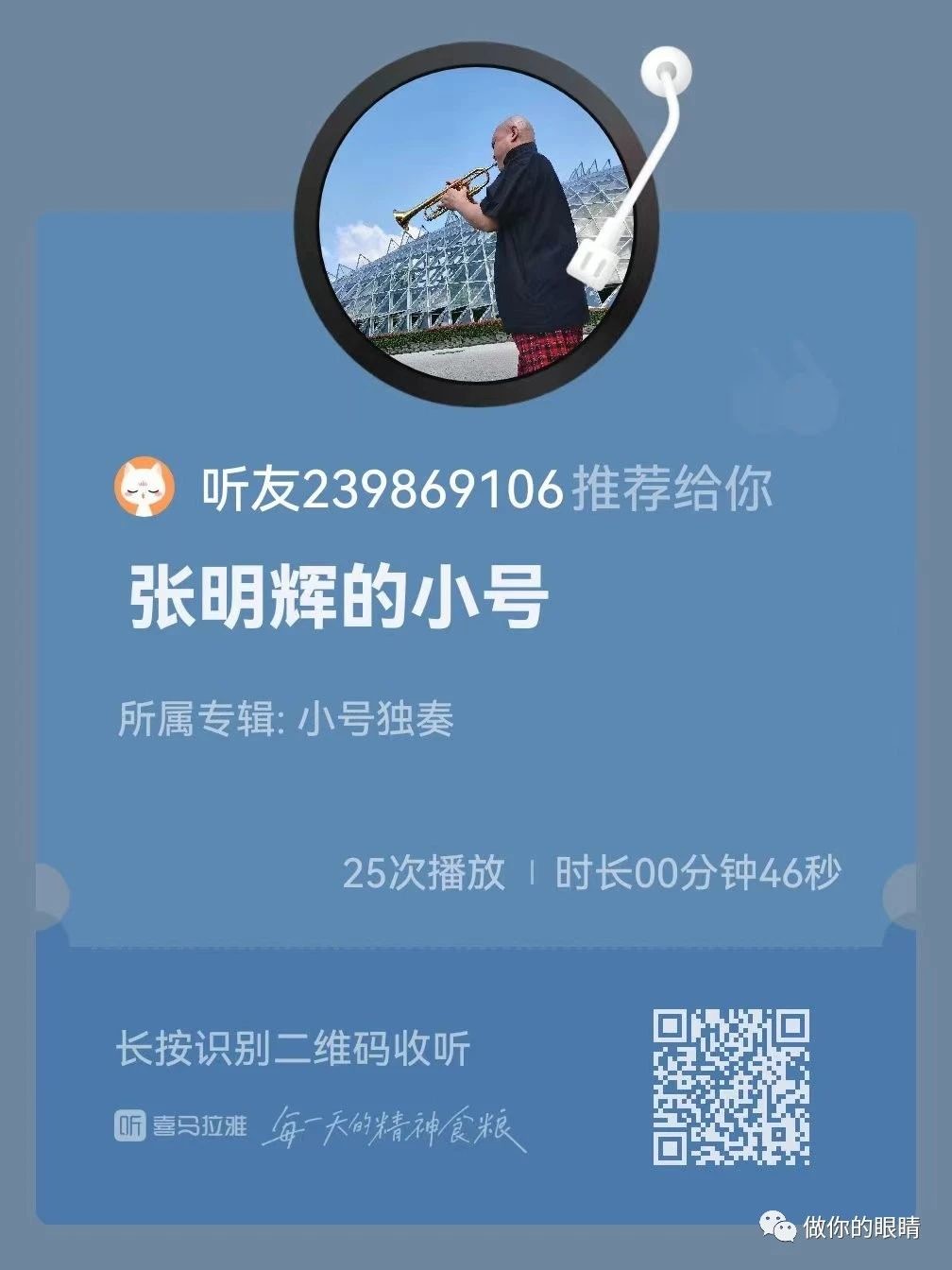 Photo: Lanjingling Member Zhang Wei (Zhang Ming Hui)'s Trumpet Performance
This marks the end of this month's newsletter, thank you for reading, see you next month.
做你的眼睛是一个民间自发的公益活动,于2015年1月在上海发起,致力于推动运动无障碍,让视障者参与运动变得简单。
beYoureyeS is a local NGO founded in January 2015, in Shanghai, and is dedicated to promoting sports accessibility, making it easier for those who are persons with visual impairments to enjoy sports.
在我们的活动中,无论视障者,还是健视者,都称呼彼此为蓝睛灵,我们的公益组织也叫这个名字。
Whether a runner with visual impairment or unimpaired runner, all of our participants are called "Lanjingling", which is also the name of our NGO.
Lanjingling's vision, mission, and core values
Vision: allow everybody to live in an accessible society
Mission: promote development towards an accessible society through diversity and inclusion focused events
Core Values: Diversity, Inclusion, Equality, Empowerment
体验式公益活动、企业社会责任CSR活动、校园融合活动、赛事活动,职场赋能计划;
Weekly running activity, CSR activity, school inclusion activity, race, Vocational-education program
看健100 、绳上100 、挑战100、职场赋能百日计划
Fitness 100, Rope 100, Challenge 100, 100Days Engagement