2023年4月蓝睛灵首次来到黄浦滨江开展周末融合活动。本月共开展5场周末融合活动、1场校园融合活动、2场企业社会责任(CSR)活动、4场零基础英语课、参与1场马拉松赛事、1场至爱影院无障碍观影活动。
In April 2023, Lanjingling carried out weekend inclusive activities at the Huangpu bund for the first time. This month's events included five weekend inclusive activities, one school-based activity, two CSR events, four "Sail Your Dream" English program sessions, one Marathon race, and one accessible cinema movie screening activity.
文字 Writer:吕绍川 Jeffrey LV 陈晓斌 Clark CHEN
翻译 Translator:童雨萱 Barbie TONG 王弘毅 Yoyo WANG
编辑 Editor:张睿莹 Rain ZHANG 李纪元 Annie LI
蓝睛灵编辑部 Lanjingling Editorial Office
Release date:Jun 30st, 2023
Video: Weekend inclusive activity joined by Huangpu youths
Joined by youths of Huangpu at the Southern bund
4月2日下午,在黄浦区残联和小东门街道的支持下,蓝睛灵们第一次来到黄浦滨江南外滩,与黄埔金融青年开展了第325期周末融合活动。蓝睛灵的周末融合活动有了新的活动场地,全新的开阔环境,给大家带来了不一样的活动体验。
In the afternoon of April 2nd, with the support of Huangpu Disabled Persons' Federation and the Xiao Dongmen street office, Lanjingling carried out the 325th weekend inclusive activity with new youth members at the Southern bund in Huangpu district. The new venue brought everyone a fresh experience.
REGULAR WEEKEND ACTIVITIES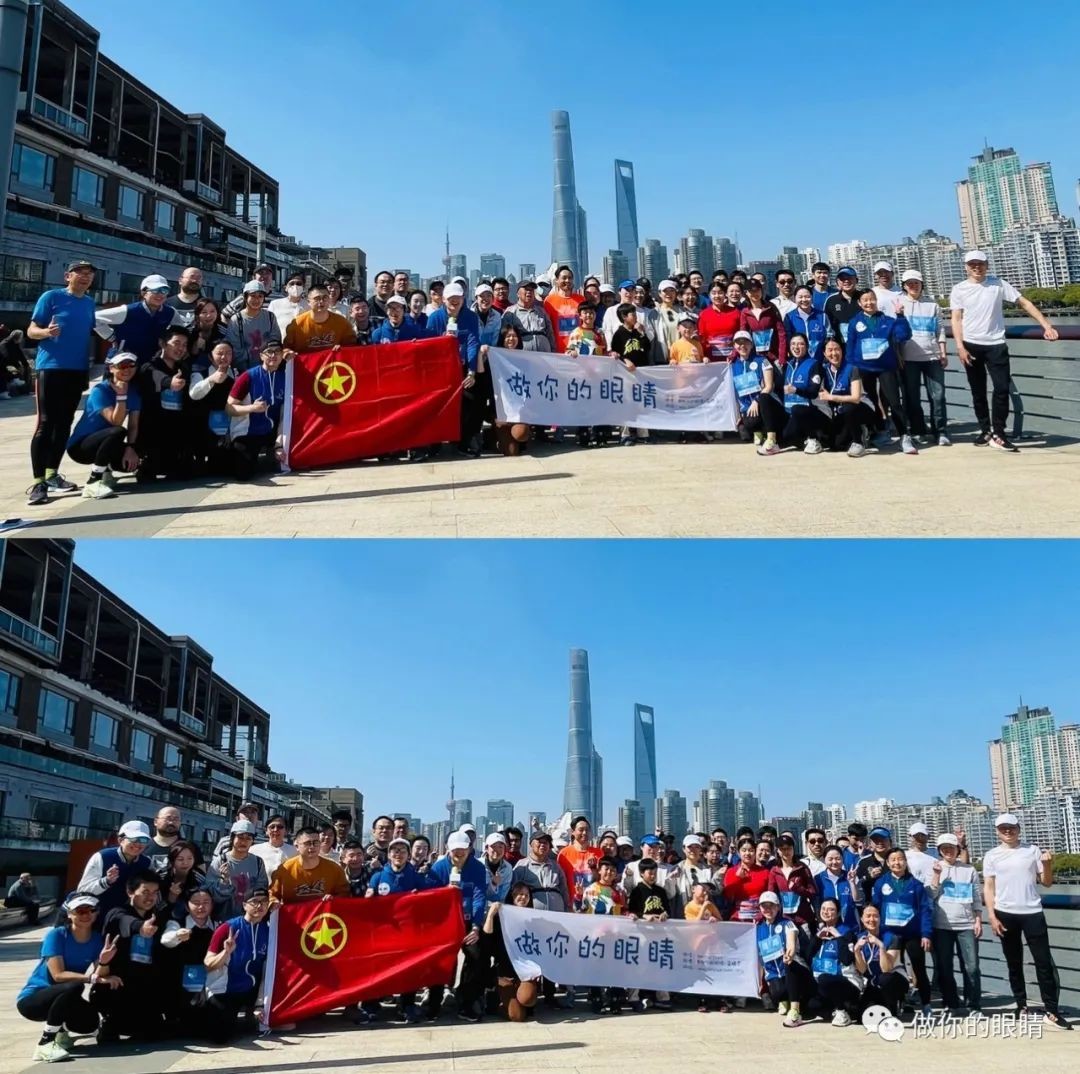 Photo: Weekend inclusive activity - group photo
做你的眼睛第325至329期周末融合活动于4月2日、9日、16日、22日和30日在黄浦滨江、世纪公园、闵行文化公园和星愿公园开展,共五期。其中,黄浦滨江和星愿公园两地都是首次开展周末融合活动。
The 325th to 329th weekend inclusive activities were carried out on April 2nd, 9th, 16th, 22nd, and 30th at the Huangpu bund, Century Park, Minhang Cultural Park, and Wishing Star Park, totaling to five regular weekend activities. Among the five locations, the Huangpu Bund and the Wishing Star Park were new venues.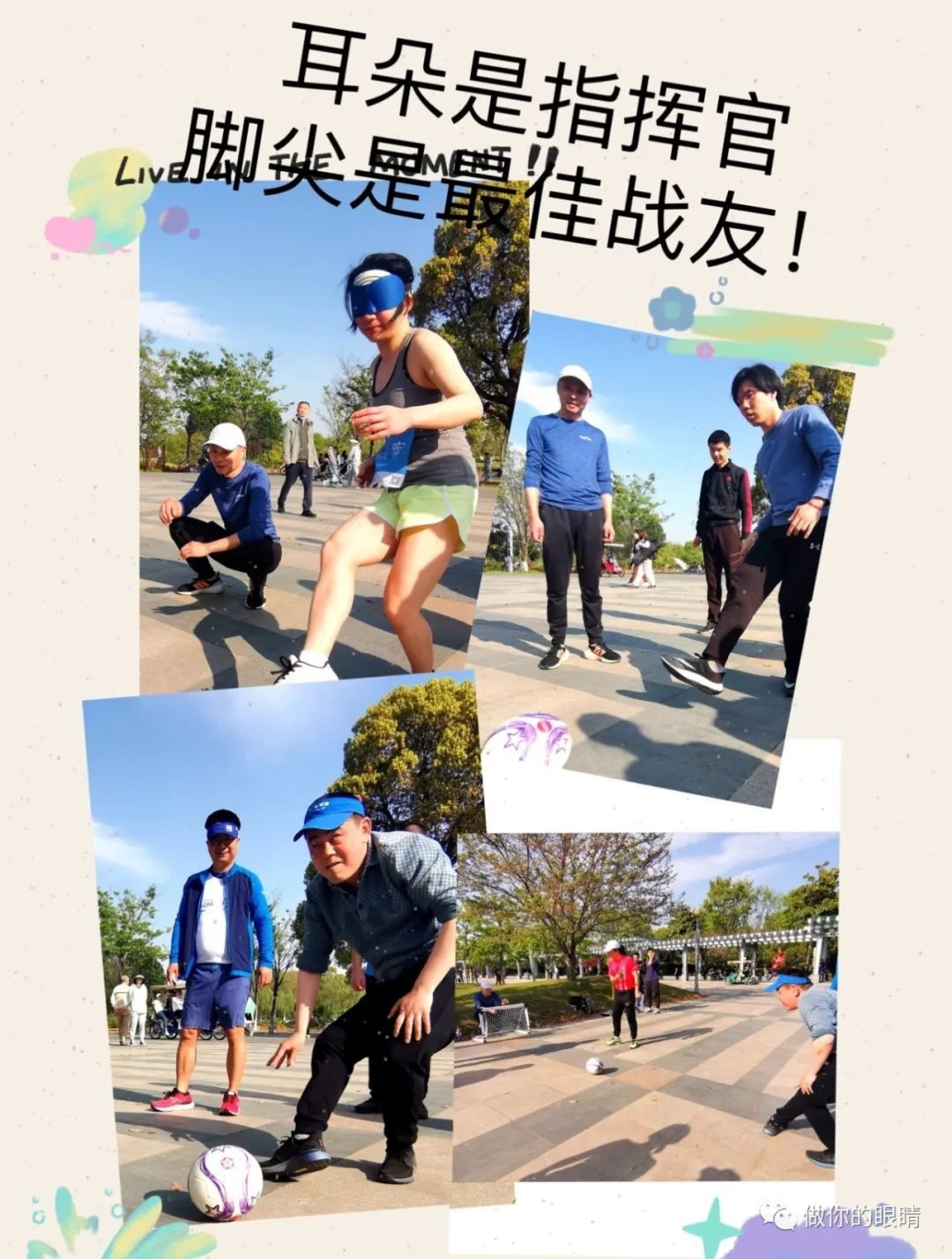 图:挑战100 (Challenge 100) 第8季为盲人足球射门比赛
Photo: Challenge 100 8th season: blind football challenge
本月的挑战100 (Challenge 100) 第8季为盲人足球射门比赛,最终榜单如下:
第2名(并列):8球, 殷天佑(视障)、虞滔(视障)
第3名(并列):7球, 张春娜(大白)、杜妍春(视障)、 高瑞芬 (大白)
The 8th term "Challenge 100" took the form of a blind football game. The challenge results are as follows:
First place: 9 goals, Tao Hong (visually impaired)
Second place: 8 goals, Tianyou Yin (visually impaired), Tao Yu (visually impaired)
Third place: 7 goals, Chunna Zhang (guiderunner), Yanchun Du (visually impaired), Ruifen Gao (guiderunner)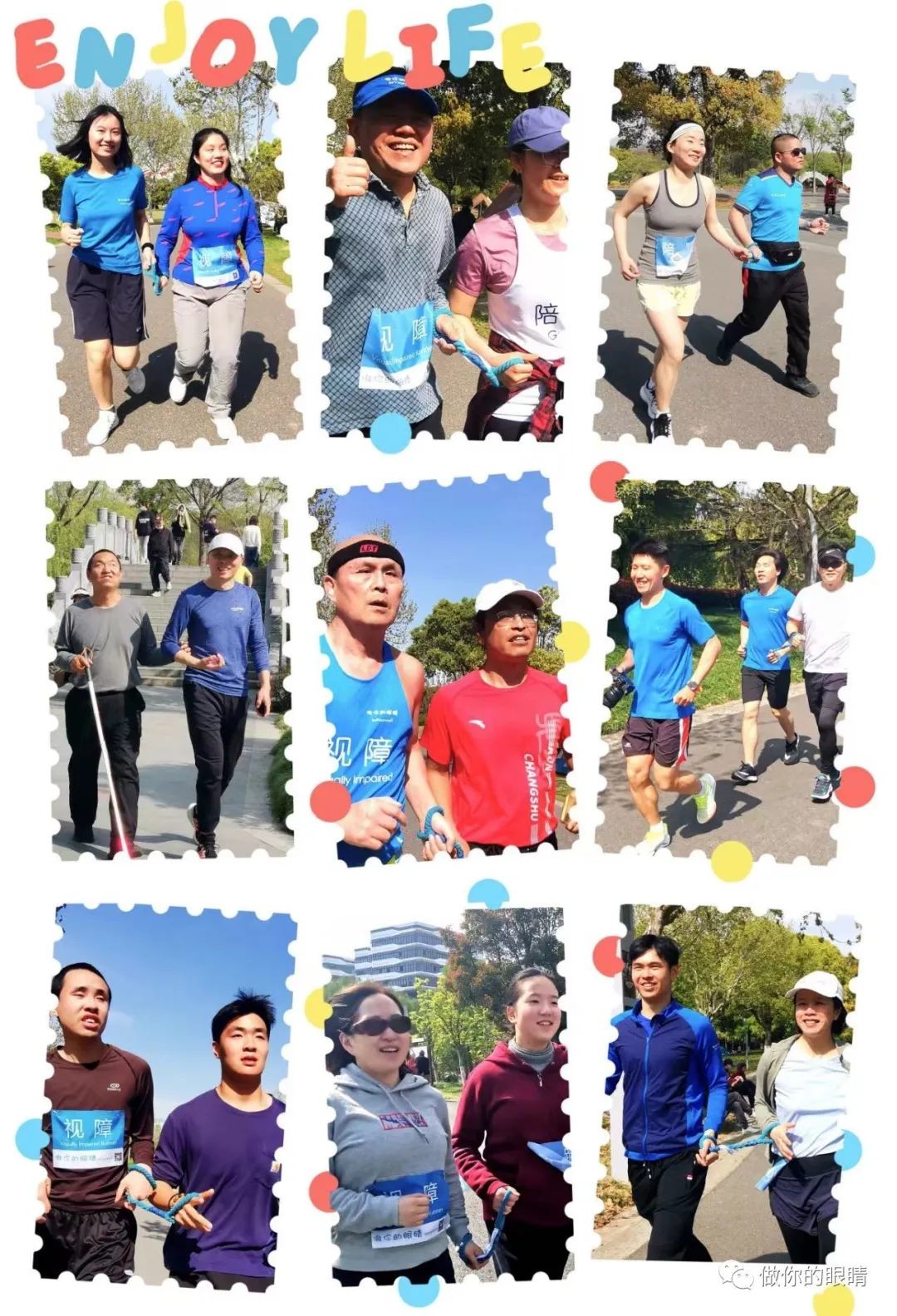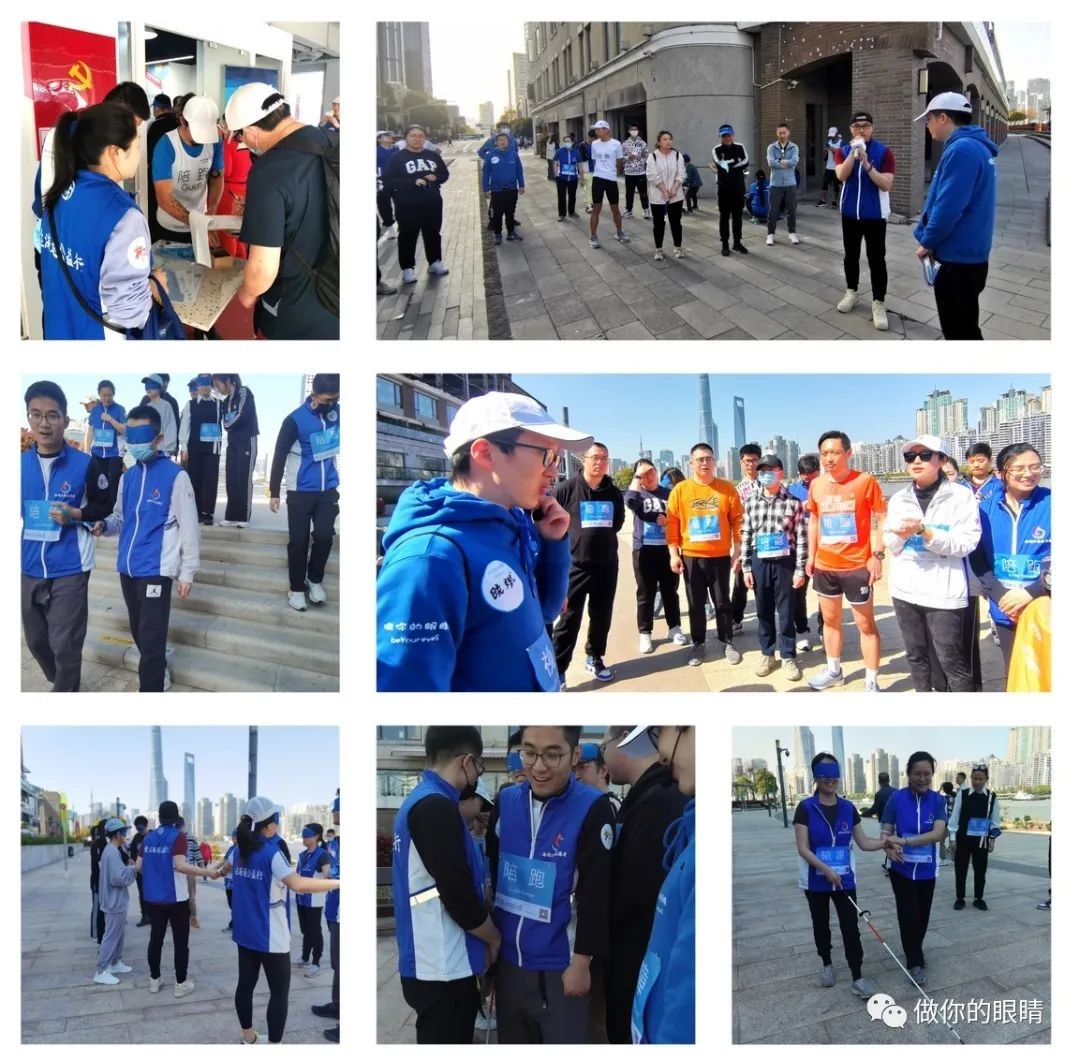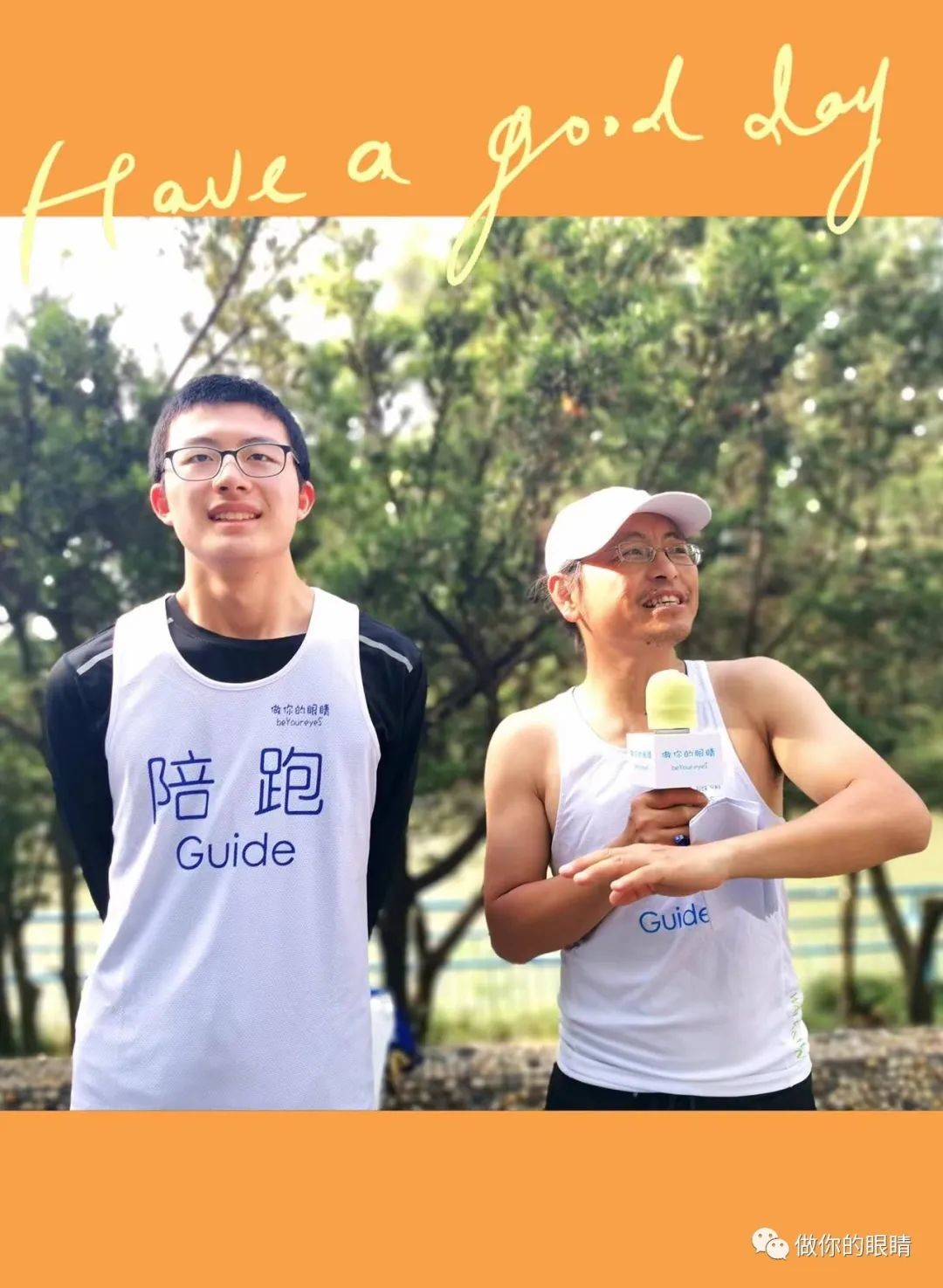 图:一起健身、一起探讨无障碍理念,并迎来了2023年第一位新大白张心弛同学
Photo: 2023's first new Dabai member - Xinchi Zhang
在第327期活动中,蓝睛灵迎来了2023年第一位新大白,是一位积极来参加活动的平和高学生张心弛同学。
At the 327th activity, Lanjingling's Dabai guiderunners welcomed its first newcomer of 2023 – Xinchi Zhang, an active participant of Lanjingling events and currently a student at Shanghai Pinghe School.
School Inclusive Activities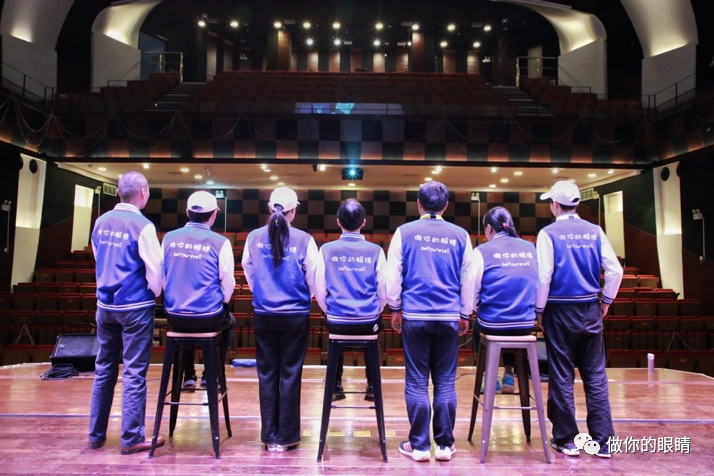 Photo: Accessibility talk at Shanghai Dehong International School
Lanjingling Accessibility Talk at Shanghai Dehong International School
4月24日下午,蓝睛灵团队前往上海闵行区民办德闳学校,为400多位中外师生带来了一场无障碍主题分享会。松松、晓斌、晓艳等三名视障伙伴分别分享了信息无障碍、出行无障碍和融合就业的故事。
通过此次活动,师生们从视障者的视角重新认识了无障碍的意义。只有尊重和接纳个体的不同,才能让我们更好地向前发展。不管眼睛是否看得见,我们对美好未来的期待与追求是一致的。
In the afternoon of April 24th, the beYoureyeS team went to Shanghai Dehong International School to give an accessibility talk to the over 400 students and teachers. Visually impaired members Songsong, Xiaobin, and Xiaoyan shared stories on information symmetry, travel accessibility, and inclusive workspace.
Through this activity, students and teachers regained an understanding of accessibility. We can only advance our civilization if we treat everyone with equal respect and acceptance. We all have the same love and hope for a bright future ahead, regardless of whether we are able to see.
Corporate Social Responsibility Activities
CSR with Standard Chartered Bank (Nanjing Branch)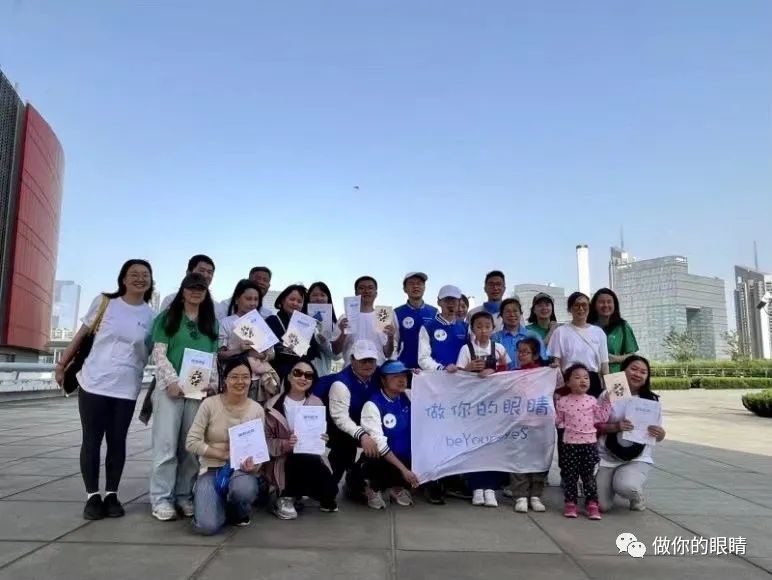 Photo: CSR activity with Nanjing Standard Chartered Bank
4月15日,在南京奥体中心,蓝睛灵为渣打银行南京分行的志愿者们带来了一场体验式公益活动。通过参加活动,志愿者们体验、了解了视障群体的生活,学到了很多与视障者相处的理念、正确的引导方法,将在今后的日常生活中积极参与视障者的无障碍出行。
On April 15th, Lanjingling partnered with the volunteers from Standard Chartered Bank (Nanjing Branch) and organized a CSR experience event at the Nanjing Olympic Sports Center. Through this activity, participants experienced and understood the way of being of visually impaired people also learned the good ways of giving them support in daily life.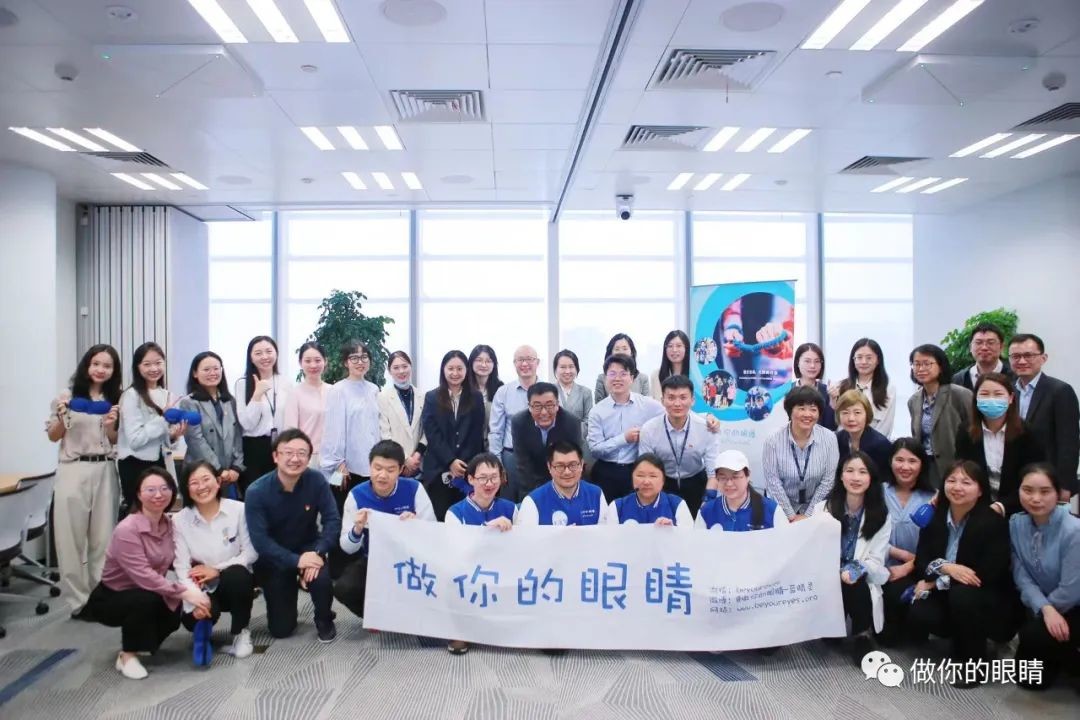 Photo: CSR activity with Wells Fargo Funds Management
4月19日,在世纪大都会,蓝睛灵为富国基金的员工们带来了一场企业CSR活动。
活动中,通过无障碍引导员的分享,企业志愿者们了解了视障礼仪,学习到如何与视障者沟通,以及安全、礼貌协助视障者的方法。
On April 19th, Lanjingling partnered with Fullgoal Fund in an CSR event at Century Metropolis.
Through the event, volunteers from Fullgoal learned etiquettes in communicating with visually impaired people and how to safely and politely assist them when in need.
The Fourth Term Sails at the "Sail Your Dream" Introductory English Language Program
4月1日、8日、22日和30日,蓝睛灵与世外悦习社继续开展了第3期"梦想起航"零基础英语课的第2次至第5次课程。
课程中,视障学员们继续学习按摩实用英语的内容以及日常生活中常用的基础语句。志愿者们根据学员水平的差异及学员的兴趣进行针对性的教学。
On April 1st, 8th, 22nd, and 30th, Lanjingling partnered with the Happy Learning Club at WFHK school to carry out the second to fifth sessions of the third term of "Sail Your Dream" introductory English learning program.
The sessions continued to focus on practical English for massaging and daily usage. Student volunteers from WFHK provided targeted teaching to visually impaired learners based on their different English level and interests.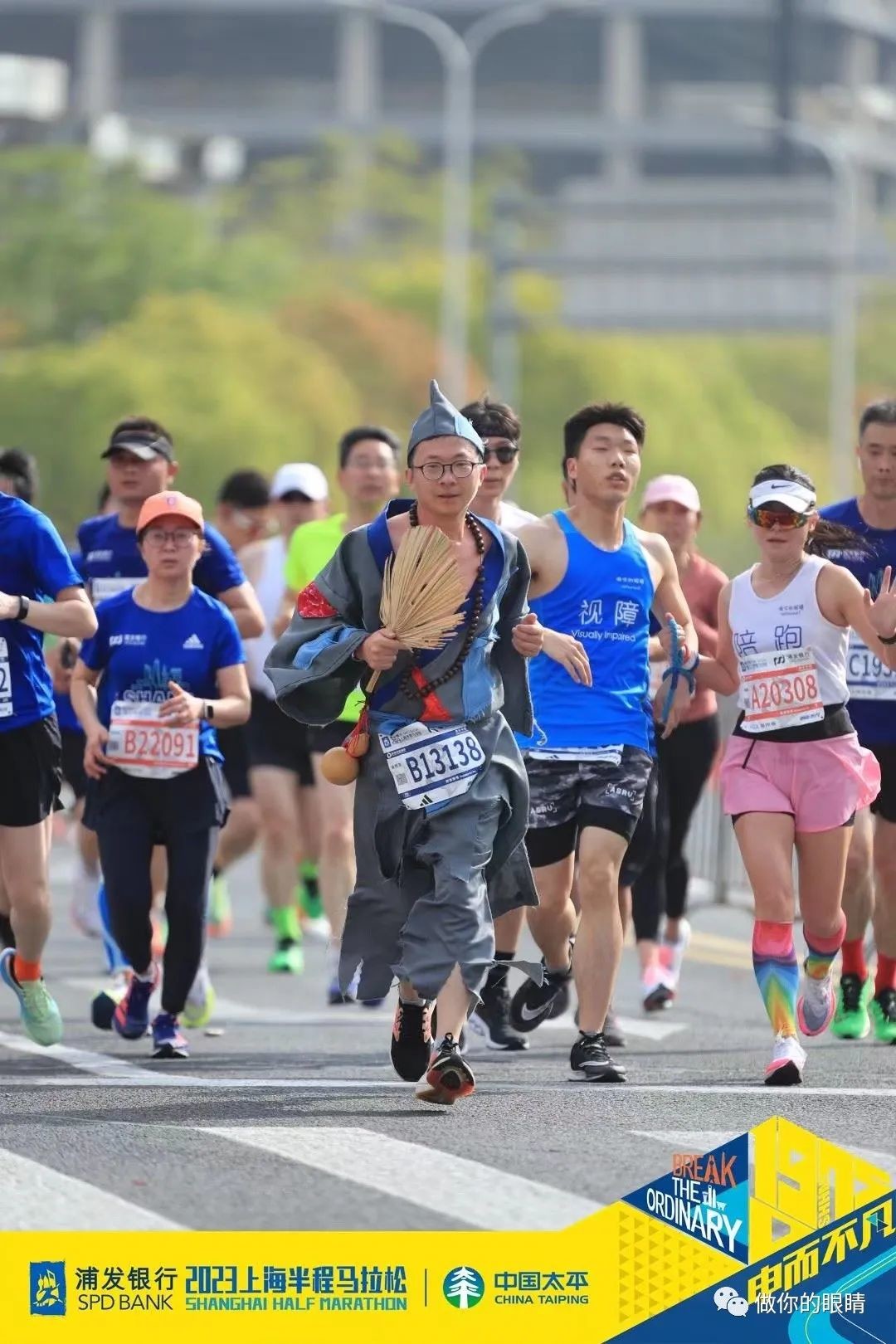 Photo: Shanghai Half Marathon team - Boba, Tianbao, Aunt Tao
The 2023 Shanghai Half Marathon
4月16日,蓝睛灵参赛小组视障跑者天宝和陪跑员姚阿姨、波爸,以1小时55分57秒安全、顺利的完成了上海半程马拉松赛。
On April 16th, Lanjingling's team with visually impaired runner Tianbao and guide runners Aunt Yao and Boba finished the Shanghai Half Marathon in 1 hour, 55 minutes, and 57 seconds.
"Beloved Cinema" Accessible Movie Project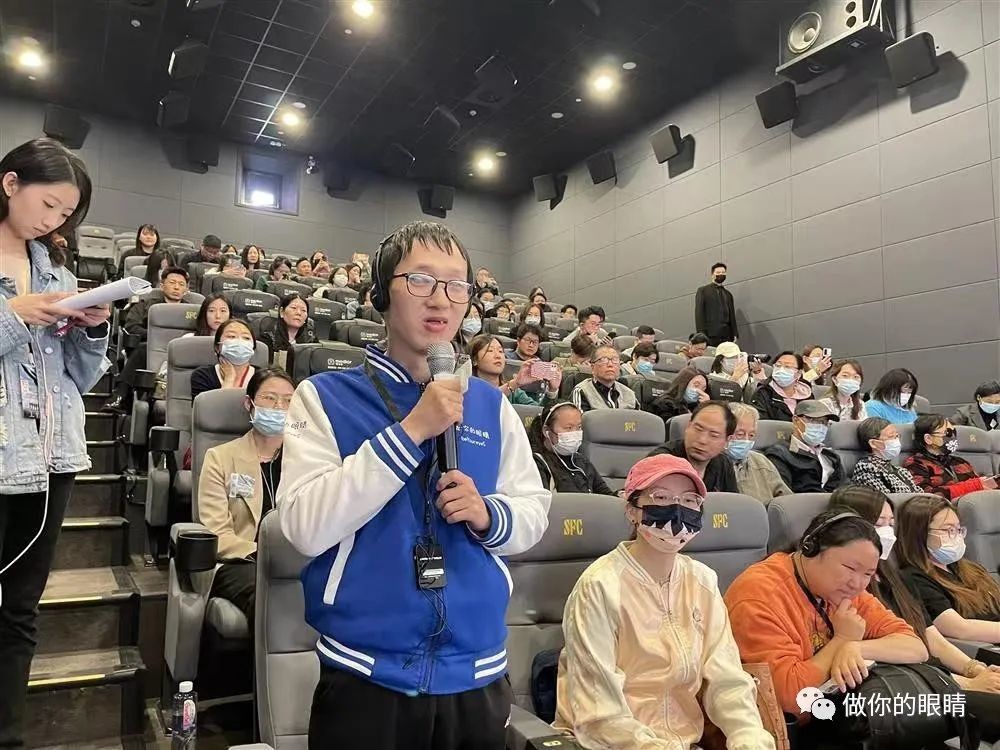 图:晓斌出席《长空之王》无障碍版首映仪式,并作观影分享
Photo: Clark's speech at the premiere of accessible movie
Lanjingling Invited to the Premiere of "Born to Fly" Accessible Version
4月26日下午,十余名蓝睛灵受邀参加《长空之王》无障碍版的首映仪式,本次观影活动是至爱影院无障碍观影项目的系列活动之一。蓝睛灵视障伙伴陈晓斌作为视障观众代表之一分享了观影的感受。在此,特别感谢上海电影放映协会、制片方、上海影城港汇恒隆广场店为蓝睛灵、为视障伙伴们带来融合观影体验。
In the afternoon of April 26th, ten members from beYoureyeS attended the premiere of the accessible version of the movie "Born to Fly". This event was part of the "Beloved Cinema" accessible movie project. Clark Chen, Lanjingling's visually impaired partner, represented the visually impaired audience group and spoke about his feelings after viewing the movie. We hereby express our sincere appreciation to the Shanghai Film Screening Association, the movie's production group, and the Grand Gateway 66 Shanghai Cinema for bringing us this inclusive movie-watching experience.
Lanjingling's Colorful Lives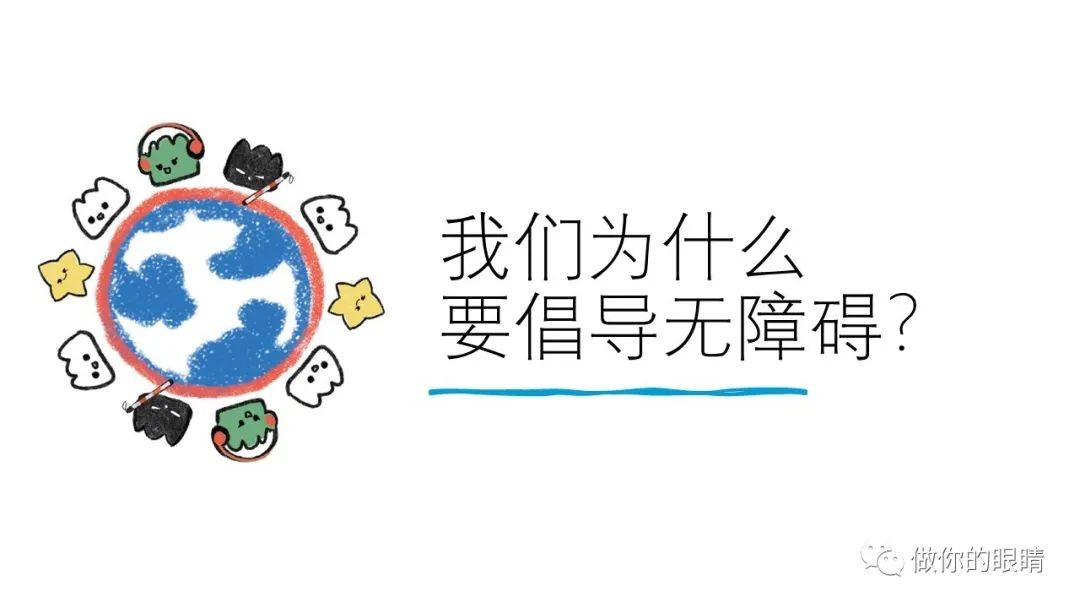 图:左侧是一张有各种特点的小卡通人物绕着一个卡通地球的图,右侧是我们为什么要倡导无障碍?
​Photo: Left: cartoon figures around a cartoon earth, right: why should we promote accessibility?
This marks the end of this month's newsletter, thank you for reading, see you next month.