5月,蓝睛灵们带着蓬勃的朝气,为推动运动无障碍不断努力。
我们共开展3期常规活动、组织参与5场赛事、1场CSR活动、2次校园活动、1次国际学习交流活动、1次文化活动、接受1次采访。
In May, Langjingling have made great efforts to promote sports accessibility with vibrant spirit.
We carried out 3 regular weekend activities, organized and participated in 5 races, 1 CSR activity, 2 school inclusive activities, 1 international exchange study, one cultural activity and 1 interview with the media.
文字 Writer:晓斌 Xiaobin
翻译 Translator:泱而 Neville
编辑 Editor:纪元 Annie
蓝睛灵编辑部 Lanjingling Editorial Office
2019-6-12
常规活动 REGULAR WEEKEND ACTIVITIES
做你的眼睛第168期至170期的常规陪跑活动于5月4日、12日、19日在世纪公园、新虹桥中心花园和黄兴公园开展,3名新视障伙伴加入。
beYoureyeS regular weekend running activities from 168 to 170 were carried out in Century Park, New Hongqiao Central Garden and Huangxing Park on May 4, 12 and 19 respectively; and 3 new participants with visual impairments joined us.

新加入的视障者晏大叔说:从前他不敢出门,现在他只要在地铁出口有人接应就能参加各类活动了。这就是我们所希望的:让更多视障者走出家门,自由地参与运动。
Mr. Yan, a new participant with visual impairment said that he used to be afraid to go out, but now he can take part in all kinds of activities as long as he got guidance at the subway exit. This is what we appeal to: more visually impaired people should not be housebound, but freely participate in sports and society.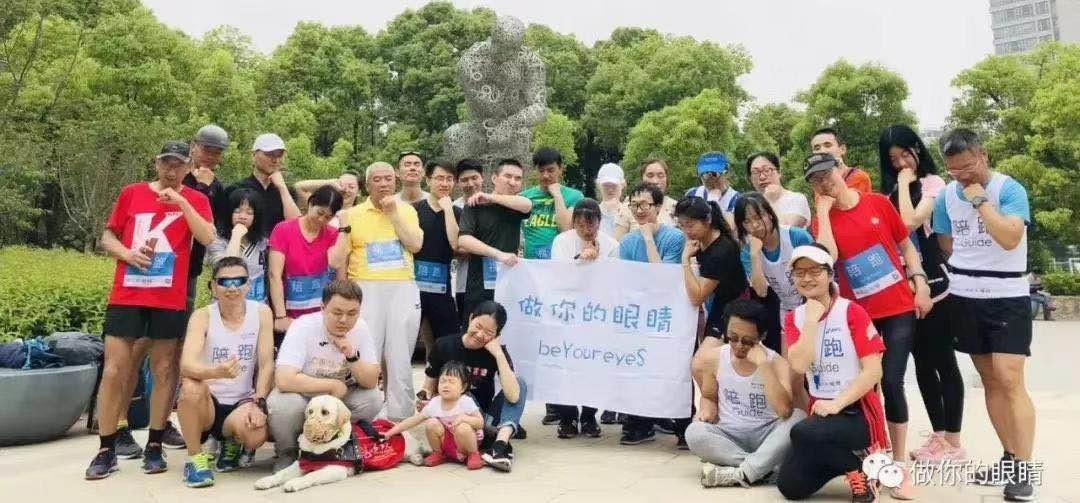 见习视障培训师吴晓艳顺利完成了两场新人培训。蓝睛灵创造工作机会,让视障者参与活动组织和运营,挖掘潜能,共同成长。
Wu Xiaoyan, a visually impaired internship trainer, has completed 2 newcomers trainings successfully.
Lanjingling provides job opportunities for visually impaired persons to organize and operate activities, tapping their potential and making progress together.

5月蓝睛灵组织参加多种形式的赛事,如路跑、徒步和定向赛。
In May, Lanjingling organized and joined various of races, such as road running, hiking and city orienteering.
1.5月11日,11组蓝睛灵参加金桥碧云国际关爱运动会8公里健康跑,组委会已连续三年邀请蓝睛灵参与其中。
1. May 11, 11 Lanjingling teams participated in Jinqiao International Games 8 km run, and the organizing committee has consecutively invited us to participate in the race for 3 years.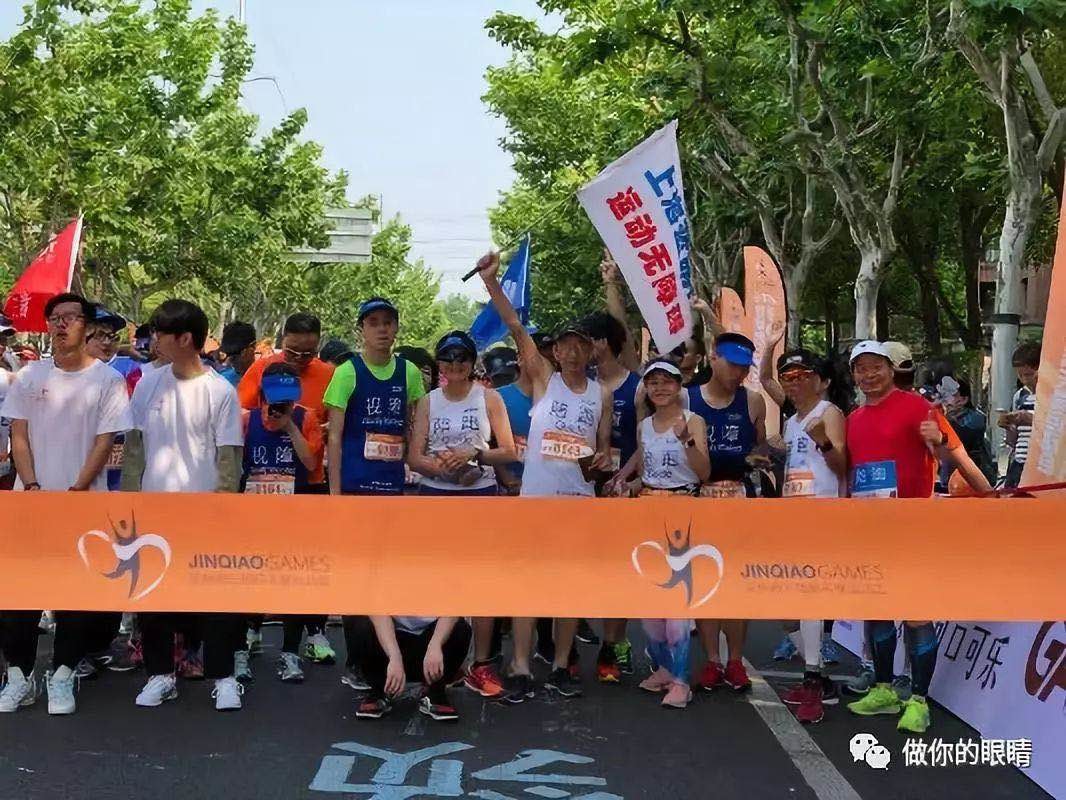 2.5月11日同日,2组蓝睛灵携手陶氏化工,顺利完成"一个鸡蛋的暴走"50公里徒步。
2. On the same day, 2 Lanjingling teams with Dow Chemical team successfully finished the 50km hike of "E.G.G.Walkathon" together.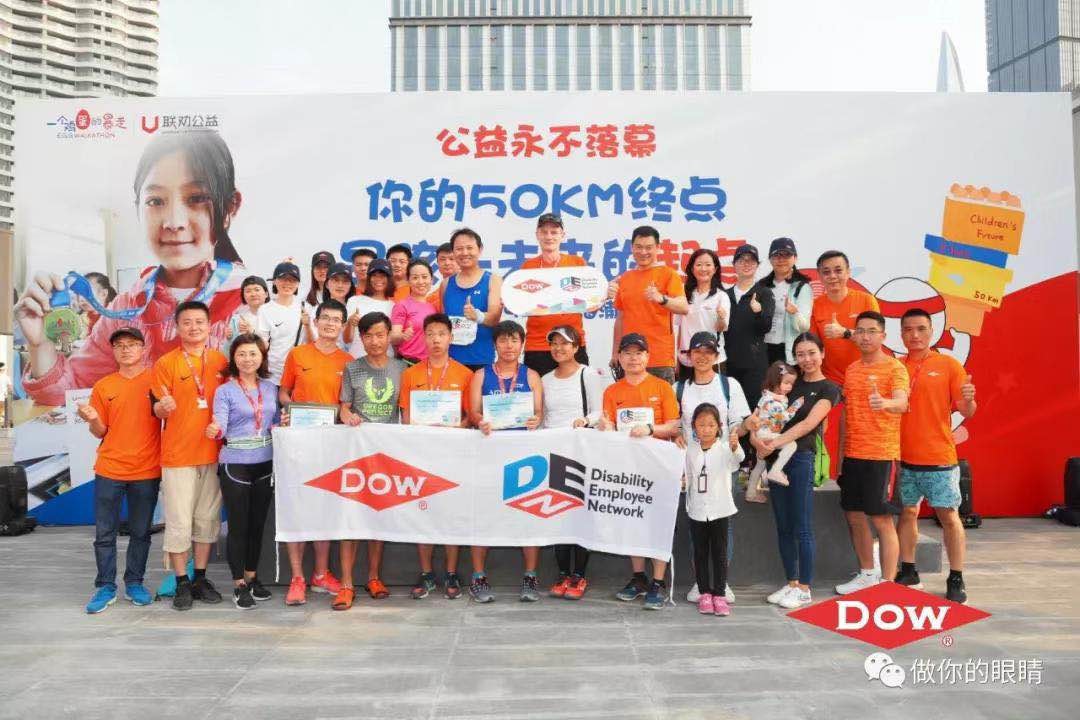 3.5月19日,3组蓝睛灵参加2019年"爱在上海"残健融合运动会开幕式及定向赛。
3. May 19, 3 Lanjingling teams participated in the opening ceremony of the 2019 Love in Shanghai: disability inclusion sport games and the city orienteering game.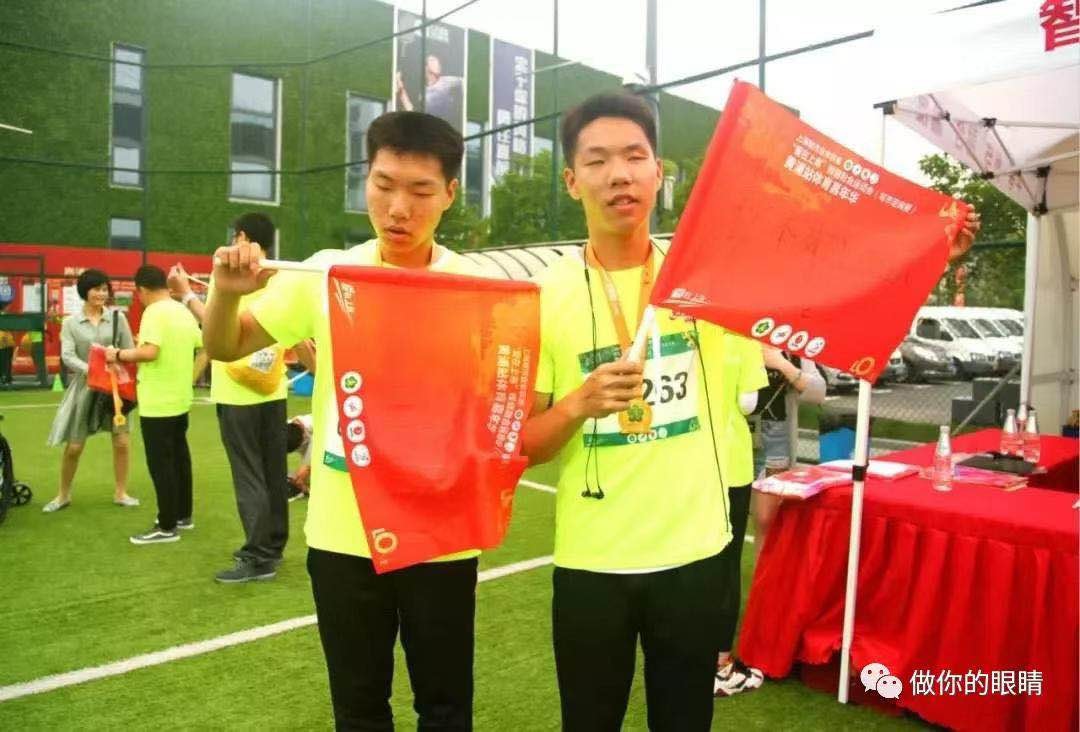 4.5月19日,1组蓝睛灵在滴水湖参加2019各界青年公益跑。
4. May 19, 1 Lanjingling team joined in 2019 Youth Charity Running Race in Dishui Lake.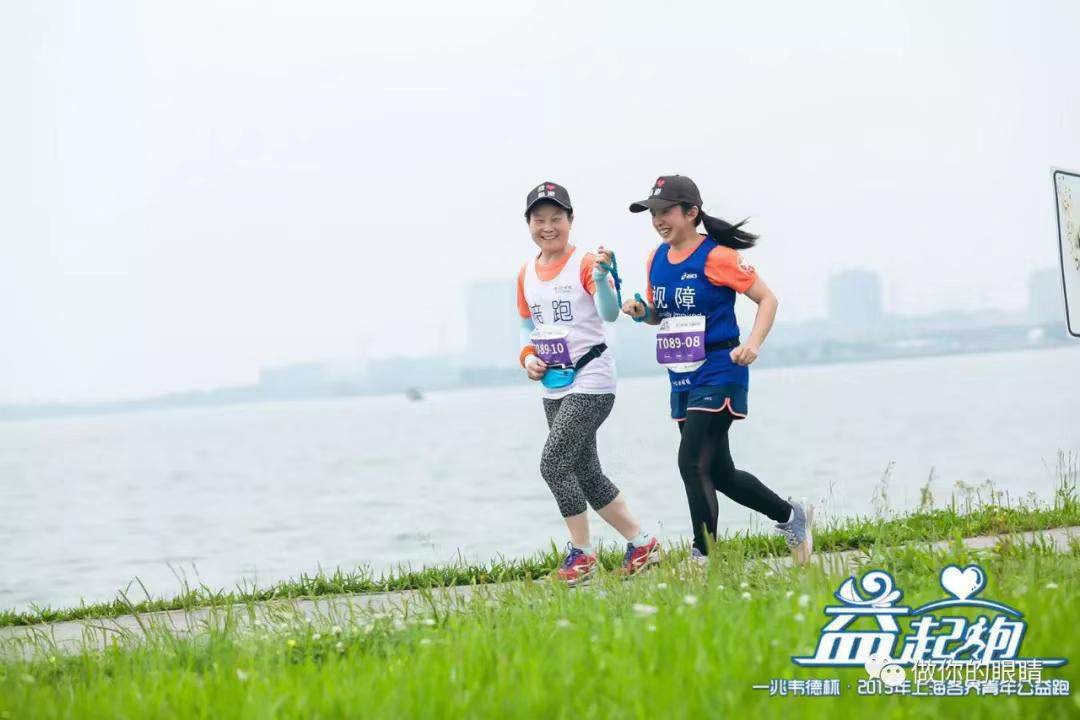 5.5月25日,蓝睛灵10支队伍参加2019中国坐标·上海城市户外定向挑战赛。该定向赛是全国最具影响力的定向徒步赛事,已连续举办9年,每年吸引2万余人参与。
5. May 25, 10 Lanjingling teams participated in 2019 China Coordinate •City Orienteering Challenge in Shanghai. This is the most influential orienteering hiking event in China, which has been held for 9 years and attracted more than twenty thousand people every year.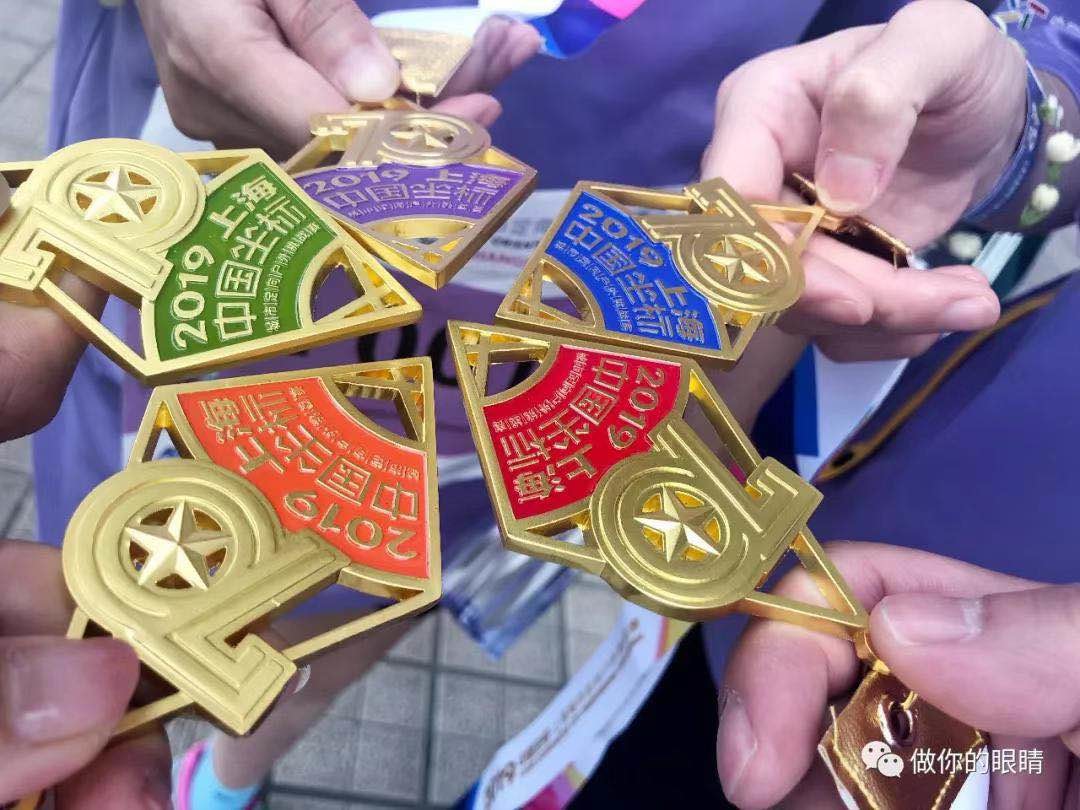 蓝睛灵作为定向赛的的公益合作伙伴,已是第4年受邀参加城市定向赛。10只队伍,50人,作为10条线路的001号队伍,特别的是每组都有一位视障者参赛。
As the NPO partner, Lanjingling has been invited to take part in City Orienteering Challenge for 4 years. As Team 001 in 10 different routes, 50 Lanjinglingers made up 10 teams are specialist since each team has one player with visual impairements.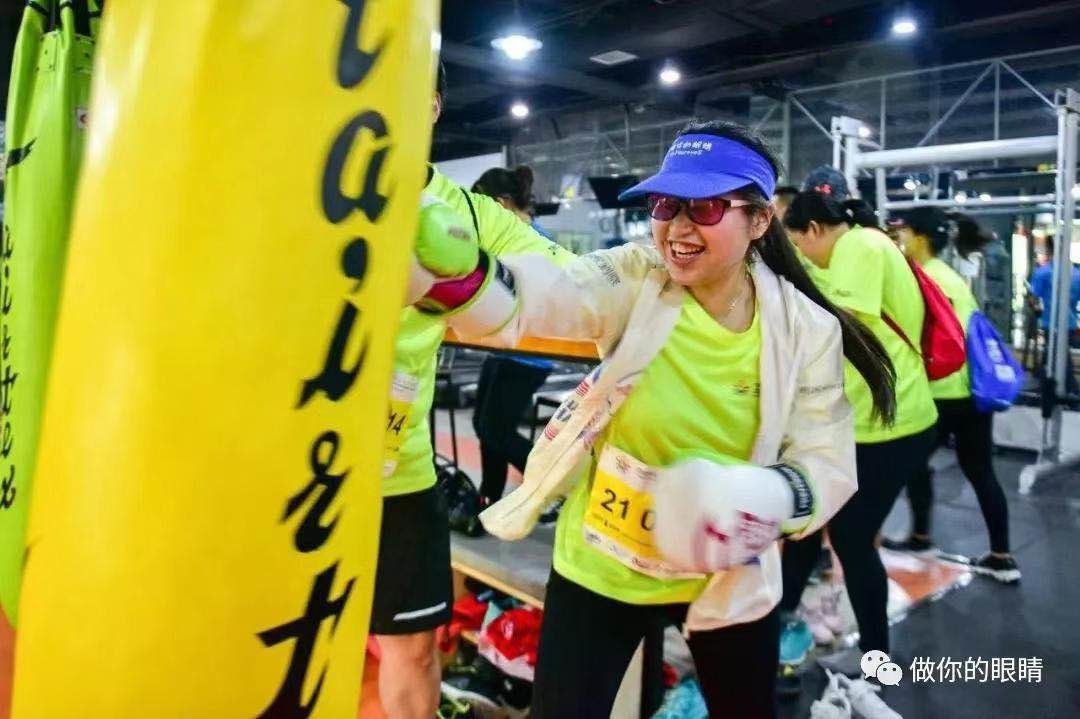 图为视障参赛者雪慧在打沙袋,奋力一击,如击破障碍壁垒!
The picture shows Xue hui, a blind player, hitting a sandbag fiercely, which seems that she tries her best to break the barrier.
1. 5月18日,19位Apple的员工在世纪公园参加了做你的眼睛企业社会责任CSR专场活动。
1. May 18, 19 employees form Apple participated in beYoureyeS CSR (Corporation Social Responsibility) activity in Century Park.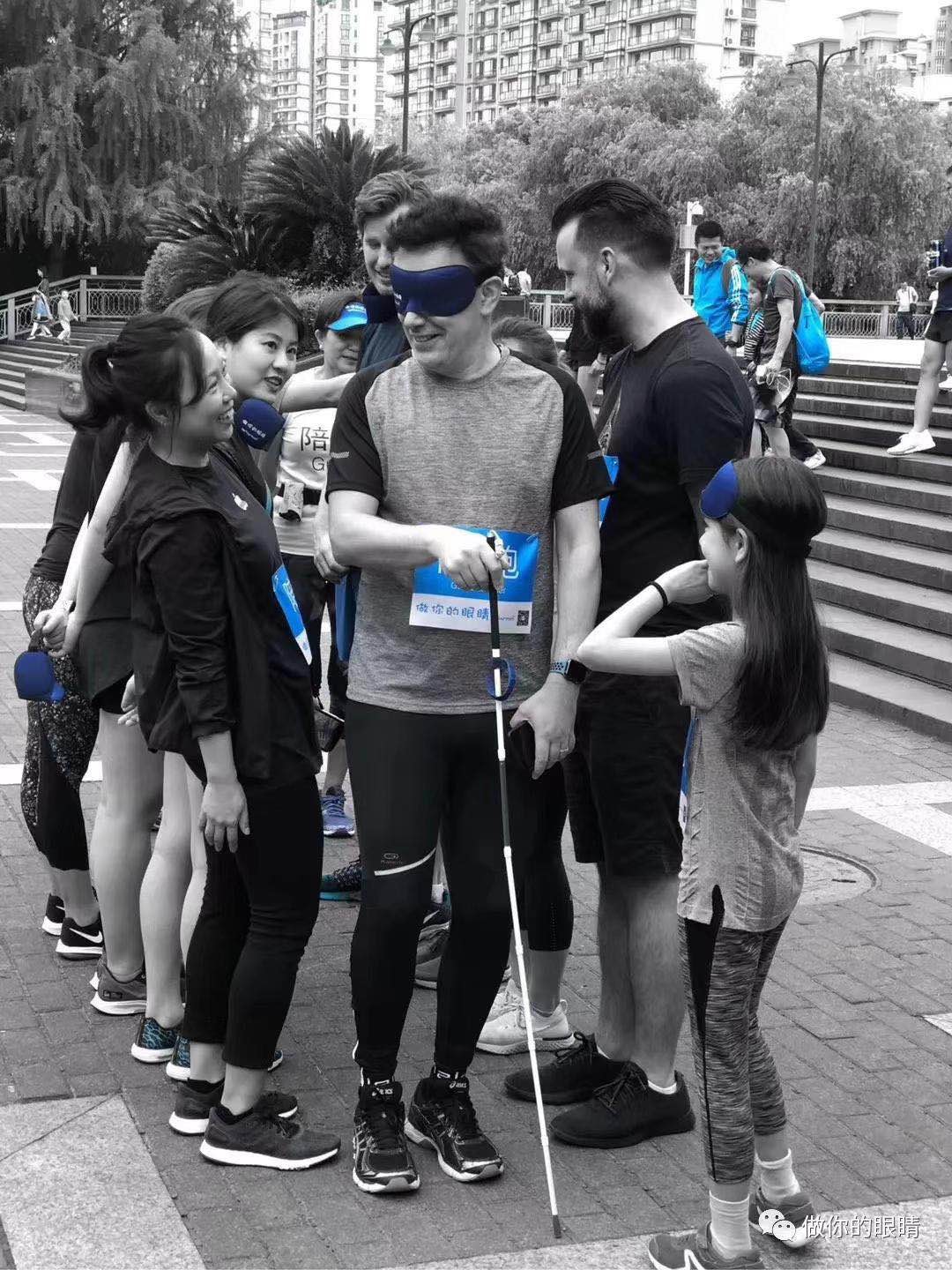 beYoureyeS与Apple从2016年起就开始了长期的公益合作,共同组织多次创新性公益活动,如企业社会责任CSR活动、分享会、赛事志愿者等。在我们的共同努力下,苹果公司于2017年首次在上海顺利聘用了2位全盲视障员工。至今,已有10位视障者先后加入Apple上海公司。
beYoureyeS and Apple have been cooperating for a long time since 2016. Together, we have organized many innovative public welfare activities, such as CSR activities, sharing sessions, and volunteer events. With our bipartisan efforts, Apple successfully hired two blind employees in Shanghai for the first time in 2017. So far, 10 people with visual impairments have successively joined Apple in Shanghai.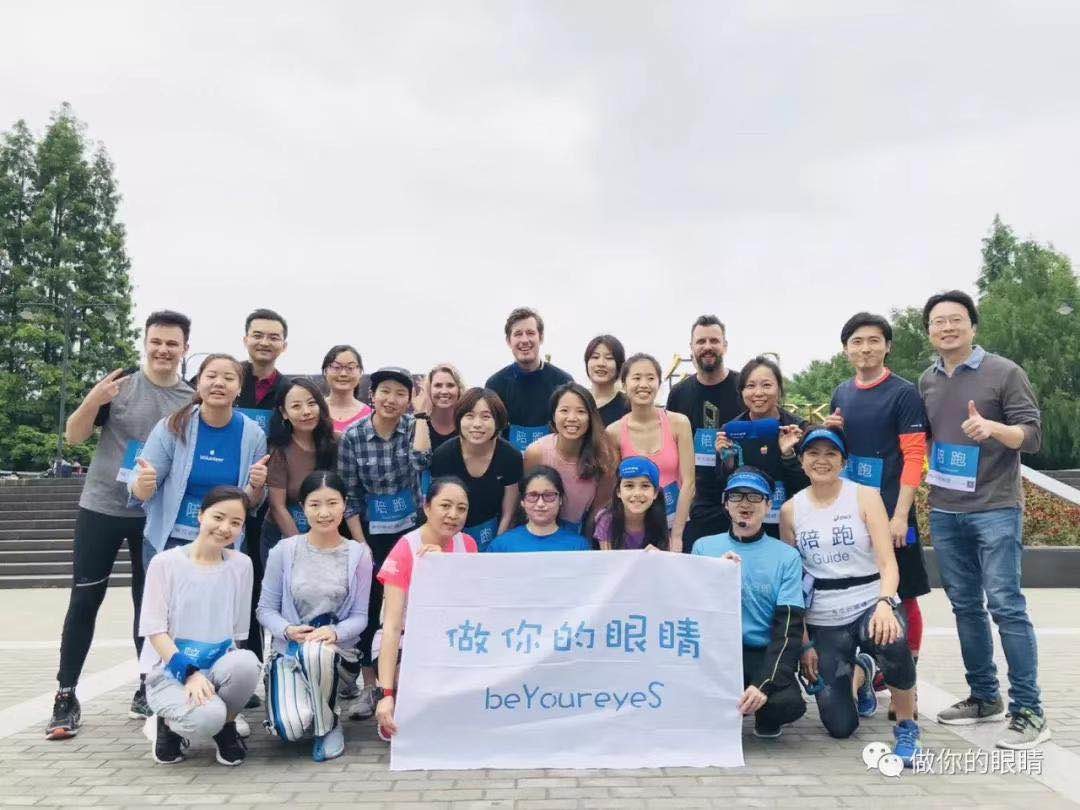 本期CSR活动是长久以来的延续,培训师们用英语与Apple外籍员工进行交流,开展了一场沟通无障碍、运动也无障碍的体验式公益活动。
This CSR activity is the continuation of a long -time cooperation. The trainers communicated with the foreign employees of Apple in English and conducted an experiential CSR activity with no barriers to communication and sport.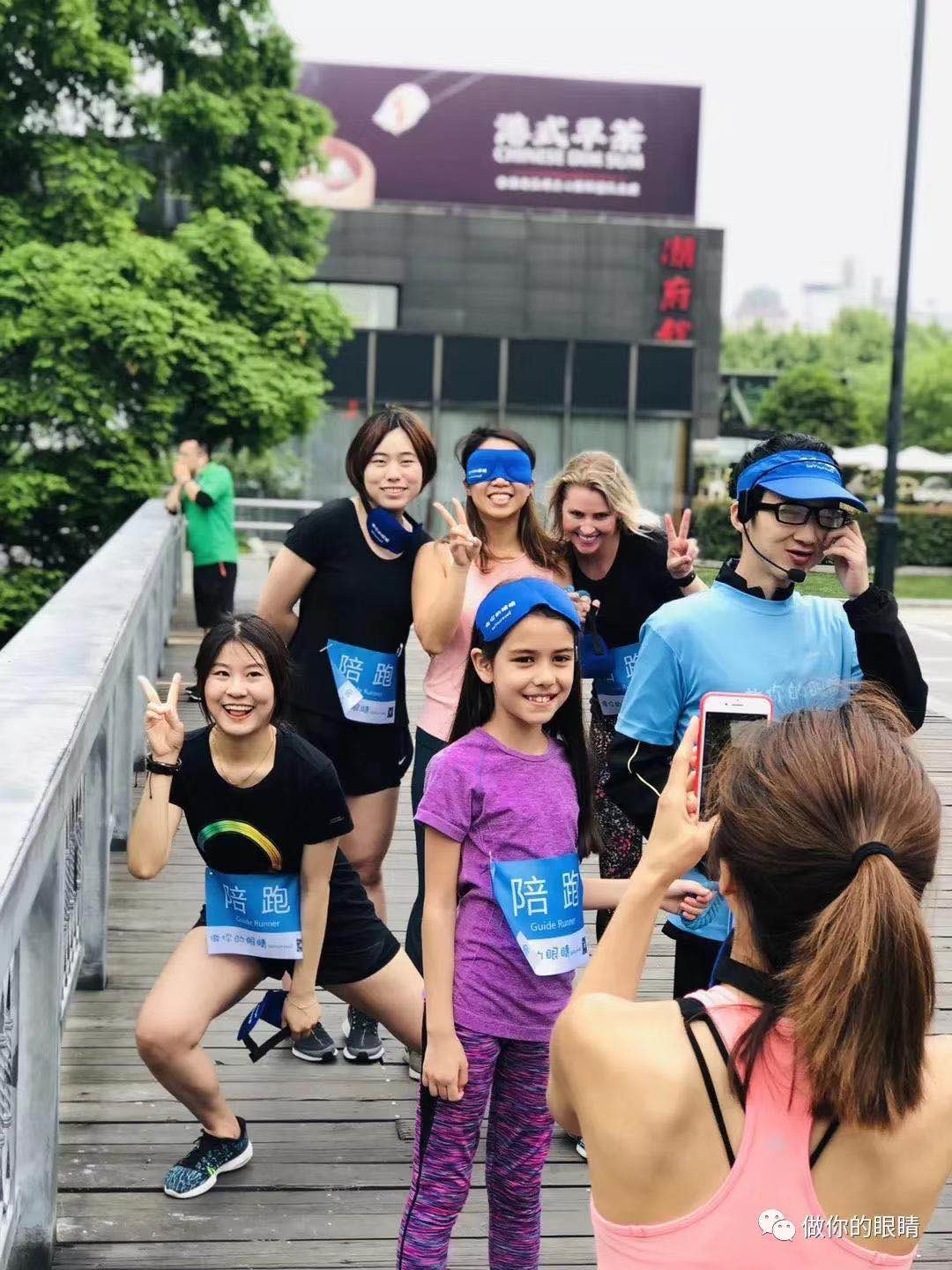 全球体育导师计划 GSMP (Global Sports Mentoring Program)
4月-5月,向东在美国进行为期五周的GSMP访问交流学习之旅。5月7日,Ken在华盛顿就GSMP访问交流进行现场演说。
在此次行程中,我们了解到美国公益组织支持残障者参与体育运动的专业性,在TurnStone,这个全美最大的无障碍体育运动中心,各类运动设施和各类活动可适应全年龄段、各种身体状况的人们参与。
我们也看到遵从Adaptive Sport适应性体育运动的理念,通过调整运动器材、场地和规则,能够让不同身体状况的人们一起参与比赛,让所有人在同一运动场上一起感受运动带来的快乐。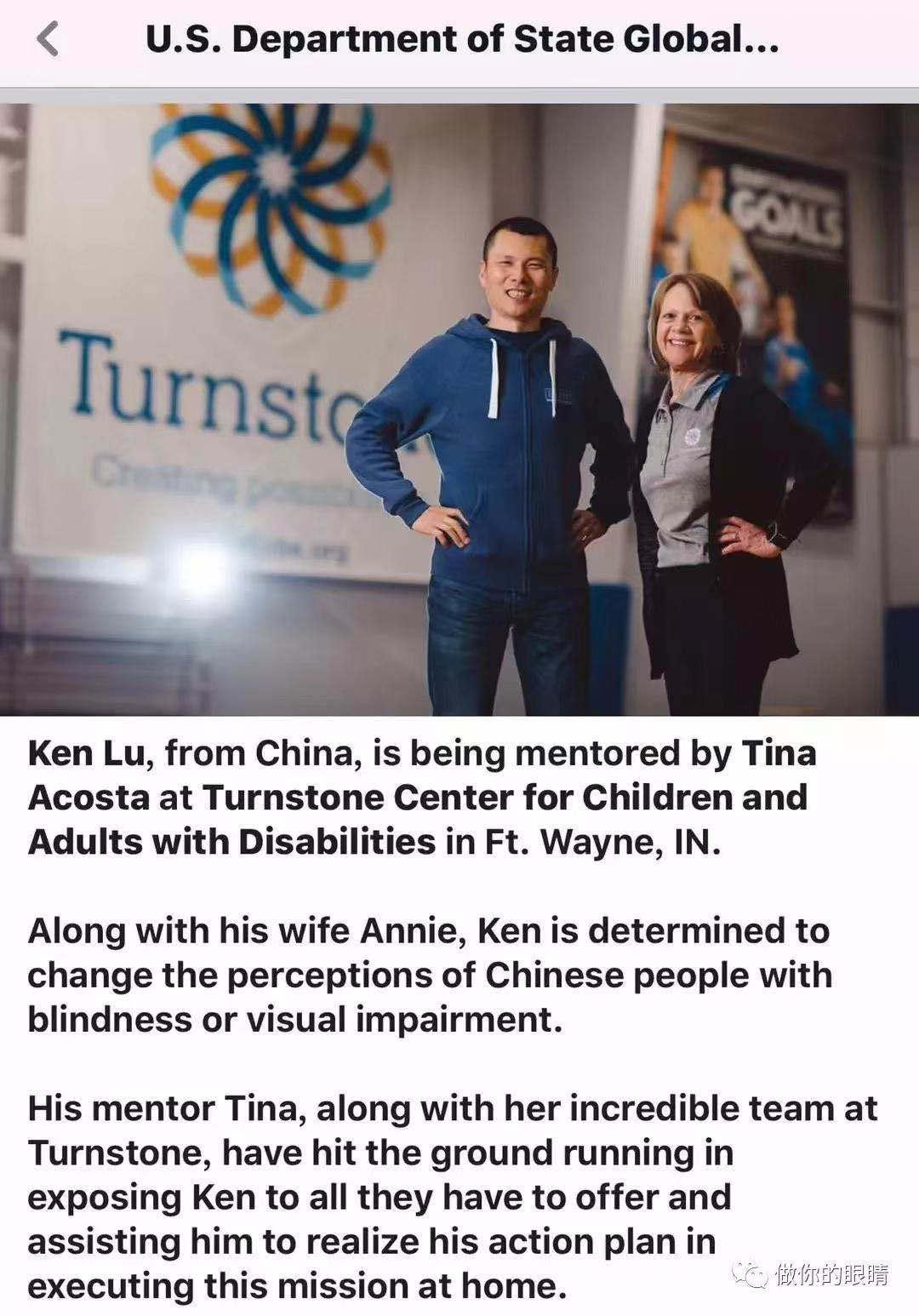 From April to May, Ken was on a five-week study course GSMP in the United States. On May 7, Ken gave a presentation on his action plan in Washington D.C.
During this journey, we learned about how professional that non-profit organizations supported persons with disabilities to participate in sports activities in the U.S.
In TurnStone, the largest accessible sports center for this kind in the U.S., all kinds of sports facilities and activities are adapted to people of all ages and various physical conditions.
We also found that ADAPTIVE SPORT allows persons of different physical conditions to participate in competitions together by adjusting the equipment, venue and rules, so that everyone can enjoy playing sports together in the same sports field.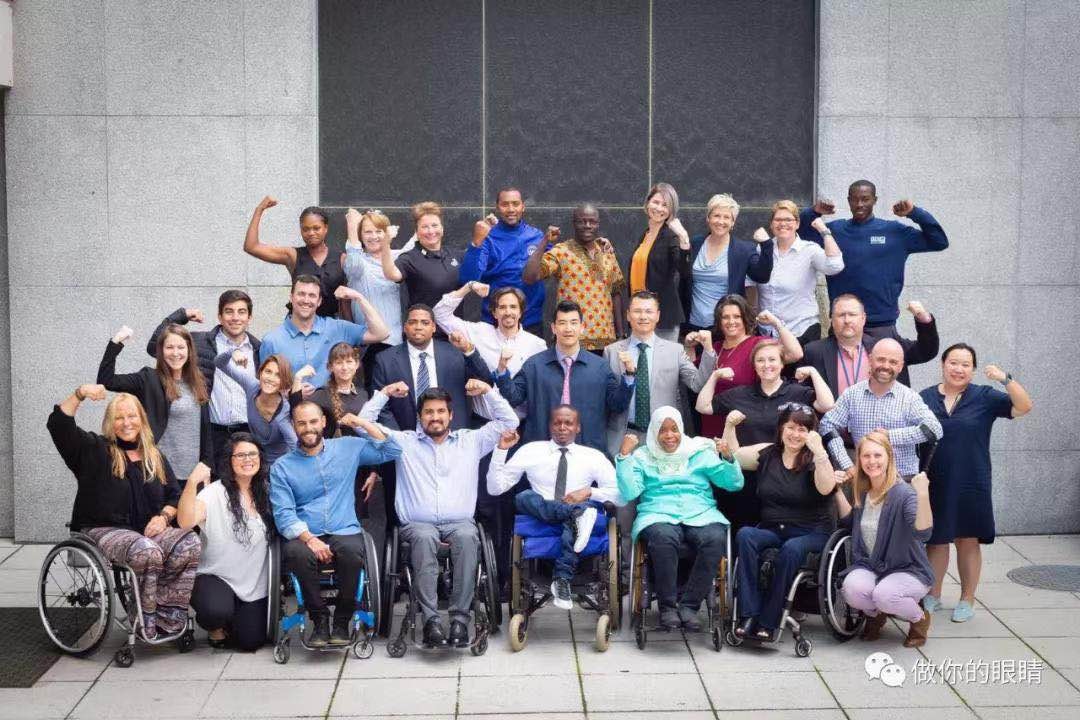 校园及文化活动 School & Culture Inclusive Activities
蓝睛灵把运动无障碍的理念带入公共图书馆、大学校园和上海市盲童学校。
Lanjingling promotes SPORTS ACCESSIBILITY into public libraries, universities and Shanghai School For The Blind (SSB) .
1.5月12日,浦东图书馆"做你的眼睛"专场分享会
1. May 12, beYoureyeS Special sharing session was held in Shanghai Pudong Library.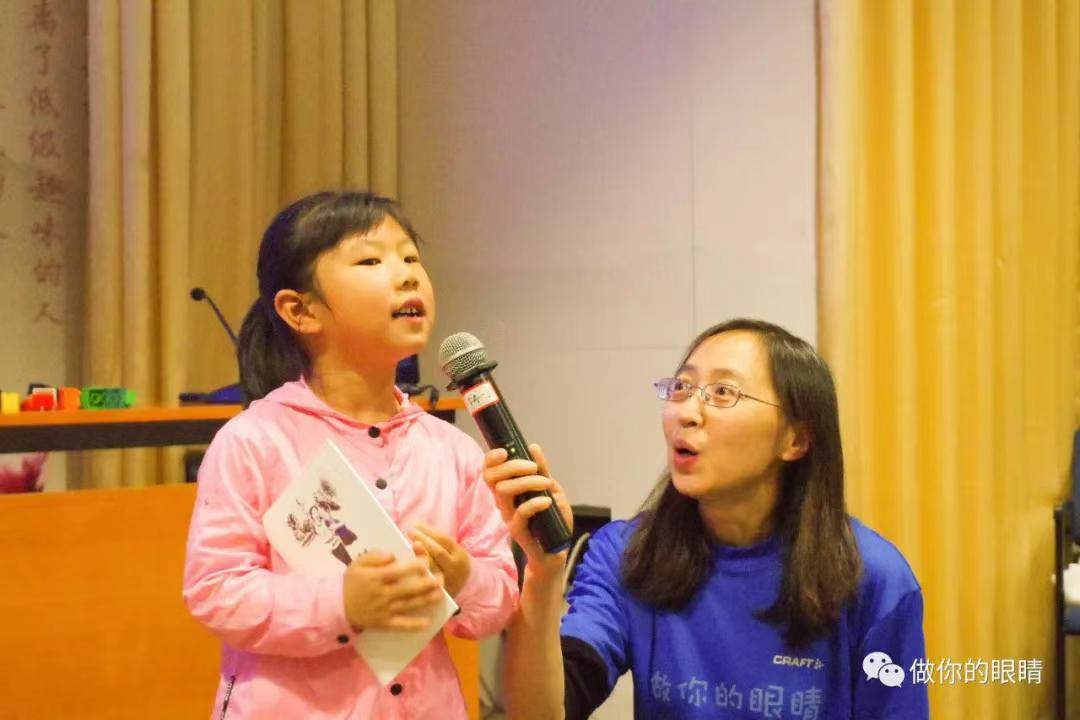 蓝睛灵将无障碍运动与无障碍阅读联系起来,传递无障碍的普适性理念。视障者从使用盲文阅读到使用电脑和手机来阅读,改变的只是阅读方式,不变的是对知识和美好世界的热爱。
Lanjingling connected SPORTS ACCESSIBILITY with READING ACCESSIBILITY and conveyed the universal concept of ACCESSIBILITY.
Whether persons with visual impairments reading in braille or electronic equipments what differs is only the way of reading, but the acquisition of knowledge is equal.
2.5月15日,上海师范大学 "做你的眼睛"视障陪跑公益活动。
2. May 15, beYoureyeS running activity with people who are visually impaired was carried out at Shanghai Normal University (SNU).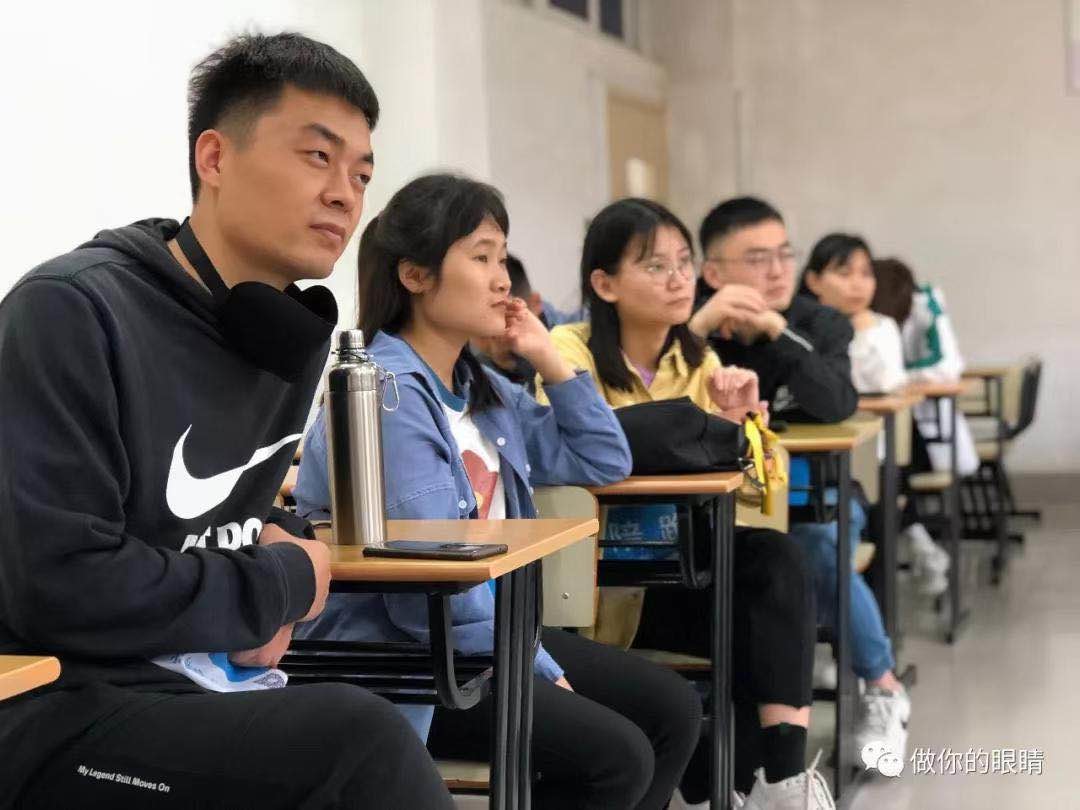 上海师范大学作为招收视障学生的全日制本科高等学府,在无障碍规范上做了长足努力。本次活动由蓝睛灵的工作人员和上师大的视障及健视学生共同组织,通过培训和体验,希望陪跑活动在上师大推广,视障大学生学习之余也能自由运动。
As a full-time undergraduate institution of higher education, SNU is one of few universities to enroll students with visual impairments who has made great efforts in the accessibility standards.
This activity was organized by Lanjingling and the visually impaired and unimpaired students from SNU. Through training and experience, we hope that the activities on campus will be continued to carry on step by step, which will facilitate students with visual impairments to run freely in their spare time.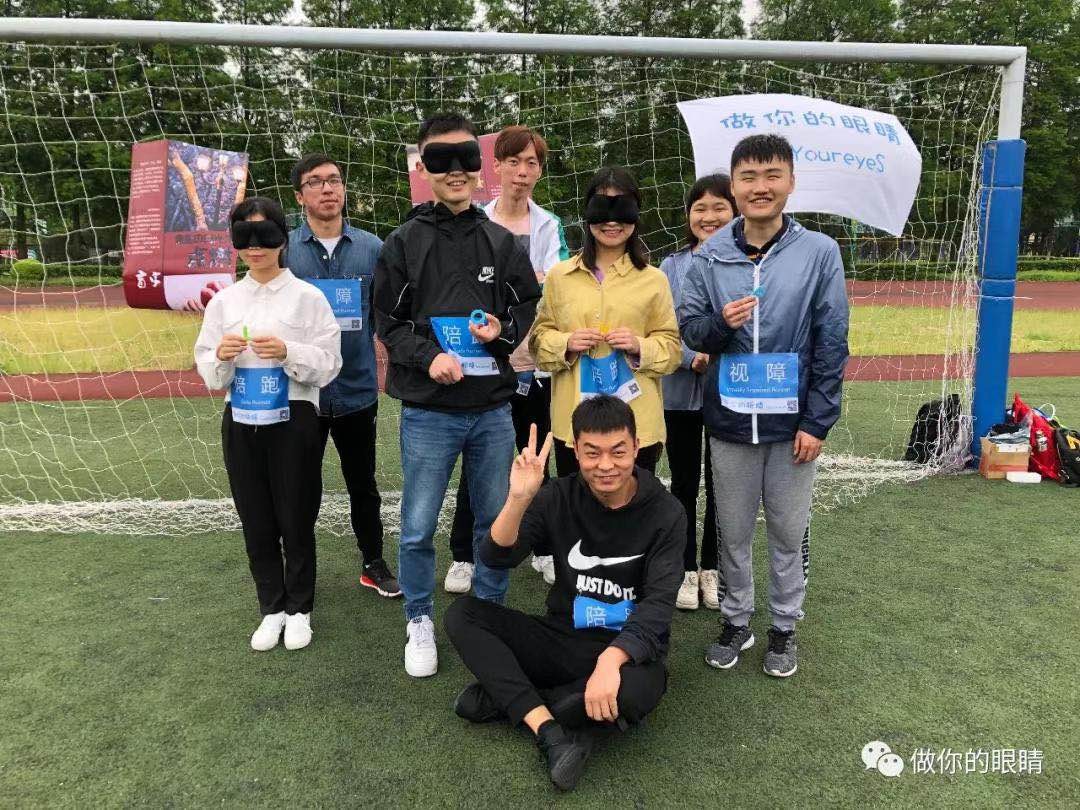 视障学生小许曾经为了跑步,独自拿盲杖在操场上慢跑,如今可以在校奔跑,运动打破障碍的藩篱,让大家彼此加深了解。蓝睛灵将与上师大的师生们合作,组织更加多样化活动。
Xu, a visually impaired student, used to jog on the playground with a cane alone. Now he can run accompanied with other students in the school, which not only breaks intangible barrier, but also lets everyone understand each other better.
Lanjingling is expected to establish a long-term cooperation with SNU to organize more diverse inclusive activities.
3.5月26日,上海人民广播《990早新闻》报道黄兴公园当期"做你的眼睛"陪跑活动。蓝睛灵近5年的努力,组织超过300场各类活动,有越来越多的媒体和个人加入了推动运动无障碍的事业。
May 26, Shanghai People's Radio 990 MORNING NEWS interviewed and reported beYoureyeS running activities with the visually impaired persons. With nearly 5 years of unremitting effort, Lanjingling has carried out more than 300 events, and an increasing number of media and individuals have joined to dedicate in sports accessibility.
4.5月29日,蓝睛灵向上海市盲童学校及上海市盲人门球队赠送来自USABA(United States Association of Blind Athletes)和Turnstone捐赠的奥运级别的盲人门球装备,上海市盲人协会赵继红主席,上海市盲童学校徐宏妹校长等出席了捐赠活动。
May 29, Lanjingling came to Shanghai School For The Blind (SSB), to deliver a batch of professional goalball equipments which were donated by the United States Association of Blind Athletes (USABA) and Turnstone to SSB and Shanghai Goalball Team. Zhao Jihong, the chairwoman of Shanghai Blind Association, and Xu Hongmei, the principal of SSB attended the event.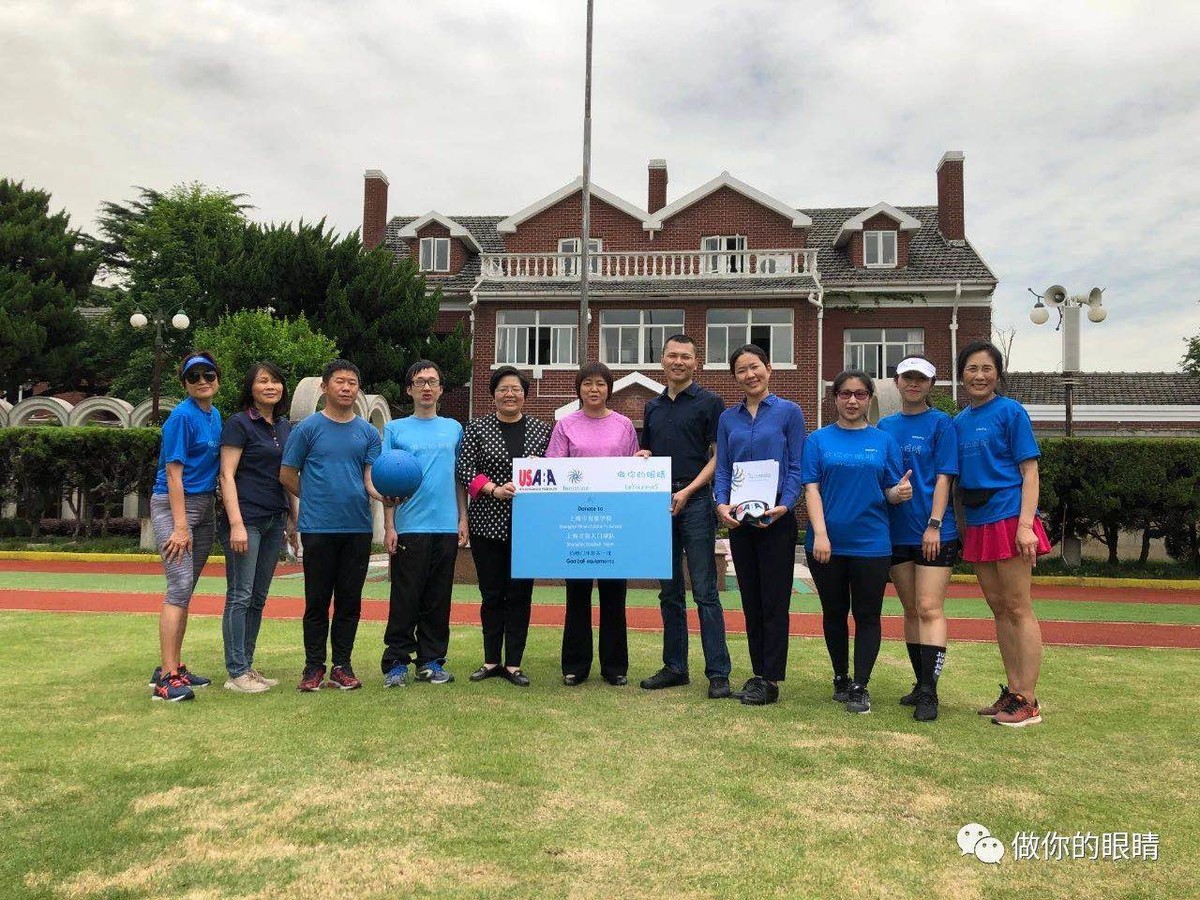 ​Video report about beYoureyeS, presented by GLOBAL TIMES
关于做你的眼睛:
做你的眼睛是一个民间自发的公益活动,于2015年1月发起,致力于推动运动无障碍,让视障者参与运动变得简单,让每个人都能享受运动带来的快乐。
无论视障者,还是健视者,我们都称呼彼此为蓝睛灵。蓝睛灵传达一个理念:在各种运动场所,在路跑、游泳、自行车、铁人三项等赛事中,身体有障碍但是热爱运动的人们都可以自由又自然的投入运动,参加比赛。
希望在赛场上,能够看到越来越多的蓝睛灵。
希望,运动无障碍。
beYoureyeS is a local NGO founded in January 2015 in Shanghai, China.
beYoureyeS is dedicated to promote sports accessibility, make it easier for visually impaired people to enjoy sports. Let everyone enjoy sports.
Whether a visually impaired runner or unimpaired runner, all of our participants are called "Lanjingling".
Lanjingling conveys the spirit of our concept: our charity caters to a variety of sports, road running, swimming, cycling and triathlon, to list a few. With us, regardless of the physical impairment, those who wish to participate in a race, are able to.
We hope to see you soon on the track and let's do something together for sports accessibility.
主页:www.beyoureyes.org.cn
邮箱:info@beyoureyes.org
微信:beyoureyes 或扫描二维码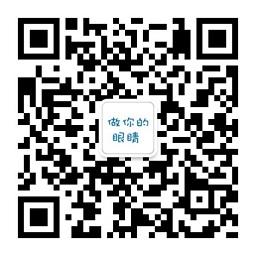 希望我们在比赛中汇集的能量,
可以流动到需要它们的人们那里,
希望我们在运动中得到的勇气,
让更多的人有力量面对困难。
We hope that whilst we're in the competition together,
we may all converge our energy as one to make each and all strong,
We hope that whilst doing sports together,
we are able to find the nerve to be strong enough to face challenges head on.