2019年6月,蓝睛灵共开展4期常规活动,1场企业社会责任(CSR)活动、1场校园活动,1场瑜伽活动。我们的创始人纪元和向东应邀参与了美国独立243周年国庆招待会,以及蓝睛灵又1对新人喜结连理。
In June 2019, Lanjingling has carried out 4 regular weekend activities, 1 CSR activity, 1 school inclusive activity and 1 yoga activity. Exhilaratingly, our founders Annie and Ken were invited to the 243rd Anniversary of Independence Day of the United States of America, and joyfully received good news that a new couple in our community got married.
文字 Writer:晓斌 Xiaobin
翻译 Translator:泱而 Neville、弘毅 Yoyo
编辑 Editor:纪元 Annie
2019-7-14
常规活动
REGULAR WEEKEND ACTIVITIES
做你的眼睛第171期至174期的常规陪跑活动于6月2日、9日、16日、23日在世纪公园、新虹桥中心花园、顾村公园、黄浦滨江开展,有2位新的视障伙伴加入,其中6月30日活动因大雨未能成行。
The 171 – 174 beYoureyeS regular weekend running activities took place on June 2, June 9, June 16 and June 23 at Shanghai Century Park, New HongQiao Greenland, Gucun Park and Huangpu Riverside respectively; and two new participants of visual impairments joined us. The regular activity on June 30 unfortunately got cancelled due to the heavy rainy weather.
本月常规活动,亦是IBM CSR特别月,IBM党委和工会连续3周组织员工参与。
Additionally, June is the special month of IBM CSR. IBM union actively organized employees to participate in our regular weekend activities for 3 consecutive weeks.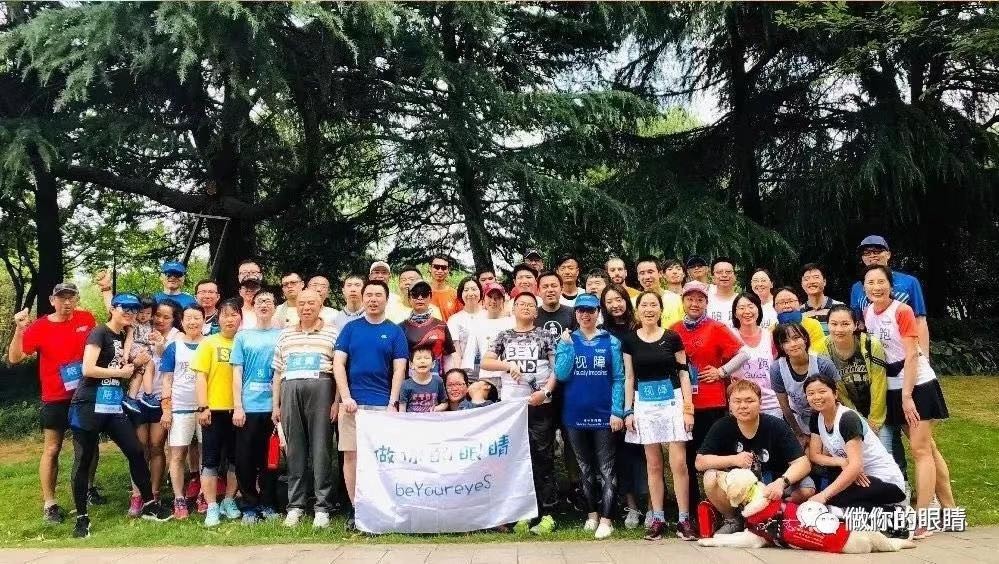 IBM伙伴们以负责的态度对待陪跑,认真参与新人培训,了解引导视障者,及常规陪跑知识,同时也体验黑暗中奔跑的感受。其中IBM同事袁海青带儿子一起参加,在培训课程和儿子分别戴上眼罩相互陪跑后,她将真切的感受写在短文《耐心和信任》里:"有了充分的沟通,即便是素未谋面的人也会给到你安全感,从而建立起信任感。"
Colleagues of IBM were active and obligatory. They responsibly participated in trainings for newcomers, learned basic knowledge about accompanied running, and experienced running in the dark like visually impaired people. Among them, Yuan Hai Qing, an IBM colleague, brought her son along, the two of the aided each other to run when one of them ran with a patch. She recorded her authentic feeling afterwards, in a short article named "Patience and Trust", it reads: "With thorough communication, even someone that you've never met before can bring you the feeling of safeness, in which is the fundamentality of trust."
6月16日,蓝睛灵与IBM伙伴一起来到顾村公园,活动内容精彩纷呈,包含无障碍分享、环湖跑、皮划艇及野餐会,详情见后。
On June 16, Lanjingling and colleagues of IBM joined in Gucun Park for a variety of splendid activities including running around central lake, kayaking, a picnic and a thought-sharing session of sport accessibility. (detailed information will be provided in the following content)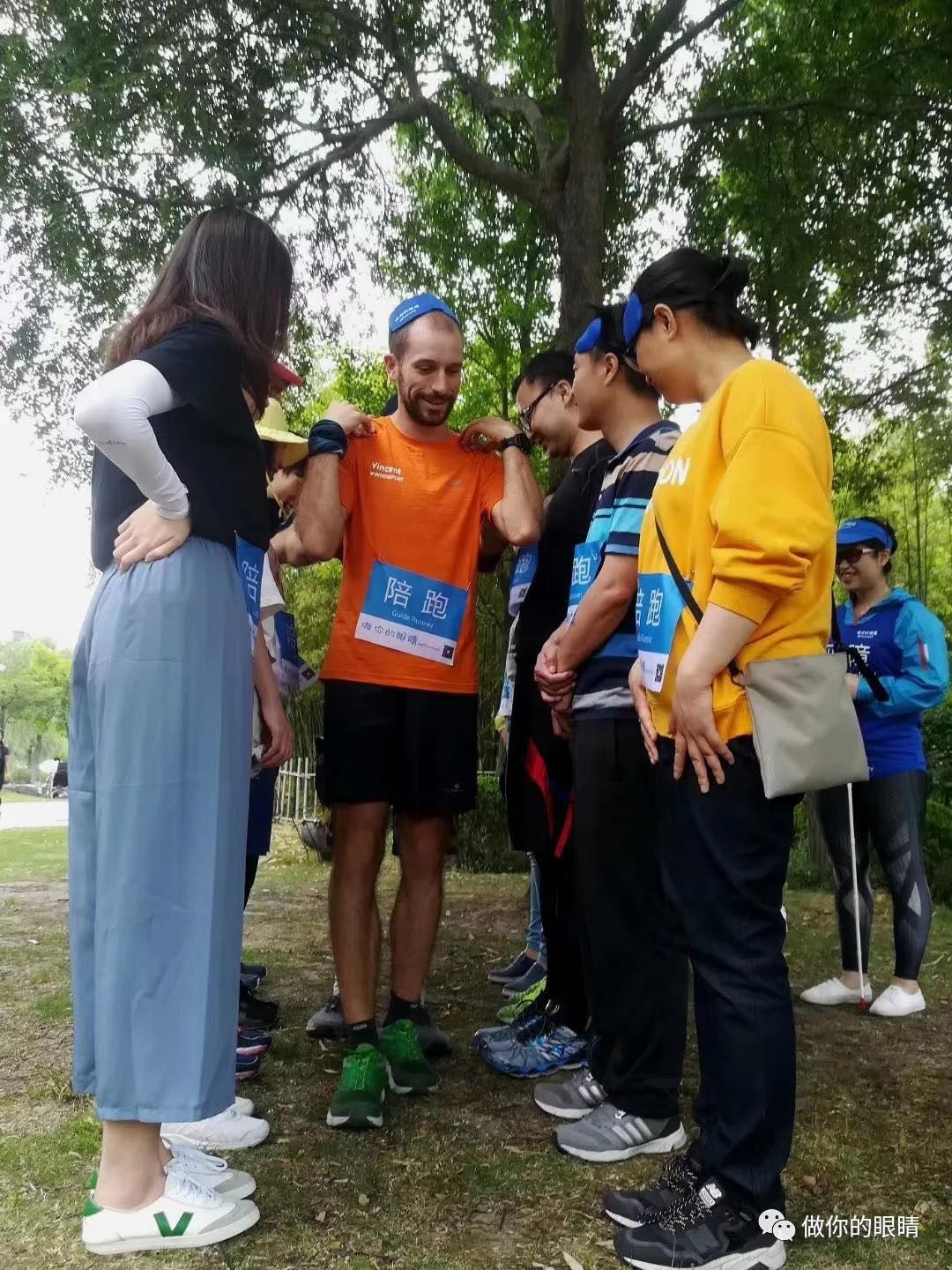 6月23日,蓝睛灵们来到位于南浦大桥和卢浦大桥之间的黄浦滨江,舒适的跑道、清新的空气、可以听到的风景,让小伙伴们都跑high了。
On June 23, Lanjinglin went to Huangpu Riverside park, located between Nanpu bridge and Lupu Bridge. The ruddy runway, the refreshingly savory air breezes, the brilliant blue sky, all made us extra vigorous.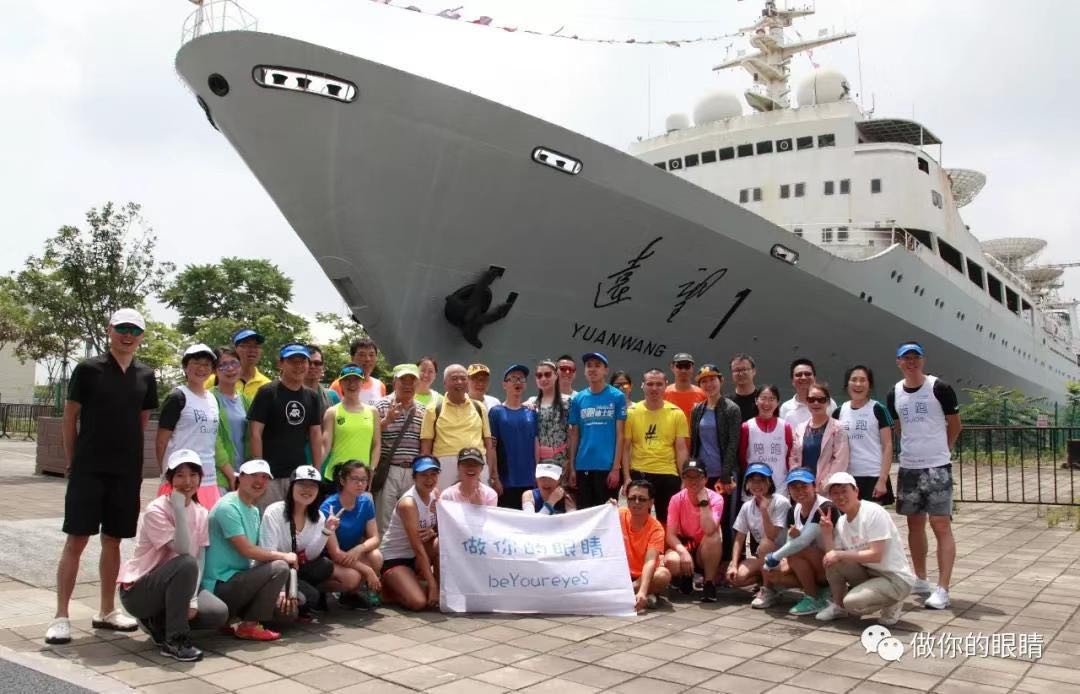 本期有两位新视障者参与,我们相信,视障者自身走出来、跑起来,影响的是包含健视者和视障者的所有人。我们将带动更多热爱生活、想要运动的视障人士投入进来,一起倡导一个无障碍的世界。
2 new participants with visual impairments joined us this time. We believe that visually impaired people should not be housebound while freely participate in sports and society, which have positive impact on everyone whether visually impaired or unimpaired. We will encourage more people with visual impairments who love life and want to exercise to join us in advocating a fully accessible world.
校园活动
School Inclusive Activity
6月5日 ,蓝睛灵分享会走入上海市学生事务中心。
June 5, Lanjingling sharing session was promoted in Shanghai Student Affairs Center.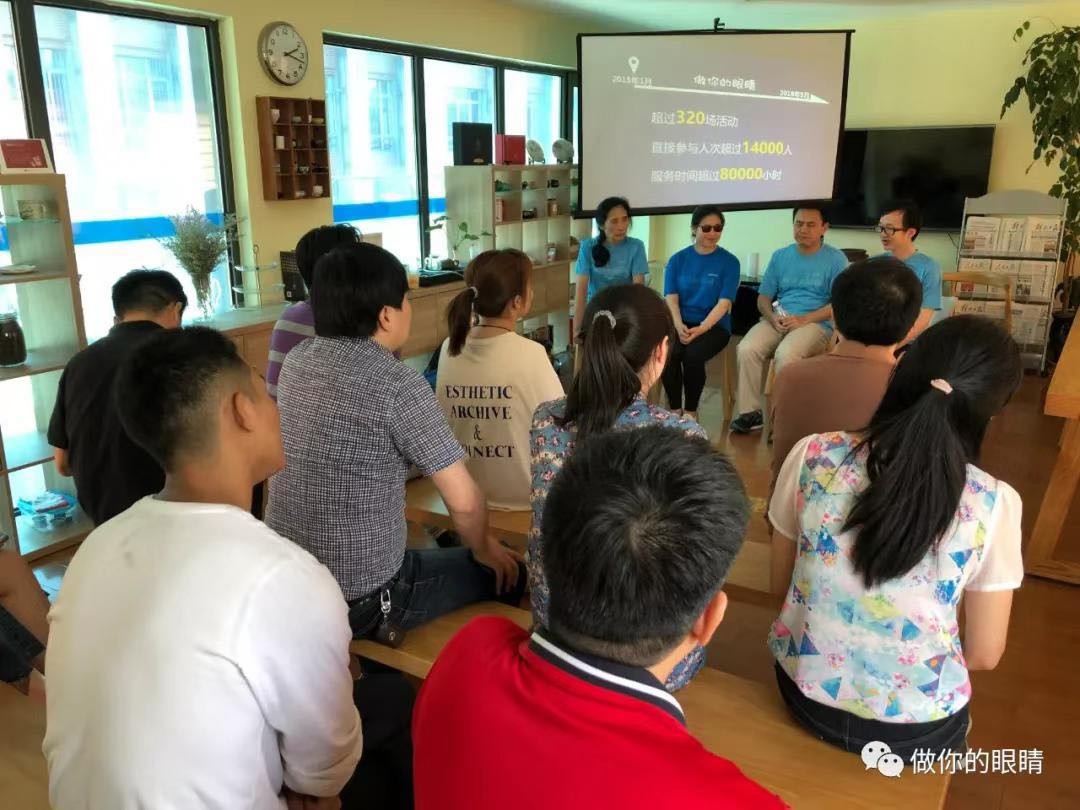 红姐分享道,在与视障者接触时,不仅要有陪跑的热情,还要有沟通时的耐心,需要像家人朋友一样指出缺点,同时给予宽容和鼓励。与此同时,红姐也感受到来自视障伙伴的关心和温暖。
Mrs. Yin said that when contacting with visually impaired people, we should not only have the enthusiasm to run with them, but also have the patience to communicate with them. It's necessary to encourage them and develop empathy. However, at the same time we should directly point out their shortcomings like family and friends. Meanwhile, Mrs. Yin also shared a sense of carefulness and warmness from her visually impaired partners.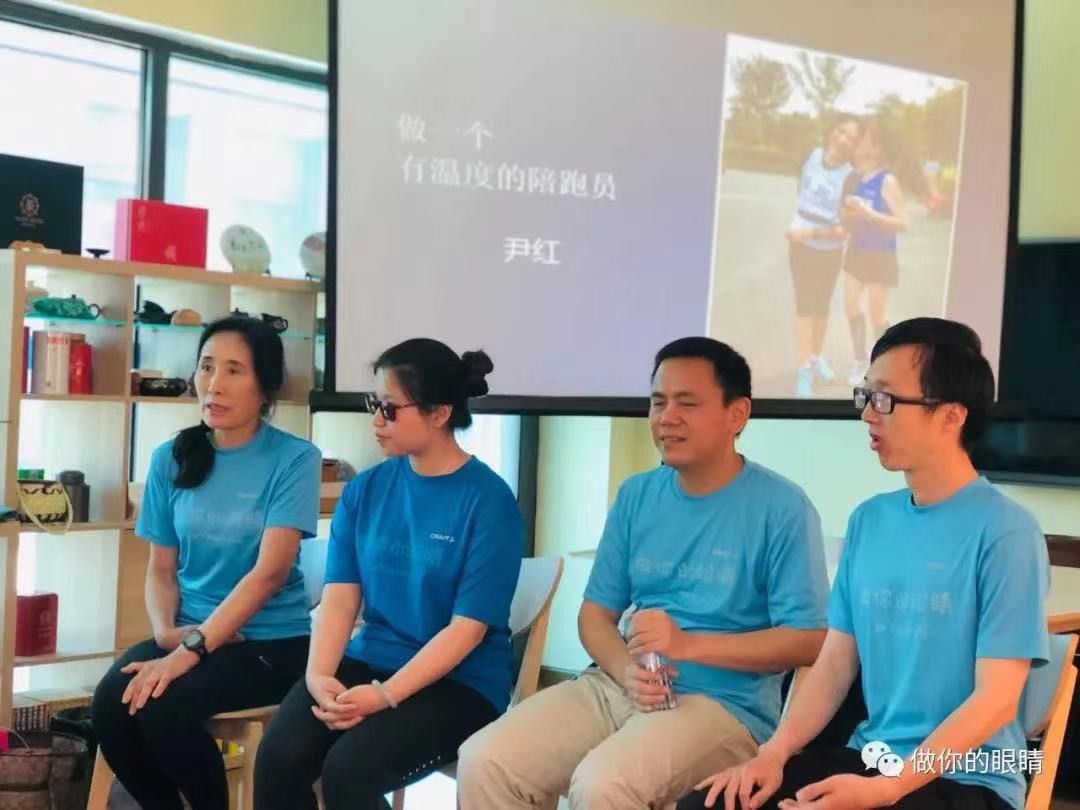 在蓝睛灵的活动里,我们希望健视者和视障者,都能用心灵的眼睛,了解对方,彼此支持,携手向前奔跑。
In Langjingling community, we hope that all participants can use the power of the hearts and minds as eyes to communicate and to support, not leaving anyone behind the social development of our world.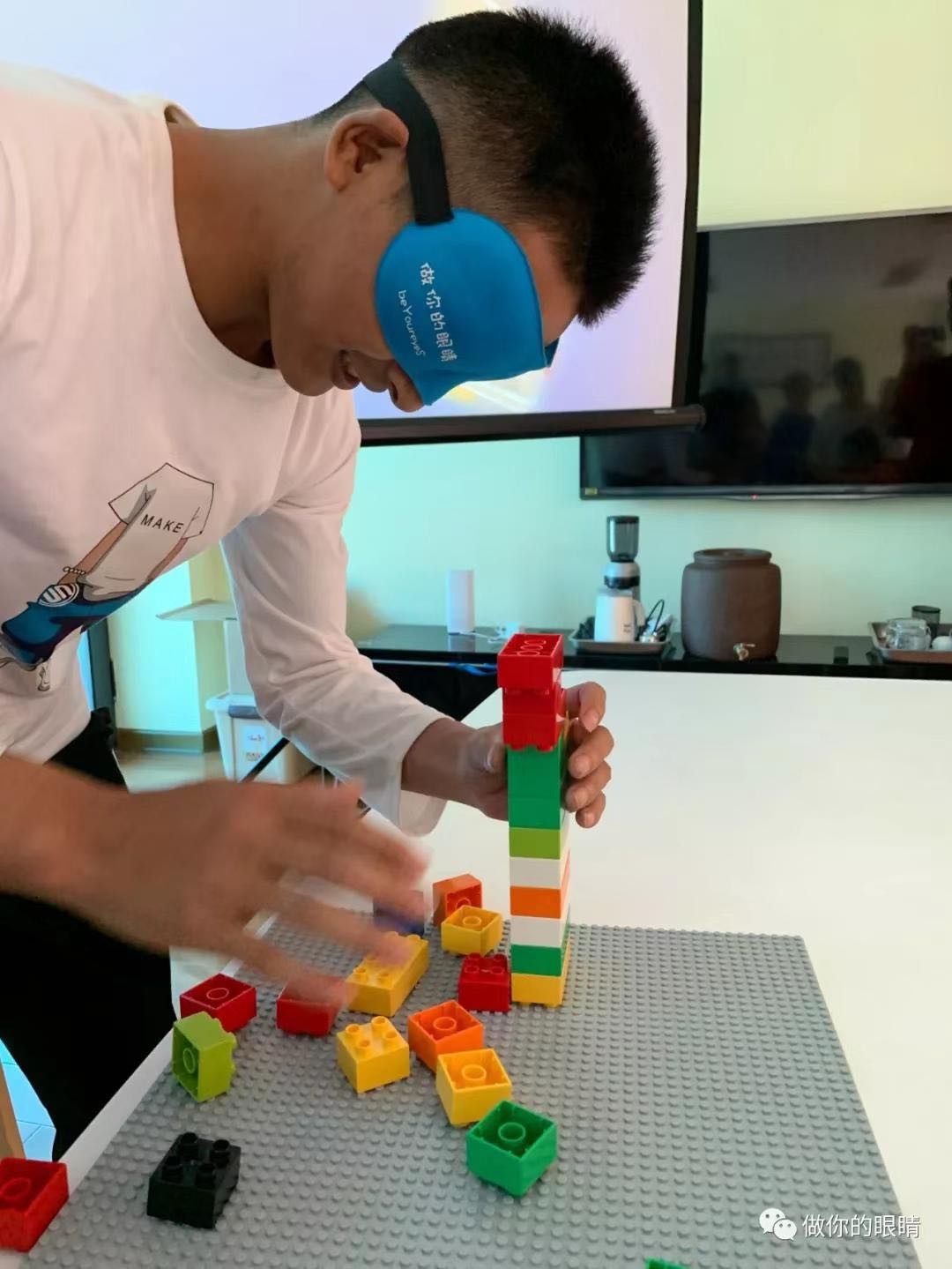 企业社会责任(CSR)活动
Corporate Social Responsibility Activities
做你的眼睛&IBM企业社会责任活动月
beYoureyeS & IBM CSR month
不知不觉,IBM与蓝睛灵的企业社会责任活动已经连续进行了四年,每年,IBM伙伴们参加公益活动的热情,和努力推动运动无障碍的心愿都深深地感染着大家。
Time transients, unwittingly the CSR activity that we perform with IBM had been running for four consecutive years. Every year, the vigor and enthusiasm of IBM colleagues have been the backbone of this activity and their desire to promote sports accessibility deeply affect everyone.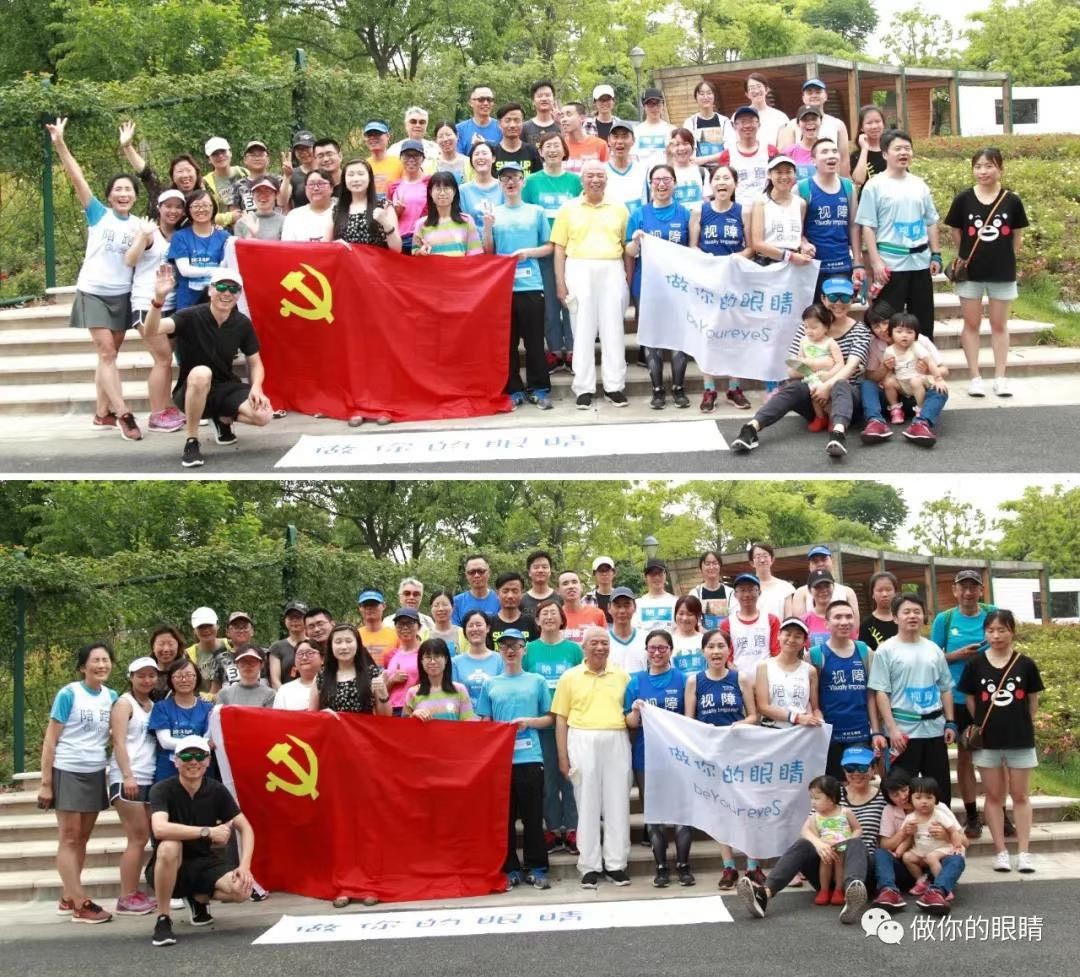 6月16日是一场与IBM特别合作的企业社会责任活动。包含双方的无障碍主题分享、环湖跑步赛、水上运动双人皮划艇,和快乐的野餐。
On June 16, a series of various and wonderful CSR activities were held in Gucun Park, including sharing the idea of sport accessibility, running around the lake, kayaking and picnic.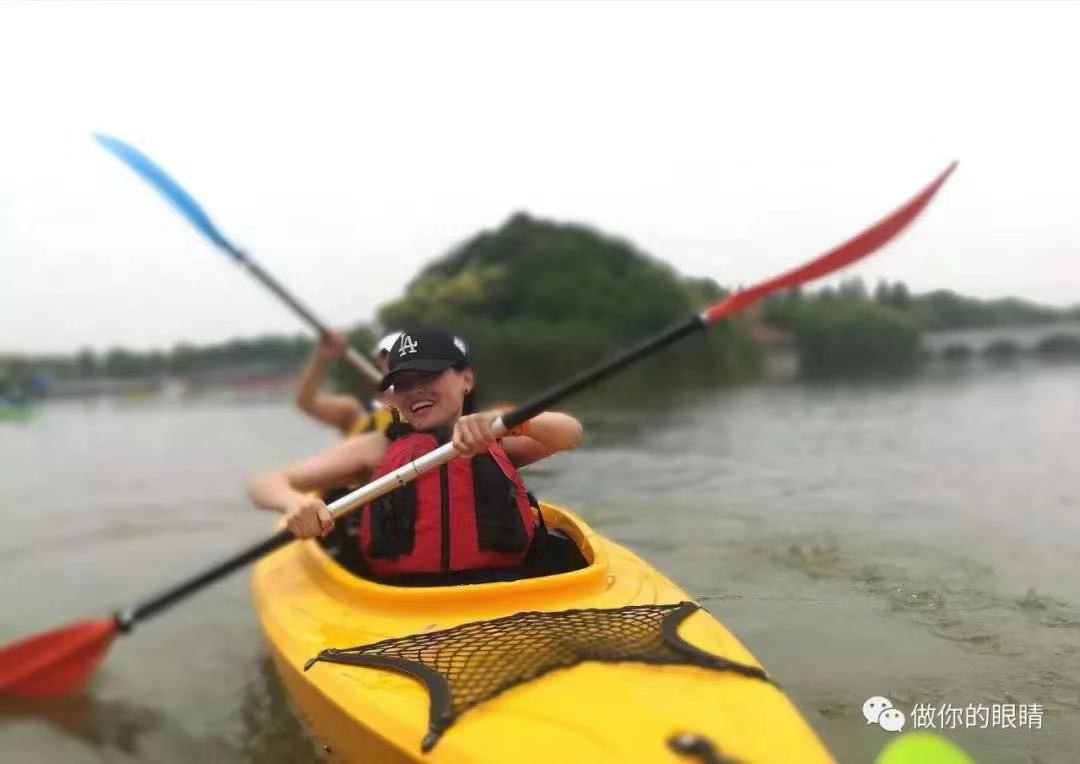 在提前培训,参与过两周的常规活动之后,今天的特别活动里,IBM伙伴们以小白陪跑员身份,和蓝睛灵的视障跑者与大白们,完成环湖融合跑。
After two weeks of regular weekend activities and training in advance, IBM colleagues ran with our visually impaired runners and certified guide runners together as internship guide runners around the lake.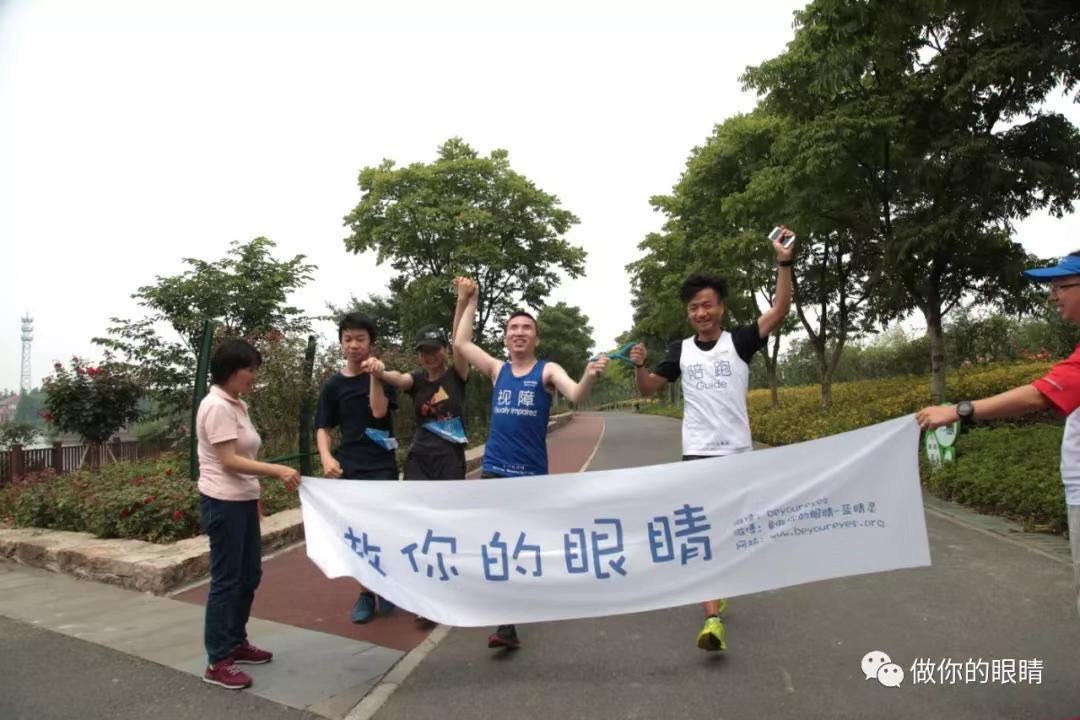 在双人皮划艇项目里,学生时代是专业皮划艇运动员的视障者晏大叔,和陪跑员宝叔这对"老年"组合划得飞快,真是"老将出马,一个顶俩"。
For the two-man kayaking activity, Mr. Yan, a senior visually impaired person who was a professional kayaking athlete in college, joined one of our guide runners, Uncle Bao, on one boat. Despite their elder age, they travelled in light speed and showed out all of us, who watched with astonishment.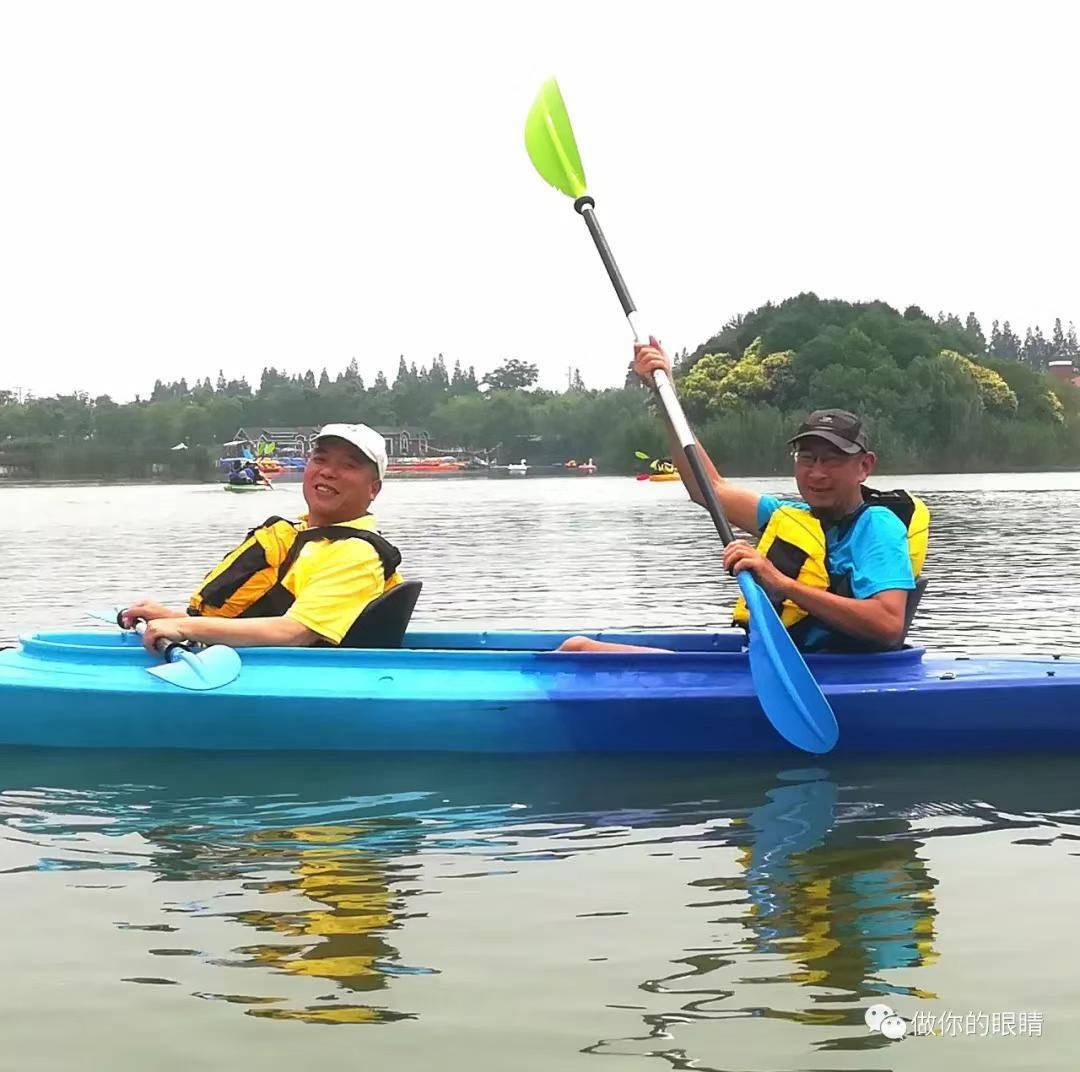 本次水上运动的尝试,证明在安全引导及适当调整下,视障者完全可以参与大多数种类的运动。
This water sports proved that the blind and visually impaired people are able to do most sports with safety guidance and proper adjustment.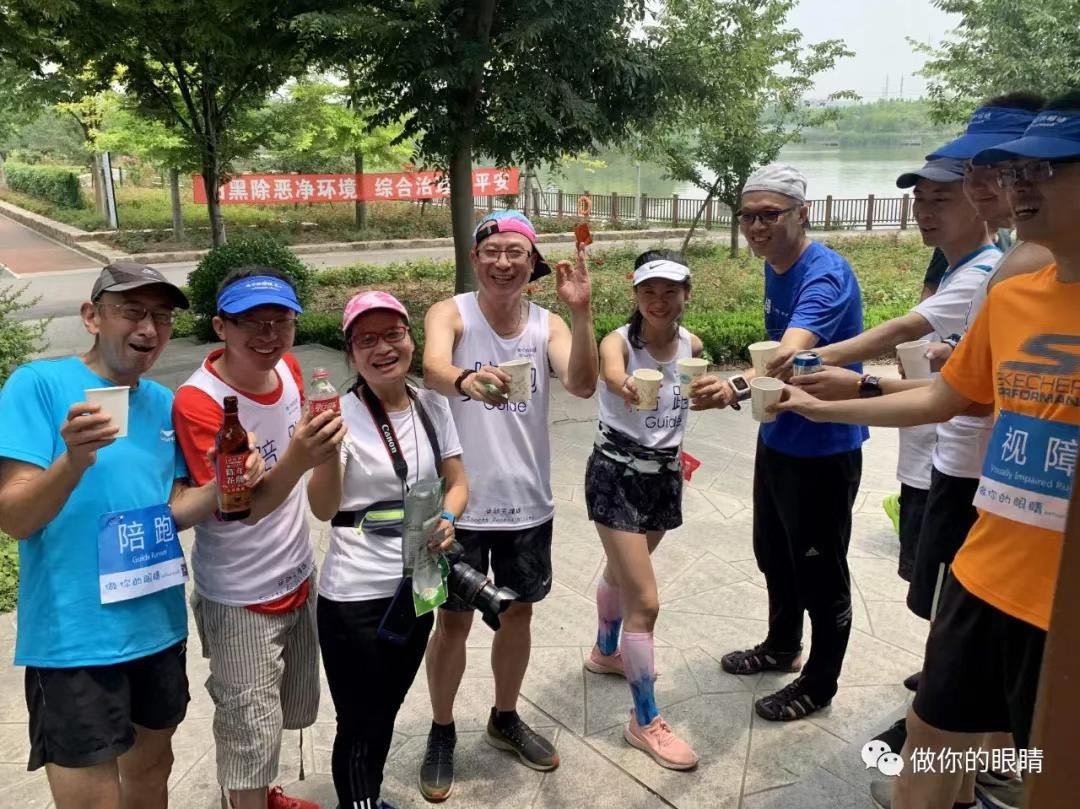 最后,大家开启野餐模式,分享各自带来的美食、美酒,分享着大家的美好心情。
The day ended with a special picnic, with everyone bringing their own home-made delicacies and wines and joy.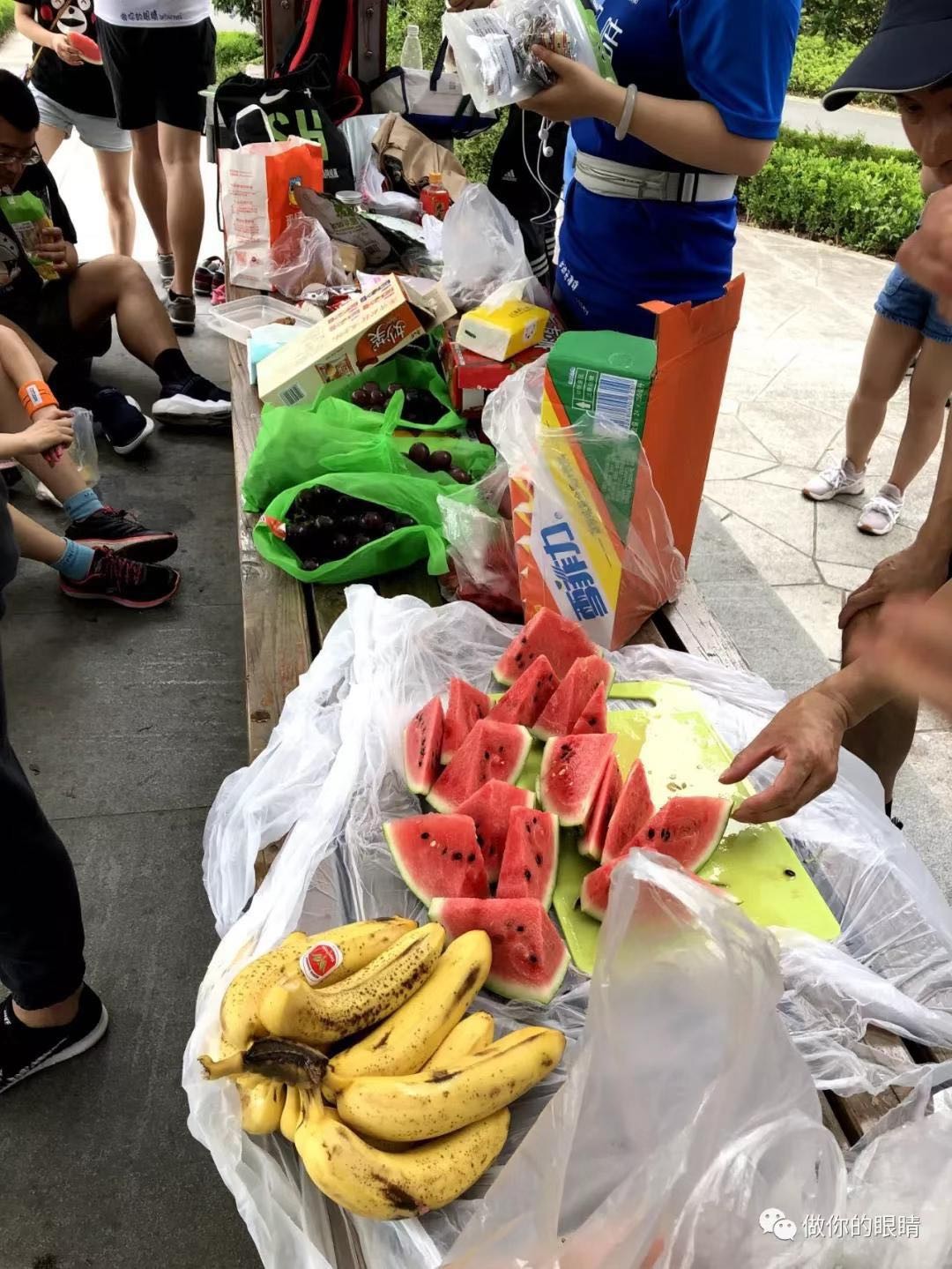 Apple中国年度企业责任报告提及"做你的眼睛"
Apple China's 2018-2019 CSR annual report mentioned beYoureyeS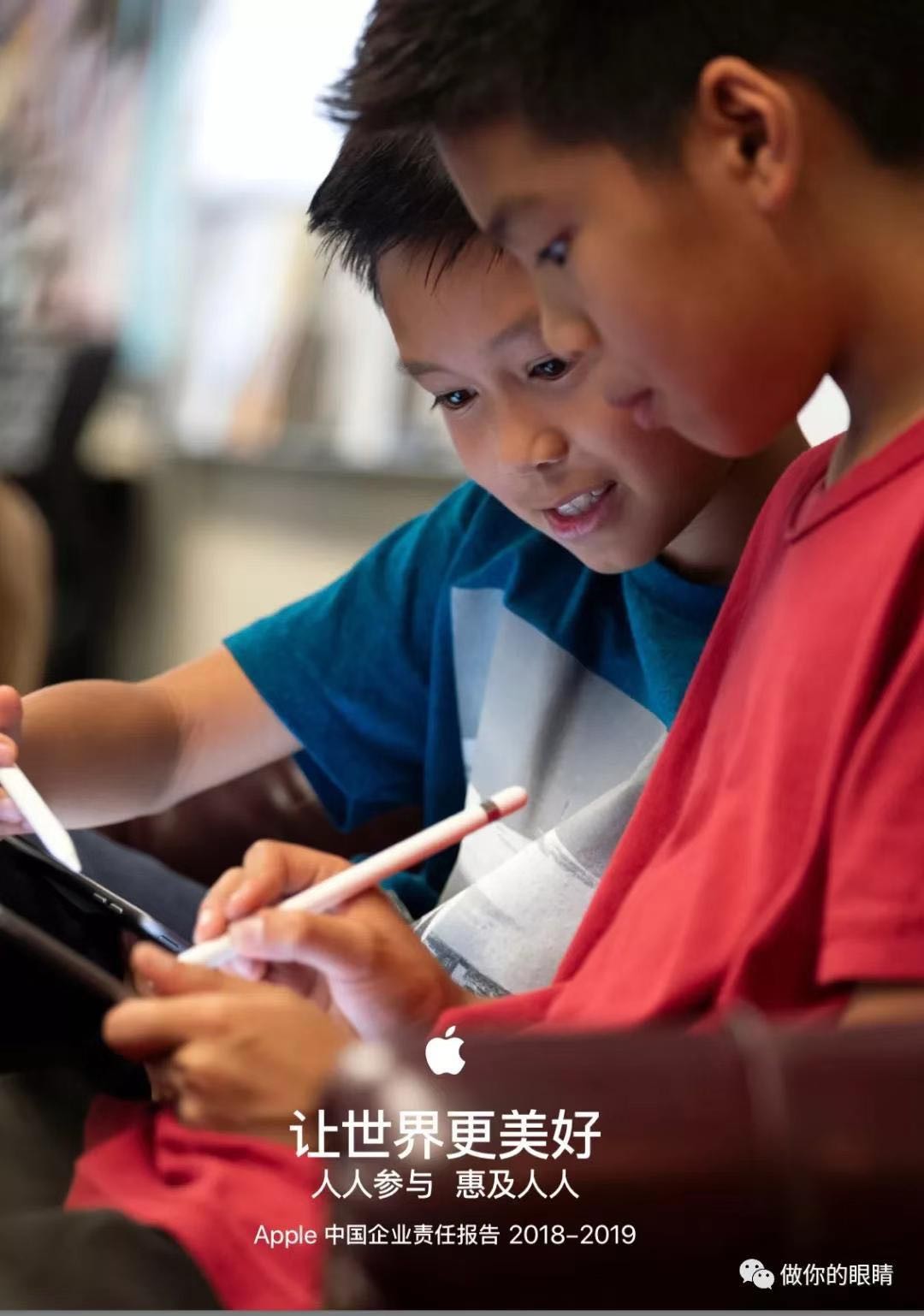 Apple中国近期发布2018-2019年度企业责任报告,其主题为:让世界更美好,人人参与,惠及人人。其中在第80页和谐共创,共谱华章一页,特别配图介绍Apple志愿者参与蓝睛灵"做你的眼睛"活动,通过学习视障礼仪,更好的帮助视障人士生活无障碍。
Apple China recently released its 2018-2019 CSR annual report. The theme of which is: Making the world a better place for everyone to participate and benefit everyone. On page 80, it mentioned that Apple volunteers participated in beYoureyeS activities, learning the proper way to guide visually impaired persons to support them to live better without stereotype and barriers.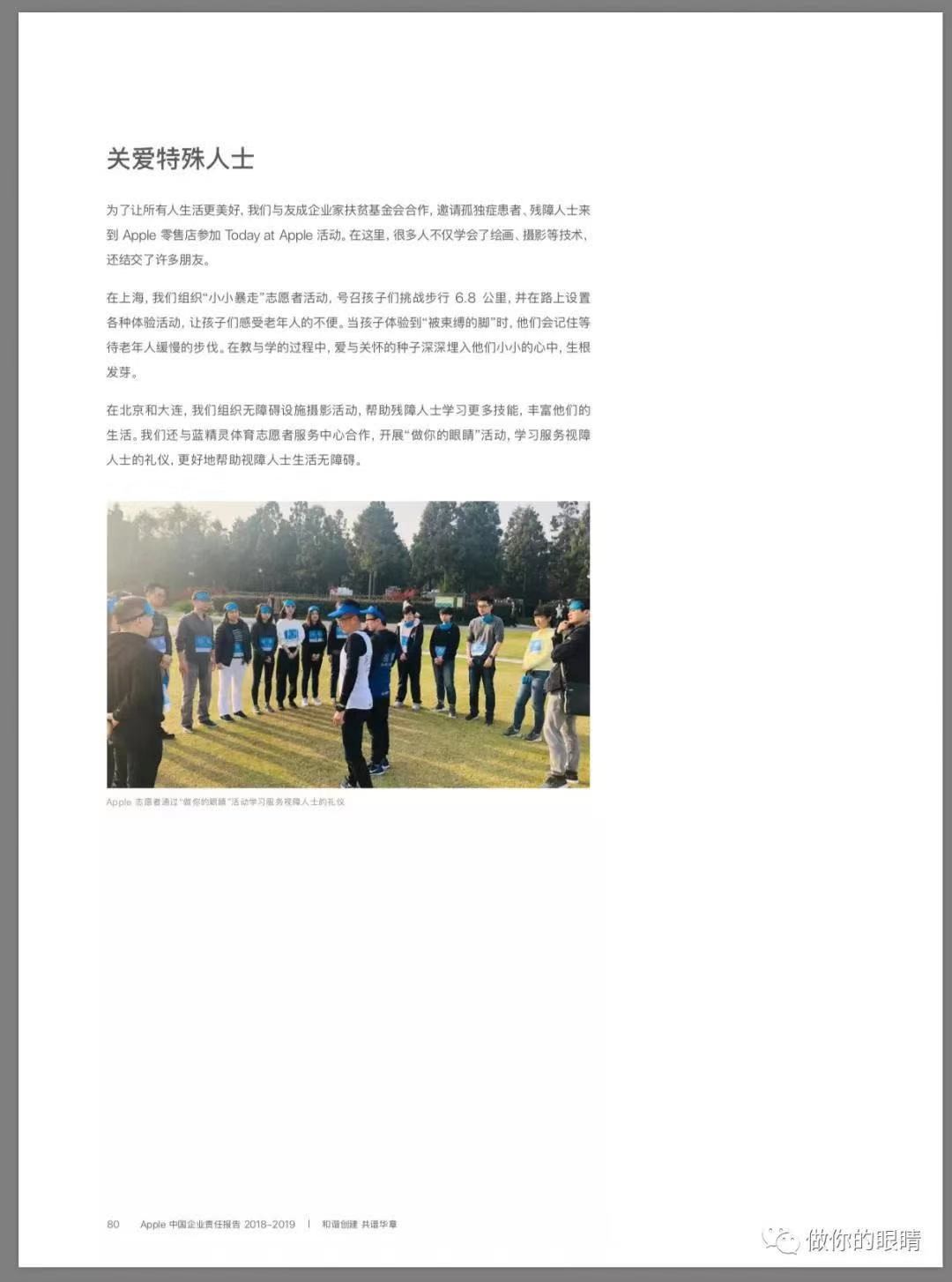 蓝睛灵再次牵手瑜伽
Lanjingling conducted yoga activity again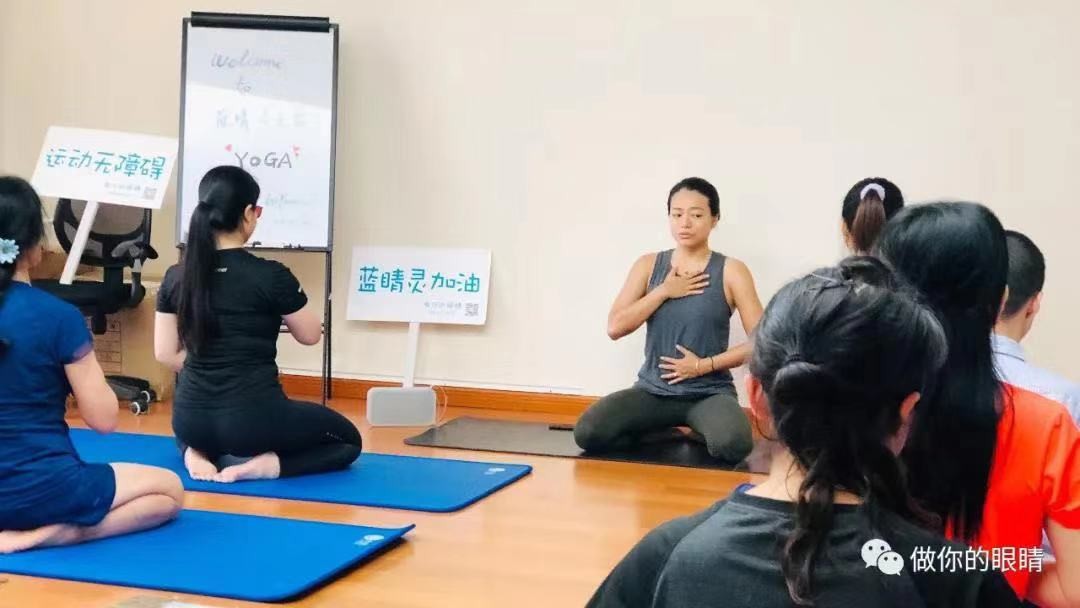 6月29日上午,美丽的瑜伽教练Karen老师为蓝睛灵们带来一节特别定制的瑜伽体验课。本场瑜伽所有人都在黑暗里进行,也就是说,参与的健视者需戴上眼罩。
On the morning of June 29, Ms. Karen, a professional and beautiful yoga mentor, engaged with the members of Lanjingling through a specially customized yoga course. Everyone did it in the dark, in other words, unimpaired participates need to had patches on.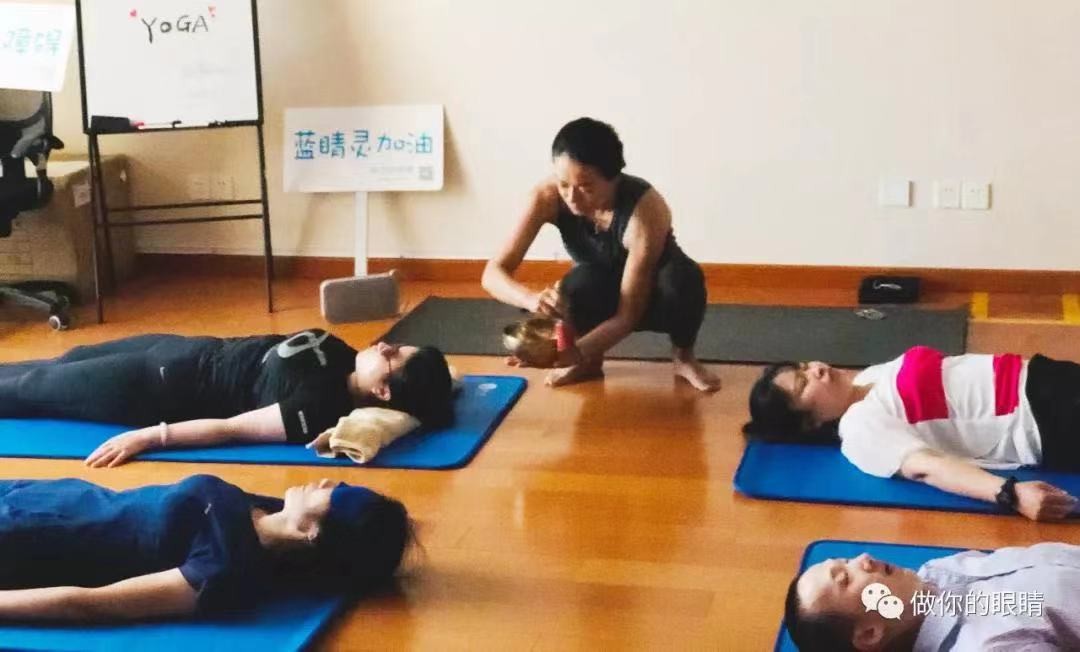 Karen老师精心设计了适合跑步爱好者的一系列瑜伽动作,且用非常明确的口令引导:"重心放在双脚大脚趾头,脚跟缓缓抬起……"在精准的引导语言下,视障者也能流畅的摆出合规的动作。
Ms. Karen elaborately designed special Yoga poses for running enthusiasts and guided us with patience and care. "Move your center of mass onto the position of your big toes, and slowly lift your heels…". Under her precise guidance, everyone performed safely and fluently.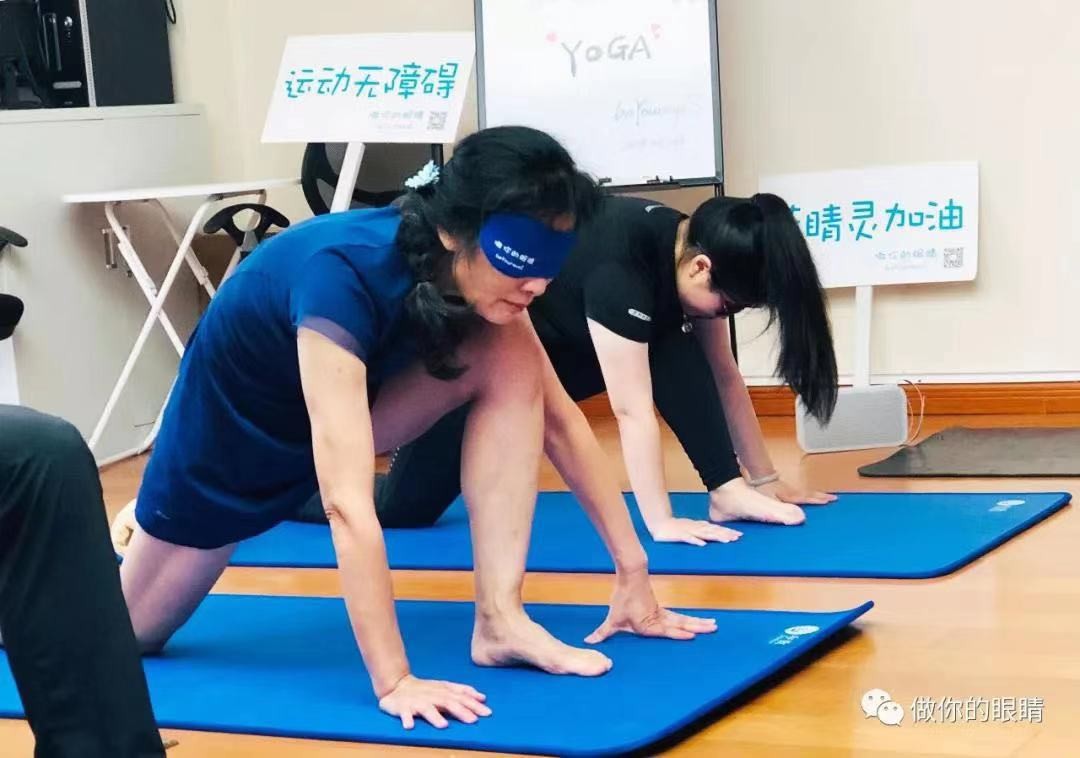 随后老师会一一微调,让每个人都能在黑暗中感受正确的体式和体感。健视者带上眼罩后,与视障者一样,体验视觉之外,内观身体的感觉。
Ms. Karen then guided each of us one by one so that everyone could experience the authenticity of Yoga in the dark. Those with no visual impairment got a chance to fully explore the senses and feel the aesthesia of inner-self.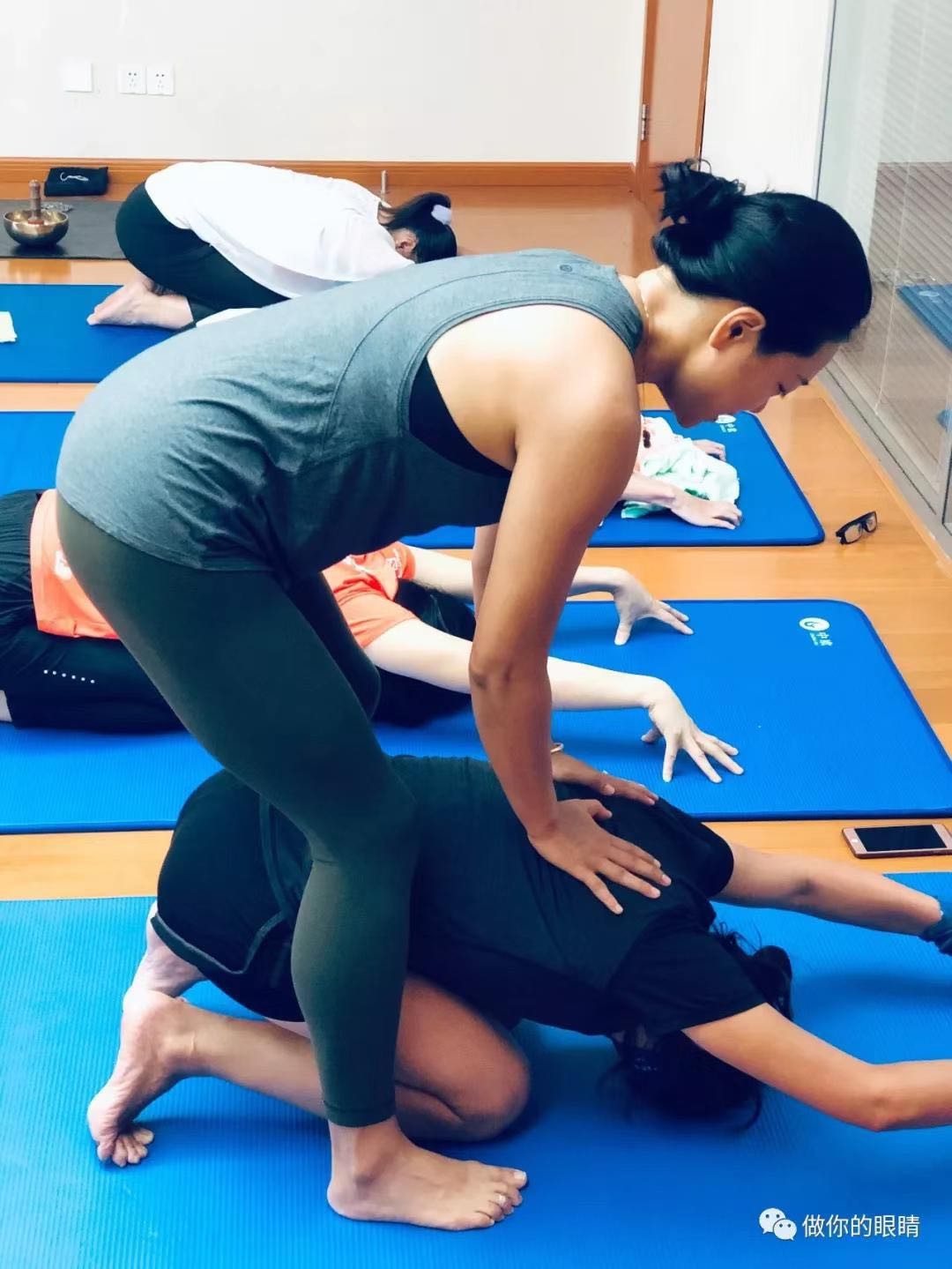 的确,突如其来的黑暗会给陪跑员们理解和完成动作带来一些障碍。但每个人都有潜藏的内心力量,通过瑜伽向内看,与自己身体的交流,能更好地开发出来自内心的能力。
It's obvious that the sudden darkness may hinder guide runners to complete their movements when trying to do Yoga. But, everyone had potential power in which would be better excavated and utilized through the communication of your mind with your body when doing Yoga with full concentration.
感谢Karen老师,让我们期待下一次瑜伽之旅。
Thanks Ms. Karen, we look forward to our next Yoga activity.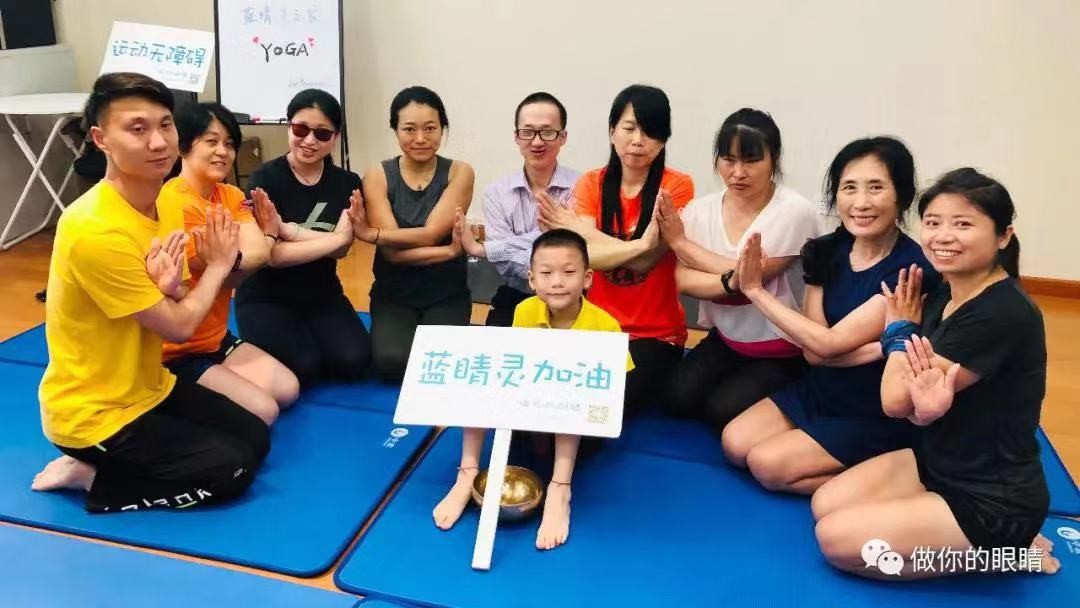 蓝睛灵受邀参与美国国庆招待会
Lanjingling got invited to attend the US National Day celebration event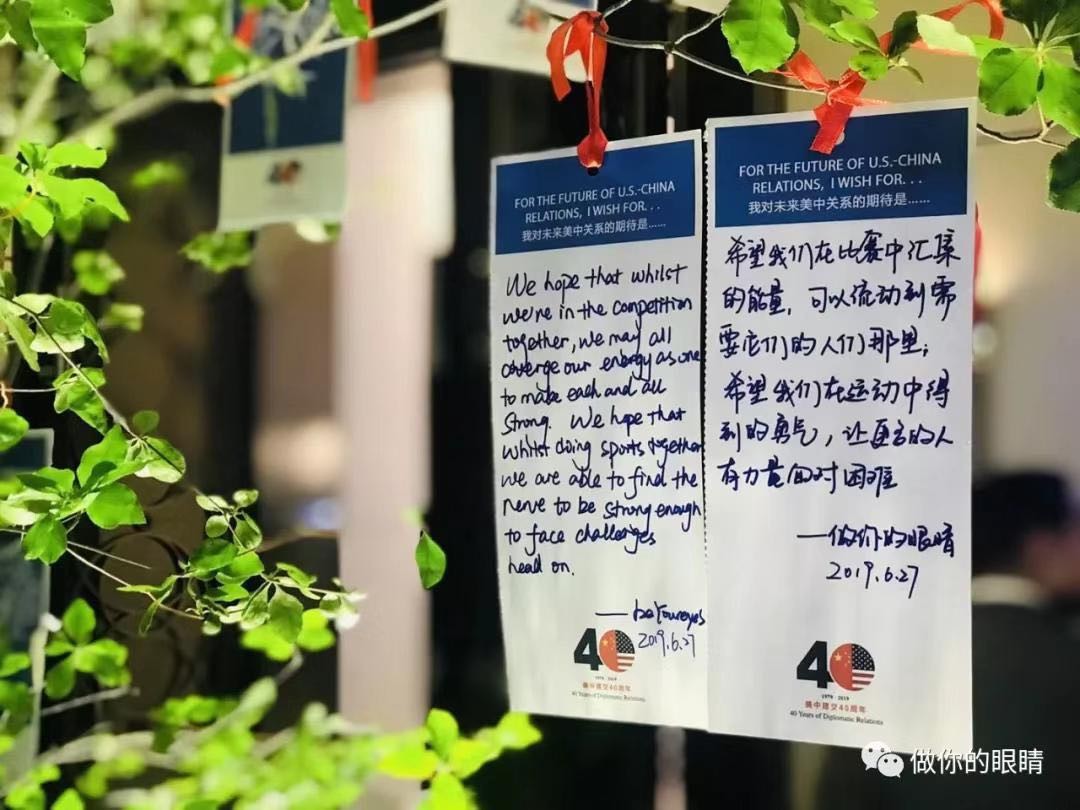 2019年6月27日,蓝睛灵创始人纪元和向东受邀参加美国成立243周年国庆暨美中建交40周年招待会。艺术家们的舞蹈表演及橄榄球运动员的趣味交流,给现场带来无限的欢乐,"做你的眼睛"在青翠的心愿树挂上美好的祝福。
On June 27, 2019, founder of beYoureyeS, Annie and Ken were honored to be invited to attend the 243rd Anniversary of Independence Day of the United States of America and the 40 Years of Diplomatic Relations between the United States and China. The vibrant exchange of interest between artists, dancers and football athletes brought infinite joy to the venue. On behalf of "beYoureyeS", Annie and Ken deposited our lovely wish on the "Wish Tree".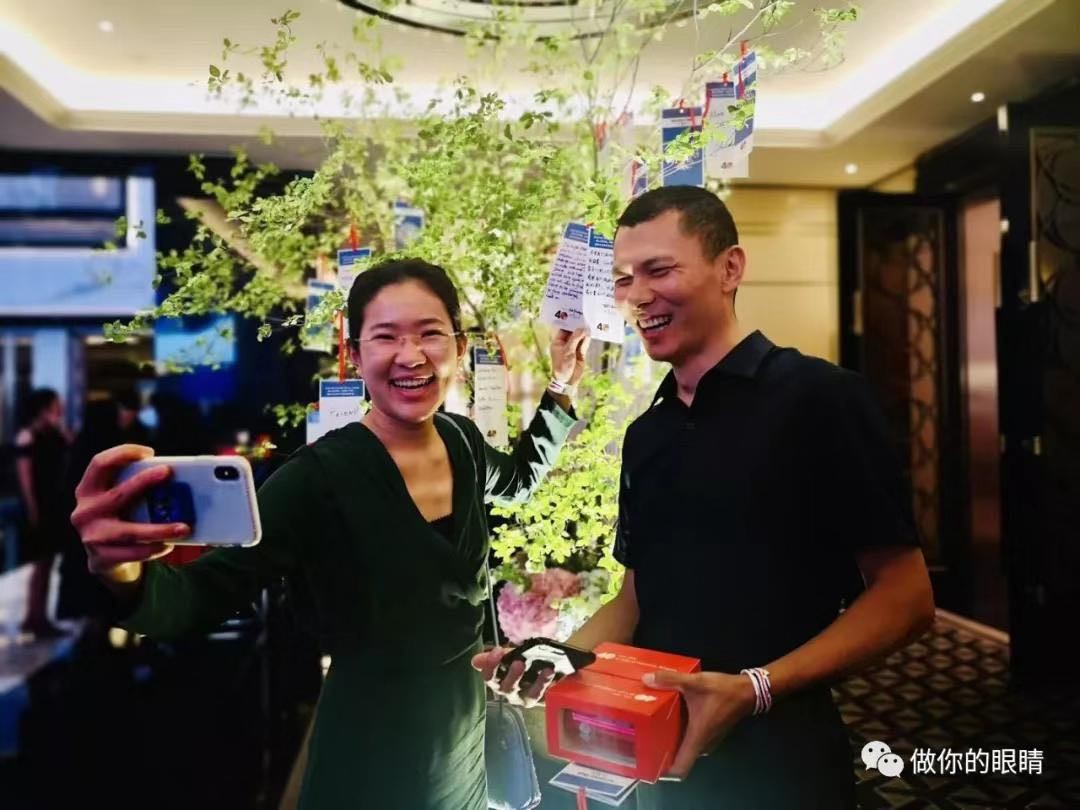 2019年6月30日,蓝睛灵又一对新人举行了盛大的婚礼!这是自2015年来的第五对新人。
On June 30, 2019, a new couple in our community got married with a big ceremony! This has been the fifth marriage of our members since the creation of beYoureyeS in 2015.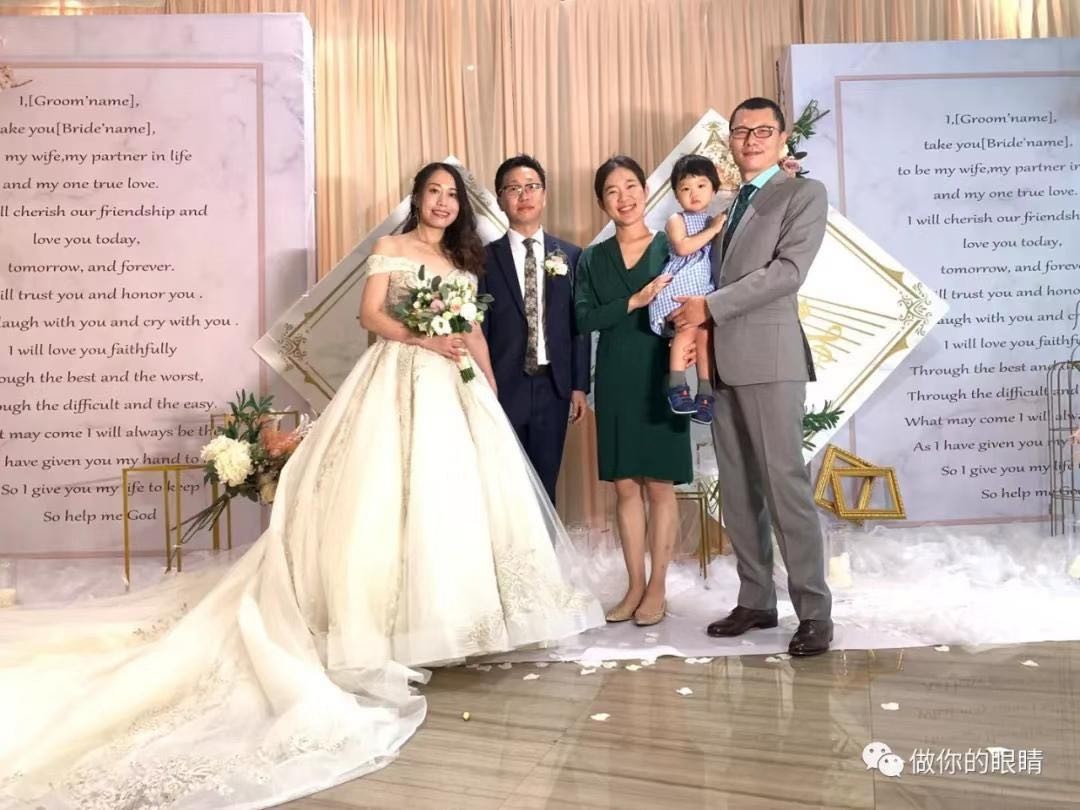 纪元、向东代表蓝睛灵来到婚礼现场,见证新郎官李刚、新娘子陈晓玲最感人、最激动人心的一幕。
Ken and Annie, representing Lanjingling, attended the wedding,witnessed the most touching and exciting moment of Mr. Li Gang and Ms. Chen Xiaoling.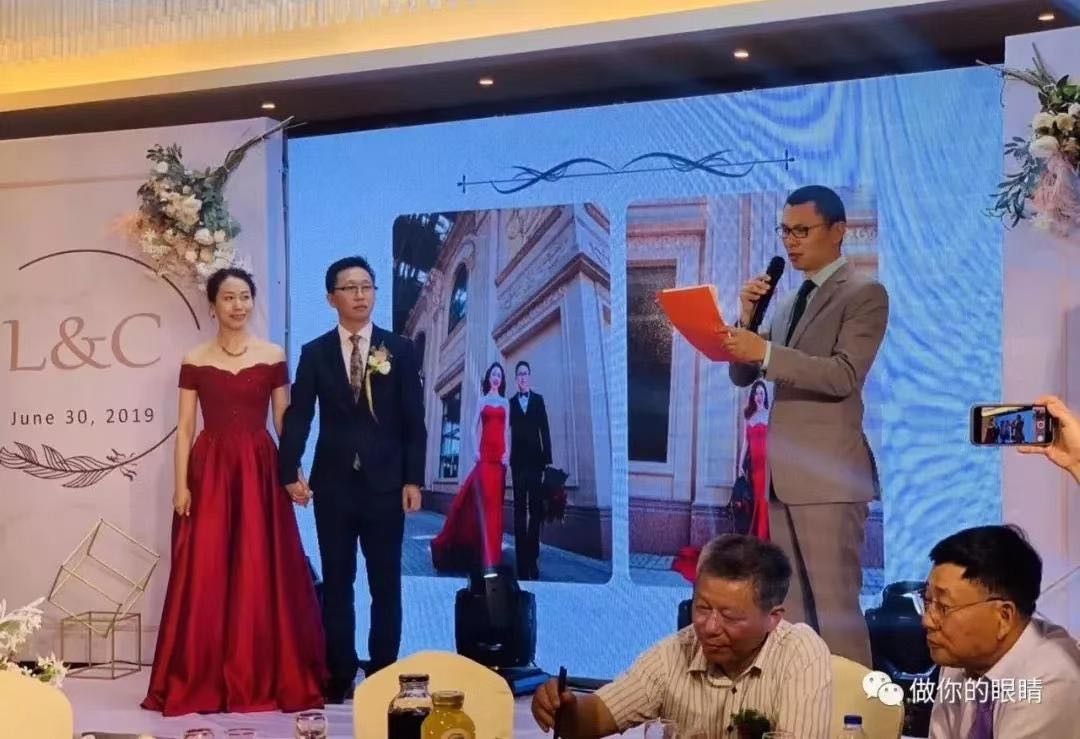 向东作为证婚人,在现场读出纪元亲笔写下的证婚词,向新人表达最美好的祝愿。让我们用证婚词中的一段话来结尾吧。
As the chief marriage witness, Ken read out the Witness Speech that was written by Annie, to deliver their best wishes. Let's conclude the post using one of the sentences in the Witness Speech.
"他们在'做你的眼睛'公益陪跑活动中相知相伴,一起参与志愿者活动,陪伴视障伙伴一起奔跑,他们在公益活动付出的时间与汗水,带给他人奔跑的未来,和明亮的希望。
……
让我们祝福这对新人,在未来的生活里,拥有你们的星辰大海,子孙满堂,向着后辈讲述着温暖有力量的故事,带给更多人美好有希望的人生。"
"From the day they met in a beYoureyeS regular weekend running activity, they became mutually concomitant. Together, they attended lots of beYoureyeS activities, joined the visually impaired runners in countless races, and spent tremendous efforts in contributing to this community. They brought the others the future, brightness and the hope.
……
Let's congratulate this couple: in the future, to have your stars and oceans and your own children, hope you can deliver those charming and powerful stories, transmit the spirit of our community to the next generation, and bring hopeful brightness to more and more individuals."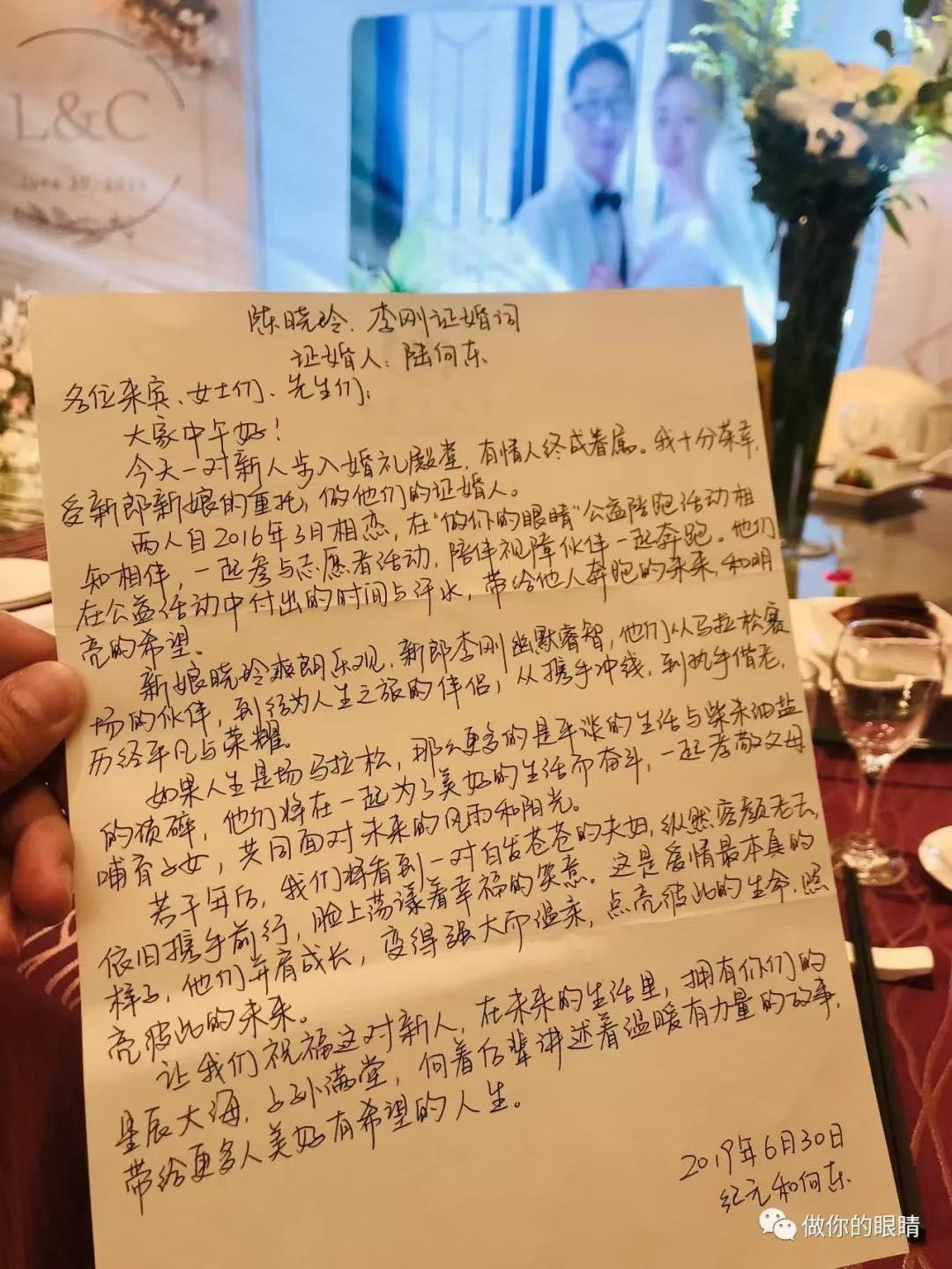 感谢大家的阅读,本次双语月刊结束,我们下月见。
Thanks for your reading. We will see you next month.
后记,我们这次编辑团队的两位翻译都是年轻人,弘毅Yoyo是八年级(初二)学生,他的妈妈魏瑾姐是蓝睛灵的大白陪跑员,几乎一路看他从一个小男孩,成长为一个高大的少年;泱而Neville是大学四年级学生,英文专业,因为自己是一位视障者的缘故,她在视障者求学和融合就业有很多思考。在去年的蓝睛灵视障者职场能力建设训练营后,她写的文章的结尾是这句话:"天下兴亡、匹夫有责"。
有这样的年轻人们在,就有未来在,在黑暗中,也会有微光。
Postscript: both translators of our editing team are actually really young. Hongyi Wang is still a middle school student, his mother has been a certified guide runner for more than three years, witnessing his growth from a childish boy to a responsible young adult; Neville is currently a senior college student in English major. Since she is a visually impaired person, she has authentic experiences and plentiful thoughts regarding the confluent education and diversity employment of visually impaired people. After last year's Lanjingling vocational-education training for people with visual impairments, she ended her narrative journal with the famous Chinese proverb: "The rise and fall of the world is everybody's concern and business." The younger generation builds our future, in this future, there will be glimmers even in darknesses.
关于做你的眼睛:
做你的眼睛是一个民间自发的公益活动,于2015年1月发起,致力于推动运动无障碍,让视障者参与运动变得简单,让每个人都能享受运动带来的快乐。
无论视障者,还是健视者,我们都称呼彼此为蓝睛灵。蓝睛灵传达一个理念:在各种运动场所,在路跑、游泳、自行车、铁人三项等赛事中,身体有障碍但是热爱运动的人们都可以自由又自然的投入运动,参加比赛。
希望在赛场上,能够看到越来越多的蓝睛灵。
希望,运动无障碍。
beYoureyeS is a local NGO founded in January 2015 in Shanghai, China.
beYoureyeS is dedicated to promote sports accessibility, make it easier for visually impaired people to enjoy sports. Let everyone enjoy sports.
Whether a visually impaired runner or unimpaired runner, all of our participants are called "Lanjingling".
Lanjingling conveys the spirit of our concept: our charity caters to a variety of sports, road running, swimming, cycling and triathlon, to list a few. With us, regardless of the physical impairment, those who wish to participate in a race, are able to.
We hope to see you soon on the track and let's do something together for sports accessibility.
主页:www.beyoureyes.org.cn
邮箱:info@beyoureyes.org
微信:beyoureyes 或扫描二维码
希望我们在比赛中汇集的能量,
可以流动到需要它们的人们那里,
希望我们在运动中得到的勇气,
让更多的人有力量面对困难。
We hope that whilst we're in the competition together,
we may all converge our energy as one to make each and all strong,
We hope that whilst doing sports together,
we are able to find the nerve to be strong enough to face challenges head on.