摘要 Brief
2020年8月蓝睛灵共开展了5期常规活动,1场校园融合活动,2场特别活动,开通了做你的眼睛视频号。
In August, beYoureyeS carried out 5 regular weekend activities, 1 school-inclusive activity and 2 specials; and launched the beYoureyeS WeChat Channels.
文字 Writer:Clark 晓斌
翻译 Translator:Neville泱而, Yoyo宏毅
编辑 Editor:纪元 Annie
蓝睛灵编辑部 Lanjingling Editorial Office
发布日期:2020年9月20日
健身直播阶段性收尾 健身无障碍在路上
Virtual fitness coming to a pause, fitness accessibility going into its stride!
8月23日下午的活动,作为抖音直播云健身第一阶段的收尾和推动视障者走进健身房运动的开始,教练和志愿者一起引导视障伙伴体验了垫上运动和之前未曾接触过的各类运动器材。
On August 24th, as the end of the first stage of virtual fitness on Tik-tok ,also the beginning to promote fitness accessibility for visually impaired peoples, visually impaired members of Lanjingling tried some novel training exercises including 'mat-tumbling' and training on various sports equipment with the assistance of a Coach and several volunteers.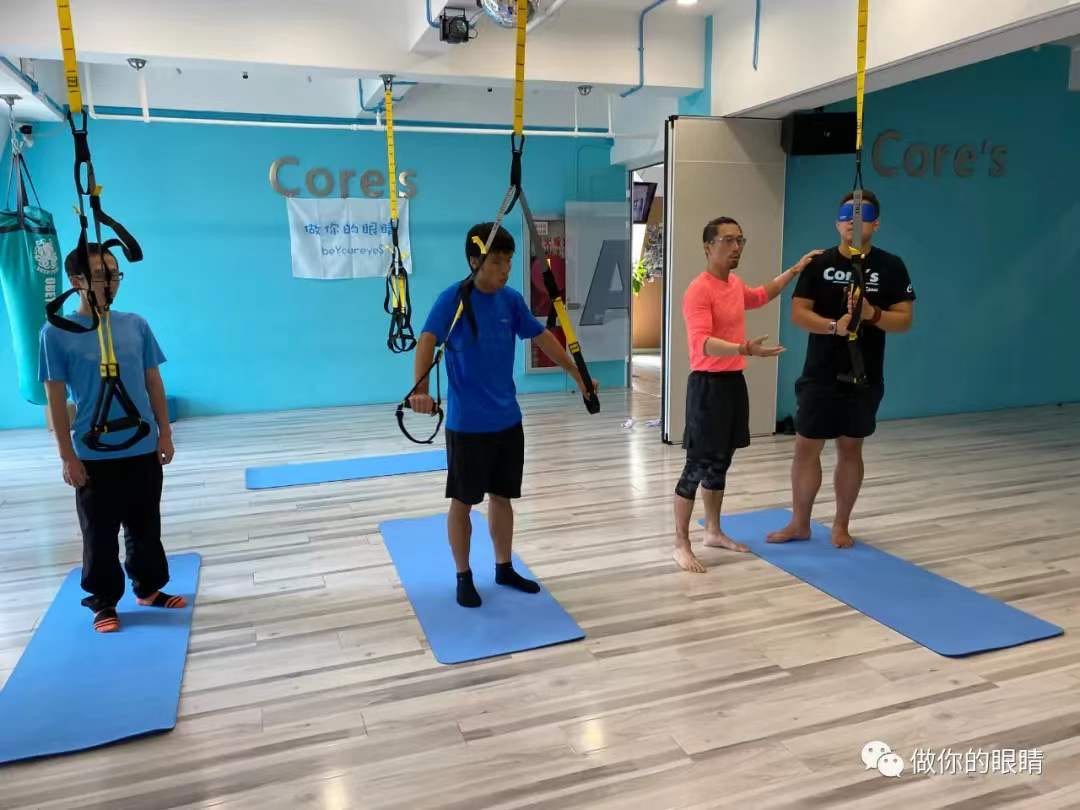 通过这段时间的合作,Core's健身俱乐部将与蓝睛灵们一起推动健身无障碍项目,让更多视障者走入健身房,参与更安全更有效的锻炼,提升视障者的生活品质。
Cooperatively, Core's Fitness Club and beYoureyeS will together promote fitness accessibility movement, making fitness rooms more approachable, accessible, and safe, hence raising the living quality of visually impaired people.
详见新民晚报"上海时刻"报道—— For details, please refer to "Shanghai Moment" report on Xinmin Evening News.
常规活动
Regular Weekend Activities
做你的眼睛第208至第212期的常规陪跑活动于8月2日、9日、16日、23日和30日在世纪公园和闵行文化公园开展。其中,23日的第211期常规活动在世纪公园一地举行,其他4期常规活动都在浦东和浦西同时开展。
The 208th to 212th regular weekend activities were carried out on August 2nd, August 9th, August 16th, August 23rd, and August 30th respectively, in Century Park and Minhang cultural park. Specifically, the 211th regular weekend activity on August 23rd was carried out in Century Park, and the other four were carried out in both Puxi and Pudong simultaneously.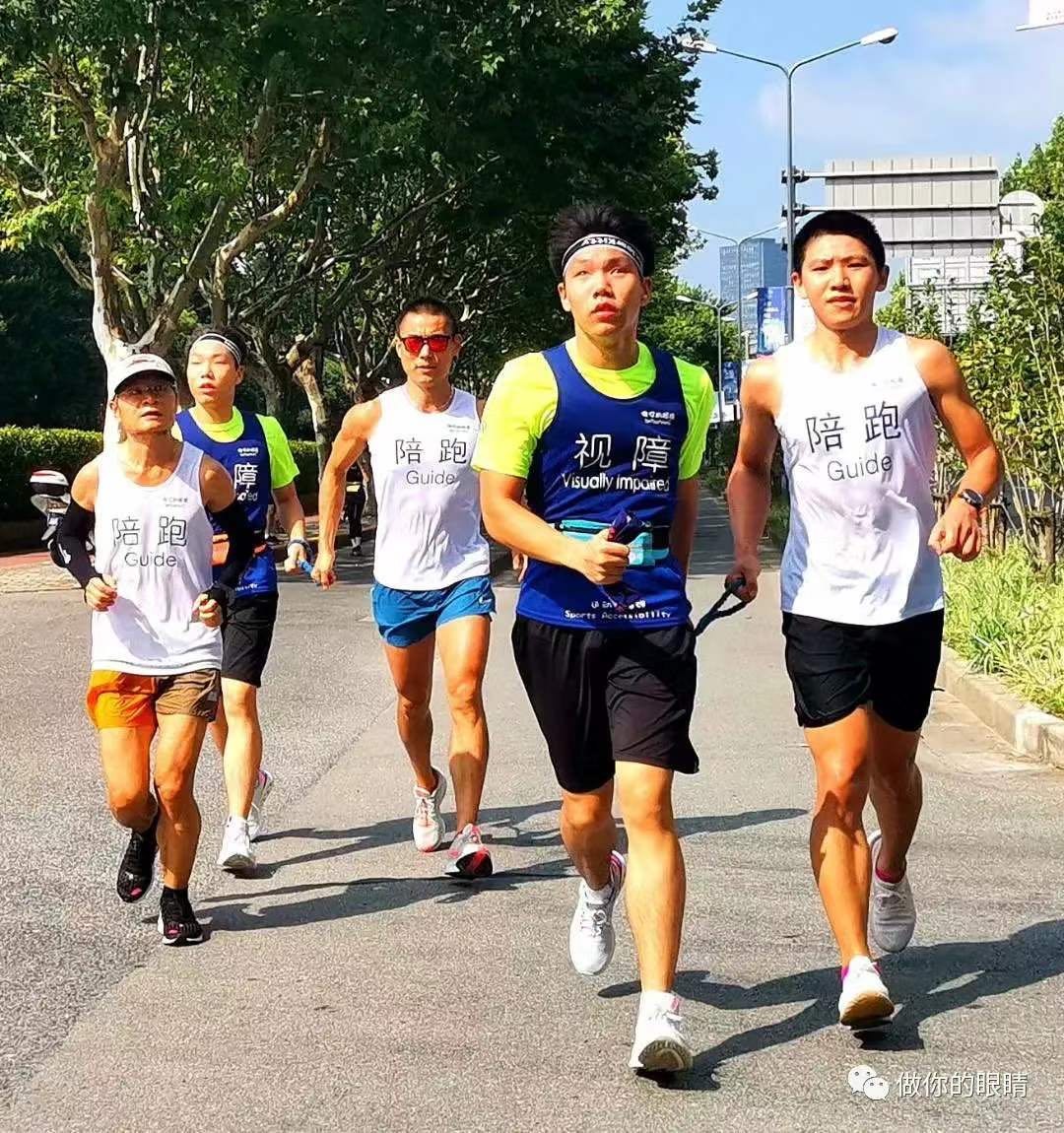 本月,有4位视障伙伴宋虎、李昀晖、蔡国平、储燕萍加入蓝睛灵。有些新伙伴是朋友介绍了解到蓝睛灵的,有些是社区推荐的,以后还会有更多的视障伙伴加入蓝睛灵,和大家一起参与无障碍的运动,做更好的自己。
This month, Lanjingling was joined by four new members, SONG Hu, LI Yunhui, CAI Guoping and CHU Yanping, who were visually impaired. Some of them joined as their friends introduced us to them, others joined due to recommendations by community centers. In the future, there will be more visually impaired members joining the Lanjingling community, to promote sports accessibility and to embrace a better self.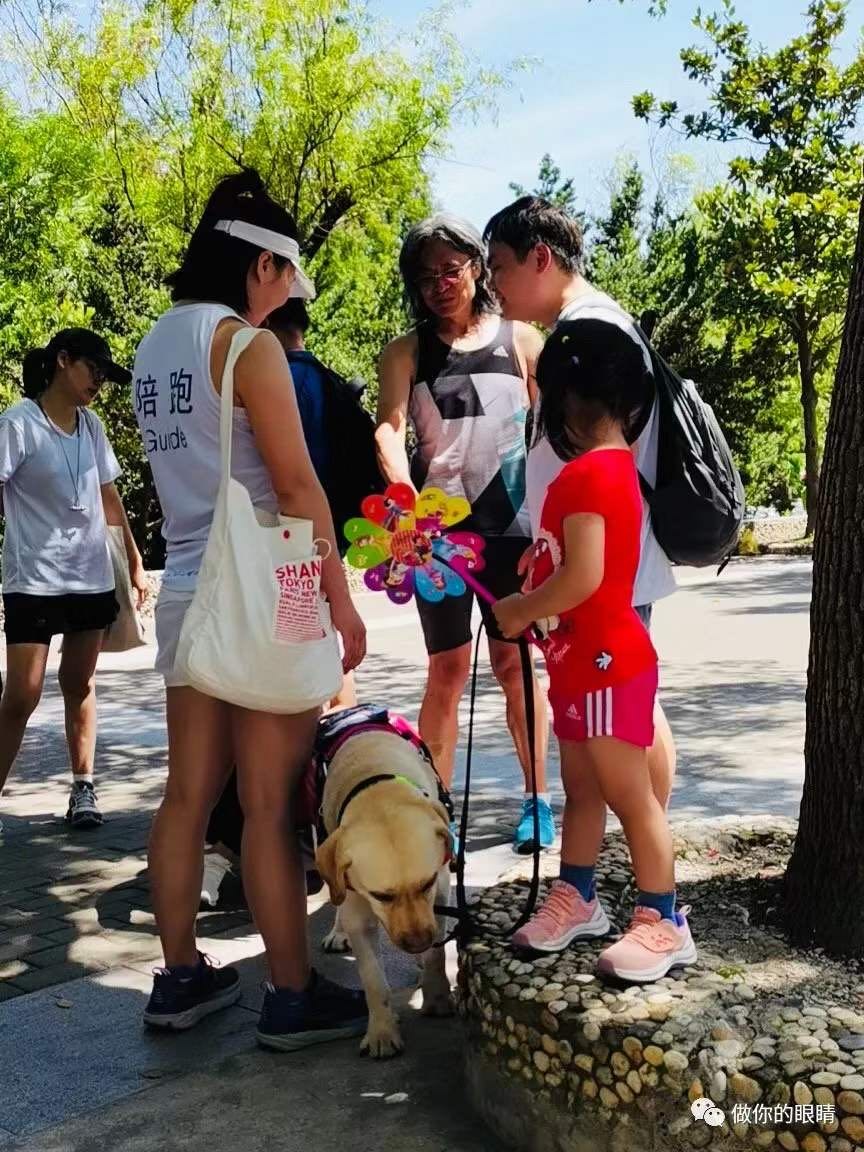 校园活动
School Inclusive Activities
《少年先锋队队歌》在闵行文化公园回荡
'Song of Young Pioneers' echoing in Minhang Cultural Park
8月16日,12位来自安顺路小学的可爱的孩子们也来到了蓝睛灵的活动现场。
On August 16th, Lanjingling's regular weekend activity was joined by 12 students from Anshun Road Primary School.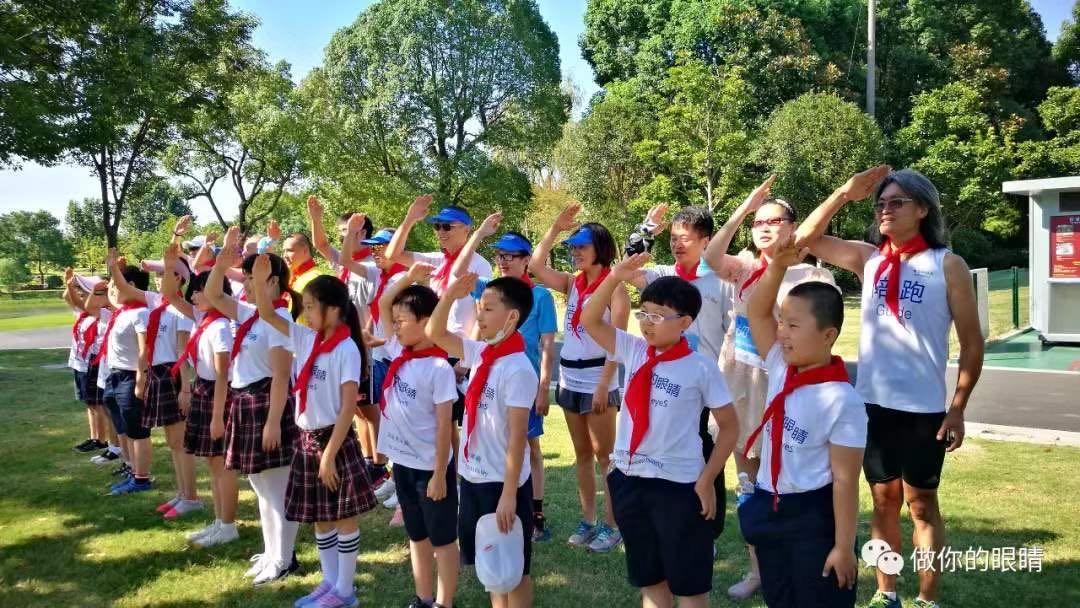 穿着印有"做你的眼睛"t恤的少先队员们庄重地为现场的视障伙伴和大白陪跑员代表戴上了红领巾。
The young pioneers with beYoureyeS T-shirts solemnly delivered Red Ties to our visually impaired Lanjingling members and their qualitied guide runners.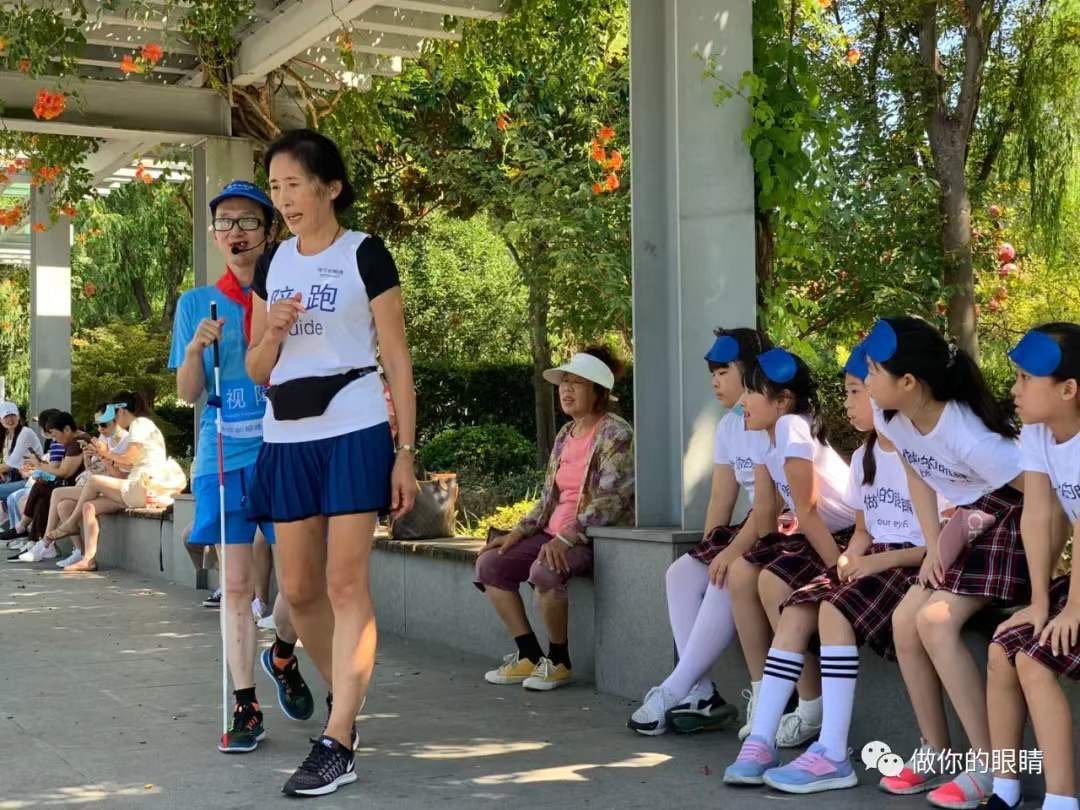 蓝睛灵自发地和孩子们一起唱起了《少年先锋队队歌》。
Then, the melody of 'Song of Young Pioneers' spontaneously ringed as the children sang it along with members of Lanjingling.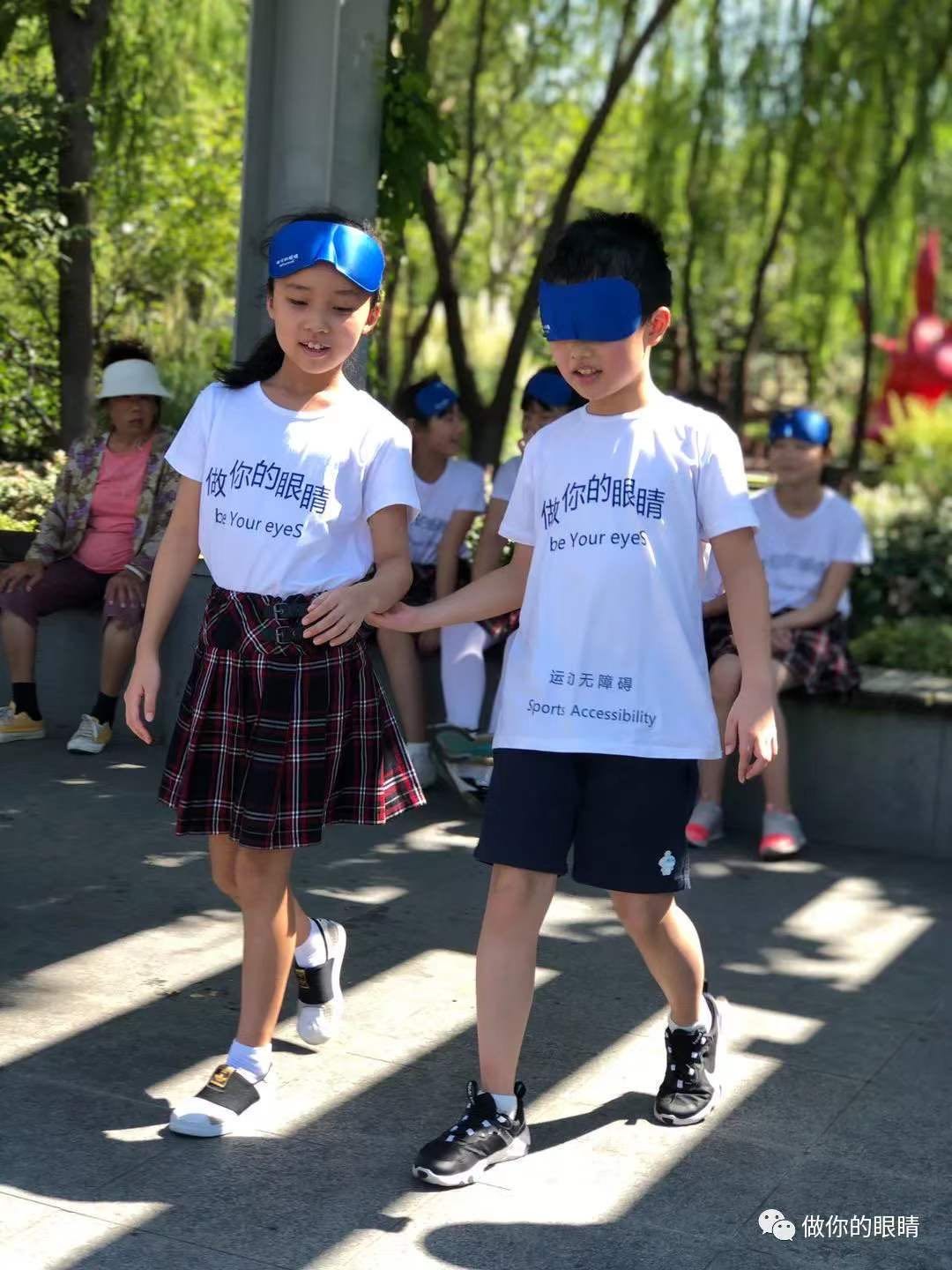 本期活动中,同学们由晓斌、红姐和队长带领,感受了一场与成年人不同的无障碍培训课,从引导"视障"同伴的体验中了解了责任感,从蒙眼认物品中了解到了视障者也能像见视者一样做好日常生活中需要完成的事情。
On the day, the students experienced a unique lesson on accessibility under the guidance of Clark, Mrs. Yin and Captain. Through assisting a 'visually impaired' partner they learned what obligation is; through experiencing the world blindfolded they learned that visually impaired people are still much capable of doing the things they do in everyday life.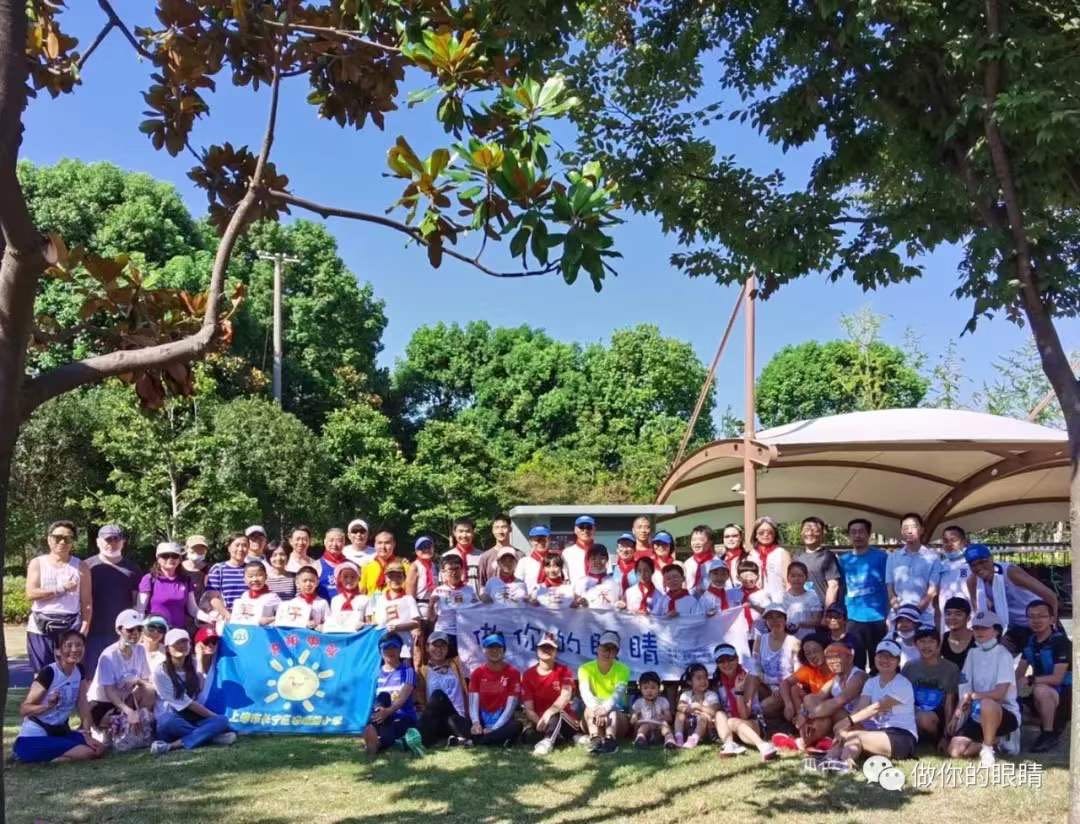 抖音直播云健身第一阶段总结
The conclusion of the first phase of Tik-Tok Virtual Fitness Livestreaming
8月2日,Aidon教练带领视障伙伴回顾了前10节课程中学习过的动作要领。
On August 2nd, Coach Aidon led the visually impaired participants to revise the essential postures and moves learned in the previous 10 lessons.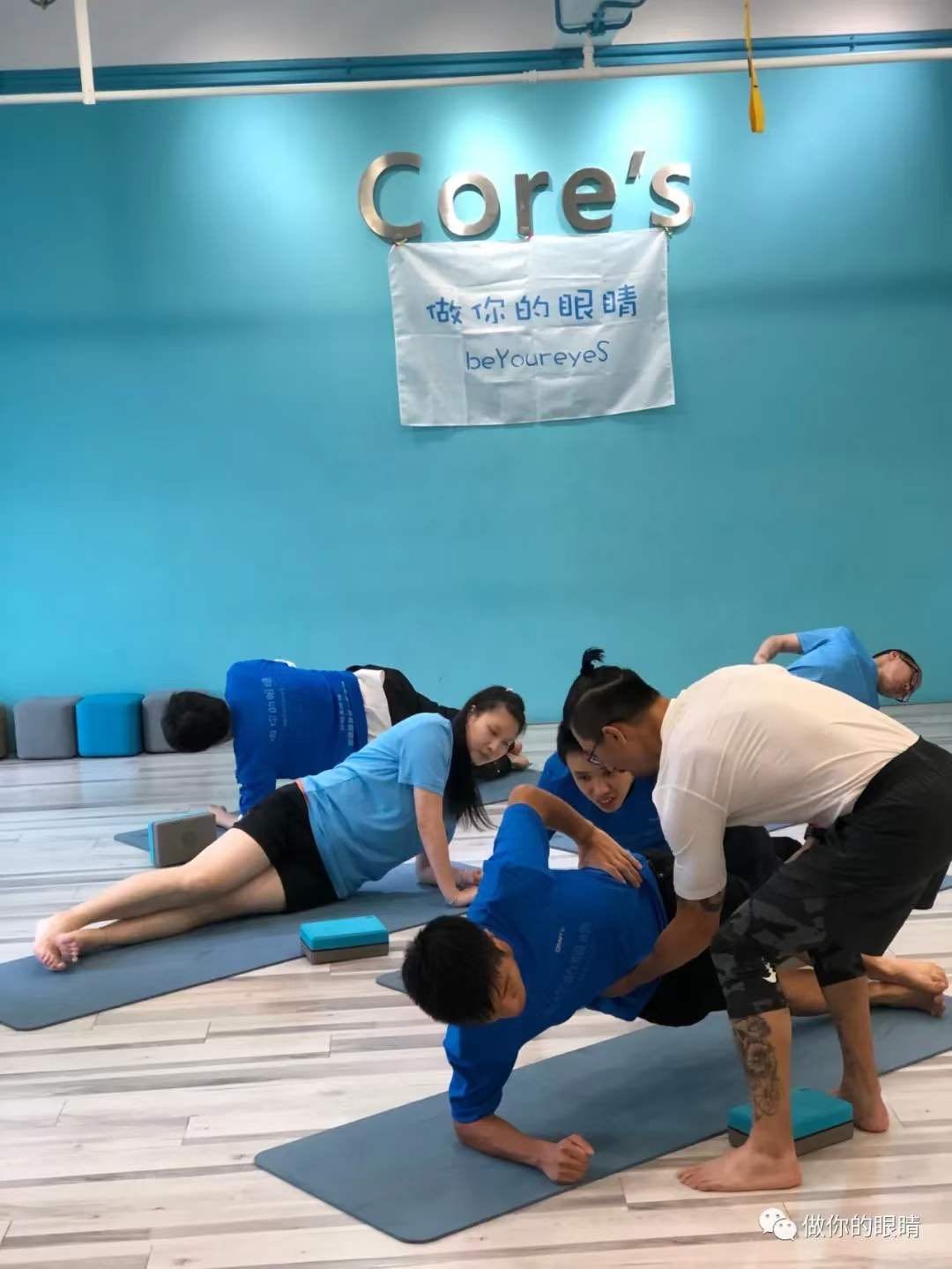 在近3个月的时间里,小伙伴们各有收获:有成功减脂塑形的、有肌肉增长明显的、有体能增强的,每一位参与者收获的都是自信和快乐!
Through three months of learning, our fellow participants have gained a positive lot: some loss weight, some grew muscles, some improved endurance. Last but not least, all members harvested confidence and joy in the learning process!
虽然健身云直播暂时告一段落,但运动无障碍的活动,我们会持续坚持!在8月23日的抖音云健身收尾课程中,视障者们还体验了器械锻炼,真正有了一次"撸铁"的经历。
The temporary conclusion to our virtual fitness livestreaming doesn't at all hinder our passion on sports accessibility, we will persist on!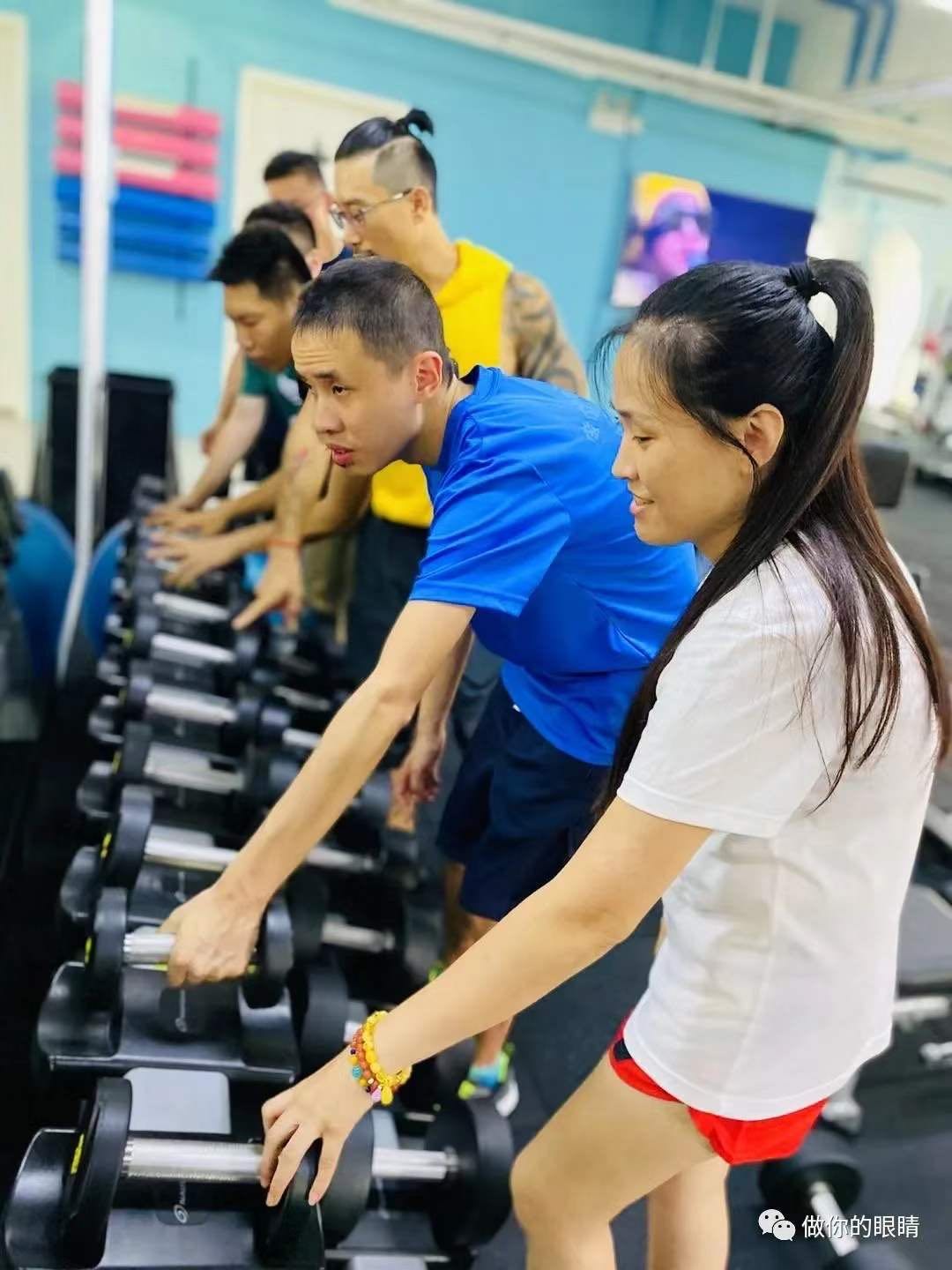 这是蓝睛灵推动运动无障碍的一次新的尝试,将成为视障者走进健身房锻炼的一个起点。
This is just a small step that Lanjingling has taken to promote sports accessibility, and it is a brilliant beginning for our visually impaired members to start stepping inside the gymnasium and to enjoy its facilities.
色彩缤纷的蓝睛灵
Lanjingling's Colorful Lives
做你的眼睛微信视频号开通啦!
beYoureyeS WeChat Channel is launched!
8月的最后一个星期,做你的眼睛开通了微信视频号,大家在看周刊的同时还可以看到更生动的视频。一起来感受蓝睛灵的笑容吧!
In the last week of August, beYoureyeS created a WeChat Channel account, perfectly complementing our weekly newsletter with vivid and vibrant videos. Feel the joy of us together!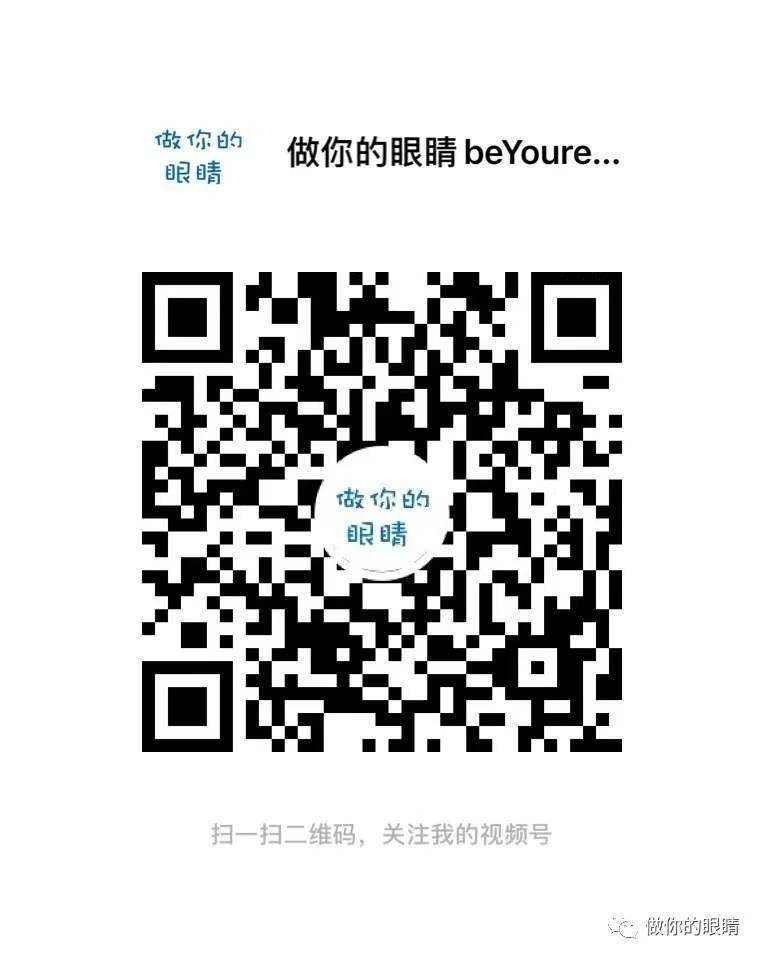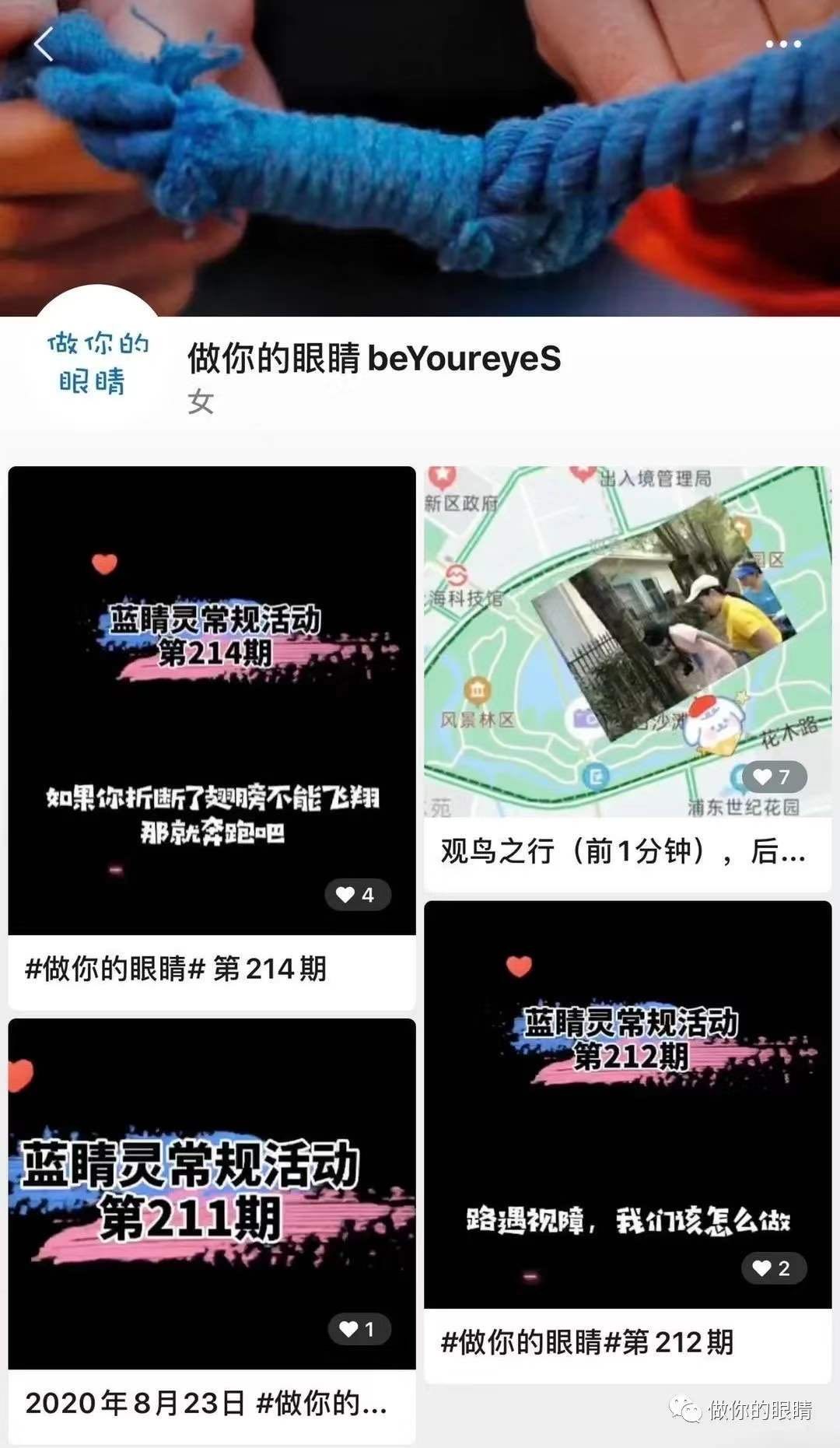 第212期常规活动上,堪称"动植物小百科"的大白陪跑员王珊分享了聆听自然的体验,如何听声识自然。听见鸟儿,听见昆虫,听见大自然的各种朋友,让我们一起运动、一起享受生活的乐趣。
On the 212th regular weekend activity, the qualified guide runner WANG Shan, Lanjingling's 'biology expert', shared her feelings when attaching with nature and paying careful attention to its sounds. Listening to birds, listening to insects, listening to the whispers of all the resplendent creatures of mother nature. Let us enjoy sports, and enjoy our lives.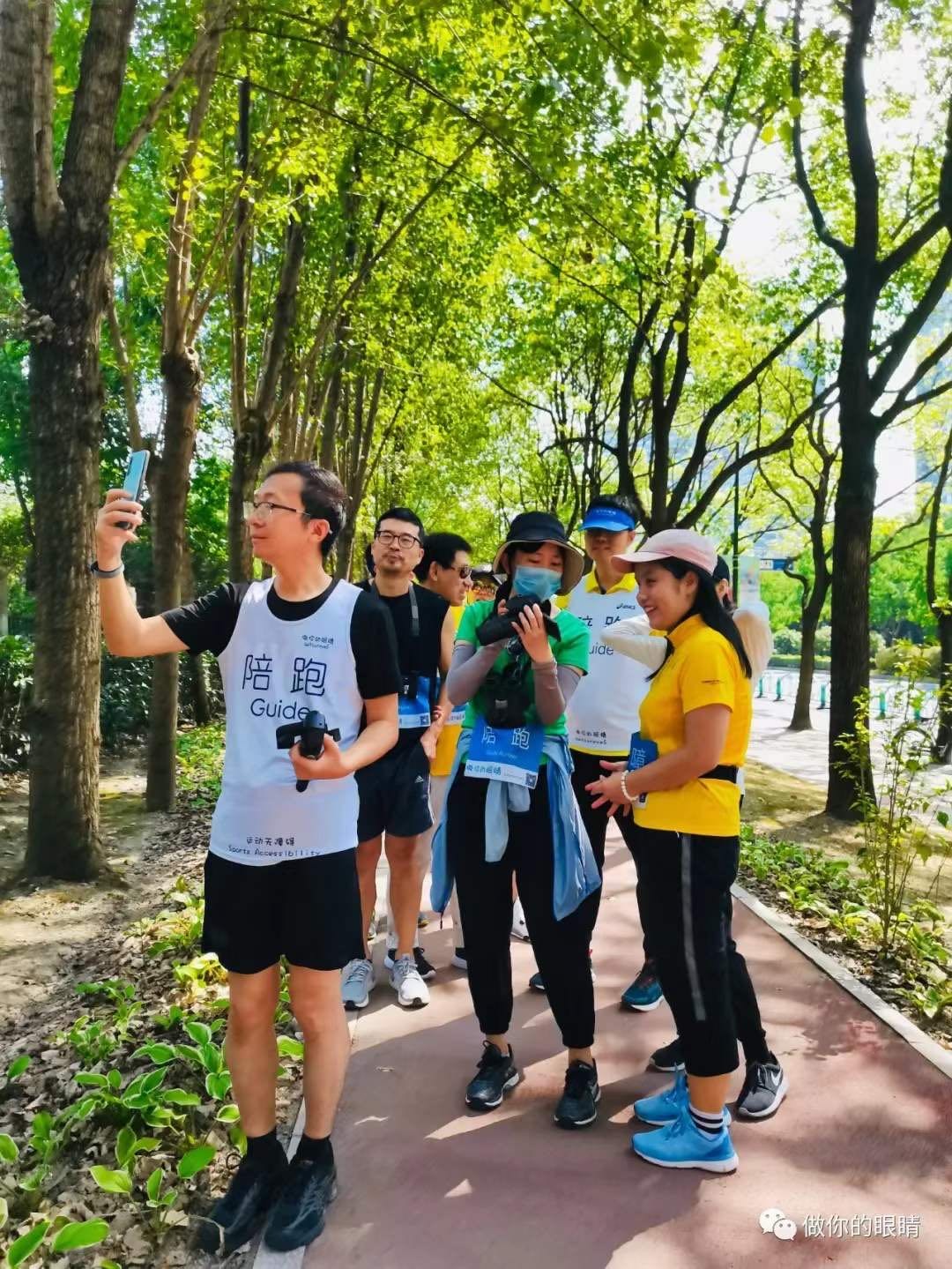 【首周观鸟视频欣赏,制作:吴哲宏,配音:王珊 】
【First week of Listen to Natural, Maker: Wu Zhehong, Debbing: Wang Shan】
感谢大家的阅读,本期月报到此结束,我们下月再见。
Thanks for your reading. We will see you next month!
关于做你的眼睛:
做你的眼睛是一个民间自发的公益活动,于2015年1月发起,致力于推动运动无障碍,让视障者参与运动变得简单,让每个人都能享受运动带来的快乐。
无论视障者,还是健视者,我们都称呼彼此为蓝睛灵。蓝睛灵传达一个理念:在各种运动场所,在路跑、游泳、自行车、铁人三项等赛事中,身体有障碍但是热爱运动的人们都可以自由又自然的投入运动,参加比赛。
希望在赛场上,能够看到越来越多的蓝睛灵。
希望,运动无障碍。
beYoureyeS is a local NGO founded in January 2015 in Shanghai, China.
beYoureyeS is dedicated to promote sports accessibility, make it easier for visually impaired people to enjoy sports. Let everyone enjoy sports.
Whether a visually impaired runner or unimpaired runner, all of our participants are called "Lanjingling".
Lanjingling conveys the spirit of our concept: our charity caters to a variety of sports, road running, swimming, cycling and triathlon, to list a few. With us, regardless of the physical impairment, those who wish to participate in a race, are able to.
We hope to see you soon on the track and let's do something together for sports accessibility.
主页:www.beyoureyes.org.cn
邮箱:info@beyoureyes.org
微信:beyoureyes 或扫描二维码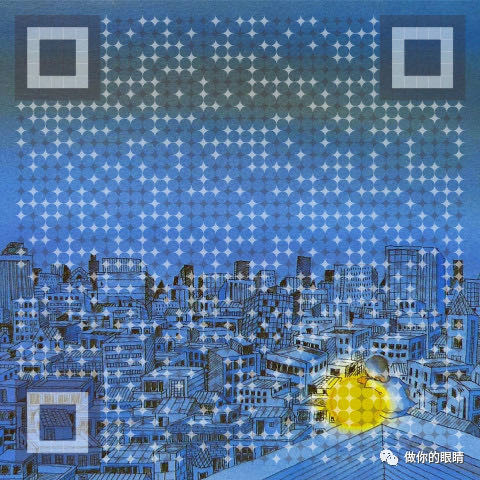 希望我们在比赛中汇集的能量,
可以流动到需要它们的人们那里,
希望我们在运动中得到的勇气,
让更多的人有力量面对困难。
We hope that whilst we're in the competition together,
we may all converge our energy as one to make each and all strong,
We hope that whilst doing sports together,
we are able to find the nerve to be strong enough to face challenges head on.