摘要 Brief
2020年7月蓝睛灵共开展了4期常规活动,3场企业社会责任(CSR)活动、1场少儿公益体验活动,4期抖音直播云健身,发布了1篇体适能运动健身课程总结帖,获得了1个奖项。
In July, beYoureyeS has carried out 4 regular weekend activities, 3 CSR activities, 1 children's charity event, and 4 Tik-Tok fitness live-streaming; has released 1 summative post about our course on physical fitness and sports; and has won 1 award.
文字 Writer:晓斌 Clark
翻译 Translator: 王宏毅 Yoyo
编辑 Editor:纪元 Annie
蓝睛灵编辑部 Lanjingling Editorial Office
发布日期:2020.9.15
蓝睛灵喜获市级表彰!
beYoureyeS was awarded municipal commendation!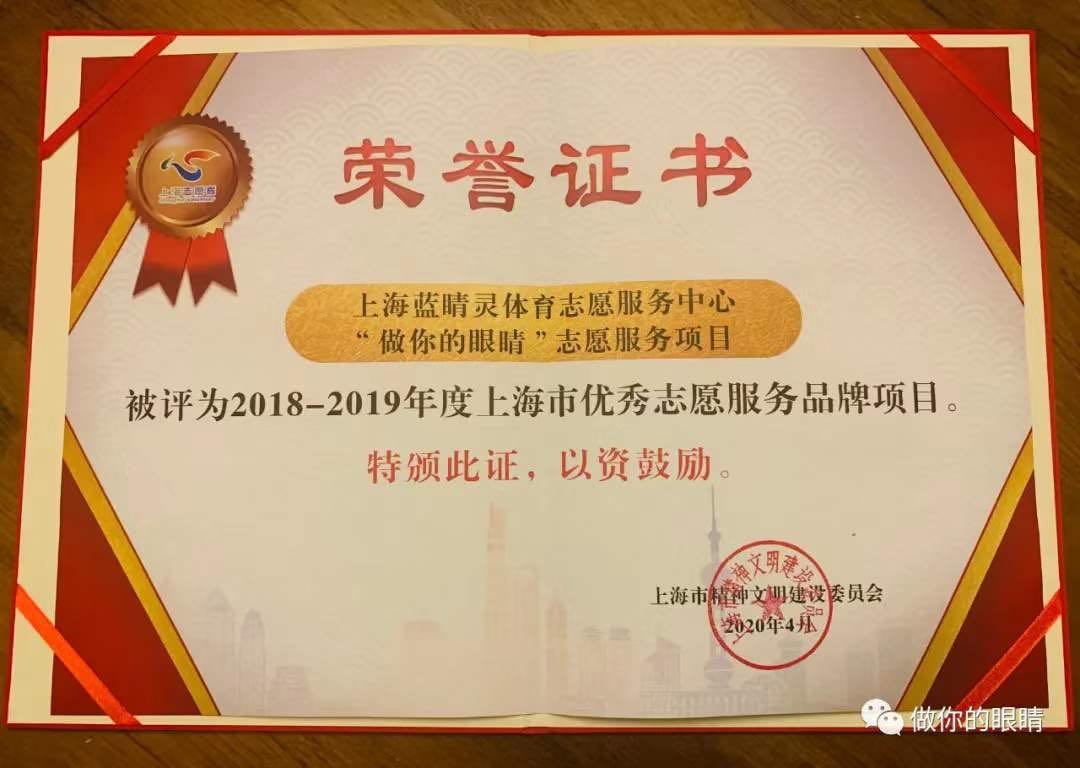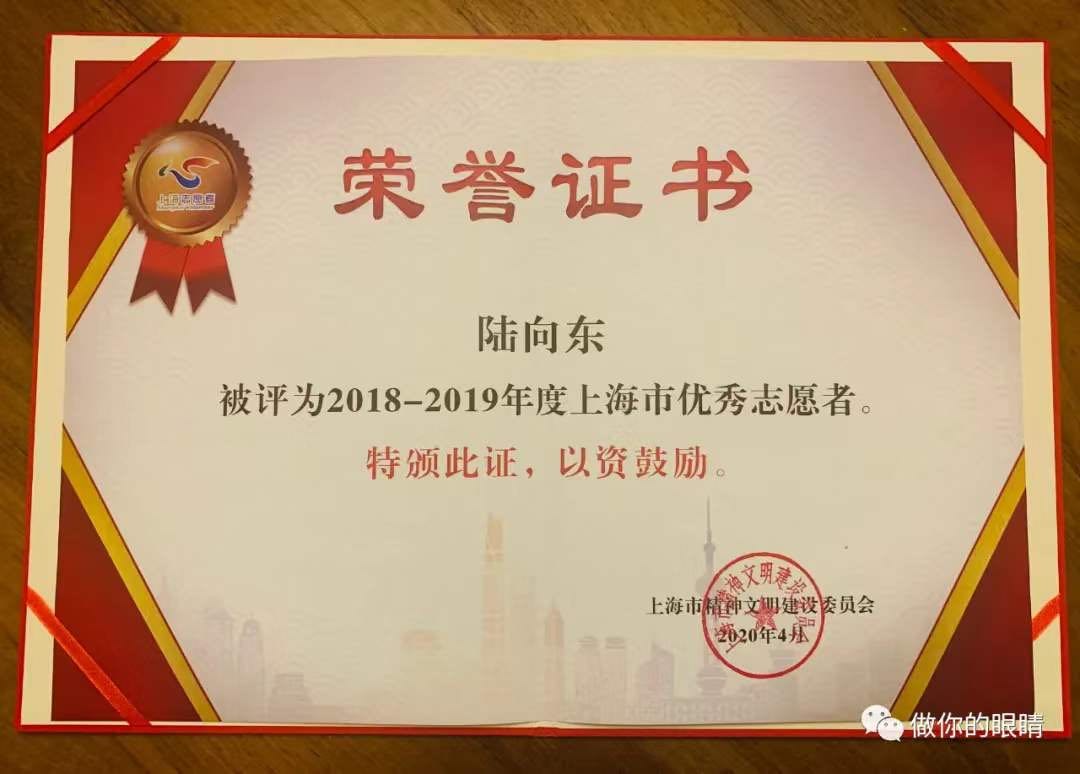 7月23日,陆向东代表蓝睛灵在市残联出席表彰大会。
On July 23rd, XiangDong Lu attended Disabled Persons' Federation in representation of the beYoureyeS community
"做你的眼睛"志愿服务项目被评为2018-2019年度上海市优秀志愿服务品牌项目;陆向东被评为2018-2019年度上海市优秀志愿者。
The beYoureyeS Volunteer Service Project was awarded '2018-2019 yearly Volunteer Service Program of Excellence'; XiangDong Lu was awarded '2018-2019 yearly Volunteer of Excellence'.
蓝睛灵们携手共进,砥砺前行。
Lanjinglings work as one and forge ahead.
常规活动
REGULAR WEEKEND ACTIVITIES
做你的眼睛第203期至207期的常规陪跑活动于7月5日、12日、19日、26日在世纪公园、闵行文化公园?新虹桥中心花园开展。其中,19日的第206期常规活动在闵行文化公园一地举行,其他3期常规活动都在浦东和浦西同时开展。
The 203rd to 207th regular weekend activities were carried out on July 5th, July 12th, July 19th, and July 26th respectively, in Century Park, Minhang Cultural Park and Yili Road Park. Specifically, the 206th regular weekend activity on July 19th was carried out in Minhang Cultural Park alone, and the other three were carried out in both Puxi and Pudong.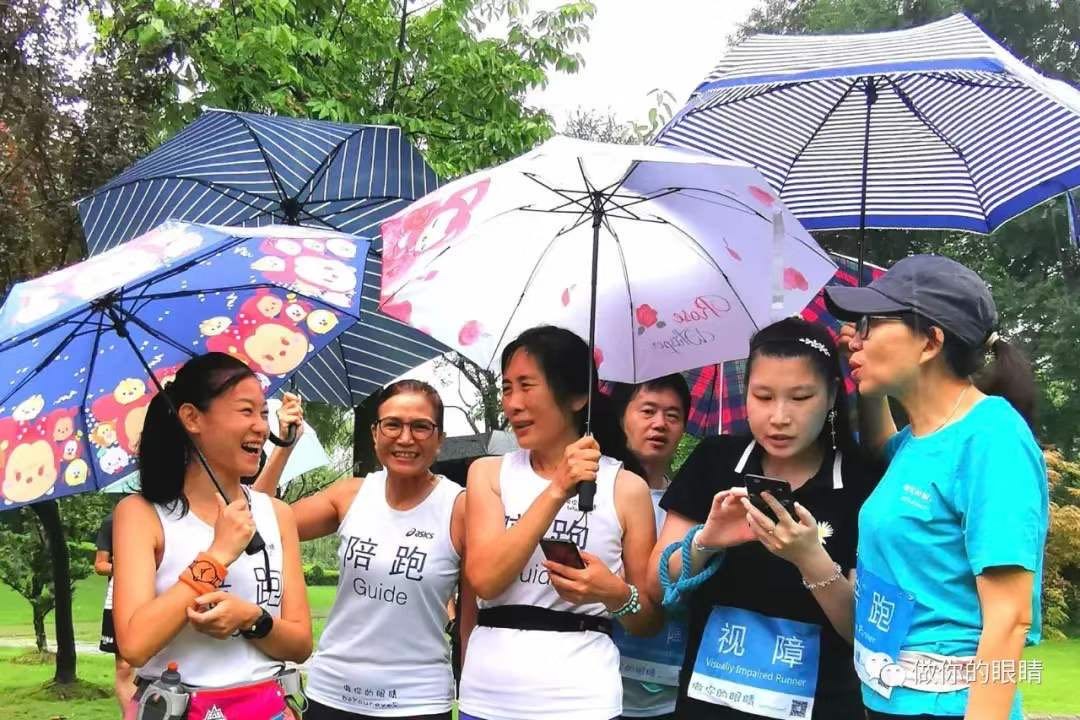 本月有余凡、罗俊、谢永玲等7位陪跑员通过考核成为了大白。
This month, a total of 7 Guide Runners including Fan Yu, Jun Luo, and Yongling Xie passed their Dabai examination.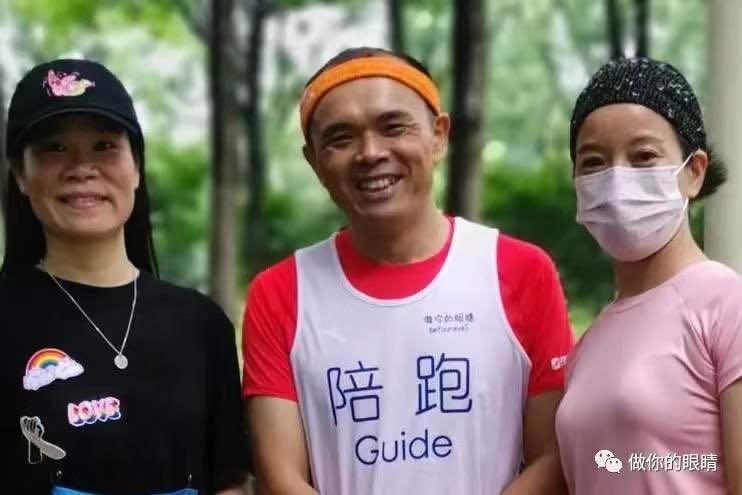 "做你的眼睛"陪跑活动还吸引了一位恰好周日在上海的来自外地的视障伙伴朱海锋。
beYoureyeS also welcomed Haifeng Zhu, a visually impaired runner from outside Shanghai who happened to be in the city on Sunday.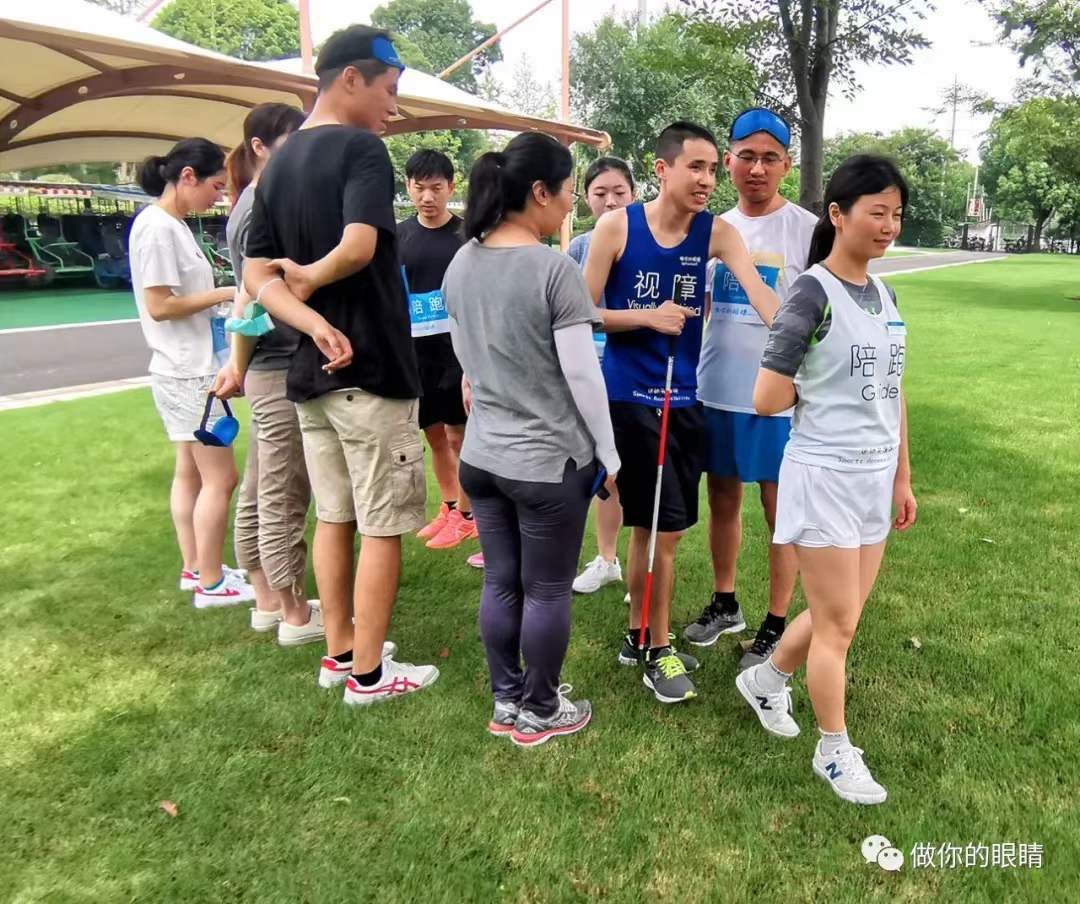 他在活动后分享到:一直对陪视障者跑步的公益组织蓝睛灵很是神往,来到活动现场感受到了大家的热情,在两位很有经验的陪跑员的引导下感受了如何用陪跑绳来跑步,还了解到了跑步时需要注意的呼吸技巧。
Afterwards he shared: always fascinated by the charity organization beYoureyeS, yet not until today did I get the chance to experience their activities in person, I felt the enthusiasm of the people here, learned how to utilize a Guiding Rope when running, and learned about the unique breathing techniques designed specifically for running exercises.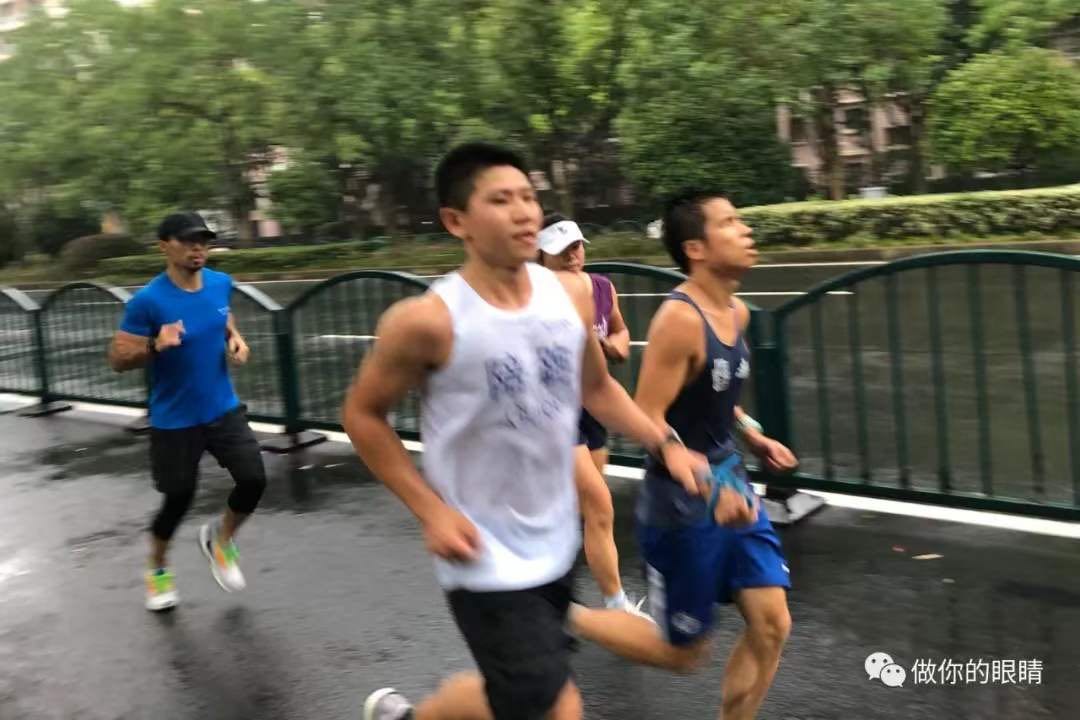 在7月的常规活动中,参加活动的蓝睛灵还领到了上海市志愿服务公益基金会提供赞助的福利——美宝莲润唇膏,大白还额外获得了美宝莲保湿粉底。
In the regular weekend activities this month, all participating members received presents in the form of Maybelline lip balms that were sponsored by the Shanghai Volunteer Service Foundation. In addition to that, all Dabai received Maybelline moistening powder.
欢迎观看两个视频
Welcome to watch 2 videos
(to be continue)
企业社会责任(CSR)活动
Corporate Social Responsibility Activities
蓝睛灵参与企业活动
Lanjingling attended Corporate Events
7月5日晚间,蓝睛灵受邀参与企业活动,与30位来自企业的年轻骨干分享了"我和蓝睛灵"、"突破舒适区"、"抉择"的主题,让大家感受到在障碍面前,突破自己才是最重要的方法,并和他们共同体验了带着眼罩跨越障碍的经历。
In the evening of July 5th, Lanjingling was invited to attend corporate events, in which thoughts on different topics including 'Me and Lanjingling', 'Overcoming the comfort limit', and 'choice', were shared and discussed with over 30 entrepreneurial elites from various corporations, passing on the message that break-through is the most crucial solution to an obstacle, and together experiencing and overcoming such obstacles when blindfolded.
电力实业与杰雍公司党支部CSR活动
CSR with the Electric Power Corporation and the Party Office of JieYong Corporation
7月19日的闵行文化公园,与常规活动同时开展的还有一场企业CSR活动。本次培训分为两组。尽管天气很热,但大家都非常投入,培训师也很诙谐,让潮热的草地上时时传来阵阵笑声。
At the regular weekend activity on July 19th in Minhang Cultural Park, a corporate CSR event was carried out. The training was parted into two groups sessions. Despite the smoldering sun, participants were very much engaged and focused. The training instructor was fairly humorous and easy-going, bringing airs of laughter to the fervent summer ground.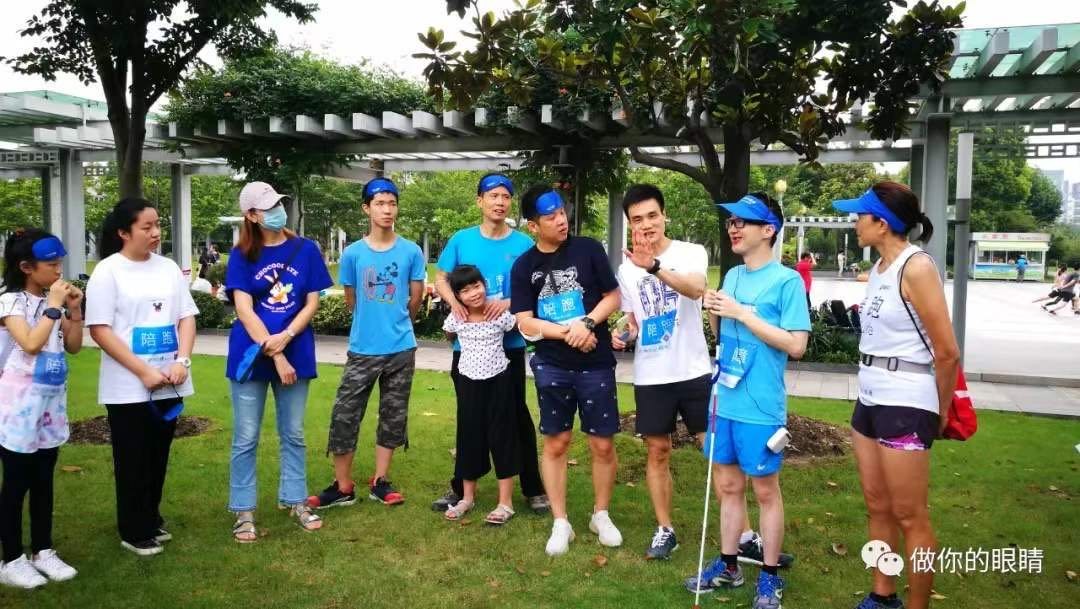 培训给参与者带来了很多感受,通过亲身体验有了更多换位思考,也对生活有了更多感悟。
The training rendered a lot of feelings for the participants, through personal and empathetic experiences, they gained more insights into life
苹果公司CSR活动,体验运动无障碍
Apple Company CSR event, a feel of Sports Accessibility
7月24日下午,1组蓝睛灵培训师在世纪大道的办公楼内,与15位苹果公司的员工共度了一个关于视障者关于运动无障碍的下午。
On July 24th, a group of Lanjingling instructors spent the afternoon on the visually impaired and sports accessibility, with 15 staff members from the Apple Company in an office building on Century Avenue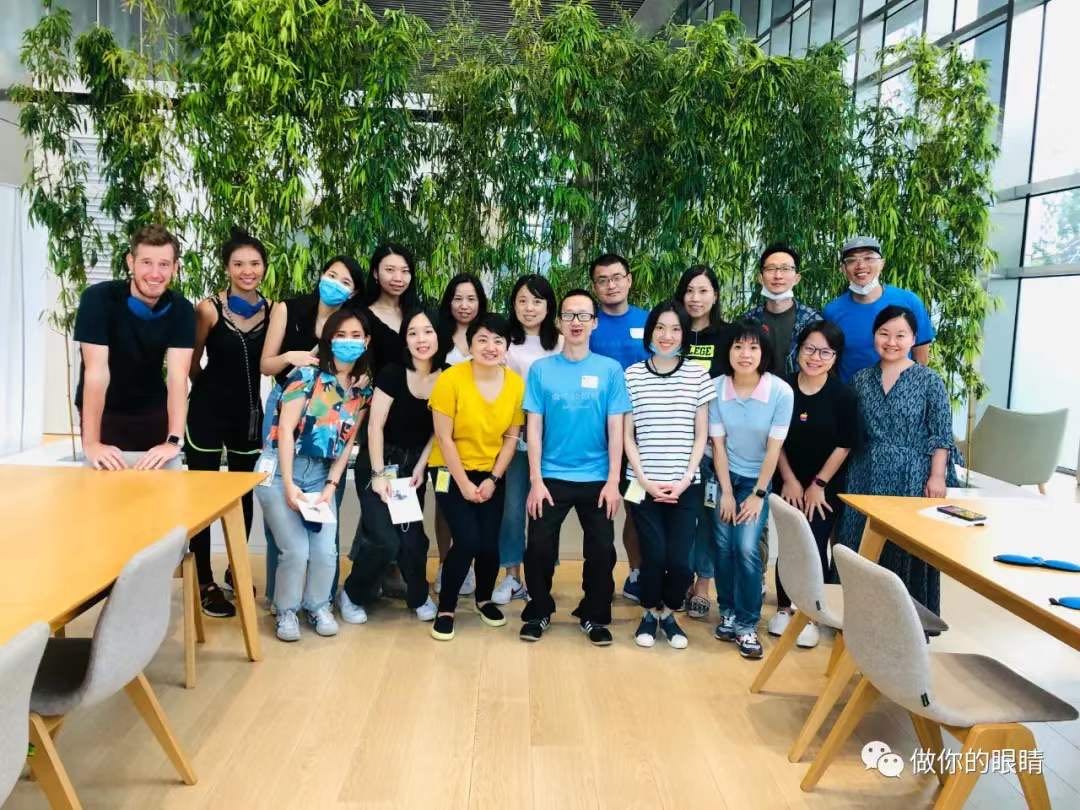 第7期至第10期抖音直播,云上健身进行时
The 7th to 10th Tik-Tok fitness live-streaming events, virtual fitness in action
7月的每次常规活动后的下午,Aidon教练在Core's健身俱乐部继续为现场和观看抖音直播的观众们带来了健身课程。
In the afternoons following every regular weekend activity, Aidon brought fitness lessons to audiences watching live on the Tik-Tok Livestream platform at Core's fitness club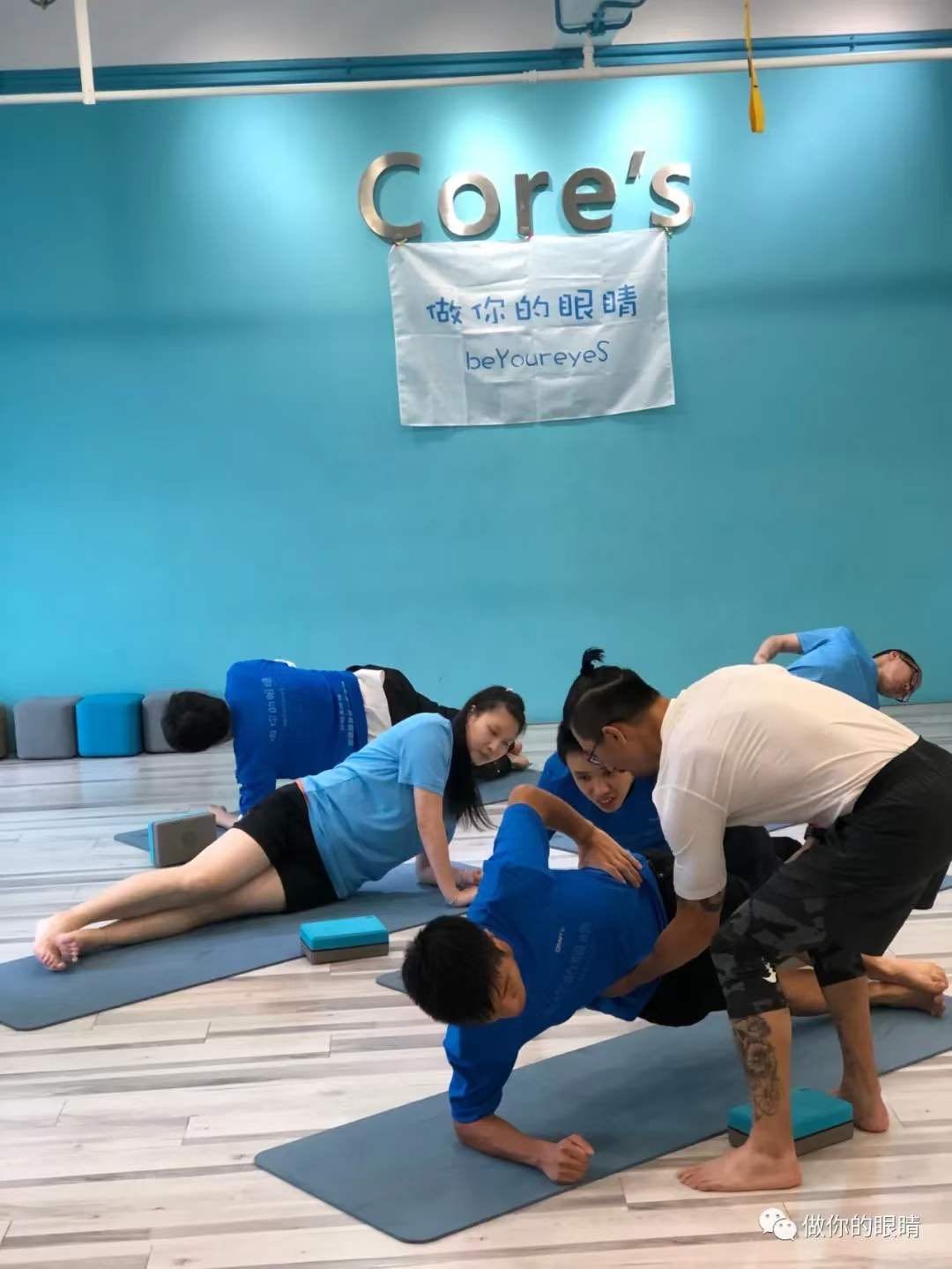 Aidon教练在每期课程中,先带领大家复习了前几期学习过的动作,然后在4期活动中陆续带领大家学习了腿后传物体前屈、金刚座拉伸等健身动作。
In each session of the course, Aidon first lead everyone to review the exercises taught in previous sessions, and then successively introduce new exercises and postures such as forward bending and King-Kong stretch.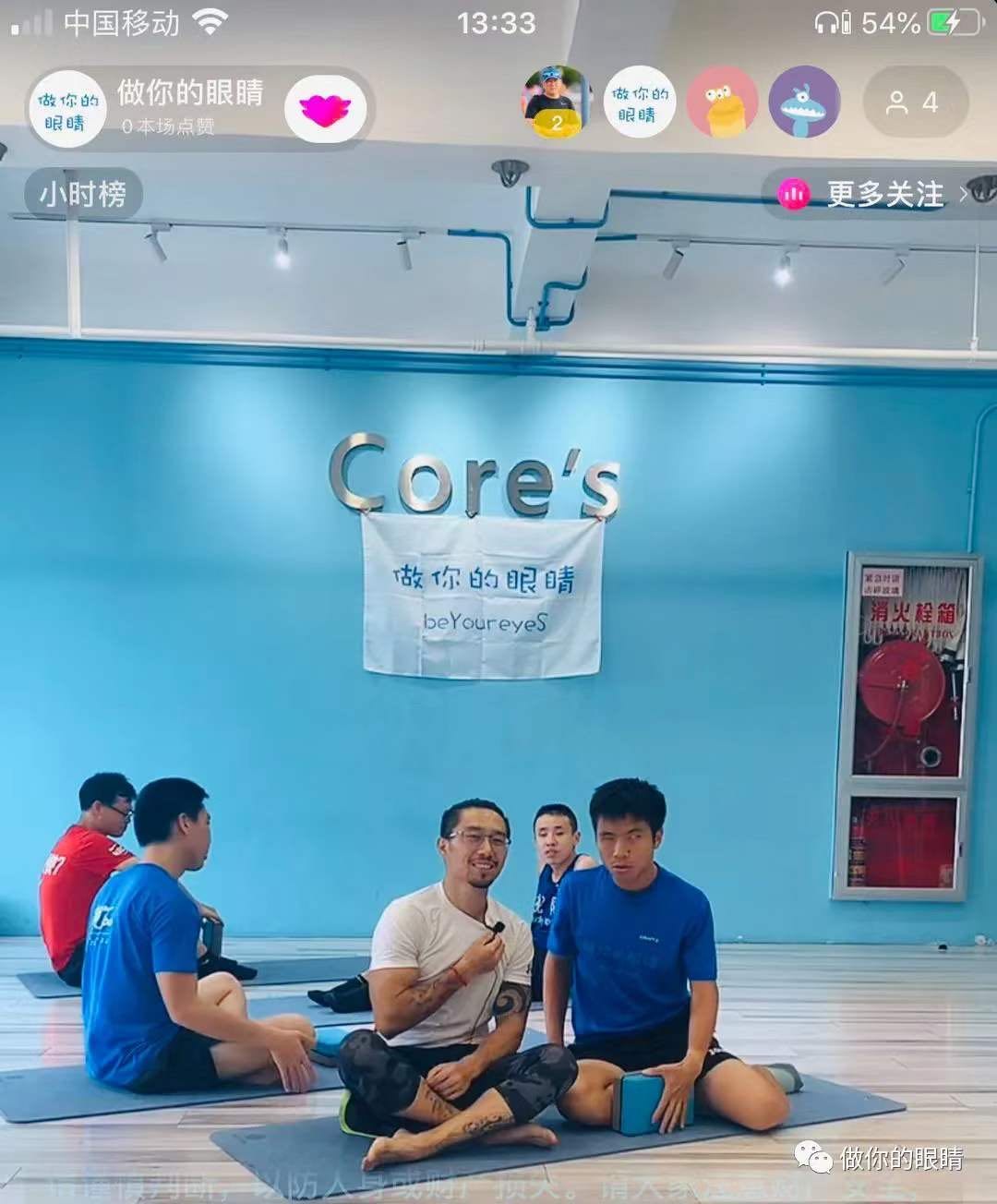 Aidon教练不仅教大家锻炼动作,还很有针对性地引导视障伙伴调整行走和坐立时的姿态。让蓝睛灵的视障小伙伴们在强健体魄的同时也变得更健美。
Aidon not only taught everyone the postures and their respective exercises, but also guided the visually impaired participants to adjust their postures when walking and sitting through targeted and personal reviews, letting visually impaired Lanjingling members become more fit in physicality while strengthening their body build.
蓝睛灵编辑部发布第3篇运动健身课程总结帖。
Lanjingling editorial office released the third Sports & Fitness Summative Post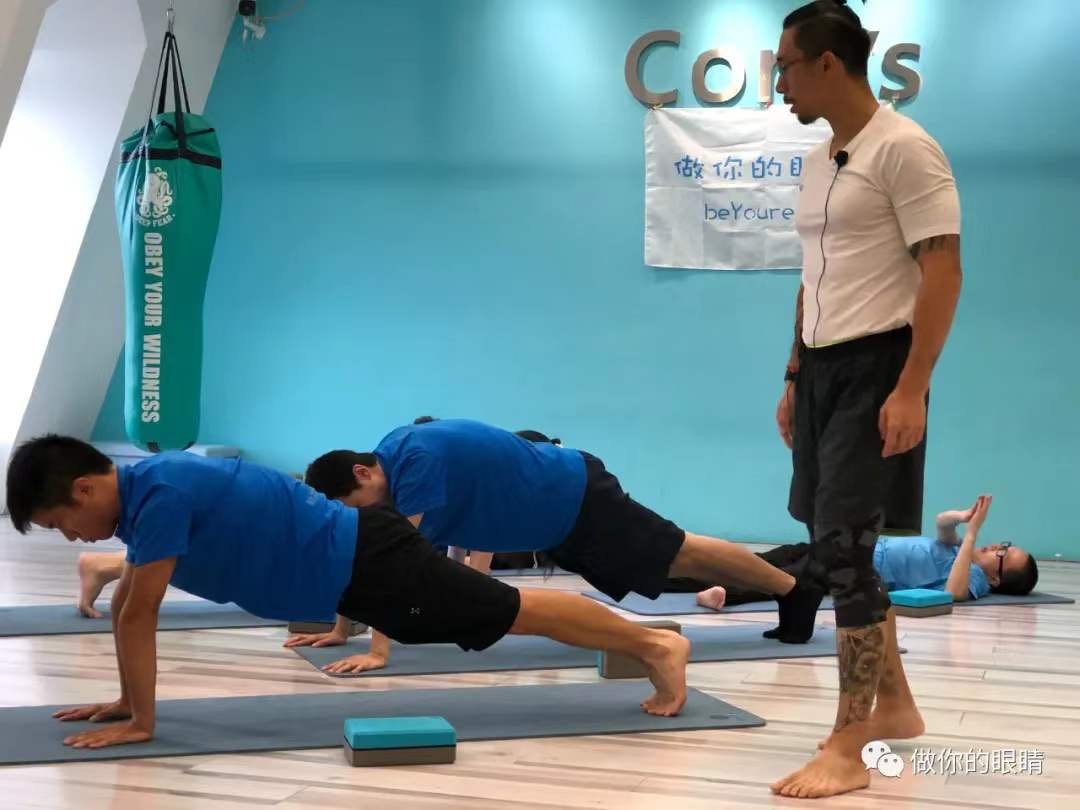 为了让蓝睛灵们以及关注蓝睛灵的伙伴们能更好地学习Aidon教练精心设计的一系列核心肌肉练习动作,蓝睛灵编辑部在7月又更新了1篇总结文章。
To gather attention on and improve the accessibility of Aidon's elaborately designed muscles building exercises, Lanjingling editorial office released a new Sports & Fitness Summative Post in July.
每一篇总结文章中都有动作的详细文字讲解和标准的示范视频,还有Aidon教练总结的很多关于健身的理念,欢迎大家仔细阅读。
Every summative post contains precise wordage descriptions of the exercises and demonstrative videos as a standard for reference, there also are Aidon's personally selected tips and thoughts on fitness and sports, which you are much welcome to peruse through and follow.
蓝睛灵开展少儿公益体验活动。
Lanjingling carried out Children's Charity Event
7月20日,蓝睛灵一行六人来到Core's健身俱乐部,陪小朋友们一起进行了一场前所未有的无障碍运动体验。
On the 20th of July, six members of the Lanjingling went to Core's fitness club to conduct an unprecedented experiential event on accessible sporting with children.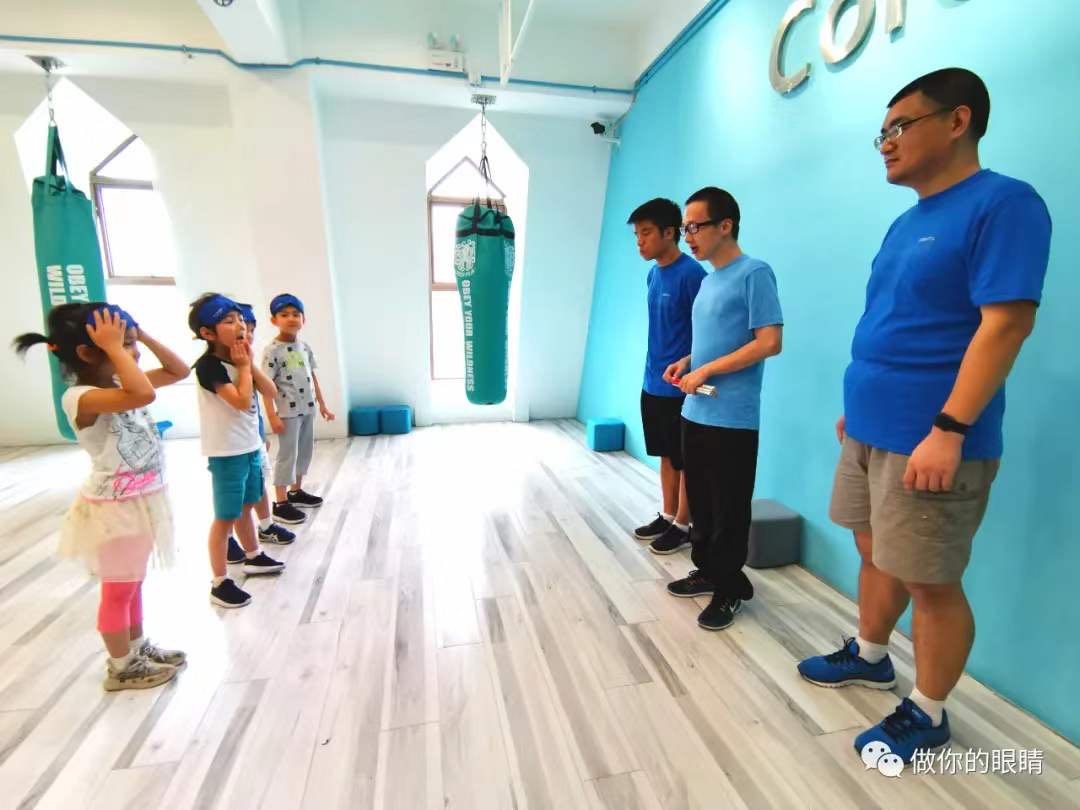 首先,小朋友们通过晓斌的讲解和走盲道的体验,对如何引导视障者有了初步的印象。
First, the children gained initial insights into guiding the visually impaired through Xiaobin's explanation and experiencing tactile paving.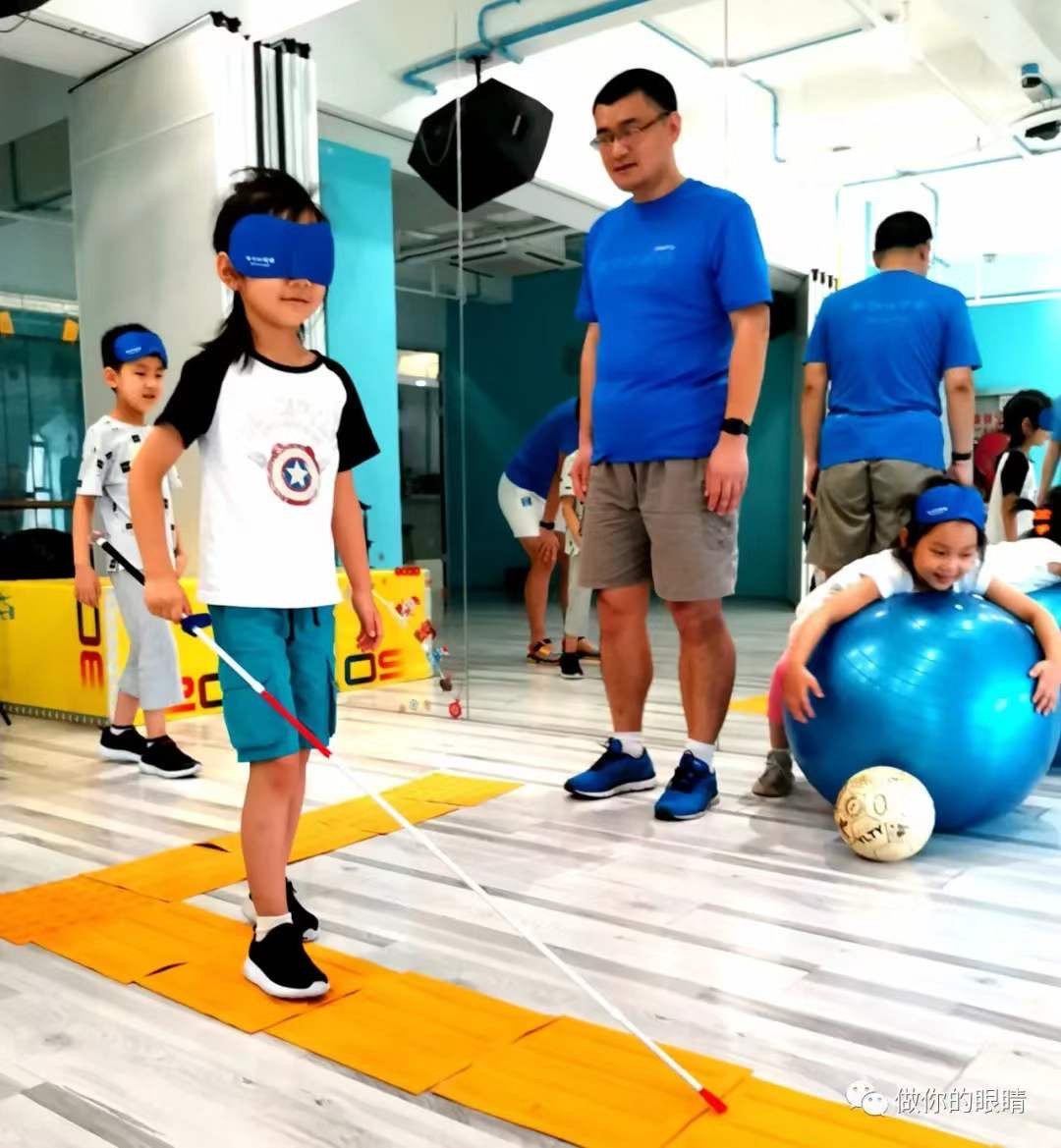 而后由晨辉带领大家体验盲人足球。小朋友们静下心来用耳朵来听盲人足球的声音、互相传球,还与晨辉一起完了"点球PK赛"。
Then, they experienced 盲人足球 under the lead of Chenhui. They carefully listened to the rattles of the ball, practiced passing them, and even played a penalty kick match with Chenhui.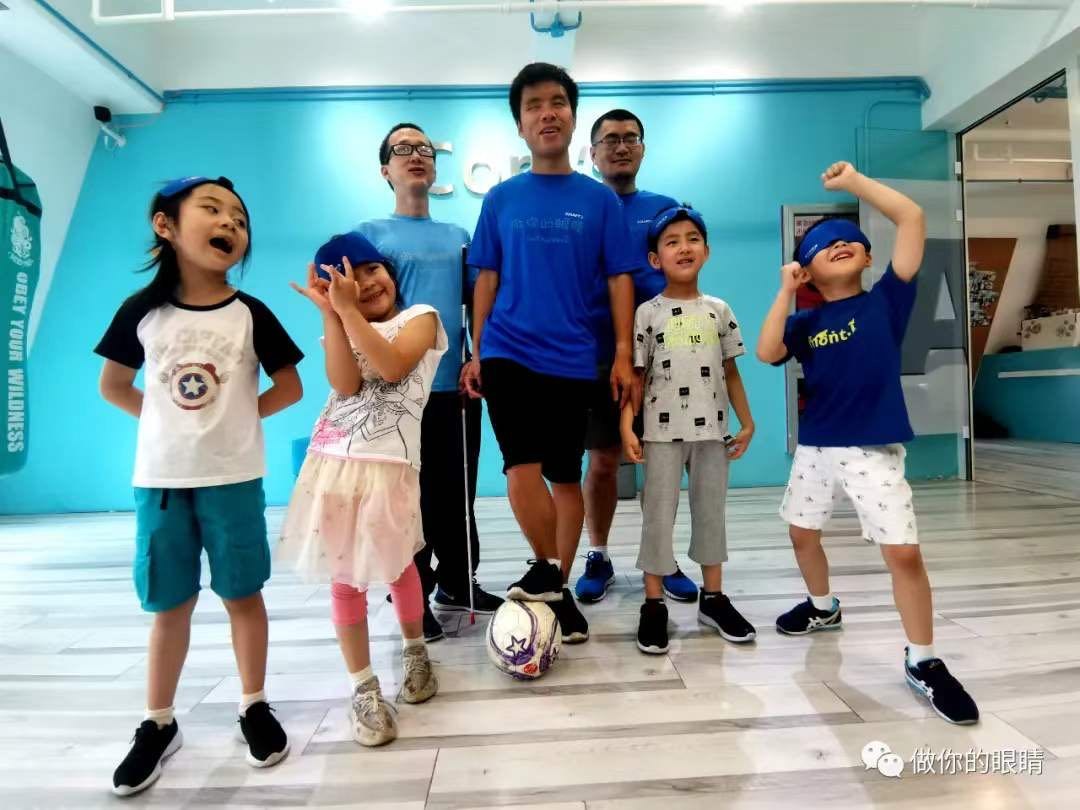 伴随着孩子们的欢笑声,这期公益体验活动在他们的心里种下了融合的种子。若干年后,一定会开出一朵朵无障碍的小花,点缀着美好的生活。
Among the jubilant laughter, a seed of fusion and acceptance is buried into their hearts. Several years later, they shall blossom into flowers of accessibility, embellishing their colorful lives in the future.
缤纷的蓝睛灵
Lanjingling's Colorful Lives
"舌尖上的蓝睛灵",常规活动后分享美食
'A bite of Lanjingling', sharing food after regular weekend activities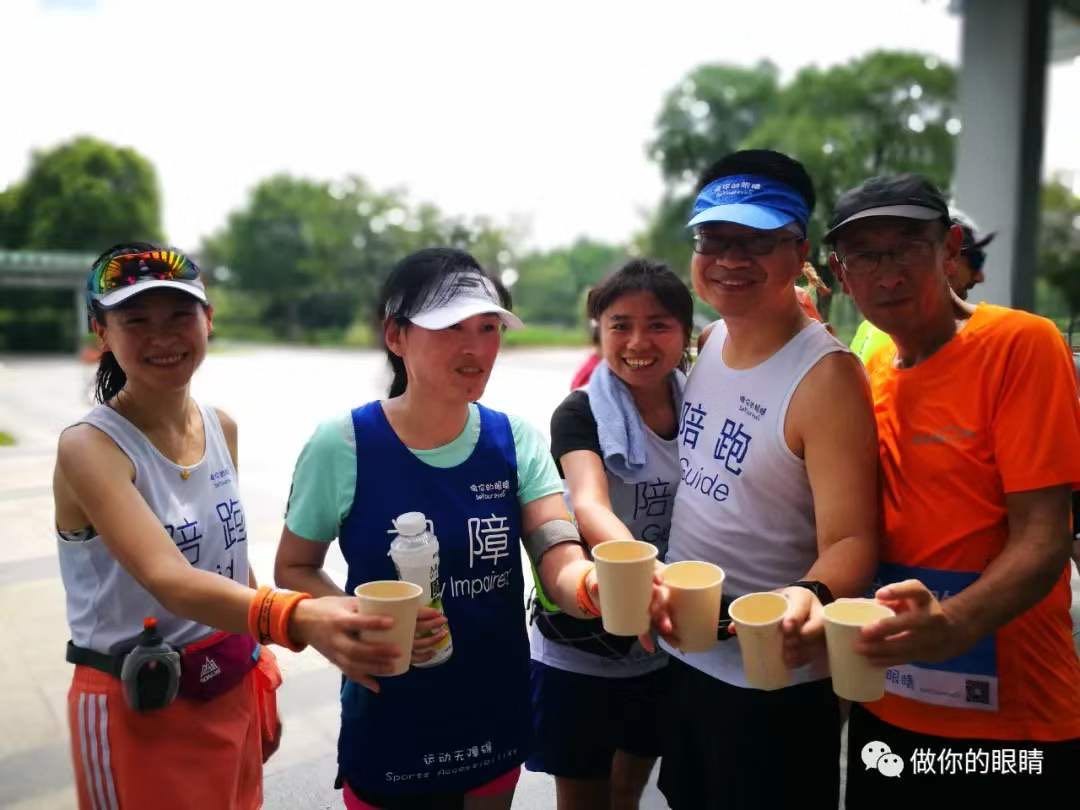 在这样炎热的夏天,蓝睛灵们在常规活动之后分享各自带来的西瓜、芒果、矿泉水等等解渴之物,还有伙伴带来了亲手制作的花生酥、红枣核桃糕、茶叶蛋等琳琅满目的小零食。
Lanjingling members never succumbs to the roast of summer flames. Following the regular weekend activities, Lanjingling shared and enjoyed each other's home-brought delicacies, such as watermelons, mangoes, and drinks. Many of them also brought hand-made peanut crisps, date cakes, tea eggs and so on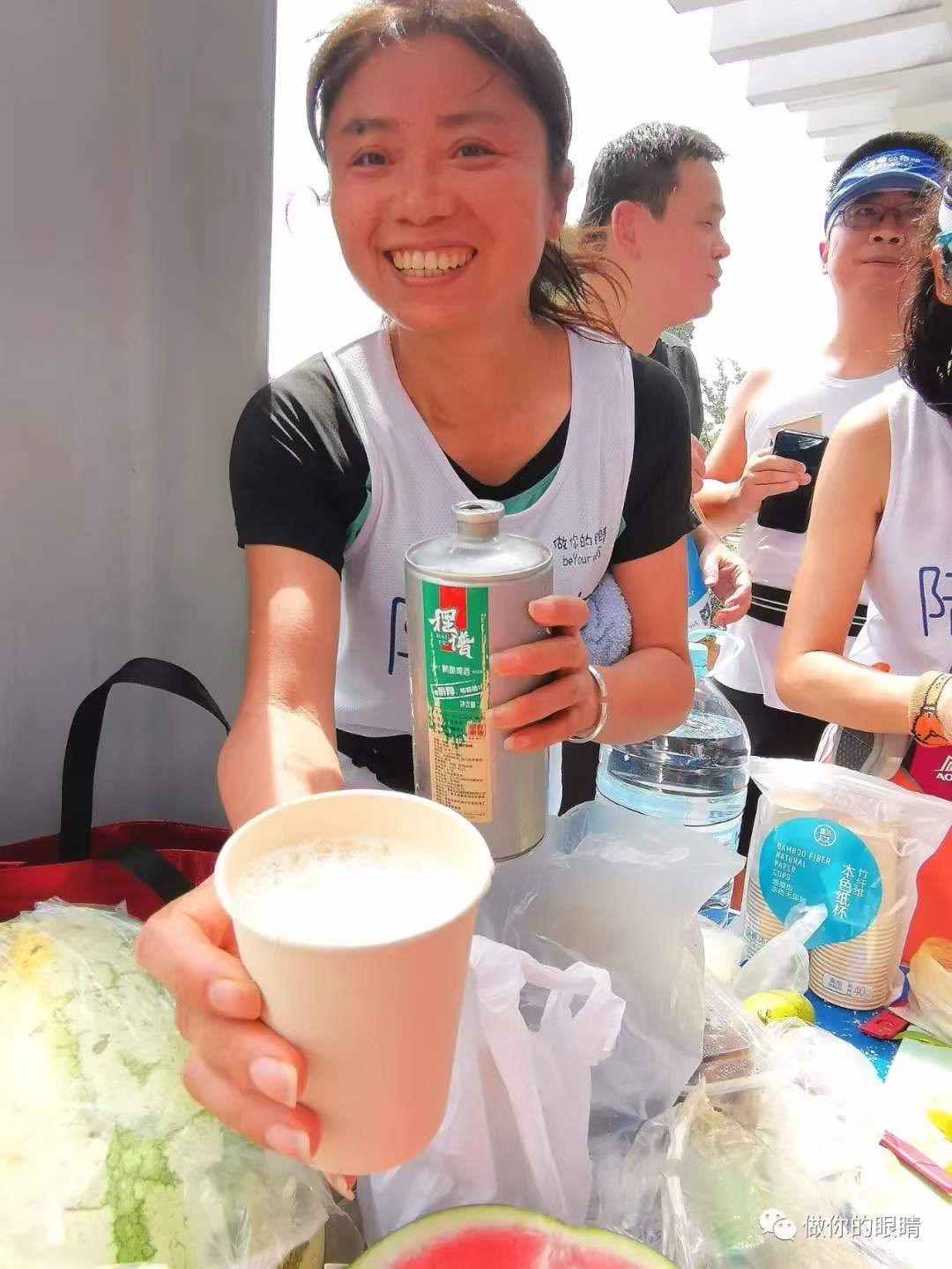 伙伴们分享的美食让大家忘却了运动后的疲劳和高温的炙烤,给大家带来了清凉和能量,也拉近了人与人的距离,给了彼此家人般的温暖。
The sharing of food made the tire and heat faint in memory, they brought coolness and energy, and shortened our internal distance, harvesting warmth wherever we reach.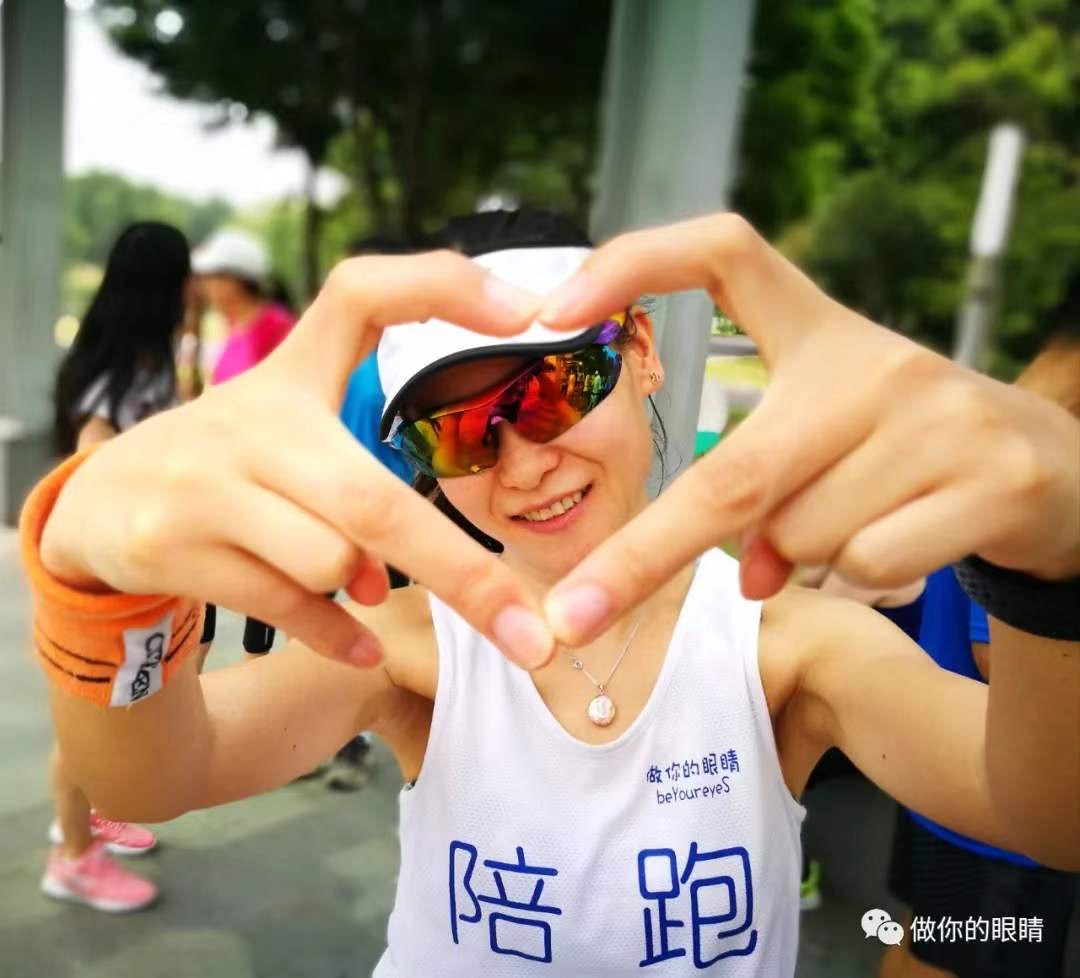 感谢大家的阅读,本期月报到此结束,我们下月再见。
Thanks for your reading. We will see you next month!
关于做你的眼睛:
做你的眼睛是一个民间自发的公益活动,于2015年1月发起,致力于推动运动无障碍,让视障者参与运动变得简单,让每个人都能享受运动带来的快乐。
无论视障者,还是健视者,我们都称呼彼此为蓝睛灵。蓝睛灵传达一个理念:在各种运动场所,在路跑、游泳、自行车、铁人三项等赛事中,身体有障碍但是热爱运动的人们都可以自由又自然的投入运动,参加比赛。
希望在赛场上,能够看到越来越多的蓝睛灵。
希望,运动无障碍。
beYoureyeS is a local NGO founded in January 2015 in Shanghai, China.
beYoureyeS is dedicated to promote sports accessibility, make it easier for visually impaired people to enjoy sports. Let everyone enjoy sports.
Whether a visually impaired runner or unimpaired runner, all of our participants are called "Lanjingling".
Lanjingling conveys the spirit of our concept: our charity caters to a variety of sports, road running, swimming, cycling and triathlon, to list a few. With us, regardless of the physical impairment, those who wish to participate in a race, are able to.
We hope to see you soon on the track and let's do something together for sports accessibility.
主页:www.beyoureyes.org.cn
邮箱:info@beyoureyes.org
微信:beyoureyes 或扫描二维码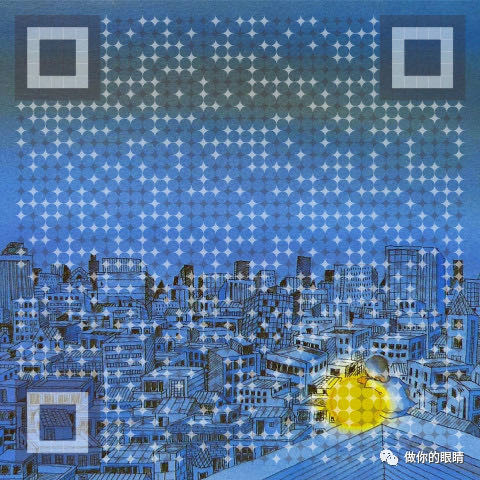 希望我们在比赛中汇集的能量,
可以流动到需要它们的人们那里,
希望我们在运动中得到的勇气,
让更多的人有力量面对困难。
We hope that whilst we're in the competition together,
we may all converge our energy as one to make each and all strong,
We hope that whilst doing sports together,
we are able to find the nerve to be strong enough to face challenges head on.