摘要 Brief
2020年10月,蓝睛灵发起并持续开展了第2届做你的眼睛「绳上100」接力挑战赛,共开展了4期常规活动,参与了2场赛事,组织观看了1部无障碍电影,开展了4期「看健100」健身活动。
In October, beYoureyeS launched and organized the 2nd 「Rope 100」Relay Challenge, carried out 4 regular weekend activities, participated in 2 races, organized to watch 1 accessible movie, and carried out 4 「Fitness 100」 fitness activities.
文字 Writer:晓斌 Clark
翻译 Translator:泱而 、弘毅 Neville, Yoyo
编辑 Editor:纪元 Annie
蓝睛灵编辑部 Lanjingling Editorial Office
发布日期:2020年11月25日
做你的眼睛「绳上100」接力挑战赛,隆重开启
beYoureyeS 「Rope 100」Relay Challenge Officially Launched!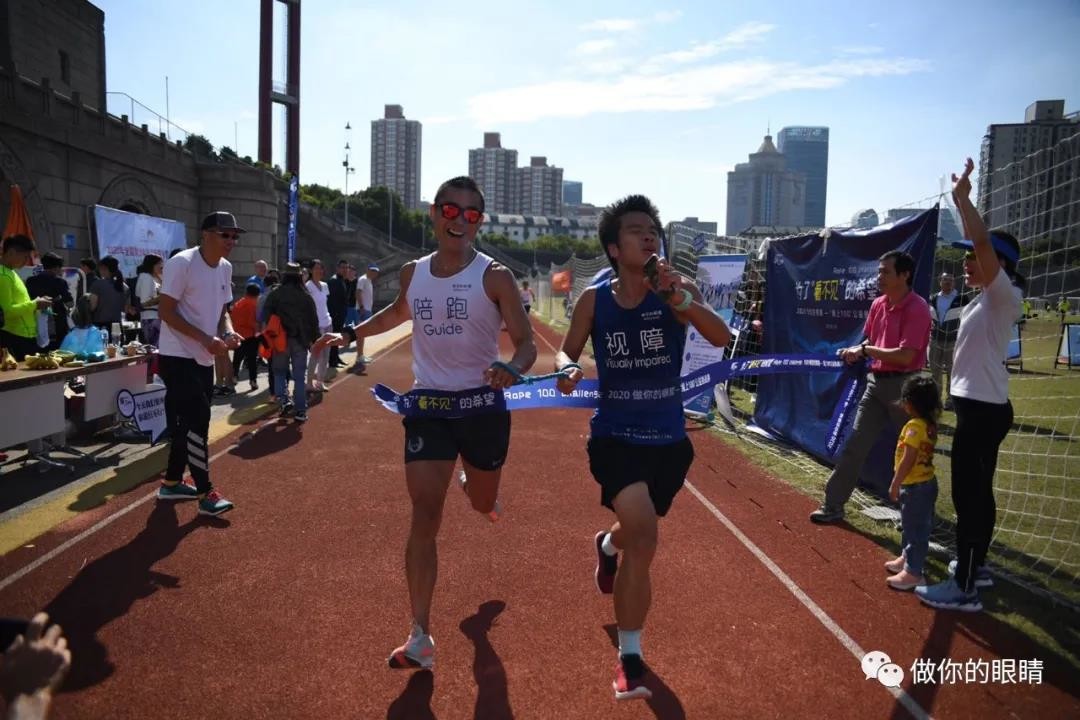 "为了看不见的希望,作出不可能的改善。"第2届做你的眼睛「绳上100」接力挑战赛于10月15日国际盲人日之时隆重开启。
'For the invisible hope, explore the impossible scope'. The 2nd beYoureyeS 「Rope 100」Relay Challenge was grandly launched on October 15— the International White Cane Safety Day.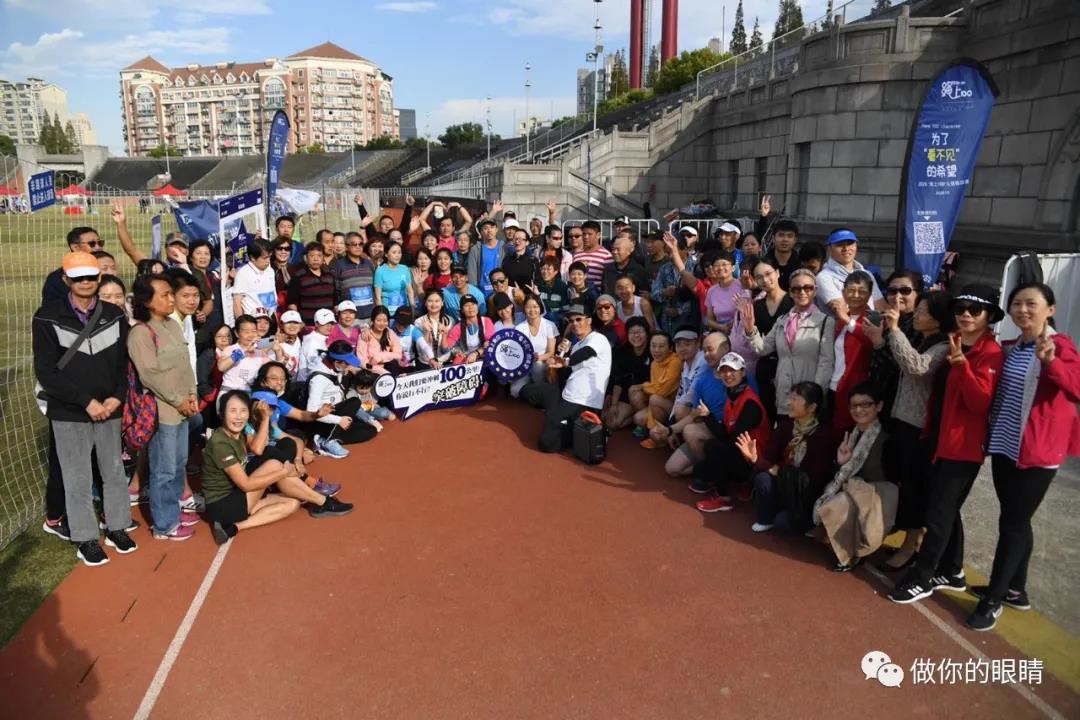 受到新冠疫情的影响,本届赛事以线上线下活动相结合的形式来开展。
从10月15日至11月15日为组队参赛时间,从10月15日至11月25日为筹款时间。
Affected by the COVID-19, this event was carried out in the form of a combination of online and offline activities. From October 15 to November 15, it is time for teams to participate in the competition, and from October 15 to November 25, it is time for fundraising.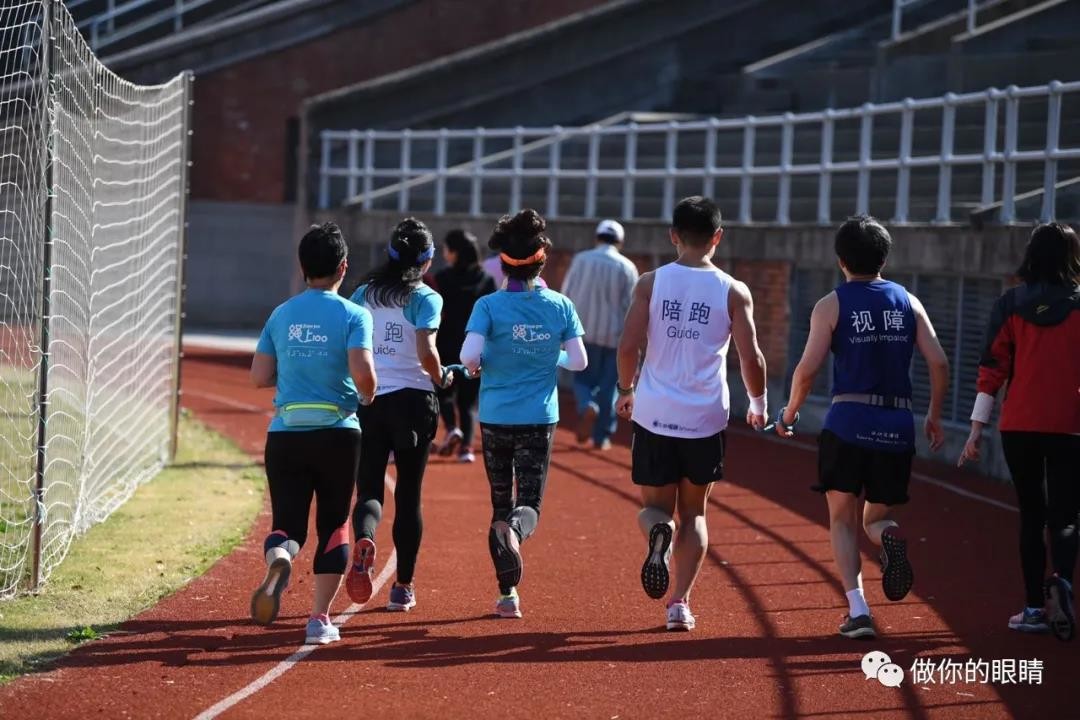 通过多样化的参与形式,鼓励参与者感受运动中的陪伴,推广无障碍的理念,通过筹款将部分资金用于支持做你的眼睛各类公益活动及绳上100项目的落地及持续发展。
Through diversified forms of participation, participants are encouraged to feel the companionship in sports, and the concept of accessibility is promoted. Through fundraising, some funds are used to support beYoureyeS various activities and the landing and sustainable development of 「Rope 100」 project.
常规活动
REGULAR WEEKEND ACTIVITIES
做你的眼睛第217期至220期的常规陪跑活动于10月5日、11日、18日和25日在世纪公园、闵行文化公园、江湾体育场开展。
其中,11日的第218期常规活动在世纪公园和闵行文化公园两地举行,其他3期常规活动都在同一个地点开展。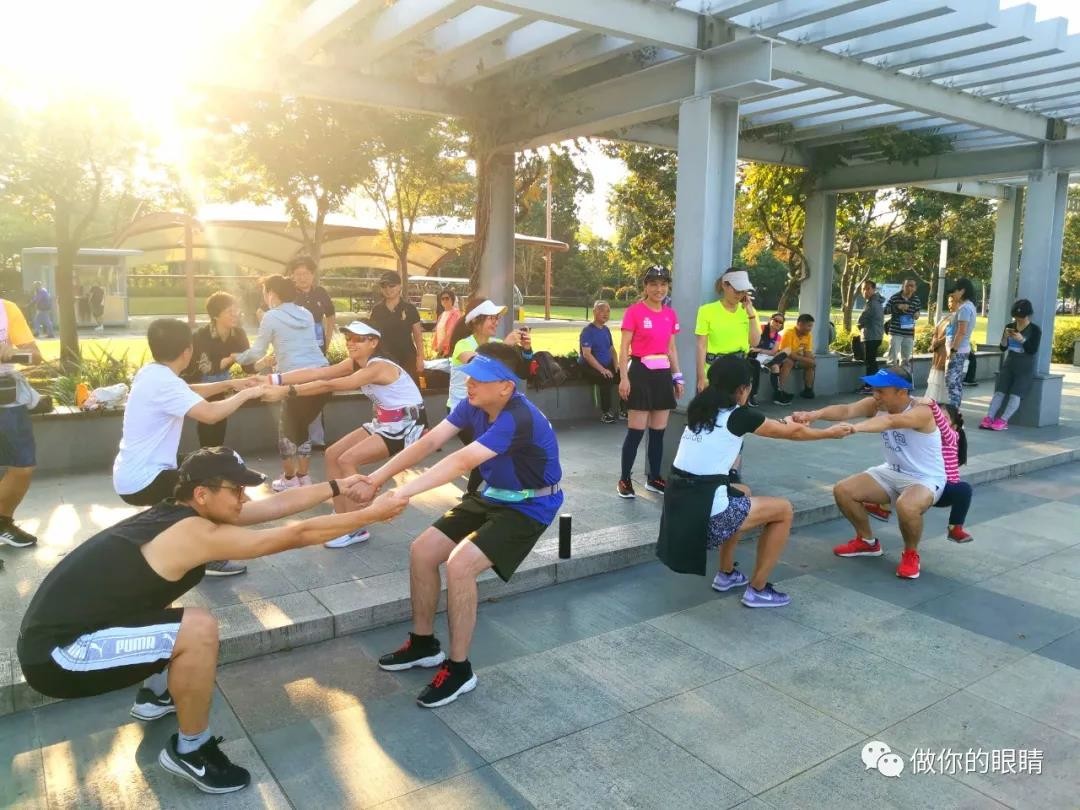 The beYoureyeS 217th to 220th regular weekend activities were carried out on October 5, 11, 18 and 25 respectively in Century Park, Minhang Cultural Park, and Jiangwan Stadium.
The 218th regular activity on October 11 was carried out in both Century Park and Minhang Cultural Park, whereas the other three were carried out in single locations.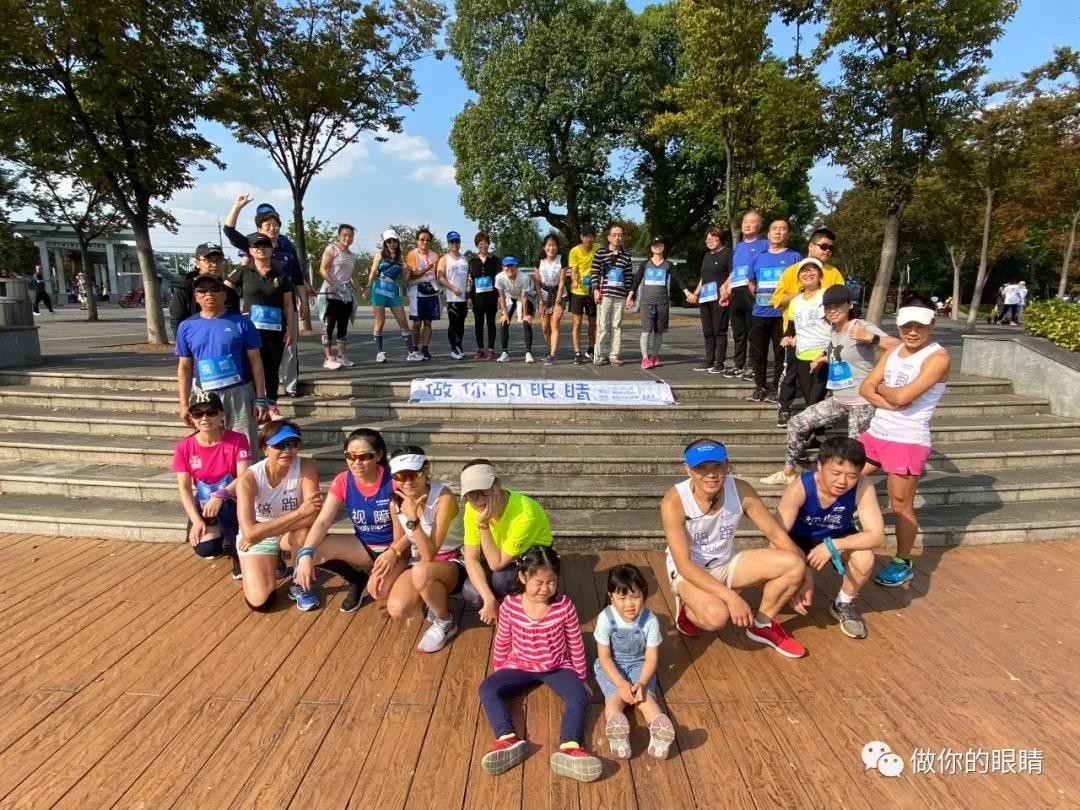 「绳上100」接力挑战赛开幕,线上线下活动持续举行
「Rope 100」Relay Challenge was launched with both online and offline activitie
10月15日,第2届「绳上100」接力挑战赛开幕,当日就成功组织了多支队伍。
On October 15, the 2nd 「Rope 100」Relay Challenge was launched, many teams signed up on that day.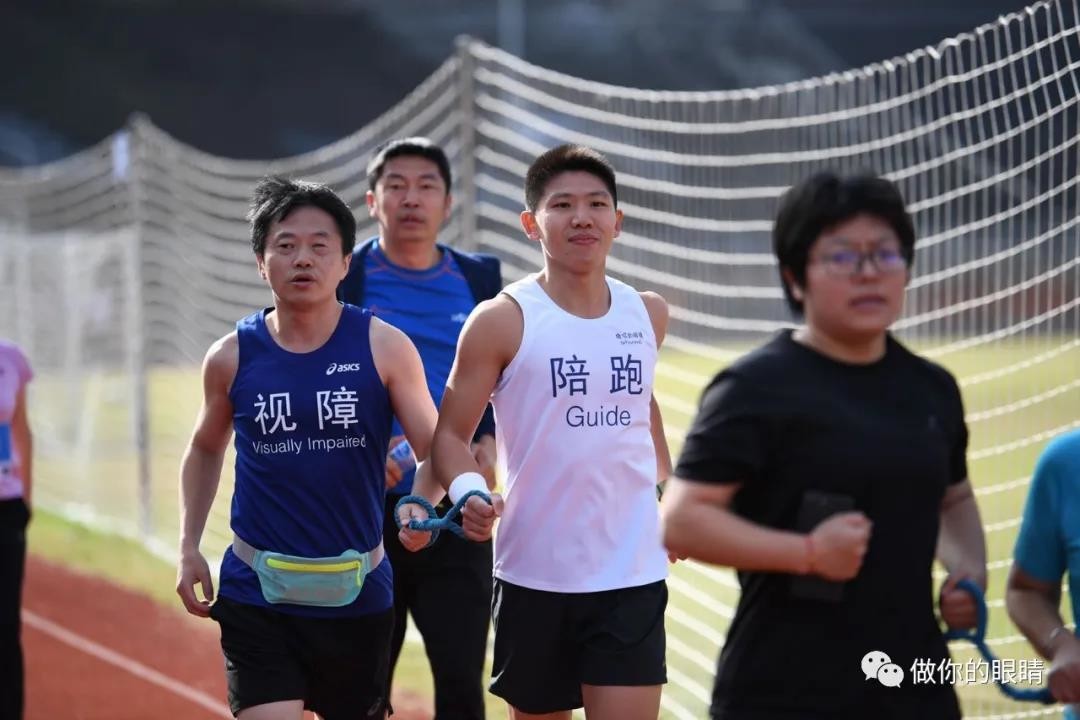 10月18日下午,蓝睛灵组织了第一次本届绳上100线下特别活动。多组绳上100队伍的队员相聚在世纪公园陪跑或陪走,为本队的公里数添砖加瓦。
In the afternoon of October 18, Lanjingling organized the first offline special for this year's「Rope 100」. Numerous participating teams met at Century Park for guided running or guided walking, completing their initial miles in their mile counts.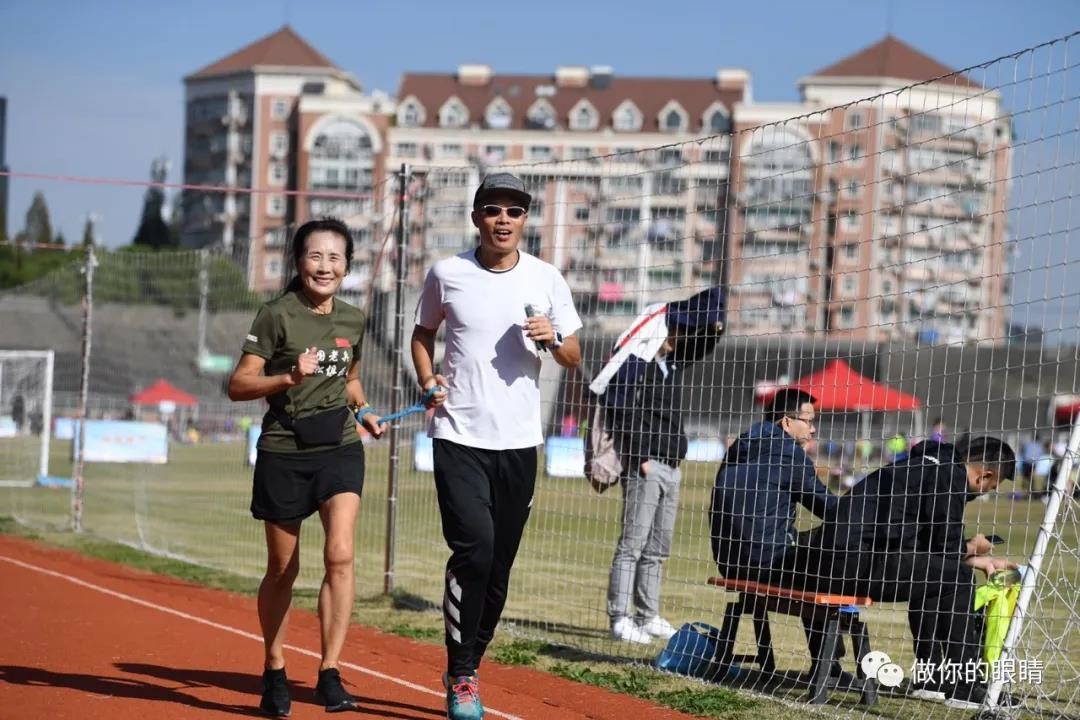 10月25日,蓝睛灵们首次来到江湾体育场,与老兵马拉松俱乐部携手开展了「绳上100」接力挑战赛线下专场活动。
On October 25, beYoureyeS for the first time arrived at Jiangwan Stadium to collectively carry out a 「Rope 100」offline special with Veteran Marathon Club.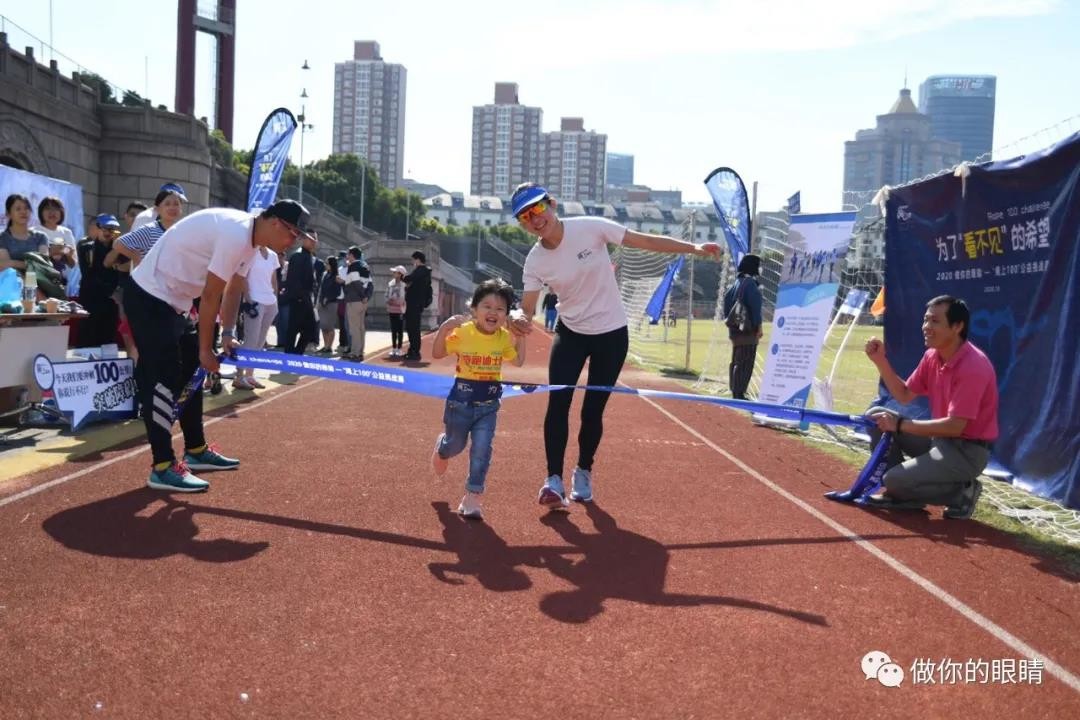 本次活动中突出了"陪伴"的特点,参与者们两两一组,握着陪跑绳一起奔跑。
Partnership was the theme of the day, after the participants were grouped into pairs, they ran together as partners with guide running ropes.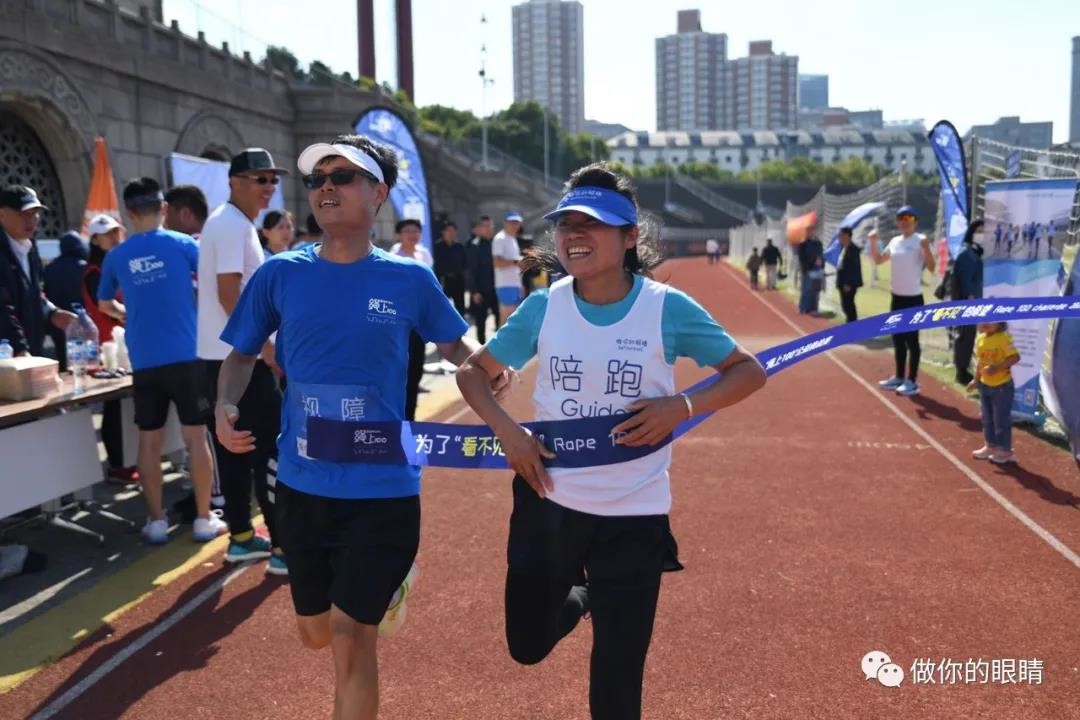 蓝睛灵自发组队参与赛事,纷纷获得好成绩
Lanjingling voluntarily teamed up for races, achieved good results
上马10公里精英赛
Shanghai Marathon 10km Classic Match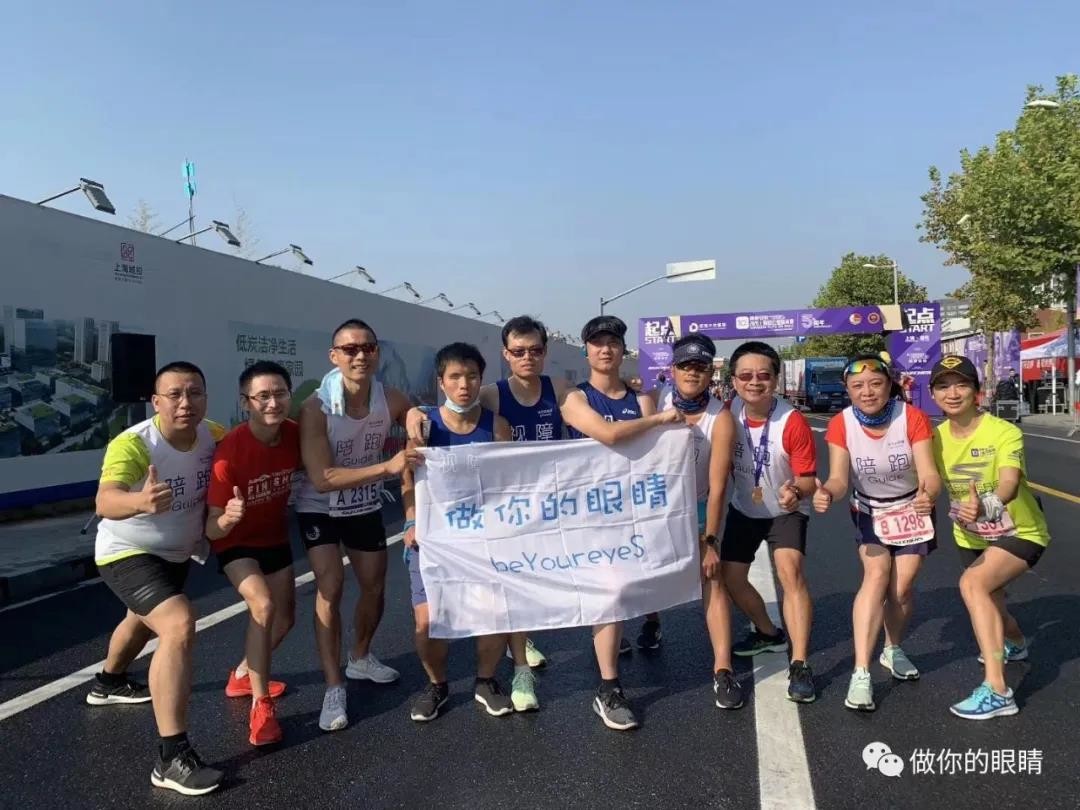 10月18日上午,多位蓝睛灵参加了上马10公里精英赛。其中有3组陪跑队伍,分别是陆晨辉、阿加西组;沈琳、吴建彬组;孙敏杰、蔡芸组,同时参加比赛的还有陆晓燕、李滨、陈涛等陪跑员。
On October 18, numerous Lanjingling members went to the Shanghai Marathon 10km Classic Match. There were 3 guide running teams, they are the LU Chenhui & Agassi team; the SHEN Lin & WU Jianbin team; and the SUN Minjie & CAI Yun team. Others participating were guide runners LU Xiaoyan, LI Bin, and CHEN Tao.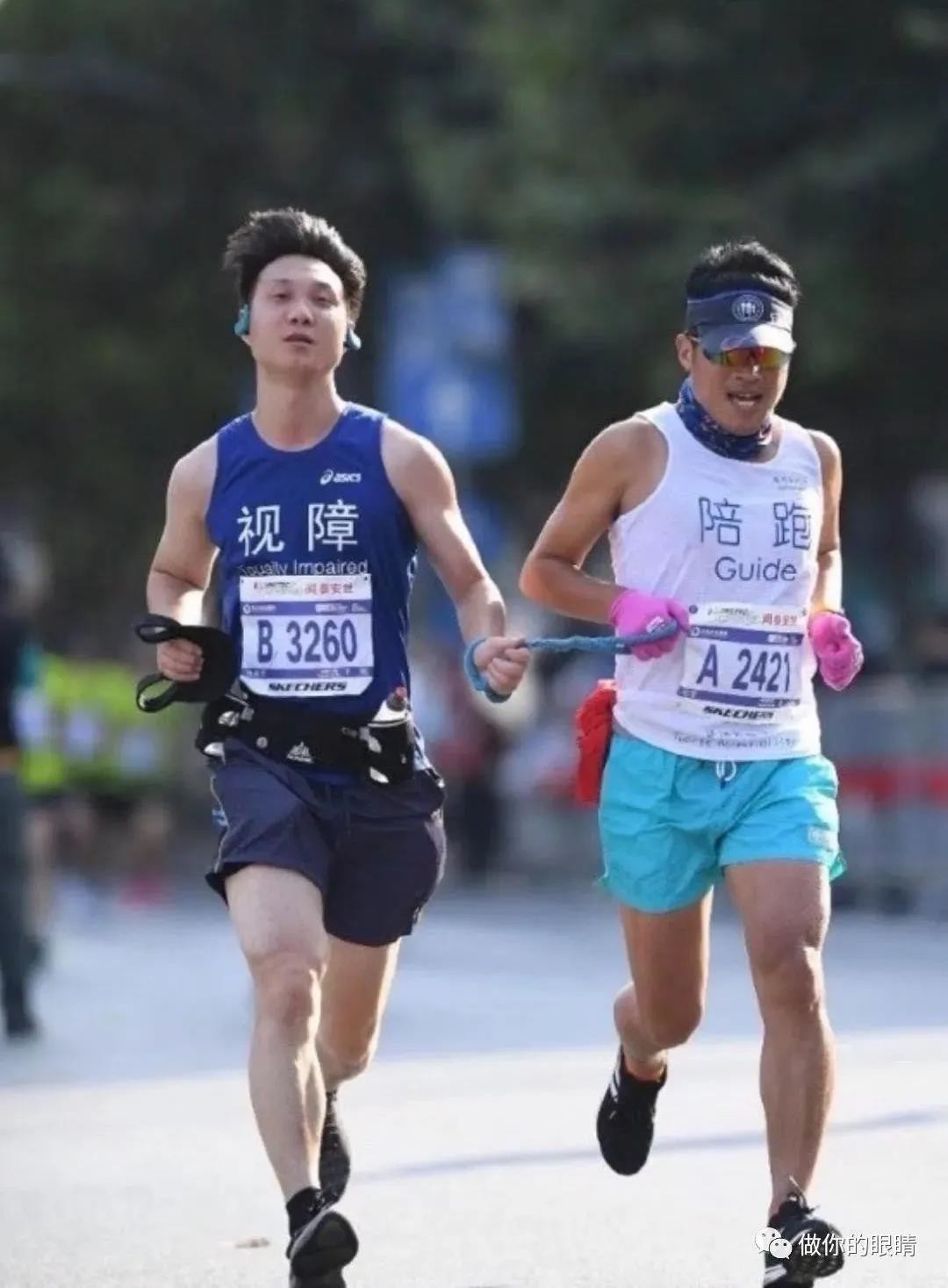 三组陪跑队伍均表现出色,分别以46分09秒(晨辉组)、47分01秒(孙敏杰组)47分37秒(沈琳组)完赛。这一年来,他们做好合理的训练计划、相约一起训练、不断提高自己、追求卓越。在汗水的浇灌下,在陪伴的滋润下,开出了美丽的无障碍之花。
The three teams all achieved remarkable results, finishing the race in 46 minutes 09 seconds (Chenhui's team), 47 minutes 01 seconds (SUN Minjie's team), and 47 minutes 37 seconds (SHEN Lin's team) respectively. In the past year, they have made training plans, trained together, constantly improved themselves and pursued excellence. Under the irrigation of sweat and the nourishment of companionship, beautiful flowers of sports accessibility have blossomed.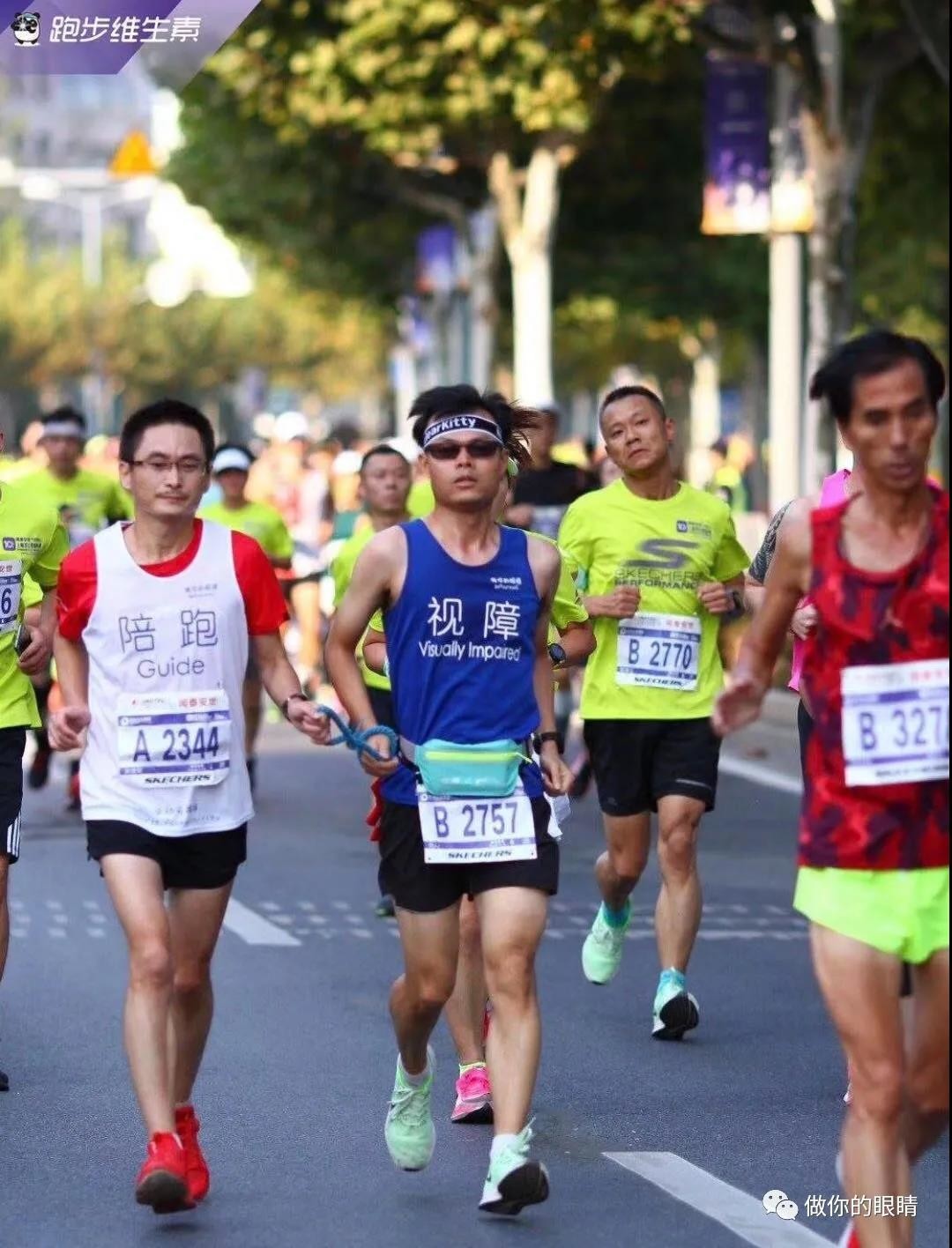 常熟马拉松
Changshu Marathon在此处添加文本段落
10月25日,几位大白陪跑员参加了常熟马拉松,在检录时巧遇了苏州蓝睛灵。
罗俊和田国华主动加入苏州蓝睛灵的陪跑队伍,并且都顺利完赛。
On October 25, Suzhou Lanjingling members coincidentally met some qualified runners from Shanghai in the Changshu Marathon.
LUO Jun and TIAN Guohua spontaneously joined two Suzhou Lanjingling teams, both of which had a smooth finish in the Marathon.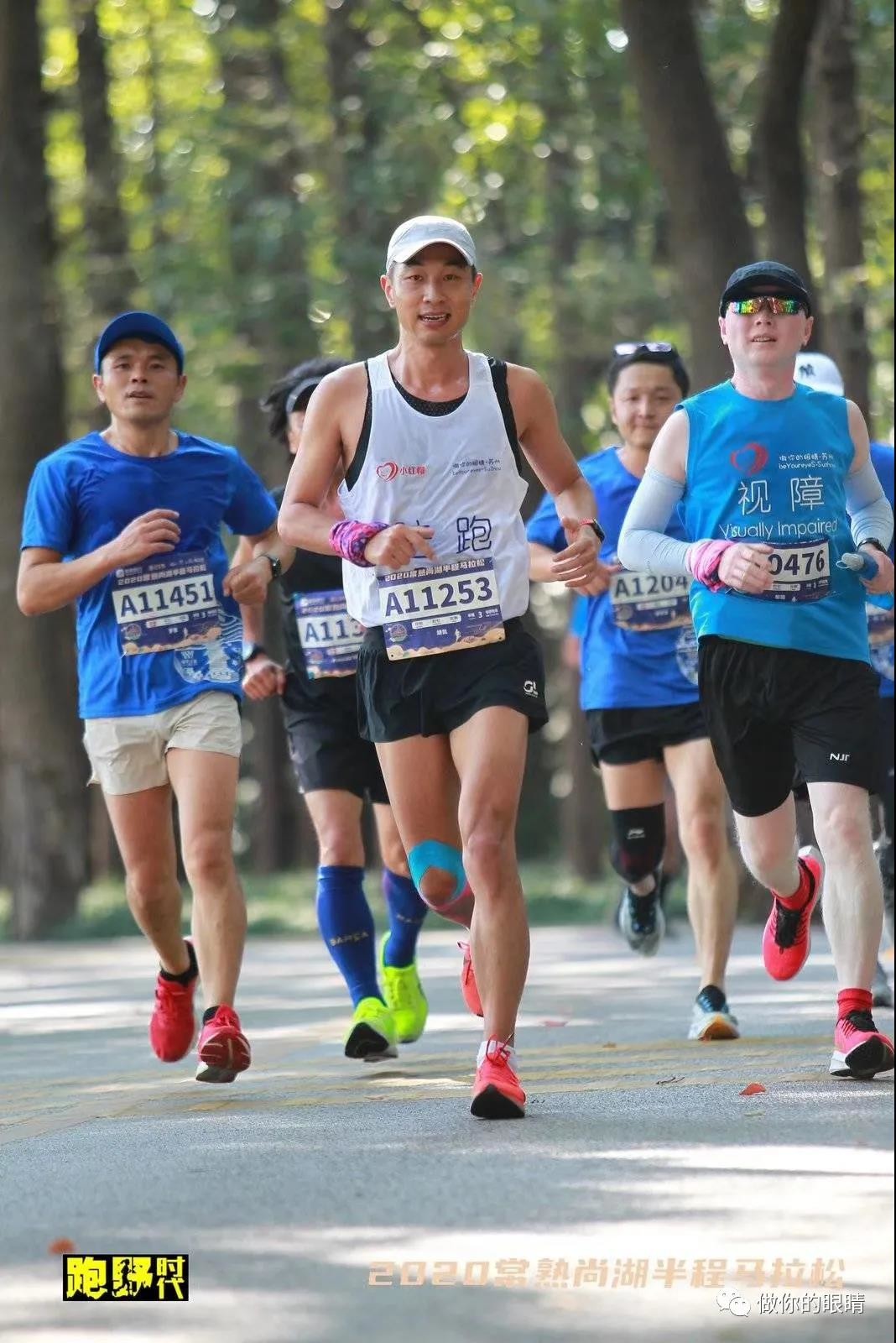 国庆欣赏无障碍电影《急先锋》
Screening of Accessible Movie Vanguard on National Day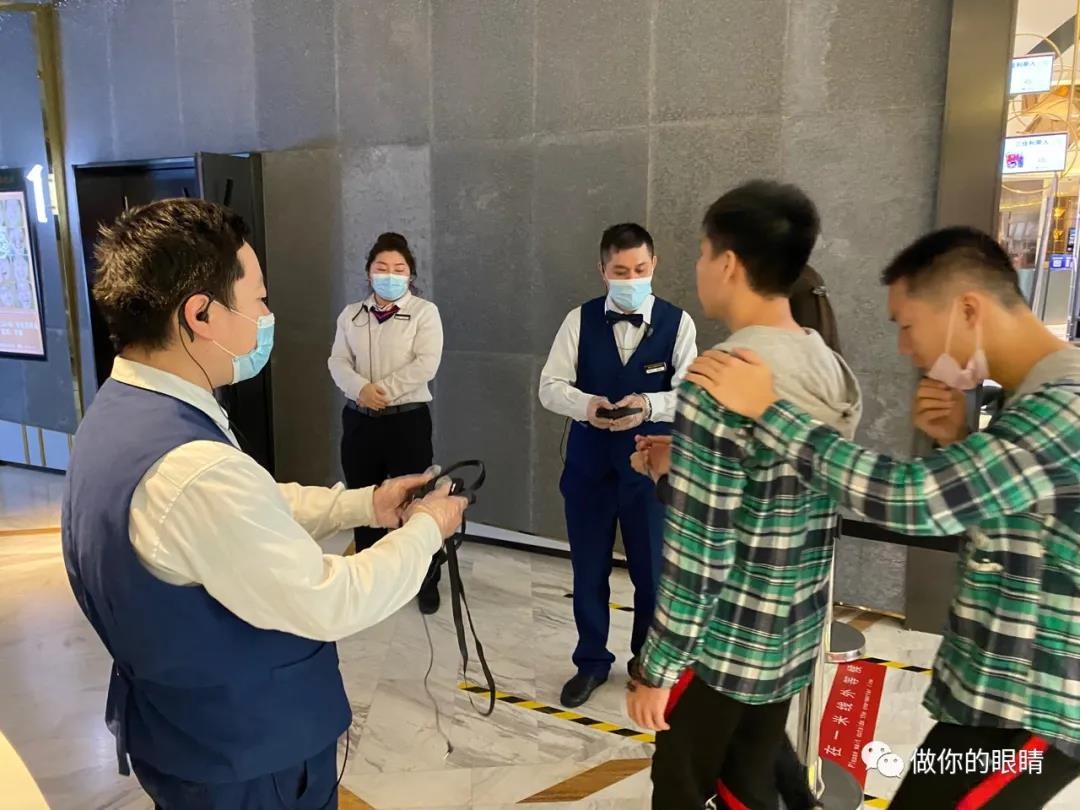 国庆双节期间的10月5日上午,20多位蓝睛灵在红星电影世界吴中路旗舰店欣赏了热映影片《急先锋》。
On the morning of October 5, around 20 Lanjingling's arrived at cinema to watch the new blockbuster movie 'Vanguard'.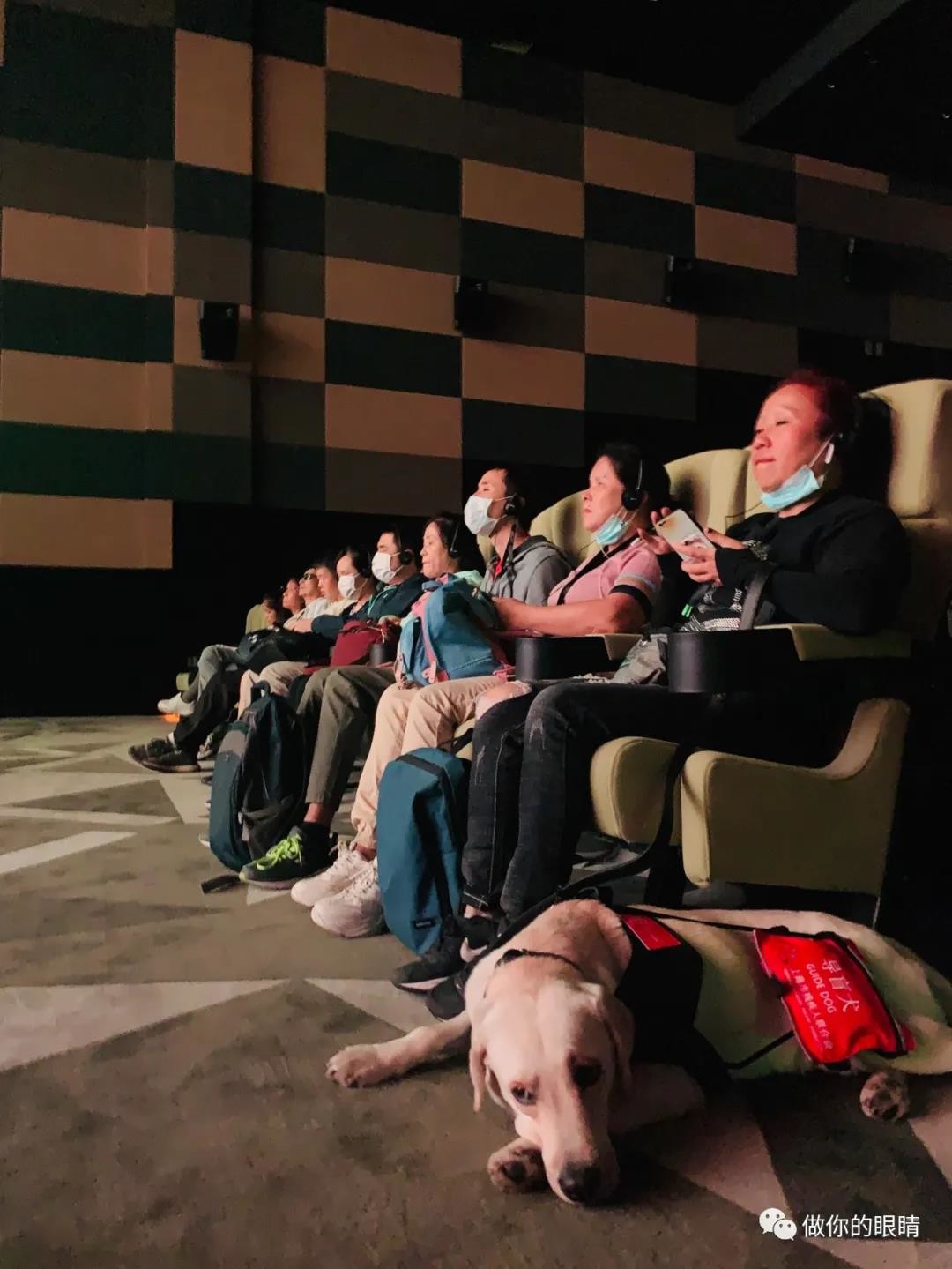 这是国庆前后至爱影院无障碍观影项目推出的第二部无障碍影片。
It was the second movie released by Zhiai Cinema's accessible movie project.
视障伙伴与家人朋友一起观看大片,与普通观众互不干扰、同紧张共欢笑,共度国庆好时光。
Visually impaired members enjoyed the film with their friends and families, sharing the joy with sighted audiences in this festive day.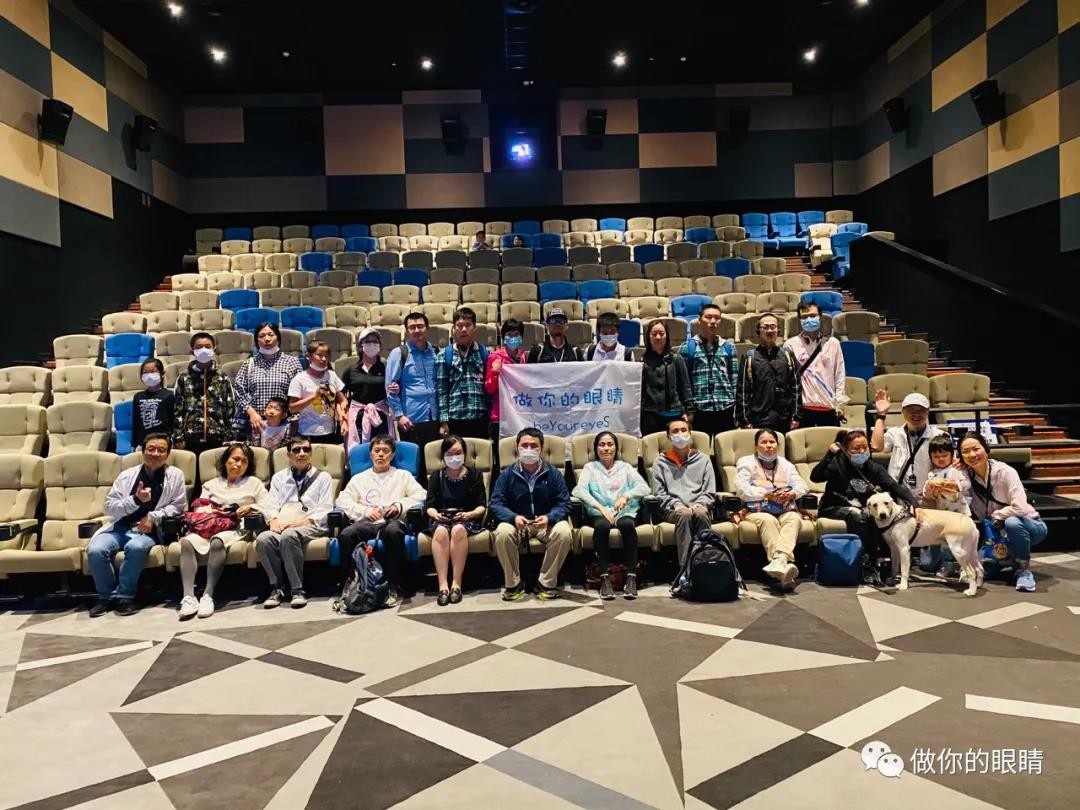 「看健100」健身项目继续开展
「Fitness 100」Fitness Project Continues
10月7日、14日、21日和28日,第4期至第7期看见100健身活动Core's专场持续开展。几位多次参与活动的视障伙伴已经熟悉了多种器械的使用,可以根据Aidon教练的安排自行完成锻炼计划。
The 4th to 7th Core's 「Fitness 100」were carried out on October 7, 14, 21 and 28 respectively. Many were already familiar with the gym equipment and were able to complete the fitness routines given by Coach Aidon without assistance.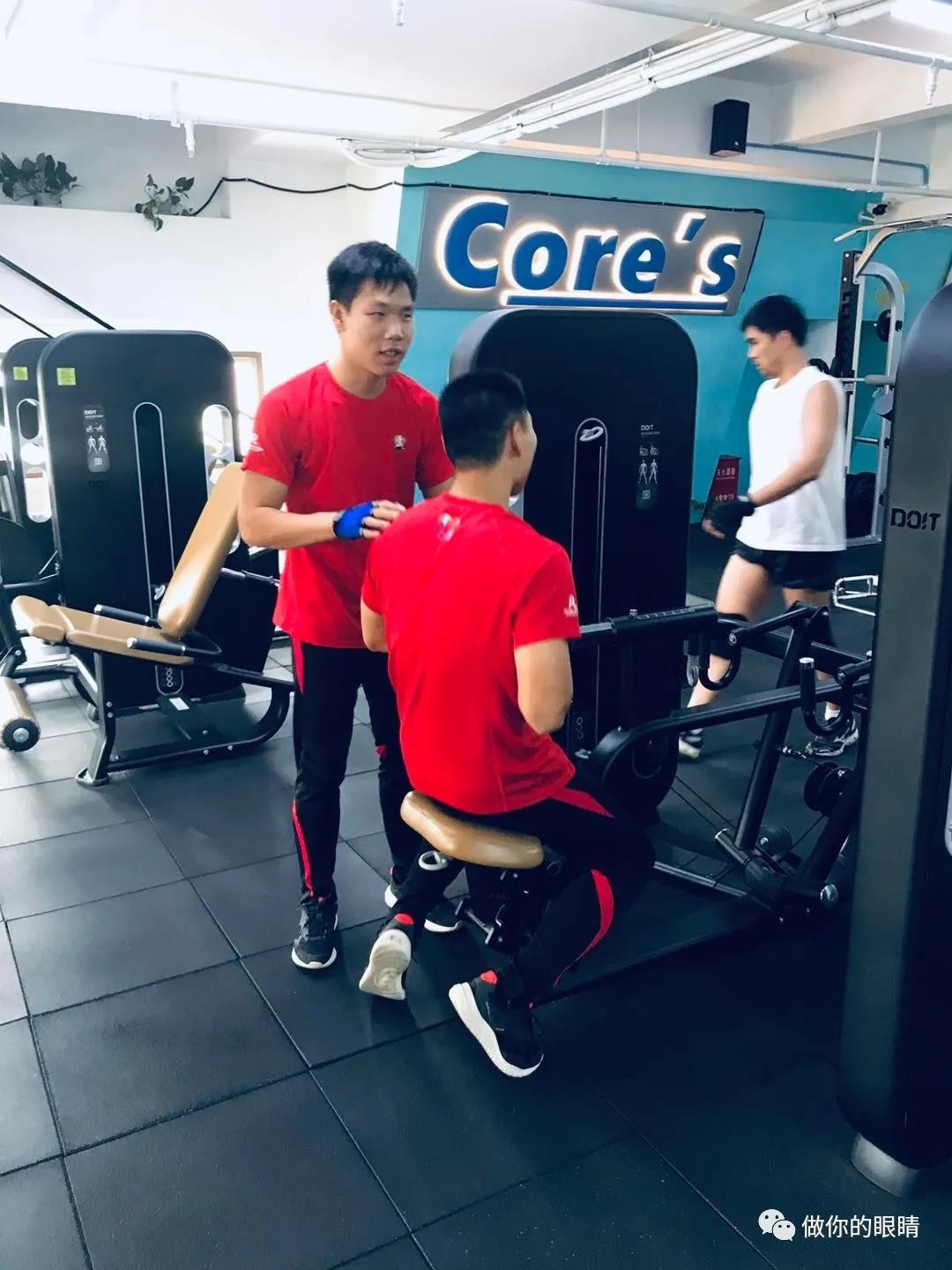 从经验中总结,视障者参与健身的障碍并不来源于不知道如何使用锻炼器械,更多的是源于缺少健身房的接纳和专业的支持,希望有更多的健身房能加入「看健100」健身活动,让更多的视障者能体验到健身的快乐。
The lack of fitness training among the visually impaired community isn't due to their inability to use equipment, but due to their lack of expert guidance and support. We hope that more and more fitness clubs will join our 「Fitness 100」Fitness Project, to enable more visually impaired people to engage in fitness and enjoy it.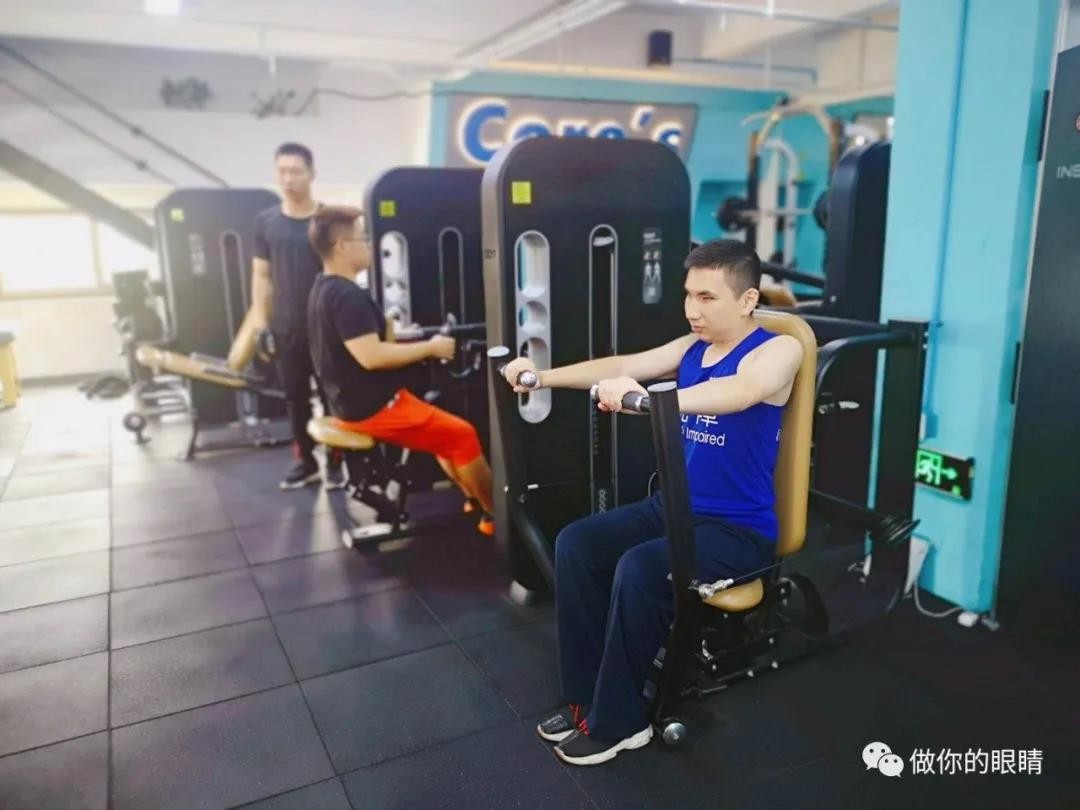 色彩缤纷的蓝睛灵
Lanjingling's Colorful Lives
蓝睛灵们跑步庆祝祖国生日
Lanjingling members ran in celebration of the National Day
10月1日,蓝睛灵们自发在多地以多种形式庆祝节日。
On October 1, the national day, Lanjingling members from across the nation spontaneously celebrated the National Day in various unique fashions.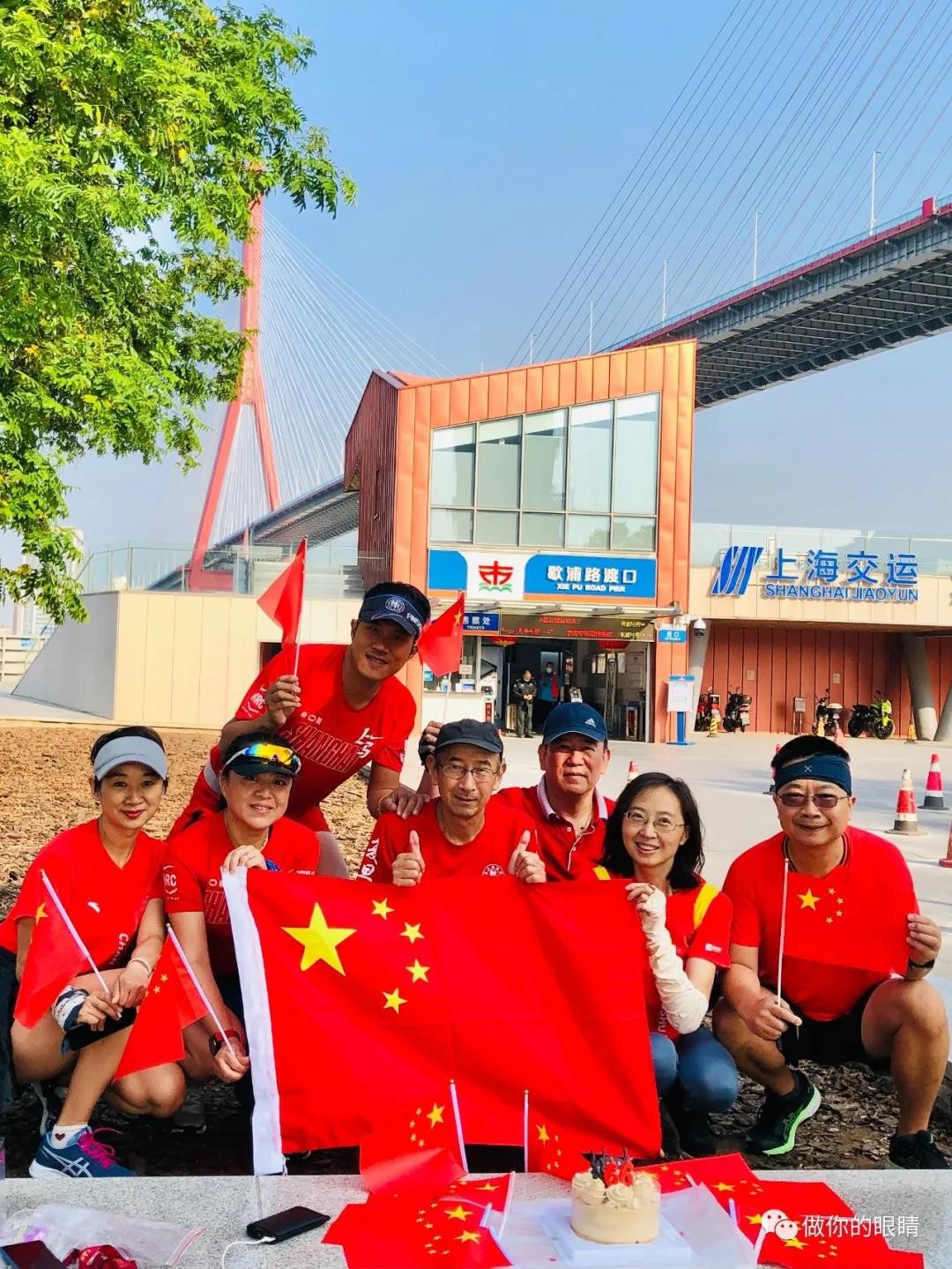 7点30分,宝叔、晓燕、钱部长、龙卷风、李滨、泽华、薇薇等人在杨浦滨江的跑步道会合,一同的红色跑步服、红艳艳的国旗,已经在滨江畔渲染出美丽的风景。 At 7:30 in the morning, Uncle Bao, Xiaoyan, Mr. Qian, Ttornado, LI Bin, Zehua, Weiwei and others met on the Yangpu Riverside running tracks. Together, the red running suits and the red national flags rendered a beautiful scenery at the bund.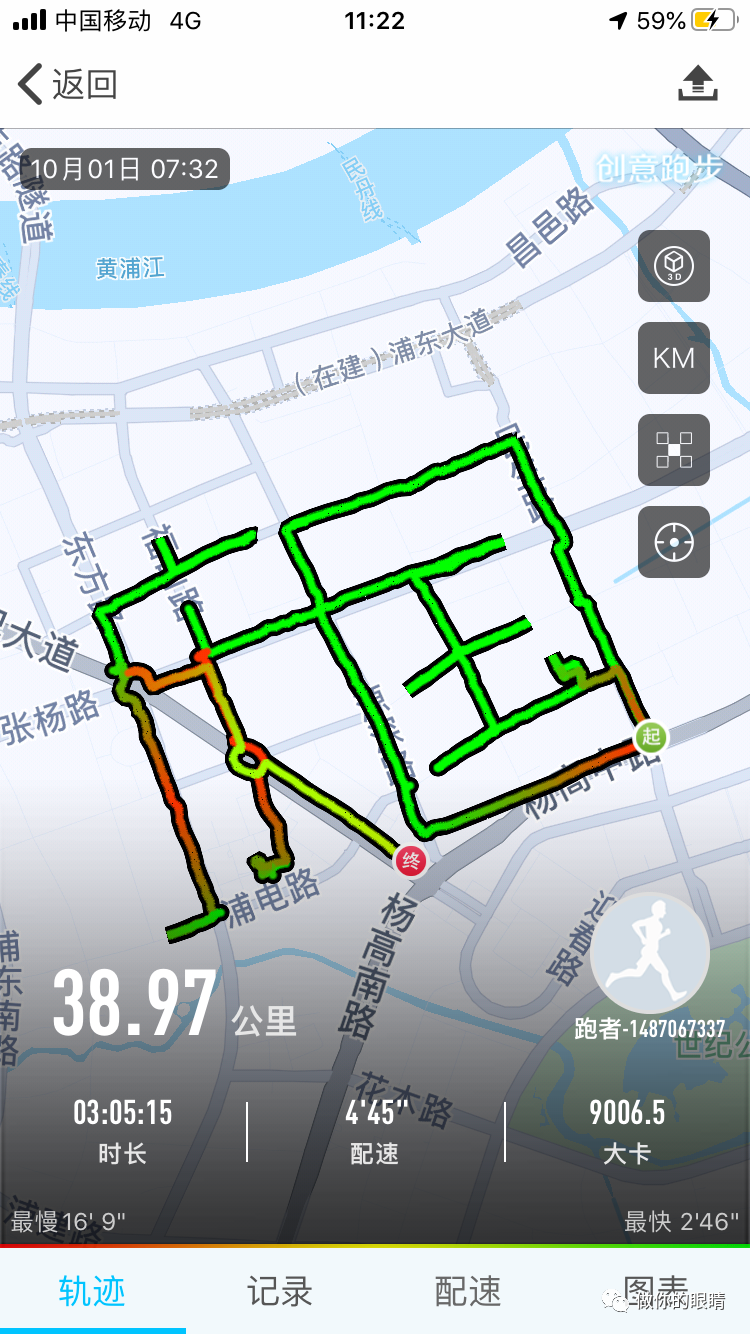 同时,沈琳、孙敏杰、姚颖、也在黄浦江的西岸出发,跑一朵深情的玫瑰花送给祖国!
Meanwhile, SHEN Lin, SUN Minjie, and YAO Yin set off on the west bank of the Huangpu River and ran the shape of a rose for Motherland's birthday!
还有周萍的一副文字跑图,也在历经3小时后圆满写完最后一笔。
Also worthy of mention was ZHOU Ping's letter of the running path, with its final touch marked three hours after set-off.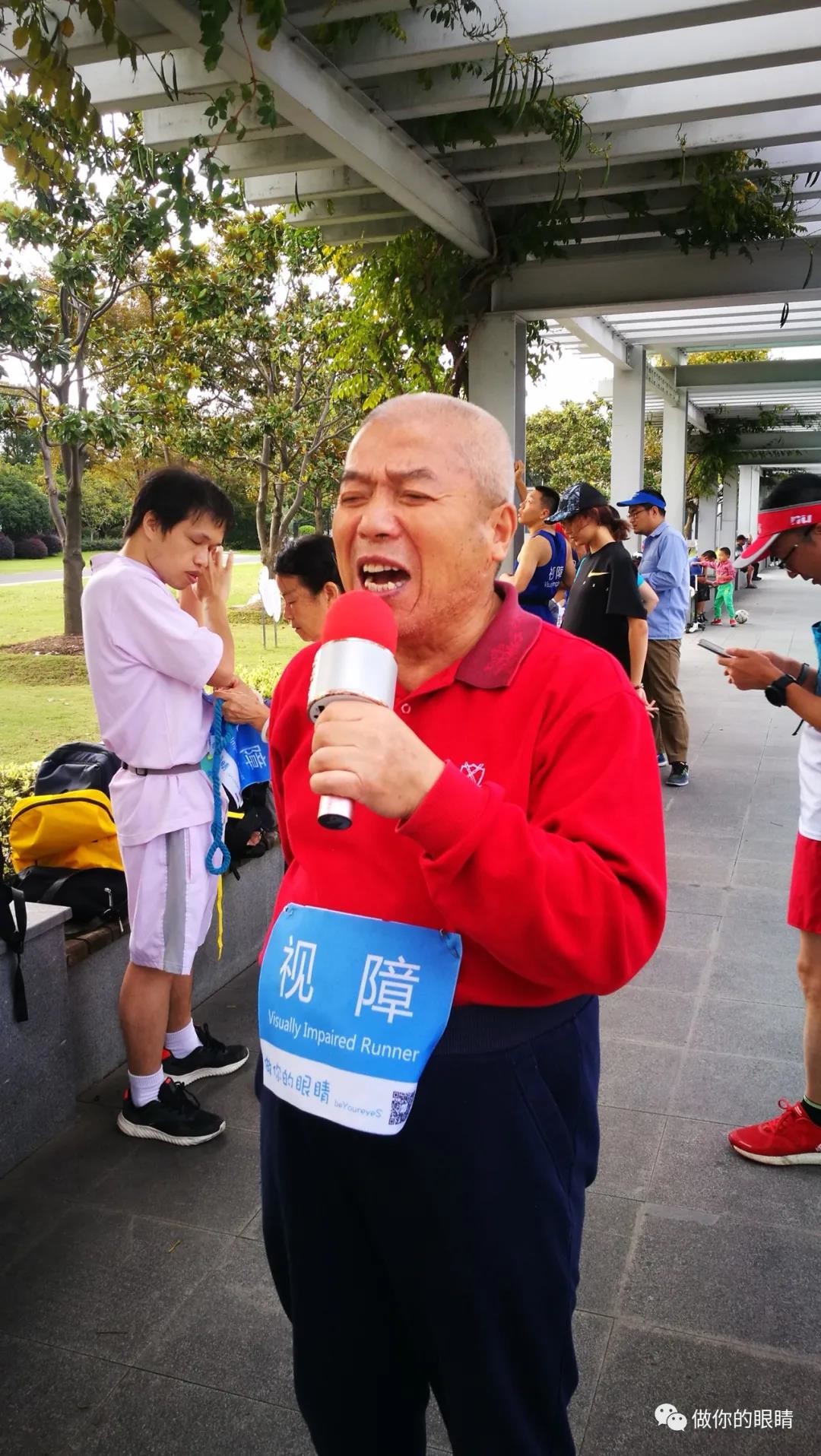 有一句话一直深记在脑海里:为什么我的眼里常含泪水?因为我对这土地爱得深沉。
As the saying goes: why do tears cling to my eyes? Because so deeply do I love this soil and this land.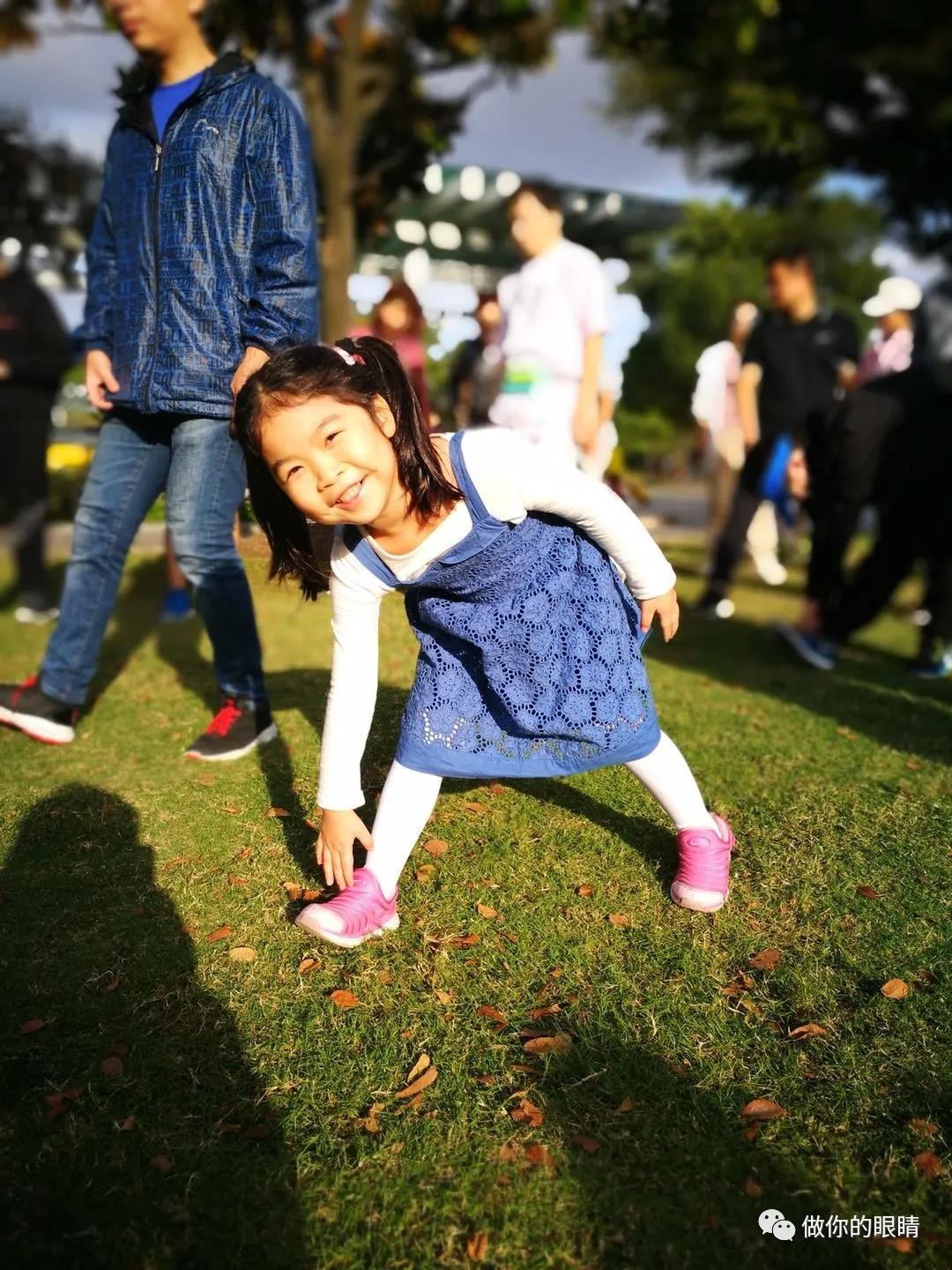 今天,我们也会说:为什么我的脸上常常都是笑意,是因为我脚下的土地给了我无比的自信和幸福!
Today, perhaps we all shall say: why do smiles cling to my face? Because so lovingly do I trust this soil and this land.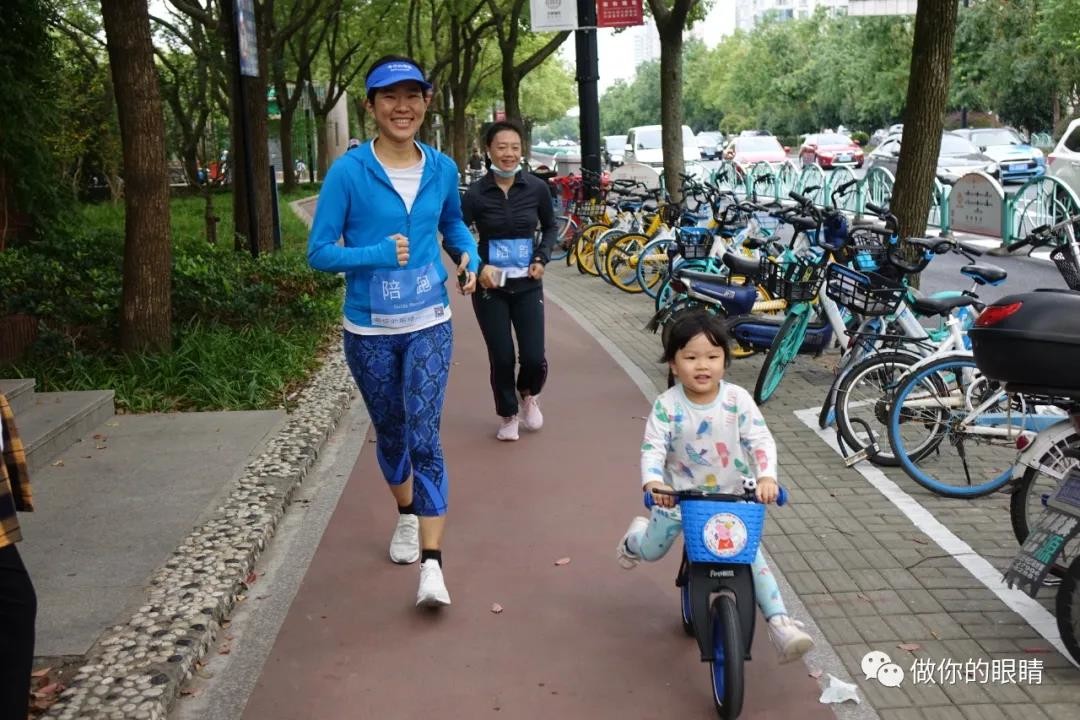 感谢大家的阅读,本期月报到此结束,我们下月再见!
Thanks for your reading. We will see you next month!
关于做你的眼睛:
做你的眼睛是一个民间自发的公益活动,于2015年1月发起,致力于推动运动无障碍,让视障者参与运动变得简单,让每个人都能享受运动带来的快乐。
无论视障者,还是健视者,我们都称呼彼此为蓝睛灵。蓝睛灵传达一个理念:在各种运动场所,在路跑、游泳、自行车、铁人三项等赛事中,身体有障碍但是热爱运动的人们都可以自由又自然的投入运动,参加比赛。
希望在赛场上,能够看到越来越多的蓝睛灵。
希望,运动无障碍。
beYoureyeS is a local NGO founded in January 2015 in Shanghai, China.
beYoureyeS is dedicated to promote sports accessibility, make it easier for visually impaired people to enjoy sports. Let everyone enjoy sports.
Whether a visually impaired runner or unimpaired runner, all of our participants are called "Lanjingling".
Lanjingling conveys the spirit of our concept: our charity caters to a variety of sports, road running, swimming, cycling and triathlon, to list a few. With us, regardless of the physical impairment, those who wish to participate in a race, are able to.
We hope to see you soon on the track and let's do something together for sports accessibility.
主页:www.beyoureyes.org.cn
邮箱:info@beyoureyes.org
微信:beyoureyes 或扫描二维码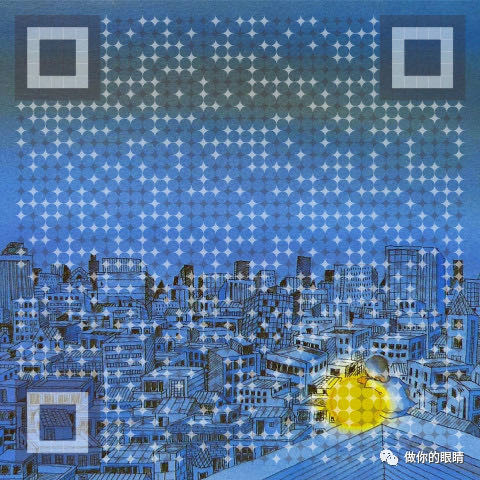 希望我们在比赛中汇集的能量,
可以流动到需要它们的人们那里,
希望我们在运动中得到的勇气,
让更多的人有力量面对困难。
We hope that whilst we're in the competition together,
we may all converge our energy as one to make each and all strong,
We hope that whilst doing sports together,
we are able to find the nerve to be strong enough to face challenges head on.