2021年8月,蓝睛灵开始了新的无障碍融合尝试,现代舞表演者卜老师带领多位视障蓝睛灵开始了现代舞的排练。
8月蓝睛灵共开展 了5期常规活动,5次"百日计划"2期导师专业辅导课和导师一对一辅导,5期现代舞排练,5期看健100无障碍健身活动。
In August 2021, Lanjingling started a new attempt of accessibility and inclusion, with Mr. Bu , a modern dance performer, teaching modern dance to several visually impaired participants.
In August, Lanjingling carried out 5 regular WEEKEND activities, 5 professional tutoring trainings, 5 one to one coaching, five modern dance rehearsals, and 5 Fitness 100 accessible fitness activities.
翻译 Translator:胡文倩 Susie 王弘毅 Yoyo
蓝睛灵编辑部 Lanjingling Editorial Office
8月,蓝睛灵开启了新的无障碍尝试,现代舞表演者卜老师带领着视障伙伴们练习基础的动作,编排系统的舞蹈,用韵律的动作来抒发情感。
In August, Lanjingling started a new attempt on accessibility. Modern dance performer Mr. Bu guided visually impaired participants in practicing elementary dance motions, helping them dance systematically and express emotions with rhythm.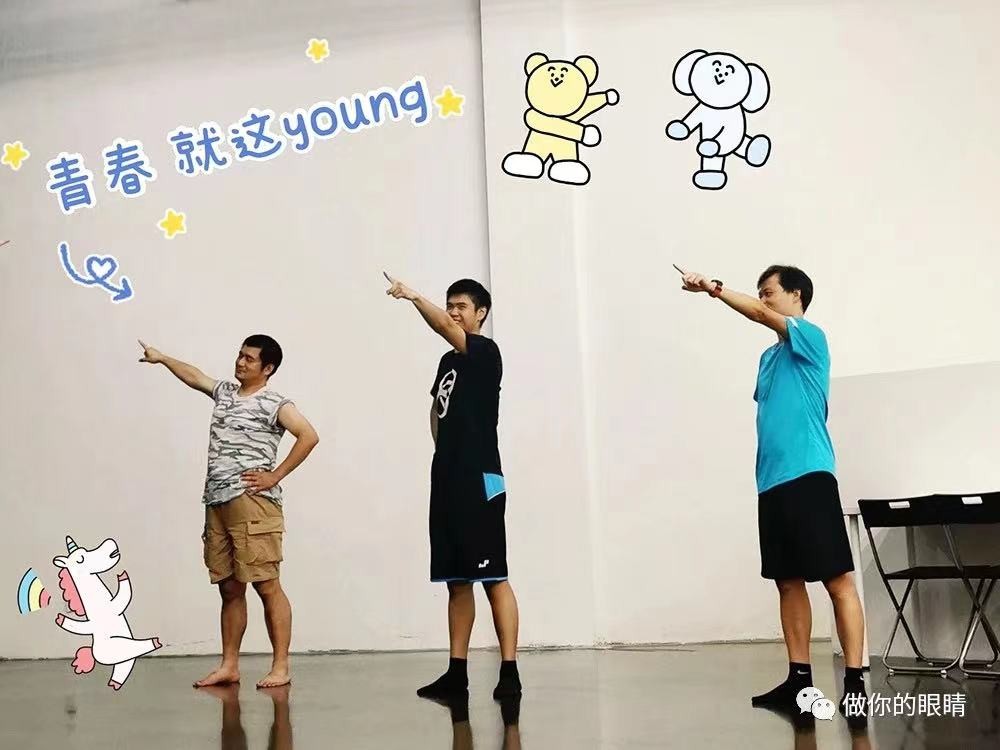 REGULAR WEEKEND ACTIVITIES
做你的眼睛第251期至255期的常规陪跑活动于8月1日、8日、15日、22日和29日在世纪公园、闵行文化公园开展。
The 251-255th regular weekend activities were held at Century Park and Minhang Cultural Park on August 1st, 8th, 15th, 22th, and 29th, respectively.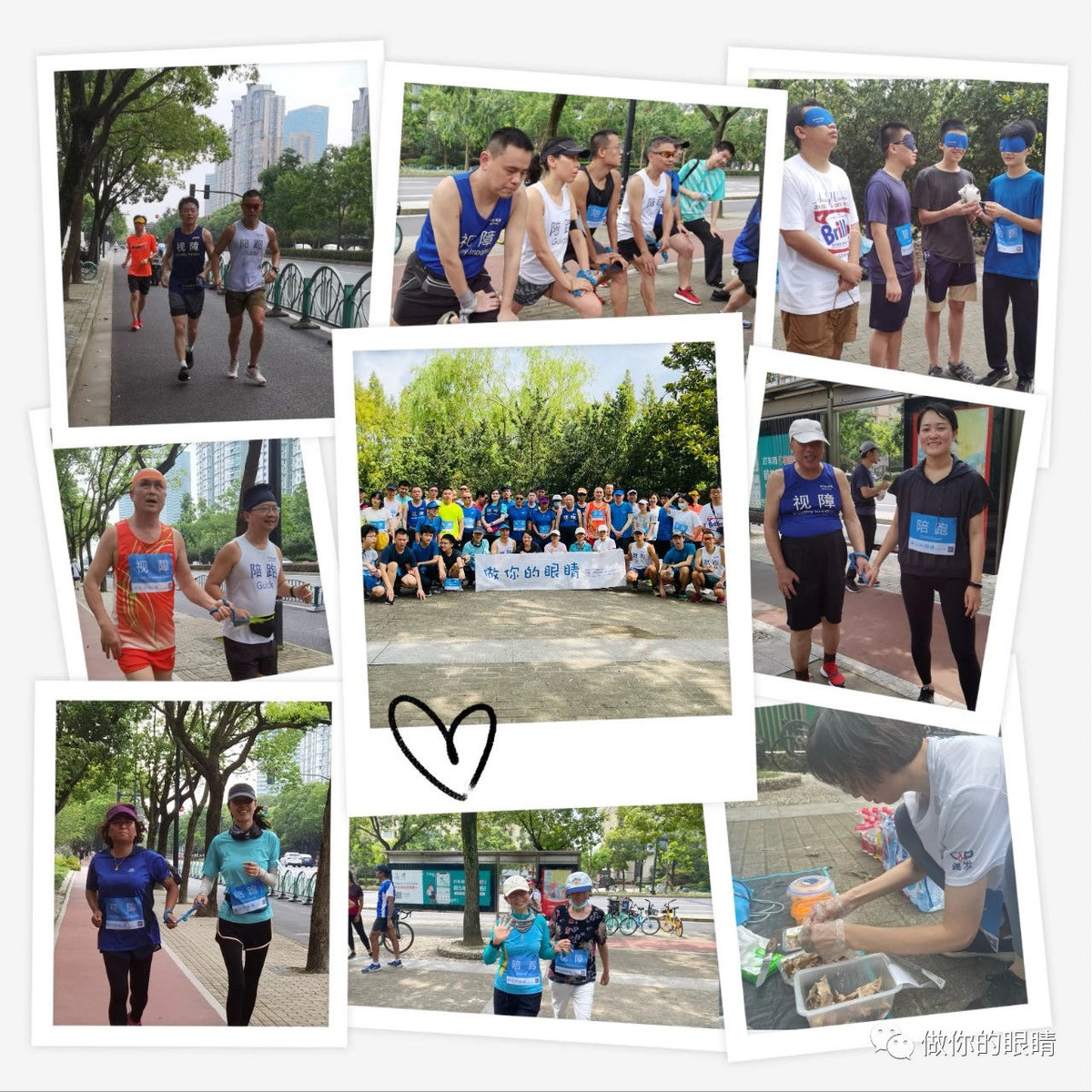 Professional Training and One to One Coaching of the Second 100 Days Engagement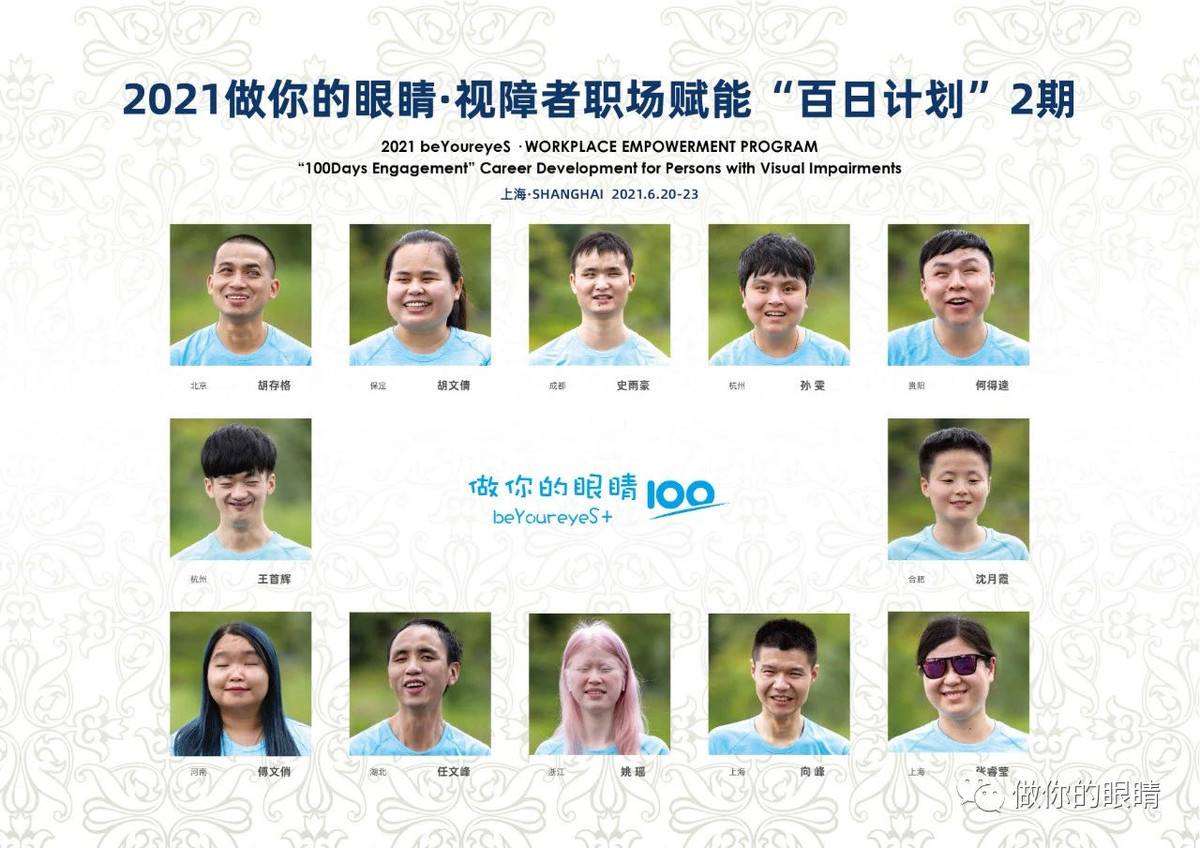 8月,"百日计划"2期进入第二个月的学习阶段。共开展了5次导师专业辅导课和5次一对一辅导。专业辅导课的主题为有效反馈、体育运动计划、英语学习、和第二次阶段复盘。学员们还聆听了来自Google的残障员工飞哥分享的学习和工作的经历。
每次导师辅导课后,有来自Apple的志愿者导师为学员们带来与专业辅导课相对应的职场主题的一对一辅导。让学员们在巩固知识的同时,深入思考自己的职业规划。
The 100 Days Engagement program entered the second stage.
5-professional tutoring trainings and 5-one-to-one trainings were carried out this month, with topics that include effective feedbacks, sports plans, English study, and stage review. Feige, a disabled employee from Google, shared his experiences about work and study.
After every professional training session, volunteers from Apple provide individual coaching related to the topic of the training. This not only strengthens what they learn but also made them think about their career planning more seriously. 
New experience of accessible activity - Modern Dance rehearsal
自8月1日起的每一个周末,现代舞表演者卜老师带领着视障者们在上海油罐艺术中心排练现代舞。卜老师从现代舞的概念开始,带领视障者们从基础动作练起,感知身体在空间中的各种运动、感知身体动作的可能,试着表达更精致、更细腻的肢体语言,通过舞蹈来激发想象力。
Every weekend from 1st August, Mr. Bu led his students to rehearse modern dance at Tank Shanghai. He introduced the concept of modern dance and taught them modern dance from primary motion. He tried to make his students feel every gesture of the body in space, discover the potential of themselves, and display beautiful body language to stimulate imagination.
从第4次现代舞排练开始,视障舞者们进入了排练作品的阶段,用作品来表达自己内心的信息。
Starting on the 4th Modern Dance rehearsal, the dancers started to run over whole pieces of dance work, using pieces to express their mind.
8月2日、8日、16日、22日和30日,开展了第34期至38期看健100无障碍健身活动。
The 34th to 38th Fitness 100 accessible fitness activities were held on August 2nd, 8th, 16th, 22nd, and 30th.
参与看健100的视障者们,在此之前从未去过健身房,从未触碰过健身器械。在Aidon教练的引导下视障体验者们了解了健身器械的使用方式和运动方式,了解了健身器械的重量使用和运动次数。大家从茫然到自信,从陌生到熟悉,周而复始。「看健100」希望视障伙伴们通过不断地练习,学会如何科学的在健身设备的辅助下独立健身。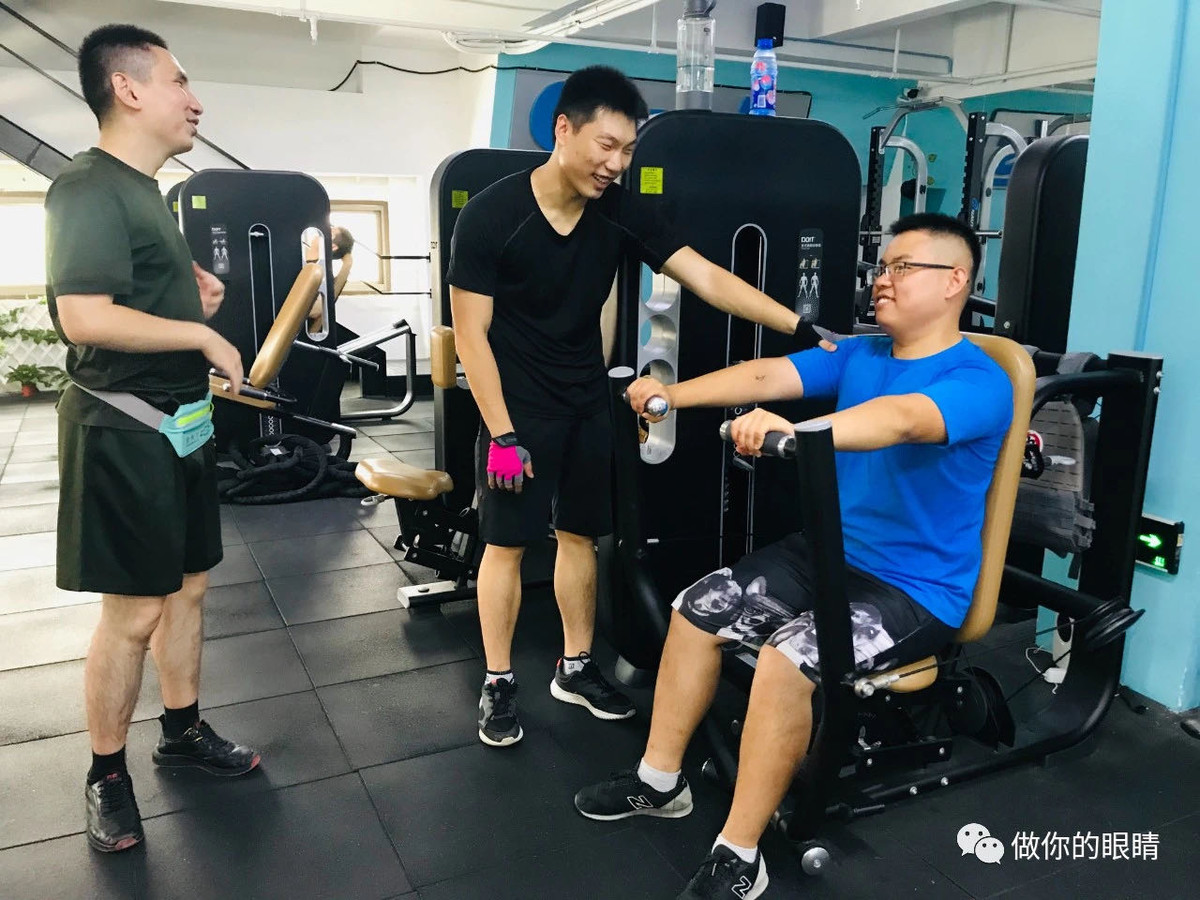 Before the program, the participants of Fitness 100 had never walked into a gym or used a fitness instrument. Guided by Aidon, they learned how to use fitness instruments and gained knowledge about their weight, principle of movement, and frequency of use. They gained confidence and developed familiarity with each other, as they will be. We hope that people with visual impairment will master the correct use of fitness equipment and keep exercising independently with their assistance.
This month's newsletter hereby ends, thank you for reading. See you next month.
做你的眼睛是一个民间自发的公益活动,于2015年1月在上海发起,致力于推动运动无障碍,让视障者参与运动变得简单。
beYoureyeS is a charitable activity, launched in Shanghai in January 2015, is devoted to promoting the concept of sports accessibility, making it possible for persons with visually impairments.
在我们的活动中,无论视障者,还是健视者,都称呼彼此为蓝睛灵,我们的公益组织也叫这个名字。
Everyone attending our activities calls each other Lanijngling, no matter what kind of physical condition he or she is in, and that is where our NGO's name came from.
我们认为,任何人都可以自由又自然的投入运动,平等的享受运动带来的快乐。
We believe that everyone can participate in sports freely and naturally, can enjoy the happiness, freedom and well-being derived from sports.
我们组织多样性的活动,鼓励各行各业参与运动与跨界,从本质上认可人的尊严。
We organize diverse activities, encourage all walks of life to participate in sports and cross-border, and ultimately be aware of human dignity.
我们知道,所行之路要有一颗铁人之心,需要体力和耐力、智慧和勇气,需要耐心和时间。
We know that the road to follow requires a heart of the Ironman, needs physical strength and endurance, wisdom and courage, patience and time.
Thank you for your support and your company along the way.
体验式公益活动、企业社会责任活动、校园融合活动、无障碍赛事活动
Experiential Philanthropy Activity, CSR Activity, School Inclusive Activity, Adaptive Sports Race
Fitness 100、Rope 100、100Days Engagement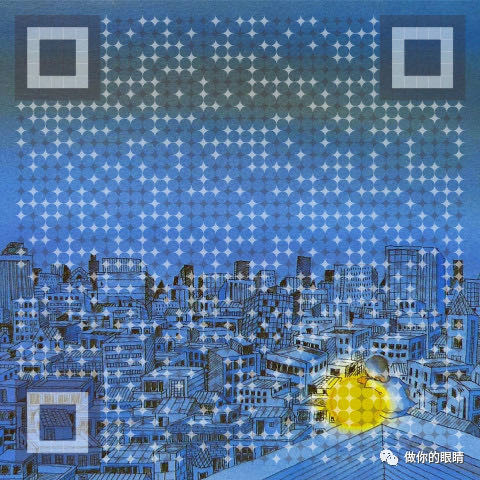 We hope that whilst we're in the competition together,
we may all converge our energy as one to make each and all strong,
We hope that whilst doing sports together,
we are able to find the nerve to be strong enough to face challenges head on.