2021年7月「百日计划」2期线上课程持续开展。蓝睛灵共开展了3期常规活动,2场企业社会责任(CSR)活动、4次「百日计划」导师专业辅导课、4次导师一对一辅导,3期看健100无障碍健身活动。
In July 2021, the offline training of the second 「100 Days Engagement」 continues. Meanwhile, beYoureyeS has carried out 3 regular weekend activities, 2 CSR activities, 3 Fitness 100 accessible fitness activities, 4 professional tutoring sessions, and 4 individual coaching sessions.
翻译 Translator:胡文倩 Susie 王宏毅 Yoyo
蓝睛灵编辑部 Lanjingling Editorial Office
The First Lanjingling Open Day Event
7月11日上午,简短的陪跑活动后,大家收兵,前往隔壁的蓝睛灵之家参加蓝睛灵首次开放日活动。首次开放日活动,主要在以下四个方面向大家做了工作报告及问题交流:
In the forenoon of July 11th, Lanjingling's first ever open day event unveiled at Home of the Lanjingling, following the conclusion of a brief running activity. The event consisted mainly of public reporting and discussions surrounding the following four areas.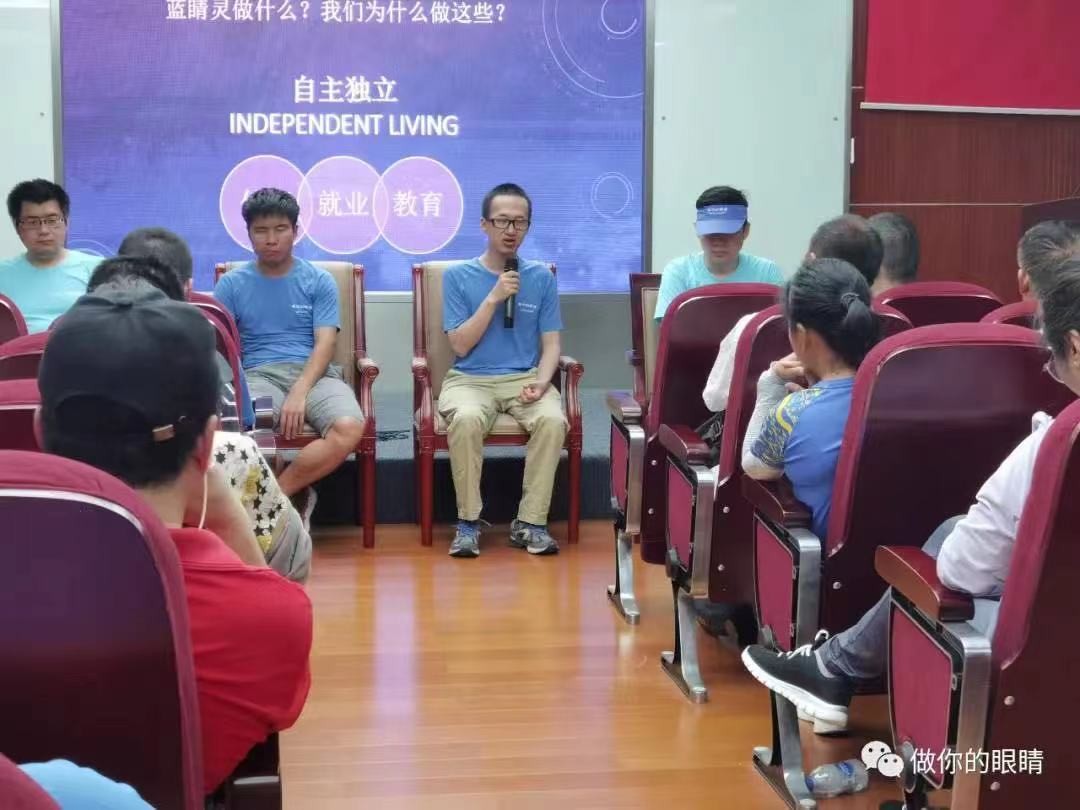 Introduction to Lanjingling's activities
Report on 「Rope 100」 in 2019 and 2020
Introduction to Lanjingling's vision, mission, and inner management
Regularizing the sustainable development of social organizations
参加开放日的还有来自联劝网运营经理任杰和上海市志愿服务公益基金会副秘书长刘瑛,分别做了主题分享,对蓝睛灵开展的各项工作表示肯定与支持。
Attendees included the operational manager of lianquan.org Jie Ren and the deputy secretary of the Shanghai Voluntary Service Foundation Ying Liu, who, respectively, shared voice on certain topics and expressed affirmation and support for Lanjingling's work.
Offline Training of The Second 「100 days Engagement」 Program Continues
6月20日至6月23日,12位带着融合就业梦想的年轻人从全国各地汇聚到上海参加了"百日计划"2期线下成长营。
From June 20 to 23, 12 youngsters from nationwide participated in the offline growth camp of the second 100 Days Engagement with their dreams of inclusive employment in Shanghai.
从7月至9月,这12位学员将在线上学习课程,在课后完成作业、实践所学所思,向着各自制定的百日目标前进。
They will take online training from July to September. After the training sessions, they will finish their assignments, practice what they've learned and contemplate and advance toward their 100-days goals.
在此。感谢所有参与导师专业辅导课和一对一辅导的志愿者导师们。
Here we show our gratitude to all volunteer tutors who participated in our professional tutoring and individual coaching.
REGULAR WEEKEND ACTIVITIES 
做你的眼睛第248期至250期的常规陪跑活动于7月4日、11日和18日在世纪公园、金虹桥公园、闵行文化公园开展。原定于7月25日的常规活动因下雨取消。
The 248th-250th beYoureyeS regular Weekend activities were held in Century Park, Jinghongqiao Park and Minhang Cultural Park on July 4, 11, and 18 respectively. The activity scheduled on July 25th was canceled due to raining.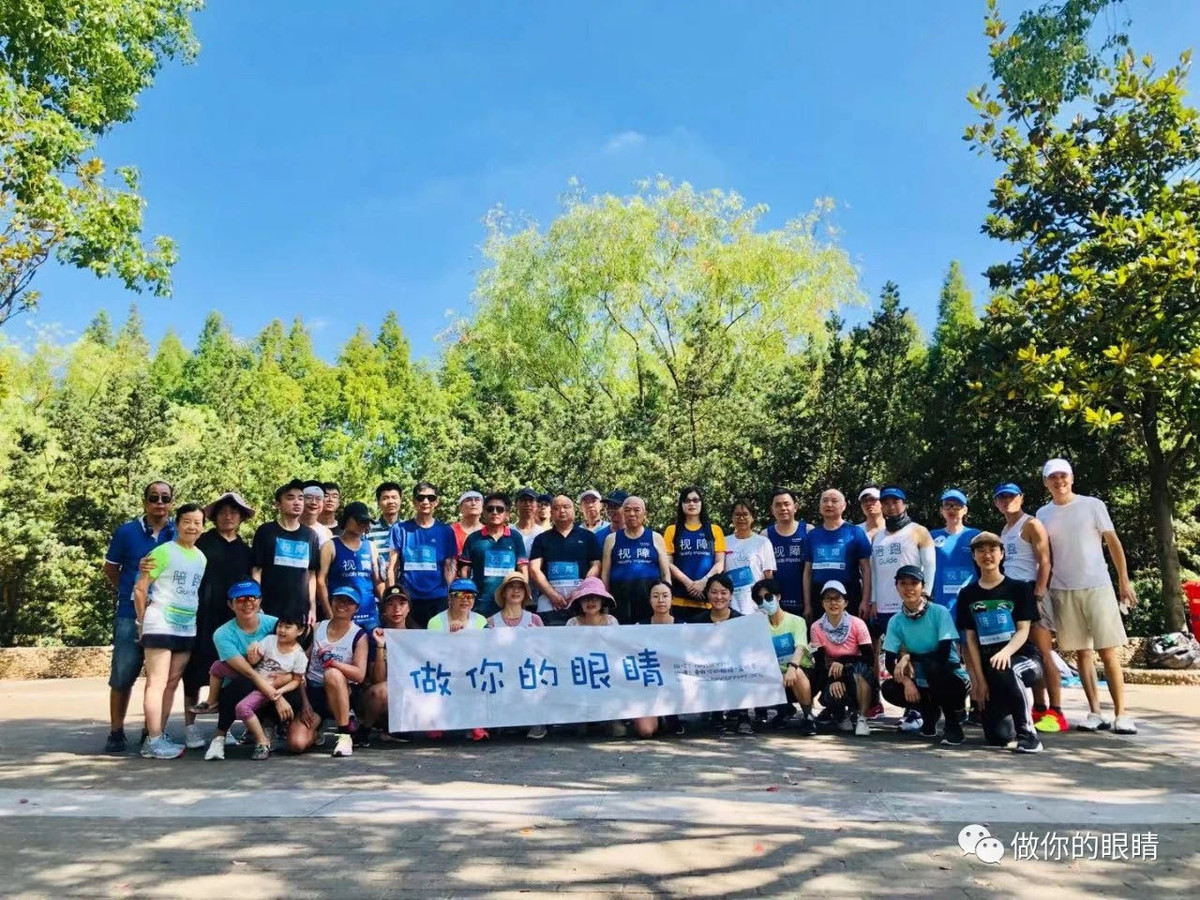 本月,新视障伙伴李重生、向峰、张先坤、张振晔加入了蓝睛灵。
Lanjingling also welcomed the union of new visually impaired participants Li Chongsheng, Xiangfeng, Zhang Xiankun, and Zhang Zhenye.
"百日计划"2期的学员向峰,在线下活动 最后一个做了自我介绍,但在线下课程的最后一天中突破了自我,第一个主动站到大家面前,向老师和伙伴们、更是向自己庄重地宣布了自己的百日目标。线下活动后他的改变延续到了生活中,参加了7月所有的常规活动。
Xiangfeng, a trainee of the second 100 Days Engagement program, was the last to introduce himself on the first day of the offline campaign. But on the last day, he stepped out of his comfort zone and proactively stood up to pronounce his 100 days goal to the trainers, tutors, and himself. The camp greatly influenced his life, and he attended all regular activities held in July.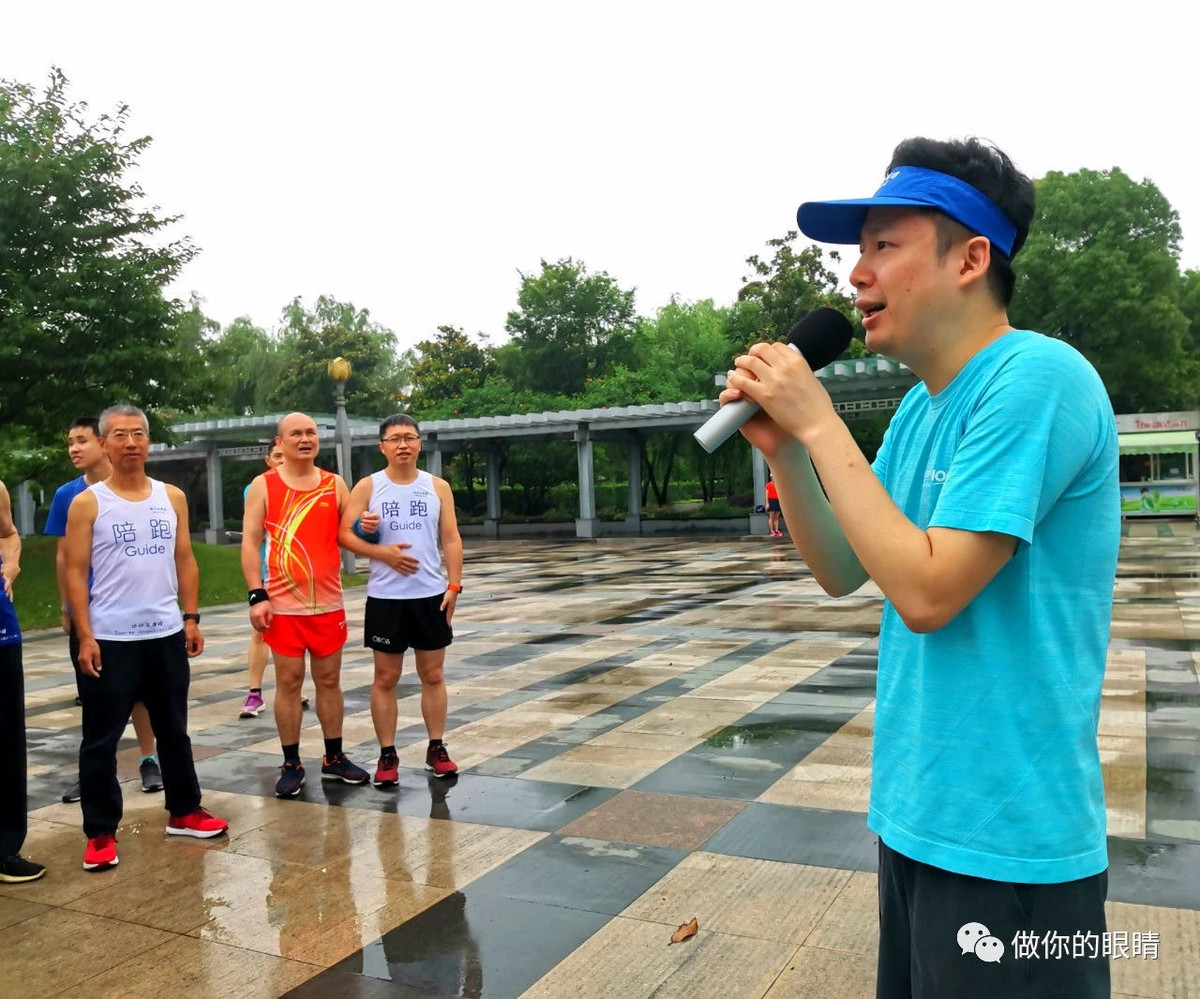 自己的努力和环境的影响能够让每一个人擦去蒙尘,闪耀出独特的光芒!
Through our own efforts and the influence from the environment, we all have the potential to rid ourselves of dust and shine in our own unique fashions.
小白陪跑员丁闺玲通过了考核,正式成为了大白陪跑员。
Ding Guiling passed the Daba exam and became a qualified guide runner.
Corporate Social Responsibility Activities
beYoureyeS CSR Activity with GUCCI
7月5日周一下午,蓝睛灵联合知名企业GUCCI在南京西路1788广场开展了"做你的眼睛"企业CSR活动。在蓝睛灵的视障工作人员给大家分享他们各自的故事之后,晨辉用幽默风趣的语言让GUCCI的伙伴们了解了视障伙伴是怎么出行和生活的,还通过两个游戏,让参与者们彻底体验到关闭视觉、打开其他感官潜能时的创造力。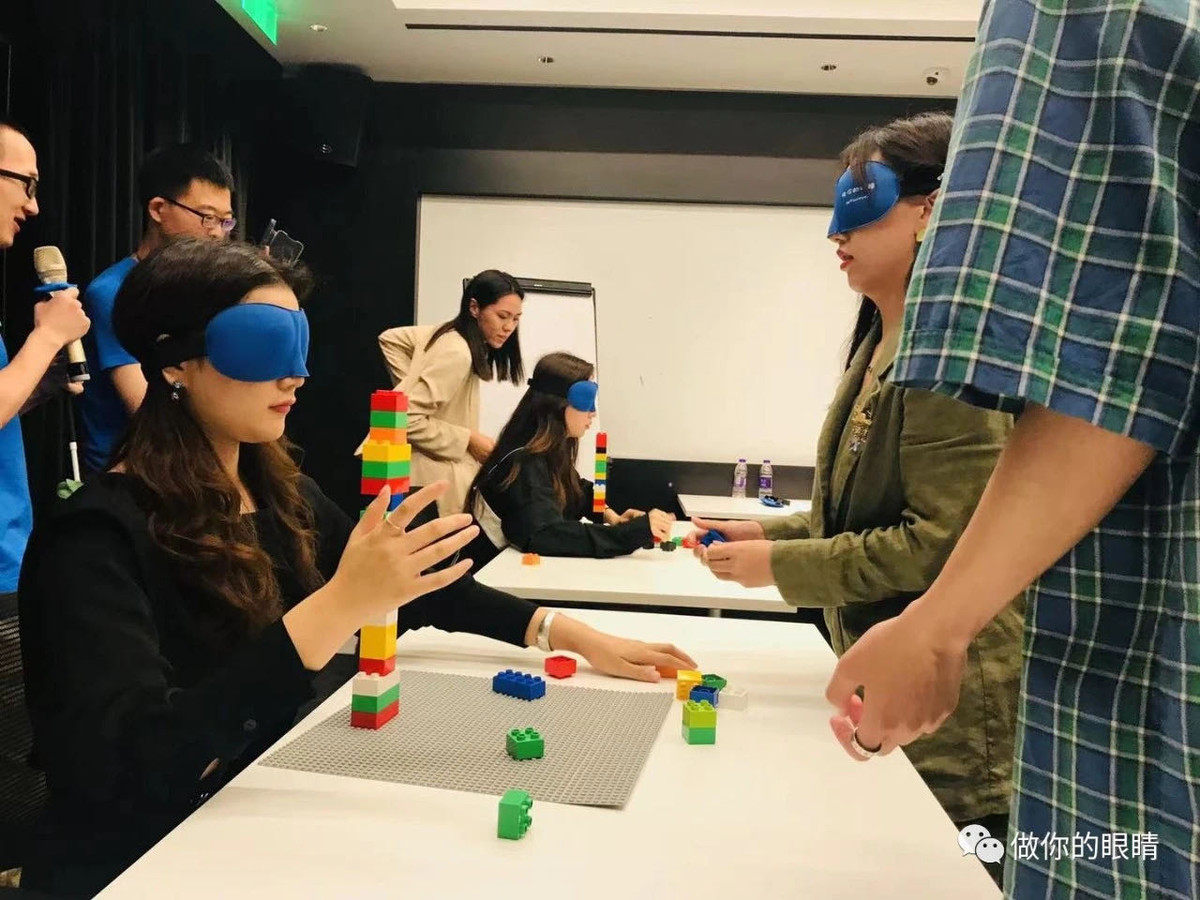 In the afternoon of July 5th, Lanjingling Launched a CSR Activity with GUCCI, a notable corporation, at the 1788 Square on West Nanjing Road. After the visually impaired workers from Lanjingling shared their stories, Chenhui humorously explained to the GUCCI employees how people with visual impairment go out independently and what their lives are like. Through two interactive activities, participants deeply experienced the creativity and the potential of other sense organs developed when closing their eyes.
蓝睛灵参加维寻国际教育"710公益无界限-发现身边的公益"活动
Lanjingling Joins VisionAcademy "710 Public Benefit Limitless-Finding Public Benefit Surround us" activity
7月10日,蓝睛灵受唯寻国际教育的邀请,参加了"710公益无界限——发现身边的公益"活动。共有12家关注残障者、环保、乡村教育等各大公益主题的公益组织受邀参加了本次公益市集活动的分享和展台宣传。
On July 10th, Lanjingling was invited by VisionAcademy to join the "710 Public Benefit Limitless-Finding Public Benefit Surrounding us" event. 12 NPOs (non-profit organizations) focusing on a variety of public benefit fields, including that of those with disabilities, of environment, and of rural education, was invited to share, boosting the publicity of the event.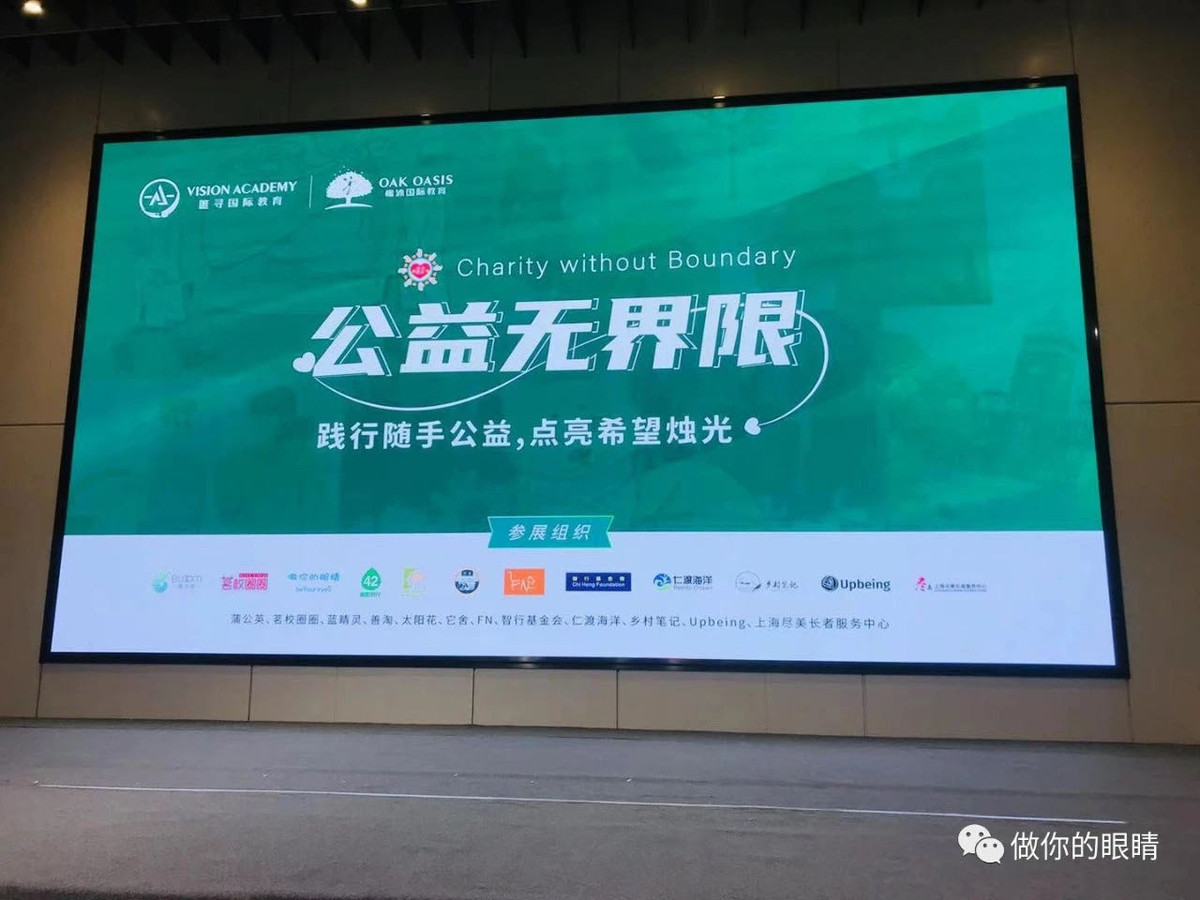 集中分享会之后,来自各国际教育学校的学生和家长来到自己感兴趣的公益组织的展台前详细了解组织的活动情况,今后将参与到各类公益活动中。
After concentrated sharing, parents from different international schools came to the booths of the NPOs where they inquired for details about the different organizations, hoping to participate in the future.
「百日计划」2期专业课和一对一辅导引领学员了解职场
Professional Training and 1-to-1 Coaching of the Second 「100 days Engagement」 Led Trainers to Learn About the Workplace
7月4日、12日、18日和25日,「百日计划」2期开展了第1至4次导师专业辅导课。
The 1st-4th training sessions of the second 100 Days Engagement Was carried out on July 4th, 12th, 18th, and 25th, respectively.
课程的主题从修改简历的内容和规范简历的排版开始,引导学员们向着专业的职场踏出了坚实的第一步;紧接着的主题是模拟面试,让学员们在模拟练习中减少紧张、更好地学会表达自己的工作能力;阶段复盘引导学员们总结计划完成的优缺点和调整实现目标的方法。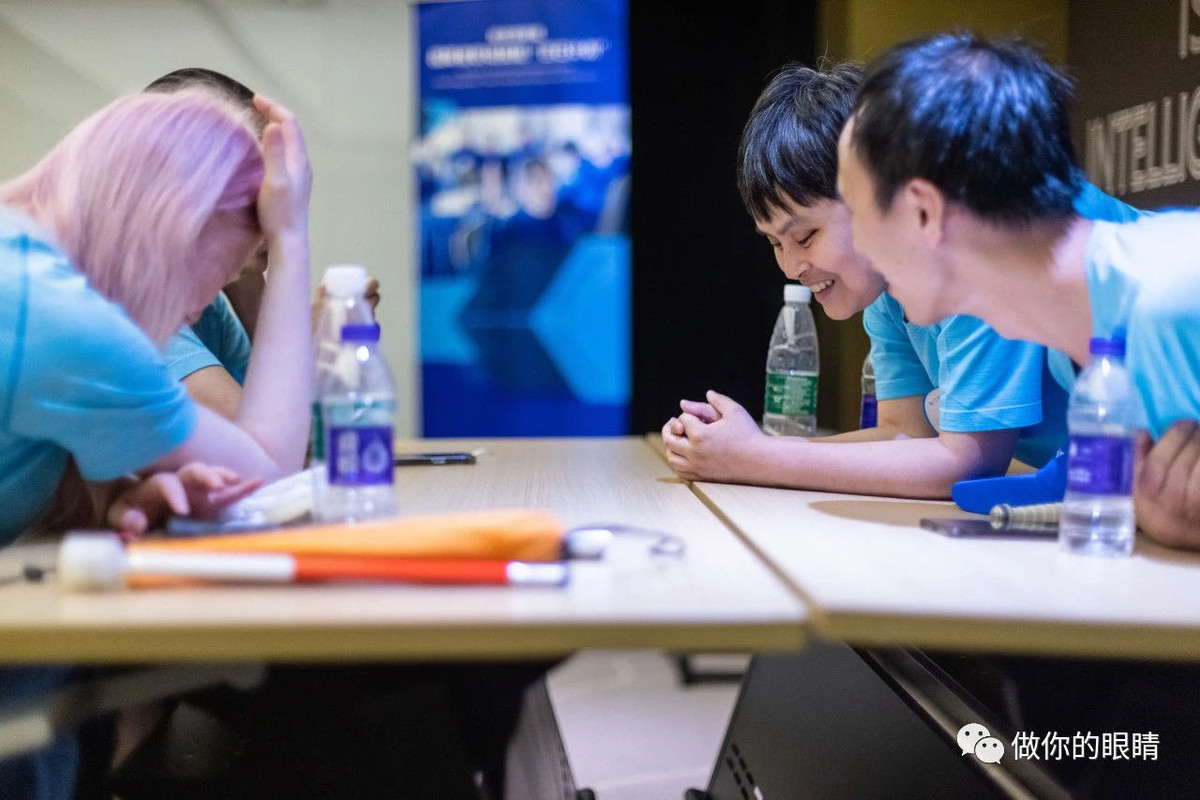 The first training topic was about modifying the content and formalizing the typesetting of the CV, the first solid stride to the workplace. Following this, mock interviews helped them mitigate their anxieties and express their capabilities. Then, phased review sessions allowed them to summarize their strengths and weaknesses while finishing their plans and develop better ways of achieving their goals.
在每周的导师专业辅导课之后,志愿者导师们会与学员进行与本周主题相对应的一对一辅导,针对性地解答学员个性化的疑惑、引导学员巩固专业辅导课上所学的内容。
After the weekly professional trainings, volunteer tutors will provide topic-specific one to one coaching to trainees, answer their individual questions, and guide them to firm up their grasps of the curriculum.
The sultry summer cannot hinder Lanjingling's willingness to try out new things in fitness
7月三伏酷暑也不能阻挡蓝睛灵们的健身热情,7月5日、12日和18日开展了第31期至33期看健100无障碍健身活动。
Even the worst days in July couldn't block the exercising enthusiasm of us Lanjingling's. The 31st-33rd 「Fitness 100」 accessible fitness activities were held on July 5th, 12th,and 18th.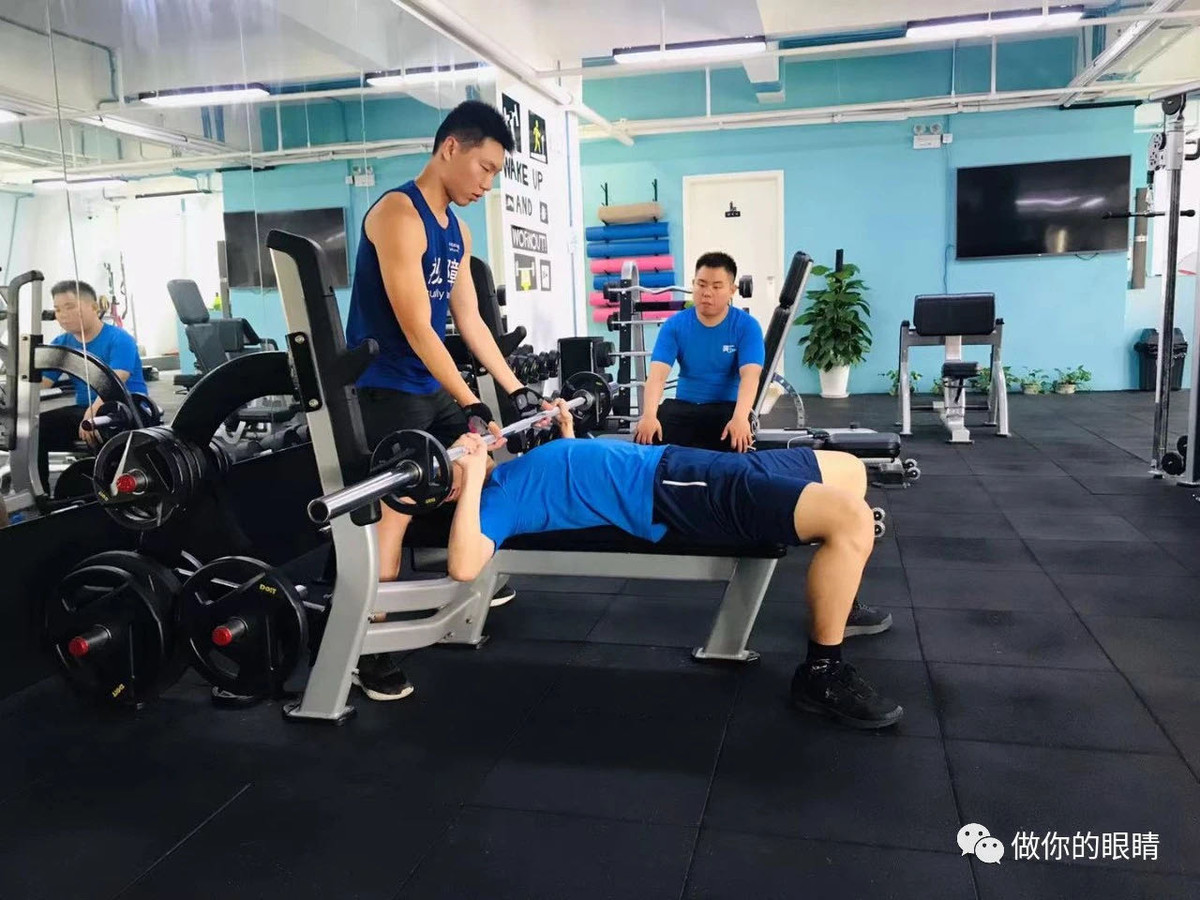 在第31期的活动中,大家首次学习了杠铃卧推,了解了杠铃卧推架的构造和使用,初步了解了自由重量运动和单功能器械运动的差别。练习了使用杠铃进行卧推运动的要领及怎么辅助小伙伴进行更安全的运动。
During the 31st activity, participants firstly learned the barbell bench press, specifically, the structure of the barbell bench press frame and how to properly use it. They also learned of the basic distinctions between the free weight exercise and the single function instrument exercise, practiced key techniques of using the barbell bench press, and learned to help others to do exercises safely.
This marks the end of this month's newsletter, thank you for reading.
做你的眼睛是一个民间自发的公益活动,于2015年1月在上海发起,致力于推动运动无障碍,让视障者参与运动变得简单。
beYoureyeS is a charitable activity, launched in Shanghai in January 2015, is devoted to promoting the concept of sports accessibility, making it possible for persons with visually impairments.
在我们的活动中,无论视障者,还是健视者,都称呼彼此为蓝睛灵,我们的公益组织也叫这个名字。
Everyone attending our activities calls each other Lanijngling, no matter what kind of physical condition he or she is in, and that is where our NGO's name came from.
我们认为,任何人都可以自由又自然的投入运动,平等的享受运动带来的快乐。
We believe that everyone can participate in sports freely and naturally, can enjoy the happiness, freedom and well-being derived from sports.
我们组织多样性的活动,鼓励各行各业参与运动与跨界,从本质上认可人的尊严。
We organize diverse activities, encourage all walks of life to participate in sports and cross-border, and ultimately be aware of human dignity.
我们知道,所行之路要有一颗铁人之心,需要体力和耐力、智慧和勇气,需要耐心和时间。
We know that the road to follow requires a heart of the Ironman, needs physical strength and endurance, wisdom and courage, patience and time.
Thank you for your support and your company along the way.
体验式公益活动、企业社会责任活动、校园融合活动、无障碍赛事活动
Experiential Philanthropy Activity, CSR Activity, School Inclusive Activity, Adaptive Sports Race
Fitness 100、Rope 100、100Days Engagement
希望我们在比赛中汇集的能量,可以流动到需要它们的人们那里,
希望我们在运动中得到的勇气,让更多的人有力量面对困难。
We hope that whilst we're in the competition together, we may all converge our energy as one to make each and all strong,
We hope that whilst doing sports together, we are able to find the nerve to be strong enough to face challenges head on.