2021年10月,第3届做你的眼睛「绳上100」百公里公益挑战赛圆满开展。
蓝睛灵共开展了5期常规活动、3场企业社会责任(CSR)活动、4期看健100无障碍健身活动、2场特别活动。
翻译 Translator:童雨萱 Barbie TONG
蓝睛灵编辑部 Lanjingling Editorial Office
2021年做你的眼睛绳上100接力挑战赛于10月15日国际盲人节开始,于10月31日结束。本届赛事共有10组个人组、3组陪伴组和10组团队组参赛。
共78人,奔跑里程共5,468公里。其中最长团队距离:882.09公里(为了看不见的希望队),最长个人距离:399.71公里(张海鹏)
2021 Rope 100 relay race was brought to a successful close.  
The 2021 beYoureyeS charity event, Rope 100, was held on October 15th, the White Cane Saftey Day, to 30th.
The event was attended by 10 individual competitors, 3 company groups, and 10 team groups.
The 78 participants ran a grand total of 5468 kilometers. The 'Invisible Hope' team ran the longest team distance, 882.09 km. The longest individual distance was 399.71 km, completed by Zhang Haipeng.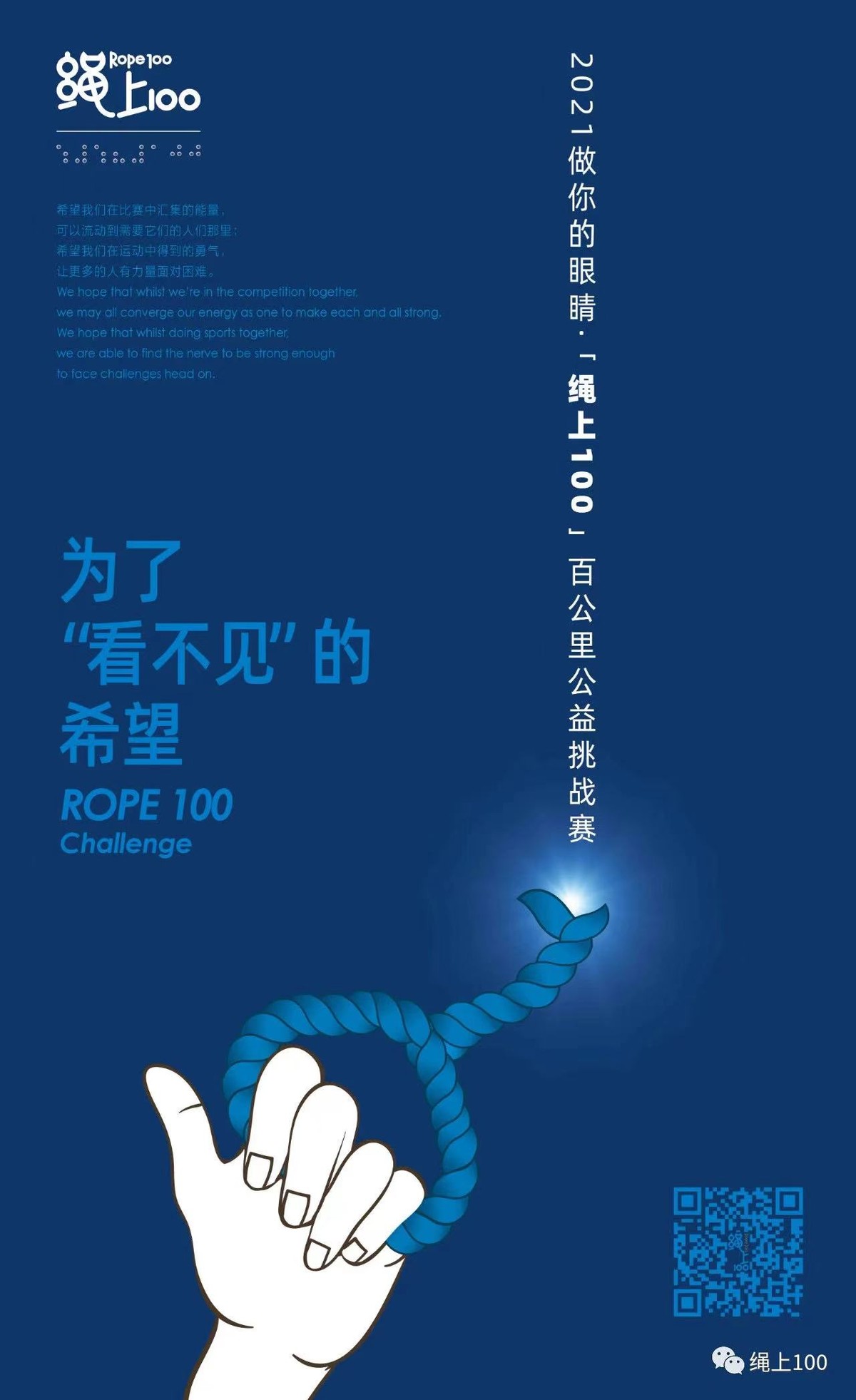 做你的眼睛「绳上100」百公里公益挑战赛,于2019年由蓝睛灵发起,倡导残障平等、多元融合、实践赋能。参赛者以个人或团队形式挑战完赛100km,实现个人挑战和公益参与双重价值。
The beYoureyeS charity event 'Rope 100' was first held in 2019 with the aim of advocating equality, diversifying inclusion, and practical empowerment. Participants complete an 100 kilometers challenge either individually or as a team. This helps raise awareness of the value of personal challenge and public participations.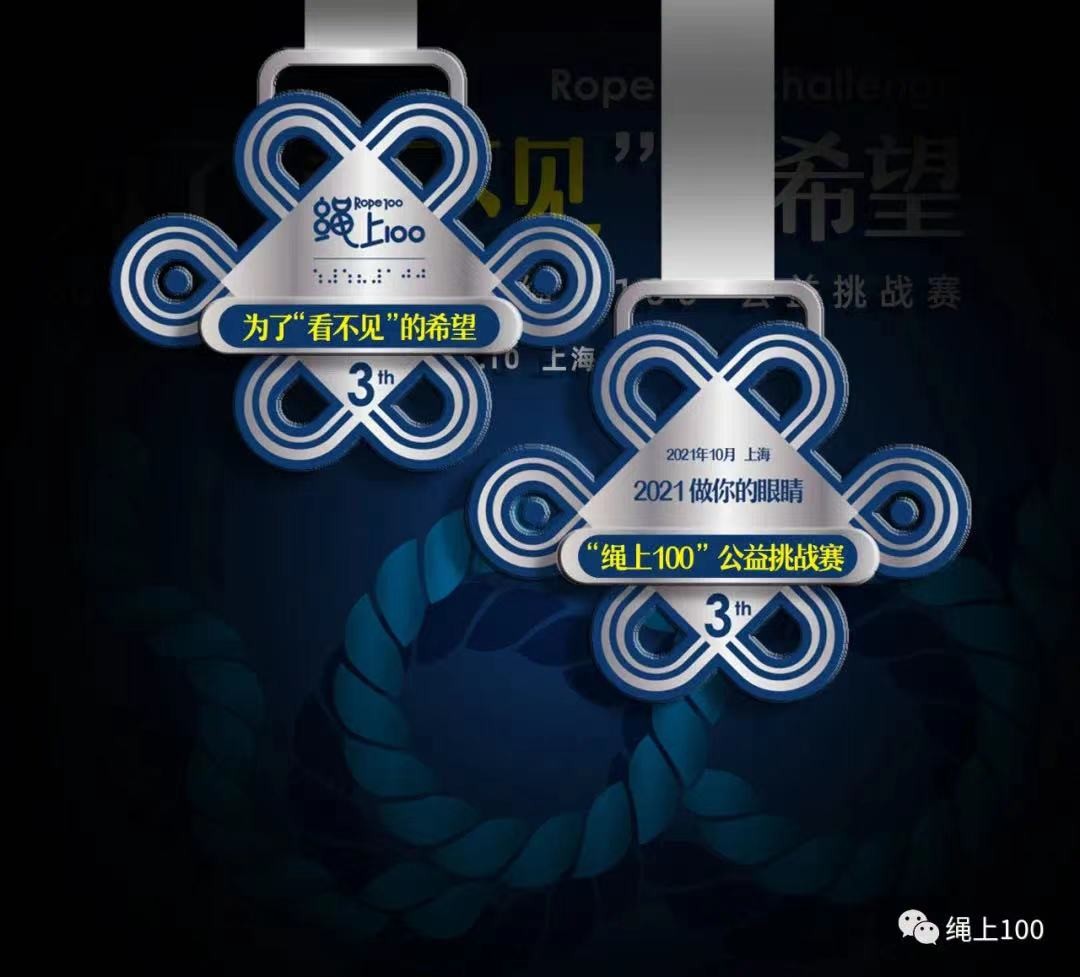 我们希望参与者于身体力行中,体验运动与公益结合的快乐,引发参与者及关注者内心的思考,真正关注视障等残障人士的需求,建立更好的运动、学习、工作、社区环境,让每一个人,都被世界善待。
We hope that participants can enjoy the combination of sports and charity, and that the event could provoke thoughts and attention towards the needs of visually impaired people and other disabled people. We hope to establish a better sporting environment, learn and work in an atmosphere where everyone is treated kindly.
For "invisible" hope, make an "impossible" improvement.
REGULAR WEEKEND ACTIVITIES 
做你的眼睛第259期至263期的常规陪跑活动于10月3日、10日、17日、24日和31日在世纪公园、闵行文化公园开展。
The 259th–263rd regular weekend activities were held at the Century Park and the Minhang Cultural Park on October 3rd, 10th, 17th, 24th, and 31st, respectively.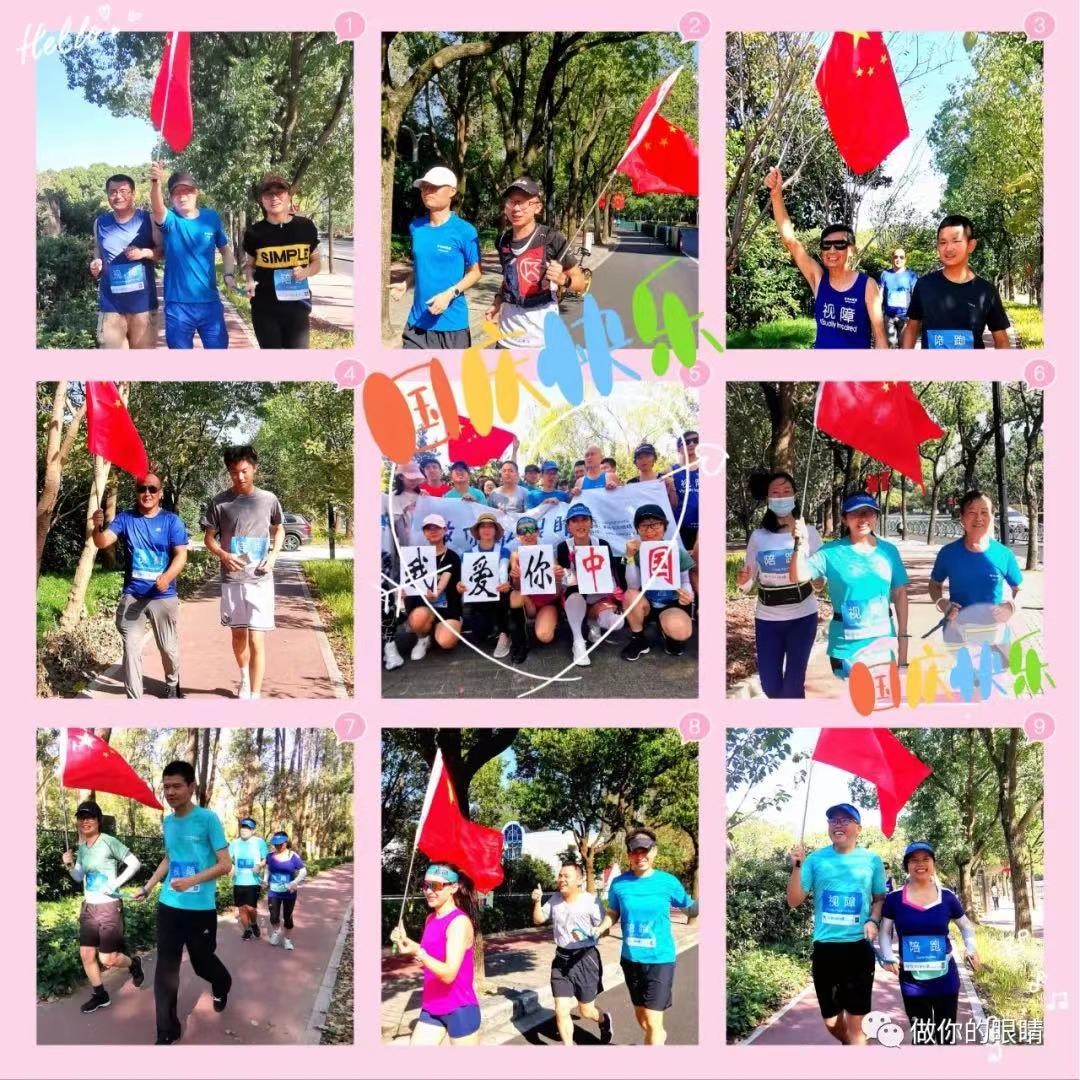 陪跑员姚文瑛在第262期常规活动时,顺利通过考核成为大白陪跑员。
Yao Wenming passed the Dabai test during the 262nd regular weekend activity and qualified as a professional guide runner.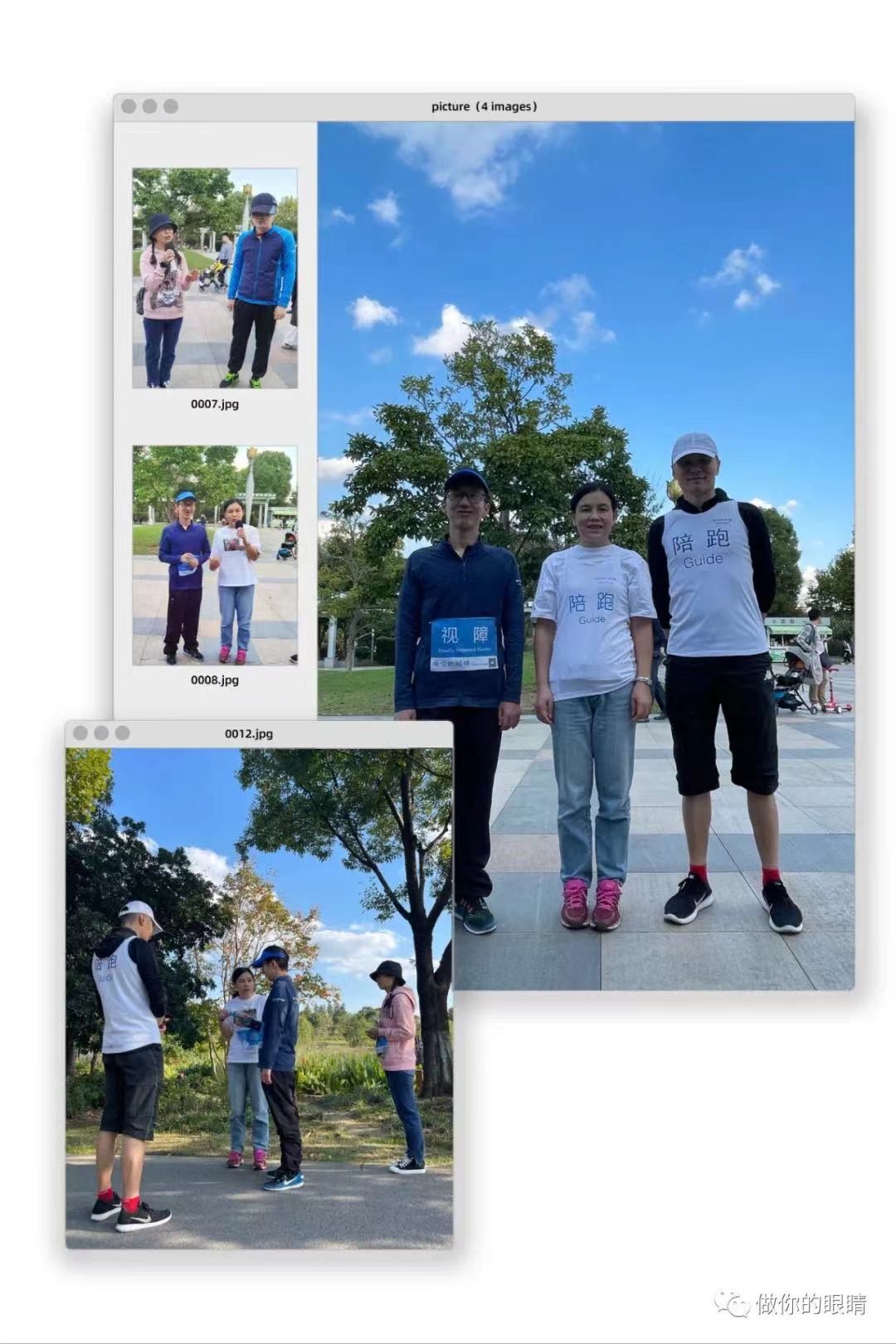 11月31日第263期常规活动来了两位特殊的朋友,他们是尼玛旺堆老师和格桑卓玛妹妹。队长陪伴尼玛老师完成了五公里的跑步, 格桑妹妹也用陪跑的方式体验了引导跑步的实践。
The 263rd regular weekend activity on October 31st welcomed two special guests, Nima Wangfujing and Gesang Zhuoma. The captain accompanied Nima to complete a 5 kilometers run. Sister Gesang also experienced guided running via actual practice.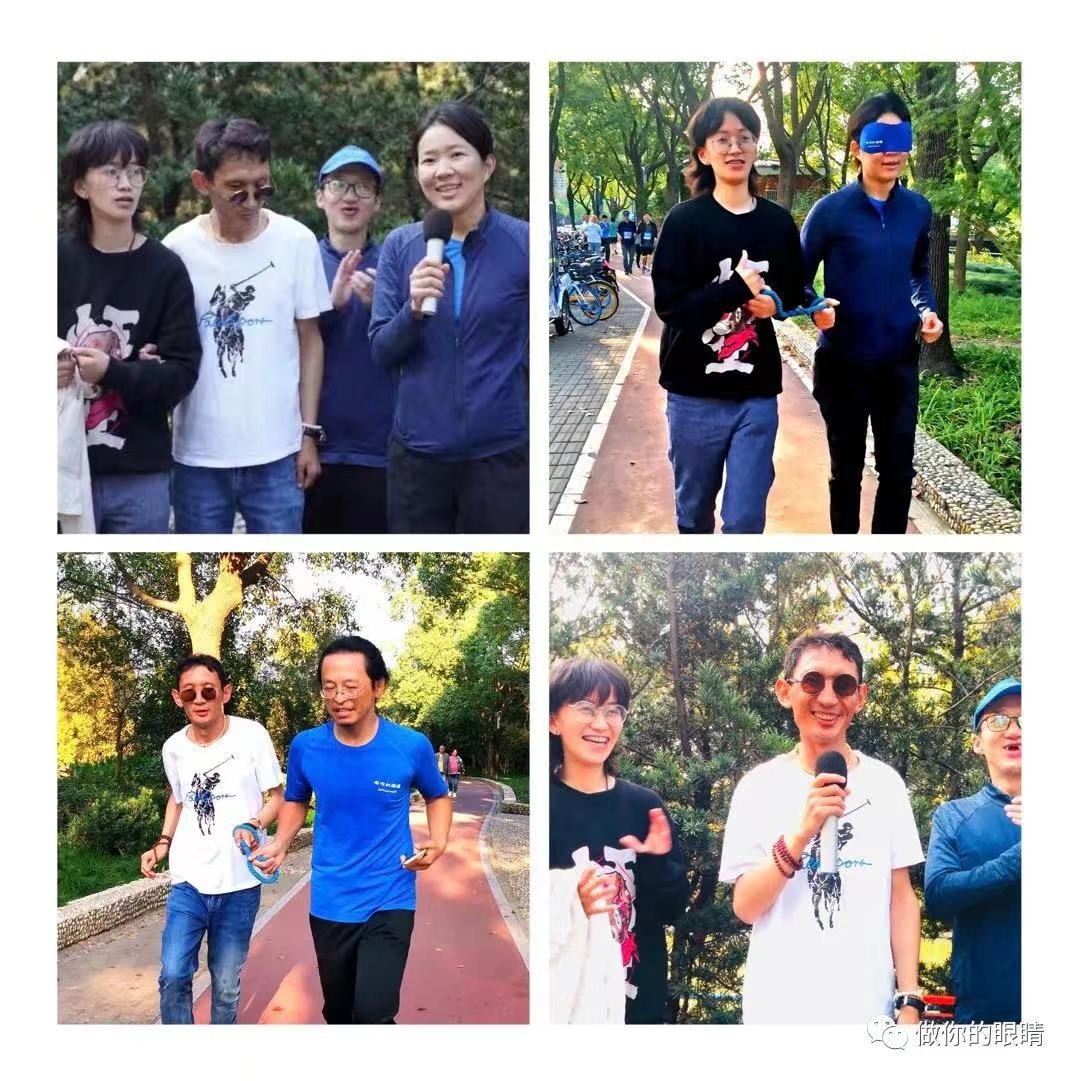 尼玛老师以前是西藏盲校的校长,现在是卓梦教育的老师,在基础学科、体育、和家长培训方面向各年龄层的学员们传递着认知和理念,讲述自己追逐阳光的故事。希望在今后的蓝睛灵里能常见到尼玛旺堆老师的身影,听到他的故事!
Teacher Nima used to be the principal of Xizang School of the Blind and is now a teacher at Zhuomeng Education. Through means of basic subjects, PE, and parental training, Nima conveys his acknowledge and ideas to students of all ages and tells the stories of "chasing the hope". We hope that Lanjingling can see teacher Nima often.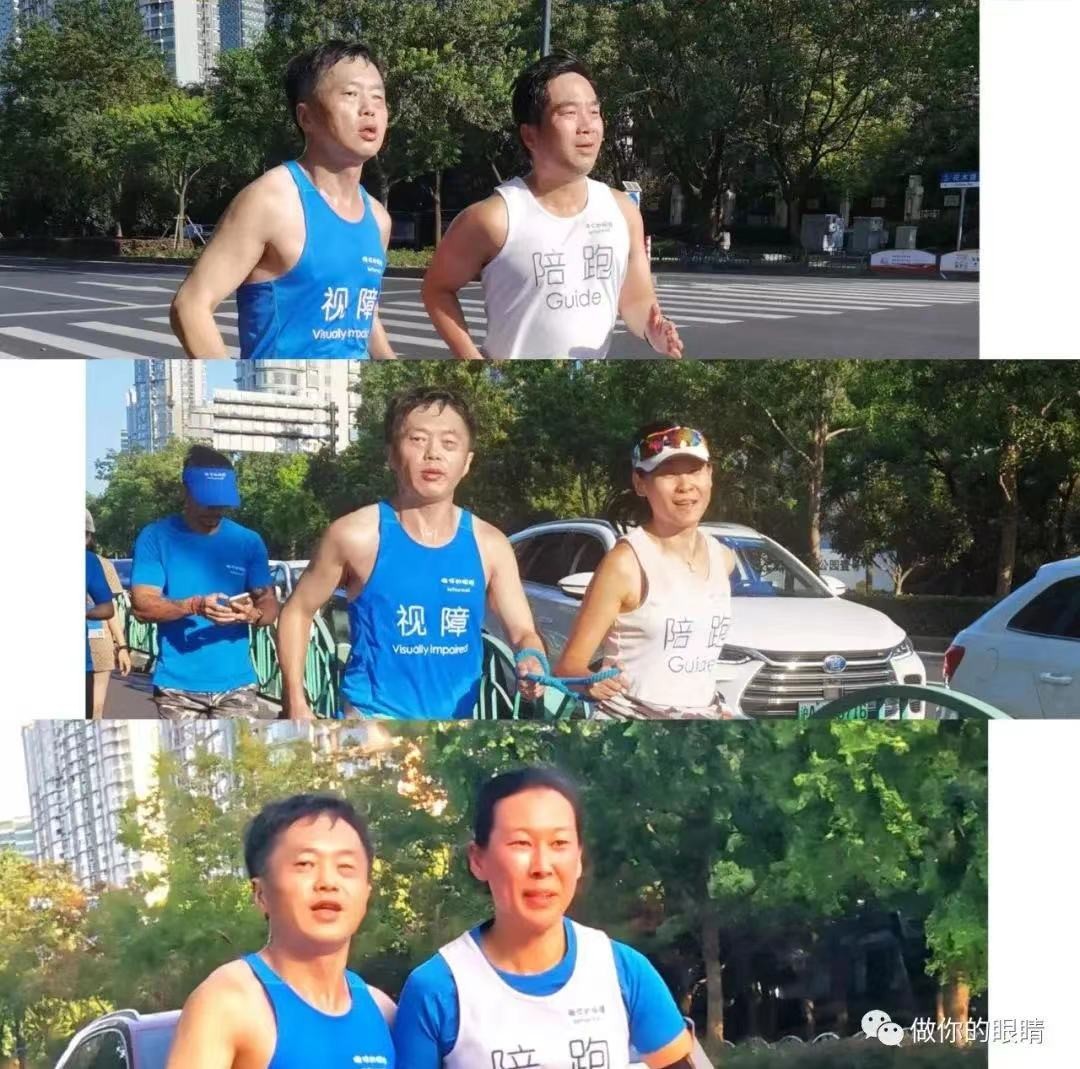 唐宇峰进行了赛前集训,而墨麒麟、沈琳、保保佑佑兄弟也都在紧锣密鼓地准备着即将到来的全马比赛。蓝睛灵的陪跑员也是抓紧时间,上午下午安排了不同的陪跑,下午唐宇峰的半马计划就在队长精确地安排下完成了车轮战,第一棒的李滨、第二棒的王韧、第三棒的高慧、第四棒的姚颖和教练,大家无缝衔接,让这个半马训练特别充满了令人敬佩的"战友情"。
During regular weekend activities, Tang Yufeng carried out pre-match trainings. Mo Qilin, Shen Lin, and Baobao Youyou brothers were also preparing for the upcoming Marathon race. Lanjingling seized the time and arranged guided running in the afternoon. TangYufeng completed his relay race under the arrangement of the captain. The first led was Li Bin, the second was Wang Ren, the third was Gao Hui, the forth were Yao Yin and the coach.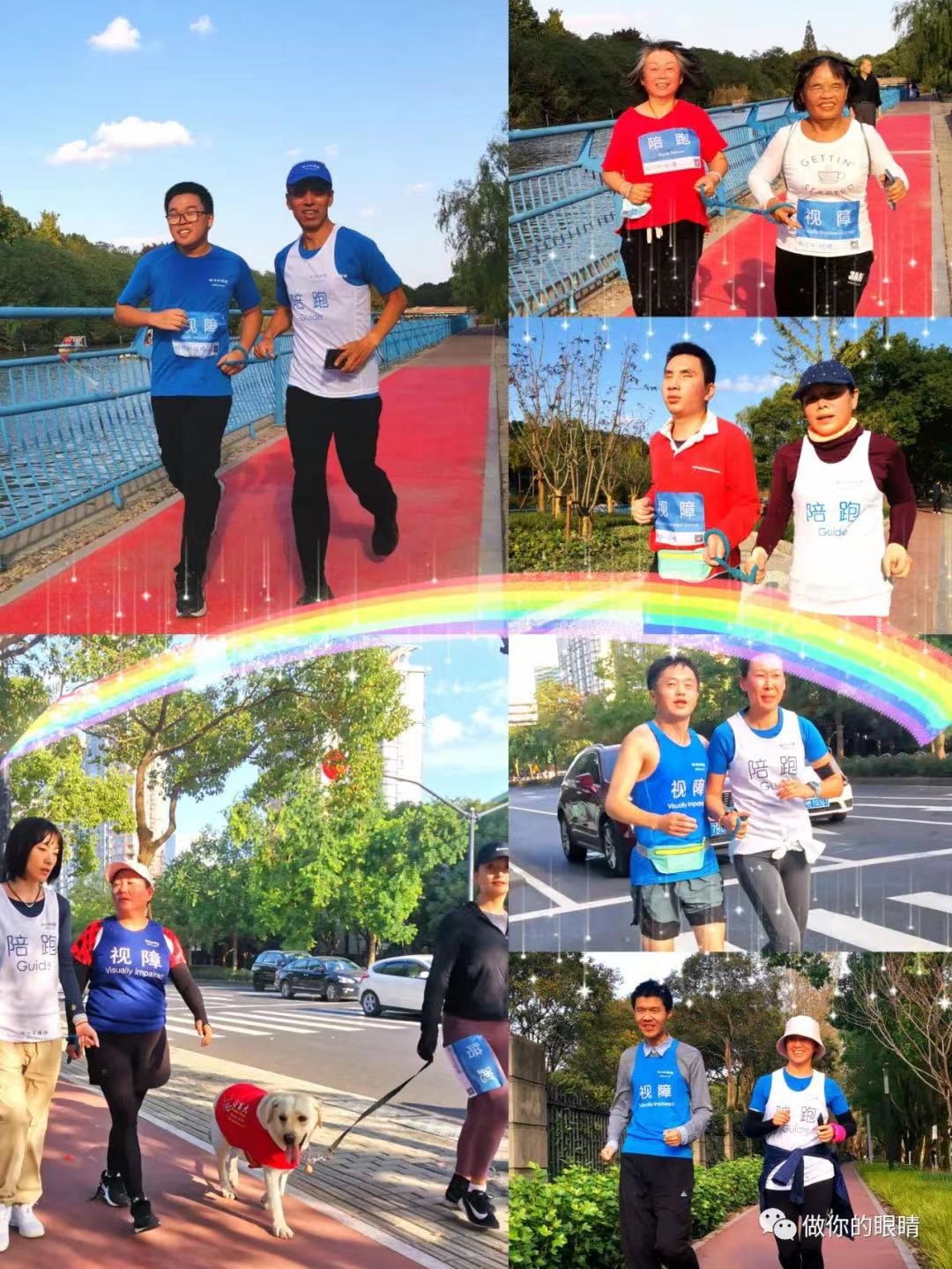 10月17日,上海长宁上马10公里精英赛在怡人秋风的清晨7:30打响发令枪。
蓝睛灵这一次有4组队伍参赛。蓝睛灵们日常有规律的陪跑训练,为这4组伙伴带来了PB的好成绩。
Lanjingling Participated in the Shanghai Marathon 10km Elite Race.
On October 17th, the Shanghai Changning Marathon 10 km Elite Race at 7:30am with a pleasant autumn breeze. Four teams participated in the race this time. Lanjingling' a regular running training brought great results for all the four teams.
Corporate Social Responsibility Activities 
beYoureyeS Lunch Meeting Sharing
10月22日中午,蓝睛灵来到一知名企业,为20多位企业员工带来了一场介绍蓝睛灵组织、推广无障碍理念的分享会。参与者们聆听了雪慧、晓斌和松松带来的分享,体验了无障碍小游戏,在游戏中发现了自身蕴藏着的挑战"不可能"的潜力。
At noon on October 22nd, Lanjingling went to a well-known enterprise to introduce the Lanjingling organization and disseminate the idea of accessibility to more than 20 employees. Employees listened to Xue Hui , Xiao Bin, and Song Song's sharing, and experienced accessible game to discover their own potential of challenging the impossible.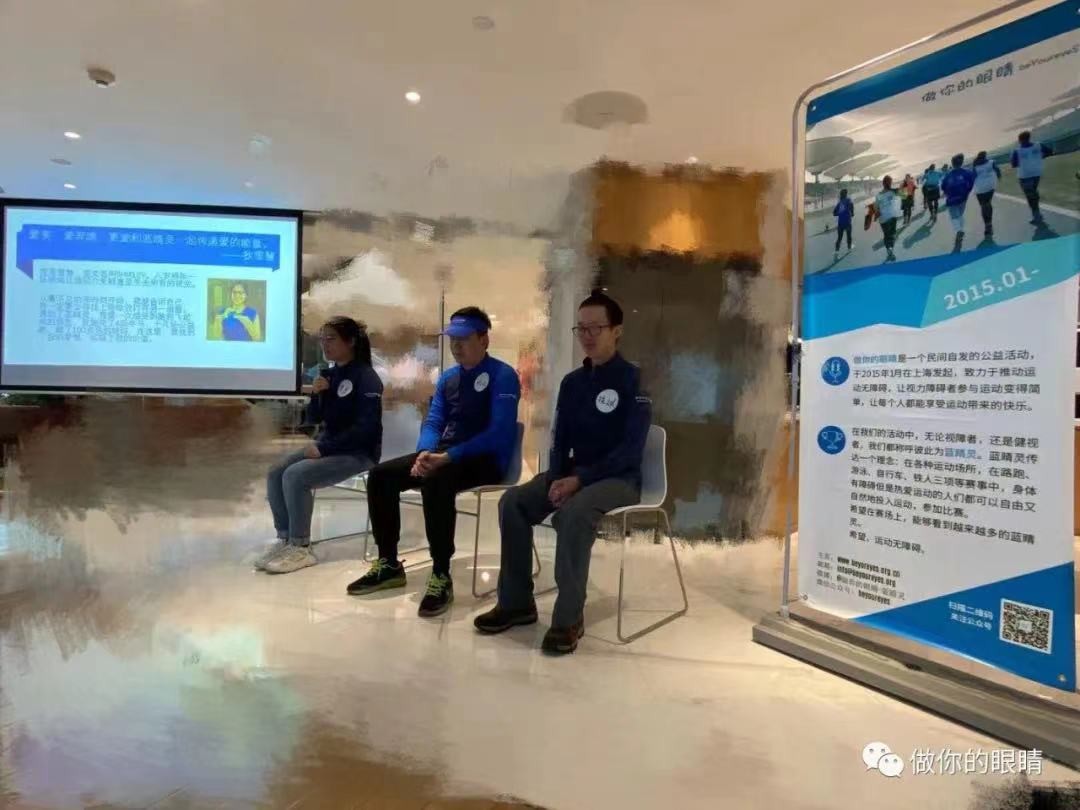 beYoureyeS Google China Accessibility Sharing Meeting
10月28日下午2点,蓝睛灵受邀来到Google在上海的办公大楼,为Google员工带来了主题为"信息无障碍"的分享会。本次分享会亦是Google无障碍宣传周的系列活动之一。
At 2:00pm on October 28th, Lanjingling was invited to the headquarters of Google China in Shanghai to bring a sharing meeting on the theme of accessible information. This sharing meeting was also part of the Google China Accessibility Publicity week.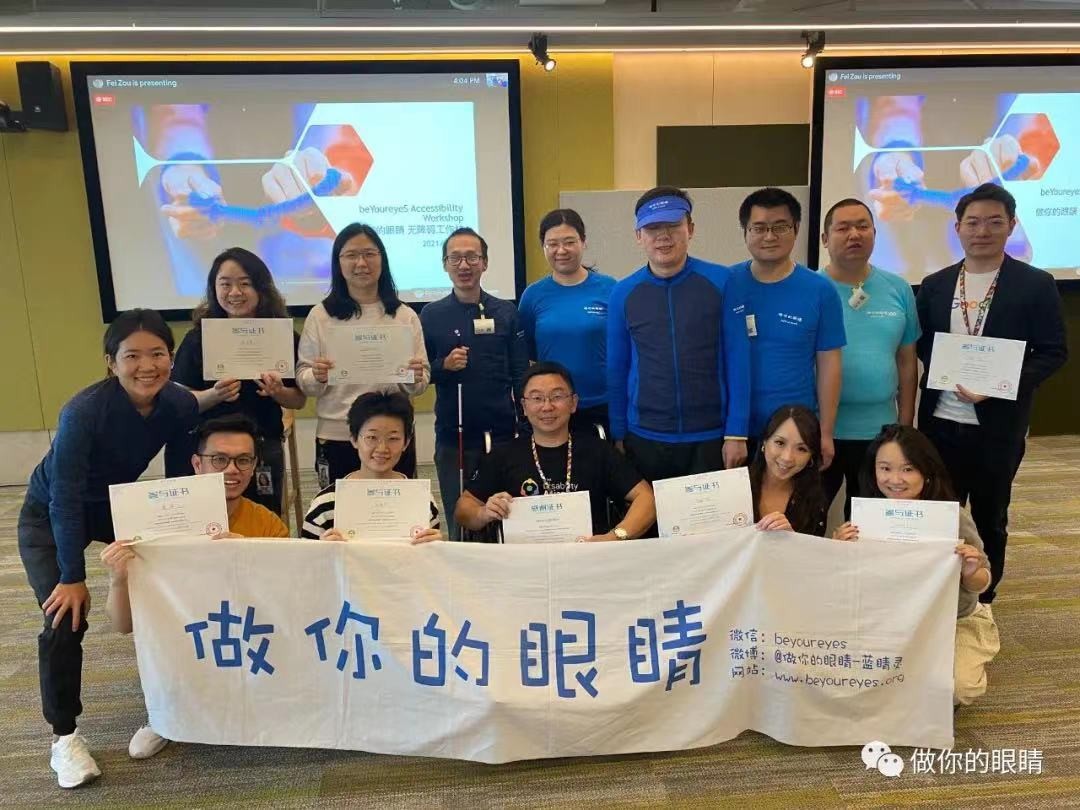 晓斌、Sam和松松向大家分享了信息无障碍给视障者带来的深刻影响以及信息无障碍的重要性。蓝睛灵和Google的伙伴们也在互动和交流中,向线上和线下的Google参与者们分享了信息无障碍的理念。
Xiao Bin, Sam, and Song Song spoke on the impact and importance of information accessibility to the visually impaired. Lanjingling and Google's partners then shared the concept of information accessibility with online and offline Google users.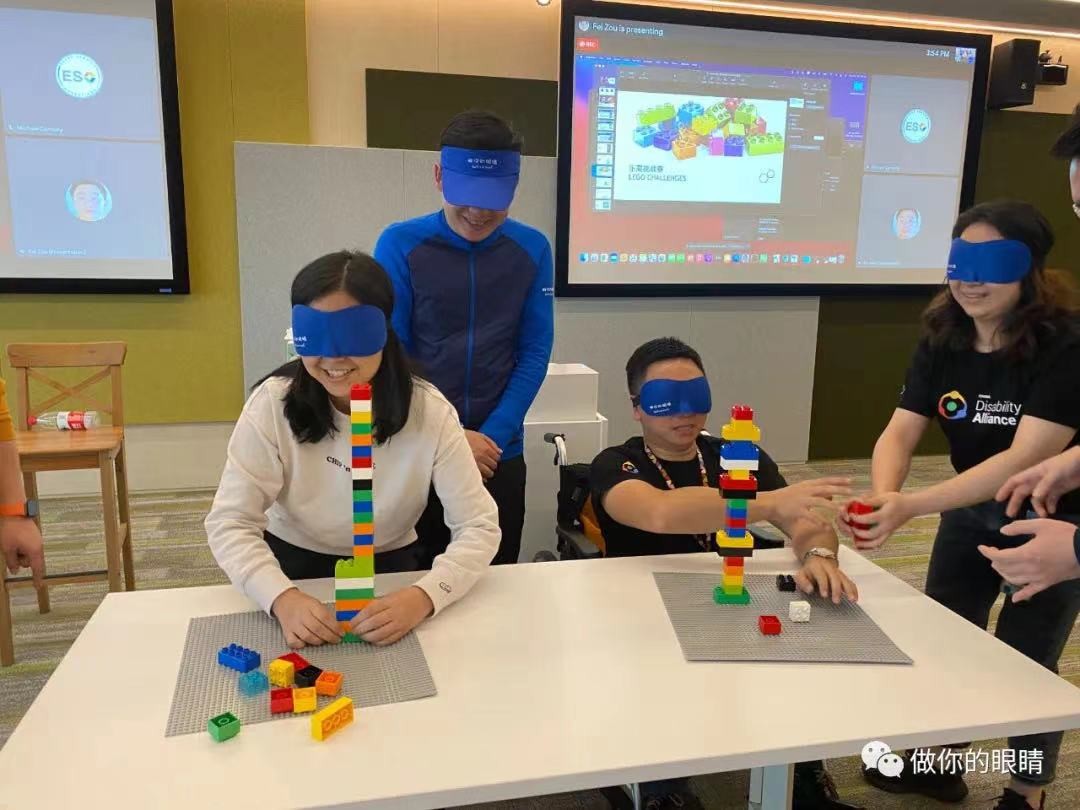 beYoureyeS Standard Chartered Bank China CSR Activity
10月30日下午,蓝睛灵联合渣打银行上海区在浦东世纪公园开展了"做你的眼睛"体验式公益活动。在清爽的秋风中,大家分两组,在视障培训师的引导下,通过体验了解了视障礼仪和陪跑方法,随后渣打银行的员工们开展了一场欢乐的接力赛,亲身体验运动无障碍。
In the afternoon of October 30th, Lanjingling cooperated with the Standard Chartered Bank of China to carry out an experiential charity event at the Century Park. In the relaxed autumn breeze, participants were divided into two groups. Under the guidance of the visually impaired trainers, participants learned about the visually impaired etiquette and experienced guide-running. Then, the staffs of Standard Chartered Bank of China held an enjoyable relay race to experience accessible sports.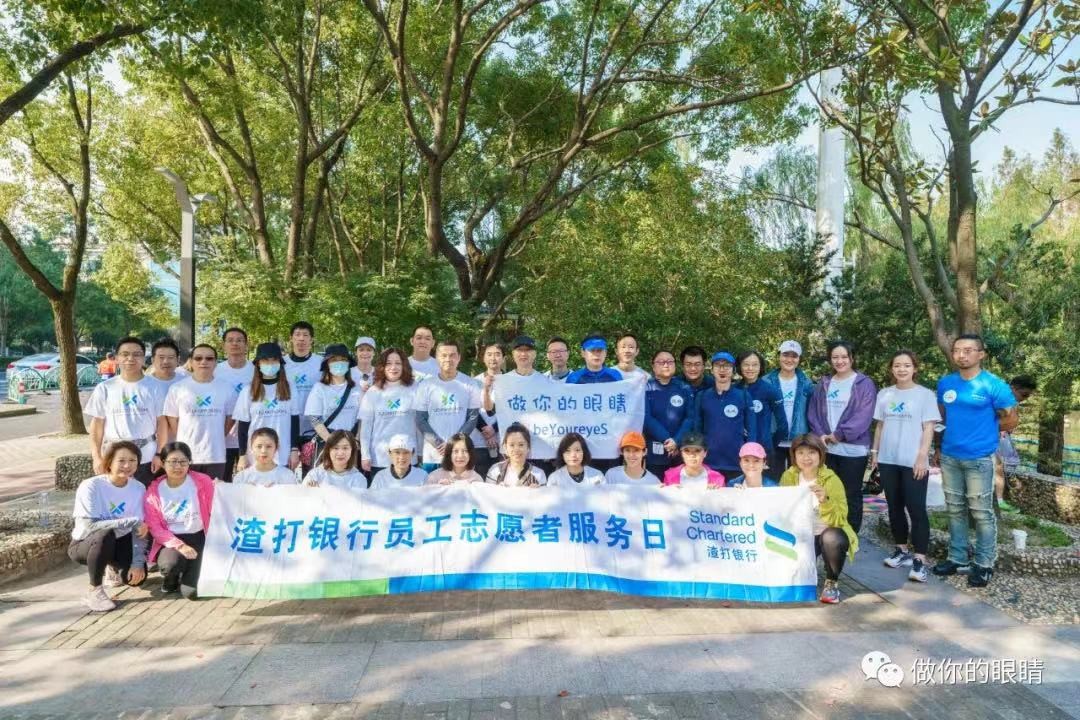 Fitness 100 Virtual Fitness Activities Continued
10月4日、11日、18日和25日开展了第41期至第44期看健100无障碍健身活动。
第42期的健身活动中新来了一位视障伙伴金星宇。教练让视障健身达人天保、天天等小伙伴带领金星宇了解和熟悉健身器械。
The 41st to 44th Fitness 100 Accessible Fitness activities were held on October 4th, 11th, 18th, and 25th, respectively.
A new visually impaired member, Jin Xingyu, joined the 42nd fitness activity. The coach asked experienced members Tian Bao, Tiantin, and other friends to help Jin Xingyu get along with the new environment and new equipment.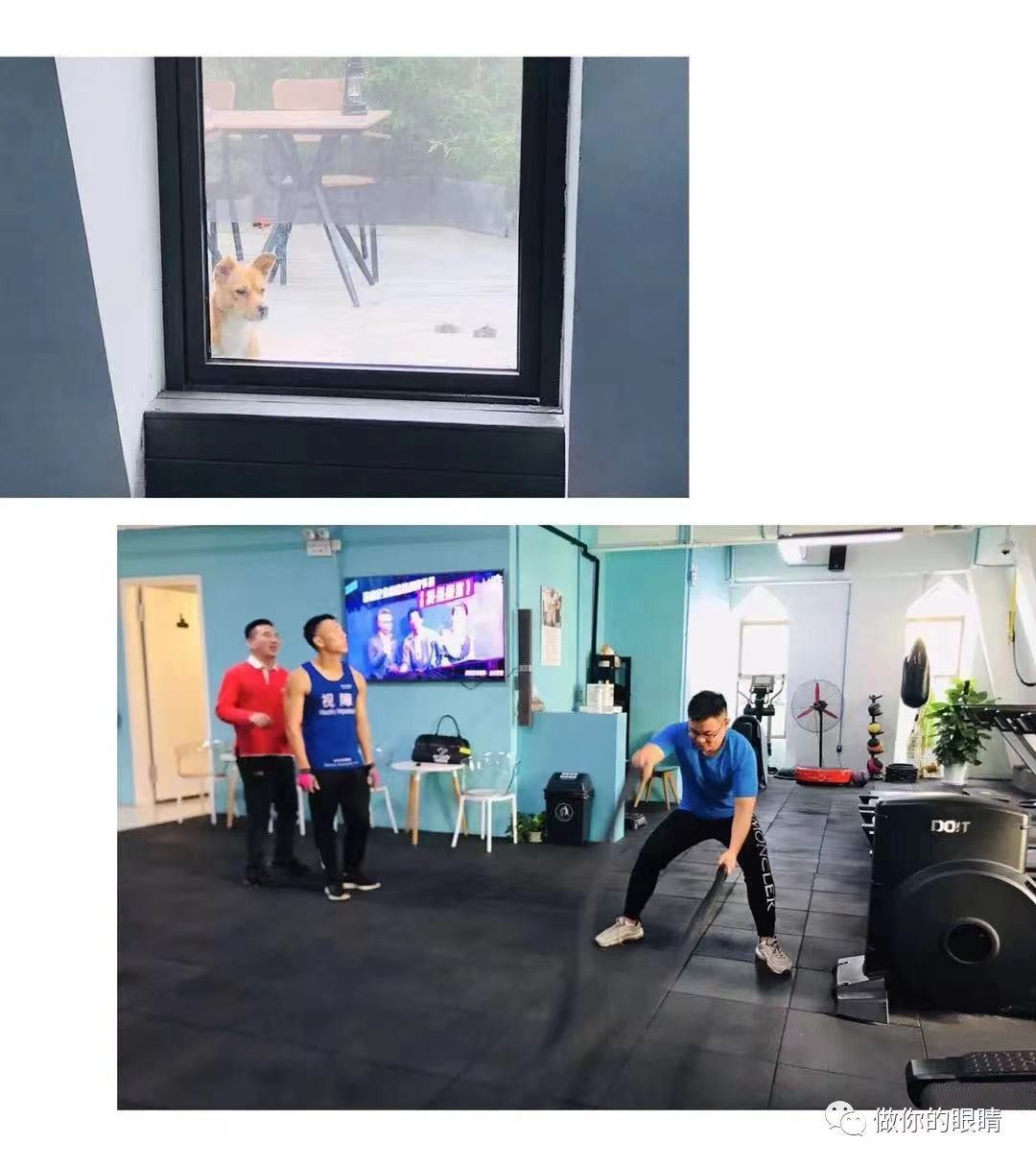 HAMS Sponsored Traditional Chinese Style Sneakers
10月,HAMS鞋履公司向蓝睛灵赞助了一批颜值与功能双双在线的国潮运动鞋。首批收到鞋子的蓝睛灵纷纷表示非常开心,并已穿上HAMS鞋参加了近期的常规活动。在此,我们特别感谢HAMS鞋履公司对蓝睛灵以及运动无障碍的支持。
In October, HAMS sponsored a batch of Chinese traditional styled sneakers, functional and aesthetic. The first group who received the sneakers were very delighted and started using them straight away for running activities. We hereby express our sincere gratitude and appreciation towards HAMS for supporting Lanjingling and accessible sports.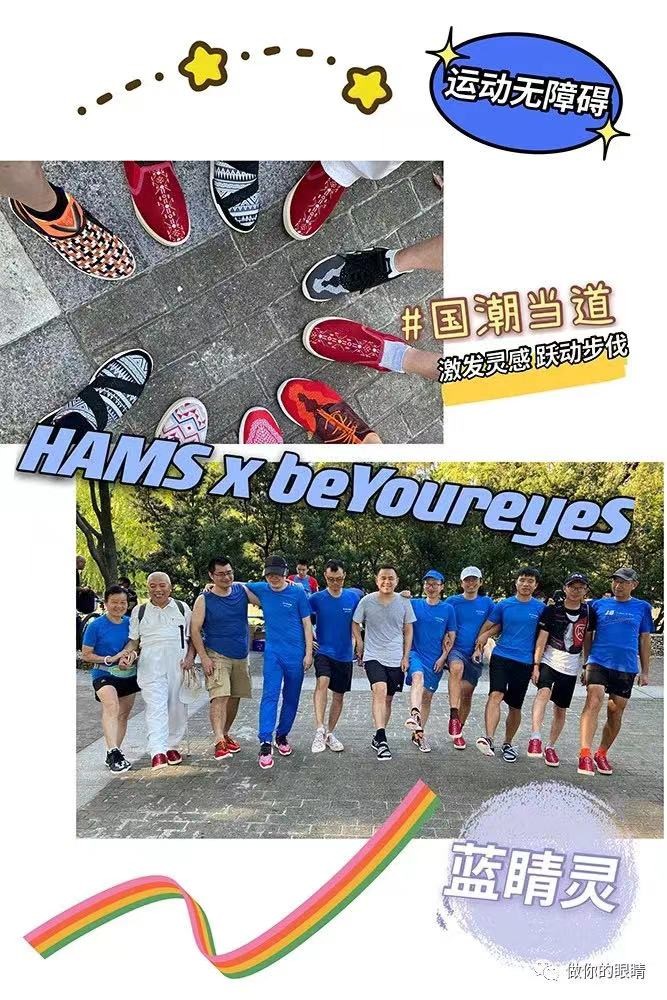 Lanjingling "beYoureyeS" Weekend Sharing Meeting
10月16日中午,蓝睛灵受Kent的邀请,在1965东南亚街头美食店中,给RunSG跑团的伙伴们带来了一场关于"平等、融合、多元"的分享会。会中,虞滔、晨辉、晓斌分别分享了蓝睛灵开展的各类活动、视障礼仪和无障碍理念,以及本届绳上100挑战赛的详细内容。大家一边聆听蓝睛灵的故事,一边参与互动体验。
In the noon of October 16th, Lanjingling was invited by Kent to bring a sharing meeting about "Equality, Inclusion, Diversity" to RunSG in 1965 Southeast Asian Street. During the meeting, Yu Tao, Chen Hui, and Xiao Bin talked about Lanjingling's various activities, visually impaired etiquette, and the concept of accessibility, and shared some details about Rope 100. Aside from listening to the Lanjingling stories, participants also had an interactive experience.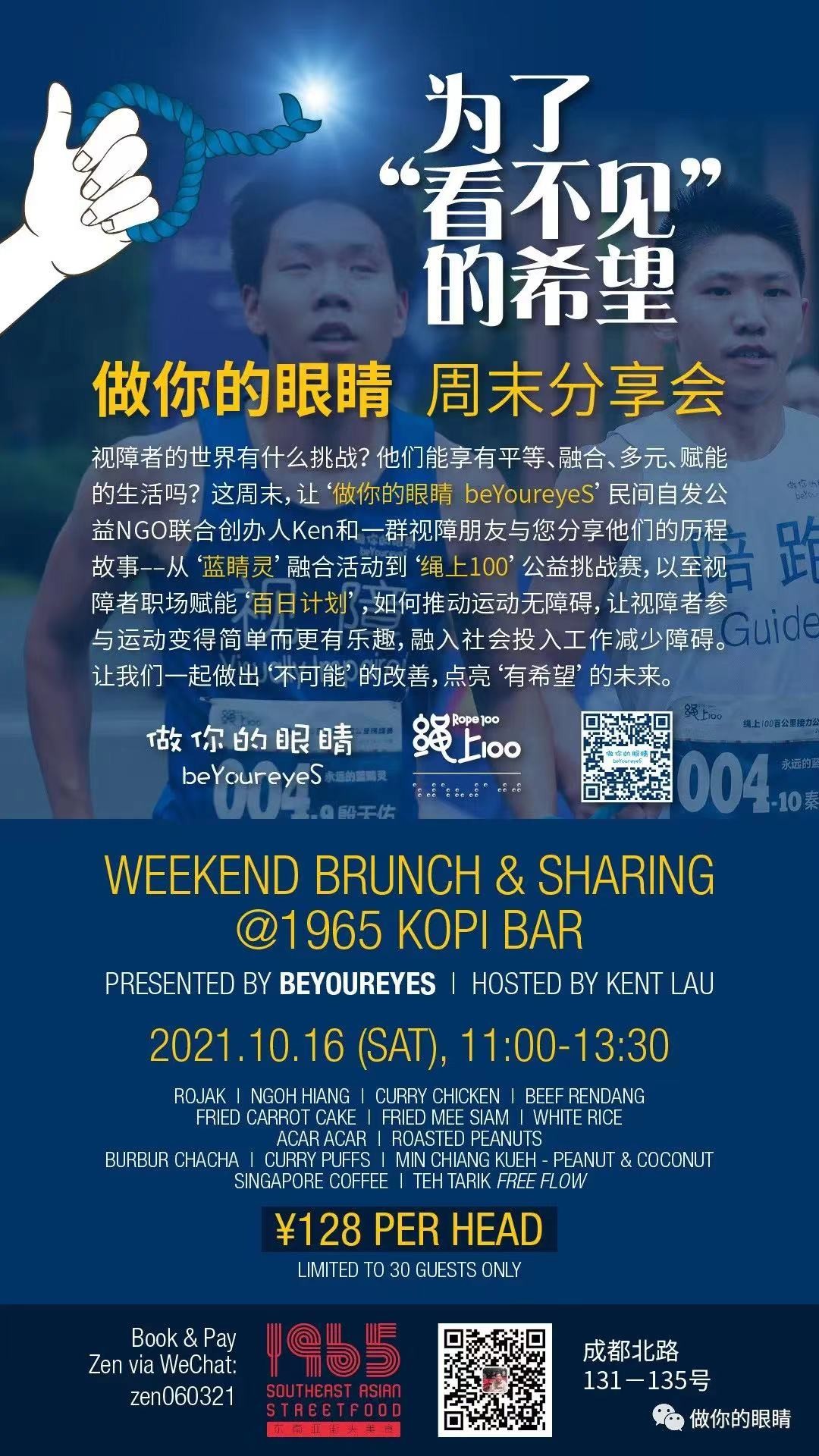 10月28日下午,迎着和煦的阳光,5位蓝睛灵视障伙伴应上海志领志愿服务发展中心的邀请来到嘉园党群服务站参加仲秋养生下午茶DIY活动。大家品尝了由丁老师现场制作的多款色香味俱全的美食。
In the afternoon of October 28th, bathing the warm sunshine, five Lanjingling members were invited by the Shanghai Volunteer Service Development Center to the Jiayuan Party Service Center to participate in their mid-autumn afternoon tea session. They tasted a variety of delicious food made by teacher Ding.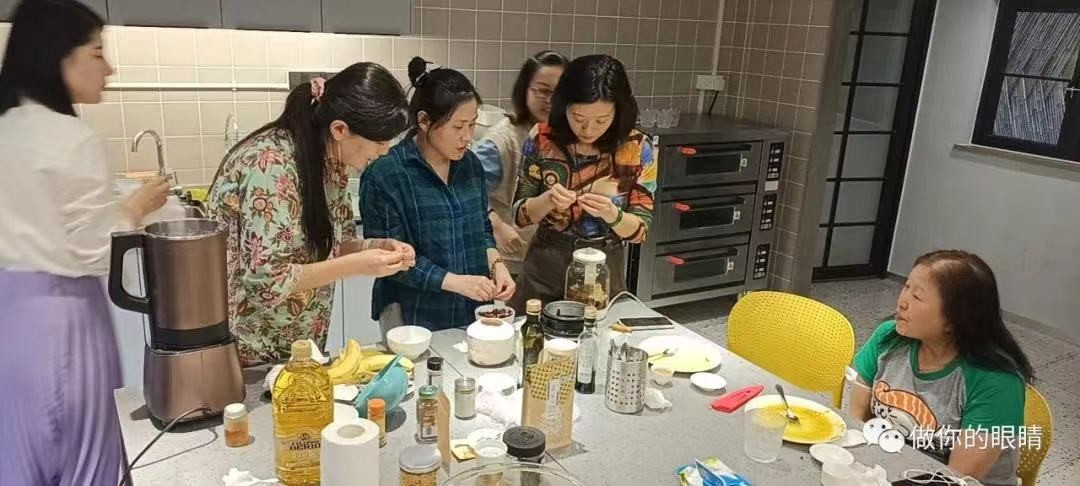 Lanjingling's Colorful Lives
十一届全国残运会暨第八届特奥会在近期举办,上海代表队中,看到很多蓝睛灵视障伙伴的身影,陆晨辉、殷天佑、朱浩、潘春晖、宋虎等多人分别参加了盲人足球队、盲人门球队的比赛,比赛非常精彩!
"同样的梦想,同样的精彩",这是残运会暨特奥会的精神,也是视障伙伴的自我激励的深深感悟,每一步努力都向着冲破障碍的理想,每一滴汗水都融化在无障碍融合的实践中。
The 11th National Paralympic Games and the 8th Special Olympics were held recently. In the Shanghai team, many are part of Lanjingling. Lu Chenghui, Yin Tianyou, Zhu Hao, Pan Cunhui, Song Hu, and many other people participated in Paralympic football and Goalball competition.
"Same dream, same wonder" is the spirit of the Paralympic Games, it is also the inner motivation for the visually impaired athletes. Every step strives toward the ideal of breaking through the barriers, and every drop of sweat melts into the practice of accessible inclusion.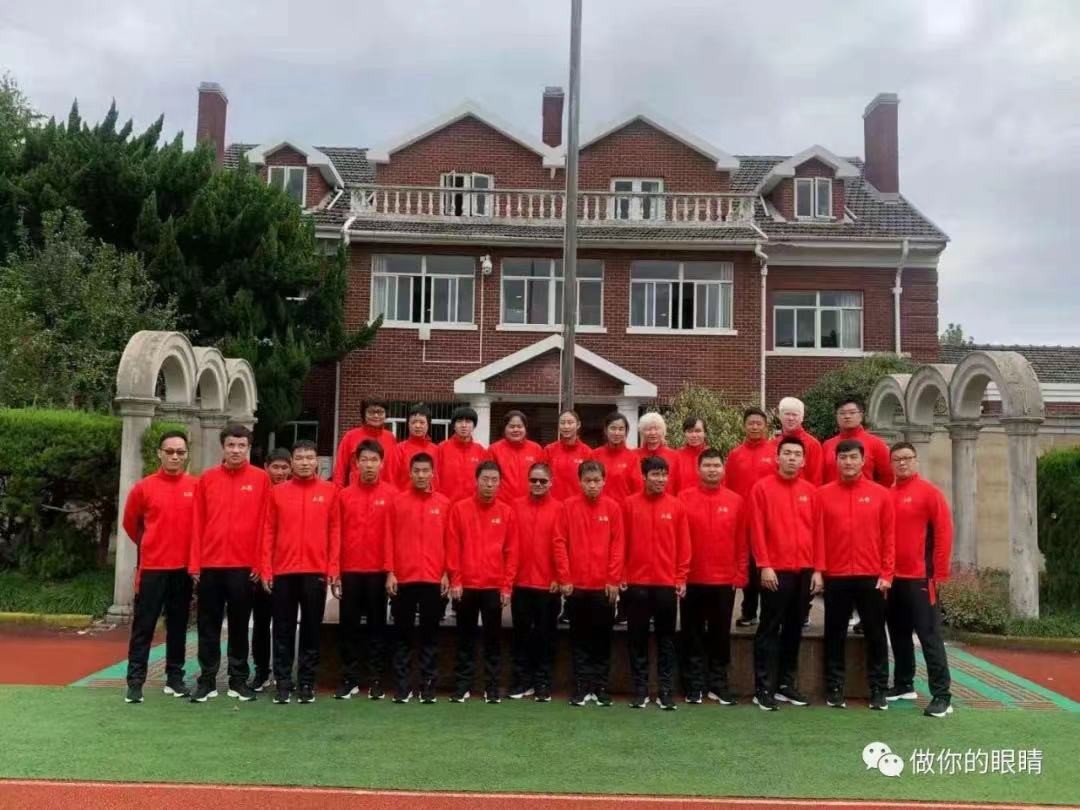 This marks the end of this month's newsletter, thank you for reading.
做你的眼睛是一个民间自发的公益活动,于2015年1月在上海发起,致力于推动运动无障碍,让视障者参与运动变得简单。
beYoureyeS is a charitable activity, launched in Shanghai in January 2015, is devoted to promoting the concept of sports accessibility, making it possible for persons with visually impairments.
在我们的活动中,无论视障者,还是健视者,都称呼彼此为蓝睛灵,我们的公益组织也叫这个名字。
Everyone attending our activities calls each other Lanijngling, no matter what kind of physical condition he or she is in, and that is where our NGO's name came from.
我们认为,任何人都可以自由又自然的投入运动,平等的享受运动带来的快乐。
We believe that everyone can participate in sports freely and naturally, can enjoy the happiness, freedom and well-being derived from sports.
我们组织多样性的活动,鼓励各行各业参与运动与跨界,从本质上认可人的尊严。
We organize diverse activities, encourage all walks of life to participate in sports and cross-border, and ultimately be aware of human dignity.
我们知道,所行之路要有一颗铁人之心,需要体力和耐力、智慧和勇气,需要耐心和时间。
We know that the road to follow requires a heart of the Ironman, needs physical strength and endurance, wisdom and courage, patience and time.
Thank you for your support and your company along the way.
体验式公益活动、企业社会责任活动、校园融合活动、无障碍赛事活动
Experiential Philanthropy Activity, CSR Activity, School Inclusive Activity, Adaptive Sports Race
Fitness 100、Rope 100、100Days Engagement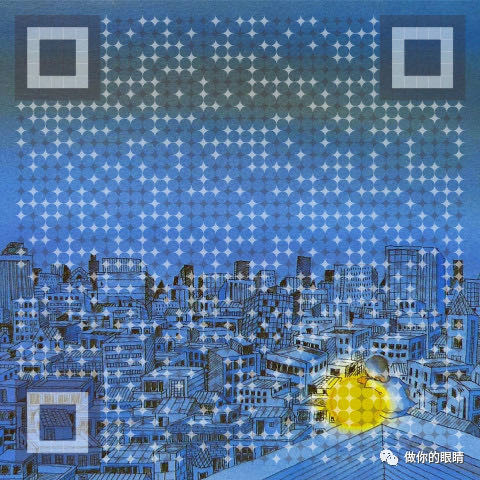 We hope that whilst we're in the competition together,
we may all converge our energy as one to make each and all strong,
We hope that whilst doing sports together
we are able to find the nerve to be strong enough to face challenges head on.