2021年11月,蓝睛灵入选全国"四个100"先进典型"最佳志愿服务项目"上海推选名单。
本月蓝睛灵共开展了3期常规活动、4场企业社会责任(CSR)活动、4期看健100无障碍健身活动,第三届「绳上100」百公里公益挑战赛完赛物资发放完毕。
In November 2021, Lanjingling was nominated as a Shanghai representative for the country's advanced models for "Best Volunteer Service".
This month, Lanjingling carried out 3 regular weekend activities, 4 CSR activities, and 4 Fitness 100 accessible fitness activities. The materials of the Rope 100 Challenge were distributed.
翻译 Translator:胡文倩 Susie HU 王宏毅 Yoyo WANG
蓝睛灵编辑部 Lanjingling Editorial Office
"做你的眼睛"入选上海市"四个100"最佳志愿服务项目
beYoureyeS Nominated for "Best Volunteer Service"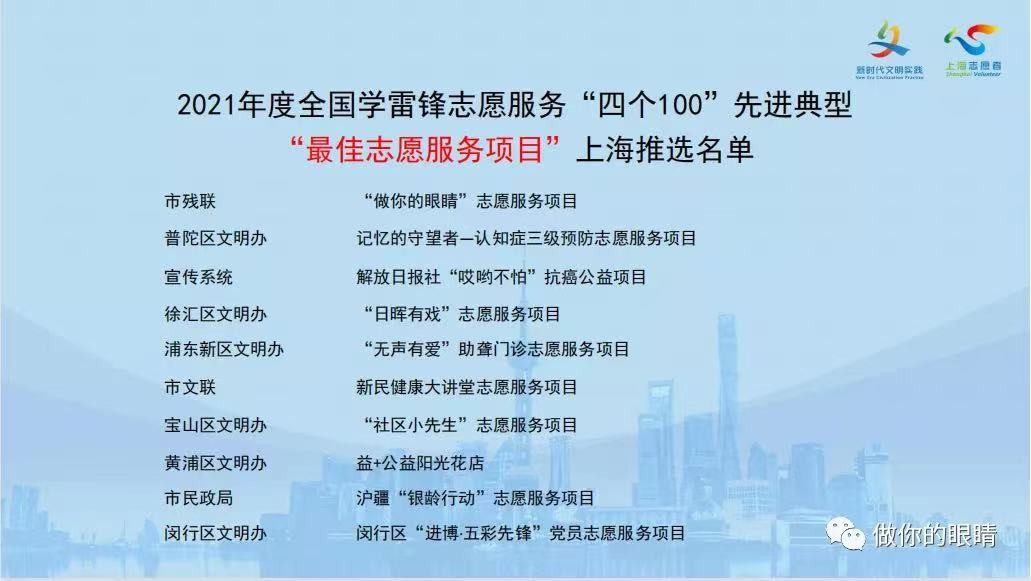 11月18日,蓝睛灵经市残联推荐,参加2021年度全国学雷锋志愿服务"四个100"先进典型现场评审展示活动,再次以第一名入选"最佳志愿服务项目"上海推选名单,参加全国评选。陆晨辉代表蓝睛灵做了现场演讲。
On November 18th, nominated by Shanghai Disabled Person's Federation, Lanjingling participated in the 2021 "Four 100s" advanced model selection event, and, once again, entered the Shanghai nominee list as the 1st place. Lu Chenhui spoke on behalf of Lanjingling on the event.
REGULAR WEEKEND ACTIVITIES 
做你的眼睛第264期至266期的常规陪跑活动于11月7日、14日和21日在世纪公园和闵行文化公园开展。
原定于11月28日的常规活动,因疫情防控要求取消。
本月,陪跑员王丹丹和陈瑾分别在第265期和第266期常规活动时,通过考核成为大白陪跑员。
The 264th to 266th regular weekend activities were respectively carried out on November 7th, 14th, and 21st at Century Park and Minhang Cultural Park. 
The activity scheduled on November 28th was canceled due to Covid-19 containment.
This month, Wang Dandan and Chen Jin became certified guide runners at the 265th and 266th activities, respectively.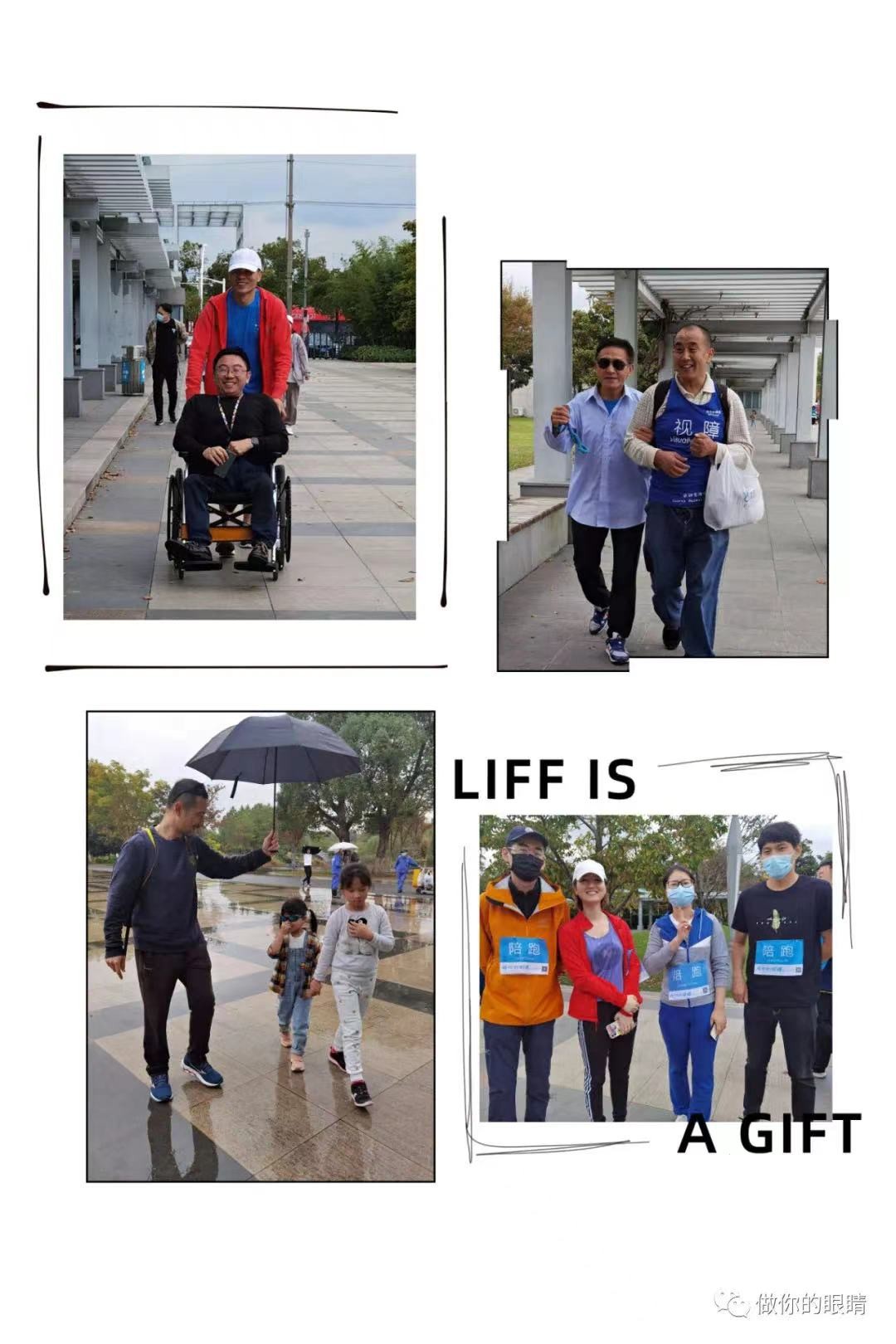 Distribution of Materials of the Rope 100 Challenge
11月,第三届绳上100百公里公益挑战赛完赛物资发放完毕。
In November, the after-match materials of theRope 100 challenge have been distributed.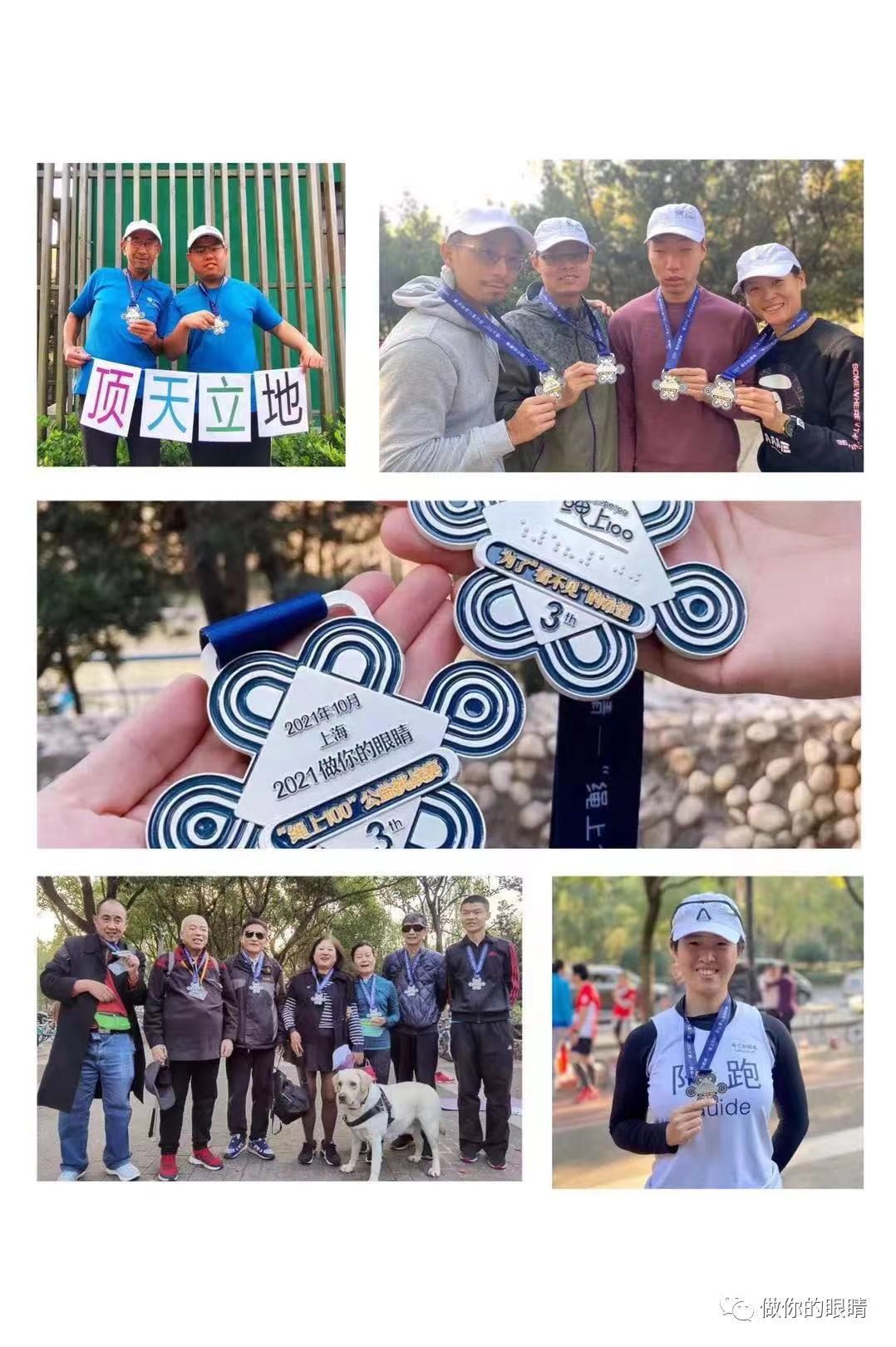 Corporate Social Responsibility Activities
Accor Group & Lanjingling
11月7日,第264期常规活动现场,雅高集团小伙伴们在蓝睛灵的带领下开启了首次无障碍体验,本次活动也是雅高"雅高千公里蒙眼跑"的启动开端,通过蓝睛灵的无障碍引导方案,雅高集团了解到视障人士的需求、沟通礼仪,以及视障陪跑的基础知识。更多信息,请等待12月3日世界残障者日期间揭晓。我们非常高兴,越来越多的优秀企业透过蓝睛灵这座桥梁,与视障伙伴有了更多的了解与接触,通过践行运动无障碍,实践融合企业社会责任。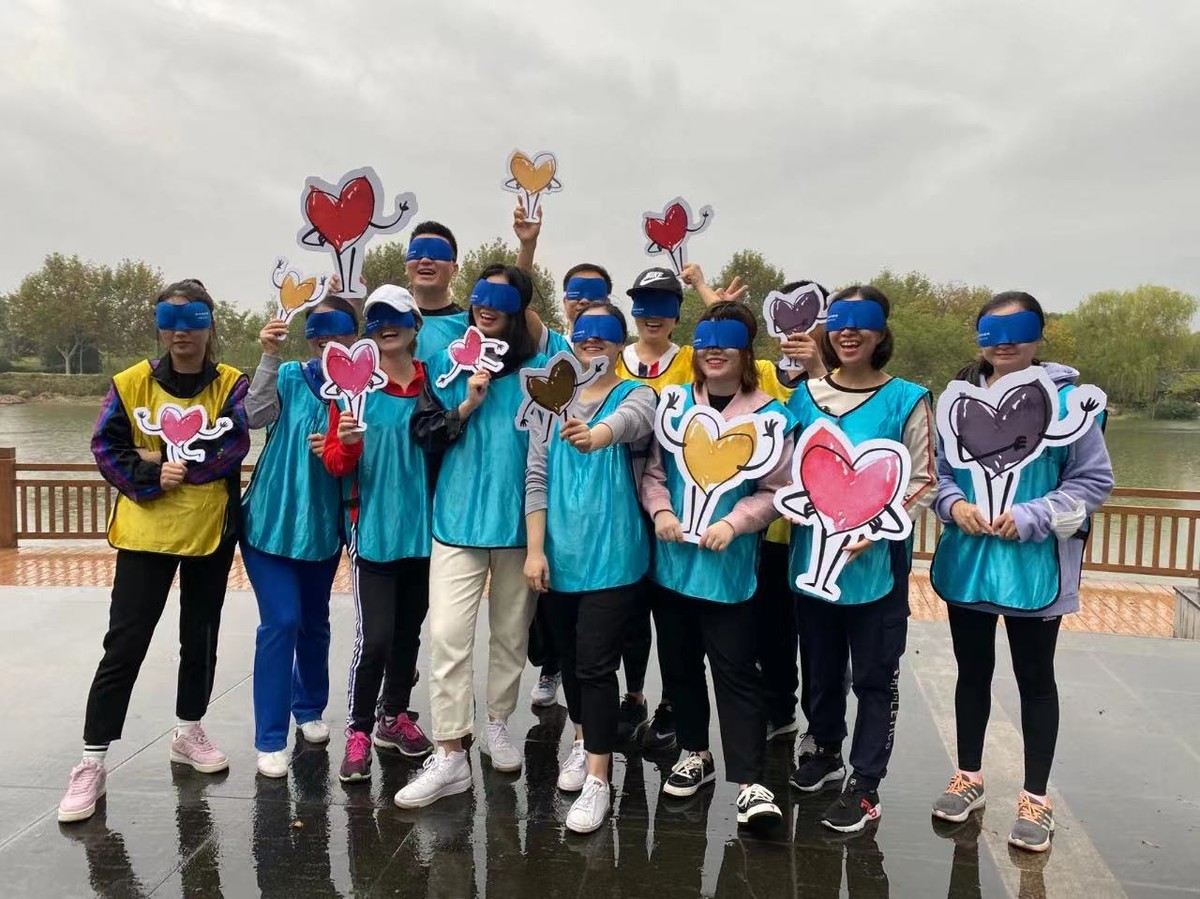 On November 7th, at the 264th regular weekend activity, the employees at Accor Group had their first accessible experience under the guidance of Lanjingling. This marked the beginning of "Accor 1000 Dark Running". Through the Lanjingling guide running program, participants learned of the demands of the visually impaired persons, the way to communicate with them, and some guide running tips and skills. More details about the event will be released on the World Day of Persons With Disabilities on December 3rd. We are delighted to see more and more outstanding enterprises coming into close contact with persons with visual impairment via the bridge built by Lanjingling. By joining accessible athleticism, they took on an inclusive corporate social responsibility.
Orientation Contest Check-in Point — Blind Football
11月20日周六上午,蓝睛灵协助组织企业活动定向赛中的一个打卡点位,带领参与定向赛的同事在该打卡点处体验盲人足球游戏,从另一个角度体验无障碍运动的魅力。
In the morning of November 20th, Lanjingling organized an orientation contest check-in point, leading players to experience blind football, to feel the fascination of accessible sports in another way.
11月23日上午,蓝睛灵和来自某科技公司的小伙伴们一起开展了无障碍体验式公益活动。
在蓝睛灵视障培训师的引导下,大家进行了各种场景模拟,在互动中展开换位思考,了解到了如何按照对方需要的方式提供恰当的帮助,和如何规范的进行视障陪跑。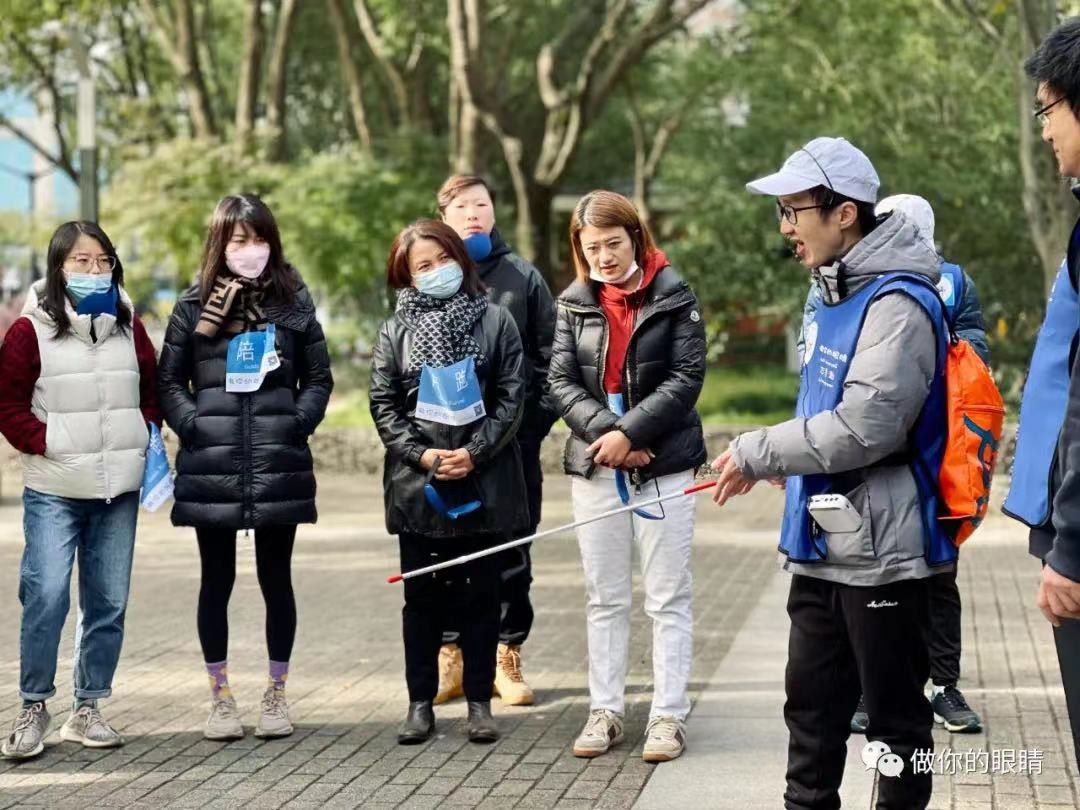 In the forenoon of November 23rd, Lanjingling carried out an accessible public welfare activity with the employees of a tech company at its site.
Under the guidance of Lanjingling volunteers, the participants participated in various scene simulations and started to think in other people's positions to learn how to provide appropriate help for persons with visual impairment and how to professionally guide them in running.
"聚萃有心,呵护未来" 2021 Clarins Values' Day
"Gathering With Power and Caring for the Future" 2021 Clarins Values' Day
11月25日,蓝睛灵参与"聚萃有心,呵护未来"2021 Clarins Values' Day。
在一整天的活动中,蓝睛灵们为146位娇韵诗的员工们带来了上下午两场无障碍体验式公益活动。
On November 25th, Lanjingling took part in the "Gathering with Power and Caring for the Future" 2021 Clarins Values' Day. During the event which took a whole day, Lanjingling brought two accessible experiences for 146 Clarins employees.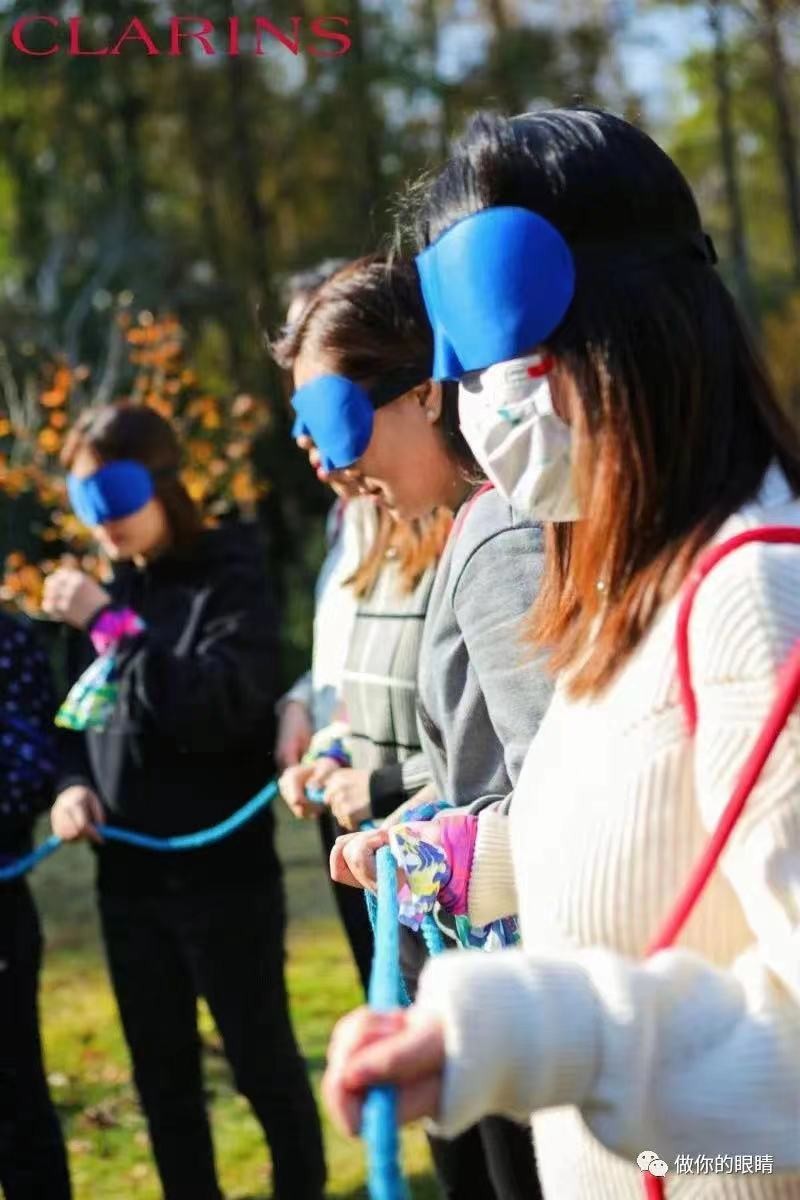 娇韵诗的HR同事为了活动的顺利举办,提前2周参与进蓝睛灵的常规活动,并在Vlaues Day当日活动中承担健视引导员的职责。
Some of the HR employees at Clarins participated in our activities cross fortnight, in order to have a full experience on that day.
活动现场,娇韵诗的同事们体验了一系列不用视觉完成的团队活动,大家既体验到视障人士的不便和难处;也学习到了当遇到需要帮助的视障人士时,如何在对方需要时,恰当的提供协助与支持。来自娇韵诗的伙伴说:"蒙上双眼后的团队任务的出色完成,也我们从新的视角去思考原来习以为常的判断和行为,这样的启发也让大家在今后的工作中受益匪浅。"
On the day, the participants from Clarins joined a series of non-visual interactive games, through which they felt the difficulties persons with visual impairment face and learned how to give a hand appropriately when running across them. One participate said: "By accomplishing task with eye masks, we started to think of the views we are accustomed to from a brand new perspective. Besides, this enlightening thought will greatly benefit us in our future career."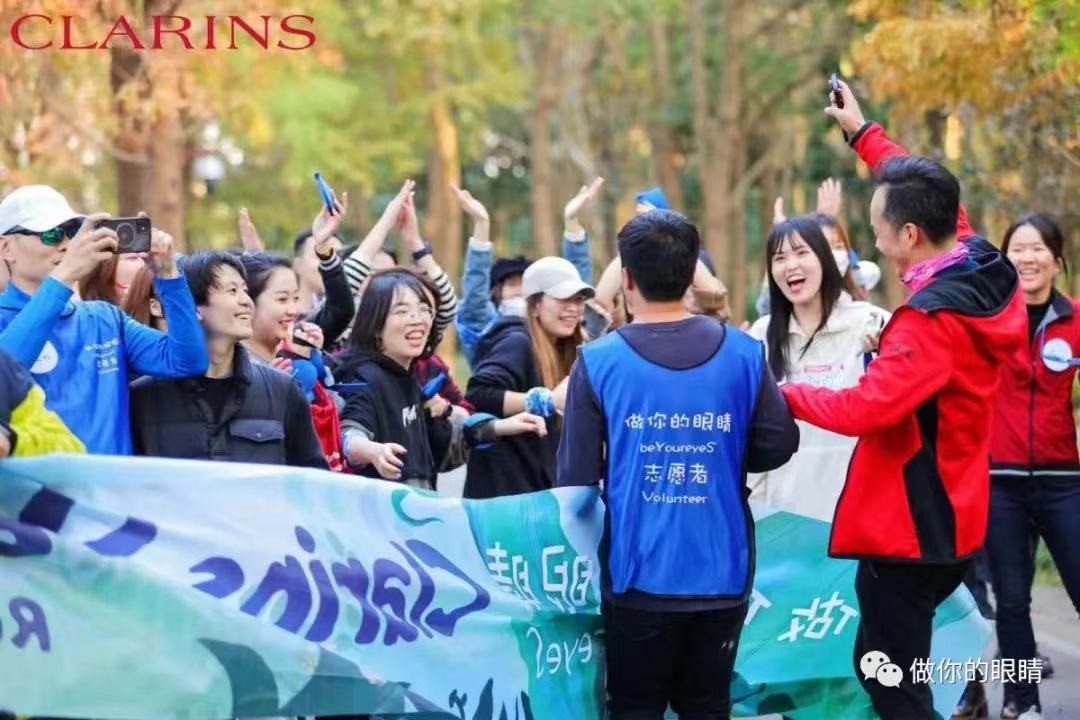 蓝睛灵在面向企业的CSR活动中,通过各类无障碍小游戏,以及模拟视障者的出行和比赛场景,希望参与者们以同理心来感受视障者的需求,以平等、尊重之心来推广无障碍的理念。愿我们一起,共同去创建一个无障碍的未来。
In the entrepreneurial CSR event, Lanjingling organized some accessible activities and carried out virtual simulations of how persons with visual impairment travel and race. We hope that all participants will understand the needs of the visually impaired and spread the barrier-free concept with and equal and respectful mind. We wish we can collectively build a brighter accessible future.
第45期至第48期看健100无障碍健身活动在11月月1日、8日、15日和22日开展。
时间是缔造成功的主要因素,视障伙伴们通过规律的参加无障碍健身活动,去找到适合我们视障人士的健身理念和健身方法,从而开辟属于视障者的新能力。
The 45th to 48th Fitness 100 accessible fitness activities were carried out on November 1st, 8th, 15th and 22nd.
Time is the main force to success. Only if our members stick to the fitness schedule will they develop newer abilities.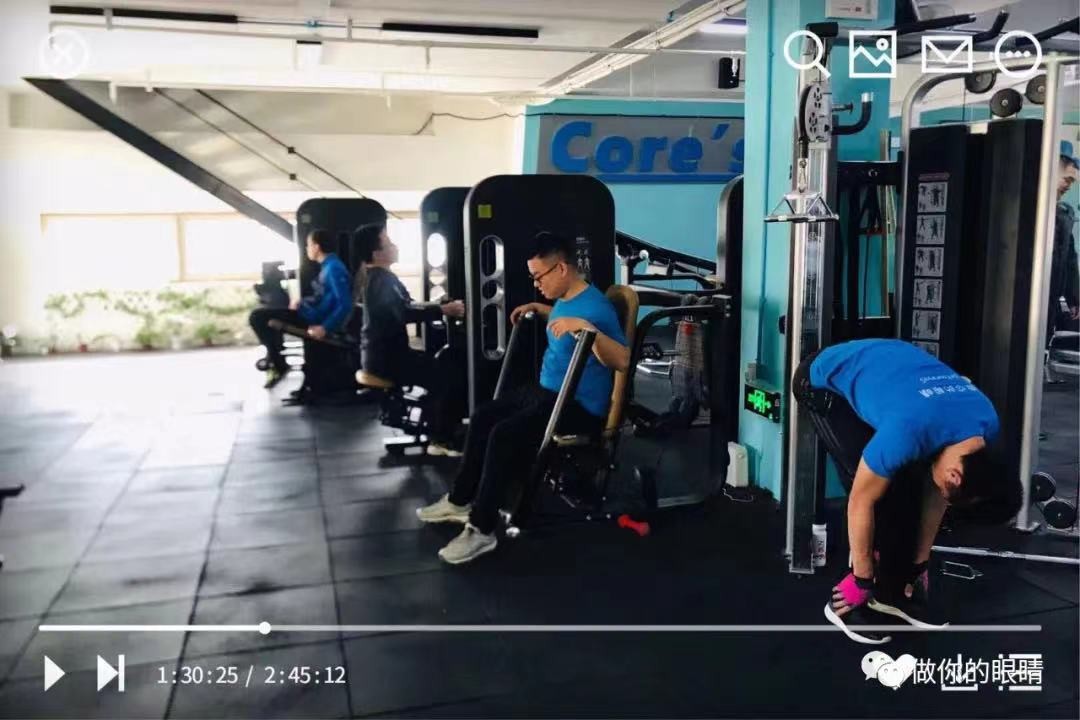 This marks the end of this month's newsletter, thank you for reading.
做你的眼睛是一个民间自发的公益活动,于2015年1月在上海发起,致力于推动运动无障碍,让视障者参与运动变得简单。
beYoureyeS is a charitable activity, launched in Shanghai in January 2015, is devoted to promoting the concept of sports accessibility, making it possible for persons with visually impairments.
在我们的活动中,无论视障者,还是健视者,都称呼彼此为蓝睛灵,我们的公益组织也叫这个名字。
Everyone attending our activities calls each other Lanijngling, no matter what kind of physical condition he or she is in, and that is where our NGO's name came from.
我们认为,任何人都可以自由又自然的投入运动,平等的享受运动带来的快乐。
We believe that everyone can participate in sports freely and naturally, can enjoy the happiness, freedom and well-being derived from sports.
我们组织多样性的活动,鼓励各行各业参与运动与跨界,从本质上认可人的尊严。
We organize diverse activities, encourage all walks of life to participate in sports and cross-border, and ultimately be aware of human dignity.
我们知道,所行之路要有一颗铁人之心,需要体力和耐力、智慧和勇气,需要耐心和时间。
We know that the road to follow requires a heart of the Ironman, needs physical strength and endurance, wisdom and courage, patience and time.
Thank you for your support and your company along the way.
体验式公益活动、企业社会责任活动、校园融合活动、无障碍赛事活动
Experiential Philanthropy Activity, CSR Activity, School Inclusive Activity, Adaptive Sports Race
Fitness 100、Rope 100、100Days Engagement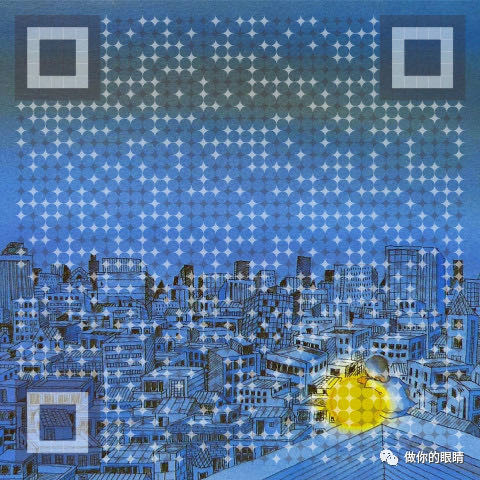 希望我们在比赛中汇集的能量,可以流动到需要它们的人们那里,
希望我们在运动中得到的勇气,让更多的人有力量面对困难。
We hope that whilst we're in the competition together, we may all converge our energy as one to make each and all strong,
We hope that whilst doing sports together, we are able to find the nerve to be strong enough to face challenges head on.