2023年6月,蓝睛灵把企业志愿者编织的陪跑绳赠送给上海市盲校的学生。
本月蓝睛灵共开展2期周末融合活动、3场企业社会责任(CSR)活动、1场特别活动。
In June 2023, Lanjingling organized corporate volunteers to hand-make running tethers as gifts to students at the Shanghai School for the Blind.
This month, Lanjingling carried out 2 weekend inclusive activities, 3 CSR activities, and 1 special.
翻译 Translator:陆妮可 Nicole Lu 王弘毅 Yoyo WANG
编辑 Editor:张睿莹 Rain ZHANG 李纪元 Annie LI
蓝睛灵编辑部 Lanjingling Editorial Office
Release date:Aug 16st, 2023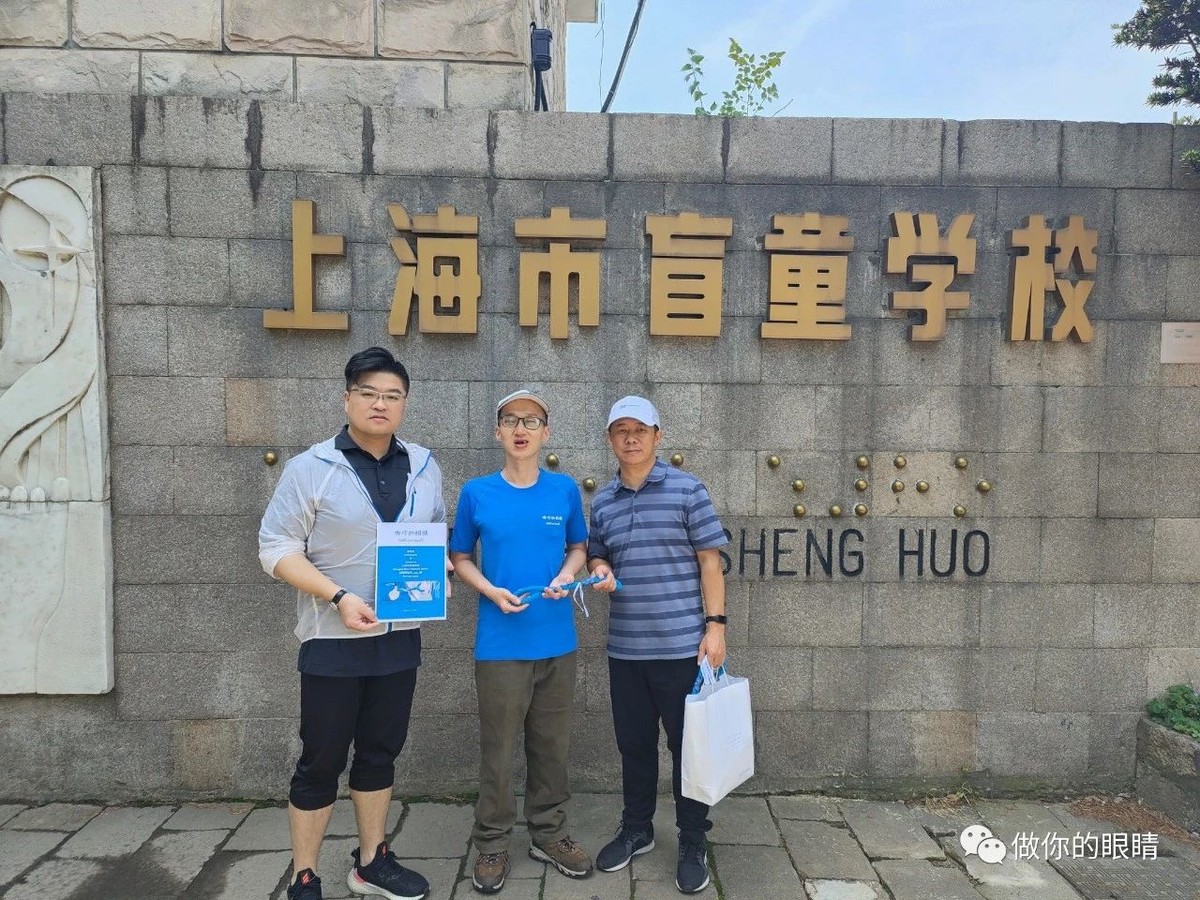 Photo: Xiaobin and Lanjingling's group photo with teachers at the Shanghai School for the Blind
Lanjingling's Gifts to Students at the School for the Blind
6月15日,蓝睛灵来到上海市盲童学校,把前几次企业CSR活动中志愿者编织的陪跑绳赠送给了盲校的孩子们。
这些陪跑绳适合各年龄段的儿童使用,助力孩子们无障碍地跑步。
一根陪跑绳连接了陪跑者和视障者,也连接了公益组织、企业和学校,共同倡导运动无障碍。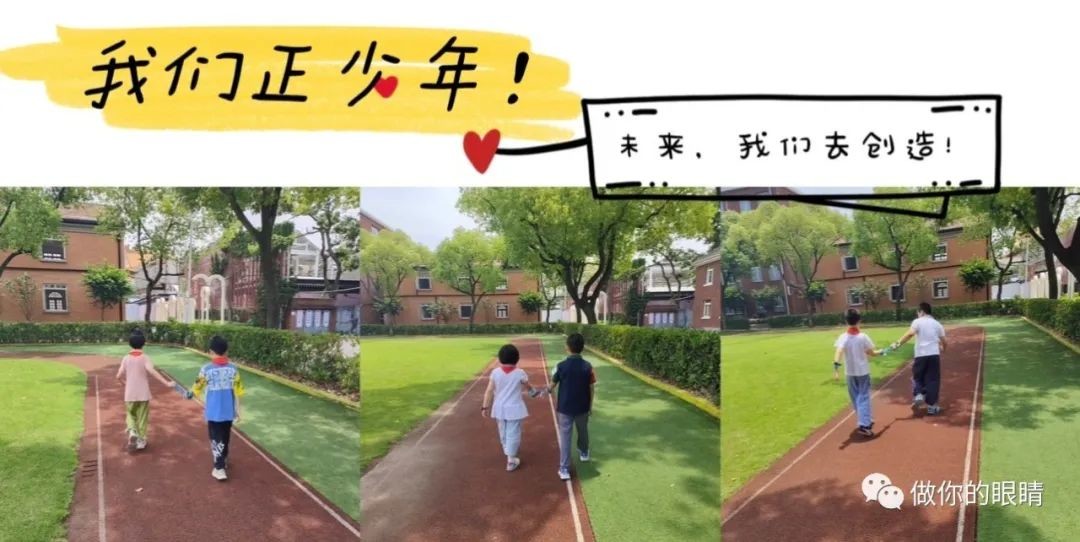 Photo: Children at the school for the Blind walk the track on campus holding a running rope
On June 15th, Lanjingling went to the Shanghai School of the Blind and gave students running tethers hand-made by corporate volunteers at previous CSR events.
These tethers, suitable for children of all ages, will help them run accessibly.
The tether is a symbol of connection. It connects the visually impaired runner and the guide runner, as well as the organizations, the corporations, and the institutions.
REGULAR WEEKEND ACTIVITIES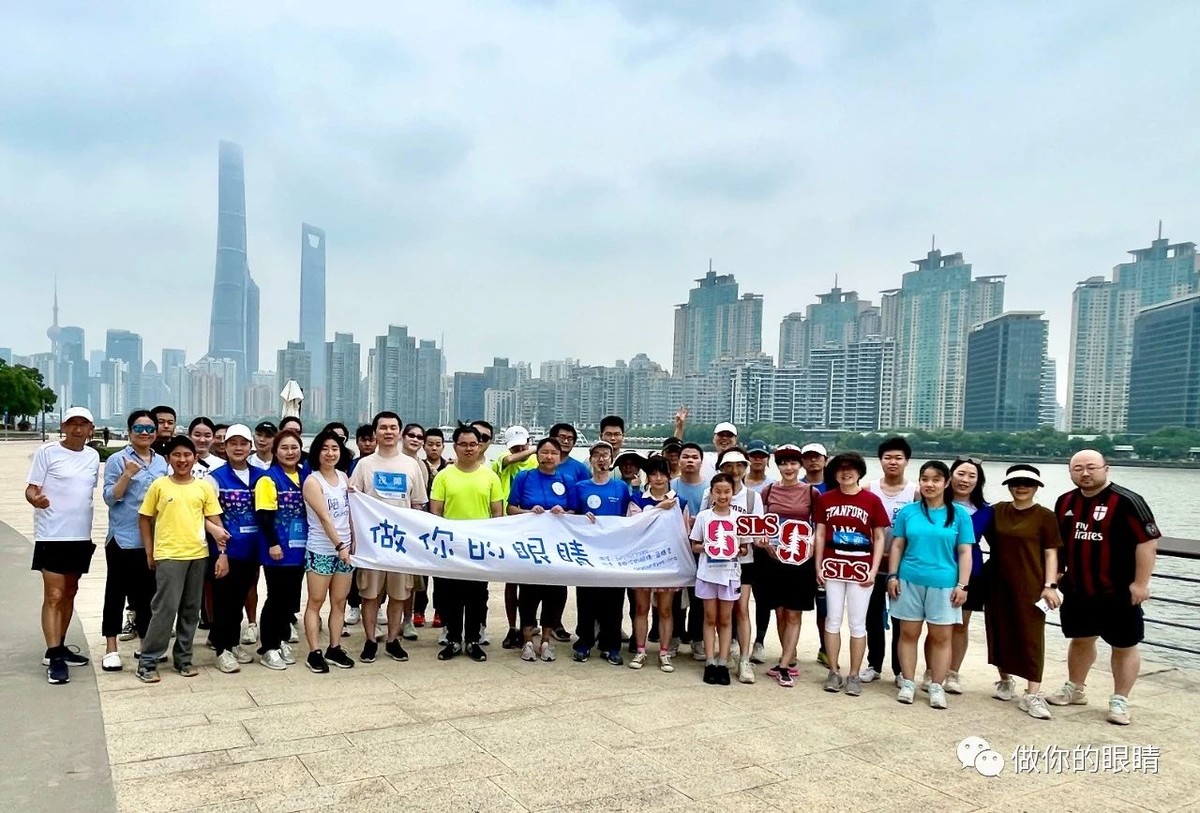 Photo: Weekend inclusive activity - group photo
做你的眼睛第334期和第335期周末融合活动于6月4日和11日在Apple 七宝店、七宝老街和黄浦滨江开展。因天气原因,原定于6月18日和24日的活动取消。
本月开展1期挑战100箭步蹲比赛,挑战100同项目将延长至7月。本月的挑战榜单如下:
The 334th and 335th weekend inclusive activities were carried out on June 4th and June 11th at Apple Shippo, Shippo Avenue, and Huangpu Riverside. Due to bad weather, the activities scheduled on June 18th and 24th were canceled.
The month, "Challenge 100" held a lunge challenge. The "Challenge 100" series will extend to the month of July. This month's results are as follows:
First Place: Bo Yin (guide runner)/ 49 reps
Second Place: Clark Chen (visually impaired)/ 19 reps
First Place: Qianni Zhu (guide runner) / 87 reps
Second Place: Yilin Wang (guide runner) / 78 reps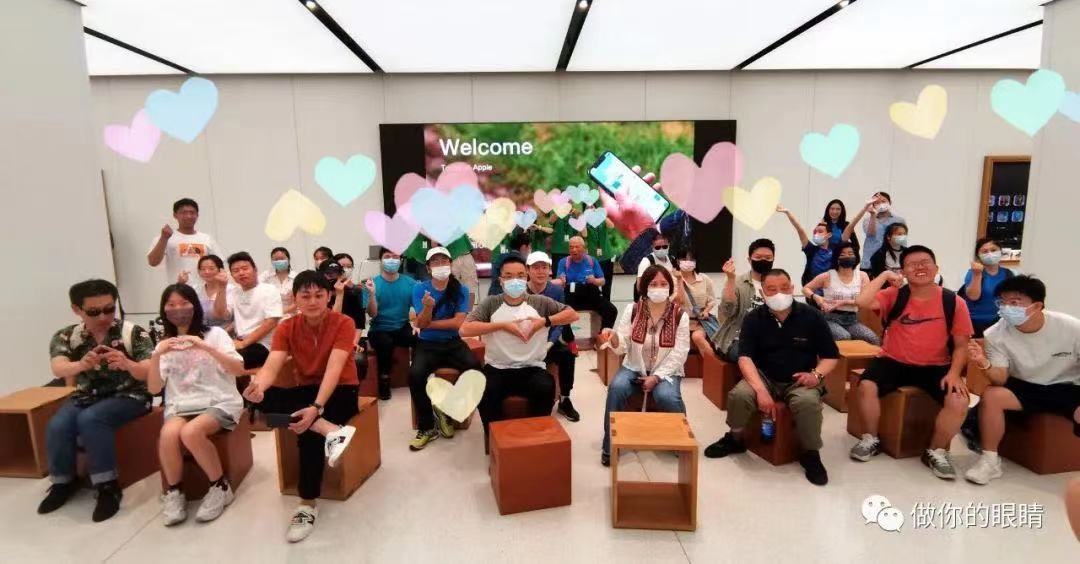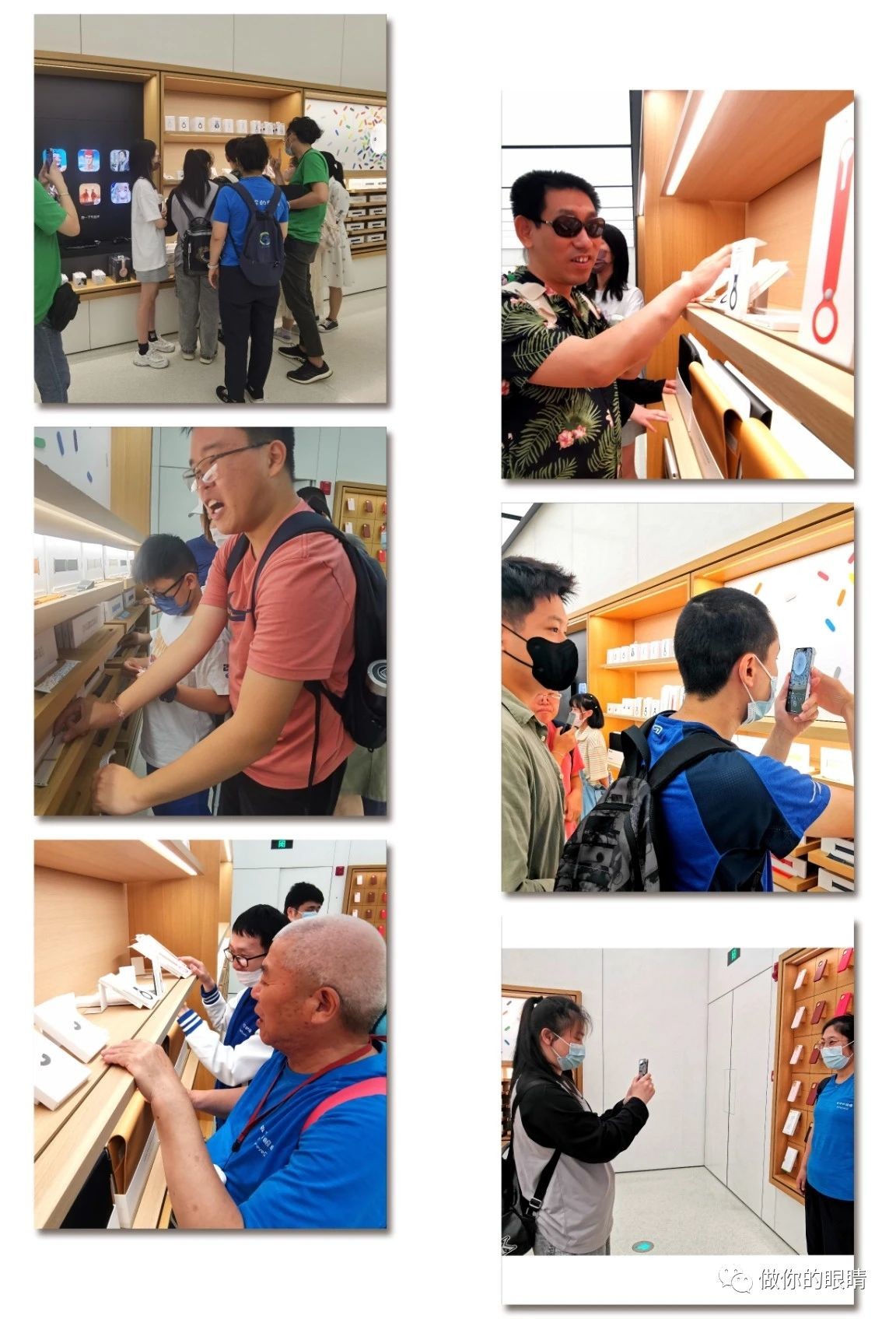 图:蓝睛灵伙伴们在Apple店员的引导下了解和尝试多种Apple的产品
Photo: Lanjingling members learning about Apple products, guided by Apple staff
6月4日第334期周末融合活动,蓝睛灵们走进Apple七宝店,在Apple专业志愿者的引导下,探索Apple 门店的高科技细节,感受到每一个细节都是为顾客提供更便捷、优质的服务。在探店结束之后,蓝睛灵的各位在现场参与无障碍摄影的课程,现场的健视者和视障者都获益良多。
During the 334th weekend inclusive activity on June 4th, Lanjingling visited Apple Shippo and explored Apple's high-tech features under the guidance of Apple volunteers. The participants were impressed by how every detail was designed with the goal of providing efficient, high-quality service. After the tour, Lanjingling members participated in an on-site accessible photography course. Everyone, visually impaired and otherwise, learned a lot from the experience.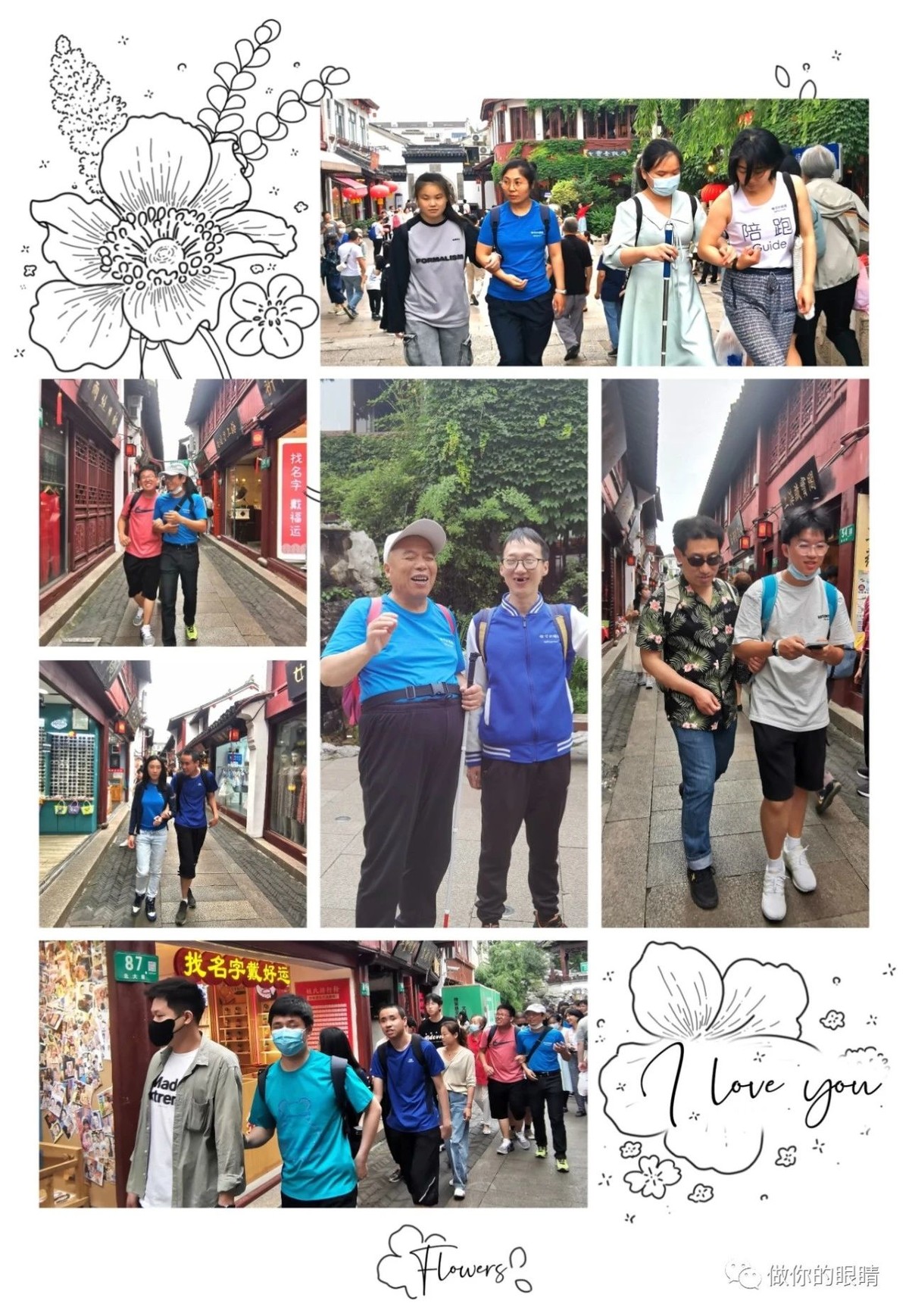 图:在七宝老街上我们边听边体会各种有趣的历史和美食
Photo: Food and history at Shippo Street
探店后,爱好美食的蓝睛灵们组团来到七宝老街开启了逛吃模式,同时也应用到刚刚在苹果店学到的摄影技术来进行非视觉摄影,大家在一起度过了一个愉快的下午。
After the visit, the food loving Lanjingling members banded together to roam the Shippo Old Street. They utilized the non-visual photography techniques they learned at the Apple Store and enjoyed their afternoon together.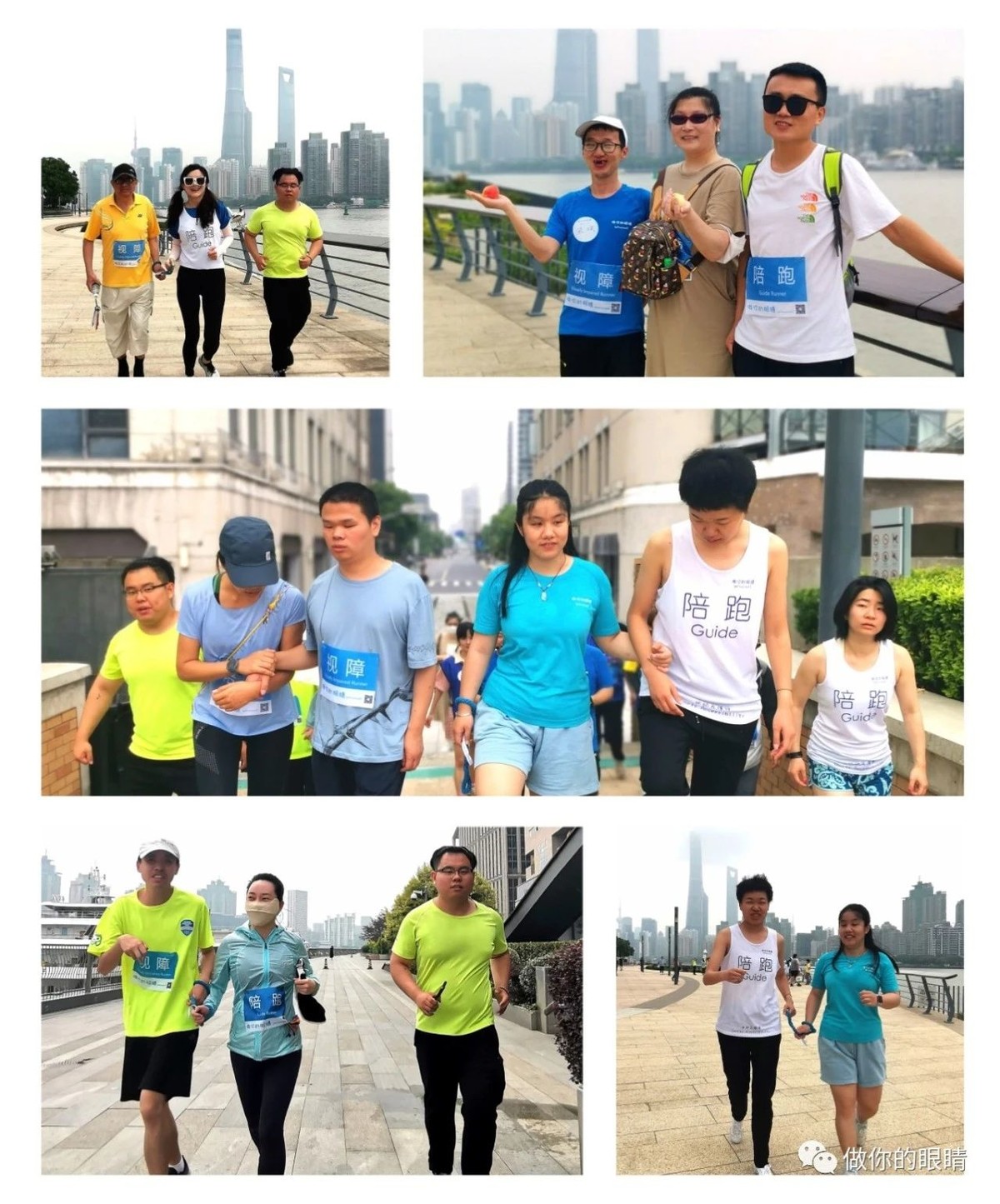 Photo: Running in the riverside breeze
在黄浦滨江的第335期周末融合活动时,李翔、汤贤东和田培光3位视障伙伴首次参加活动,在有经验的陪跑员的引导下感受了无障碍跑步。
During the 335th weekend inclusive activity, which took place at Huangpu riverside, three new visually impaired friends, Xiang Li, Xiandong Tang, and Peiguang Tian, joined beYoureyeS and experienced accessible running with our guide runners.
Corporate Social Responsibility Activities
1、视障、健视齐动手,蓝睛灵与某高科技企业开展编织陪跑绳活动
1. Lanjingling Tether Making with a Tech Company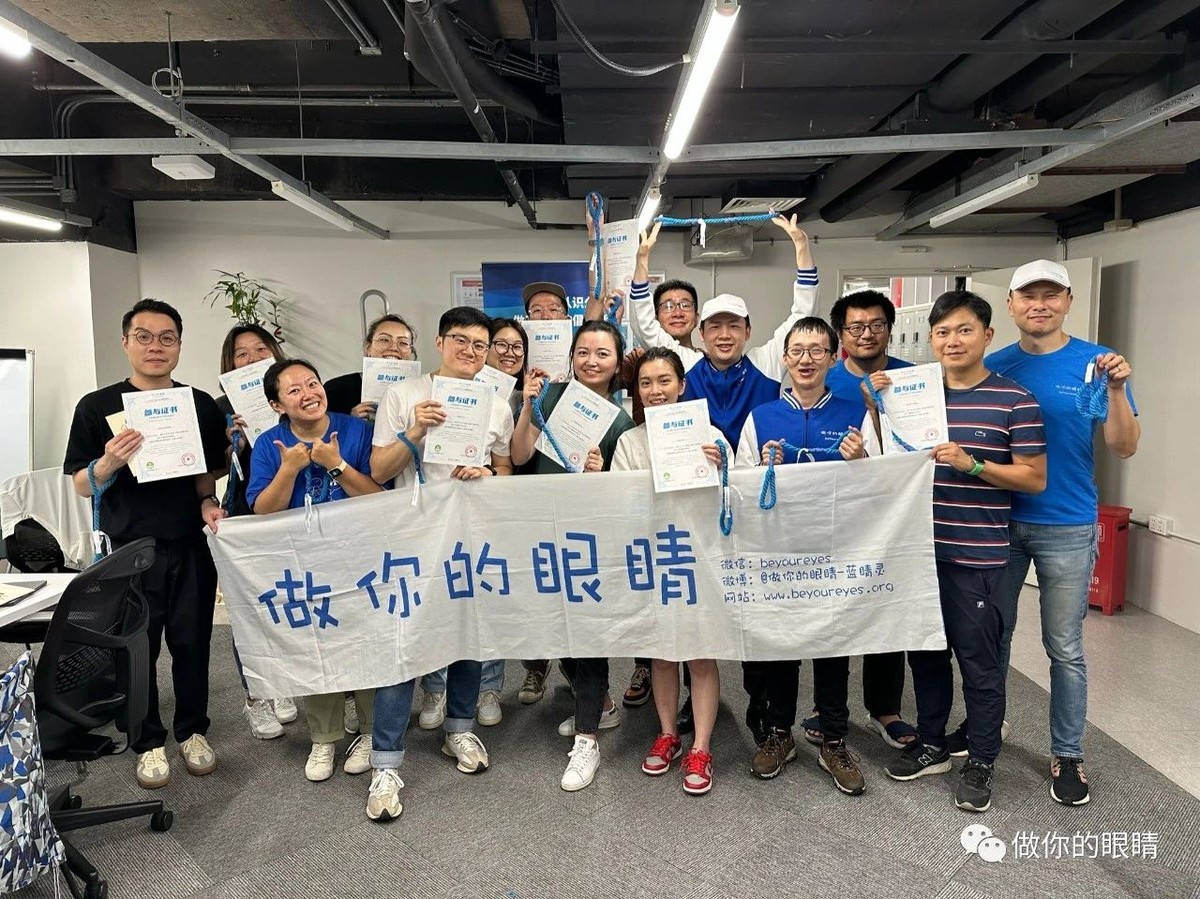 图:蓝睛灵与志愿者完成陪跑绳编织后的合影,大家对自己的作品很开心
Photo: Lanjinglings and volunteers' group photo at the tether-weaving event
6月6日下午,在某高科技企业香港广场的会议室内,蓝睛灵与企业志愿者们一起编织陪跑绳。
In the afternoon of June 6th, in a high-tech company's conference room at Hongkong Square, corporate volunteers worked with Lanjingling representatives in the group activity of making running tethers.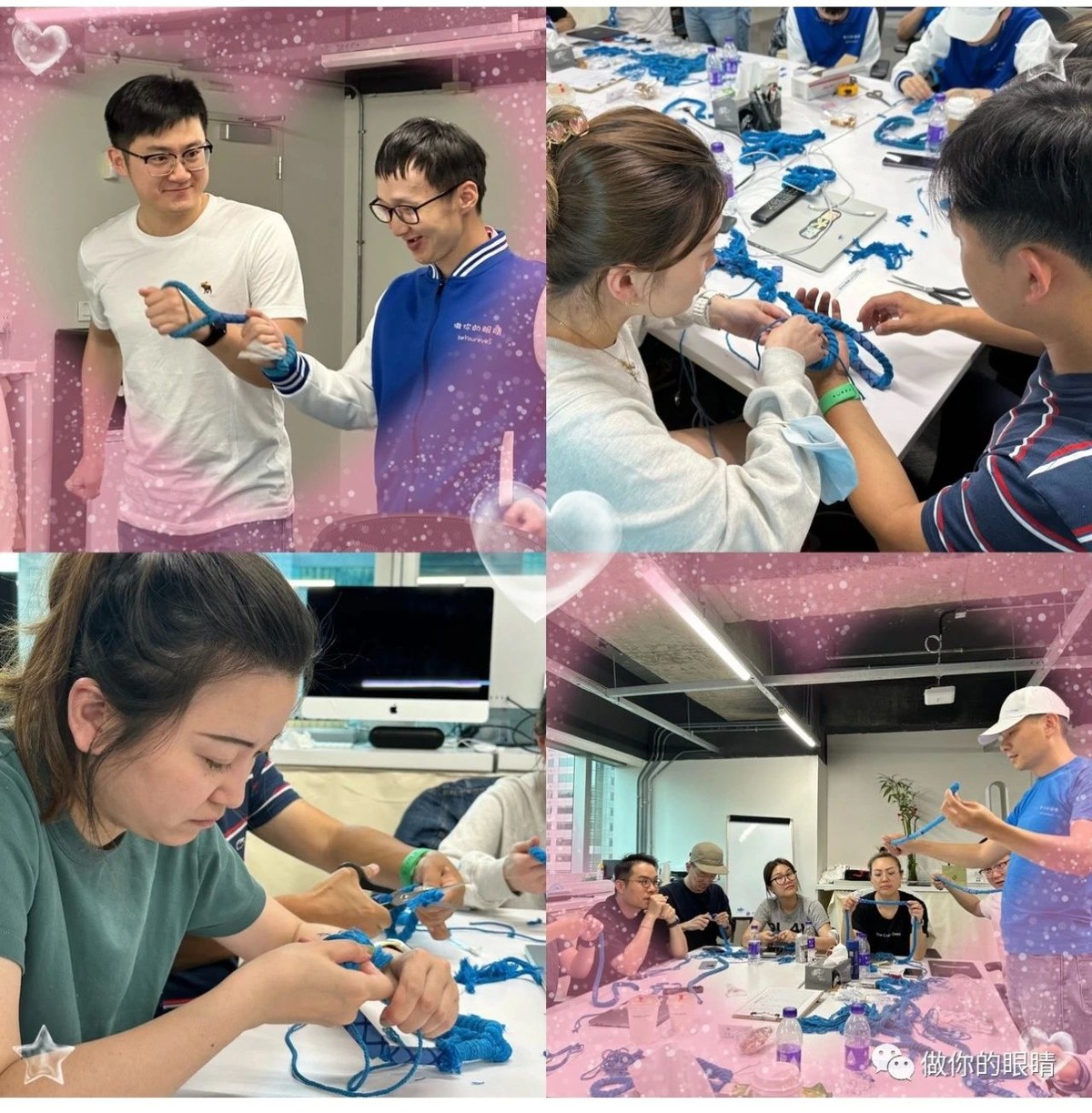 Photo: Volunteers making running tethers
总结前几次编织陪跑绳活动的经验,蓝睛灵优化了操作流程,包括蓝睛灵的视障工作人员在内,每一位参与者都顺利编织出一根陪跑绳。
Upon some reflections on previous tether-making activities, Lanjingling improved the production's efficiency by reorganizing the assembly process. By the end of the activity, everyone, including visually impaired Lanjingling representatives, were able to make a running tether.
2. Lanjingling CSR with Standard Chartered Bank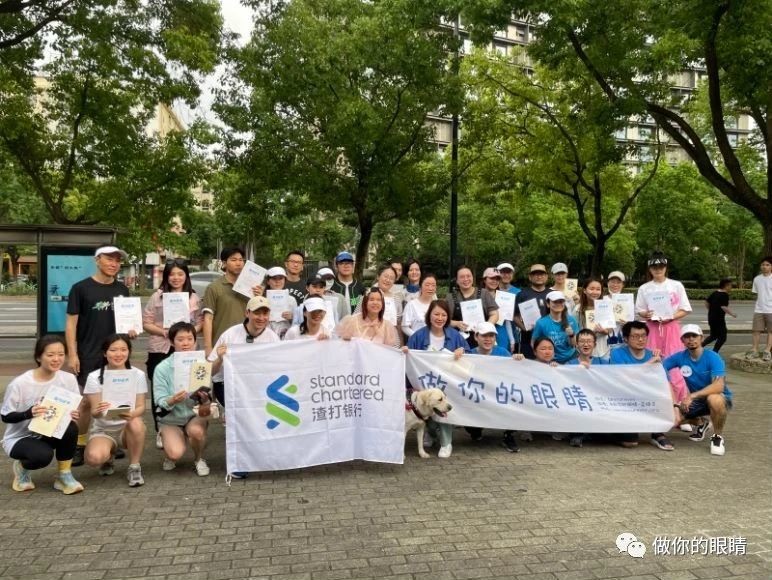 图:蓝睛灵、和众一起与渣打银行完成CSR社会责任共建
Photo: Lanjingling CSR with Hezhong and Standard Chartered Bank
6月11日下午,在世纪公园,蓝睛灵与和众一起为渣打银行的志愿者们带来了一场企业CSR活动。
活动中,两组无障碍引导师分别带领参与者们体验了游戏,了解了与视障者沟通的礼仪以及引导视障者的方法。
In the afternoon of June 11th, at Century Park, Lanjingling presented a CSR event for volunteers at Standard Charter Bank.
During the event, two accessibility mentors each led a group of participants in activities. They learned the etiquettes of communicating with visually impaired people and practiced the correct method of guiding a visually impaired person.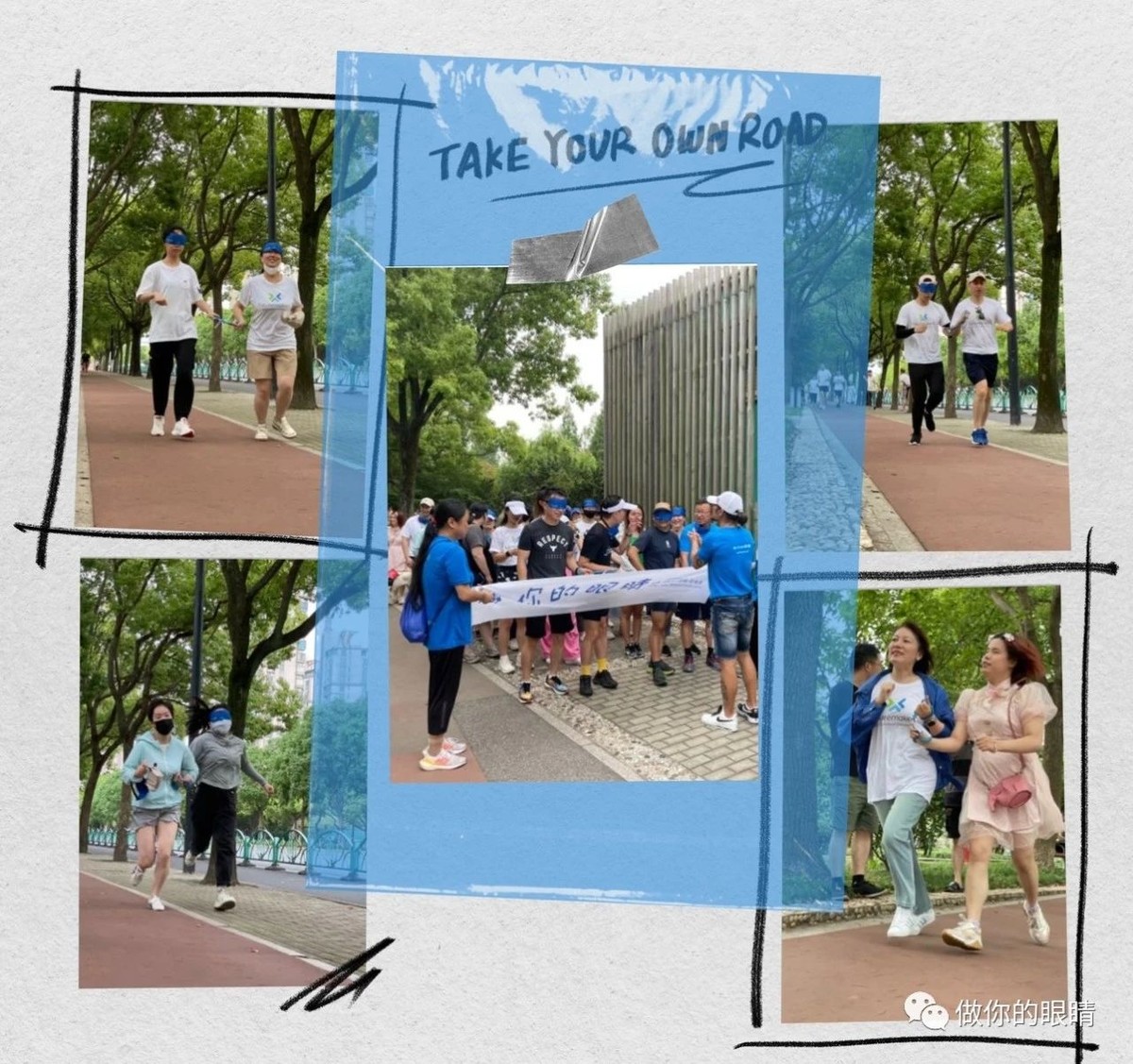 图:无障碍引导培训后再来一场陪伴与信任共行的短跑比赛
Photo: Short-distance running race after accessible guidance training
无障碍意识工作坊后,视障女创业家,同时也是蓝睛灵的无障碍意识引导师之一的马寅青也与渣打的小伙伴们分享了她创业的经历,以及她与导盲犬盖亚的故事。
After the accessibility promotion workshop, Yinqing Ma, a visually impaired entrepreneur and one of Lanjingling's accessibility consciousness mentors, shared her journey in entrepreneurship and her experiences interacting with a guide dog named Gaia (Gai Ya).
3. Lanjingling CSR with Blackmores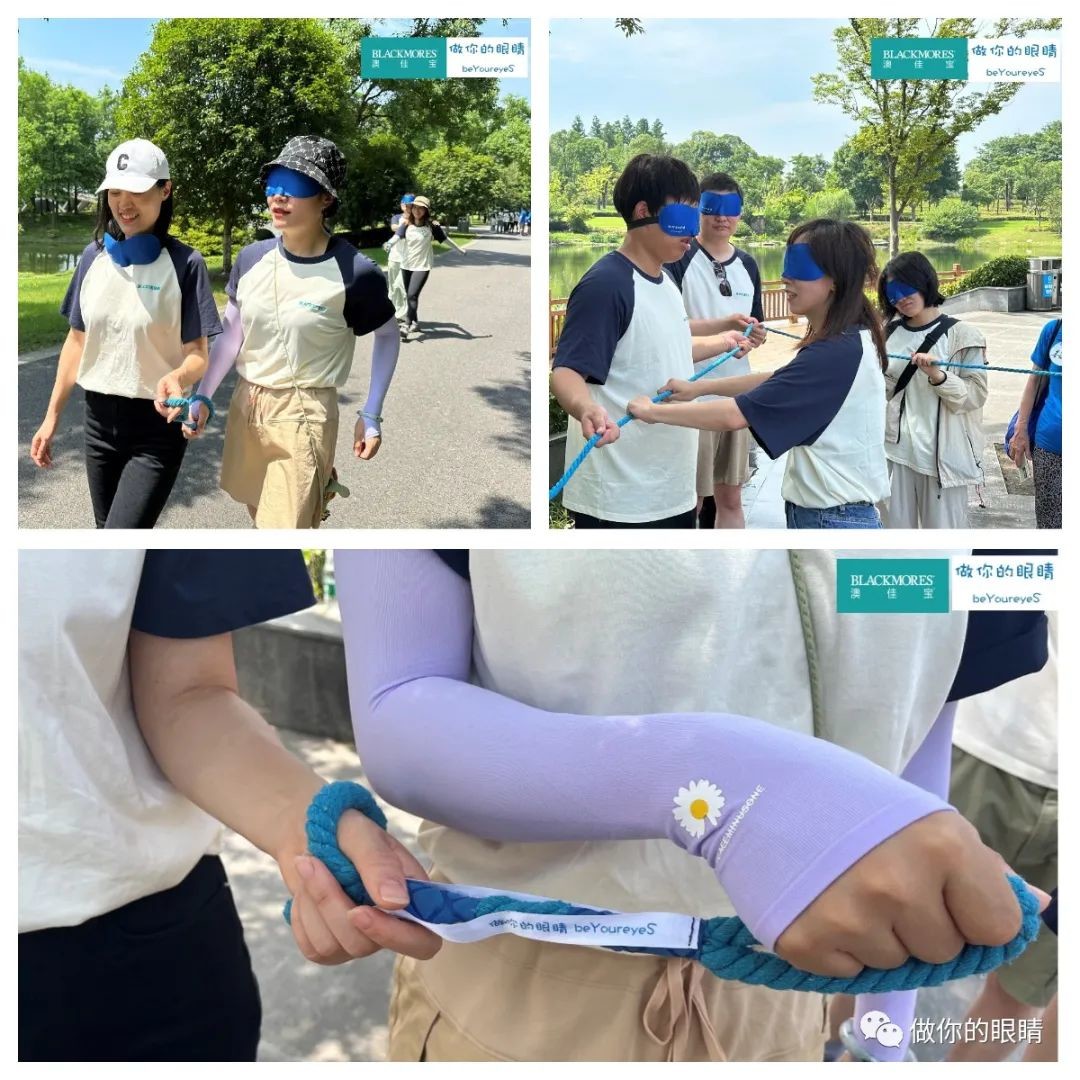 Photo: Blackmores accessibility workshop
6月28日上午,在申城陆陆续续的阴雨天后,迎来了一个火热的盛夏天气。在闵行文化公园,也迎来了热情参与企业CSR活动的澳佳宝的志愿者们。
本次体验式公益活动中,蓝睛灵的3组无障碍引导师带领大家体验游戏、了解视障群体的生活,在参与过程中感受无障碍的理念。
In the morning of June 28th, after an extended period of cloudiness and rain in Shanghai, the summer sun finally emerged with a glaring debut. At Minhang Cultural Park, corporate volunteers from Blackmores joined the CSR event with energy that would put the sun to shame.
During this experience-based event, three Lanjingling accessibility mentors led participants in playing games, learning about the visually impaired community, and understanding the ideals of accessibility through first handed experience.
Lanjingling's Gifts to Students at the School for the Blind
See the monthly headline for details.
This marks the end of this month's newsletter, thank you for reading, see you next month.