2023年7月,蓝睛灵第三次载入《Apple中国企业责任报告》。
本月蓝睛灵共开展5期周末融合活动、1场企业社会责任(CSR)活动、参与2场高中生夏令营活动,以及做你的眼睛-苏州周年庆祝活动。
In July 2023, Lanjingling was mentioned in Apple China's Corporate Report for the third time.
This month, Lanjingling carried out 5 weekend inclusive activities, 1 CSR activity, 2 high school summer camp activities, and beYoureyeS-Suzhou anniversary celebration.
翻译 Translator:童雨萱 Barbie TONG 王弘毅 Yoyo WANG
编辑 Editor:张睿莹 Rain ZHANG 李纪元 Annie LI
蓝睛灵编辑部 Lanjingling Editorial Office
Release date:Oct 8st, 2023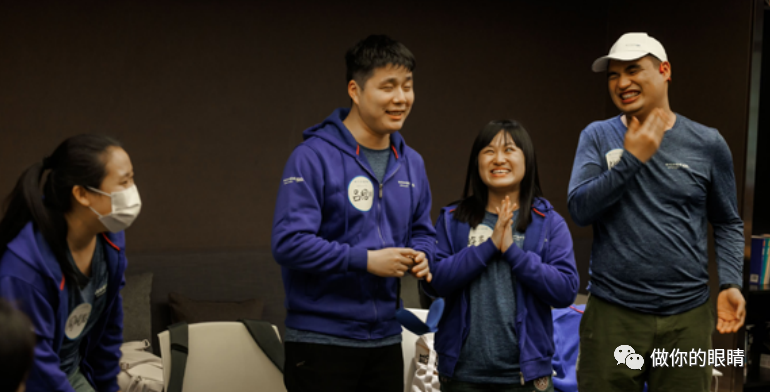 图:吕绍川参加"百日计划"3期活动(图源:Apple中国企业责任报告(2022-2023))
Photo: Shaochuan Lv at the "100 Day Engagement" third term program (source: Apple China CRR 2022-2023)
Lanjingling mentioned in Apple China's Corporate Report for the third time
近日,蓝睛灵凭借视障者职场赋能"百日计划"项目,第三次载入Apple中国企业责任报告。
在Apple中国企业责任报告(2022-2023)中,记录了"百日计划"3期优秀学员吕绍川参加企业分享会讲述其求学和追寻音乐梦想的故事。
图:吕绍川参加"百日计划"3期活动(图源:Apple中国企业责任报告(2022-2023))
Recently, Lanjingling was mentioned in Apple China's Corporate Report for the third time with success in its "100-Day Engagement" program.
Apple China's Corporate Report (2022-2023) includes the story of Shaochuan Lv, an outstanding student from "100-Day Engagement" who pursued his dreams in music and an education career.
Picture: Shaochuan Lv at "100-Day Engagement" third term program
报告中指出:2020 年起,Apple与蓝睛灵进一步合作,开展 "做你的眼睛"视障者职场赋能"百日计划"项目,为有志于尝试融合就业的视障者提供学习与交流、提升职场专业技能、拓展职业化理念的机会,并通过集中课程和单独辅导让更多特殊需求群体在社群中了解求职知识和经验,发现自身价值。
The report mentions: since 2020, Apple and Lanjingling had been furthering their cooperation. We've carried out the "100-Day Engagement" program which aimed to provide students with opportunities in learning and communication, professional skills enhancement, and expansion of professionalism. It targeted visually impaired people who accept inclusive employment, and let minority groups learn job-related information, seeking their own values through intensive curriculum and individual tutoring.
"百日计划"已经进行了3期,第三期于 2022年11月27日至2023年3月12日开展。活动期间,Apple志愿者积极参与,帮助设计课程,在小组讨论和一对一指导中担任导师,并在线上线下活动中担任主持人。总的来说,项目为视障者提供了一个宝贵的赋能和技能发展平台,促进了多元融合就业机会的实现。详细内容,请点击下方链接了解。
The "100-Day Engagement" program has had three terms, the third of which lasted from November 27th, 2022 to March 12th, 2023. During the program, Apple volunteers played an active role in designing the course, mentoring and guiding group discussions, supporting one-on-one tutoring, and serving as hosts in online and offline activities. Overall, the project provides a valuable platform for skill development for the visually impaired and could help achieve diverse and inclusive employment opportunities. More information can be found in the link.
在报告第28页,还配图记录了蓝睛灵视障引导师晓艳关于无障碍功能的 Today at Apple 课程。
Page 28 of the report introduces Lanjingling's visually impaired tutor Xiao Yan's course at Today at Apple on accessible modules.
REGULAR WEEKEND ACTIVITIES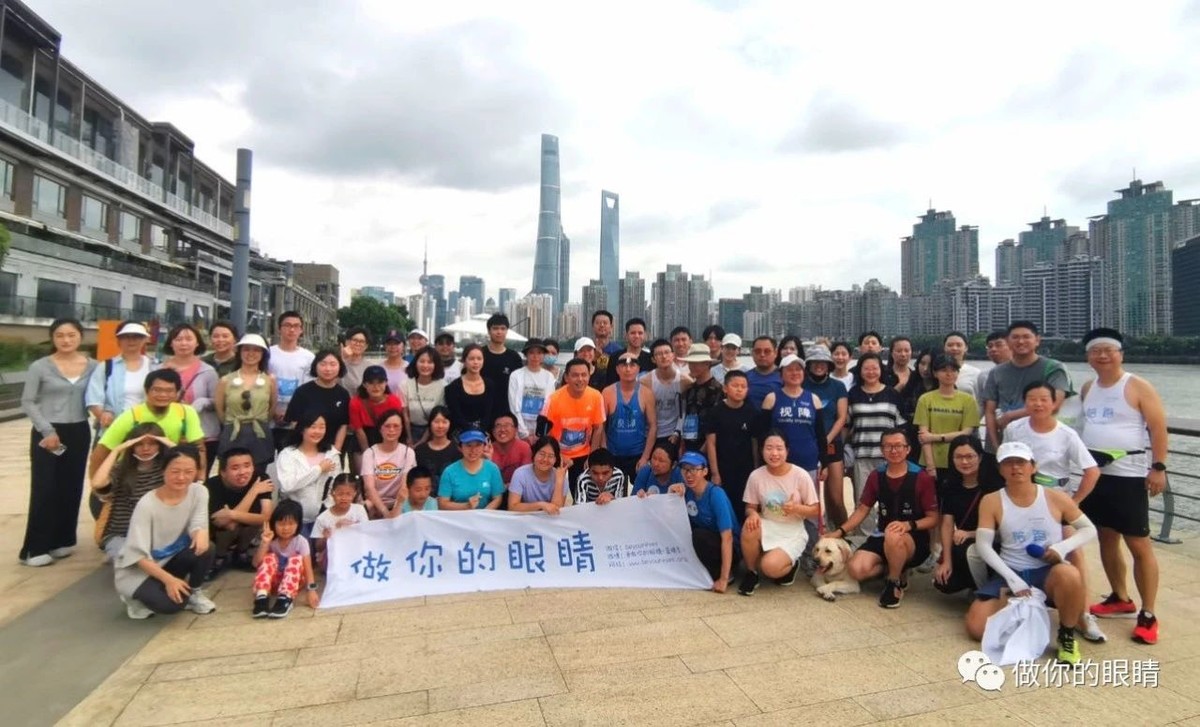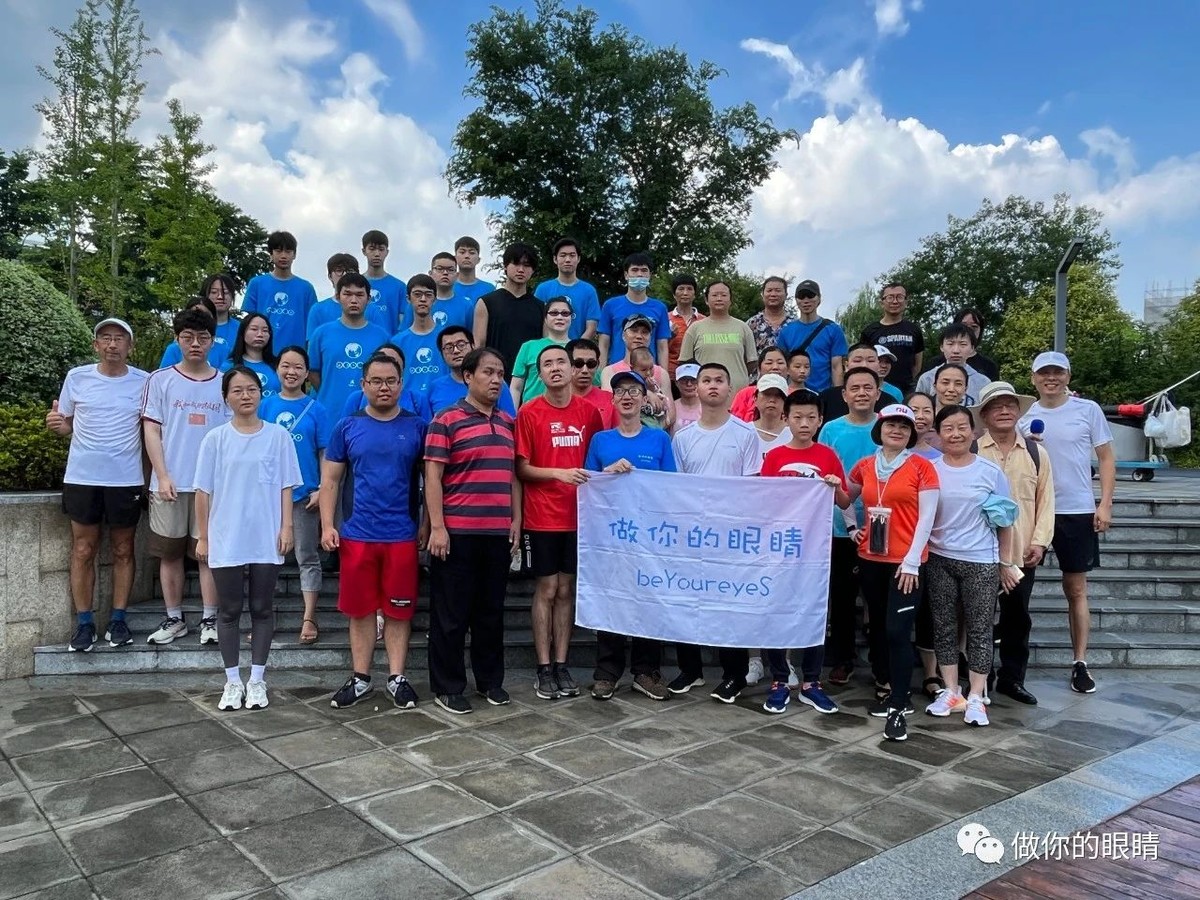 Photo: Weekend inclusive activity - group photo
做你的眼睛第336期至第340期周末融合活动于7月2日、9日、16日、23日和30日在闵行文化公园、世纪公园、黄浦滨江和古美公园开展。
本月的挑战100是箭步蹲项目,最终的挑战榜单如下:
开展一年整的挑战100比赛在本月暂告一段落,欢迎蓝睛灵们在日常增加锻炼,开心运动。
The 336th to 340th weekend inclusive activities were carried out on July 2nd, 9th, 16th, 23rd, and 30th at Minhang Cultural Park, Century Park, Huangpu bund, and Gumei Park respectively.
This month's Challenge 100 was a lunge activity. The results are as follows:
First place: Bo Yin (guide runner), 49 reps
Second place: Clark Chen (visually impaired), 19 reps
First place: Qiana Zhu (guide runner), 87 reps
Second place: Yilin Wang (guide runner), 78 reps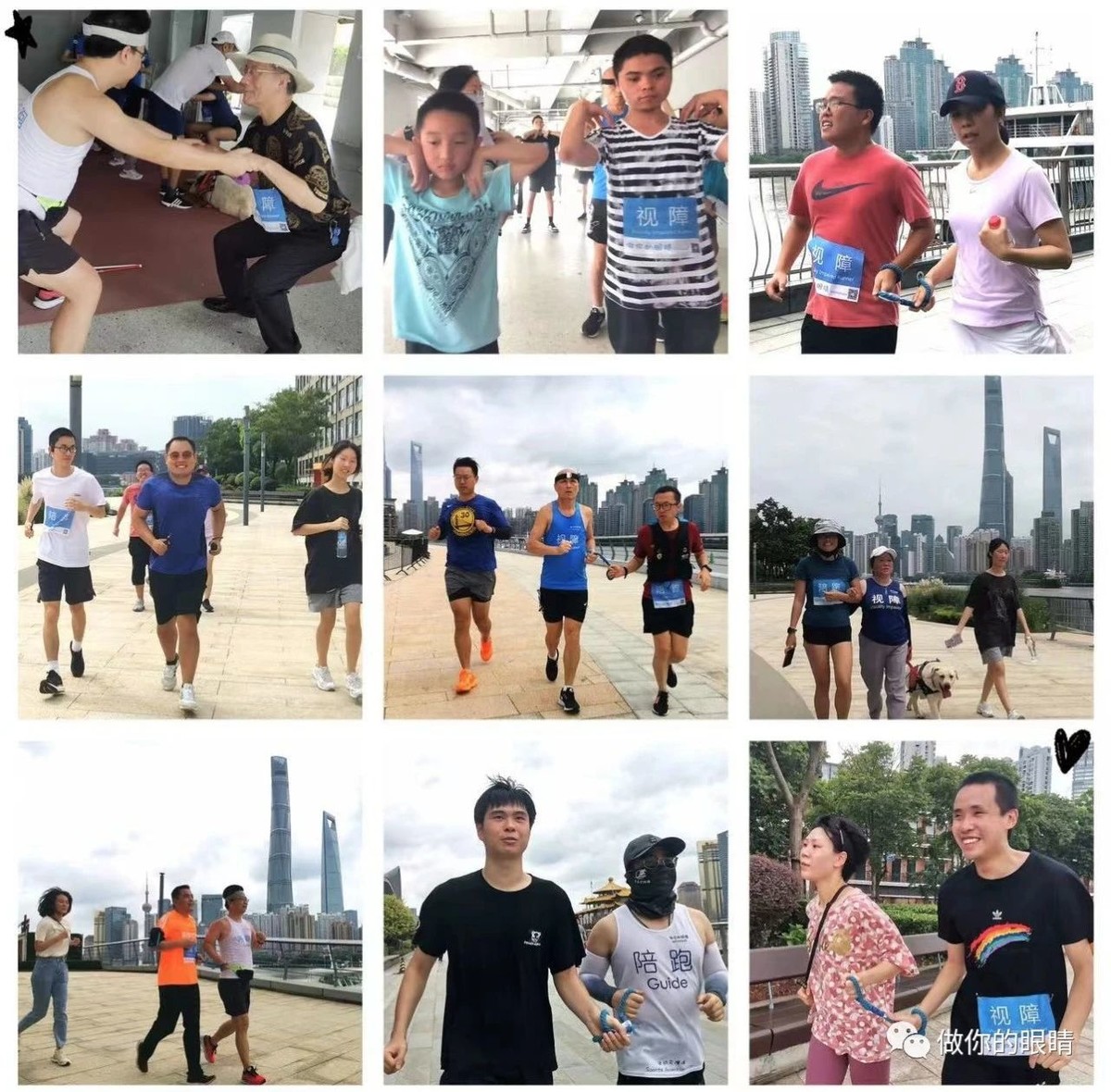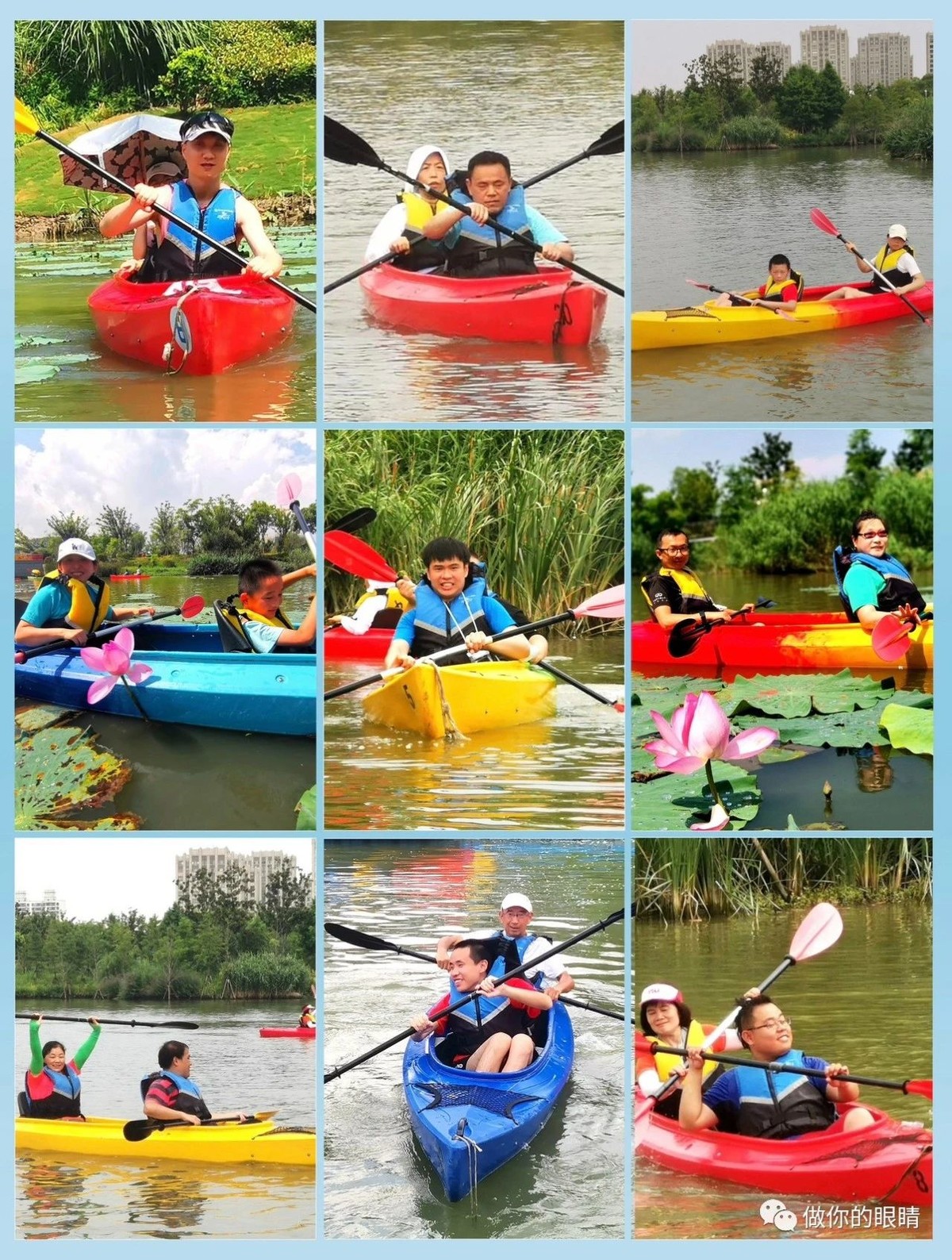 Photo: Running and kayaking, chatters and laughters
在世纪公园开展的第337期活动中,虞滔和北纬队长考核了瞿任杰同学,在不时下起的小雨中瞿同学顺利地通过了大白考核,成为了23年下半年第一位大白陪跑员。
7月,杨依令和金荣庭两位视障者加入了蓝睛灵大家庭。他们参加活动后感受到了蓝睛灵的平等、融合的氛围,积极参加后续的活动。
In the 337th activity, Yutao and captain Beiwei assessed Renjie Qu in a Dabai test. He successfully passed the certified guide runner assessment.
In July, Lanjingling welcomed two new members, Yiling Yang and Rongting Jin. They felt the inclusive atmosphere of Lanjingling, and began actively participating in beYoureyeS activities.
Corporate Social Responsibility Activities
Photo: Corporate volunteers completed the tether-weaving activity
Weaving running tethers with a high-tech company
7月20日下午,蓝睛灵在世纪大道的办公楼,与某高科技企业的30多位志愿者一起开展了编织陪跑绳活动。主持人松松在开场时介绍了蓝睛灵的理念以及开展的各项活动,还分享了陪跑绳及无障碍运动对视障者的重要意义。而后,参与者们齐动手,高效率地完成了编织陪跑绳的任务。
In the afternoon of July 20th, Lanjingling visited the office building of a high-tech company at Century Avenue and carried out a tether-weaving activity with around 30 volunteers from the company. The host, Songsong, introduced Lanjingling and the art of tether-weaving, and she talked about the importance of the running tether and accessible sports for visually impaired people. The participants efficiently completed the task of weaving the running ropes.
1、芥梧科技与蓝睛灵视障团队共同开展的包容性设计夏令营活动圆满结束
1. Successful completion of inclusive summer camp by Mustard Tek and Lanjingling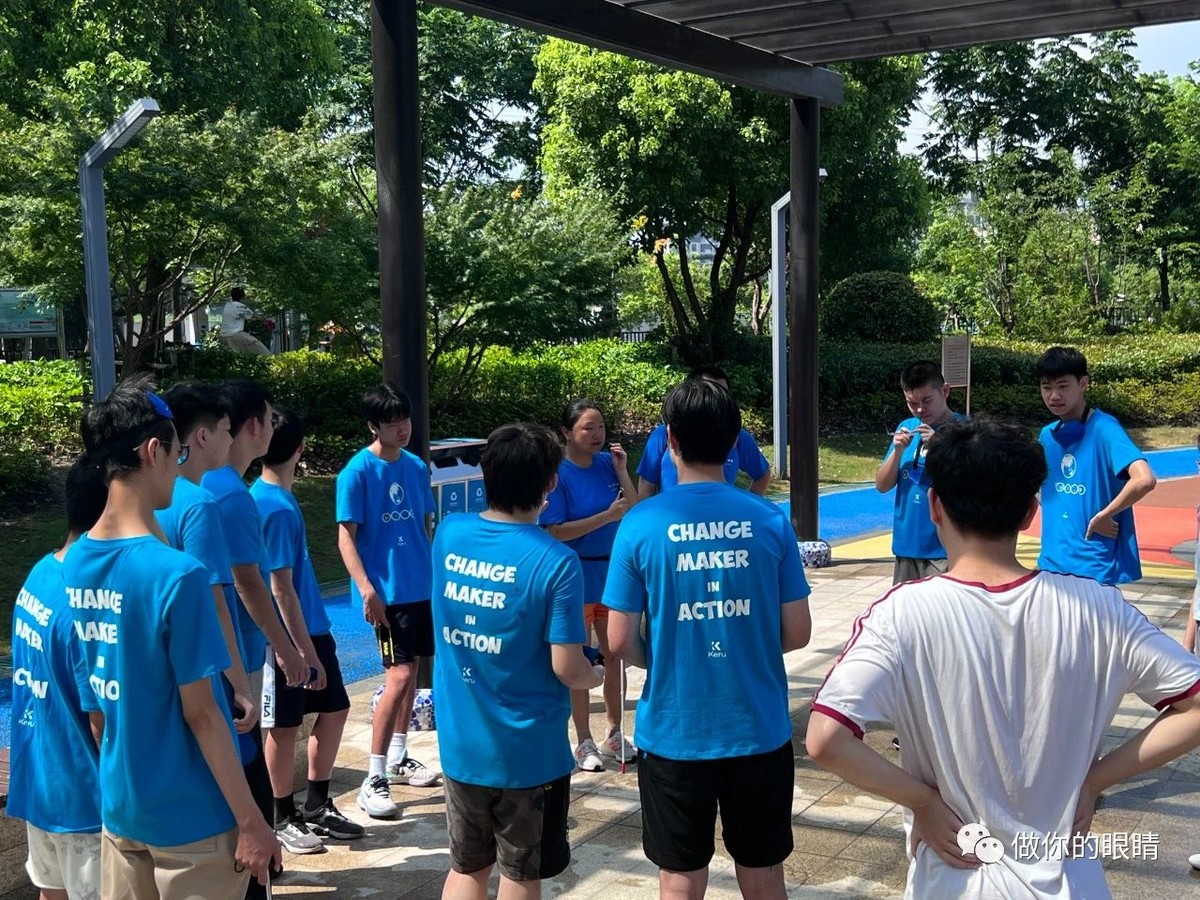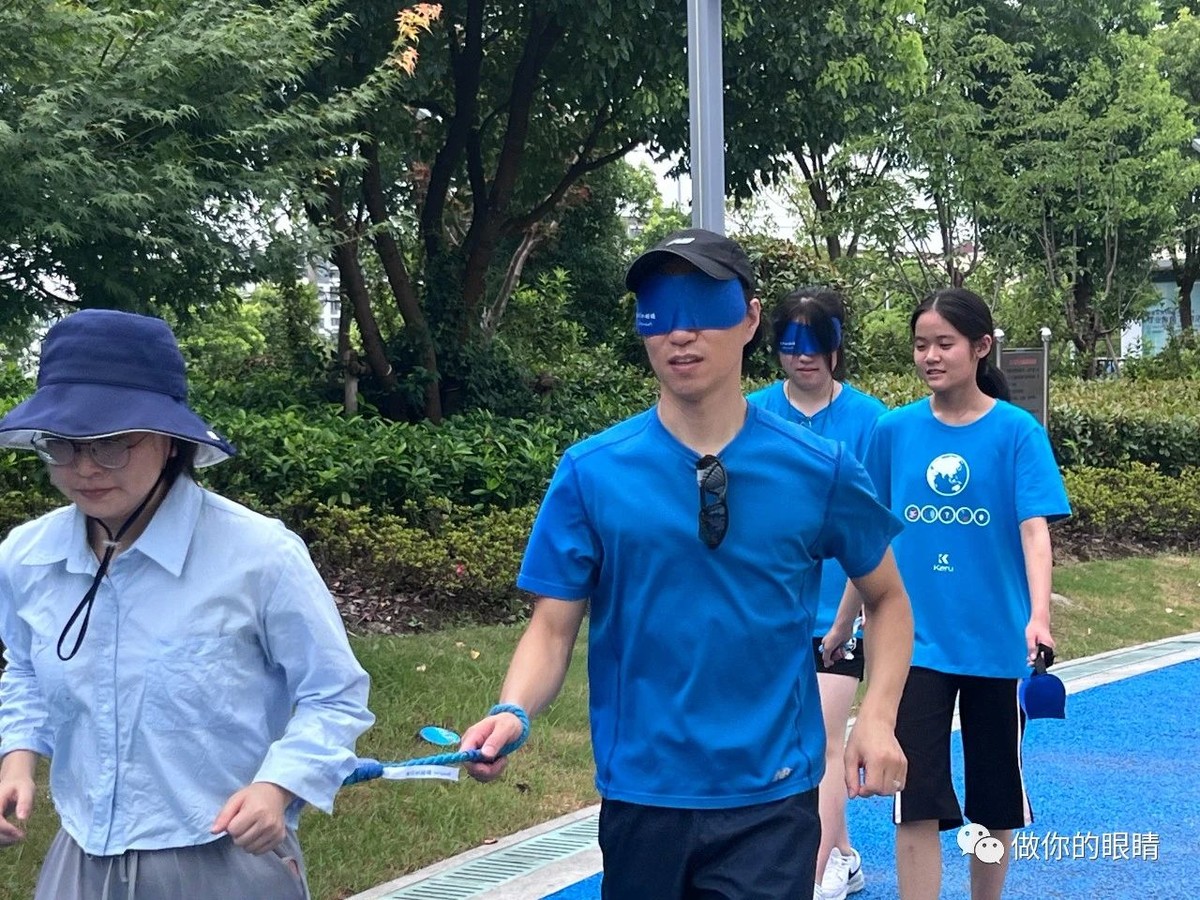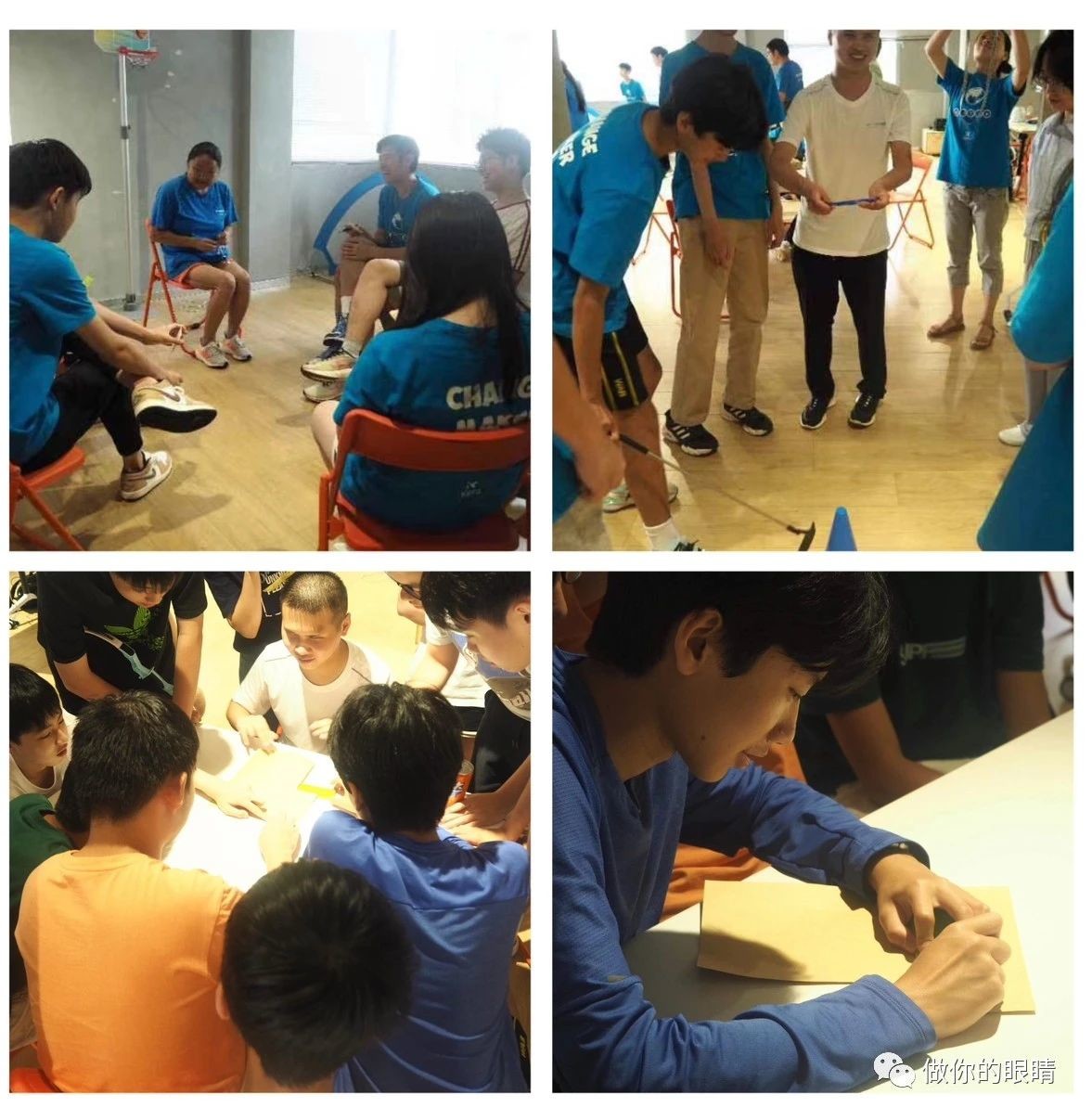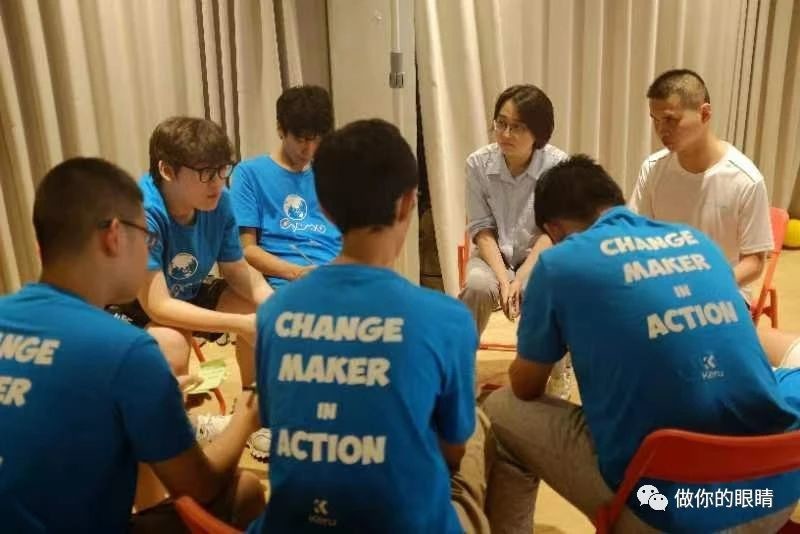 图:夏令营中同学们无障碍引导培训与体验,与蓝睛灵视障引导师讨论和动手实践
Photo: Summer camp students performing accessible guidance training & hands-on practice with Lanjingling tutors
7月14日至7月22日,蓝睛灵的视障伙伴受芥梧科技邀请,参加了包容性设计高校夏令营活动。本次活动的主题是包容性运动。学生和视障者一起确定设计方向、完善设计细节。这些设计可以让视障者更好地参与运动。通过蓝睛灵视障伙伴与学生的接触,学生们了解到了视障者在生活中的状态,也完成了多项无障碍运动设计。
7月22日,多位蓝睛灵的视障者受邀体验了学生们设计的无障碍运动项目,感觉非常有趣,可以和健视者一起娱乐和运动。
From July 14th to July 22nd, Lanjingling was invited by Mustard Tek to participate in an inclusive high school summer camp. The theme of the activity was inclusive sports. The students and the visually impaired worked together to finalize the design and perfect the details. The students knew about the visually impaired community by working and interacting with visually impaired partners in accessible sports programs.
On July 22nd, multiple visually impaired partners were invited to experience the accessible sports designed by the students. They felt it was an engaging and fun experience to do sports with sighted people.
2. Lanjingling was invited to the sharing session for information accessibility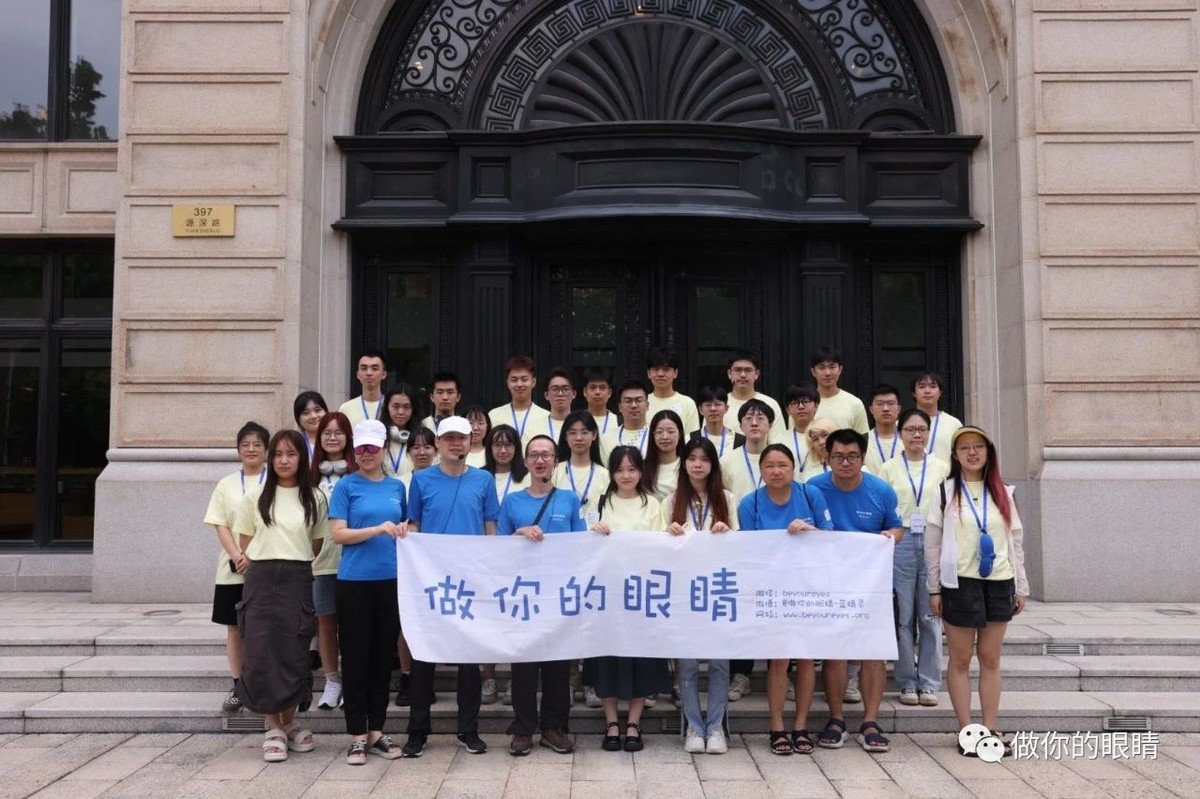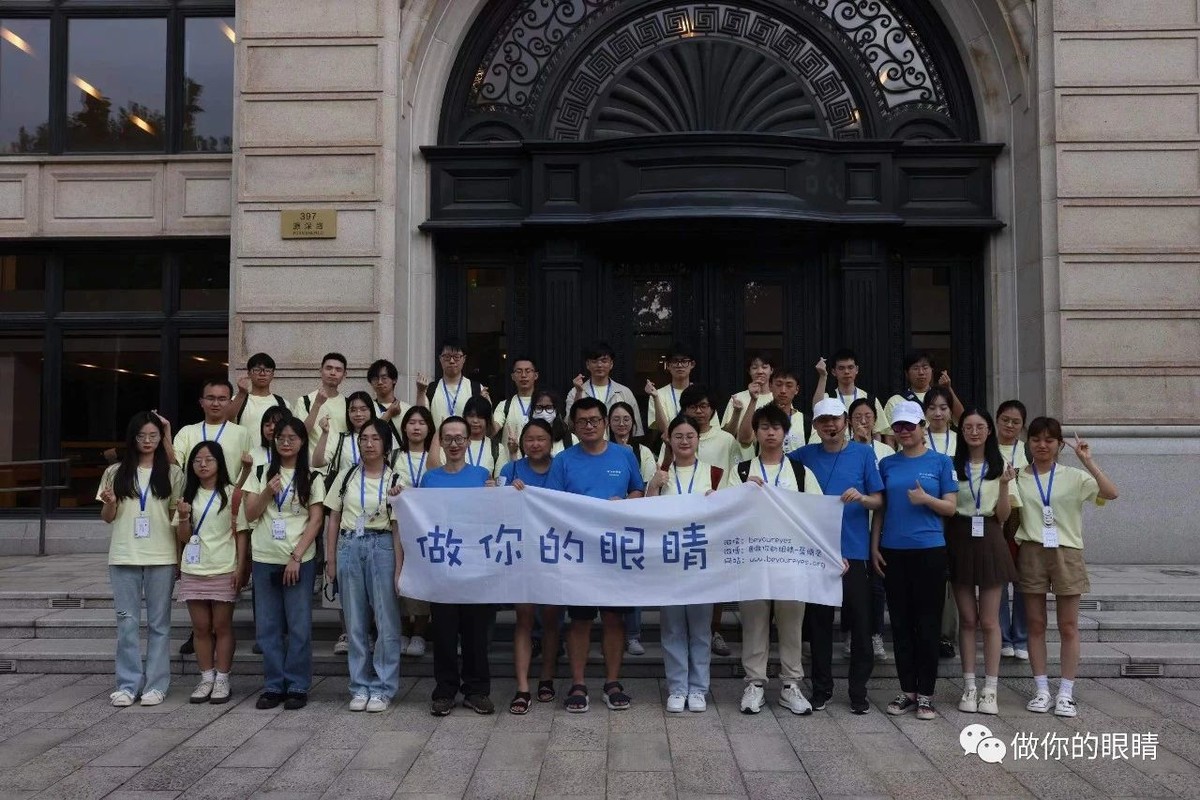 图:蓝睛灵参加高校计算机大赛中无障碍应用需求及体验分享活动与同学们合影
Photo: Lanjingling at the national collegiate computing mobile application innovation contest: information accessibility sharing session
7月15日,蓝睛灵们受邀来到源深路科技园区,作为信息无障碍主题的分享嘉宾参加了共建融合活动。本次分享活动分上下午两场,参与者为参与中国高校计算机大赛 —— 移动应用创新赛的近80位高校学生。
蓝睛灵们向同学们分享了信息无障碍的内容,引导同学们参加了无障碍意识工作坊,让学生们全面了解视障群体,为以后开发出更无障碍的APP打下基础。
On July 15th, Lanjingling was invited to Yuanshen Road Science and Technology Park to participate in the collaborative inclusive activity as guests of the information accessibility talk. The talk was divided into the morning session and the afternoon session. Participants were the 80 college students who participated in the national collegiate computing mobile application innovation contest.
The representatives shared about the content of accessible information and guided the audience to take part in accessibility workshops to gain a comprehensive understanding of the visually impaired group. They also laid out a foundation for the development of accessible applications.
3、蓝睛灵代表参加"做你的眼睛-苏州"7周年庆祝活动
3. Lanjingling representatives attended "beYoureyeS-Suzhou" 7th anniversary celebration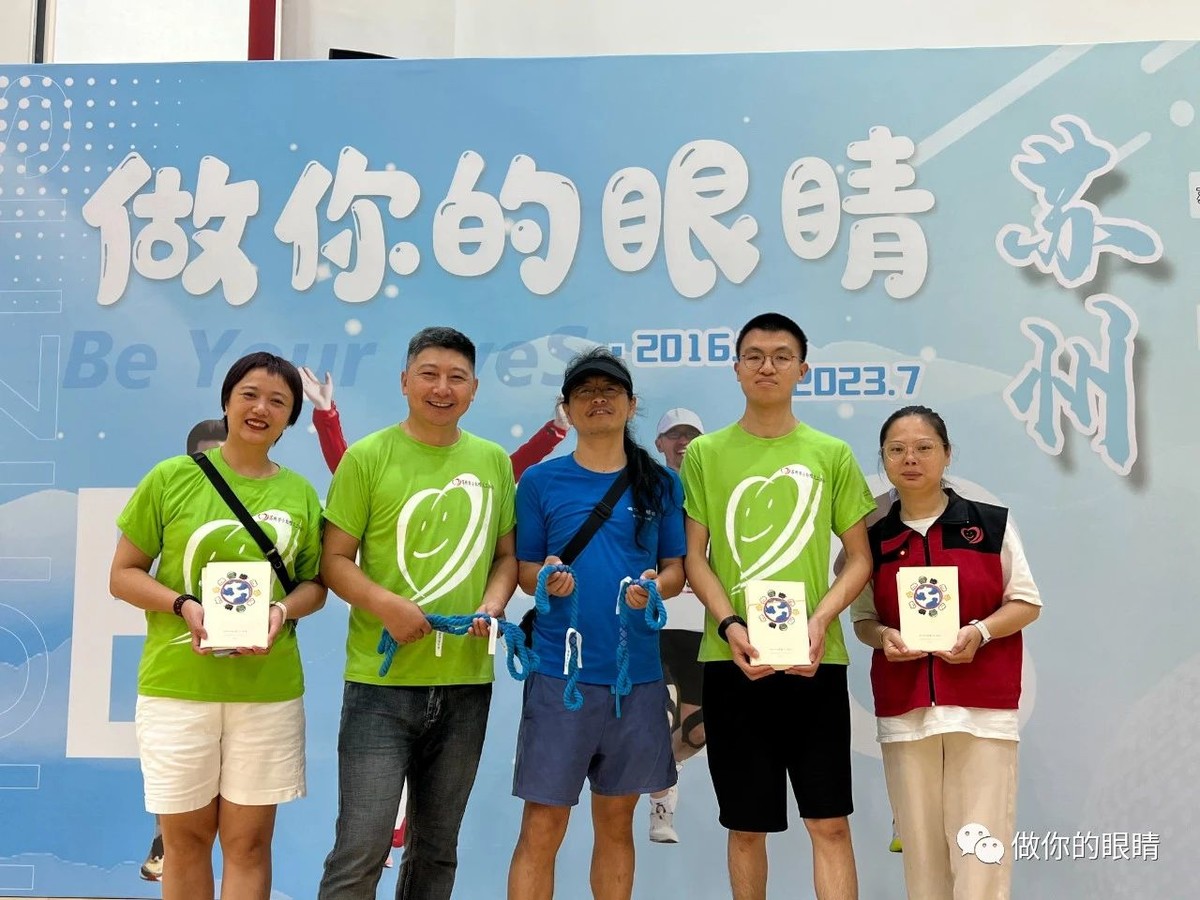 图:上海蓝睛灵参加做你的眼睛-苏州的7周年庆祝活动
Photo: Shanghai Lanjingling at the 7th anniversary of beYoureyeS Suzhou
7月15日周六,做你的眼睛-苏州7周年庆在苏州残疾人活动中心进行,除了有视障伙伴、陪跑员、苏州小红帽协会的志愿者、残联领导还有一家企业领导和员工们也参与其中。
周年庆活动安排了培训体验、还有游戏和比赛,活动现场好不热闹,随后又在一起进行了分享、回顾、颁奖。上海蓝睛灵组织派代表参加了活动,并向苏州组织赠送了"做你的眼睛8周年纪念册"及由企业志愿者编织的蓝色陪跑绳。
On Saturday, July 15th, beYoureyeS-Suzhou's 7th anniversary celebration took place at the Suzhou Center for People with Disabilities. Participants included visually impaired partners, guide runners, volunteers from Suzhou Little Red Cap Volunteers Association, leaders of Disabled Person's Federation, and company employees. The anniversary celebration included training experience and games, as well as sharing, reviewing, and awarding sessions. Lanjingling representatives attended the celebration and presented "beYoureyeS 8th Anniversary Booklet" and blue running tethers woven by the company's volunteers.
This marks the end of this month's newsletter, thank you for reading, see you next month.
做你的眼睛是一个民间自发的公益活动,于2015年1月在上海发起,致力于推动运动无障碍,让视障者参与运动变得简单。
beYoureyeS is a local NGO founded in January 2015, in Shanghai, and is dedicated to promoting sports accessibility, making it easier for those who are persons with visual impairments to enjoy sports.
在我们的活动中,无论视障者,还是健视者,都称呼彼此为蓝睛灵,我们的公益组织也叫这个名字。
Whether a runner with visual impairment or unimpaired runner, all of our participants are called "Lanjingling", which is also the name of our NGO.
Lanjingling's vision, mission, and core values
Vision: allow everybody to live in an accessible society
Mission: promote development towards an accessible society through diversity and inclusion focused events
Core Values: Diversity, Inclusion, Equality, Empowerment
体验式公益活动、企业社会责任CSR活动、校园融合活动、赛事活动,职场赋能计划;
Weekly running activity, CSR activity, school inclusion activity, race, Vocational-education program
看健100 、绳上100 、挑战100、职场赋能百日计划
Fitness 100, Rope 100, Challenge 100, 100Days Engagement
WeChat id: beyoureyes or scan QR code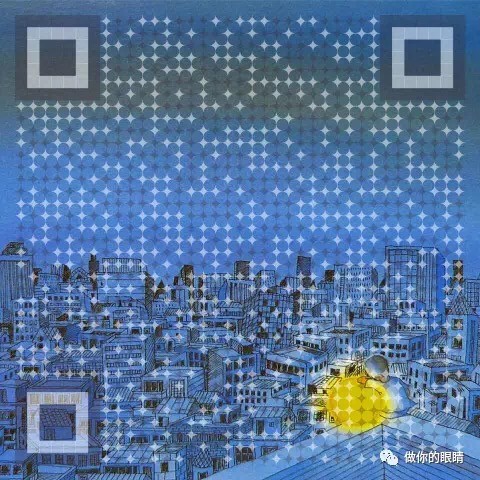 We hope that whilst we're in the competition together,
we may all converge our energy as one to make each and all strong,
We hope that whilst doing sports together,
we are able to find the nerve to be strong enough to face challenges head on.