2019年8月,发布了蓝睛灵2019年上半年大数据汇总,共开展3期常规活动,开启了2场重要赛事的报名,发布蓝睛灵2019年度赛事,蓝睛灵筹款活动——做你的眼睛"绳上100"百公里接力公益挑战赛,参加1场校园活动,1场企业社会责任(CSR)活动,4场特别活动。
In August 2019,we released data summation of the first half-year of 2019,hosted three regular weekend activities,initiated the registers for two important running events,announced the 2019 Lanjingling annual event which is the Lanjingling fund-raising---the beYoureyeS "Rope 100" Relay Challenge,carried out 1 school-inclusive activity,1 CSR activity and 4 specials.
文字 Writer:晓斌 Clark
翻译 Translator:泱而 、弘毅
Neville、Yoyo
编辑 Editor:阳芷 Yangzhi
蓝睛灵编辑部 Lanjingling Editorial Office
发布日期:2019/9/11
2019上半年总结发布
Newsletter of the first half-year of 2019 are released
8月2日,蓝睛灵编辑部发布了《蓝睛灵特刊 | 2019上半年跑过的路》。
On August 2, Lanjingling Editorial Office released <<Lanjingling special newsletter | Paths ran in the first half-year of 2019>>.
2019年1月1日~2019年6月30日间,蓝睛灵各项活动参与人次为2071人次,其中包含视障者445人次,上半年跑过的里程约为11,795公里,上半年的活动时间约为8,339小时,常规活动21期。
From January 1, 2019 to June 30, 2019, the number of participants joining beYoureyeS activities was 2017, including 445 visually impaired participants, the total distance ran was approximately 11,795 kilometers and the total duration of BeYoureyeS activities summed to 8,339 hours, 21 regular weekend activities were held.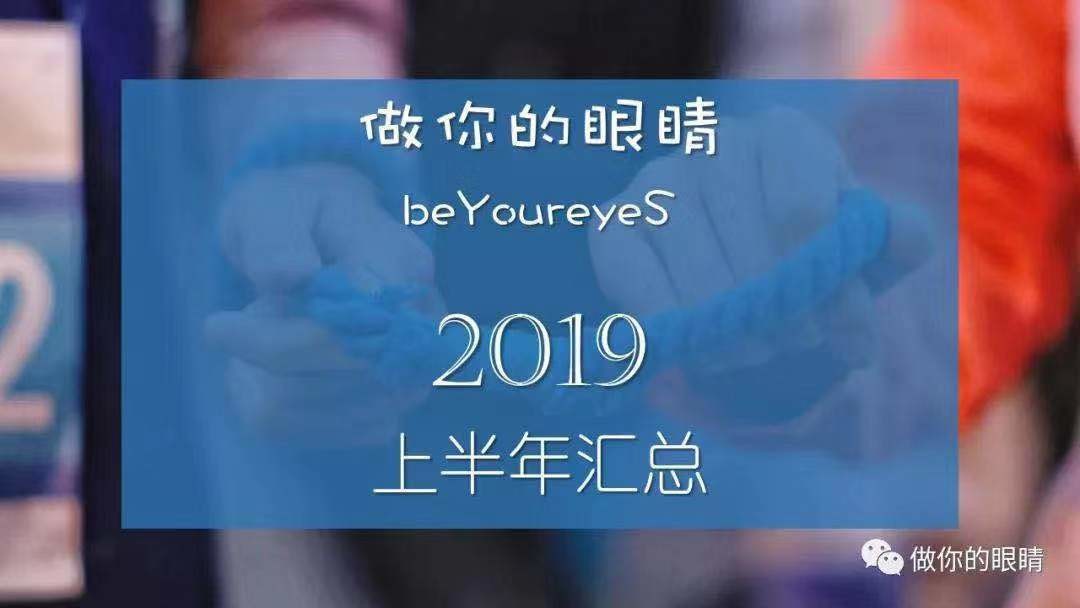 参与的赛事活动14场、校园与职场教育活动3场、CSR & 企业专场活动12场。
Lanjingling has participated in 14 races, held 3 school-inclusive / vocational training activities and joined 12 CSR & corporate specials.
自"做你的眼睛"成立至2019年6月底,活动参与总人次约15,523人次,总服务时间约67,574小时。
From the day beYoureyeS was established till the end of June 2019, beYoureyeS welcomed 15,523 participants in total, hosting voluntary service for approximately 67,574 hours.
总结分为十大版块
一、蓝睛灵大数据
二、GSMP美国之行
三、做你的眼睛四周岁生日会
四、协办与参与的体育赛事
五、企业社会责任(CSR)活动
六、校园融合活动
七、特别活动
八、每周一句
九、蓝睛灵双语月刊
十、蓝睛灵周刊,蓝睛灵的故事等
The summary is divided into ten sections
1. Lanjingling Data Summation
2. GSMP trip to the U.S.
3. The 4th year anniversary of beYoureyeS
4. Athletic events co-organized/joined
5. CSR events
6. School-inclusive activities.
7. Special events.
8. Quote of the week
9. Lanjingling bilingual monthly newsletter.
10. Lanjingling weekly newsletter, Lanjingling stories and more
常规活动
REGULAR WEEKEND ACTIVITIES
做你的眼睛第179期至181期的常规陪跑活动于8月4日、18日、25日在新虹桥中心花园、世纪公园、闵行文化公园开展。原定8月11日常规活动,因台风取消。
The 179-181 beYoureyeS regular weekend running activities took place on August 4, August 18 and August 25 at New Hongqiao Greenland, Shanghai Century Park and Minhang Cultural Park respectively. The scheduled regular weekend activity on 11th of August was cancelled due to the Typhoon.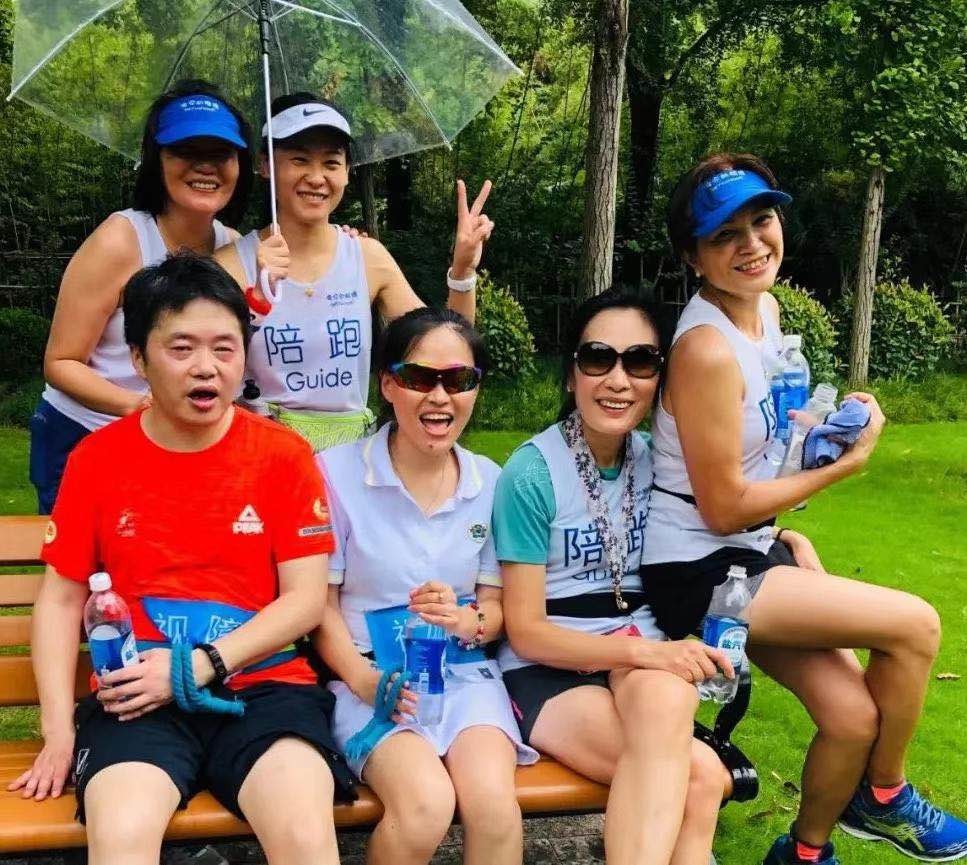 在18日的常规活动中,新诞生了两位大白陪跑员顿唯和吴建彬。两位都是今年7月7日第一次参加新人活动的陪跑员。
In the regular weekend activity August 18, Dunwei and WU Jianbin got qualified as Dabai that meant they were qulified guide runners. Both of them were first attended the activity on July 7 this year.
顿唯感言:回看活动中的照片,毫不掩饰的笑脸,一切都生机盎然。每次周日参加活动都让我仿佛重回孩提时代,无忧无虑,感受到更多生命的本真,多一些纯粹与简单的快乐。希望跟随蓝睛灵继续跑下去。
With emotions said Dunwei: reviewing the photos taken during the day, I saw genuine smiles and brilliant vibrancy. Every weekend activity reminded me of my childhood: free from anxiety, experiencing the authenticity of life with plenty of pure happiness. Hopefully I will keep running with Lanjingling.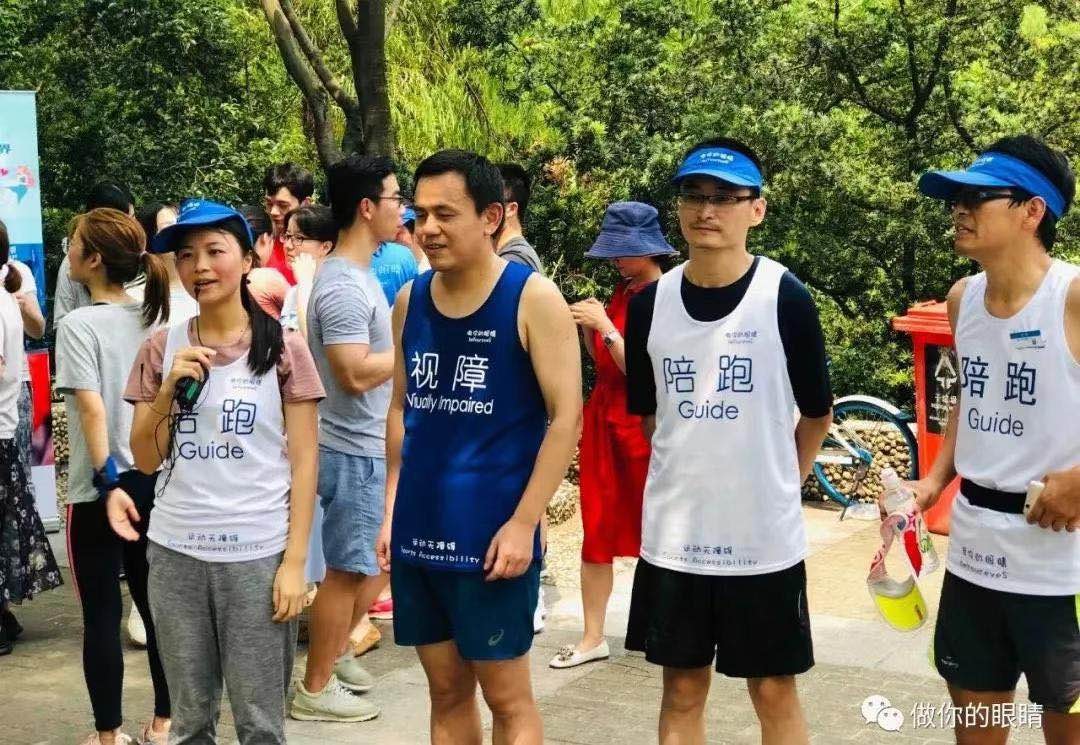 吴建彬表示:因为跑步,我接触到做你的眼睛这个公益活动,因为做你的眼睛,结识了一群可爱的蓝睛灵。蓝睛灵积极、阳光、向上的心态深深感染了我,今后让我们一起去帮助更多视障者,推动运动无障碍。
WU Jianbin said: I got in touch with beYoureyeS because I loved running, and hence I became friends with the adorable Lanjingling. The positivity, brightness and vibrancy of Lanjingling touched my heart. From now on, let's go and support more visually impaired individuals and promote sports accessibility.
英语角
8月18日,蓝睛灵常规活动之后,第一期蓝睛灵英语角在小伙伴们的期待中开班啦,25日开展了第二期蓝睛灵英语角。
English Corner
On August 18, after the regular weekend activity, the first lesson of Lanjingling English Corner was held in the high expectation, the second lesson was held on August 25.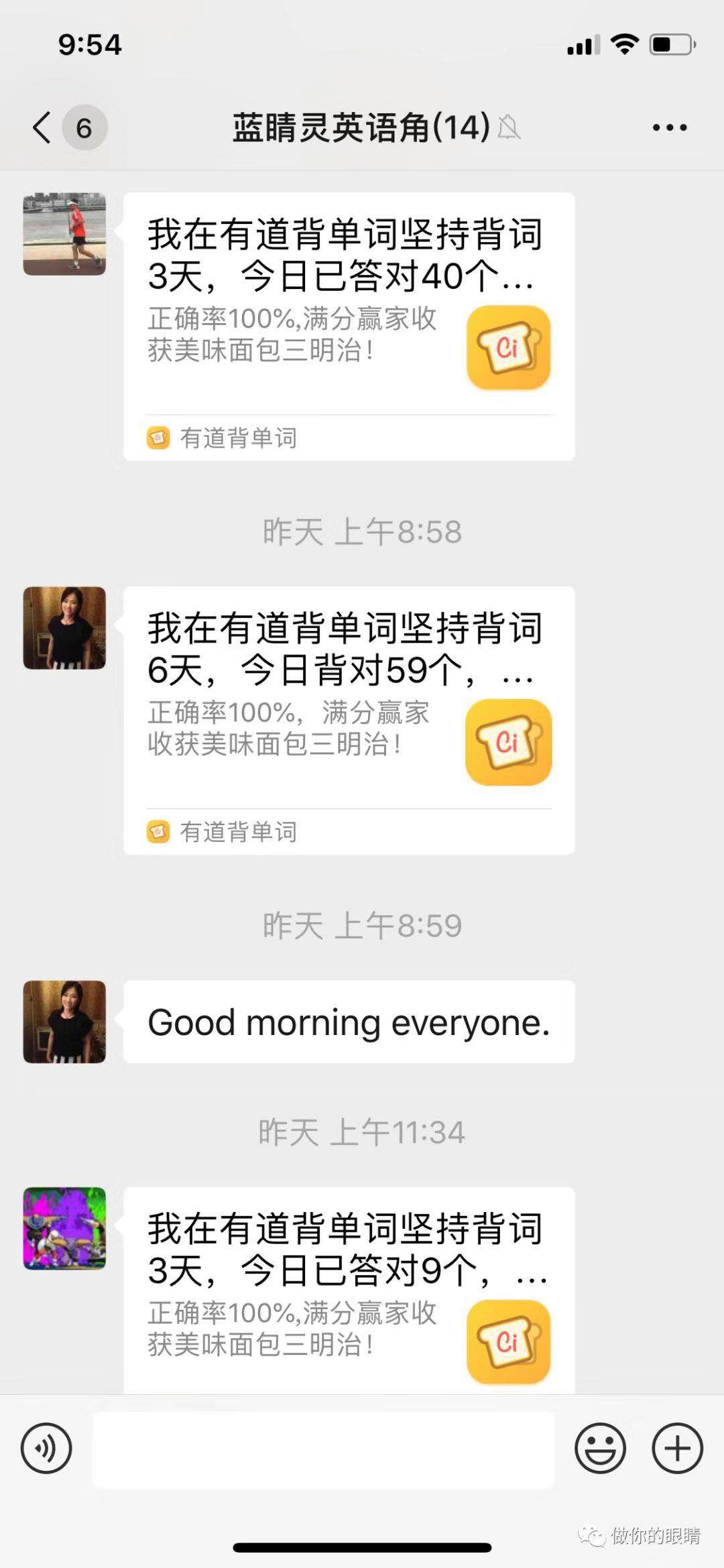 蓝睛灵英语角起源于一次视障伙伴的分享:我想学英语,但是去了两个机构都因为我是视障者而拒绝了我。于是大白陪跑员
魏瑾和她的儿子王弘毅就与其他陪跑员一起讨论并组织起了英语角,让学习无障碍从蓝睛灵开始。
The English Corner was established due to an inspiring message from a visually impaired member: I wanted to go learn English but both programs that I visited refused to accept me because I was visually impaired. Therefore, Elina, one of our qulified guide runners and her son Yoyo planned and established the English Corner. Let learning accessibility begin with us.
上马报名准备
8月上马开启报名流程,蓝睛灵想参与赛事的伙伴都与大众参赛者一起报名抽签,蓝睛灵提倡的平等从报名开始。在此基础上根据上马对残障人士特殊安排去组织陪跑,给予更多机会来参与赛事。
In August, Lanjingling started the Shanghai Marathon registration process, and all the partners who want to participate in the event signed up for the lottery with the public participants. The equality advocated by Lanjingling starts with the registration. On this basis, according to the special arrangements for people with disability to organize guide runnin, to give more opportunities to participate in the race.
做你的眼睛「绳上100」百公里接力公益挑战赛
是蓝睛灵发起的公益体育赛事筹款活动,也是蓝睛灵五年来的首次公众筹款活动,旨在为蓝睛灵「做你的眼睛」系列公益活动筹款,致力于推动残障平等,运动无障碍。
beYoureyeS"Rope 100"Relay Challenge
is the first-ever charitable fund-raising event in 5 yearsof Lanjingling's appearance, initiated by the Lanjingling Program, aiming to collect funds for the beYoureyeS series of charitable events, advocating equality and inclusion for the persons with disabilities and promoting sports accessibility.

此次活动所有报名费及慈善款项募集全权委托上海联劝基金会作为第三方机构负责监督和管理,并由联劝基金会负责披露所有善款的使用情况。可以登陆上海联劝基金会网站(www.lianquan.org.cn)随时进行查询。
We entrust Shanghai United Foundation as a third-party organization to be delivered Carte Blanche of collecting funds, to aid the organization of this event and to profess the appliance of collected funds. Visit the official website of Shanghai United Foundation (www.lianquan.org.cn) any time for exact details.
参赛者需要在10小时内以团队接力形式共同挑战100km,并通过创意方式募集善款,实现个人挑战和公益参与的双重价值。
Participants are encouraged to run an 100km team relay in 10 hours and donate charitable funds in creative approaches in order to achieve self-challenge and charity-participation simultaneously.
我们希望参与者于身体力行中,体验运动与公益结合的快乐,引发参与者及关注者内心的思考,真正关注视障等残障人士的需求,建立更好的运动、学习、工作、社区环境,让每一个人,都能享受到我们许多人认为理所当然享受到的便利。
We hope that participants will experience the joy of charity and sports, through which triggers the inner thoughts of participants and followers, pay close attention to the authentic needs and wants of the persons with disabilities, and build a charming environment where the marginalized individuals can comfortably and unbiasedly learn, work and do sports and access to conveniences which many of us take for granted.
报名时间:2019年8月19日~9月15日

筹款时间:2019年8月19日~10月15日

赛事时间:2019年10月7日 8:00~18:00

赛事地点:上海顾村公园

赛事组别:企业挑战、公众挑战、个人挑战、青少年组
When to sign up: August 19 2019~September 15 2019

When to raise funds: August 19 2019~October 15 2019

Event's Date: October 7 2019, 8:00~18:00

Event's Location: Shanghai Gucun Park

Team Categories: Corporate teams, Public teams, Individual participants, unior teams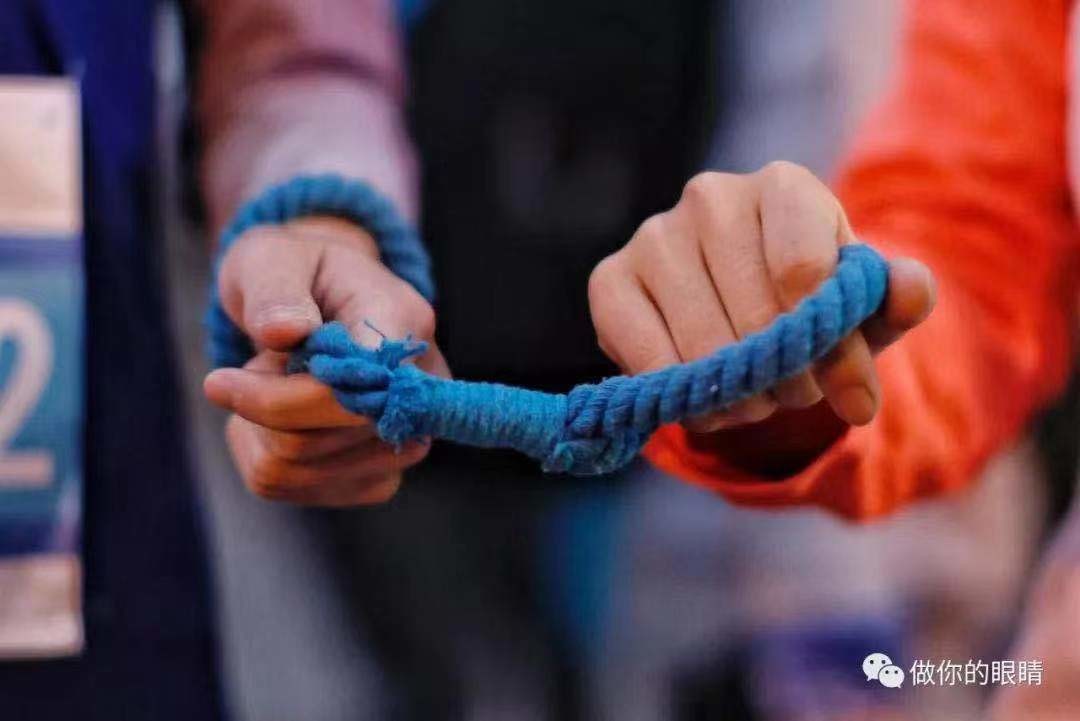 更多信息,请浏览
官网:www.rope100.org.cn
微信:绳上100 (id:rope100)
微博:@绳上100
For more information, please visit
Official Website: www.rope100.org.cn
Official WeChat Page: 绳上100 (id:rope100)
Weibo: @绳上100
您可以如何支持我们?
您可以参加绳上100,实现100公里挑战,突破筹款目标。
您可以捐款支持绳上100,告诉亲友您的选择,您的支持。
您可以加入蓝睛灵,和我们一起,推动障碍的巨石,改变潮水的流向。
How can you support us?
You can participate Rope 100, accomplish 100km relay and exceed fund-raising targets.
You can donate and support Rope 100, inform your friends and relatives about your contribution.
You can join beYoureyeS, join us to break through obstacles and alter the flow.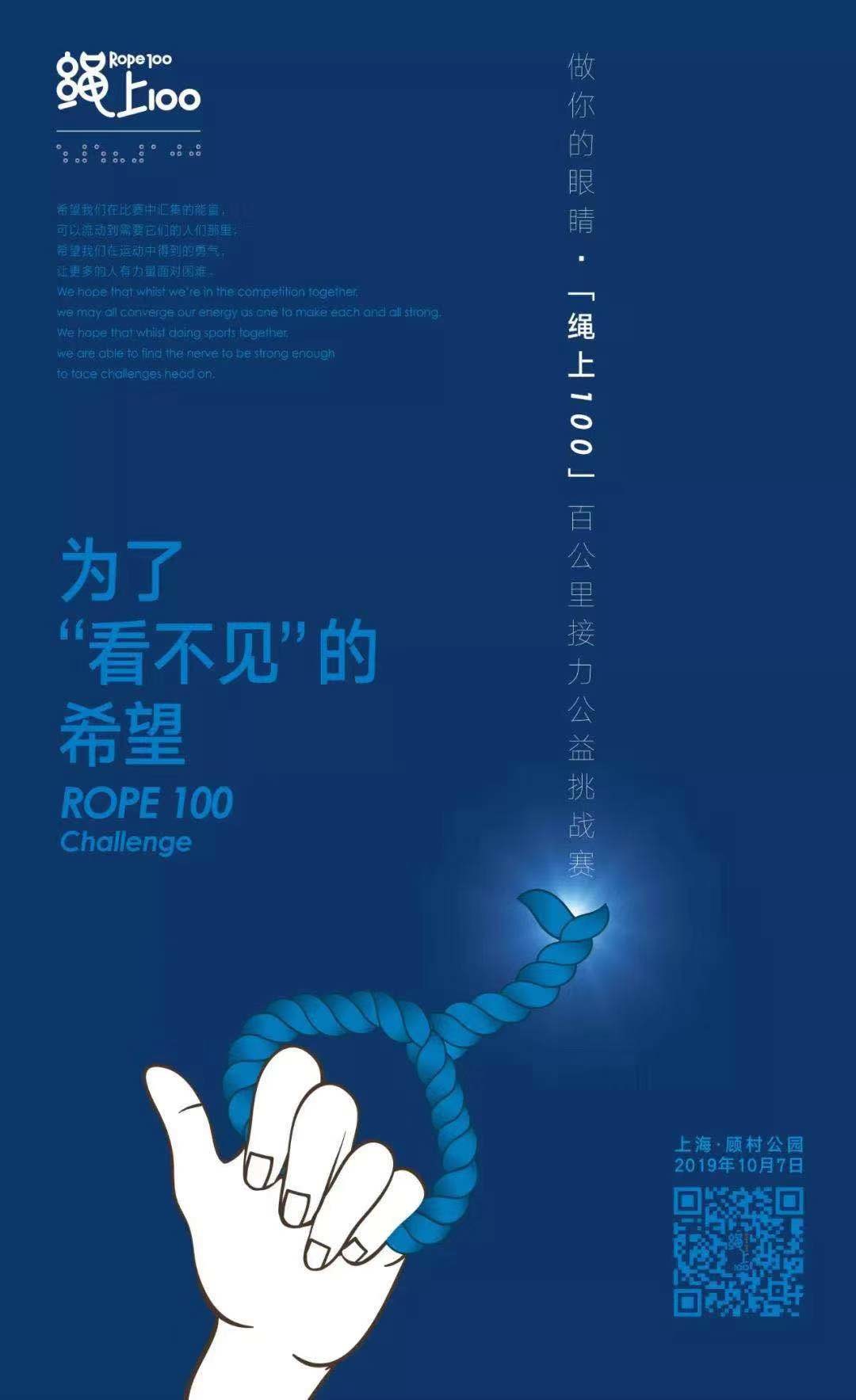 扫描以下二维码
进入联劝网参赛报名及筹款页面
Scan the QR code to visit the Official Site and sign up/donate.

企业社会责任(CSR)活动
Corporate Social Responsibility Activities
平安医保科技
8月18日,蓝睛灵在世纪公园开展平安医保科技专场活动。24位平安医保的新人参加了体验式新人培训。通过体验了解了视障者的生活和运动状态,并对运动无障碍有了直观的感受。在有了体验之后,平安医保的伙伴与视障跑者及陪跑员们混合组队,一起完成了"beYoureyeS 1km"融合跑。
Pingan HealthInsurance Corporation (PHIC)
OnAugust 18, Lanjingling carried out a CSR activity with PHC in Century Park. Twenty-four PHIIC employees took part in an experiential newcomer-training session. Through own experiences did they broadly acquaint the living and sporting conditions of visually impaired individuals and gained an authentic feeling of sports accessibility. After the session, members of PHIC joined guide runners and visually impaired runners and completed together "beYoureyeS 1km" inclusive running.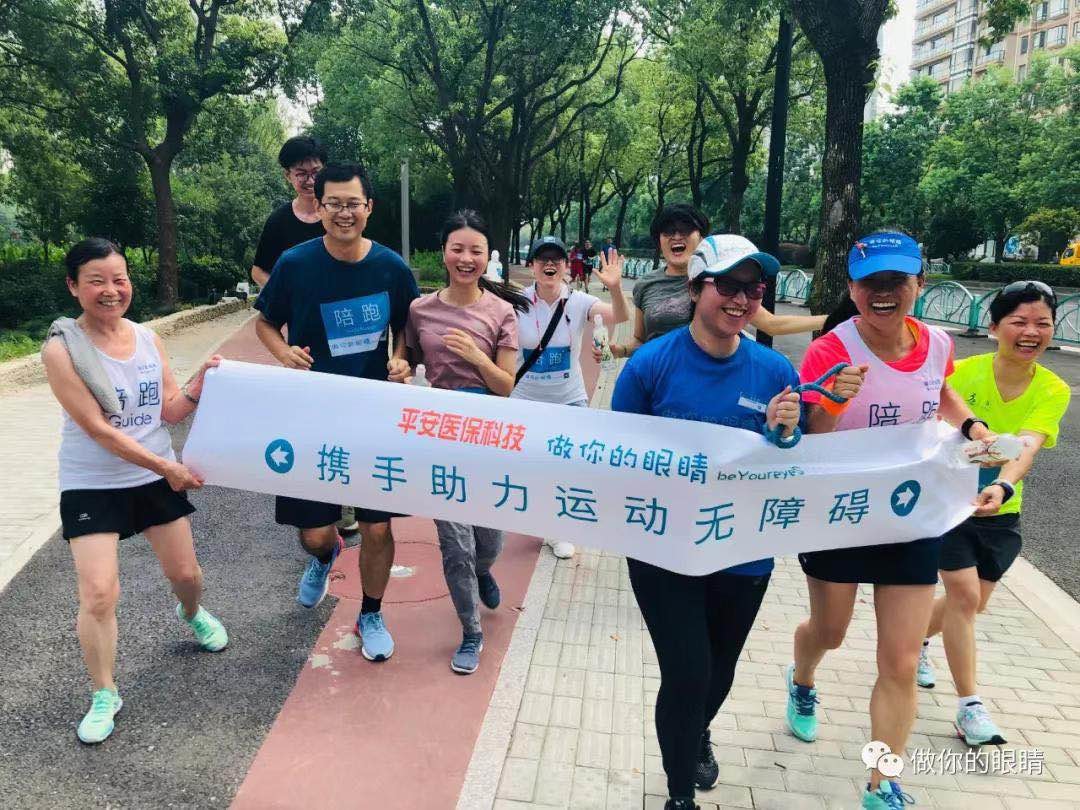 无论你的身体是否有障碍、无论你是否擅长运动,都可以在一起奔跑的时候感受到融合和接纳,让陌生的伙伴在沟通中增进了解。
Whether you have physical barriers or whether you are good at sports or not, you can feel a sense of inclusion and acceptance when you run alongside others, so that familiarity will grow through communications between former strangers.
校园活动
School Inclusive Activity
嘉定斌心学校
8月13日上午,4位蓝睛灵受邀来到嘉定斌心学校,聆听纪录片电影《盲行者》的主人公曹晟康的精彩演讲。
Jiading Binxin School
In the morning of August 13, 4 members of beYoureyeS got invited to Jiading Binxin School. They listened to the splendid speech of CAO Shengkang, the protagonist of the documentary "Blind Walker".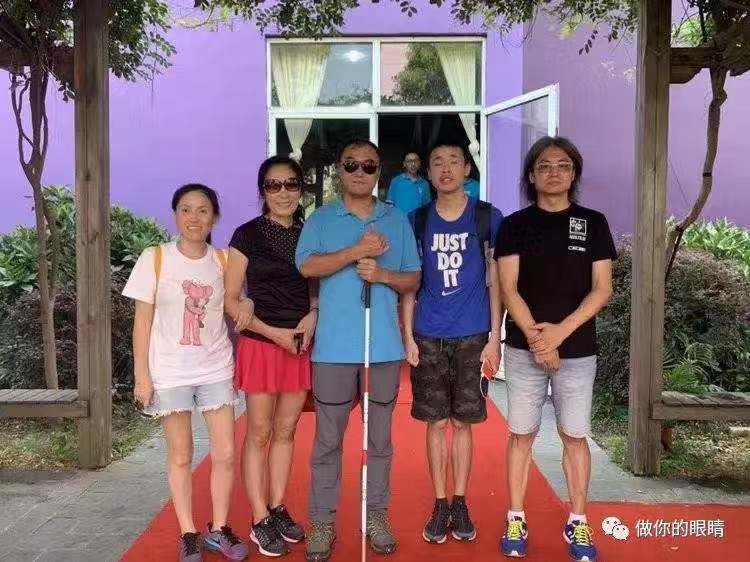 曹晟康因车祸而失明,但他并没有像中国大多数被忽视的盲人那样选择躲避这个社会,相反,在黑暗的世界里,他参加各类运动、环游世界,挑战着社会对盲人的歧视和偏见。
CAO Shengkang lost sight in a detrimental car accident, but unlike most of the neglected blind people in China, he did't choose to stay overseen in the society. He owned a bright heart and fought in darkness against discrimination and bias. He played sports often and even travelled aroumd the world.
受邀参加本次活动的陪跑员于老师曾在2017年的苏州金鸡湖半程马拉松比赛中,作为曹晟康的陪跑员,协助其完成首个半马。
One of our invited members Mr.Yu once was a guide runner of CAO Shengkang to complete his first-ever half marathon in "Suzhou Jinji Lake Marathon" in 2017.
运动虹桥职工亲子足球夏令营"申花之行"
8月2日,蓝睛灵的视障跑者、现役的上海市盲人足球队队员晨辉和天佑作为公益大使参加了运动虹桥职工亲子足球夏令营"申花之行"。他们向参加活动的小朋友们展示了盲人足球的魅力。
"Road of Shenhua" aparent-child football camp for Sporty-Hongqiao employees
On August 2, Lanjingling visually impaired runners and active member of Shanghai Blind Football Team, Chenhui and Tianyou, participated in the "Road of Shenhua" football camp as charity ambassadors. They fascinated young football fans by show casing the glamour of this special blind football game.
瑜伽课程
8月3日,美丽的Karen老师在蓝睛灵之家给蓝睛灵们带来第二期瑜伽课程。本期课程,Karen老师从正确的、放松的坐姿开始讲起,引导体验者们通过呼吸来调整身心,由内而外觉知自己的身体。
Yoga Lesson
On August 3, the pretty Ms. Karen gave the Lanjingling a second Yoga Class in "Home of Lanjingling". In this lesson, Ms.Karen focused on accurate and relaxed sitting posture to guide Lanjingling to modify our internal features through deep breaths and feel the sensations within our body to the fullest degree.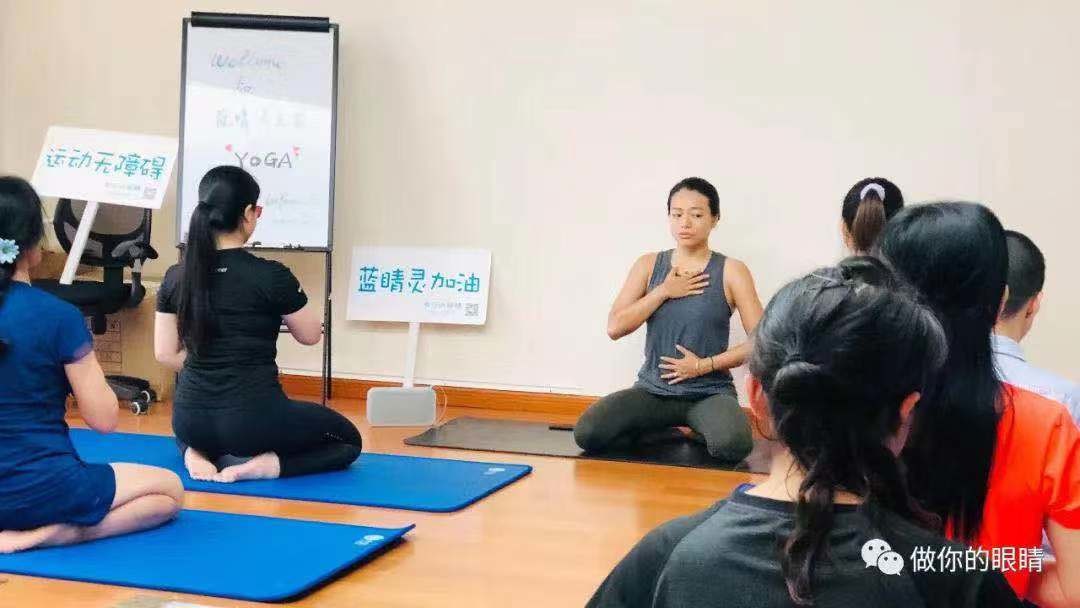 "心益沙龙"无障碍电影交流论坛
8月9日,在浦东兰馨悦立方影城,蓝睛灵受邀参加了"心益沙龙"无障碍电影交流论坛。向东作为活动嘉宾在圆桌论坛上发言,与其他嘉宾讨论了国内外无障碍电影的机遇、展望、发展与挑战。
"Xinyi Saloon"Accessible-Filmmaking Communication Form
On August 19, beYoureyeS got invited to attend the "Xinyi Saloon" Accessible-Filmmaking Communication Form. Ken orated as a distinguished guest and discussed with other elites about the opportunities, potential, development and challenges of Accessible-Filmmaking industry.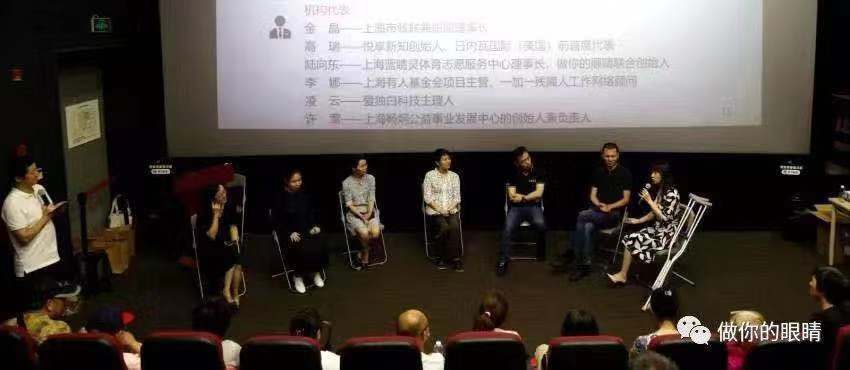 颂钵音疗工作坊
8月23日,蓝睛灵来到武康路上的Joyberry瑜伽教室,感受的颂钵音疗,全然接纳地聆听着来自尼泊尔的Ramesh老师敲击出的颂钵声,蓝睛灵们在舒缓的旋律中、在直达内心的震动中与自我对话,探索着自己心灵最关注的珍宝,高伟在工作坊之后写下了她的感想:相信相信的力量。
"Singbowl Music" Remedial Workshop
On August 23, Lanjingling went to the Joyberry Yoga Workshop on Wukang Road, experiencedthe "Singbowl Music Remidy" and got captivated to the "Singbowl Music" played by theamazing Mr.Ramesh who came from Nepal. Lanjingling experienced their true loveas they dreamt a heart warming chatter with the inner-self when accompanied by calmingmelody. Gaowei recorded her feeling after the session: Trust the power of trust.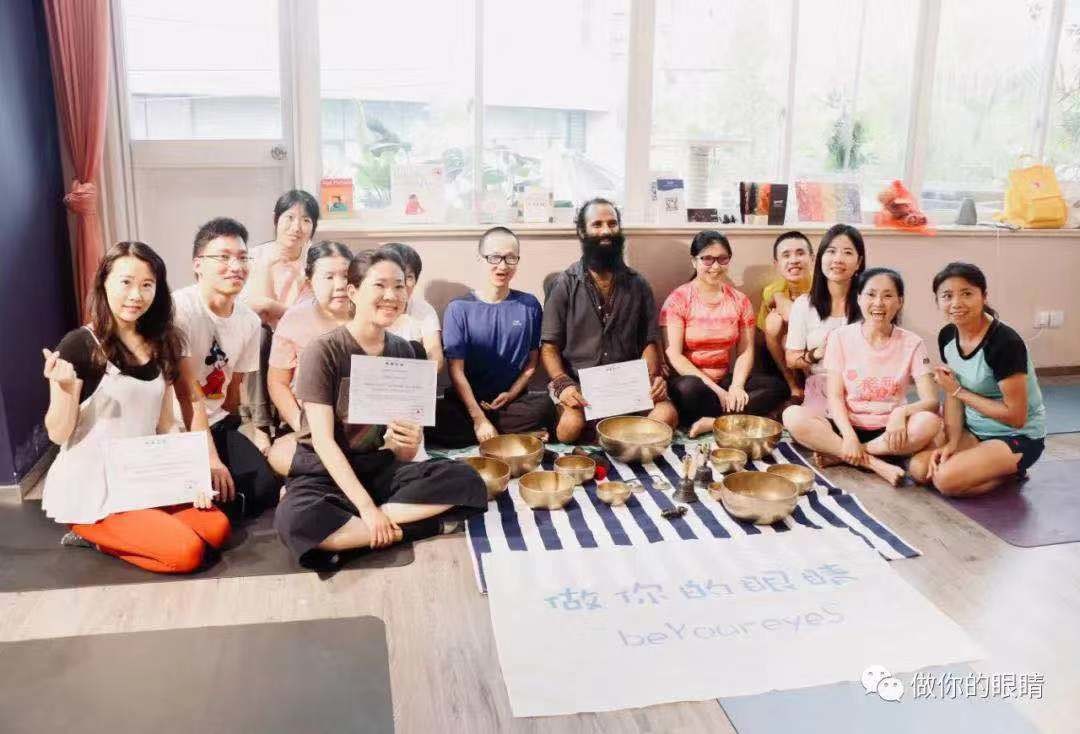 感谢优伽优伽Yoga Yuga工作坊支持,感谢Joyberry的场地支持。
Thanks to Yoga Yuga workshop support, thanks to Joyberry venue support
Karen老师
Ms.Karen
Ramesh老师
Mr.Ramesh
平安医保科技
Pingan Health Insurance Corporation
嘉定斌心学校
Jiading Binxin School
"心益沙龙"无障碍电影交流论坛
"Xinyi Saloon" Accessible-filmmaking Communication Forum
运动虹桥
Sport Hongqiao
瑜伽瑜伽
Yoga Yuga
Joyberry
感谢大家的阅读,本次双语月刊结束,我们下月见。
Thanks for your reading. We will see you next month.
关于做你的眼睛:
做你的眼睛是一个民间自发的公益活动,于2015年1月发起,致力于推动运动无障碍,让视障者参与运动变得简单,让每个人都能享受运动带来的快乐。
无论视障者,还是健视者,我们都称呼彼此为蓝睛灵。蓝睛灵传达一个理念:在各种运动场所,在路跑、游泳、自行车、铁人三项等赛事中,身体有障碍但是热爱运动的人们都可以自由又自然的投入运动,参加比赛。
希望在赛场上,能够看到越来越多的蓝睛灵。
希望,运动无障碍。
beYoureyeS is a local NGO founded in January 2015 in Shanghai, China.
beYoureyeS is dedicated to promote sports accessibility, make it easier for visually impaired people to enjoy sports. Let everyone enjoy sports.
Whether a visually impaired runner or unimpaired runner, all of our participants are called "Lanjingling".
Lanjingling conveys the spirit of our concept: our charity caters to a variety of sports, road running, swimming, cycling and triathlon, to list a few. With us, regardless of the physical impairment, those who wish to participate in a race, are able to.
We hope to see you soon on the track and let's do something together for sports accessibility.
主页:www.beyoureyes.org.cn
邮箱:info@beyoureyes.org
微信:beyoureyes 或扫描二维码
希望我们在比赛中汇集的能量,
可以流动到需要它们的人们那里,
希望我们在运动中得到的勇气,
让更多的人有力量面对困难。
We hope that whilst we're in the competition together,
we may all converge our energy as one to make each and all strong,
We hope that whilst doing sports together,
we are able to find the nerve to be strong enough to face challenges head on.