摘要 Brief
2019年11月蓝睛灵组织了19组队伍参加了上海国际马拉松的全马和健康跑,共开展了3期常规活动,2场企业社会责任(CSR)活动、1场校园融合活动,3场特别活动。原定于11月17日的常规活动因组织参加上马儿取消。
In November 2019, we have organized 19 groups to take part in Shanghai International Marathon(SIM), completing marathon and mini-marathon. We carried out 3 regular weekend activities, 2 CSR activities, 1 school-inclusive activity and 3 specials. The scheduled regular weekend activity on 17th of November cancelled due to the SIM.
文字 Writer:晓斌 Clark
翻译 Translator:泱而 Neville
编辑 Editor:纪元 Annie
蓝睛灵编辑部 Lanjingling Editorial Office
发布日期:2019年12月15日
常规活动 REGULAR WEEKEND ACTIVITIES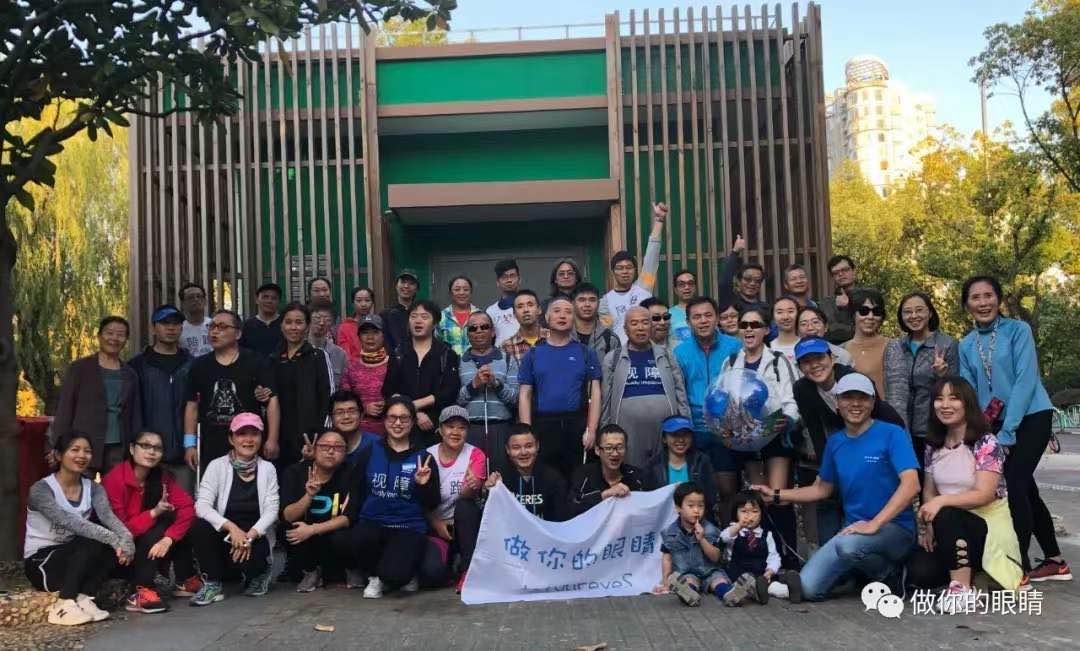 做你的眼睛第189期至191期的常规陪跑活动于11月3日、10日、24日在世纪公园、新虹桥中心花园、世纪公园开展。
The 189-191 beYoureyeS regular weekend running activities took place on November 3, November 10 and November 24 at New Hongqiao Greenland and Shanghai Century Park respectively.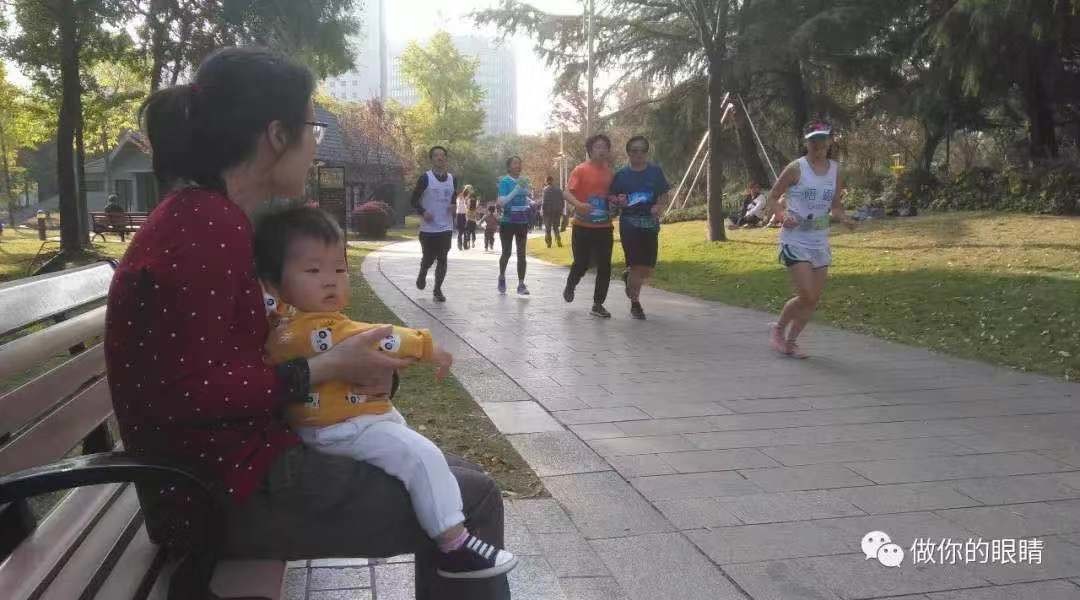 3日、10日的常规活动之后,24日常规活动之前,分别开展了第7至9期英语角。
The 7-9 beYoureyeS English Corners were carried out with regular weekend running activities.
自11月起,常规活动进入冬令时,改为从下午两点开始。
Since November, beYoureyeS regular weekend running activities have changed to winter time, starting at 2 p.m.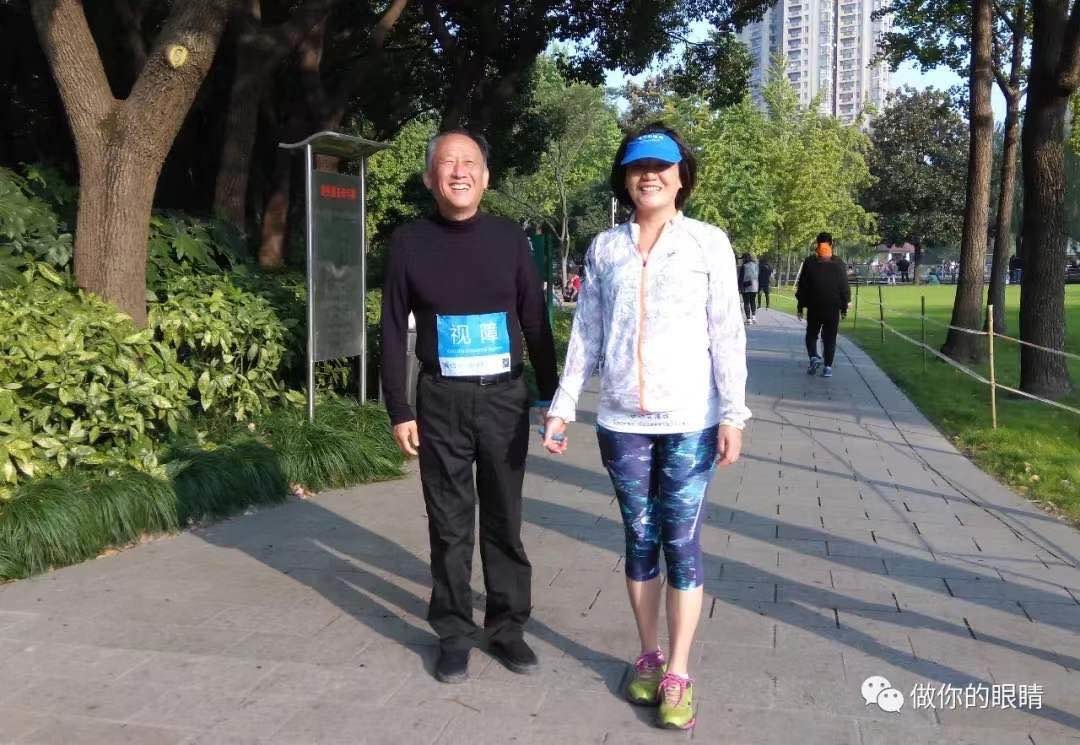 本月有3位新视障伙伴季晓娟、刘光明、陆晓翼加入蓝睛灵。
There are 3 new visually impaired partners join beYoureyeS, JI Xiaojuan, LIU Guangming and LU Xiaoyi.
我们希望更多地视障伙伴勇于走出家门,打开障碍壁垒。
We hope more and more visually impaired individuals would have courage to go out and break barriers and stereotype.
连续第3年参与上马EXPO分享会
beYoureyeS participated in the Shanghai International Marathon EXPO sharing session for the third consecutive year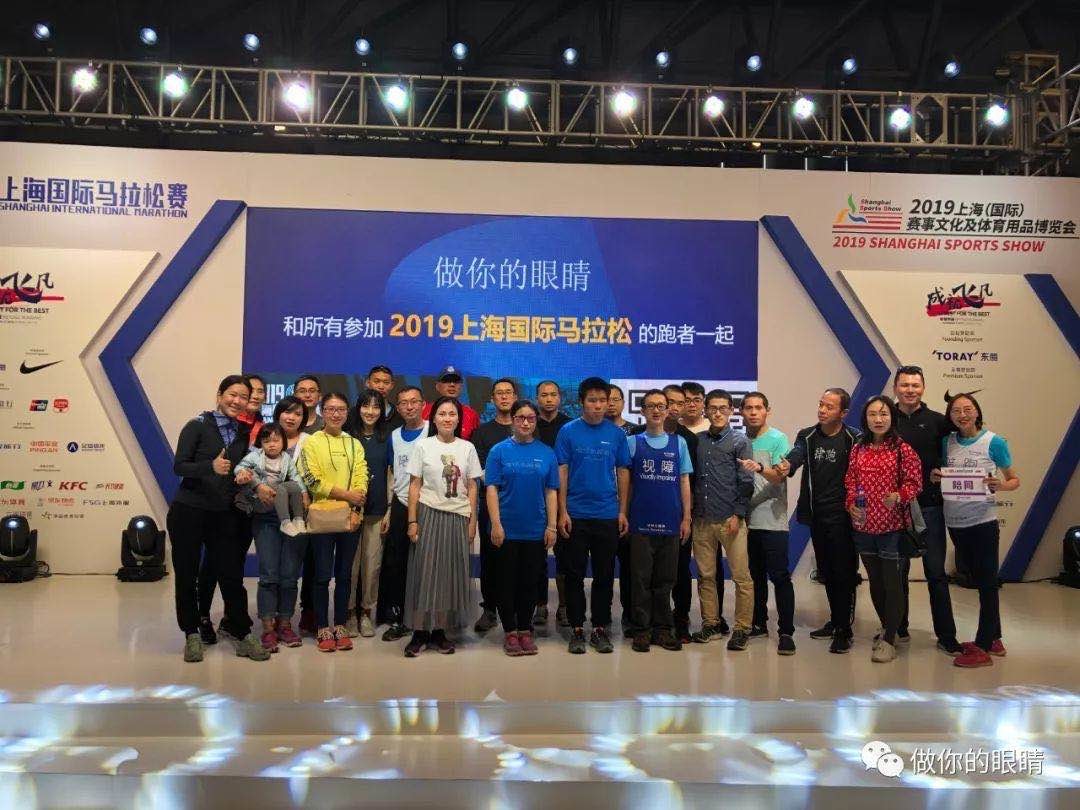 11月16日上午11:30,雪慧、晨辉、晓斌在上海马拉松展会上分别作了分享。
让大家进一步了解"做你的眼睛"陪跑活动的发展历程和"运动无障碍"、"残障平等"的理念。
At 11:30 a.m. on November 16, Xuehui, Chenhui and Xiaobing, members of Lanjingling, shared their experiences n the Shanghai International Marathon EXPO sharing session, which let people know more about the development of beYoureyeS - accompanying visually impaired individuals running together, and the ideology of sports accessibility and equality of persons with disabilities.
上马安全完赛、首马多多
Not only do we finish Shanghai International Marathon safely, but also acquire a great number of achievements.
经过两月的报名、分组、赛前拉练,11月17日共19组共77位蓝睛灵参加了今年上马的全程马拉松、10公里、5公里项目。
After two months of registration, grouping and pre-race training, 19 groups- a total of 77 members of Lanjingling took part in this year's Full Marathon, 10km Run and 5km Run events, respectively on November 17.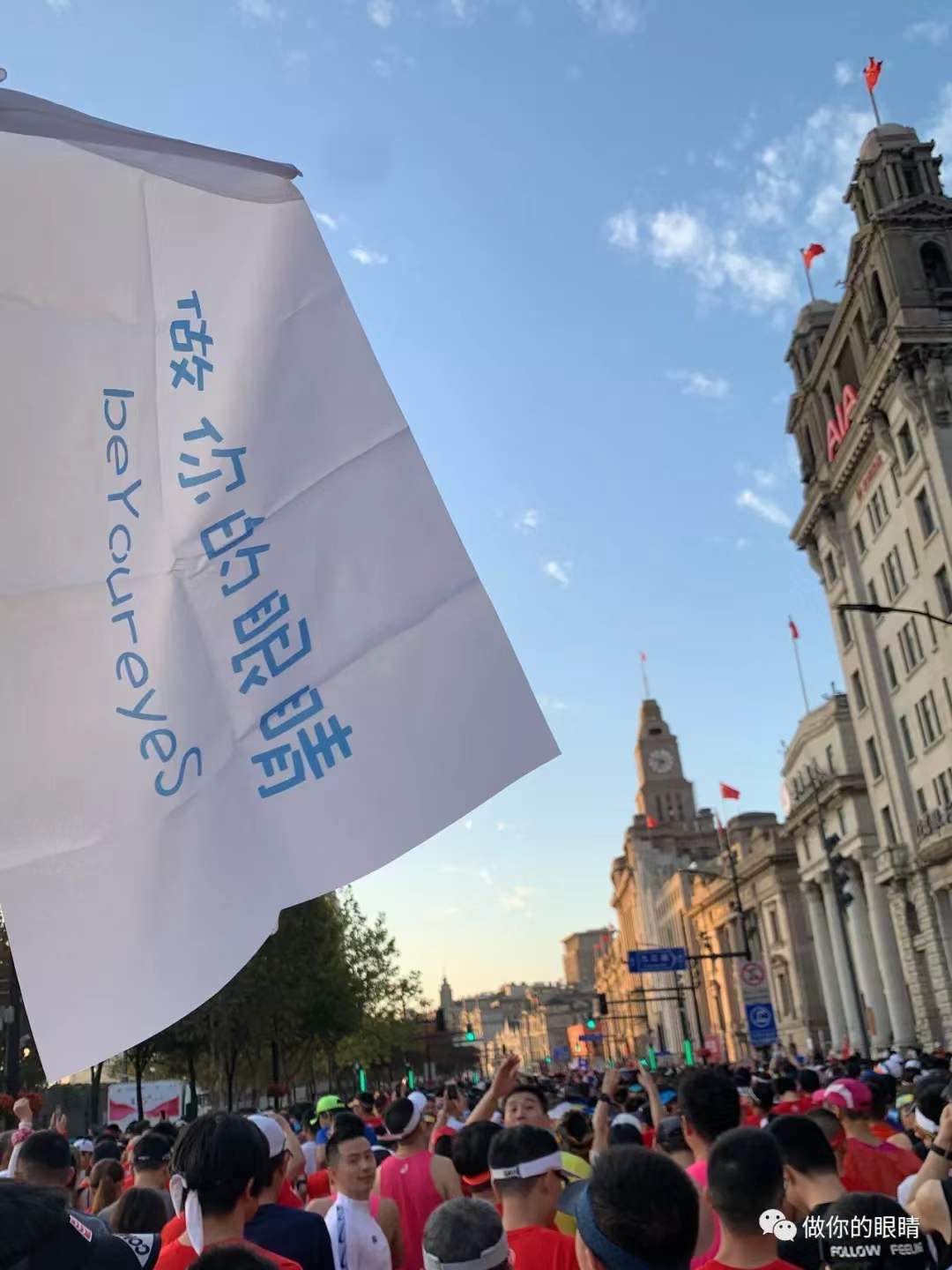 加上后勤和啦啦队,本次参加活动的人员超过100人。
With logistics and cheer leading staff, there were more than 100 Lanjingling's participants.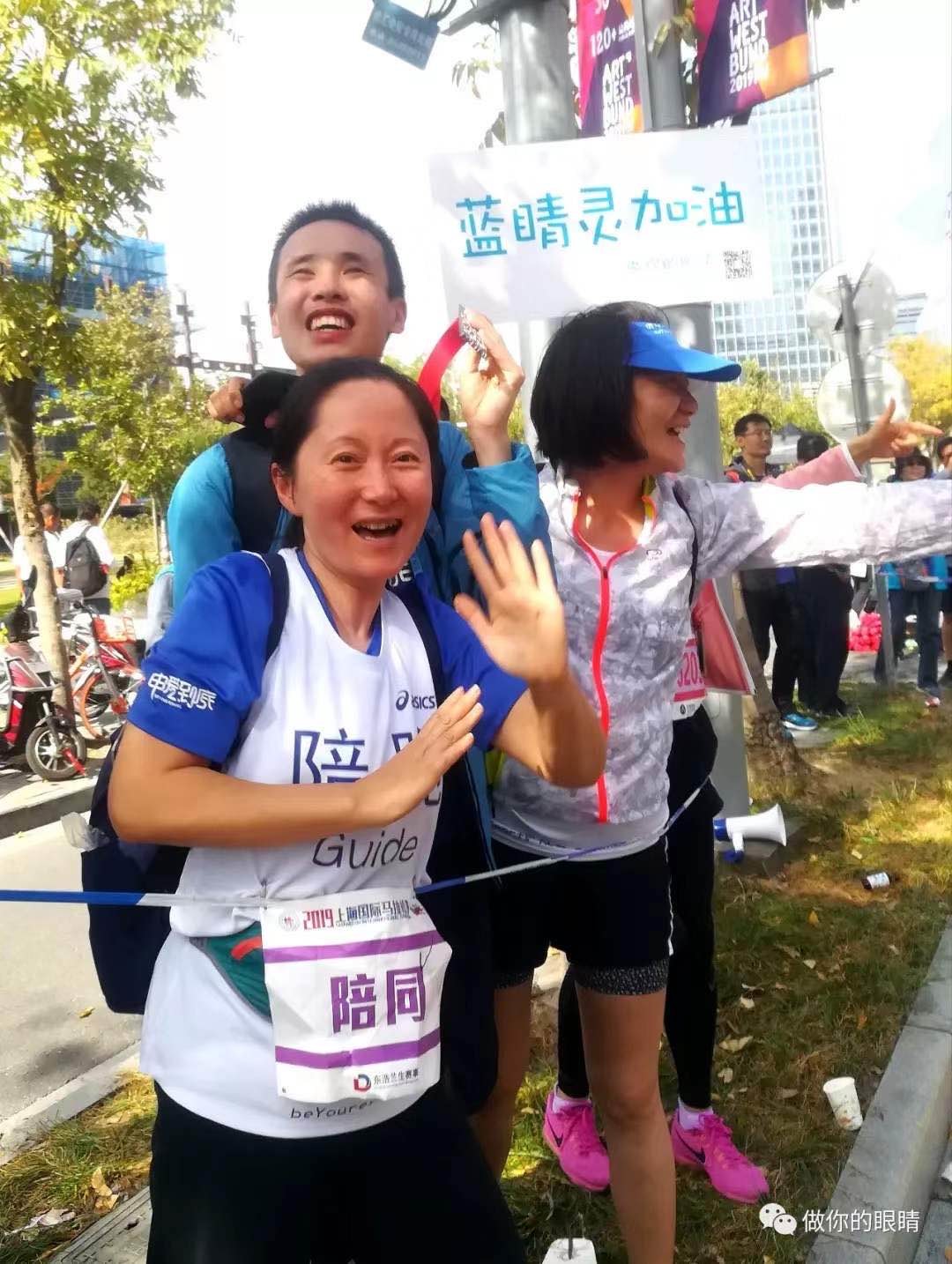 本次赛事中,所有参赛者都安全完赛,有多位视障跑者和多位陪跑员都顺利完成了他们的首马。
In this event, all Lanjingling's participants completed the race safely, and a number of visually impaired runners and guide runners finished their first marathon successfully.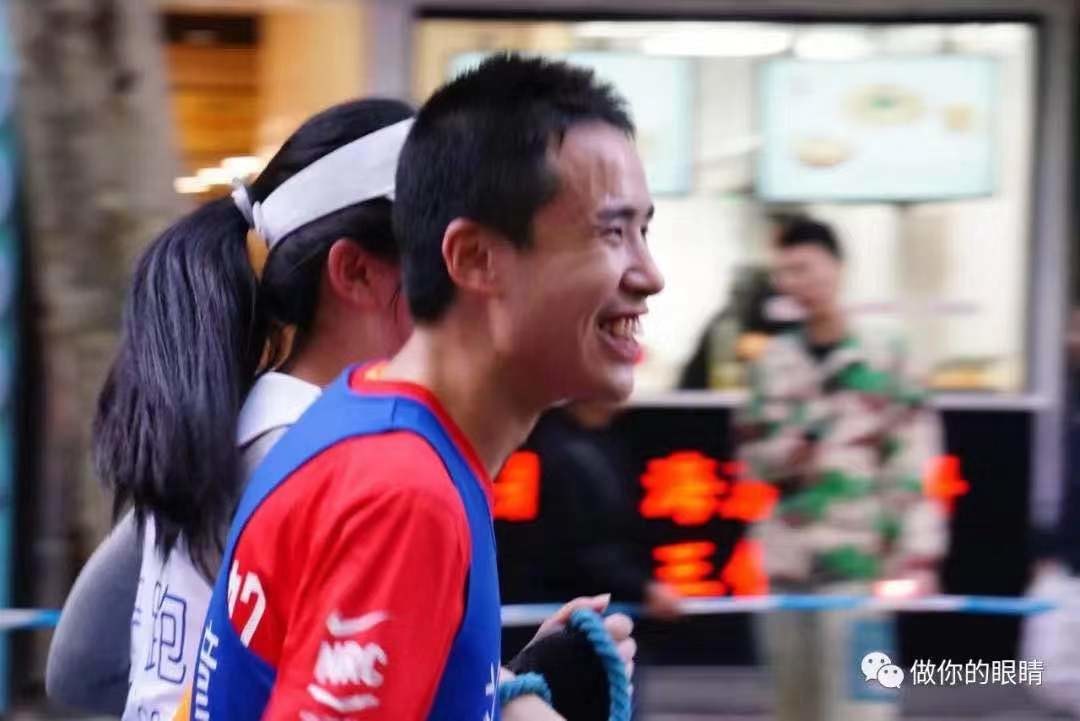 视障跑者能与3万多名跑者一起奔跑在上马的赛道上,这与赛事方的无障碍支持、陪跑员付出的体力和时间、其他参赛跑者的鼓励息息相关。
Visually impaired runners have chance to run alongside more than 30,000 other runners on the racetrack, which is closely related to the accessibility support of the Race Hosts and Organizers, the energy and time spent by the guide runners, and the encouragement of other runners in this event.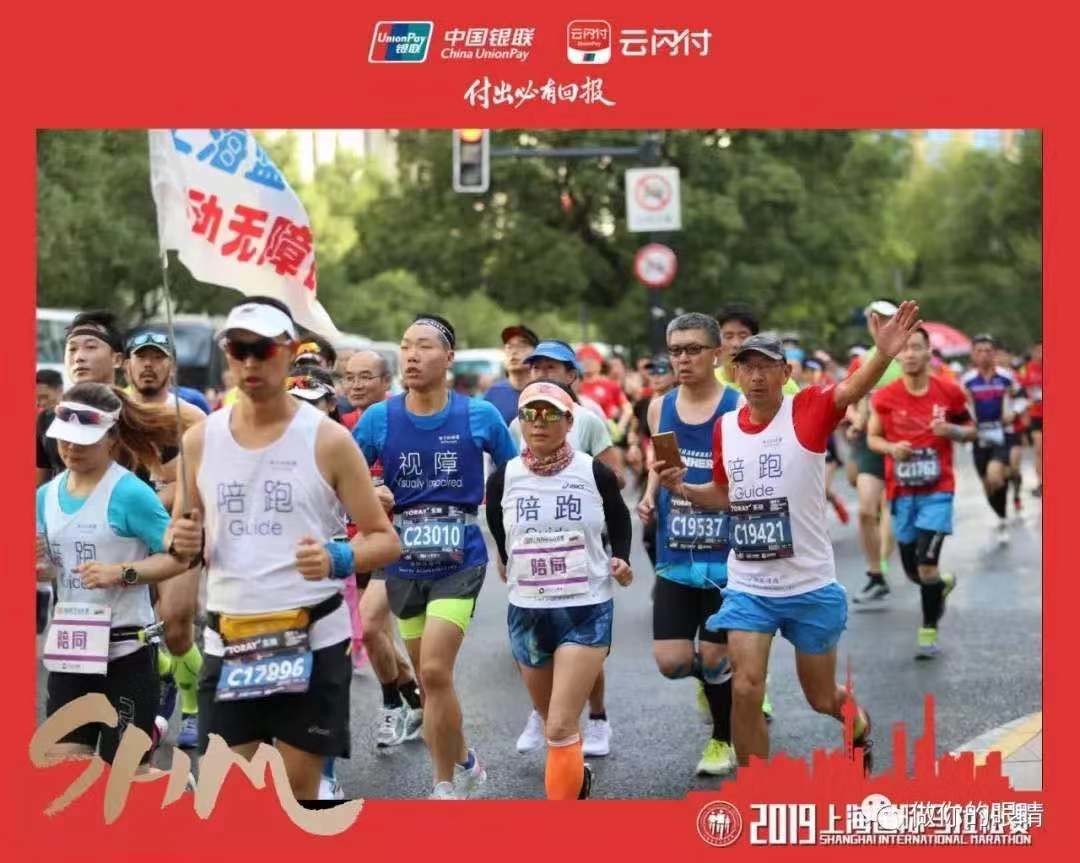 在赛后的第一次常规活动时,完成了20岁目标——跑完首马的双胞胎兄弟之一天保向他的陪跑员们表示了感谢。这也是所有视障跑者想向陪跑员们表示的由衷的感谢。
At the first regular weekend running activity after the event, Tianbao,, one of the twin brothers, who completed his first marathon, thanked his guide runners for achieving his 20-year-old goal. This is also a heartfelt and earnest thank you to all the guide runners from visually impaired runners.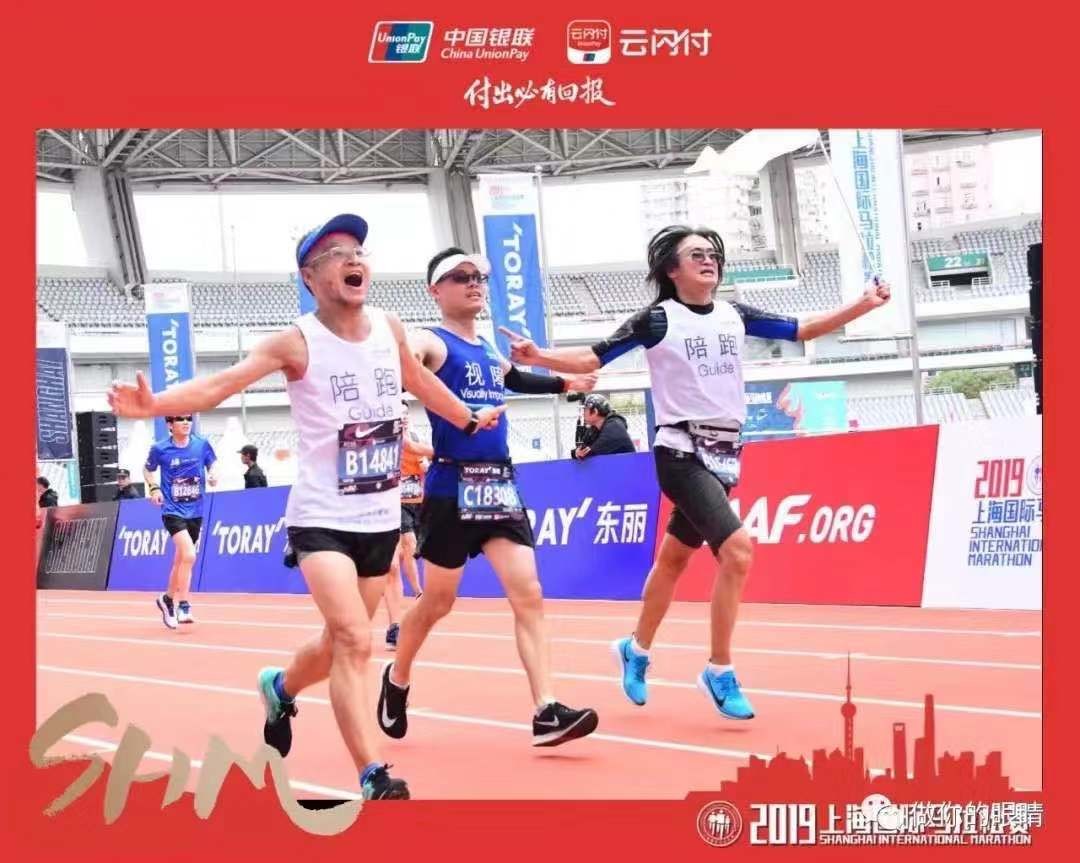 在此,感谢赛事主办方、企业及个人对蓝睛灵参加本次赛事的支持。
Here, we would like to thank the Race Hosts and Organizers, enterprises and individuals for supporting Lanjingling to participate in this event.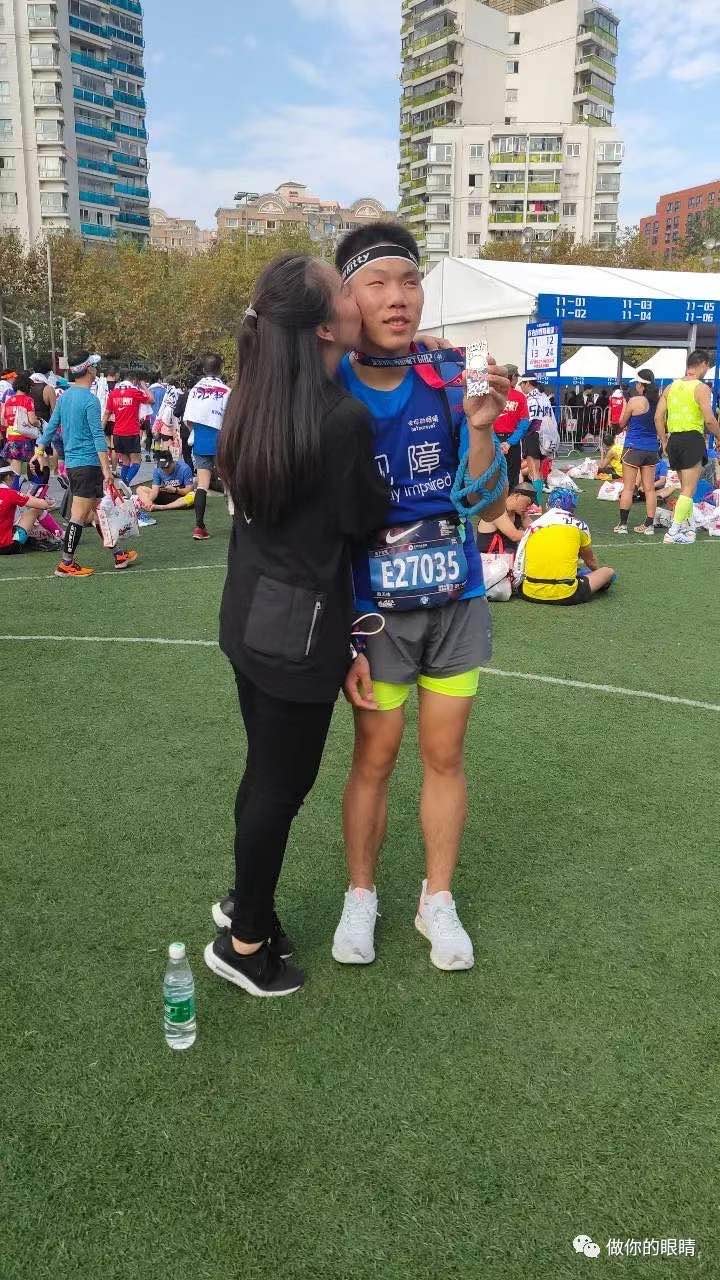 企业社会责任(CSR)活动
Corporate Social Responsibility Activities
"不忘初心"联合利华分享会
Stay True To the Mission- Unilever Sharing Session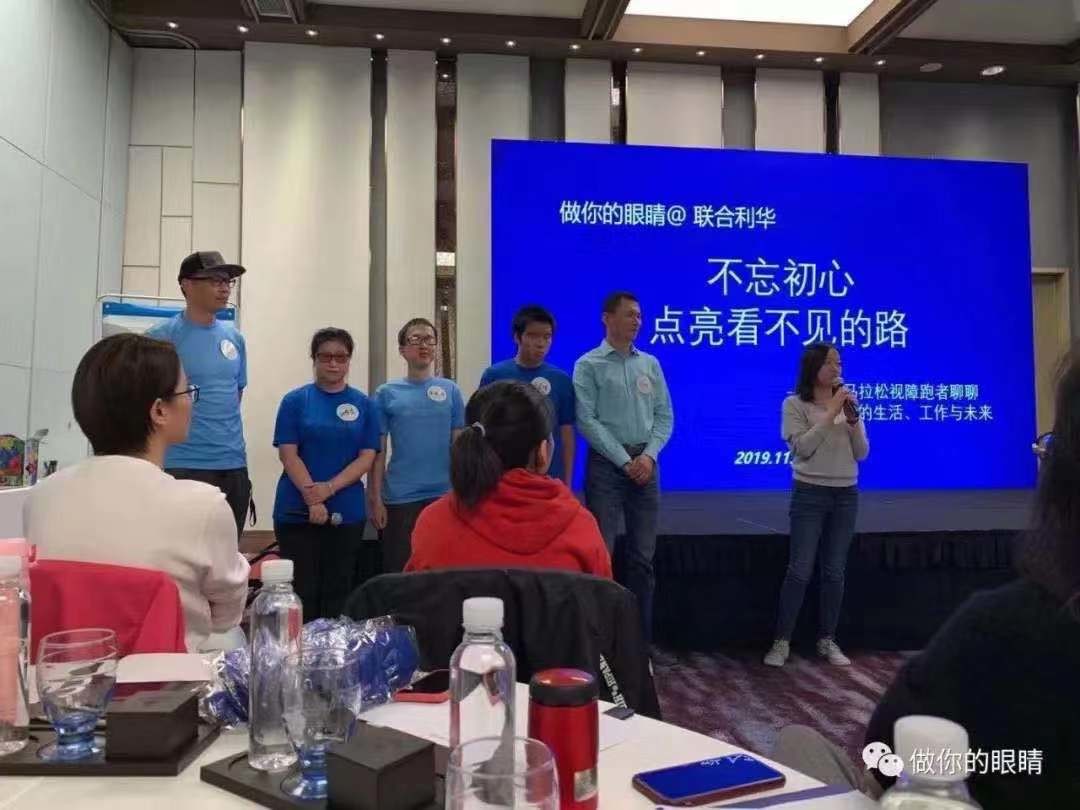 11月21日中午,5位蓝睛灵在联合利华企业拓展活动的现场,给参与者们带来了关于"初心",关于"无障碍"的主题分享。
At the noon of November 21st, 5 members of Lanjingling brought the theme of true mission and accessibility to the participants at the site of Unilever's CSR activity.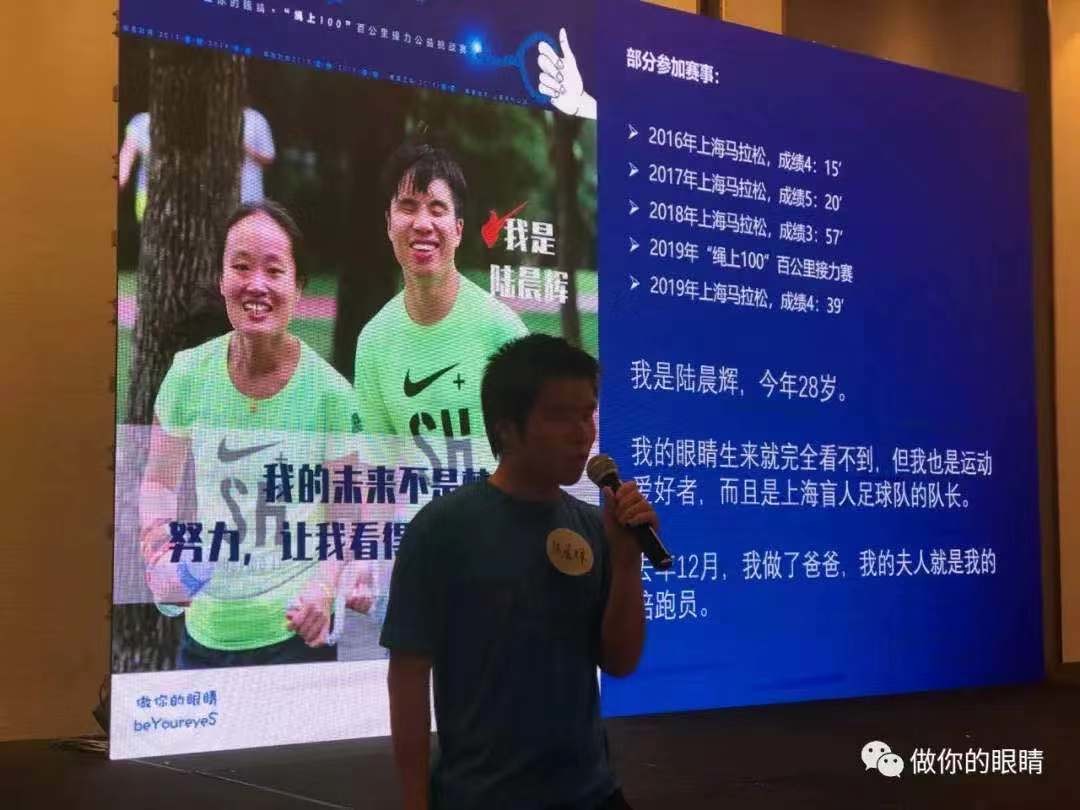 蓝睛灵们能顺利地每周组织常规活动,能跑上上马的赛场,都是源自于每一位伙伴愿意实现"运动无障碍"的初心。
Members of Lanjingling insist on organizing regular running activities every week successfully and take part in the Shanghai International Marathon, all of which come from the strong desire of each partner to realize the sports accessibility.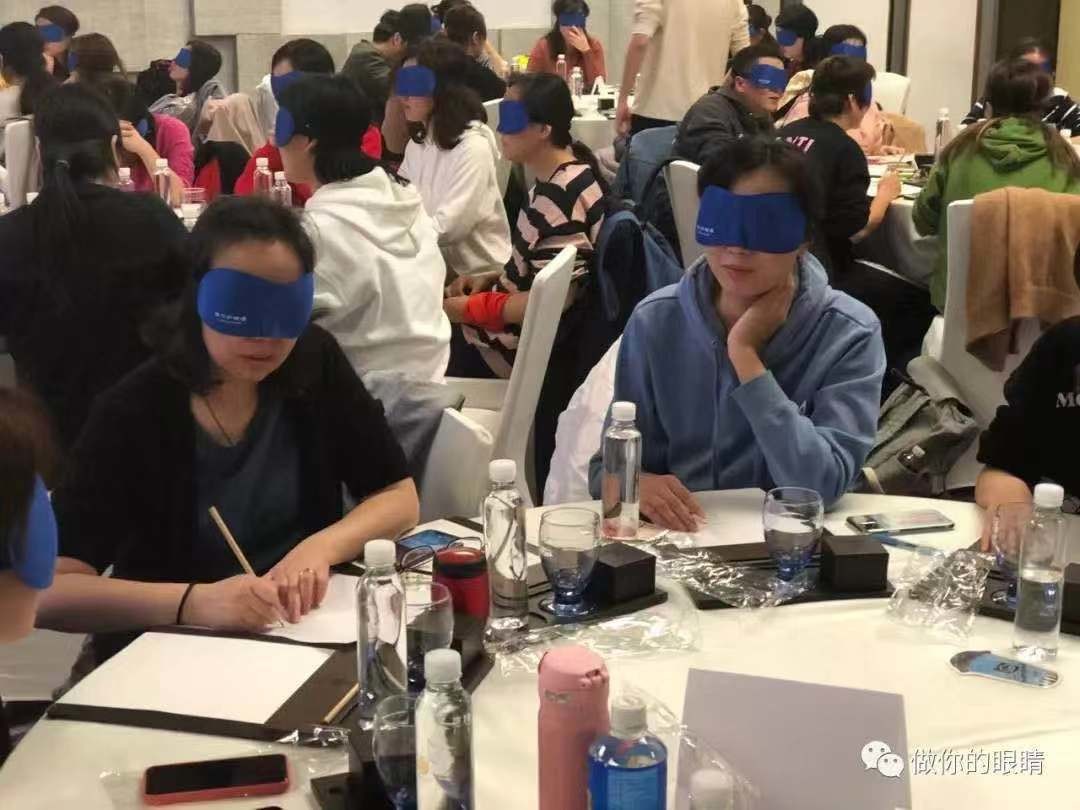 联合利华的员工们在分享中了解了蓝睛灵实现初心的经历,通过体验感受到了在遇到障碍时,再多想一想,多发觉一下,就可能去实现"看不见"的希望。
The staff of Unilever learned about how Lanjingling realized the original mission to promote sports accessibility in sharing session. Through experiencing, they found that when meet adversity, keep calm and carry on, and they may realize the invisible hope.
WeWork CSR专场活动
WeWork CSR Activity
11月22日上午,蓝睛灵与来自于WeWork的14位员工在新虹桥中心花园进行了一场打开内心,倾情交流的视障礼仪体验活动,共度过一段特别的旅程。
On the morning of November 22, Lanjingling and 14 employees from WeWork spent a special trip together in New Hongqiao Central Park, learning etiquette and manners and experiencing how to guide visually impaired individuals politely, which opened their hearts and exchanged emotions.
校园活动 School Inclusive Activity
童心初遇"无障碍"之LUC国际幼儿园
Sow Seeds of Accessibility in LUC International Kindergarten
11月15日,蓝睛灵一行9人来到LUC国际幼儿园开展校园融合活动。
On November 15, 9 members of Lanjingling came to LUC International Kindergarten to carry out school-inclusive activity.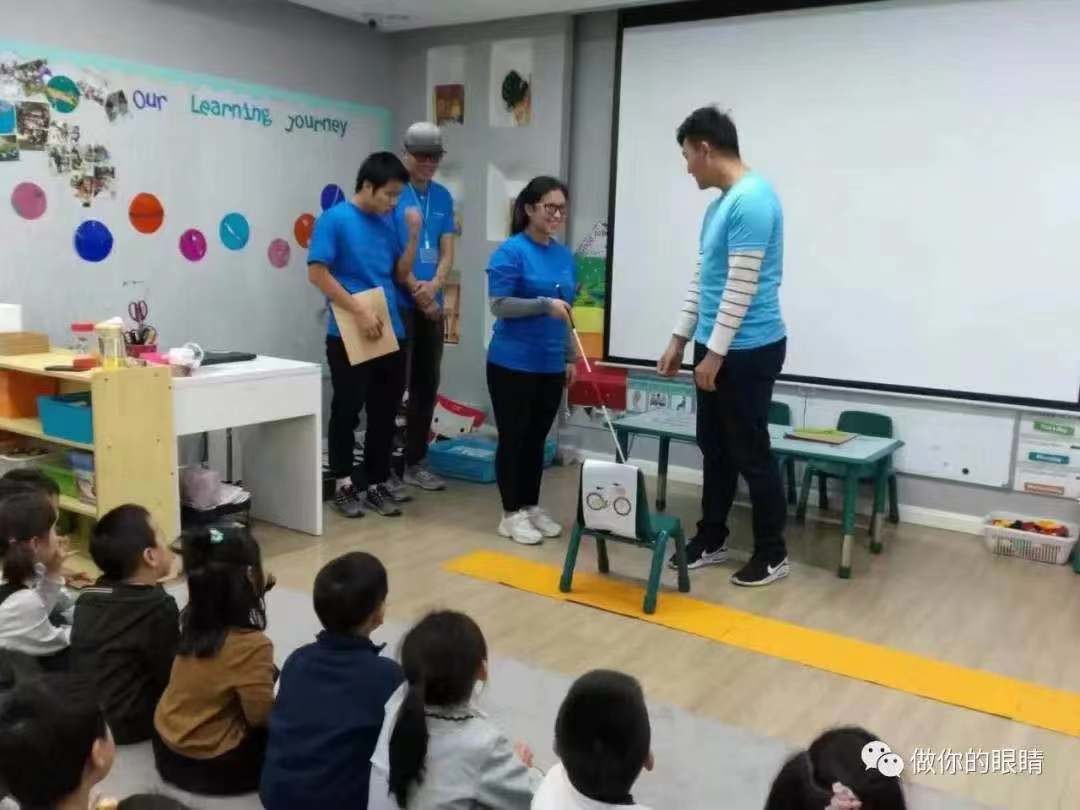 蓝睛灵们分成两组给5各班级约100名小朋友带来了无障碍短剧和丰富的体验。
充满活力的孩子们在游戏中了解到看不到依然能做很多事情,也让孩子们从小就能理解视障者以及他们所面对的世界。
We divided into two groups to bring accessibility skits and rich and colorful experiences to about 100 children in 5 classes.
Active children learn that there are many things that can be done without sight, and they learn from an early age to understand the visually impaired individuals and the world they face are not hopeless.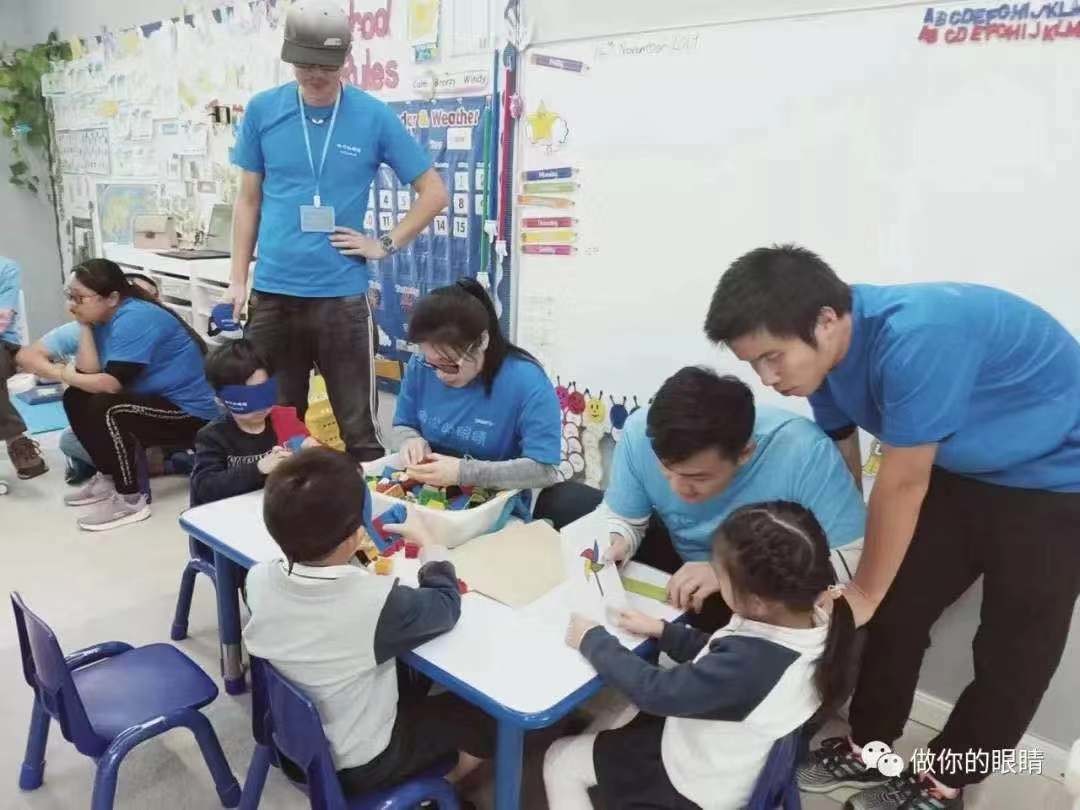 从幼儿园到大学,蓝睛灵把融合的感受和理念带到了各年龄段的学生身边。通过直接接触和亲身体验,让孩子们、同学们开始理解视障者的状态,了解视障者的"能"与"不能",尝试去思考如何让更多的"不能"成为"可能",如何参与到无障碍之中。
From kindergarten to university, Lanjinling brings the feeling and idea of inclusion and diversity to students of all ages. Through direct contact and personal experience, children and teenagers can begin to understand the visually impaired individuals' situation, understand what they can and can't do, and try to think about how to make impossible possible, how to participate in social accessibility.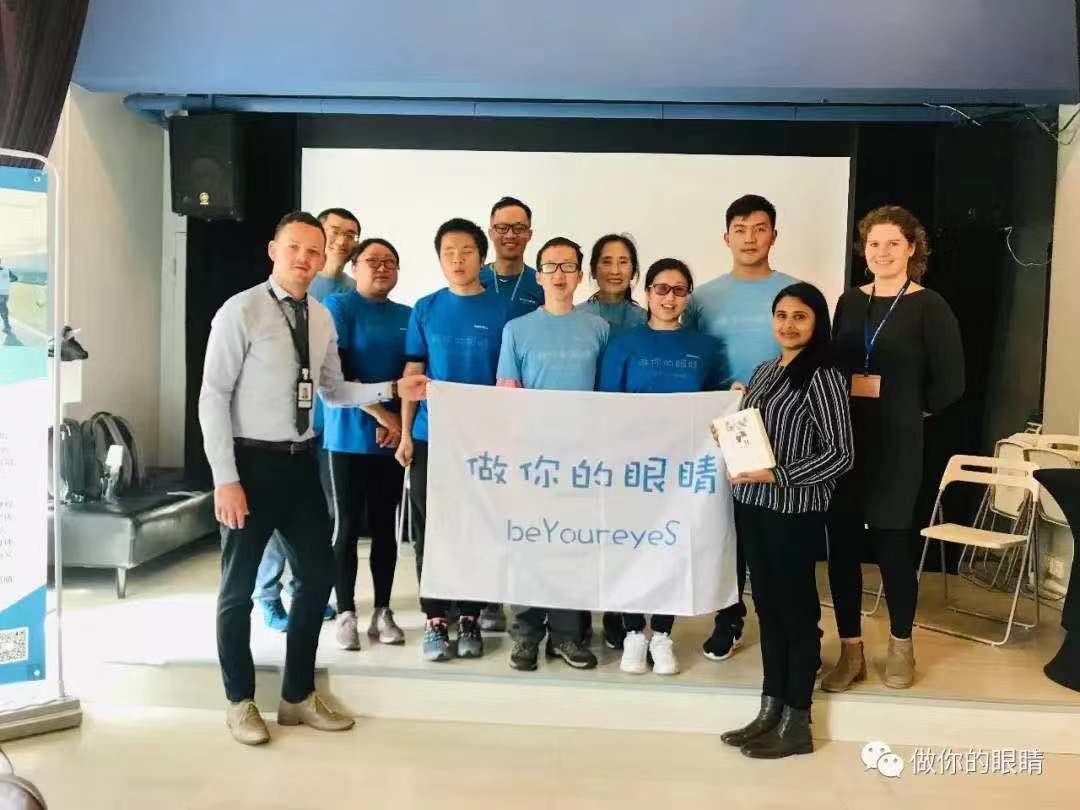 无障碍话剧完美开演
The Accessible Play Got Off To a Good Outset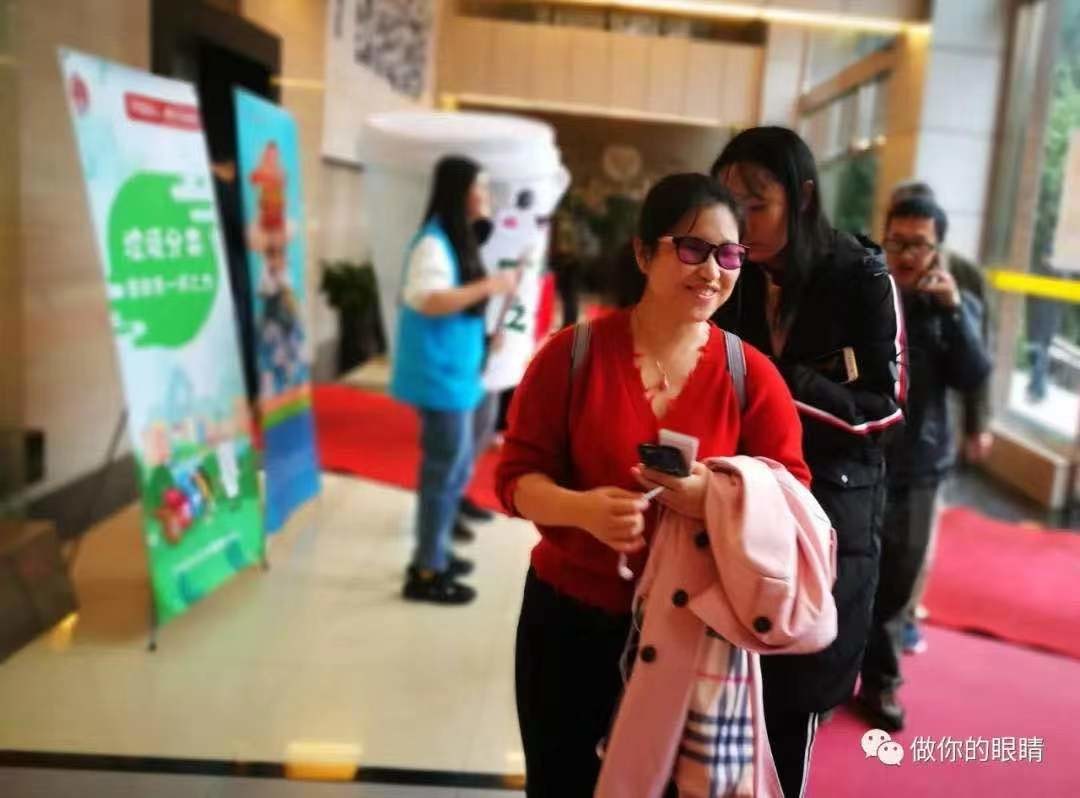 11月23日,在 卢湾高级中学的大剧场里,30多位蓝睛灵与500多位大众观众一起,欣赏了一场无障碍话剧《金龙》。
On November 23, in the grand theatre of Luwan High School, more than 30 members of Lanjingling and 500 public audiences enjoyed an accessible drama "Golden Dragon".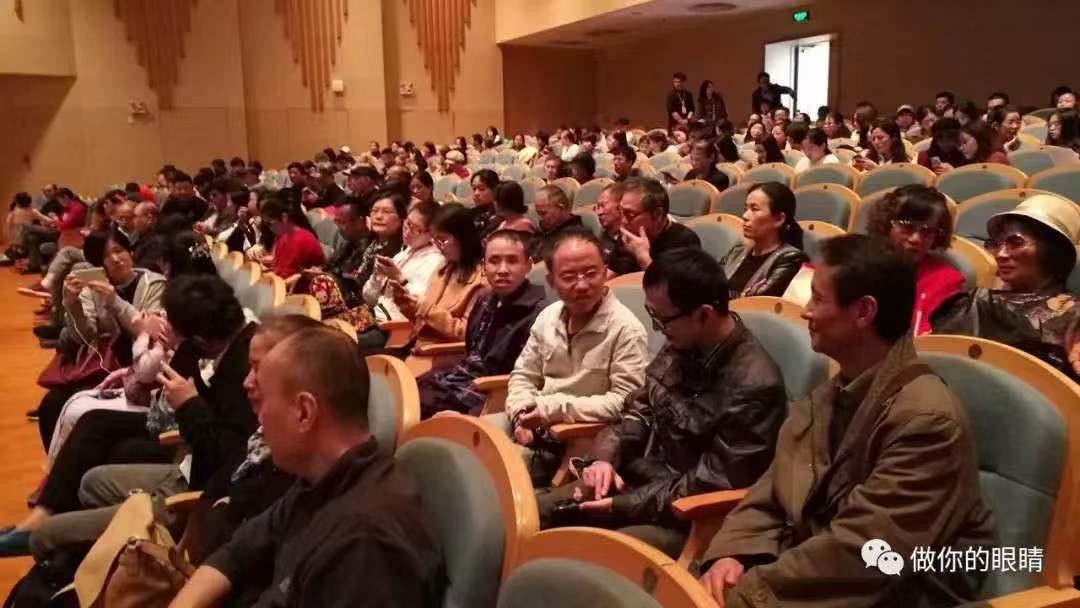 本场话剧开了无障碍话剧的先河,由蓝睛灵的视障者直接参与对无障碍剧本的建议,由公益组织"光影之声"起草"解说词。让视障观众通过耳机能听到演员在原地打转时的焦虑、对生命将要逝去的感叹……而且,剧本无障碍过程中有了视障者的发声,让所有的参与方,都能了解到视障者对无障碍话剧、对艺术欣赏的心声。有了我们参与的决定才是我们更需要的内容。
This opened the first accessible drama. The visually impaired members of Lanjingling directly involved in the proposal of accessible script, and the public welfare organization -Sound of Light and Shadow drafted commentary. Through headphones, the visually impaired audience can hear the actors' anxiety as they circle in place, and sigh over the imminent death of their lives... In addition, in the accessible process of the script, the voice of the visually impaired audience was heard, so that all participants can understand the aspirations of visually impaired people for accessible drama and artistic appreciation. Nothing about us without us. So the decision that we participate in is what we need authentic.
参加无障碍观影项目开幕式
Attend the Opening Ceremony of the Accessible Movie Program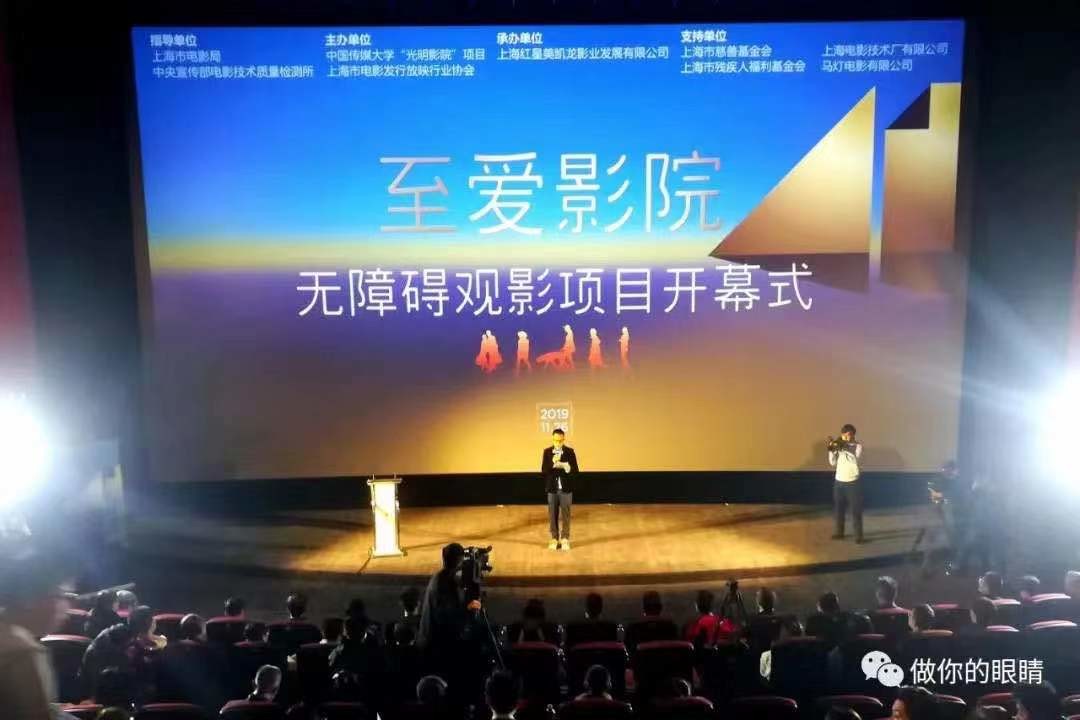 11月26日下午,7位蓝睛灵参加了"视障人士观影"项目开幕式,随后观看了无障碍电影——《大河唱》。
该项目借助无线耳机及发射装置,让视障人士通过使用加入解说声道的无线耳机,与普通观众一起欣赏电影。
On the afternoon of November 26, 7 members of Lanjingling participated in the opening ceremony of the program -Movies For Visually Impaired Individuals, and then watched an accessible movie-The River Sings.
This Program applies wireless earphones and transmitters to allow visually impaired people to enjoy movies with other audience through the use of wireless earphones with added commentary channels.
身心兼修练瑜伽
Enjoy Yoga Physically and Mentally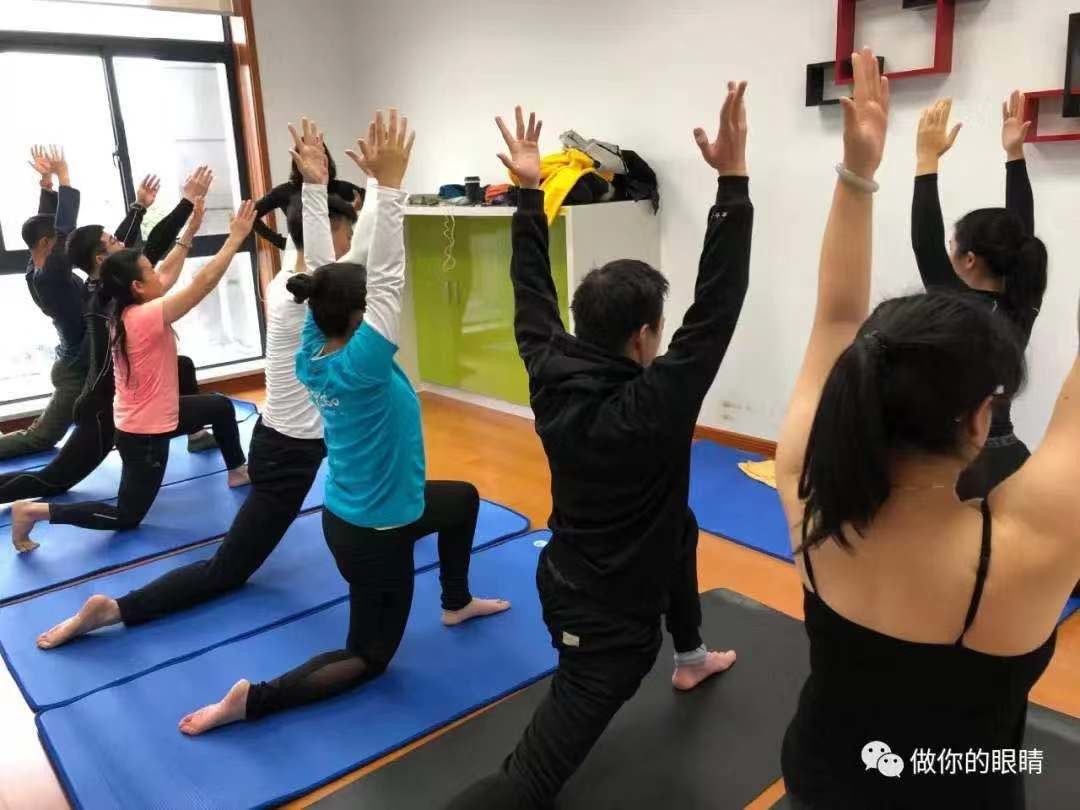 11月30日上午,美丽的Karen老师给大家带来了一节令人倍感通透的瑜伽课程。
在稳定身心的呼吸练习之后,Karen老师把前几期课程所学过的动作串联起来,让大家能够在课后进行日常练习。
与此相同,跑步、无障碍等等所有目标的实现都来源于日常点点滴滴的积累。
On the morning of November 30, our beautiful teacher M­­­­­­­­­­­­­­­­iss Karen gave us a refreshing yoga class.
After the breathing exercises to stabilize the body and mind, Miss Karen connected the movements learned in the previous courses so that everyone could practice daily after class.
Along with this, running, promoting accessibility, and all other goals are achieved through the accumulation of daily dribs and dibs.
色彩缤纷的蓝睛灵 Lanjingling's Colorful Lives
蓝睛灵跑high各赛事。
Lanjinglings ran in various races.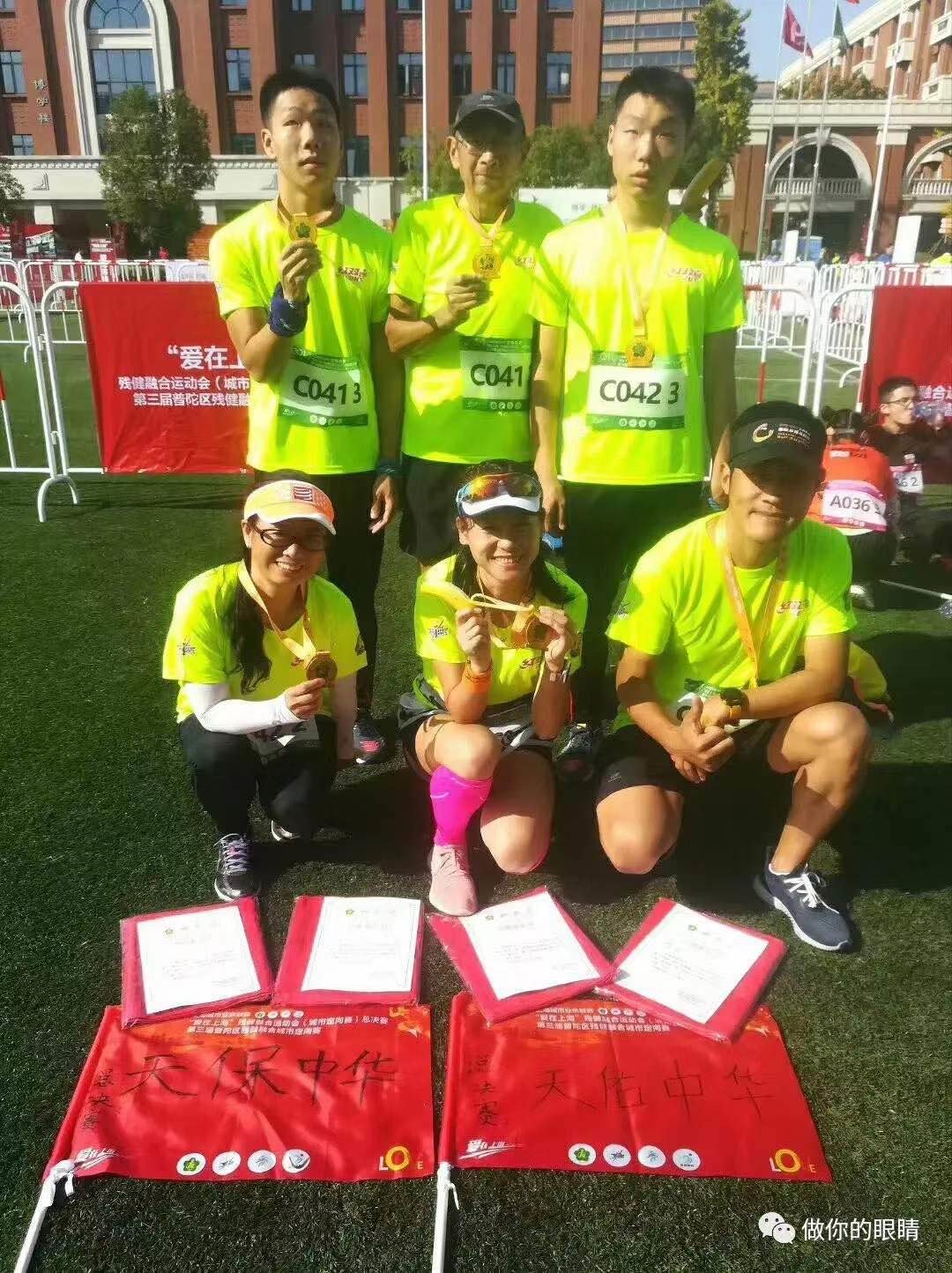 11月进入马拉松赛事的黄金时期。11月3日,前往北马的勇气、Churge喜领霸气非凡的北马金龙奖牌;跑步如飞的频飞扬,在无锡蠡湖半程马拉松再次超越自己,获得1小时38分钟的好成绩。
The golden age of marathons came in November.
On November 3, Yongqi and Churge took part in the CFLD Beijing Marathon and won the outstanding Gold Dragon Medal.
PIN Feiyang, a flying runner, overtook himself again in the half marathon at Lihu in Wuxi, scoring 1 hour and 38 minutes.
蓝睛灵们在11月还自发参与了很多赛事,包括视障者在内的运动爱好者们奔跑的脚步将会越来越自由!
Lanjinglings have also participated in a number of events in November spontaneously. Sports fans, whether visually impair or unimpaired, will have more freedom to run!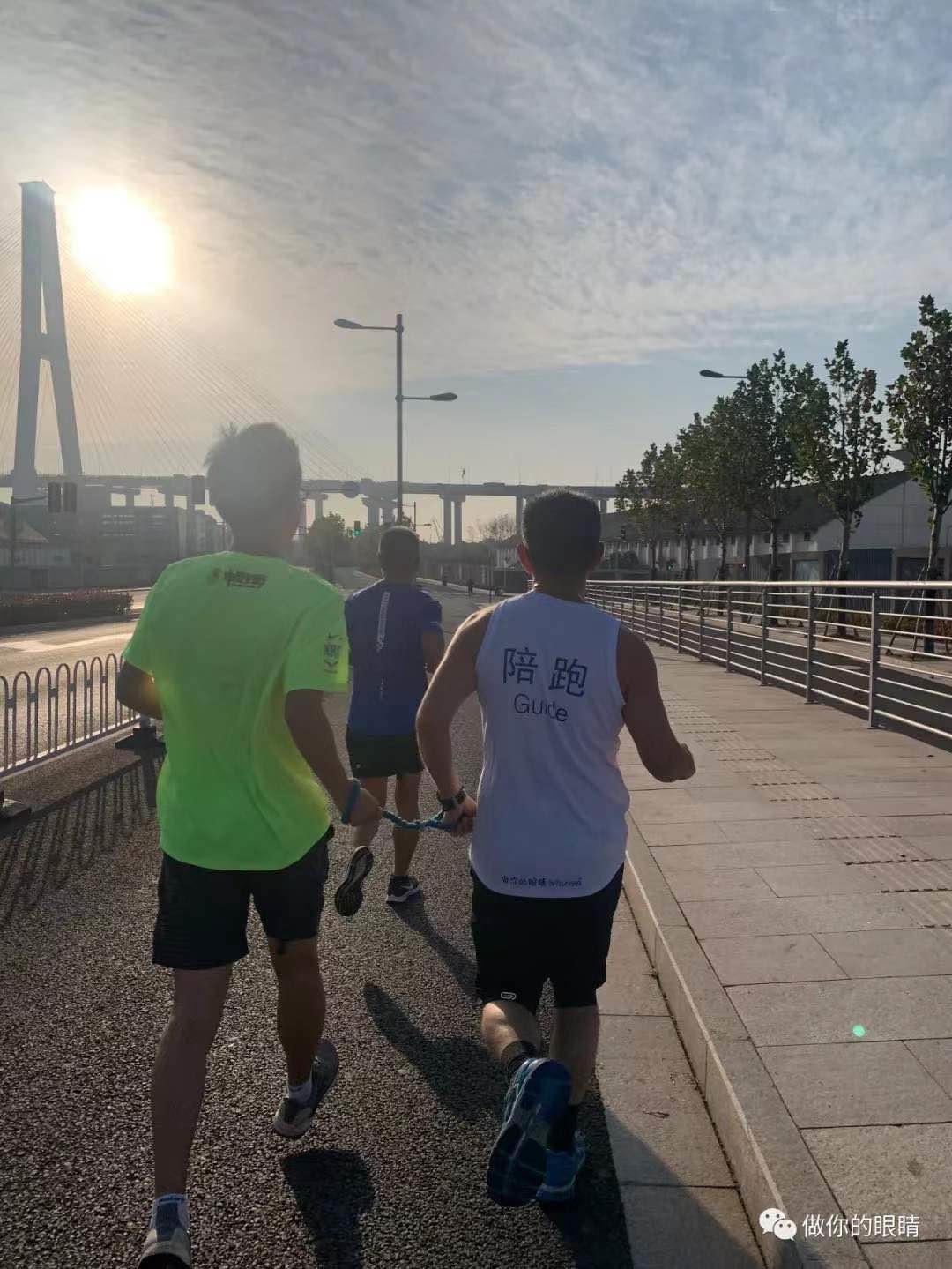 本期双语月刊到此结束,我们下月见。
Thanks for your reading. We will see you next month.
关于做你的眼睛:
做你的眼睛是一个民间自发的公益活动,于2015年1月发起,致力于推动运动无障碍,让视障者参与运动变得简单,让每个人都能享受运动带来的快乐。 无论视障者,还是健视者,我们都称呼彼此为蓝睛灵。蓝睛灵传达一个理念:在各种运动场所,在路跑、游泳、自行车、铁人三项等赛事中,身体有障碍但是热爱运动的人们都可以自由又自然的投入运动,参加比赛。 希望在赛场上,能够看到越来越多的蓝睛灵。 希望,运动无障碍。 beYoureyeS is a local NGO founded in January 2015 in Shanghai, China. beYoureyeS is dedicated to promote sports accessibility, make it easier for visually impaired people to enjoy sports. Let everyone enjoy sports. Whether a visually impaired runner or unimpaired runner, all of our participants are called "Lanjingling". Lanjingling conveys the spirit of our concept: our charity caters to a variety of sports, road running, swimming, cycling and triathlon, to list a few. With us, regardless of the physical impairment, those who wish to participate in a race, are able to. We hope to see you soon on the track and let's do something together for sports accessibility.
主页:www.beyoureyes.org.cn 邮箱:info@beyoureyes.org 微信:beyoureyes 或扫描二维码
希望我们在比赛中汇集的能量,
可以流动到需要它们的人们那里,
希望我们在运动中得到的勇气,
让更多的人有力量面对困难。
We hope that whilst we're in the competition together,
we may all converge our energy as one to make each and all strong,
We hope that whilst doing sports together,
we are able to find the nerve to be strong enough to face challenges head on.