2019年12月,蓝睛灵开启了5周岁生日会的报名,受邀参加了2场国际性公益组织的会议并进行分享,共开展5期常规活动,2场企业社会责任(CSR)活动、3场特别活动。
In December 2019, we have opened the sign-up gateway for beYoureyeS 5thAnniversary and attended 2 international NGO conferences. We have carried out 5 regular weekend activities, 2 CSR activities and 3 specials.
文字 Writer:晓斌 Clark
翻译 Translator:宏毅Yoyo, 泱而Neville
编辑 Editor:纪元 Annie
蓝睛灵编辑部 Lanjingling Editorial Office
发布日期:2019年12月22日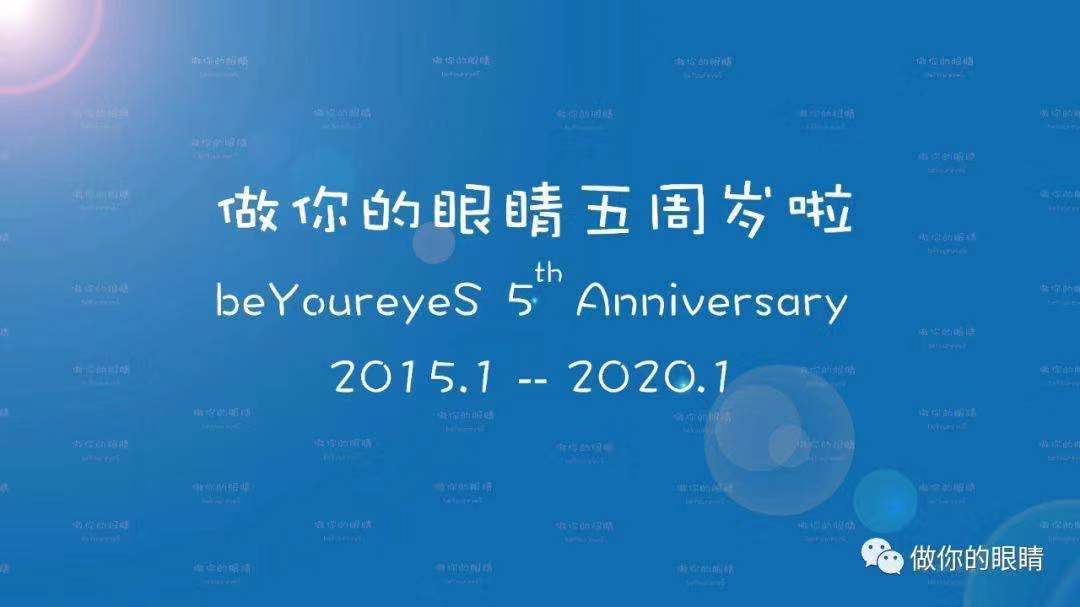 12月13日,蓝睛灵5周岁生日会开始报名啦!
每一年,每一步,我们手挽着手,共同度过,在蓝睛灵的大家庭,总是流淌着脉脉温情。
From December 13th, the 5thAnniversary of beYoureyeS is open for enrollment!
Every year, every step, we pass together hand in hand. In this large family, love trickles and warmth prevails.
年会分为特别活动和晚宴。有分享有节目、有抽奖还有不可少的美食和美酒,更有隆重温馨的颁奖仪式。感谢每一位蓝睛灵的参与,感恩大家在这一年里跑过的路,纪念共度过的快乐时光,敞开心扉让温情和感动流入心田,绽放成新一年每一位蓝睛灵脸上的笑容。
The Anniversary involves special activities and dinner party. There will be performances, lucky draw, award ceremonies, and of course, a variety of delicacies and wines. Thanks to all your support, your participation and devotion, thanks to every mile we ran together, every minute we spent together. Let our heart be charged with affection and celebration, let our cheek flush in thrill and happiness.
蓝睛灵参与全球赠与基金会(美国)上海代表处2019圆桌会议
Lanjingling Attended GlobalGiving Shanghai Represenation Office 2019 Roundtable and Luncheon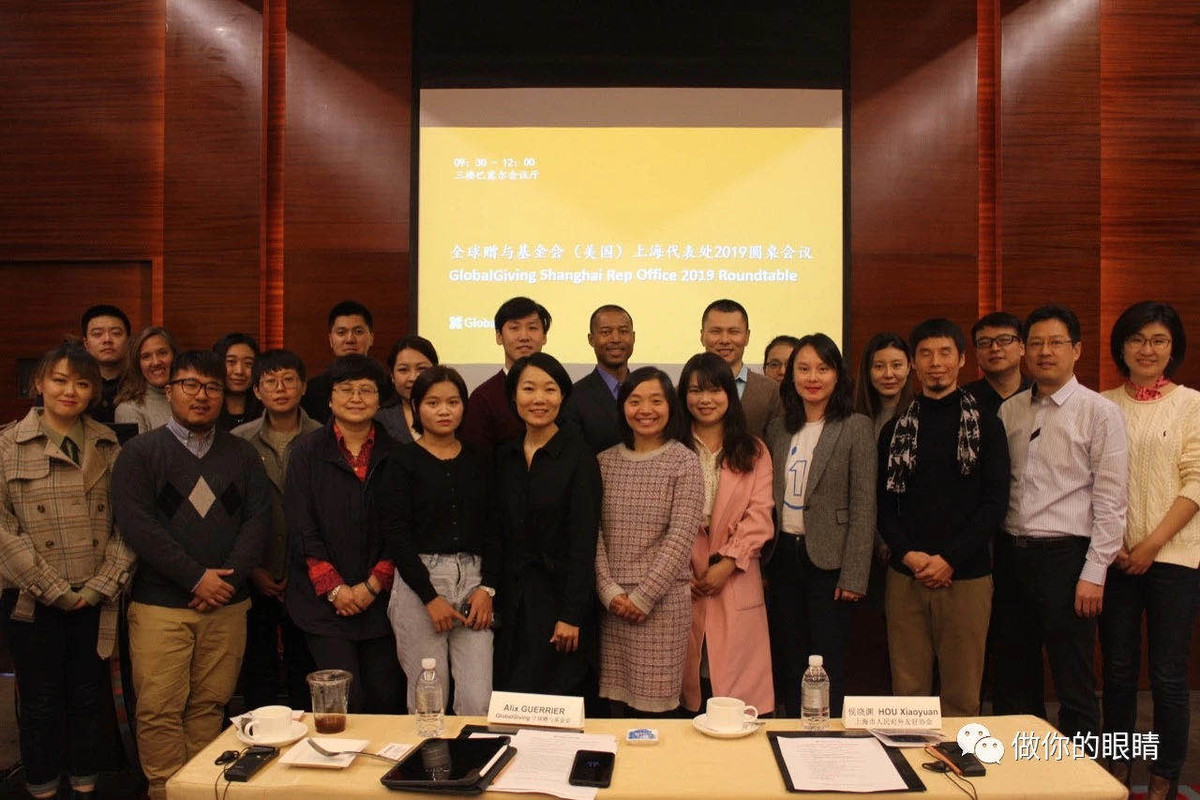 12月4日上午,蓝睛灵作为伙伴接受邀请并参加GlobalGiving全球赠与基金会(美国)上海代表处2019圆桌会议,向东代表蓝睛灵在会议上发言,介绍了主要项目及未来的合作展望。
At luncheon, December 4th, Lanjingling was invited to the GlobalGiving Shanghai Representation Office 2019 Round-table and Luncheon. Ken made a speech as the representative of beYoureyeS, introducing our major projects and cooperative goals in the futures.
蓝睛灵出席第一届GBDN中国分支年会
Lanjingling Attended the First Anniversary of the ILO Global Business and Disabiliy Network - China Chapter (GBDN-China)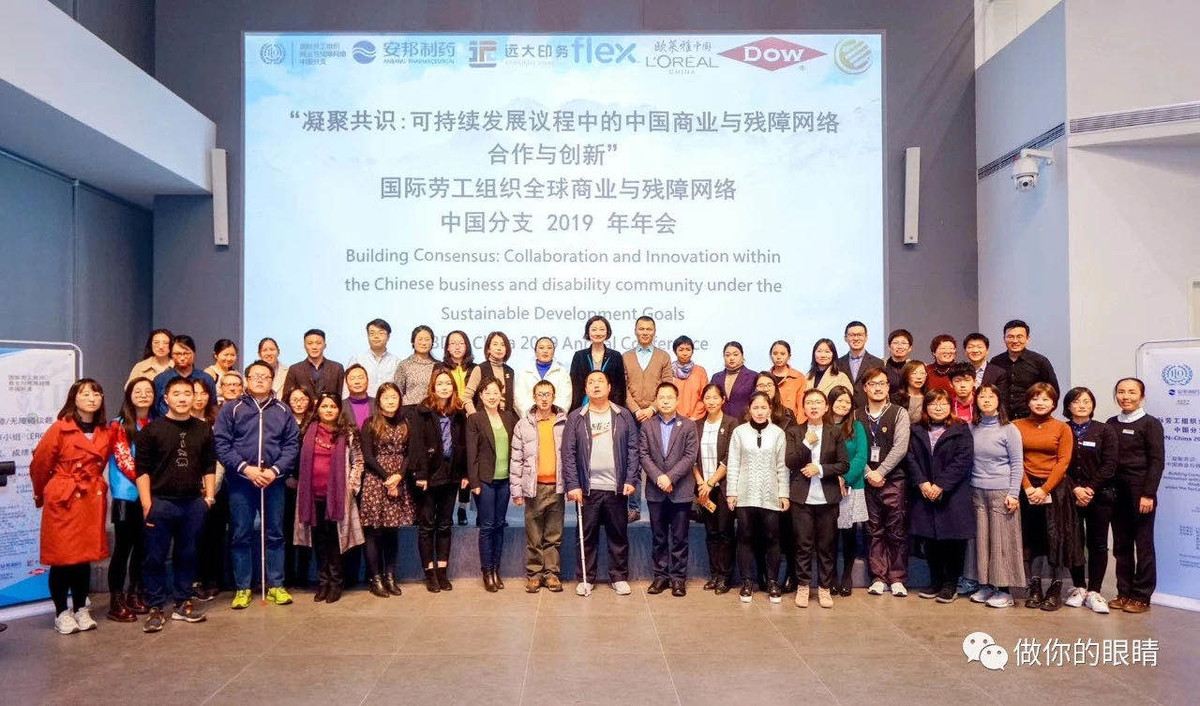 12月4日,第一届国际劳工组织全球商业与残障网络(GBDN)中国分支年会在上海顺利举办。两位来自蓝睛灵的视障者Sam和晓斌在4日下午的会议中分享了各自在工作中的现状和思考。
On December 4th, the first anniversity of International Laber Organization - Global Business and Disability Network - China Chapter (ILO GBDN-China) was successfully held in Shanghai. Sam and Xiaobin delivered speeches at the conference as visually impaired representatives of beYoureyeS, regarding current situations and thoughts on the lives of visually impaired individuals on a daily basis.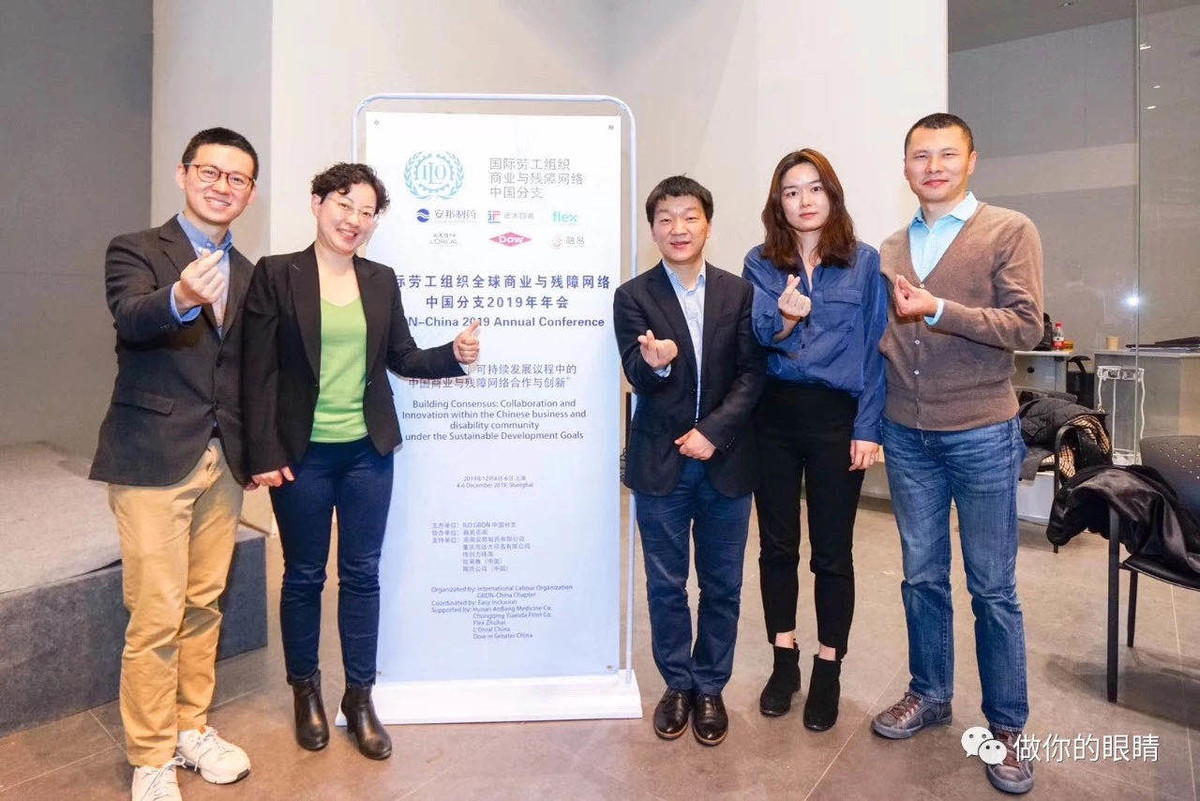 12月5日,3位蓝睛灵参加本次年会第二日的讨论会,与来自企业、公益组织、高校的代表一起畅谈残障者的就业话题,讨论目前各方可以采取的措施并签署合作协议,作为GBDN合作伙伴,蓝睛灵将配合负责华东区的残障者职场训练营项目。
On December 5th, 3 members of Lanjingling attended the seminar on the second day of the annual conference, discussing people with disabilities' employment issues with other representatives of corporations, organizations and education units; reaching the manifestation of specific plans and signing cooperation contracts. As partners of GBDN-China, Lanjingling will cooperate to take responsible for vocational training of people with disabilities in Eastern China.
常规活动
REGULAR WEEKEND ACTIVITIES
做你的眼睛第192期至196期的常规陪跑活动于12月1日、7日、15日、22日和29日在世纪公园、奉贤上海之鱼、天山公园、黄兴公园和世纪公园开展。
The 192-196 beYoureyeS regular weekend running activities took place on December 1st, December 7th, December 15th, December 22nd, and December 29thin Century Park, Fengxian Marine Park, Tianshan Park and Huangxing Park respectively.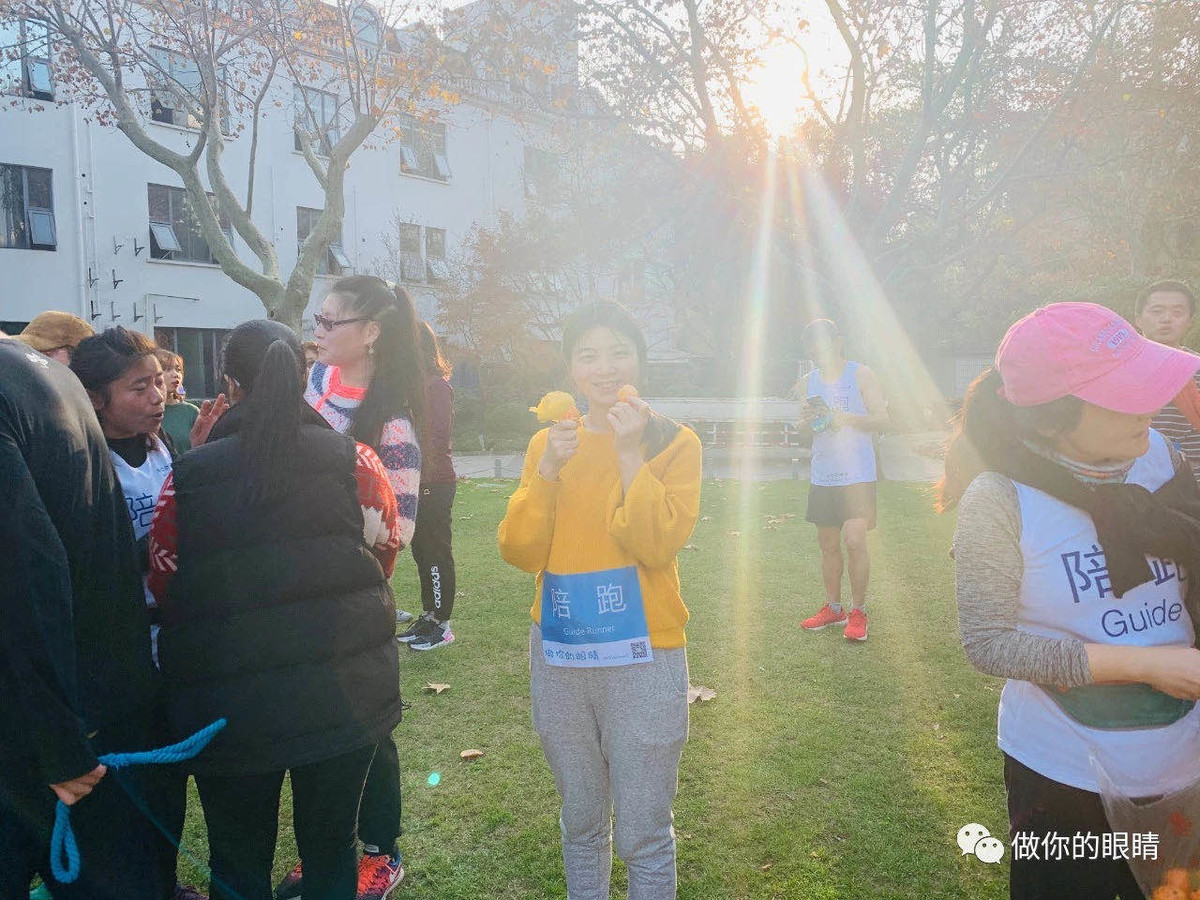 蓝睛灵携手中国老兵马拉松俱乐部开展常规活动
Hand in hand with China Veteran Marathon Club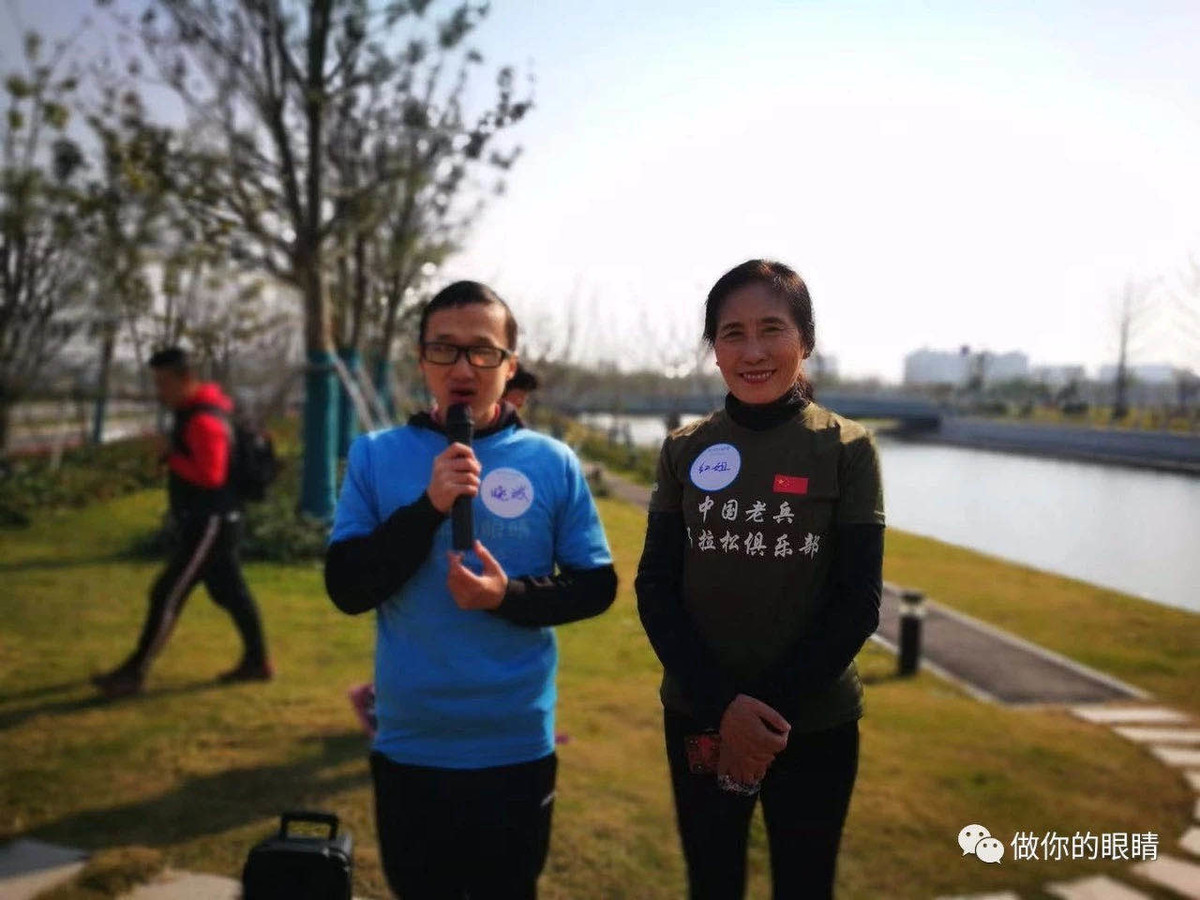 12月7日,蓝睛灵与中国老兵马拉松俱乐部在奉贤的上海之鱼联合开展了一次特别陪跑活动。
On December 7th, Lanjingling, along with China Veteran Marathon Club, carried out a special running activity near Jinhai Lake in FengXian Marine Park(The Fish of Shanghai). We had steaming hot lunch under the cold, bright, winter sky; before going to the fields next to FengXian Museum to carry out running activity.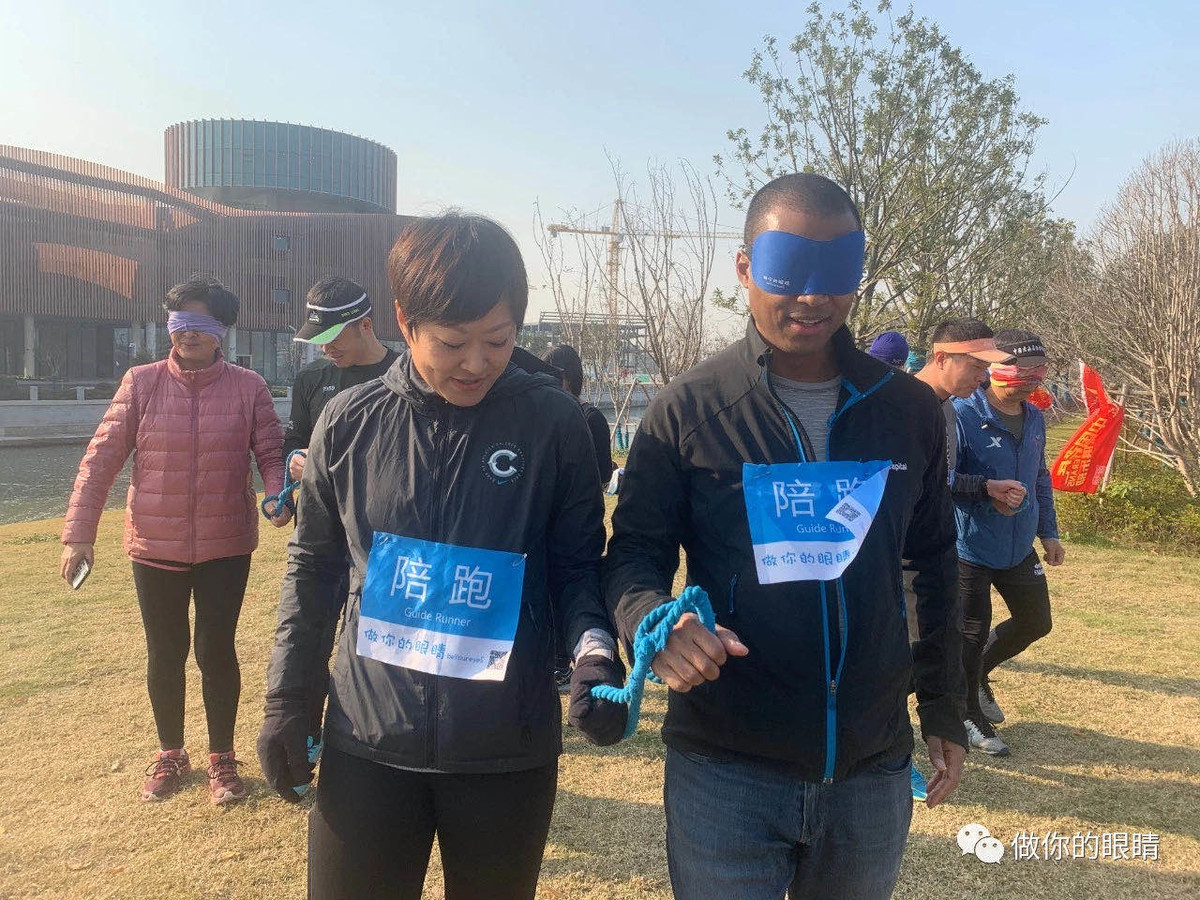 蓝睛灵和老兵们在寒冷的冬日里一起吃了一顿热腾腾的午餐,然后来到奉贤博物馆旁的草地上开展了本期活动。老兵们先参加了新人培训,然后与几组蓝睛灵一起奔跑,最后大家一起合影,期待未来老兵俱乐部和蓝睛灵一起,共同推动运动无障碍。
The Veterans first got trained as newcomers, and after that went running with numerous Lanjingling Groups, before taking a group photo together. We wish that in future Veteran Marathon Club will work with Lanjingling to promote sports accessibility.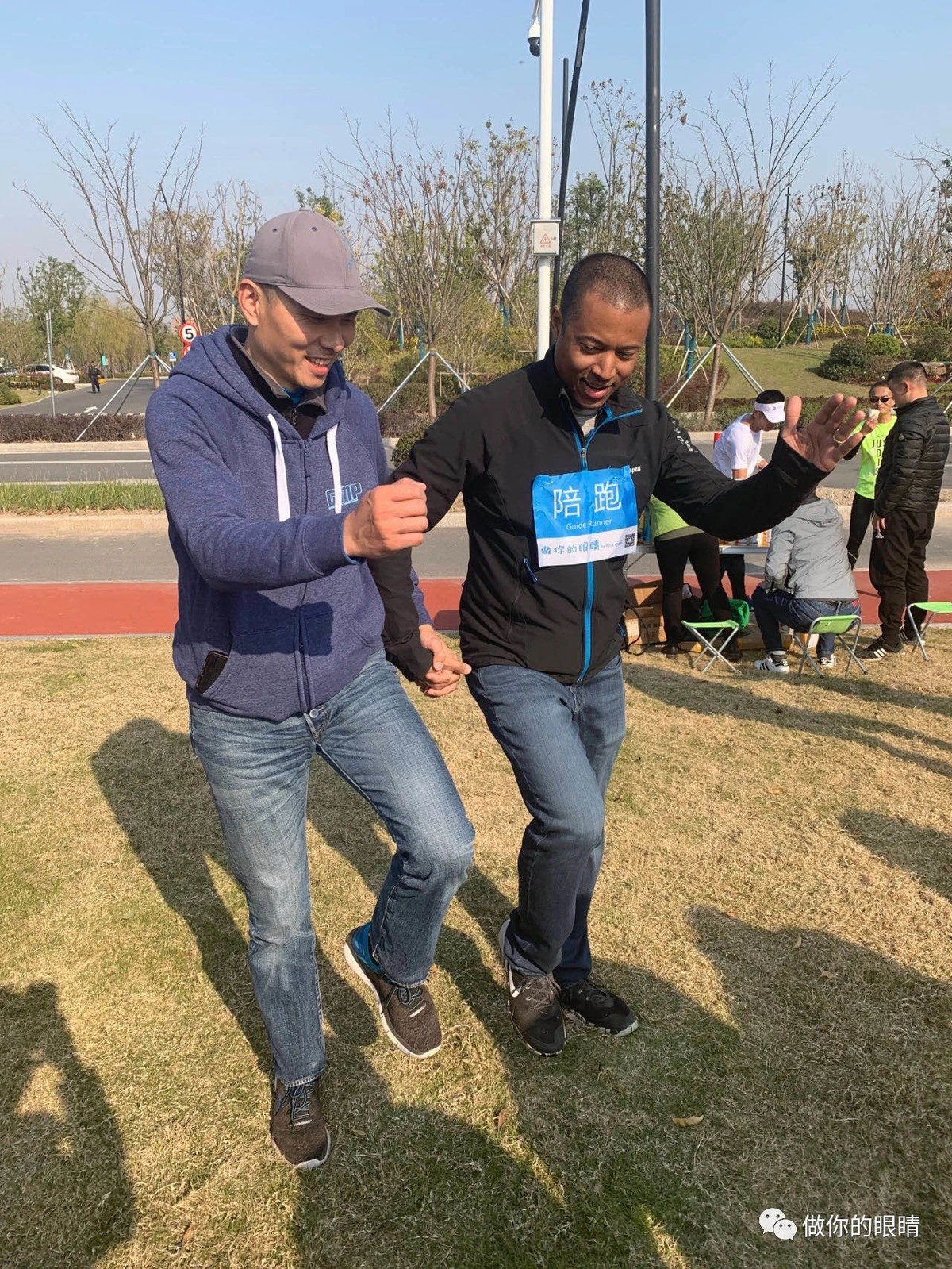 GlobalGiving CEO Alix先生也参加了这次的活动并深受感染。接受蓝睛灵的培训并体验黑暗中奔跑。
Alix, CEO of GlobalGiving, invitationally joined this activity and attented the training. He was deeply impressed with the vibrant and inclusive atmosphere of beYoureyeS.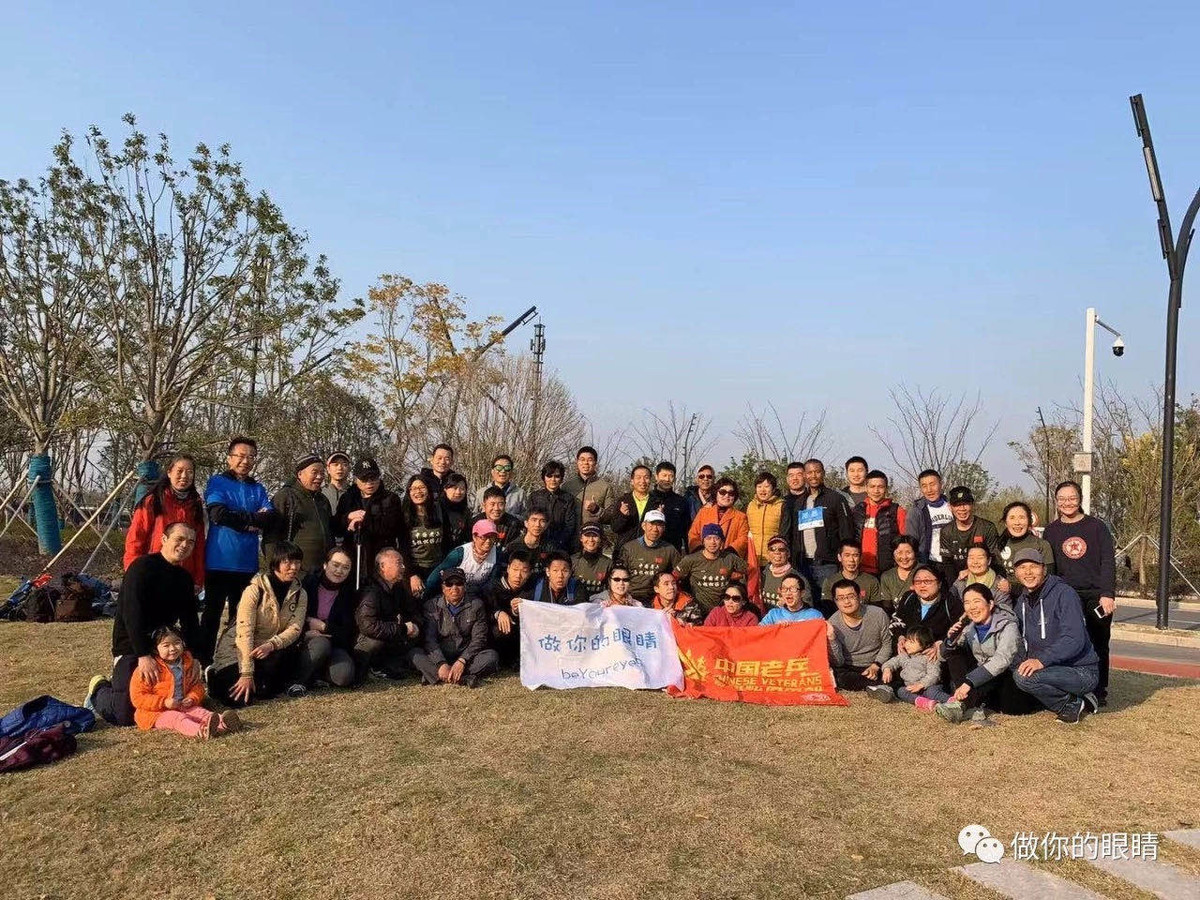 12月1日本月的第一期常规活动中,蓝睛灵迎来了一位新视障伙伴施至杰。他是上师大的大二学生,久闻做你的眼睛陪跑活动。本次活动中他感受到了蓝睛灵们的亲切和活动的专业。
During the regular weekend activity on December 1st, Lanjingling welcomed a newcoming visually impaired runner SHI Zhijie. He is a sophomore student in Shanghai Normal University and has long wished to join our running events. On that day he felt genuine hospitality and our devotion in profession.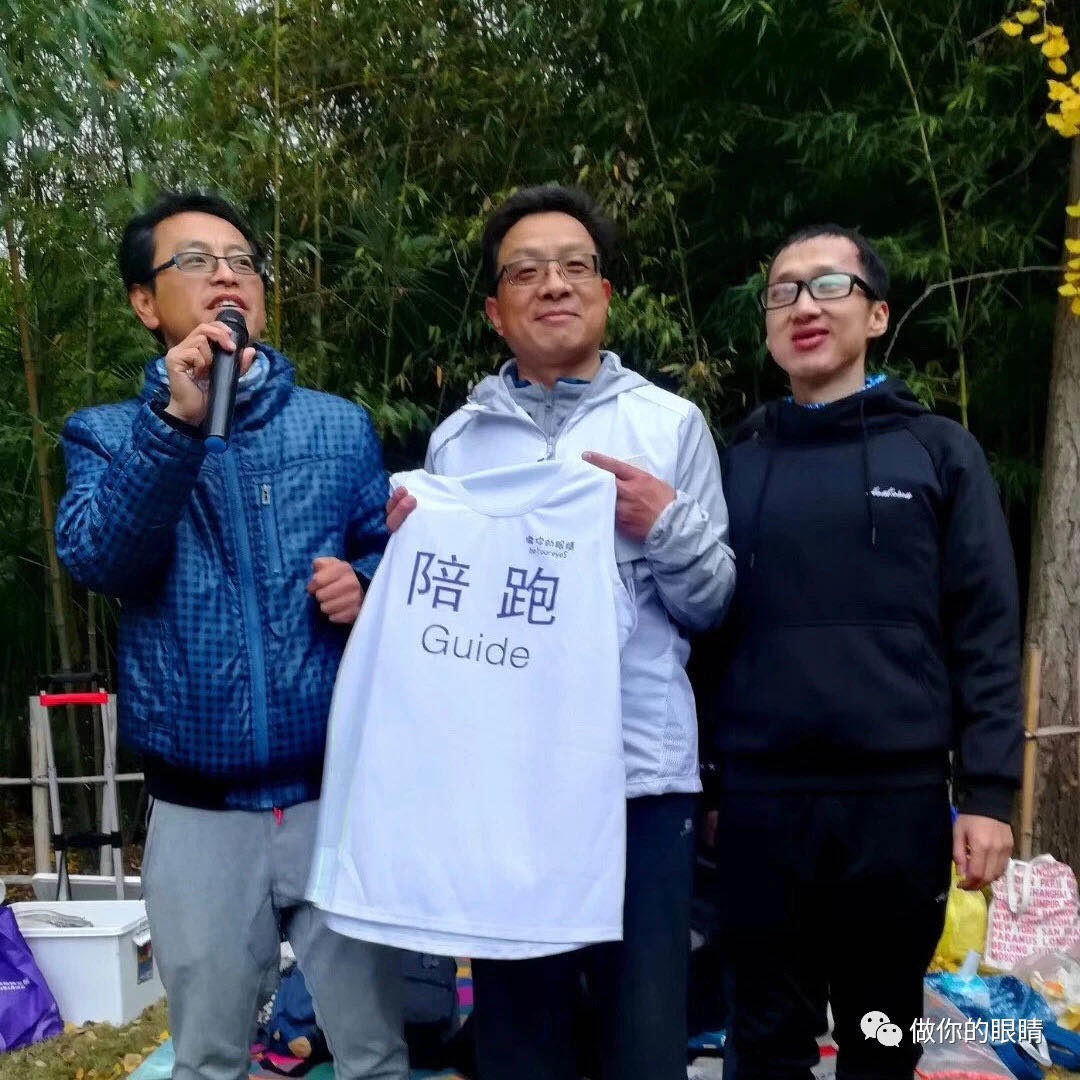 在同一期活动上,来自东华大学的严佳林老师以专业和认真的态度通过了大白陪跑员的考核。严老师分享到:自从来到蓝睛灵以来,给我感触最大的就是:除了推动大家一起互动跑步、锻炼身体之外,就是大家在一起蓬勃向上的精神气,以及相互之间的坦诚、信任、无私和乐观开朗的精神。蓝睛灵们追求和践行的是人与人之间的平等关系。
On the same day, YAN JialiN, a professor from Donghua University, earned her qualified guide runner identity for her professional and caring attitudes. She shared: the biggest impression I felt since joining this program is: other than superficially exercising through guide running, it's the positive attitudes and the mutual trust and belief of members of this family that motivated me and touched me. What Lanjingling had pursued was the respect and equality of all members of society.
企业社会责任(CSR)活动
Corporate Social Responsibility Activities
国际残障日"做你的眼睛"融合活动走进伊顿
International Day of Disabled Persons, beYoureyeS steps into Eaton CSR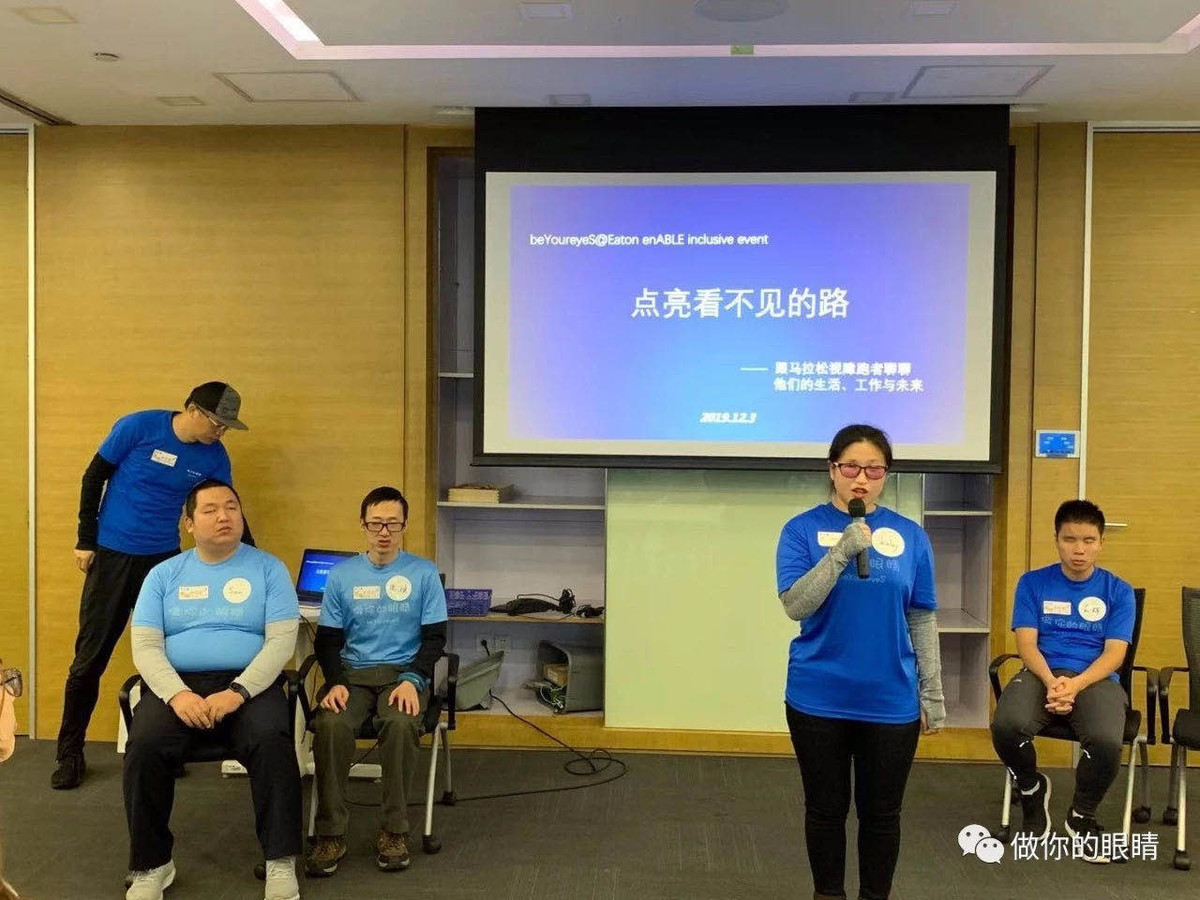 12月3日,在伊顿(Eaton)公司位于上海的园区中,蓝睛灵们给伊顿的员工带来了一场以融合与无障碍为主题的体验式融合活动。
On December 3rd, at Eaton Compony in Shanghai, Lanjingling brought Eaton Staff members a experiential inclusive activity on the subject of Inclusion and Accessibility.
中午12点活动开始,雪慧担当主持人,引出了蓝睛灵们的分享,主题为点亮看不见的路。晨辉的爱情和跑马故事获得了参与者的屡次惊叹;晓斌分享了蓝睛灵组织的"无障碍"的初心、方法和展望;Sam用活泼的互动分享了他在苹果工作的经历以及对视障者融合就业的思考。
The activity started at noon, Xuehui being the host. Lanjingling members shared their experiences and understandings on "Light the invisible path". Chenhui's experience of romance in Marathon got was particularly captivating and miraculous; Xiaobin talked about the essence, method and expectation of "Sports accessibility"; Sam shared his working experience in Apple and his thoughts on equal job opportunities and inclusive employment in a vivacious and interactive way.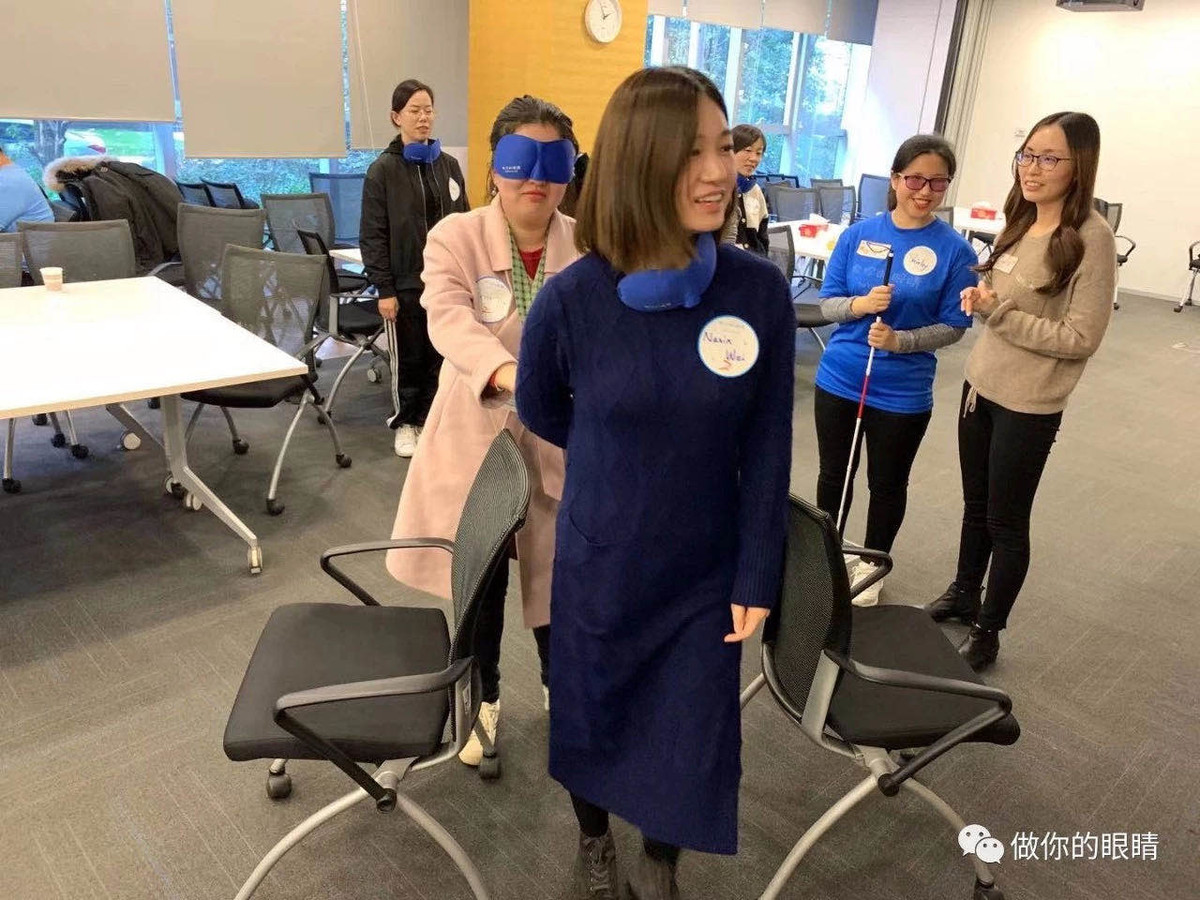 分享环节结束后,伊顿的员工分成两组参加了体验式的培训。在体验了视障者出行的状态之后,伊顿的员工们完成了一次趣味无障碍定向接力赛。在熟悉的园区中关闭视觉,伊顿的员工们有的依然能步履轻快,有些则在路况变化时需要小心翼翼。
After the first sharing session, Eaton's staff members were grouped into two teams to participate experiential training. After experiencing the lives of the blind, they completed a fun Relay Race. Without vision in familiar places, some members were able to walk confidently while others turned exceptionally cautious and careful.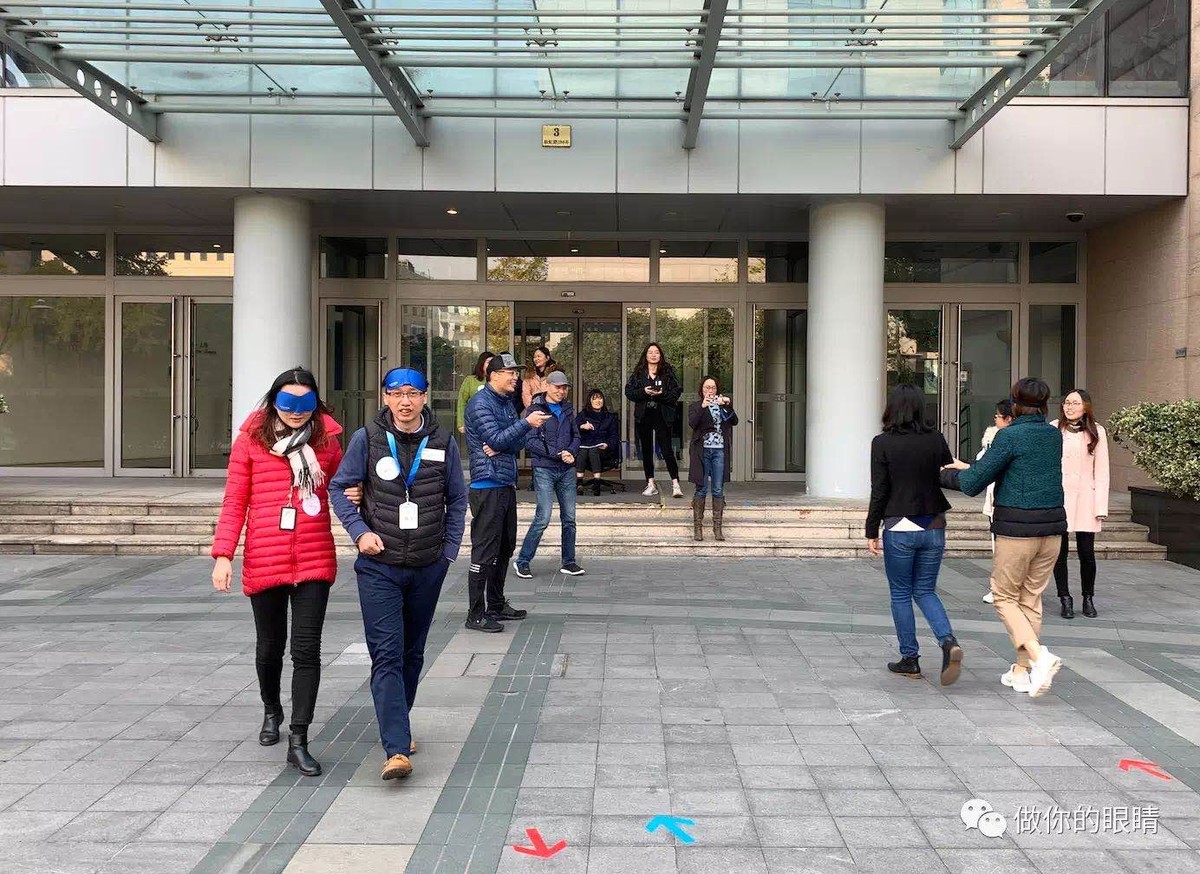 在这样的深度体验后,参与者们能亲身了解视障者出行时可能遇到的障碍,也会更多地在生活中用正确的方法来协助视障者的无障碍出行。这就是蓝睛灵把分享带入企业的重要期盼之一:让更多的人了解如何安全、礼貌地引导视障者,与蓝睛灵一起,让越来越多的视障者敢于走出家门、安全地出行。
Through this deep experience, participants can feel the possible barriers and difficulties faced by visually impaired people when they go out and thus acquire better knowledge and experience in guide and help them in real life, which is one of the main goals of carrying out these CSR activities. To let more people understand how to correctly and safely guide visually impaired individuals, allowing more and more of them to be able to confidently and safely walk out of their homes into the streets in this vibrant society.
历峰新声音再响无障碍之声
Voice of accessibility, Voice of Angel of Richemont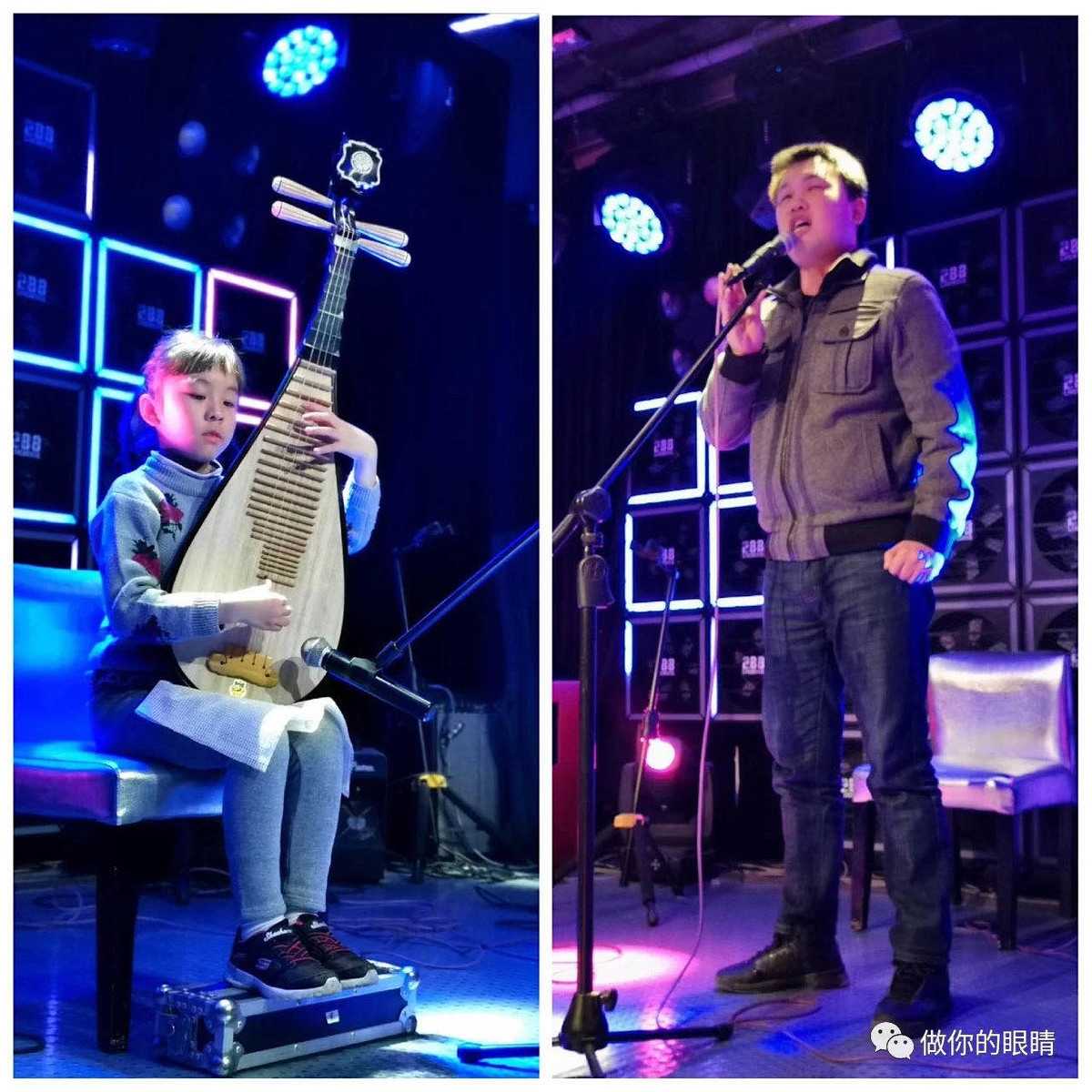 12月6日晚7点,两位蓝睛灵的表演嘉宾唐俊豪清亮的歌声和元元小朋友欢快的琵琶旋律,回响在第6届历峰新声音(Richemont Voice of Angel)员工歌唱比赛的舞台上。
今年是蓝睛灵连续第4年受邀参加历峰新声音,现场节目均获得了观众们热烈的掌声。感谢历峰公司把本次活动的门票作为善款捐赠给做你的眼睛beYoureyeS以持续开展活动,也感谢历峰集团四年来一如既往的支持与陪伴。
At seven pm, December 6th, 2 members of Lanjingling musical performers, TANG Junhao and YUAN Yuan, had their resonant voice and melodic songs echoing in the theater, on the stage of the 6th "Richemont Voice of Angel" Staff talent show.This is the fourth consecutive year of Lanjingling's participation in this event. All performances ended in waves of applause and cheering. Special gratitude to Richemont which donated all its ticket earnings to beYoureyeS, and thanks to their consistent support and accompany.
GlobalGiving年会上的分享
beYoureyeS Story Shared in GlobalGiving Annual Meeting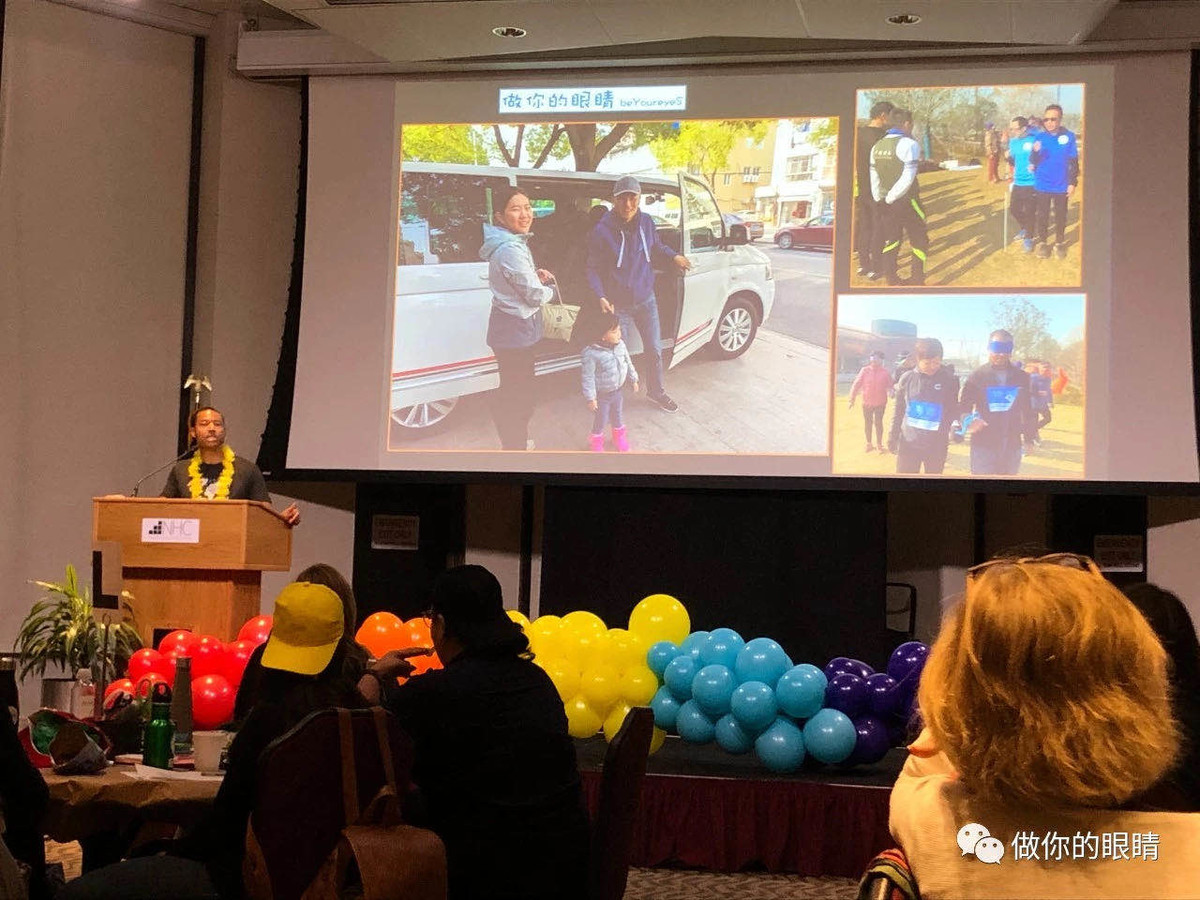 全球赠与基金会GlobalGiving的CEO Alix先生受邀参加了12月7日蓝睛灵与中国老兵马拉松俱乐部联合开展的陪跑活动。Alix先生深受蓝睛灵的活力和融合气氛的感染。
Alix, CEO of GlobalGiving, invitationally joined the regular weekend activity of Lanjingling and China Veteran Marathon Club on December 7th. Alix was deeply impressed with the vibrant and inclusive atmosphere of beYoureyeS activities.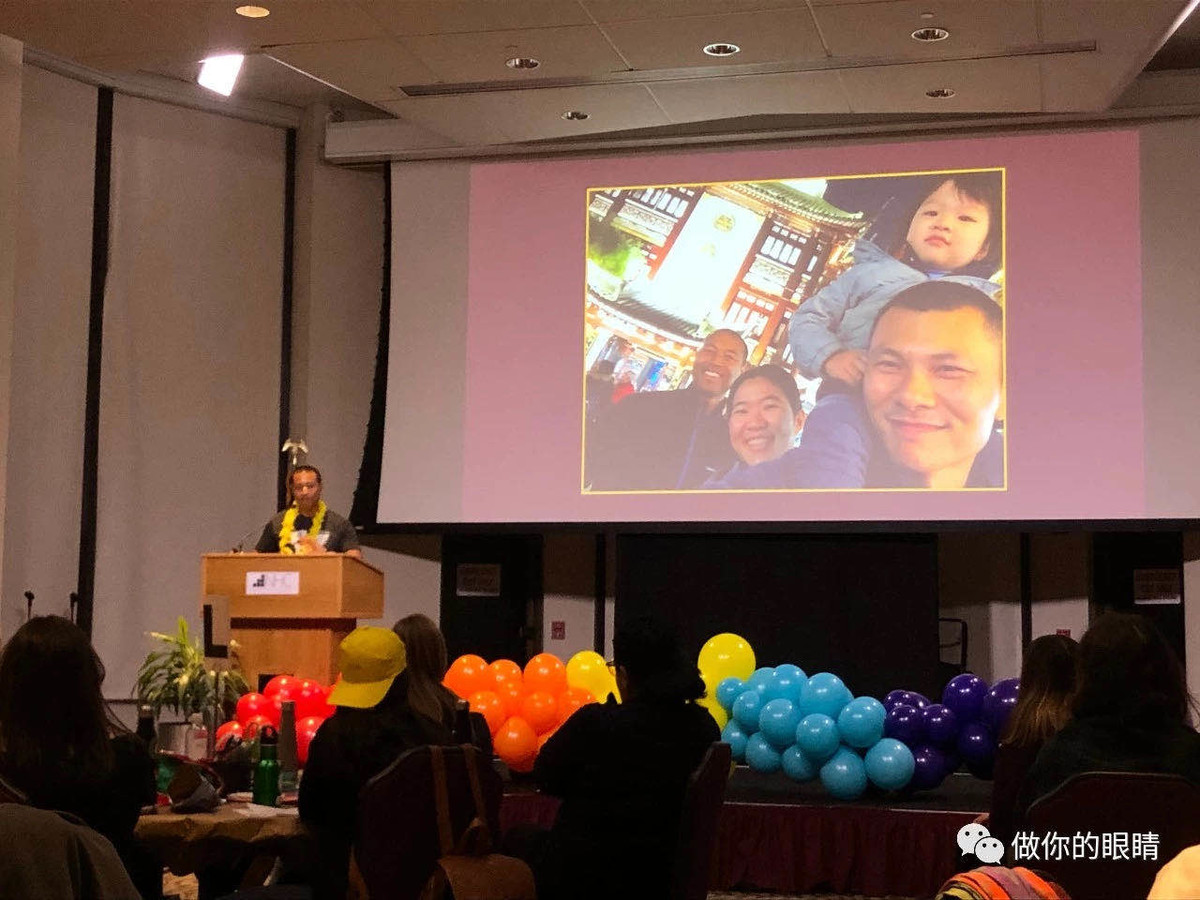 12月中旬,在华盛顿召开的GlobalGiving全球年会上, Alix先生向与会的董事及全球员工分享了蓝睛灵的故事。Alix先生表示,蓝睛灵"做你的眼睛"活动给他留下尤为深刻的印象。Alix也推荐大家关注蓝睛灵在中国开展的各类公益活动,并将提供更多的支持和帮助,让蓝睛灵的理念走得更久更远。
In mid-December, on the GlobalGiving Annual Meeting, Alix shared tales of Lanjingling with the board and the employees of GlobalGiving. Alix said, beYoureyeS activities deeply impressed him. He advised the audience to pay close attention to the charitable activities held by Lanjingling, to give more support, letting the journey of sports accessibility to long live in future.
平安夜蓝睛灵欣赏音乐会
Concert at Christmas Eve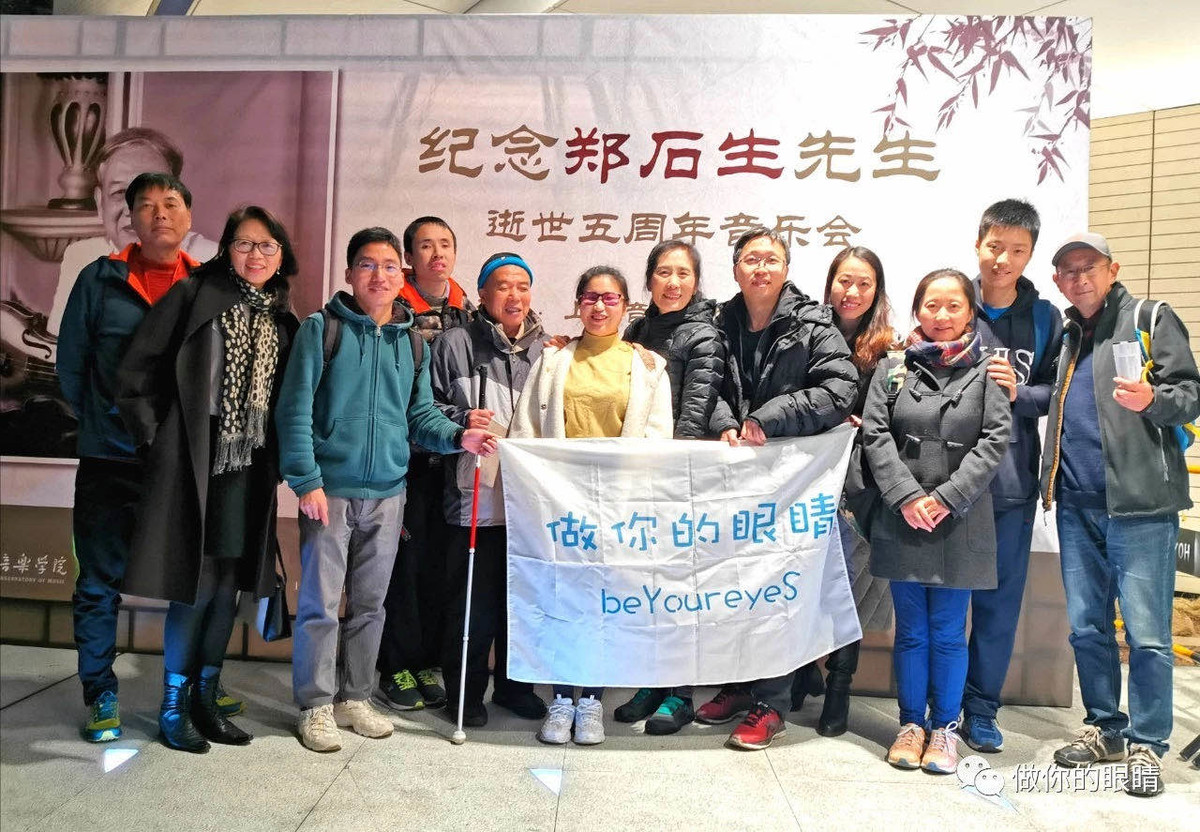 12月24日晚13名蓝睛灵来到上音歌剧院,参加"纪念郑石生教授逝世五周年音乐会"。精彩的音乐会给蓝睛灵们都带来优美的听觉感受,共度了一个温馨的圣诞平安夜。感谢关心公益事业的郑先生给蓝睛灵赠票。
At Christmas Eve 2019, 13 Lanjingling members arrived at the Theater of Shanghai Conservatory of Music for the "Professor ZHENG Shisheng 5thyear after death commemoration Concert". The orchestral melodies brought joyful auditory experiences to the ears of Lanjingling members, setting a serene mood for Christmas Eve. Special thanks to organizations who provided free tickets to beYoureyeS.
平和急救社为蓝睛灵进行院前急救培训
Pinghe First-aid Cub Providing Medical Training for Lanjingling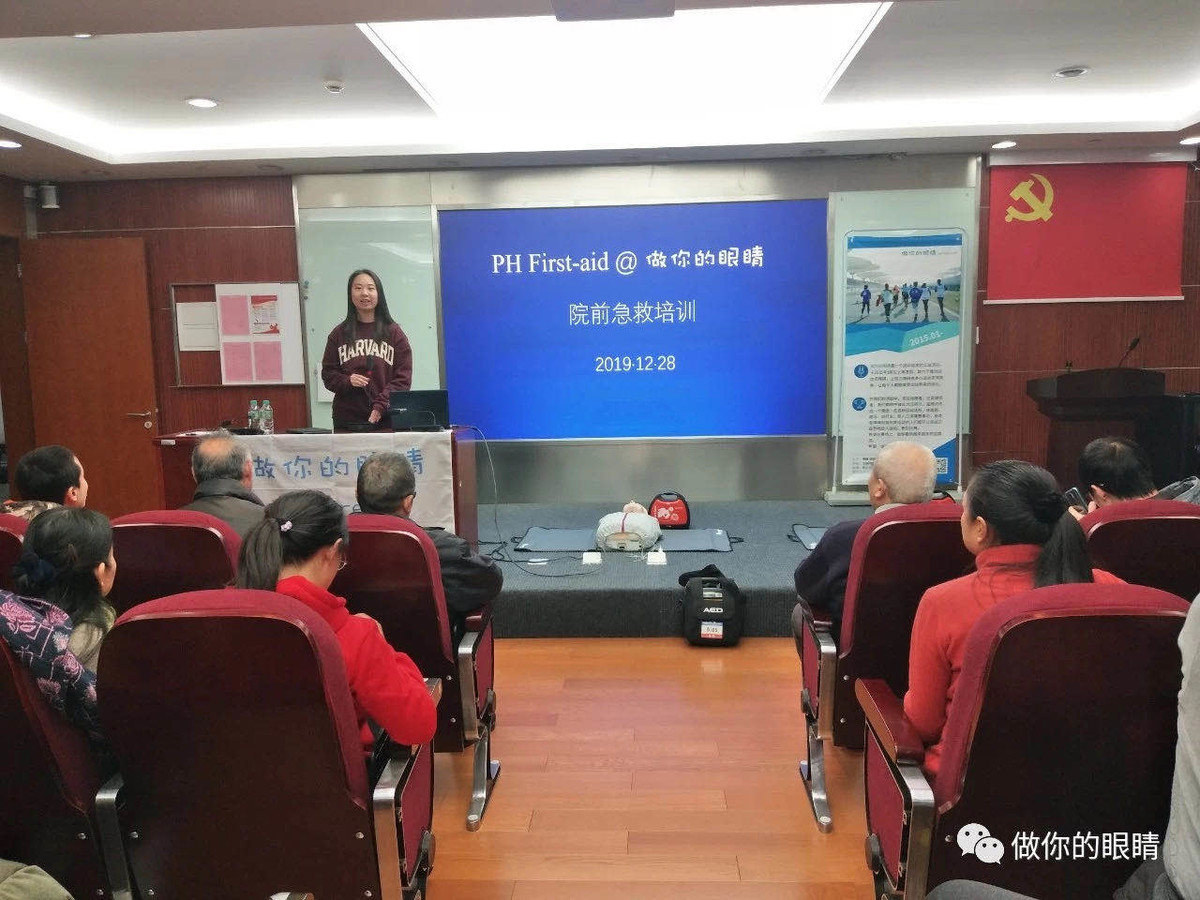 12月28日下午平和双语学校的急救社队员在蓝睛灵之家安排的培训课堂,与20余位蓝睛灵伙伴们共同学习"心脏骤停时院前急救"和中暑、失温时的急救方法,并进行了实践操作。参会的蓝睛灵,不论健视和视障者都了解到更多正确的急救知识,今后将把它正确地传播给更多的人,也能为生命急救做一份努力。
In the afternoon of December 28th, the first aid club from Pinghe Bilingual School organized medical training sessions for Lanjingling, investigating and practicing first aid procedures in response to heat-beat halt, sun stroke and hypothermia, together with 20 Lanjingling members. All Lanjingling participants, no matter visually impaired or unimpaired, earned valuable knowledge on medical procedures. We can utilize and spread this knowledge in future days, taking part in the universal pursuit of sporting safety and first aid.
感谢大家的阅读,本期周刊到此结束,我们下月再见。
Thanks for your reading. We will see you next month.
关于做你的眼睛:
做你的眼睛是一个民间自发的公益活动,于2015年1月发起,致力于推动运动无障碍,让视障者参与运动变得简单,让每个人都能享受运动带来的快乐。
无论视障者,还是健视者,我们都称呼彼此为蓝睛灵。蓝睛灵传达一个理念:在各种运动场所,在路跑、游泳、自行车、铁人三项等赛事中,身体有障碍但是热爱运动的人们都可以自由又自然的投入运动,参加比赛。
希望在赛场上,能够看到越来越多的蓝睛灵。
希望,运动无障碍。
beYoureyeS is a local NGO founded in January 2015 in Shanghai, China.
beYoureyeS is dedicated to promote sports accessibility, make it easier for visually impaired people to enjoy sports. Let everyone enjoy sports.
Whether a visually impaired runner or unimpaired runner, all of our participants are called "Lanjingling".
Lanjingling conveys the spirit of our concept: our charity caters to a variety of sports, road running, swimming, cycling and triathlon, to list a few. With us, regardless of the physical impairment, those who wish to participate in a race, are able to.
We hope to see you soon on the track and let's do something together for sports accessibility.
主页:www.beyoureyes.org.cn
邮箱:info@beyoureyes.org
微信:beyoureyes 或扫描二维码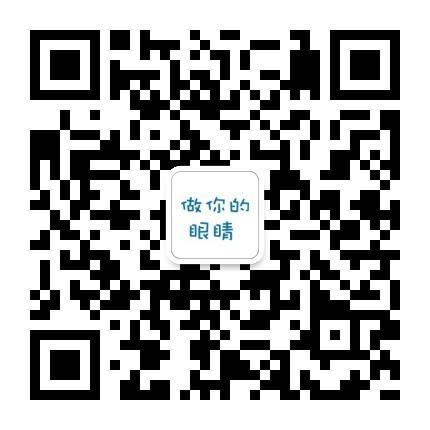 希望我们在比赛中汇集的能量,
可以流动到需要它们的人们那里,
希望我们在运动中得到的勇气,
让更多的人有力量面对困难。
We hope that whilst we're in the competition together,
we may all converge our energy as one to make each and all strong,
We hope that whilst doing sports together,
we are able to find the nerve to be strong enough to face challenges head on.