摘要 Brief
2020年5月,蓝睛灵在疫情之后重新开始了线下的常规活动,常规活动开展超过200期,并结合线上线下开展多种形式的活动。
InMay 2020, as beYoureyeS restarted its regular weekend activities, which haspreviously been halted due to COVID19 outbreak, it reached the 200th round markof regular weekend activities. Moreover, both online and offline activitiesgradually took the pace of recovery from the stagnation brought by COVID 19.
5月我们共开展了4期常规活动、1场企业社会责任(CSR)活动、4场抖音云健身直播,获得2个奖项,并持续开展瑜伽线上读书会。
InMay, beYoureyeS has carried out 4 regular weekend activities, 1 CSR activity, 4Tik-Tok fitness livestreaming events; received 2 honorable awards; and continuedcarrying out Online Yoga Reading Sessions.
文字 Writer:晓斌 Clark
翻译 Translator:泱而 Neville 弘毅 Yoyo
编辑 Editor:纪元 Annie
蓝睛灵编辑部 Lanjingling Editorial Office
发布日期:2020/7/17
蓝睛灵常规活动迎来第200期!
We reached the 200th beYoureyeS regularweekend activity!
哦可爱的蓝睛灵
Oh! Dear Lanjingling
哦可爱的蓝睛灵
Oh! Dear Lanjingling
他们跑步交友携手并进在一起真幸福
They run, hand in hand —— how happy
他们相亲相爱快乐多欢喜
They attach, heart to heart —— how joyful
这是才女乙儿为蓝睛灵第200期常规活动准备的彩蛋。这首改编的《蓝睛灵之歌》用文字记录下了5年来200个周末蓝睛灵们在一起跑步、一起聊天的快乐时光。 This is created by Yi Er as a tribute to the 200thregular weekend activity of beYoureyeS. This modified version of 'the Song of Lanjingling' records Lanjingling's joyful memories of the past 5 years through afew subtle flashes of ink.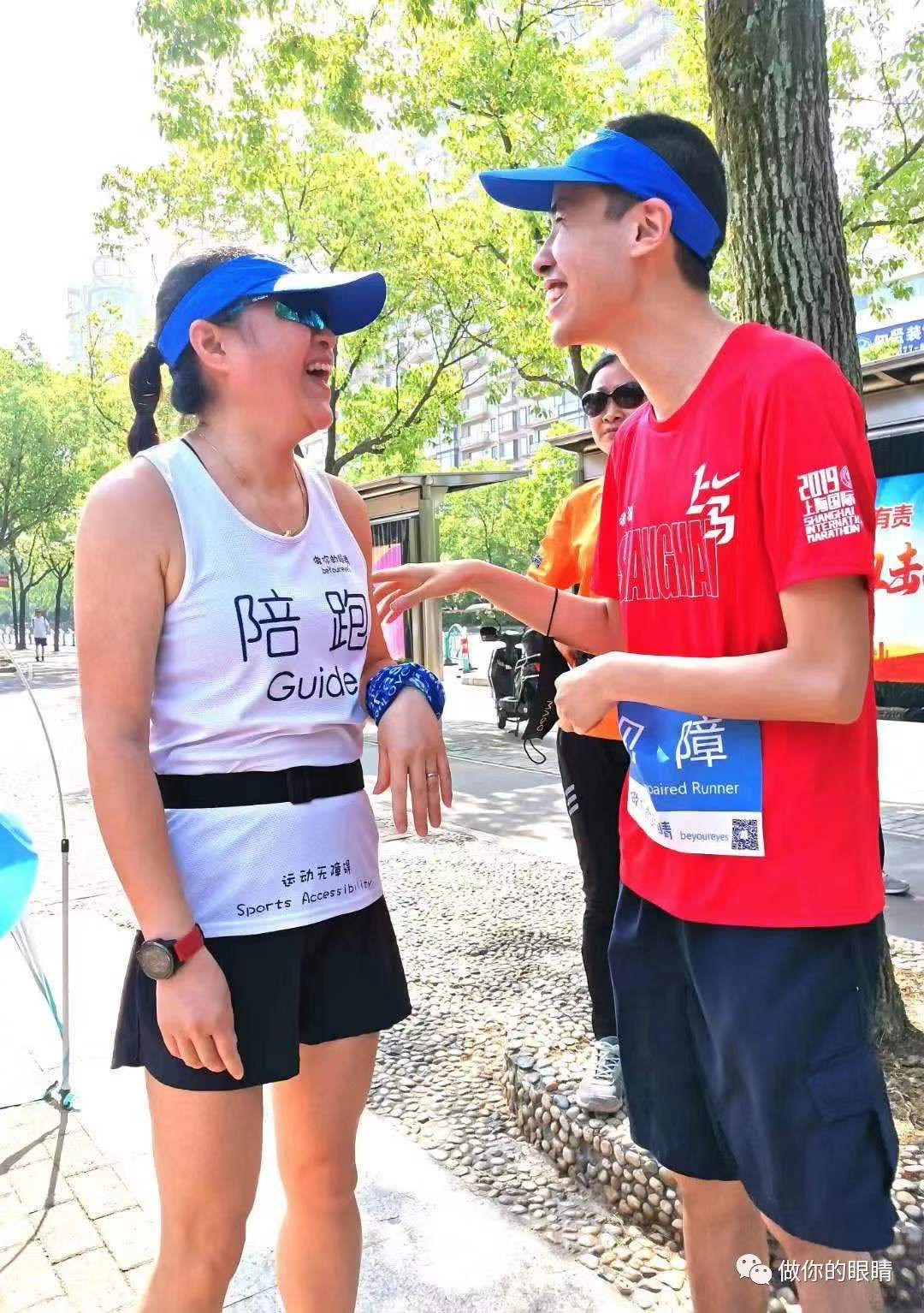 本次庆祝活动在5月24日上午9点准时开始。与此同时晨辉在抖音上直播了本次庆祝活动,采访了许多小伙伴的感受。 The celebratory activity began at 9 o'clock, May 24. Chenhui organized Tik-Tok live streaming of the activity, interviewing numerous audiences about their feelings.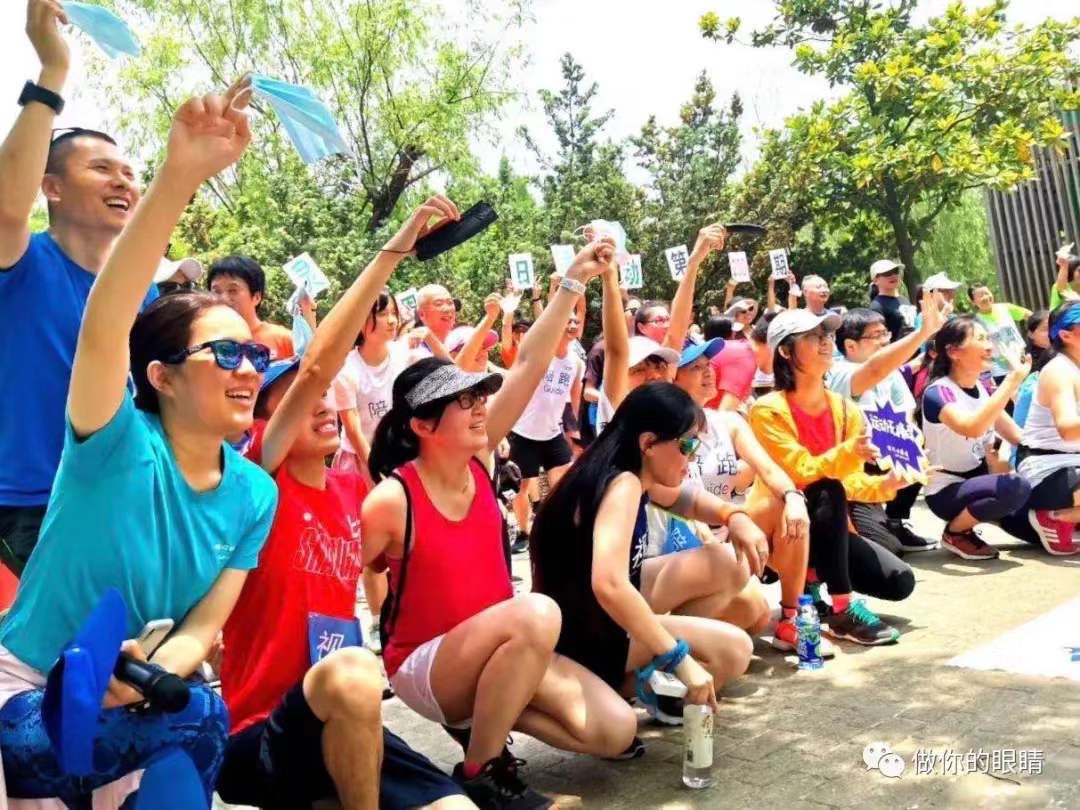 当天,蓝睛灵们共同完成了400公里的跑量,一起为蓝睛灵加油,为运动无障碍加油! That day, Lanjingling ran an accumulated distance of 400km. Go Lanjingling! Go sports accessibility!
视频 1 加油版
Video 1 Version Jiayou
视频 2 弹唱版
Video 2 Version Singing
常规活动 REGULAR WEEKEND ACTIVITIES
在新冠疫情受到较好的控制以后,5月10日蓝睛灵在浦西、浦东、滨江三个活动地点开展了试运行的常规活动。蓝睛灵们积极参加、做好个人防护,迎接常规活动的正式回归。
Following considerable successes in epidemicprevention and control, Lanjingling carried out 3 test rounds of regular weekend activities in Puxi, Pudong and Binjiang on May 10. All participants took an active part in warmly welcoming the return of offline activities whilst strictly up holding social distancing guidelines.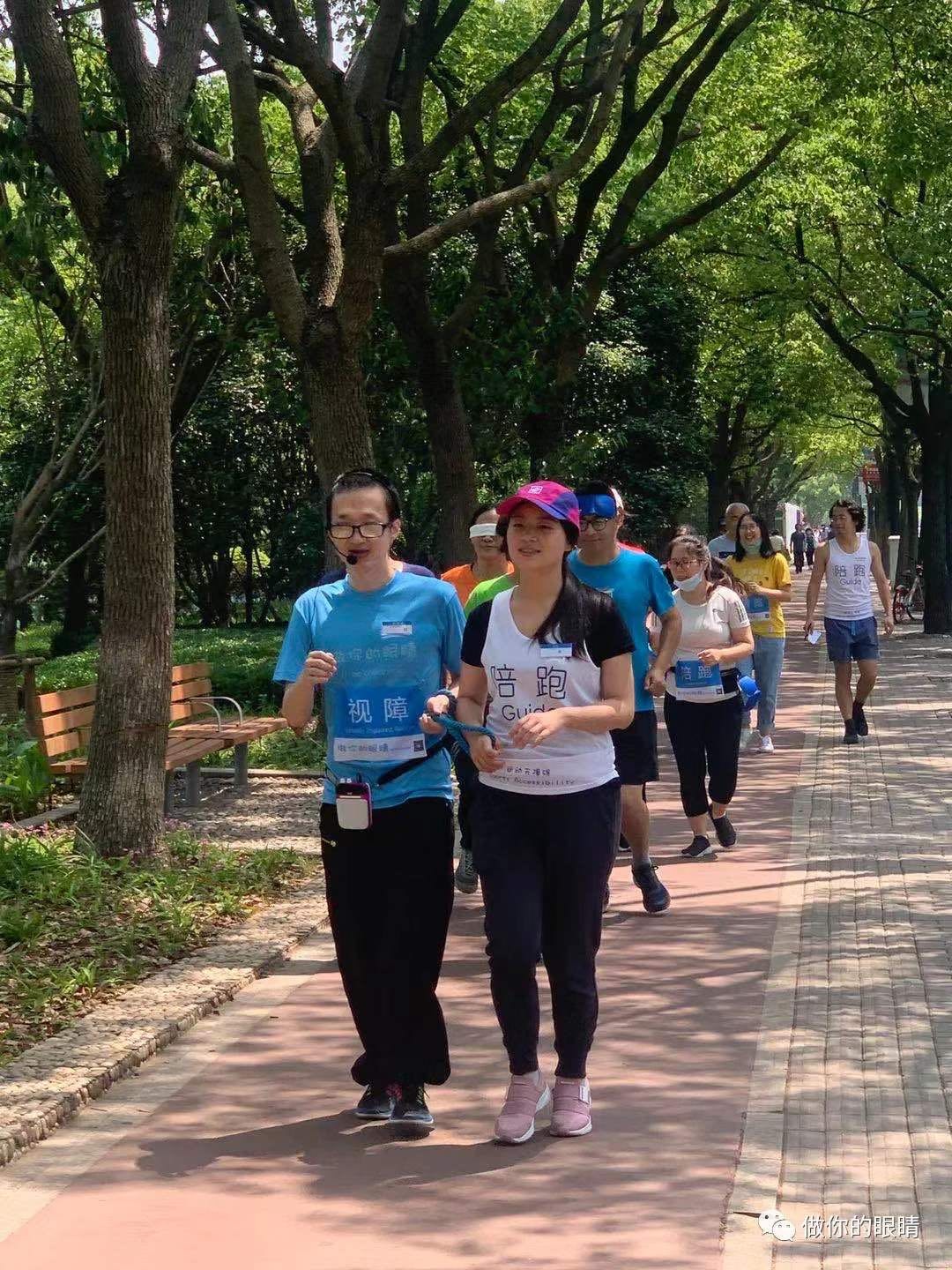 做你的眼睛第199期至201期的常规陪跑活动于5月17日、24日、31日在世纪公园和闵行文化公园开展。恢复后的常规活动多数将分为浦西、浦东两个分区同时进行。 The 199th, 200th and 201stregular weekend activities were carried out on May 17,  May 24, and May 31, respectively in Century Park and Minhang Cultural park. Post-recovery regular weekend activities will take place in Puxi and Pudong simultaneously.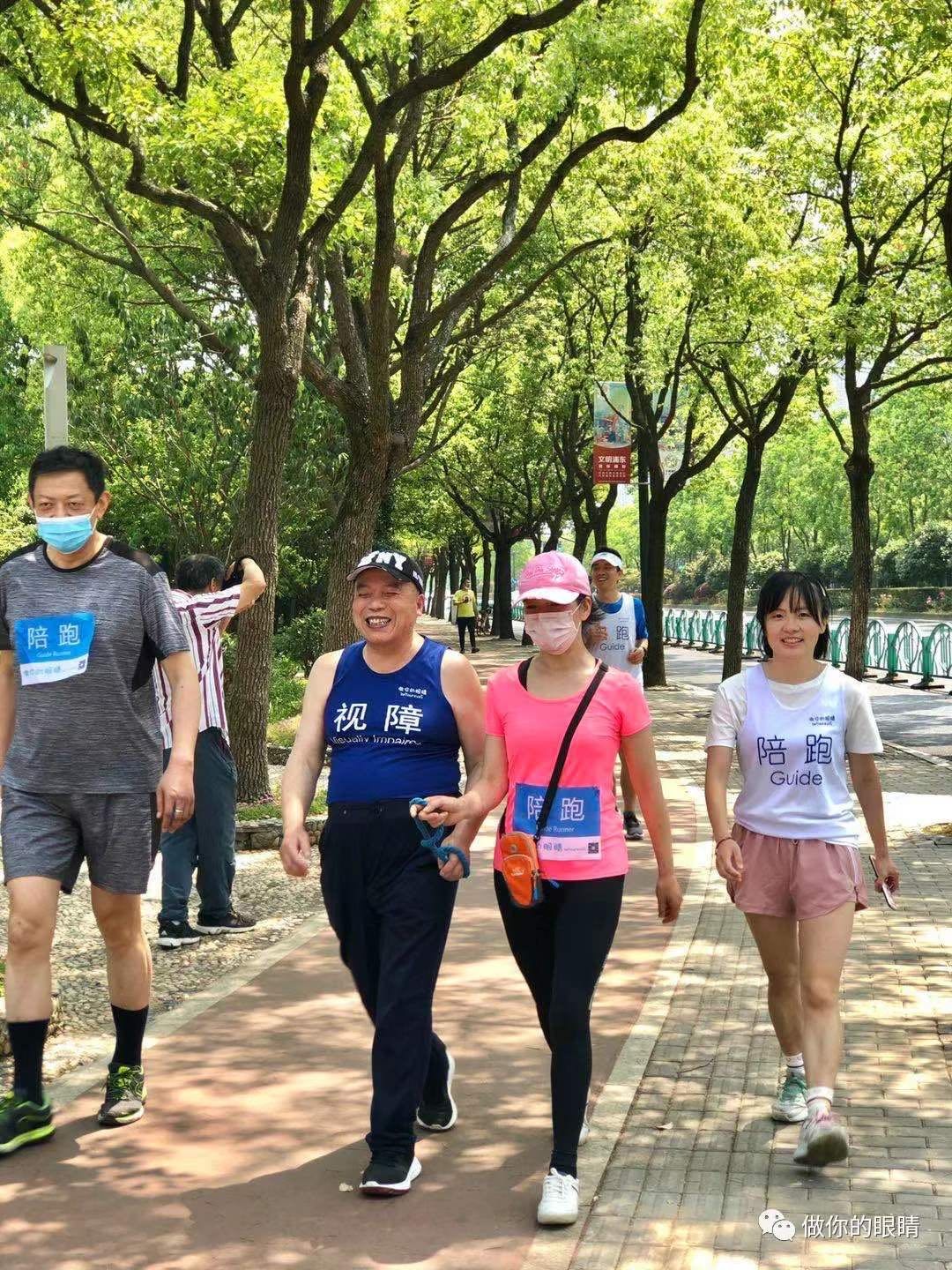 恢复后的每期常规活动都有很多新人来参加活动。在第201期常规活动中,4位视障伙伴加入了蓝睛灵的大家庭。在新的开始,蓝睛灵与新老朋友一起运动,感受彼此的笑容。 Following the recovery, regular weekend activities were always accompanied by new coming members. In the 201st regular weekend activity, 4 visually impaired runners joined the Lanjingling family. At this new starting point, we aim for new members to enjoy the sport with us, feeling each other's grin and smiles.
企业社会责任(CSR)活动 Corporate Social ResponsibilityActivities
上海迪士尼度假区CSR特别活动 Shanghai Disney Resort CSR Activity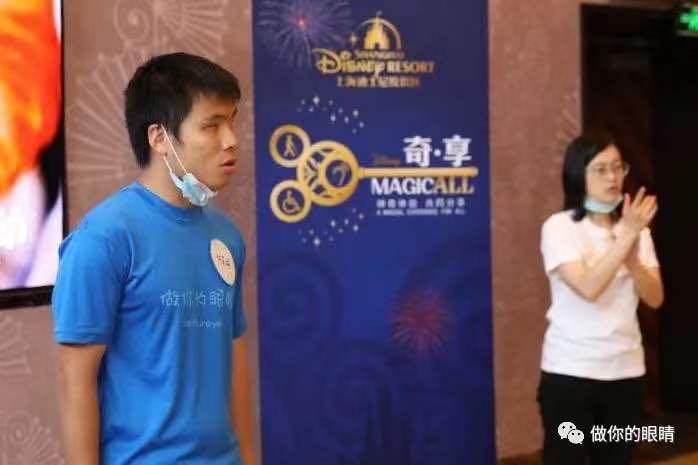 5月15日,蓝睛灵一行六人受邀来到上海迪士尼度假区,与三十余位演职人员共同进行一场神奇体验、共同分享("奇·享")的残障融合及运动无障碍特别活动,迎接第三十个全国助残日。
On May 15, 6 members from Lanjingling got invited to Shanghai Disney Resort, where they celebrated the coming of the 30thNational Disability Day, joining the FANTASY Special Event for disabilityinclusion and sports accessibility with more than 30 Disney cast members.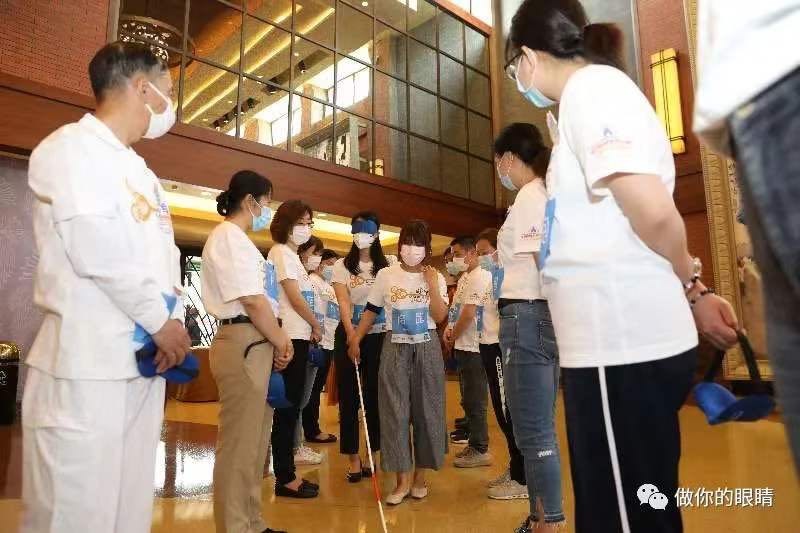 迪士尼的员工们分成两组体验和了解了如何引导视障者以及如何陪跑。 Disney cast members splitted into two groups tolearn how to assist visually impaired people and how to be the guide runner forvisually impaired runners.
此次活动中还有六位听障者参与活动,上海迪士尼度假区还特别邀请了手语老师给他们翻译,他们感受到融合与运动的快乐,活动结束后,他们向组织团队竖起大拇指以示感谢。 There were also six participants with hearing impairments, for whom Disney invited sign language teachers to help with visual translation of words. They too felt the joy of equality, inclusion and sports. Afterwards, they gave a thumbs-up compliment to the organizers to show their gratitude.
抖音直播云健身Tik-Tok Fitness Livestreaming
为了让待在家的蓝睛灵们有更多运动的选择,"做你的眼睛"特意邀请知名健美教练Aiden为小伙伴们精心设计了适合所有人的健身课程。 In order to let some members of Lanjingling who stay at home have more sports choices, beYoureyeS invited well-known fitness trainer Aiden to design well-rounded fitness lessons for Lanjingling members.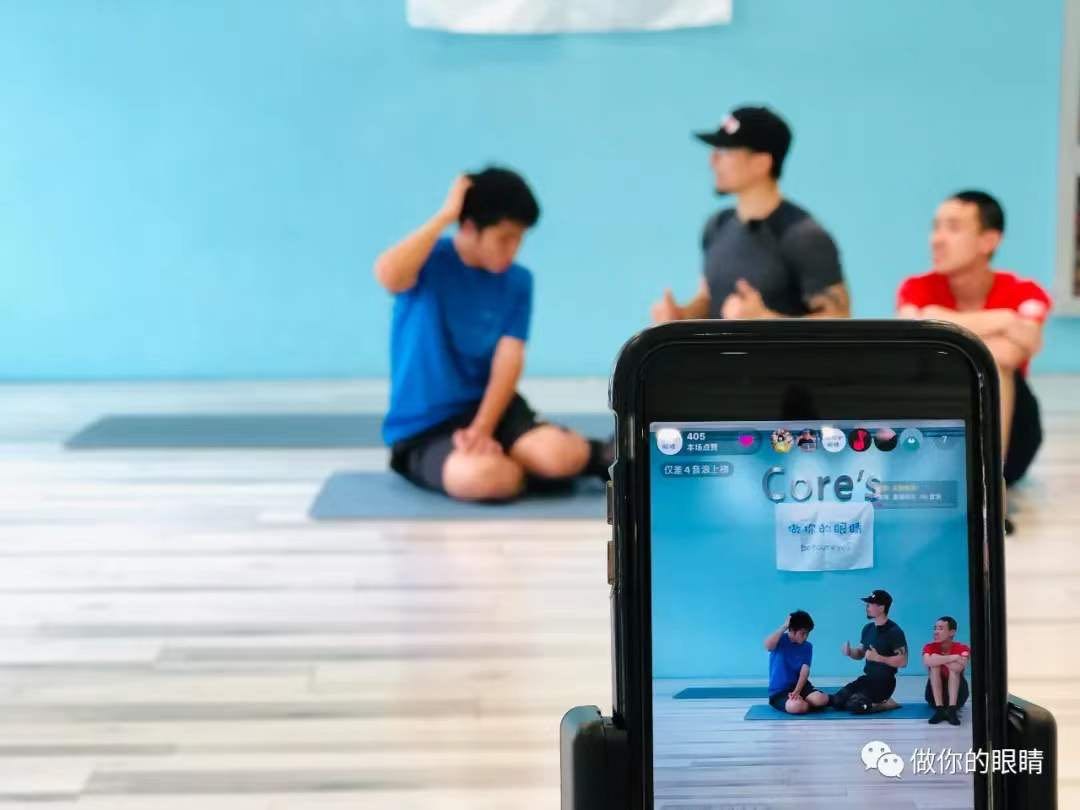 从5月10日到31日的每个周末的下午,Aiden教练和助教们给各位蓝睛灵带来了4次适能运动的直播。这4节课程中,蓝睛灵们学习到了猫式伸展、正确的站姿和、平板支撑、标准俯卧撑、超人式。 In the afternoon of every weekend from May 10 toMay 31, Aiden and his assistant coaches brought 4 livestream fitness lessons, during which Lanjingling acquired the ability of Cat-stretching, correctposture standing, plank, standard push-ups. 这一组动作是Aiden教练结合多年的健身经验为蓝睛灵精心设计的,侧重于锻炼核心部位的肌肉。而且在讲解时也针对视障伙伴的习惯详细地描述了调整时需要的具体动作。Aiden教练还把每个动作分了不同的难度,让体能较弱的小伙伴也可以逐步增加运动量。 This series of postures are specially designed byCoach Aiden with his knowledge and experience in fitness, focusing on thedevelopment of muscle tissues on the body. His detailed instructive approach of teaching was based on his knowledge of the personal characteristics and habits of the participant. Coach Aiden also classified each posture in terms of their difficulty levels, allowing relatively weak participants to improve and develop in a step wise manner.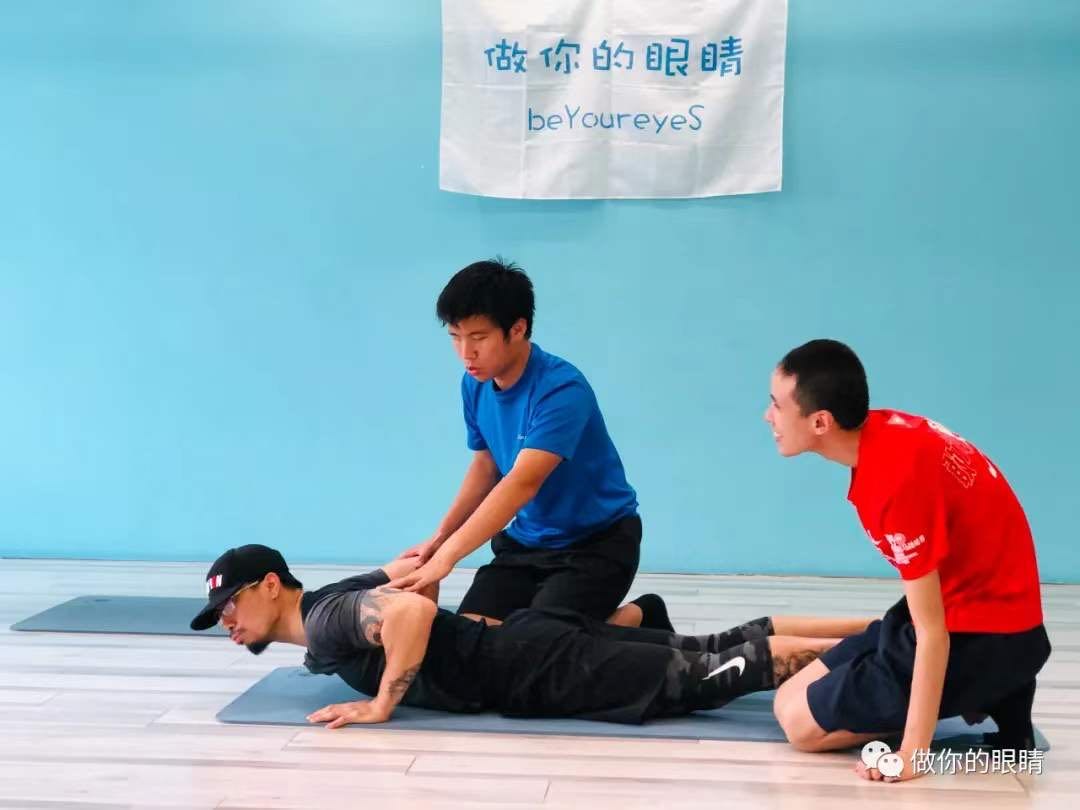 希望蓝睛灵们在跑步之外也能进行更专业的体能训练,提升运动能力、调整身形体态,人人都是健康、美丽的蓝睛灵! Hopefully Lanjingling will further pursue specialistfitness trainings outside of running, to raise cardiovascular capacity, adjust bodilymanners, and be healthy and joyful.
蓝睛灵线上瑜伽读书拉近被隔离的距离 Online Yoga Reading session
蓝睛灵从二月份开始,开启了"做你的眼睛" 线上瑜伽读书会。美丽的瑜伽老师Karen 考虑到当下大家不能出门,听书是一项不受距离的隔阂,又能极好地安抚疫情下小伙伴们焦虑情绪的方式,就开始在喜马拉雅上分享一本经典的瑜伽著作——《瑜伽经》。 In the beginning of February, beYoureyeS online Yoga Reading Sessions were launched. Yoga instructor Karen decided to share the written Yoga masterpiece Yoga-Stra on Himalayas —— an online audio book platform, after considering the benefits of such audio books and the physical constraints under coronavirus lockdown. Karen老师从2月24日开始分享第一个音频文件。每周三个音频的更新速度,给蓝睛灵伙伴们开辟了一个特别宁静又妥帖的心灵净土。 Since February 24, when Karen uploaded the first audio file, she renews the audio files three times a week, maintaining the peaceful and warm harbor in the hearts of Lanjingling. 在运动之余,蓝睛灵们静下心来感受当下,聆听Karen老师娓娓朗读的《瑜伽经》,让内心变得丰盛而有力量。 Apart from doing sports, Lanjingling often settled their minds to listen to Karen's peaceful and mesmerizing audio recording of Yoga-Stra, giving them internal richness and power.
'Shanghai Voluntary Service Organization of Excellence' & 'Shanghai OutstandingVolunteer'
上海市优秀志愿服务品牌项目称号 & 上海市优秀志愿者
在2018-2019年度上海市志愿服务先进表彰名单里,上海蓝睛灵体育志愿服务中心"做你的眼睛"志愿服务项目荣获上海市优秀志愿服务品牌项目称号;陆向东荣获上海市优秀志愿者称号。 In the list of 2018-2019 Annual Commendation of Shanghai Voluntary Service Units, Shanghai Lanjingling Sporting Voluntary Service Center 'beYoureyeS' voluntary service was rewarded 'Shanghai Voluntary Service Organization of Excellence' ; Ken Lu was rewarded 'Shanghai Outstanding Volunteer'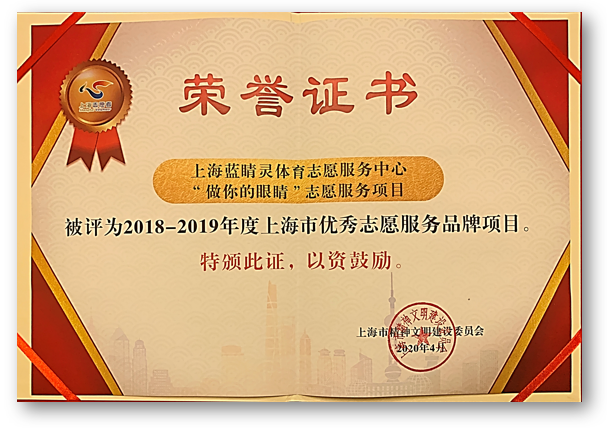 感谢大家的阅读,本期月报到此结束,我们下月再见。 Thanks for your reading. We will see you next month. Related links
关于做你的眼睛:
做你的眼睛是一个民间自发的公益活动,于2015年1月发起,致力于推动运动无障碍,让视障者参与运动变得简单,让每个人都能享受运动带来的快乐。
无论视障者,还是健视者,我们都称呼彼此为蓝睛灵。蓝睛灵传达一个理念:在各种运动场所,在路跑、游泳、自行车、铁人三项等赛事中,身体有障碍但是热爱运动的人们都可以自由又自然的投入运动,参加比赛。
希望在赛场上,能够看到越来越多的蓝睛灵。
希望,运动无障碍。
beYoureyeS is a local NGO founded in January 2015 in Shanghai, China.
beYoureyeS is dedicated to promote sports accessibility, make it easier for visually impaired people to enjoy sports. Let everyone enjoy sports.
Whether a visually impaired runner or unimpaired runner, all of our participants are called "Lanjingling".
Lanjingling conveys the spirit of our concept: our charity caters to a variety of sports, road running, swimming, cycling and triathlon, to list a few. With us, regardless of the physical impairment, those who wish to participate in a race, are able to.
We hope to see you soon on the track and let's do something together for sports accessibility.

主页:www.beyoureyes.org.cn
邮箱:info@beyoureyes.org
微信:beyoureyes 或扫描二维码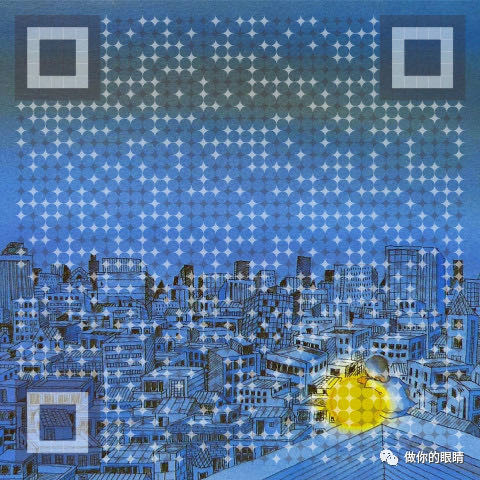 希望我们在比赛中汇集的能量,
可以流动到需要它们的人们那里,
希望我们在运动中得到的勇气,
让更多的人有力量面对困难。
We hope that whilst we're in the competition together,
we may all converge our energy as one to make each and all strong,
We hope that whilst doing sports together,
we are able to find the nerve to be strong enough to face challenges head on.