摘要 Brief
2020年12月蓝睛灵圆满举办了第1期做你的眼睛视障者职场赋能"百日计划"训练营,持续开展了3期专题辅导课程。
In December 2020, beYoureyeS successfully launched the first of the 100 Day Engagement Program and carried out 3 tutor lessons in total.
本月共开展了4期常规活动,2场企业社会责任(CSR)活动、开展了3期看健100无障碍健身活动,发布了2篇蓝睛灵的故事。
Meanwhile, we have carried out 4 regular weekend activities, 2 CSR activities, 3 [Fitness 100] accessible fitness activities; and released 2 inspirational story posts.
苹果公司大中华区董事总经理,在微博提到"做你的眼睛"志愿者活动。
Managing director of Apple China wrote about 'beYoureyeS' in Weibo.
文字 Writer:晓斌 Clark
翻译 Translator:泱而 、弘毅 Neville, Yoyo
编辑 Editor:纪元 Annie
蓝睛灵编辑部 Lanjingling Editorial Office
发布日期:2021年1月29日
一阶段 Phase ONE
2020做你的眼睛 · 视障者职场赋能"百日计划"训练营圆满开展
beYoureyeS 2020 '100 Day Engagement Program' we launched successfully
12月1日至4日,在闹中取静的上海华纳风格大酒店,2020做你的眼睛 · 视障者职场赋能"百日计划"1期圆满开展。
From December 1st to 4th, we successfully launched the beYoureyeS 2020 '100 Day Engagement Program' in Huana Hotel Minhang Shanghai.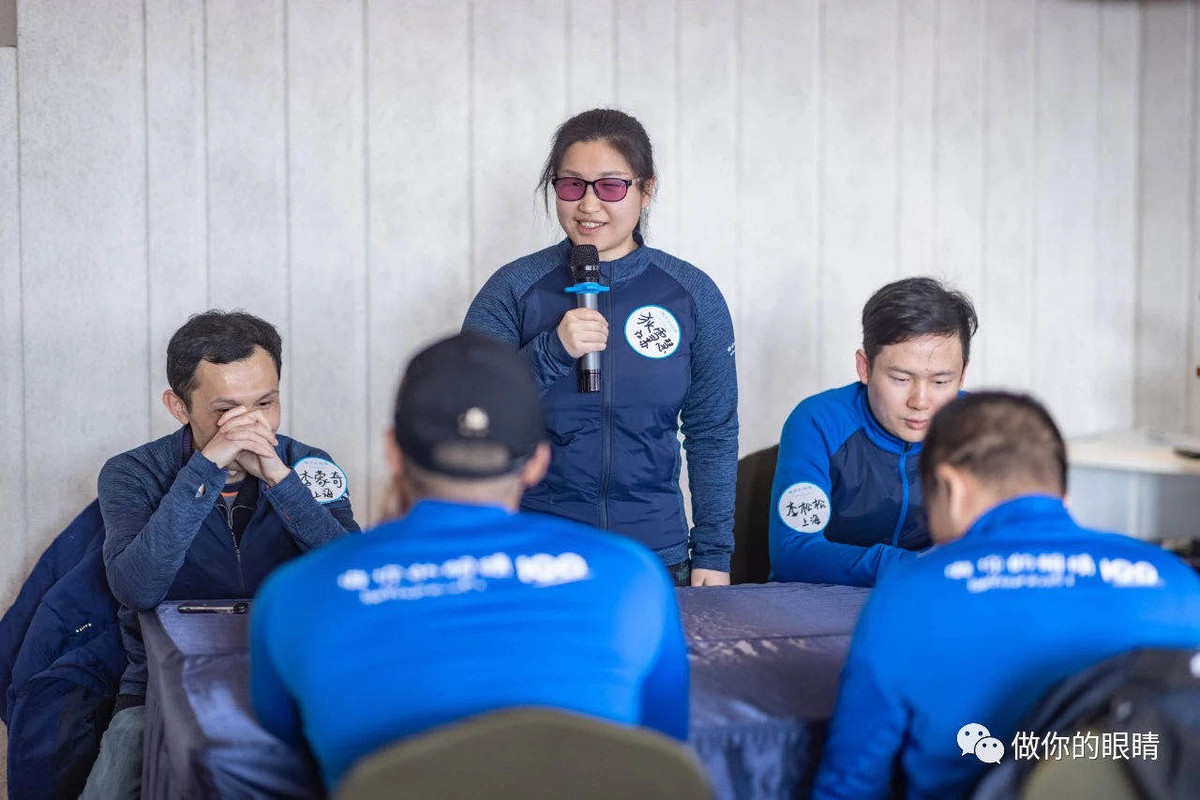 14位来自全国各地的视障青年在4天的训练营期间,聆听主题分享,走进苹果和迪士尼的职场环境、了解企业文化,互相鼓励与支持,携手探索视障者融合就业的新方向。
14 nationwide visually impaired youths have, through the four days of training, learnt topic voice shares, experienced the working environment and organizational culture of Apple and Disney, and together explored their career potentials.
学员们在观察和思考之后制定了个人的百日计划。通过导师辅导课和导师的一对一辅导向着目标前进。
Each participant solidified his/her own 100-day plan, which will desirably be enacted and maintained with the tutors' one-on-one support and invigilation.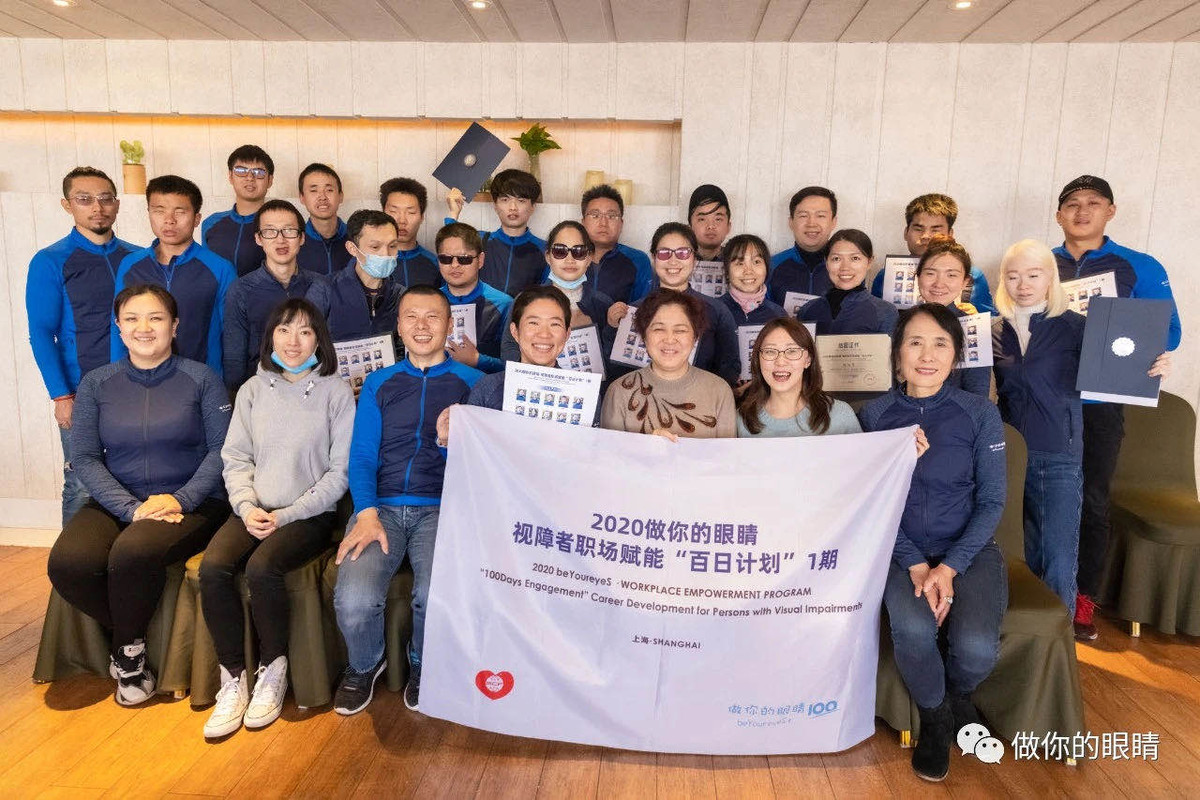 活动回顾详见
For more details, please click:
https://mp.weixin.qq.com/s/Si_ghLRrPG2BcCSJtQ5NqQ
二阶段 Phase TWO
导师讲座和一对一辅导指引学员完成 "百日计划"
One-on-one Tutoring of the 100 Day Engagement Program
主要由苹果公司志愿者组成的导师团为"第1期"百日计划"的学员们持续开展多种形式的辅导。导师们的课程如灯塔一般,为学员们的百日计划保驾护航、指引方向。
The tutors, made up primarily of volunteers from Apple, provided a diverse range of tutorship and support for the participants of the 100 Day Engagement Program. They are the beacon that lights up the harbor for the youth who participate the program.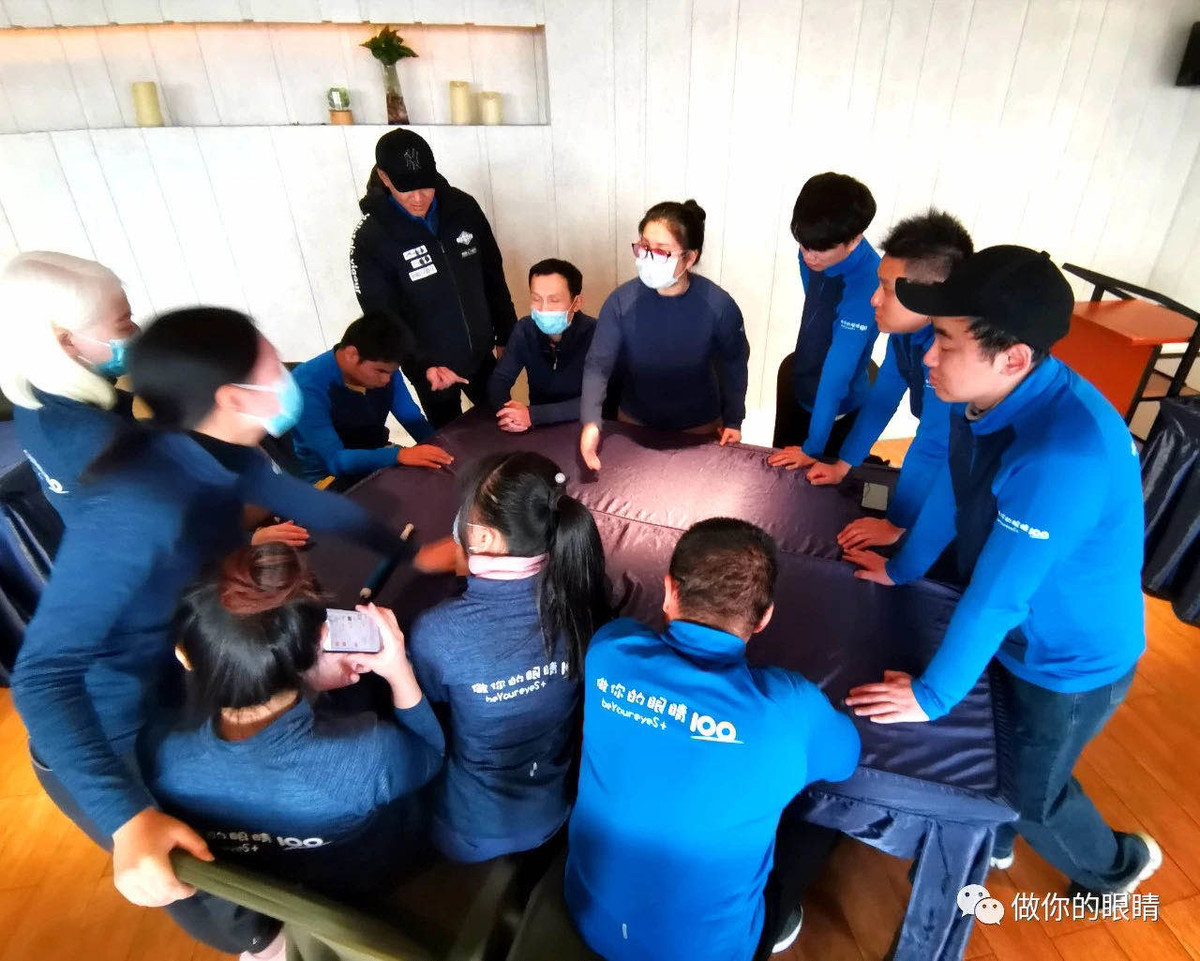 12月12日,第一场导师讲座:职场第一课。
外企HR负责人 Angela老师给参加训练营的视障伙伴带来了一项新的职场技能,职场第一课。
On December 12th, the first professional tutoring session of the 100 Day Engagement Program was carried out. Angela, a HR manager of a multinational corporation, taught the participants some new working skills.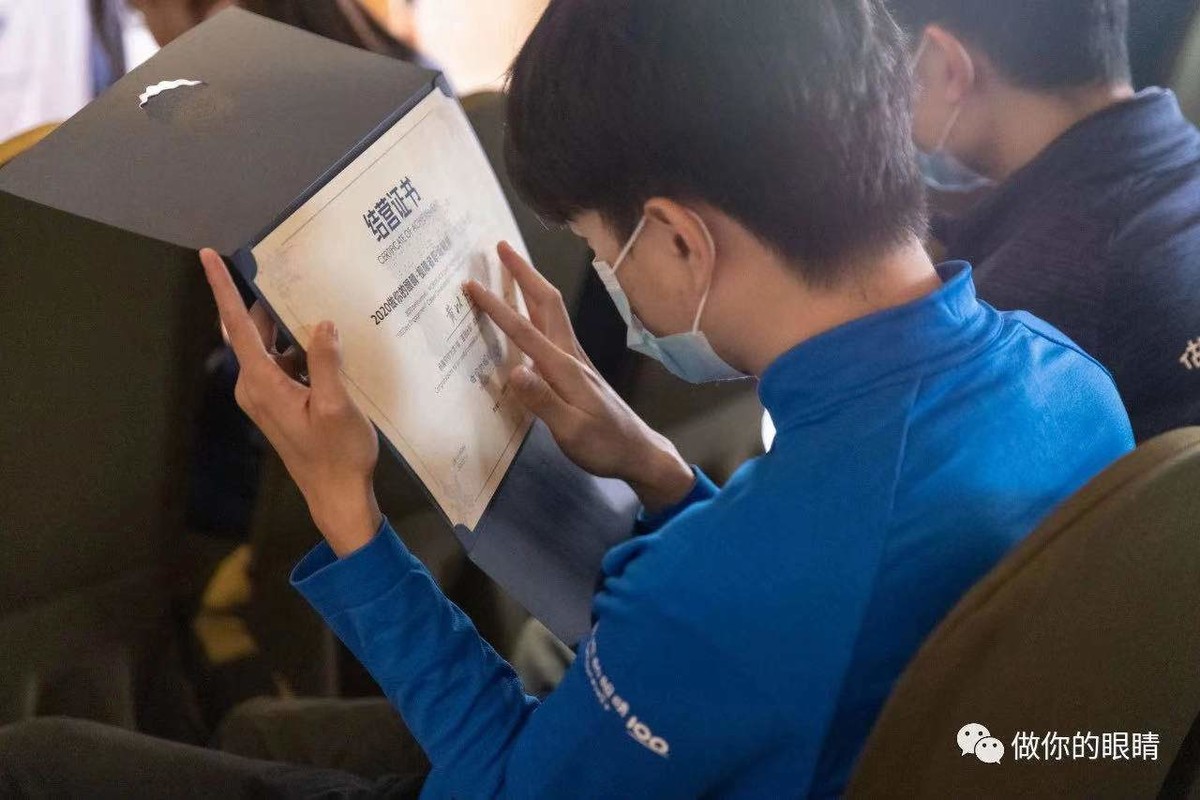 12月21日,第二场导师讲座:如何做好精彩介绍
在苹果工作的视障者Sam老师,为第一期"百日计划"的学员们带来了"如何做好精彩的自我介绍?"的主题课程。学员们事先做了1分钟自我介绍的准备,并在现场向大家分享。Sam导师对学员们的自我介绍一一进行了分析。
On December 21st, the second professional tutoring session of the program was carried out. Sam, a visually impaired employee of Apple, delivered an interactive lesson on how to prepare an excellent self-introduction. Participants brought up their own personal statements, which they improvised in under a minute. Sam would then comment on their performances.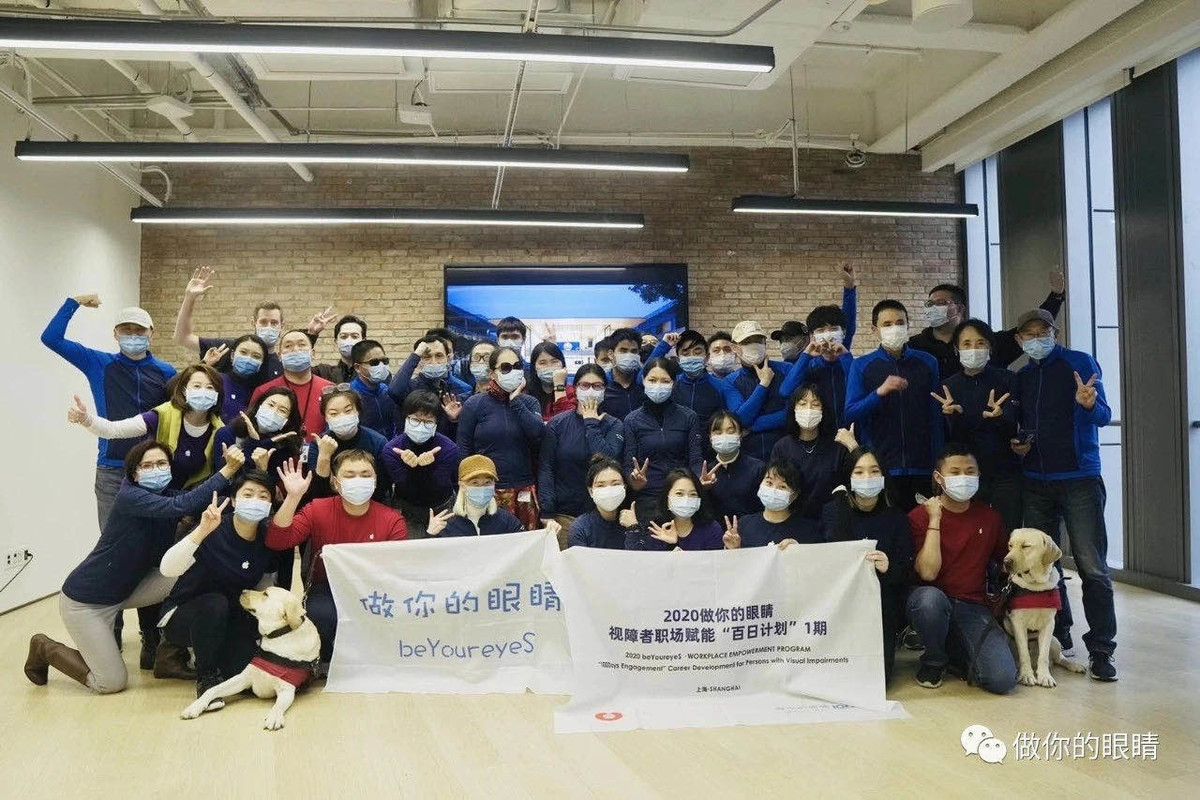 12月27日,第三场导师讲座:面试要点
Sarah老师引领学员们了解了面试时需要注意的要点。课后,Sarah老师让学员们练习了如何进行事态分析。针对某一件具体的事情评估自身的优势、劣势、机会和风险。学员们认真思考、仔细总结,在实践中拓宽了思维广度、梳理了自己的优缺点。除了集中开展的专业导师讲座之外,苹果的志愿者导师还为14位学员开展了将近24个小时的一对一辅导,解答了学员们关于面试、职场心里等多方面的问题。
On December 27th, Sarah introduced the do's and don'ts for a job interview.Afterwards, Sarah led students practice case analysis. For a specified case, evaluate the costs, benefits, opportunities, and risks.
Through practice, participants widened their ground of perspectives, and evaluated their respective strengths and weaknesses.
Furthermore, our tutors carried out a total of roughly 24 hours of one-on-one guidance for the 14 participants, answering their questions about interviews and workplace attitude etc…
常规活动
REGULAR WEEKEND ACTIVITIES
12月,做你的眼睛第226期至229期常规陪跑活动于12月6日、13日、20日和27日在陆家嘴滨江步道、世纪公园、闵行文化公园开展。
In December, beYoureyeS 226th to 229th regular weekend activities were respectively carried out on the 6th, the 13th, the 20th, and the 27th, of December, in Lujiazui Riverside Trail, Century Park, and Minhang Cultural Park.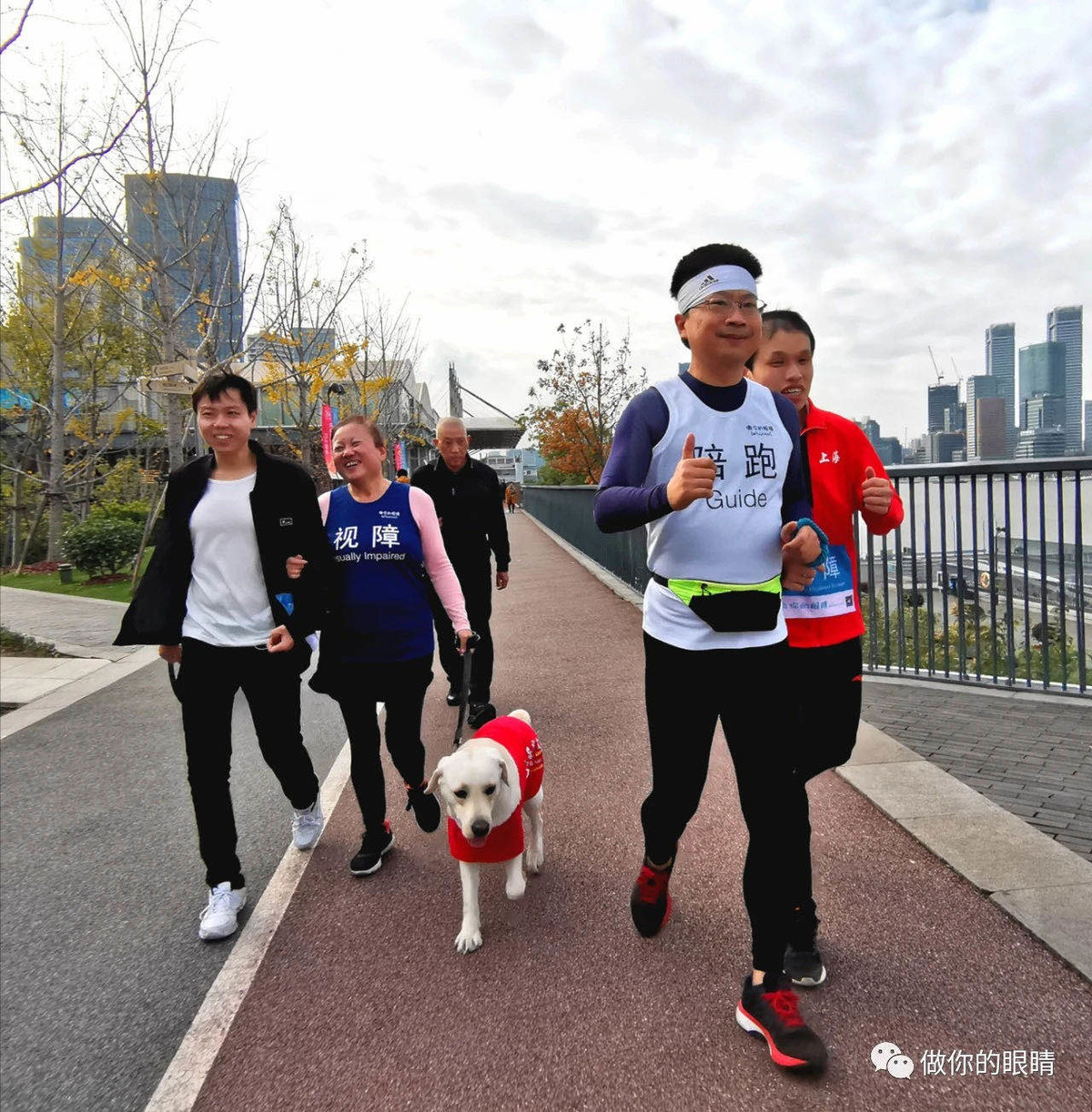 其中6日的第226期常规活动在陆家嘴滨江步道一地举行,其他3期常规活动都在浦东和浦西同时开展。
Specifically, the 226th regular weekend activity on December 6th was carried out in Lujiazui Riverside Trials, whilst the other three rounds were carried out in both Puxi and Pudong.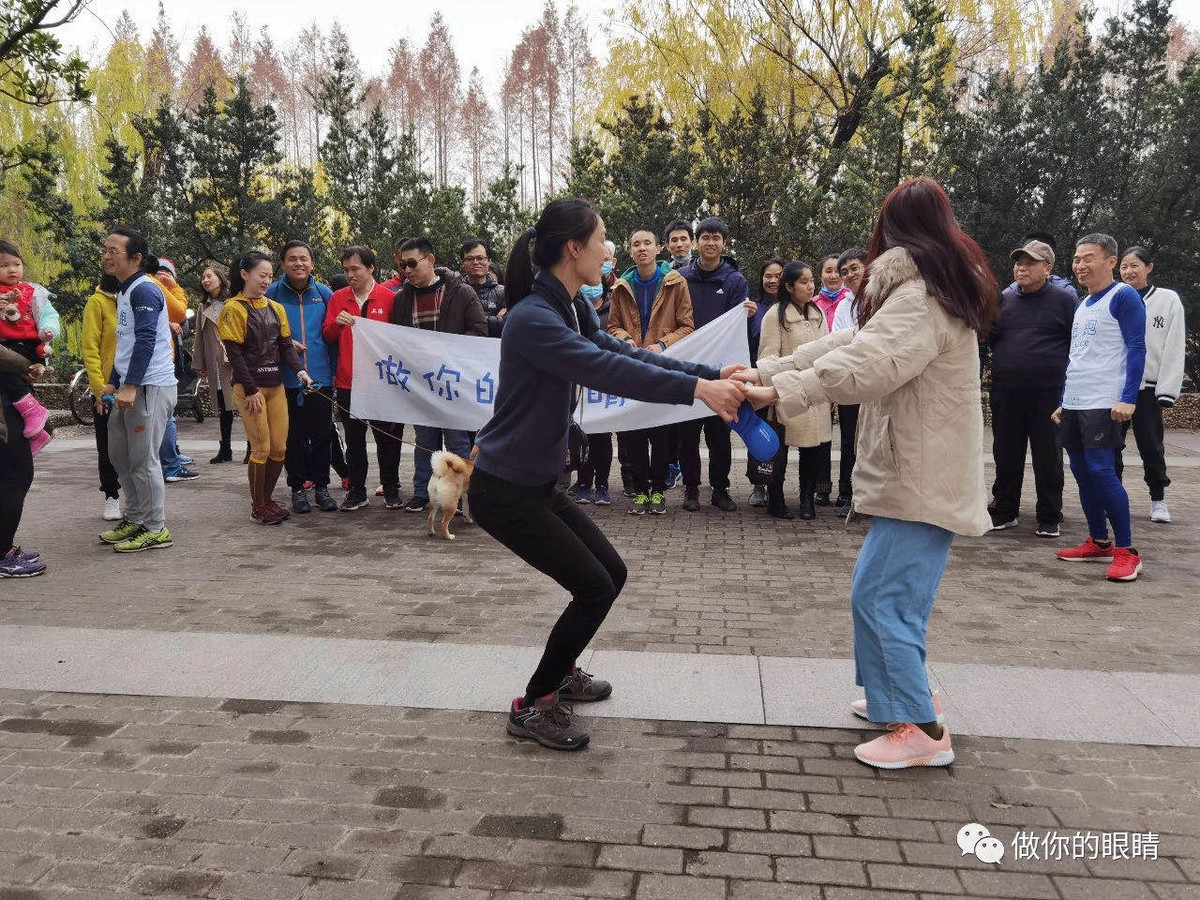 企业社会责任(CSR)活动
Corporate Social Responsibility Activities
3家企业携手蓝睛灵开展党建公益活动
3 Corporations Co-hosted a Corporate Community Activity with beYoureyeS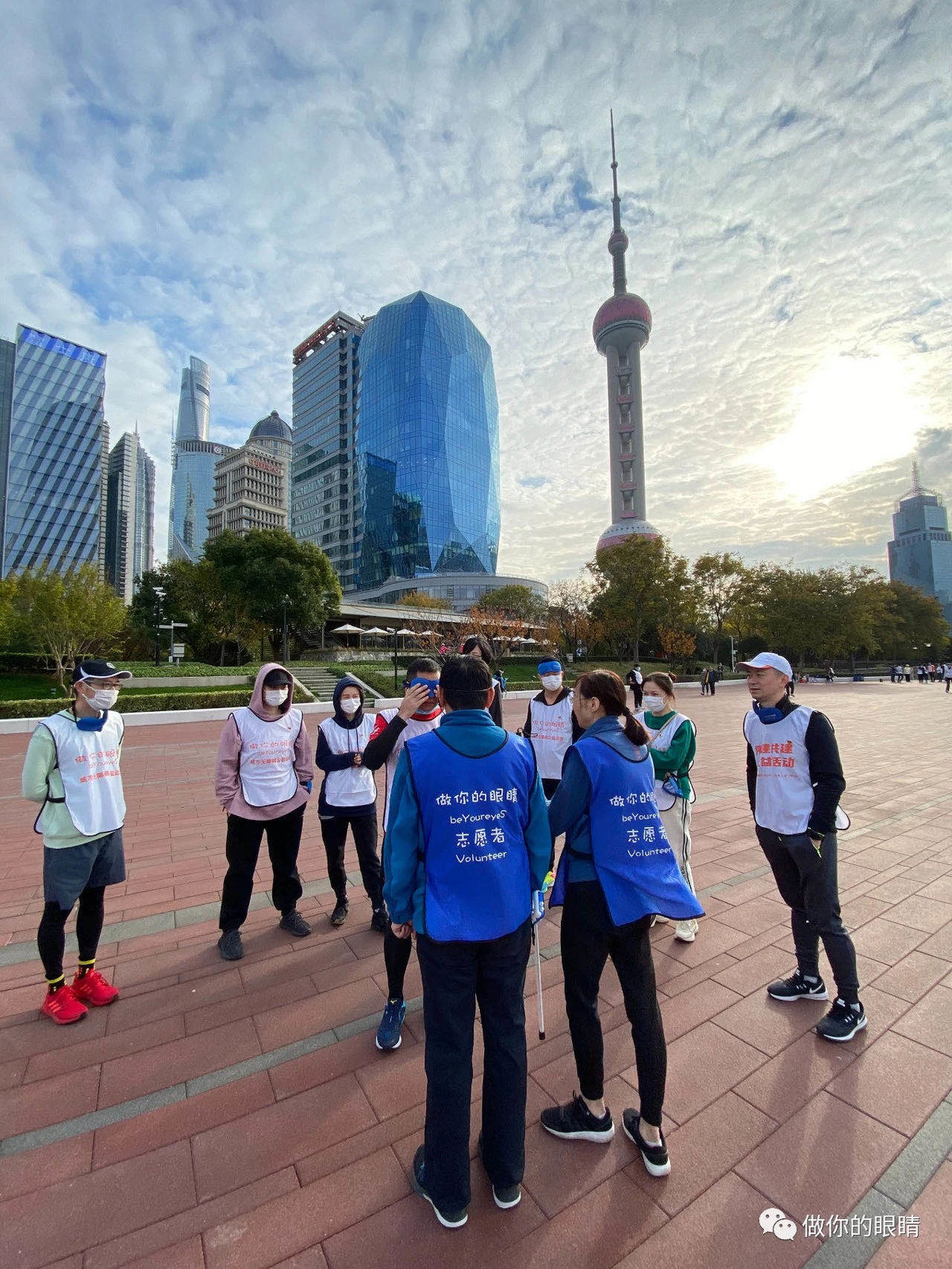 12月6日下午,在陆家嘴滨江步道,与蓝睛灵第226期常规活动同时开展的是3家企业与蓝睛灵一起开展的以城市无障碍公益为主题的党建活动。
平安银行上海分行、文汇报、东方航空的40多位员工参与了本次活动。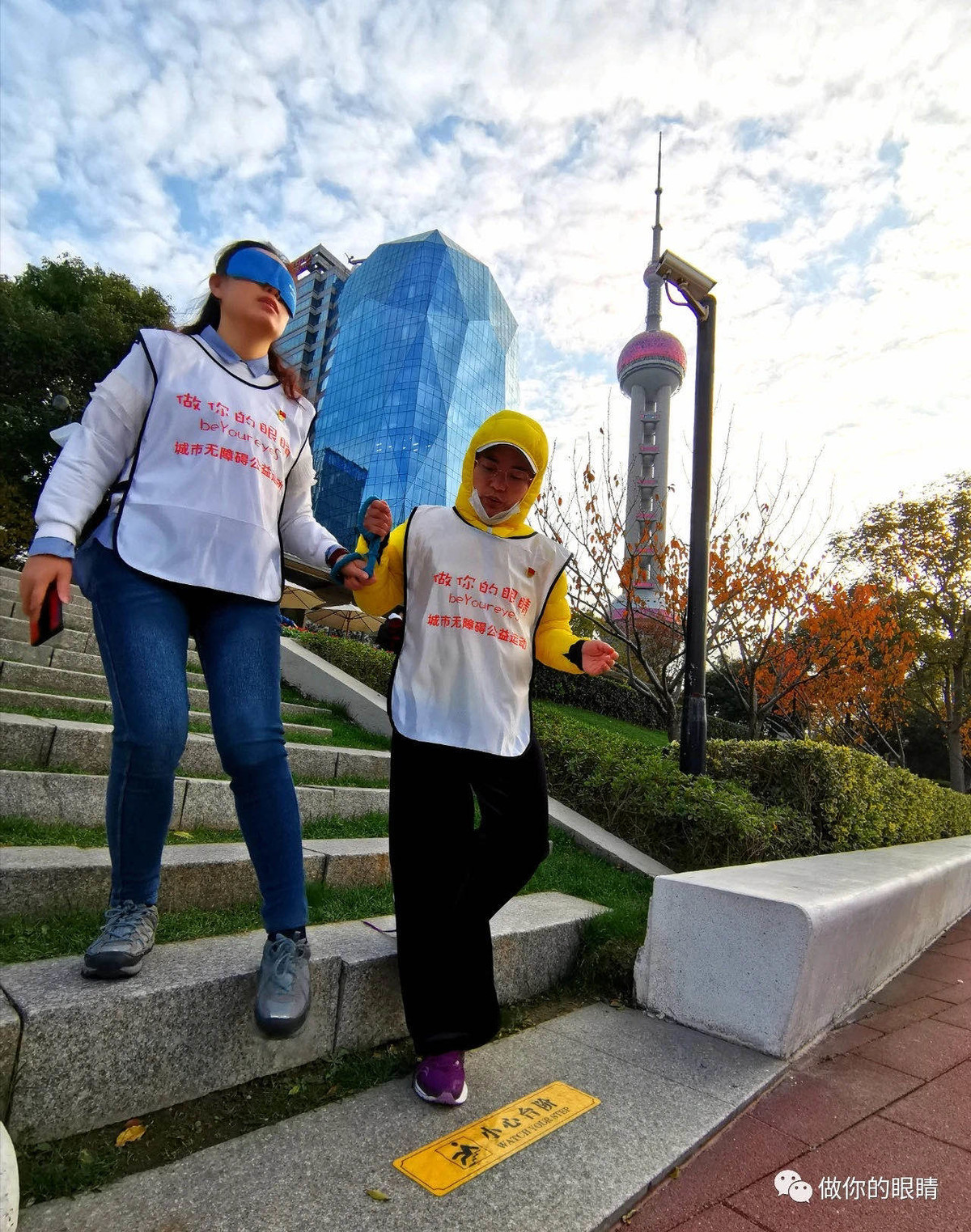 披着冬日里的暖阳,体验者们在他们每天都会看到或路过的地方,在如此熟悉的景色之中,体验了在完全看不到的情况下的行走和奔跑。不论是体验了视障的情况,还是扮演了陪伴帮助的"路人",都是非常难得和难忘的经历。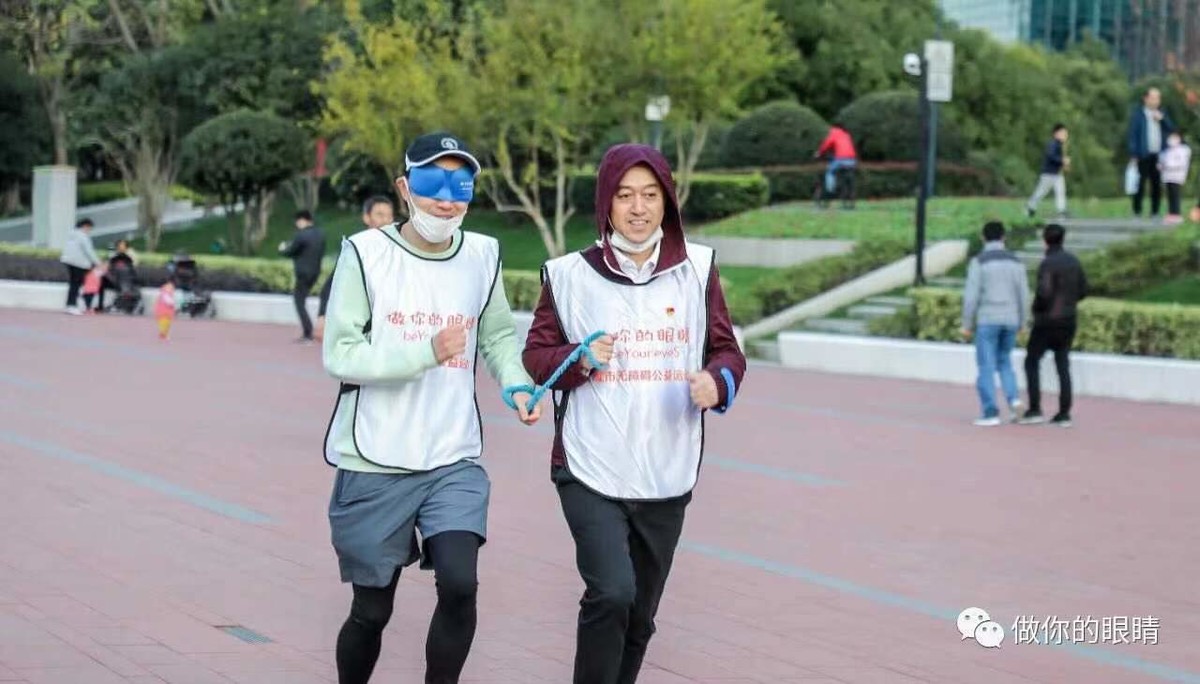 Around 40 employees from Ping An Bank Shanghai, Wen Hui Press Group, and China Eastern Airlines attended the activity.
With the warmth from the winter sun, participants experienced an entirely fresh way of walking and jogging on the roads and pavements that they've been extremely familiar with. Whether they had a blindcover on, or played a helper's role, that experience was definitely one of a kind.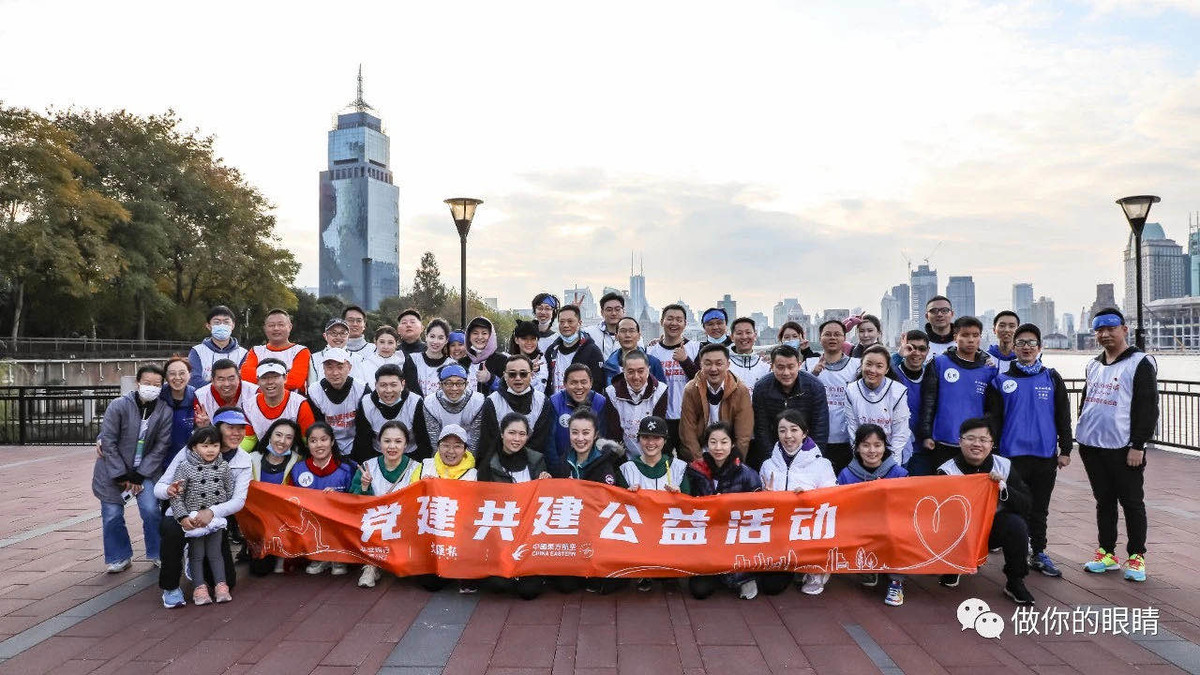 蓝睛灵开展梅赛尼斯企业CSR活动
beYoureyeS CSR activity with Methanex
12月19日下午,在初冬的寒风中,10多位梅赛尼斯的员工和家属与蓝睛灵相聚在世纪公园,开展了体验式无障碍培训。一开场,由晓斌介绍了蓝睛灵组织。而后,由晨辉和小毛搭档给大家带来了一场频频互动、笑声连连的培训。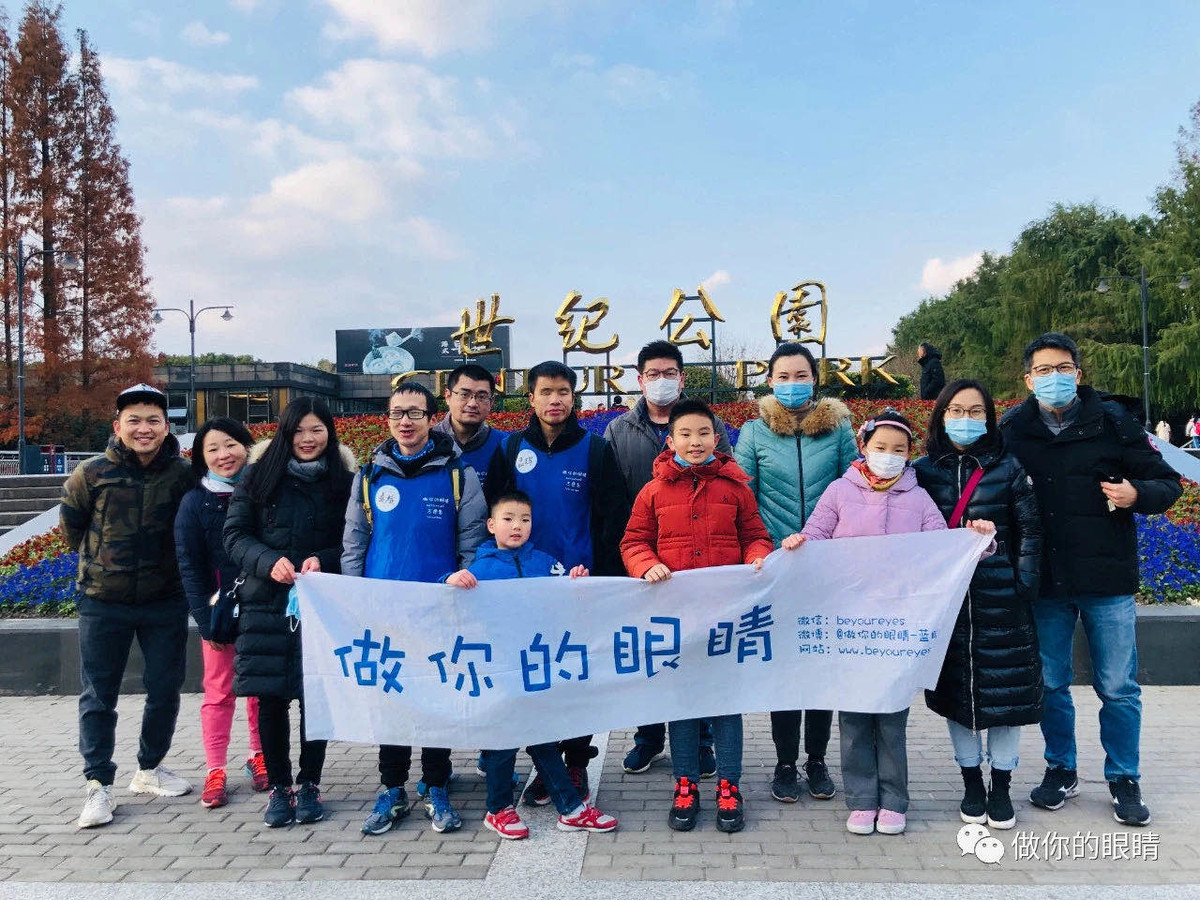 In the afternoon of December 19th, around 10 Methanex employees and their families arrived at Century Park, to participate in an experiential training on accessibility in the December winter breezes. At the start, Xiaobin introduced the Lanjingling organization. Then, Chenhui and Xiaomao partnered up to deliver an interactive and fun training session to the audience.
苹果公司大中华区董事总经理微博提到"做你的眼睛"志愿者活动
Managing director of Apple China writes about 'beYoureyeS' in her Weibo message.
12月17日,苹果公司大中华区董事总经理葛越透过新浪微博,分享"做你的眼睛"志愿者活动。她在文中指出,苹果团队志愿者伙伴与视障群体合作进行户外活动,是全球众多在这个挑战性时刻站出来、帮助朋友和邻居的人之一。
On December 17th, Yue GE, managing director of Apple China, writes about beYoureyeS in her message on Weibo. She pointed out that Apple's engagement with visually impaired people is as ordinary as when friends help one another in times of challenges.
《Apple 善举具有里程碑意义的一年》一文中提及"做你的眼睛",全文请点击链接:
Article 'A Memorable Year for Apple's Philanthropist Projects' has a mentioning of 'beYoureyeS'. For the full article, click the link below.
https://www.apple.com.cn/newsroom/2020/12/a-landmark-year-of-giving-from-apple/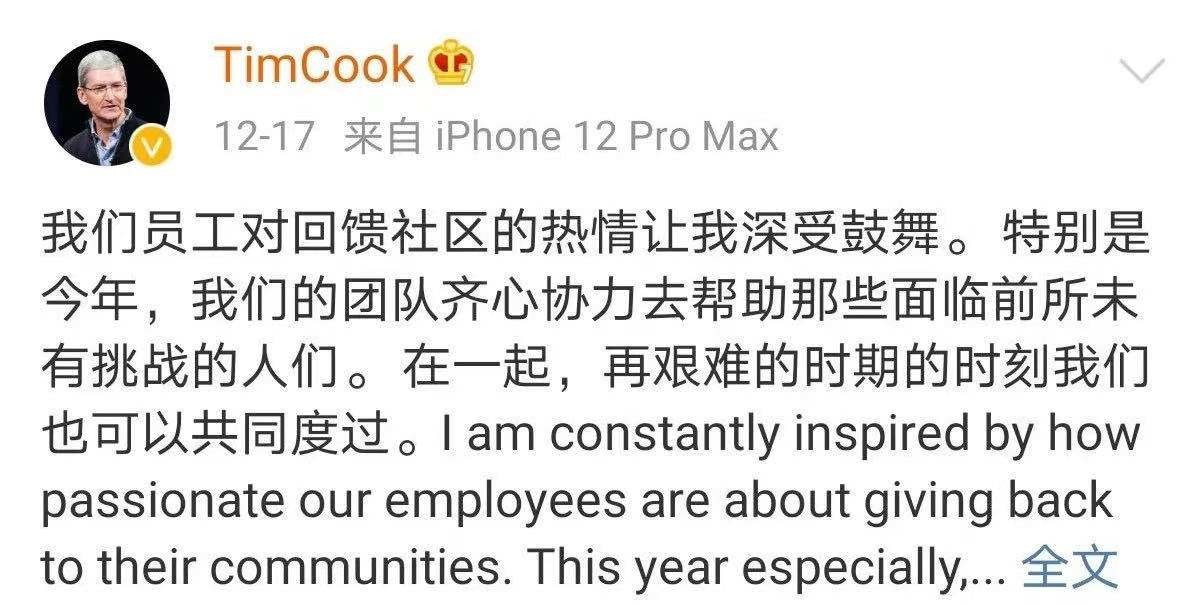 冬日暖身,无障碍健身继续约起
Warmth in Winter, Accessible Fitness Activities Continue
第10期至第13期看健100无障碍健身活动于12月9日、23日、30日在Core's健身俱乐部开展。
The 10th to 13th [Fitness 100] were carried out in Core's Fitness Club on December 9th, 23rd, and 30th respectively.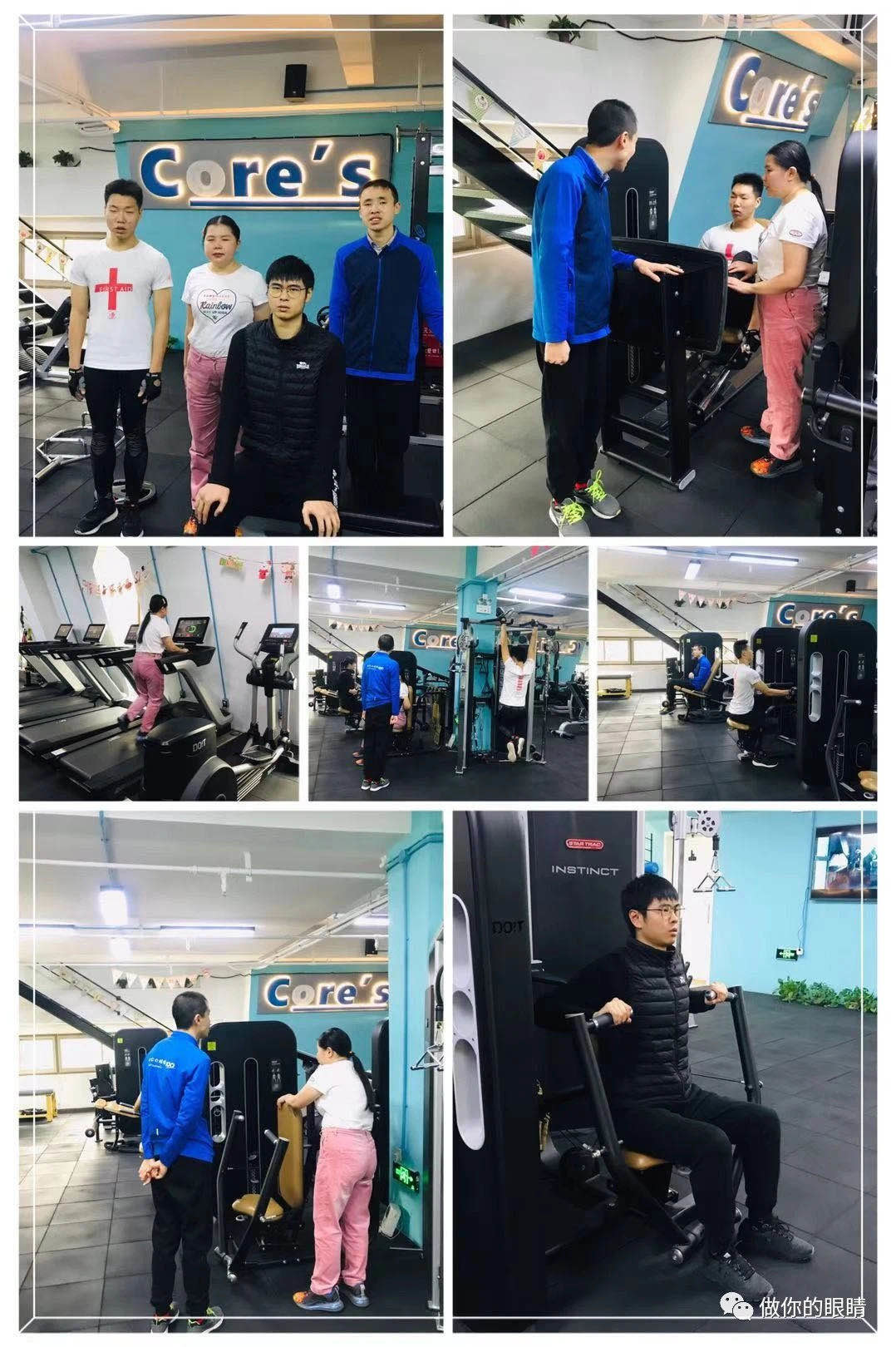 在Aidon教练的指导下,经常参与活动的视障伙伴们都能熟练地使用常用的器械。洛成已经能作为小老师与第一次参加活动的视障伙伴分享锻炼时的要领和注意事项。
With the help of coach Aidon, those who frequently participate have already became proficient practicing with gym equipment. Luocheng even enacted the role of a quasi-coach, sharing tips and advices to those who were new.
色彩缤纷的蓝睛灵
Lanjingling's Colorful Lives
蓝睛灵编辑部发布两篇蓝睛灵的故事
Lanjingling Editorial Office Released 2 Inspirational Article Posts
12月18日,编辑部发布蓝睛灵故事《宝叔,那个有光的人》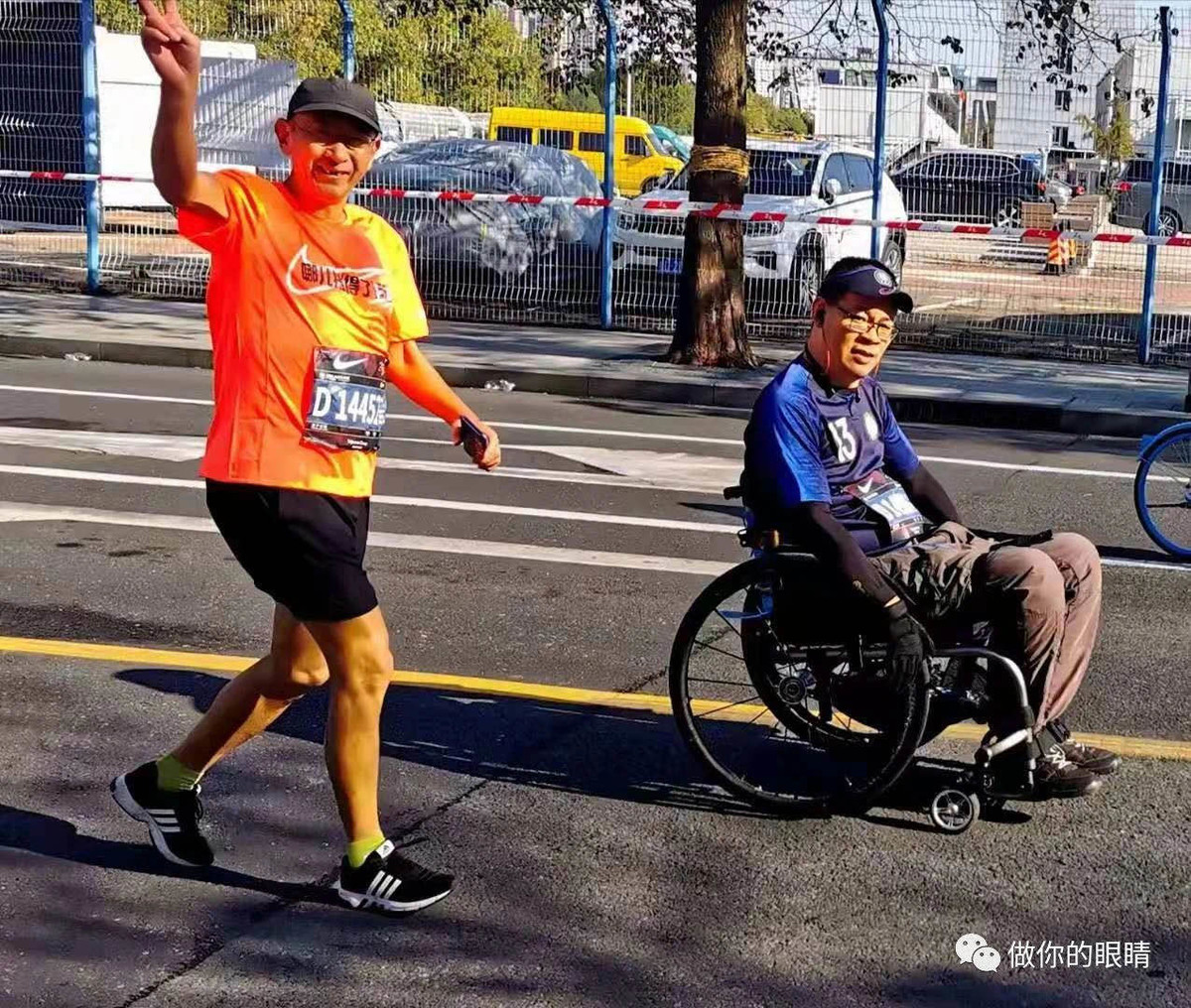 身边的宝叔,是那个有光的人,这份光,能帮助我们穿透迷雾,看得更远,点亮彼此心中的光。
On December 18th, Lanjingling Editorial Office released a post titled 'Uncle Bao, the uncle with shine'. Indeed, he is the bright light of our spirits, that light, it helps us to see through the mist, and to enlighten each other in our journeys.
12月31日,编辑部发布蓝睛灵的故事《陆晨辉的2020年度陪跑记录》
On December 31st, Lanjingling Editorial Office released 'Chenhui's 2020 Running Diary'
在2020年里,晨辉跑了117天,跑了1,595.7公里,陪跑员141人次。
In 2020, Chenhui ran 1,595.7 kilometers, in 117 days, with 141 guide runners.
通过这些规律的锻炼,晨辉多次PB获得了好成绩。这些数据既是晨辉个人的努力和陪跑员们的付出,也是蓝睛灵互相陪伴一起运动的缩影。感谢每一位陪跑员和所有蓝睛灵的关注与支持!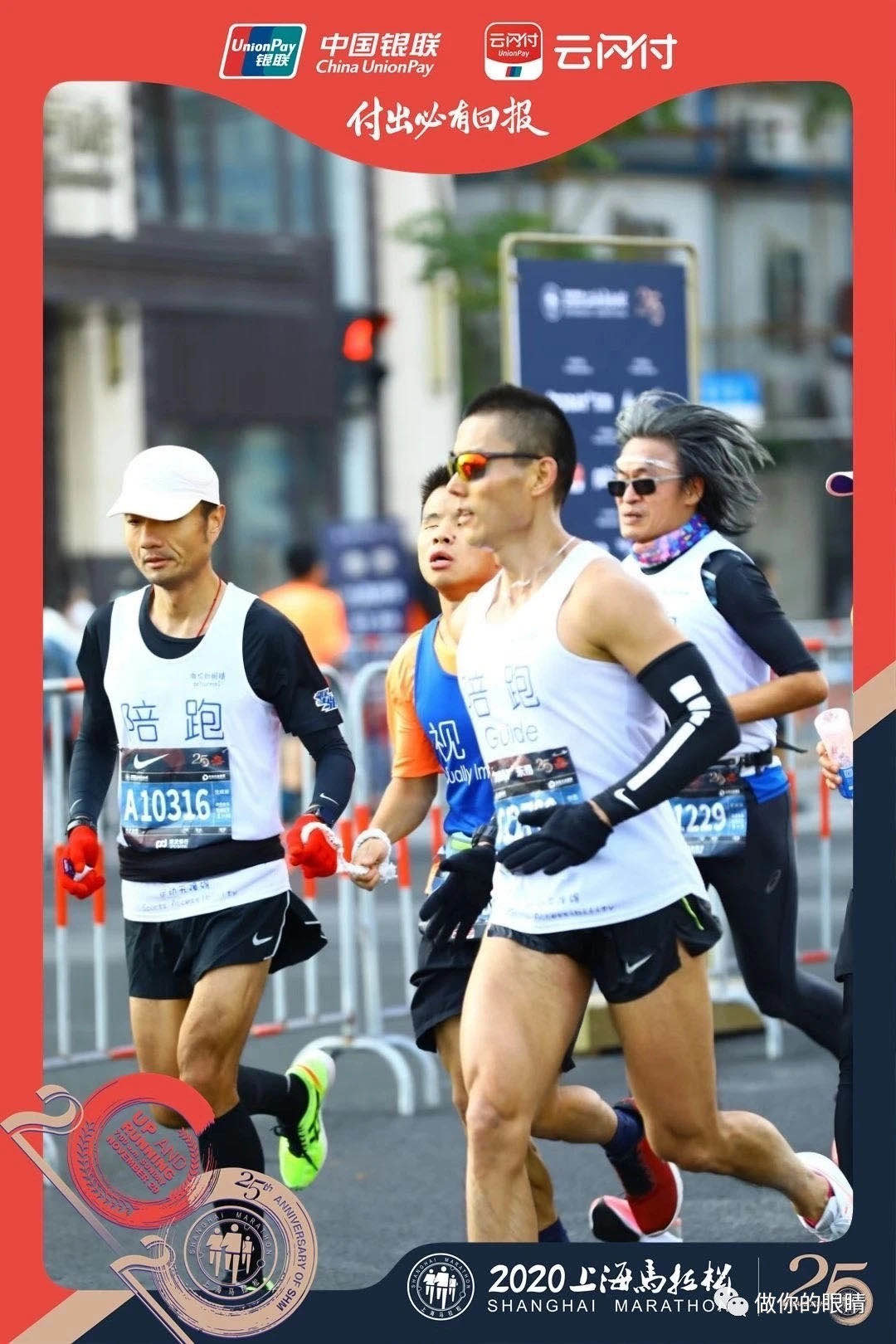 Through perseverant practices, Chenhui broke his personal best in multiple occasions. These numbers are the products of his and his guide runner's hard work, and more importantly are the spot films of Lanjingling's accompaniment this year. Sincere gratitude to all Lanjingling members, and thanks to all your attention and support!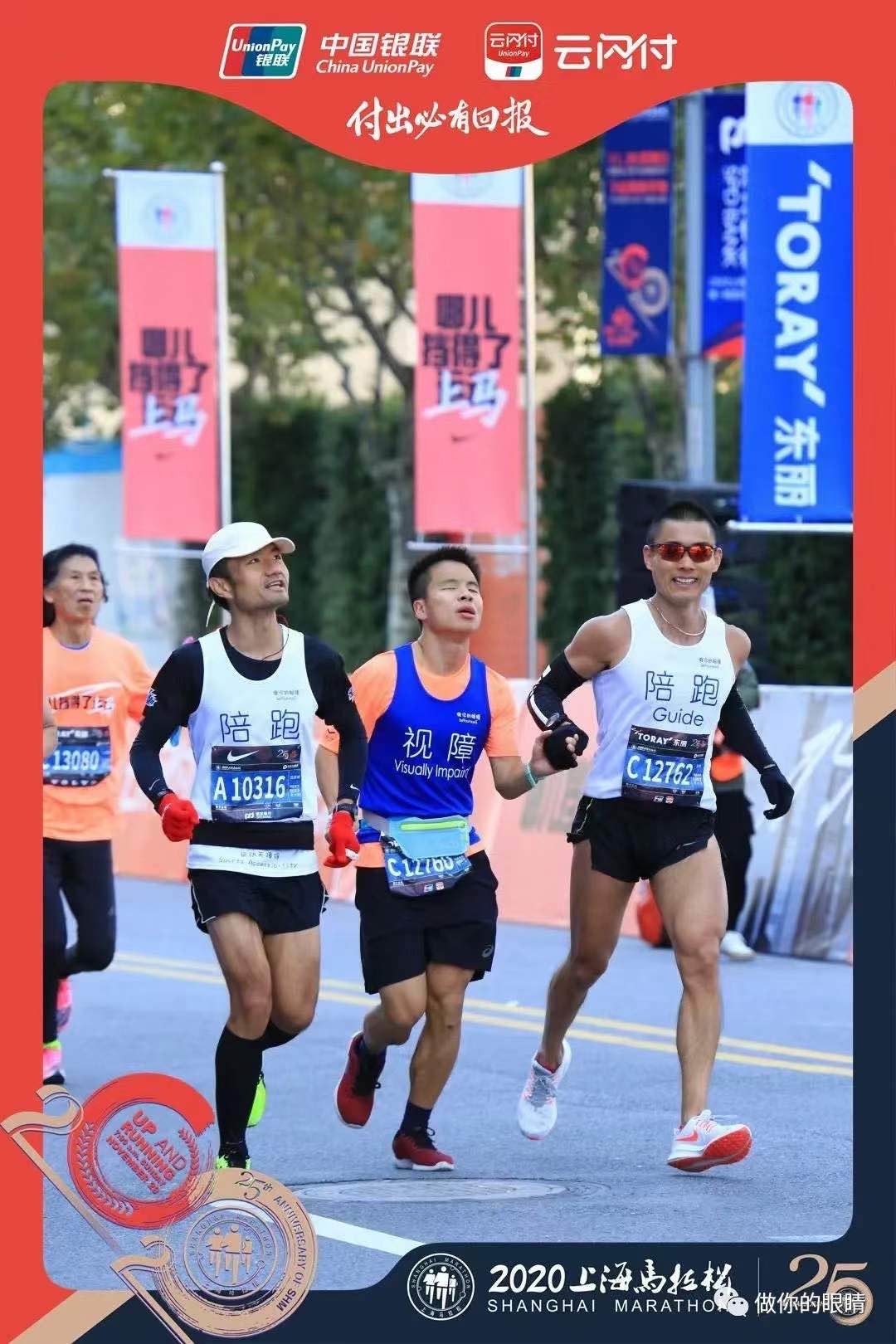 蓝睛灵们将在2021年继续奔跑、一起欢笑,让视障者的融合之路不再有障碍!
We will keep running and laughing in 2021, letting persons with visually impairment enjoy an inclusion society.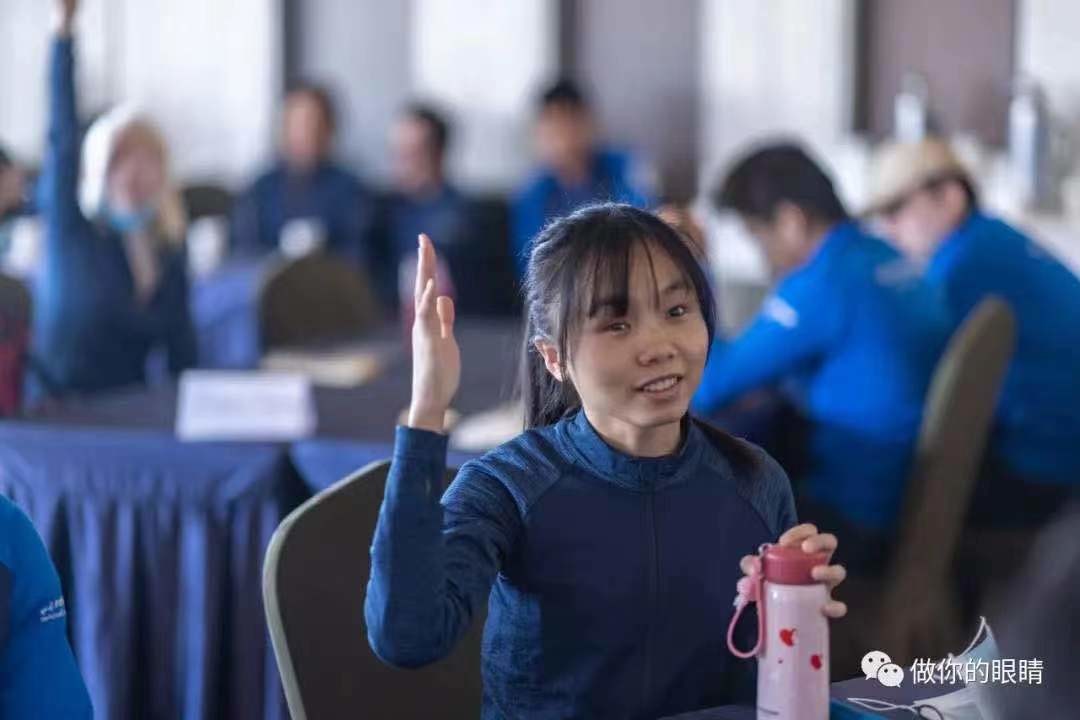 感谢大家的阅读,本期月报到此结束,我们下月再见。
Thanks for your reading. We will see you next month!
关于做你的眼睛:
做你的眼睛是一个民间自发的公益活动,于2015年1月在上海发起,致力于推动运动无障碍,让视障者参与运动变得简单。
beYoureyeS is a charitable activity, launched in Shanghai in January 2015, is devoted to promoting the concept of sports accessibility, making it possible for persons with visually impairments.
在我们的活动中,无论视障者,还是健视者,都称呼彼此为蓝睛灵,我们的公益组织也叫这个名字。
Everyone attending our activities calls each other Lanijngling, no matter what kind of physical condition he or she is in, and that is where our NGO's name came from.
我们认为,任何人都可以自由又自然的投入运动,平等的享受运动带来的快乐。
We believe that everyone can participate in sports freely and naturally, can enjoy the happiness, freedom and well-being derived from sports.
我们组织多样性的活动,鼓励各行各业参与运动与跨界,从本质上认可人的尊严。
We organize diverse activities, encourage all walks of life to participate in sports and cross-border, and ultimately be aware of human dignity.
我们知道,所行之路要有一颗铁人之心,需要体力和耐力、智慧和勇气,需要耐心和时间。
We know that the road to follow requires a heart of the Ironman, needs physical strength and endurance, wisdom and courage, patience and time.
感谢这一路上,有你的支持和陪伴。
Thank you for your support and your company along the way.
beYoureyeS:
体验式公益活动、企业社会责任活动、校园融合活动、无障碍赛事活动
Experiential Philanthropy Activity, CSR Activity, School Inclusive Activity, Adaptive Sports Race
beYoureyeS 100+:
看健100、绳上100、百日计划
Fitness 100、Rope 100、100Days Engagement
主页:www.beyoureyes.org.cn
邮箱:info@beyoureyes.org
微信:beyoureyes 或扫描二维码
希望我们在比赛中汇集的能量,
可以流动到需要它们的人们那里,
希望我们在运动中得到的勇气,
让更多的人有力量面对困难。
We hope that whilst we're in the competition together,
we may all converge our energy as one to make each and all strong,
We hope that whilst doing sports together,
we are able to find the nerve to be strong enough to face challenges head on.