2021年4月蓝睛灵共开展了3期常规活动,3场企业社会责任(CSR)活动,6场特别活动。6周岁年会也在本月举办。
In April 2021, Lanjingling carried out 3 regular weekend activities, 3 CSR activities, 6 special events, and the 6th Anniversary Celebration.
蓝睛灵编辑部 Lanjingling Editorial Office
蓝睛灵6周岁啦!Lanjingling Turns 6!
4月17日,蓝睛灵以一场特别活动和生日宴会庆祝蓝睛灵6岁了。On April 17th, Lanjingling celebrated the 6th Anniversary with a special event and a birthday party.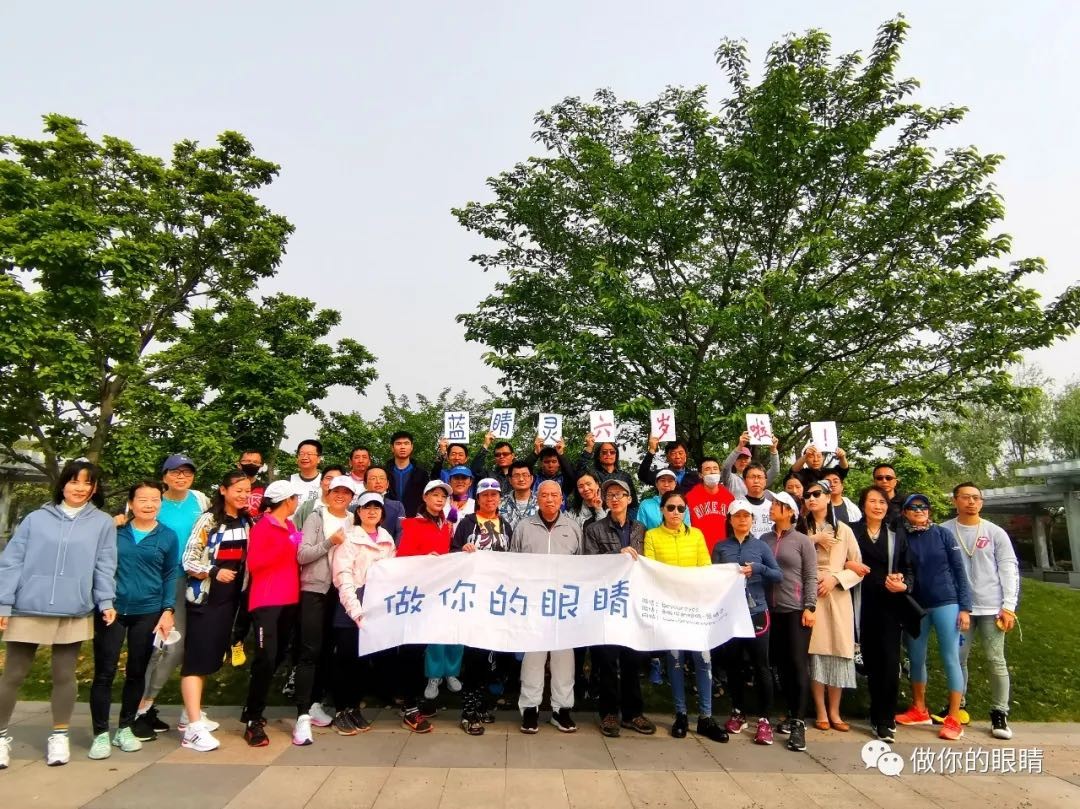 新老朋友们一起,在公园里跑步,在饭店里聚餐,蓝睛灵们的开心是因为所有参与者的支持,每一次活动能顺利、安全地开展是因为所有伙伴们的认真。
Members and friends of Lanjingling, new and old, jogged around the park and dined together in restaurants. With the support of all participants comes the delight of us Lanjingling; with the earnestness of friends and families comes the smooth progressions of all our regular activities.
Thank you to all. Lanjingling will further forward in 2021.
REGULAR WEEKEND ACTIVITIES 
做你的眼睛第238期至240期的常规陪跑活动于4月3日、17日和24日在世纪公园、闵行文化公园开展。
The beYoureyeS 238th to 240th regular weekend activities were carried out on April 3rd, 17th, and 24th in Century Park and Minhang Cultural Park.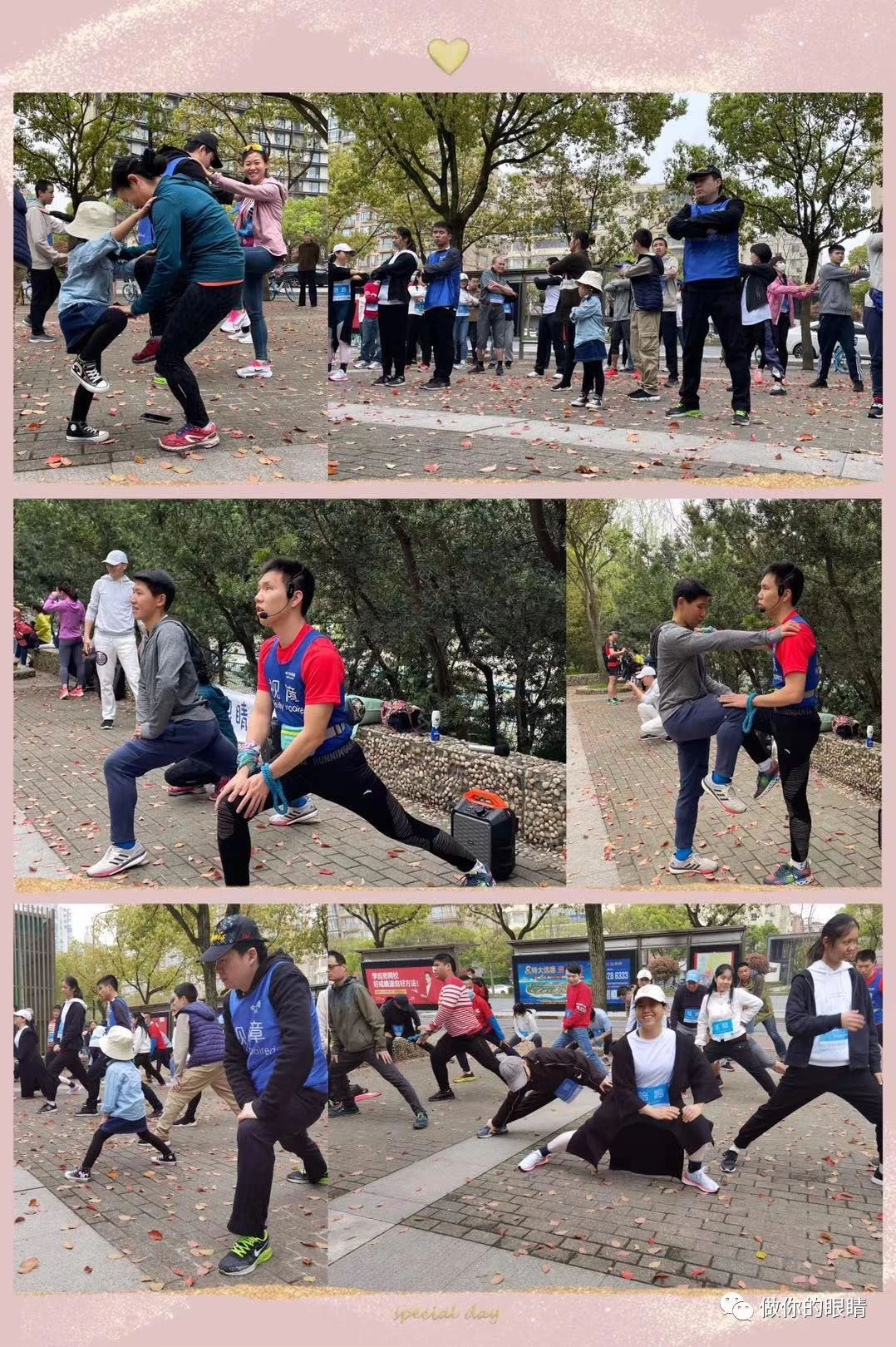 其中,第238期常规活动在世纪公园举行,第239期常规活动在闵行文化公园举行,第240期常规活动在浦东和浦西同时开展。
Specifically, the 238th regular activity was carried out in Century Park, the 239th regular activity was carried out in Minhang Cultural Park, and the 240th regular activity was carried out in both Puxi and Pudong.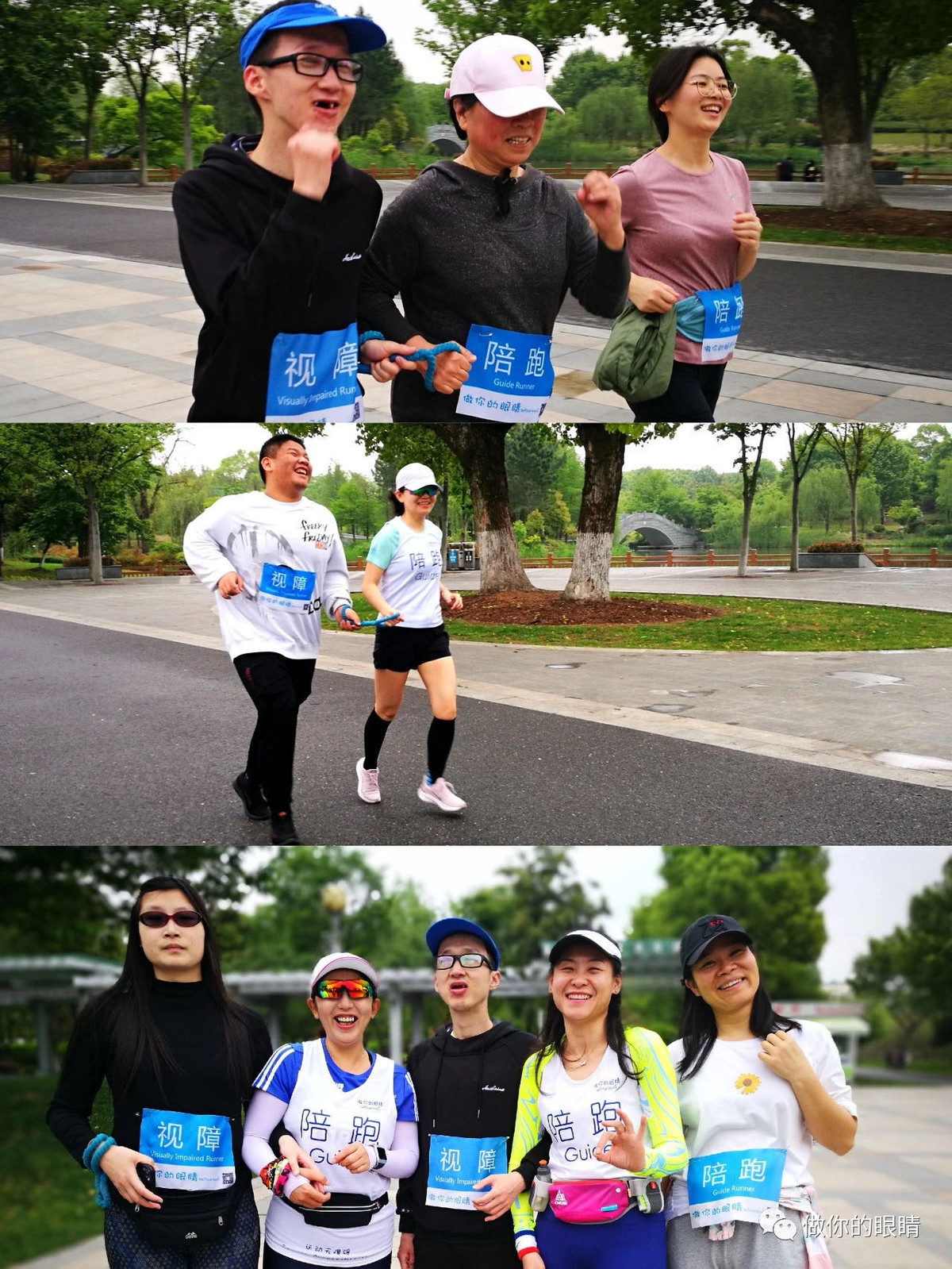 The scheduled regular weekend activity on April 11th was cancelled due to rainy weather.
Hand on Hand by Lake Taihu: Lanjingling at Wuxi Marathon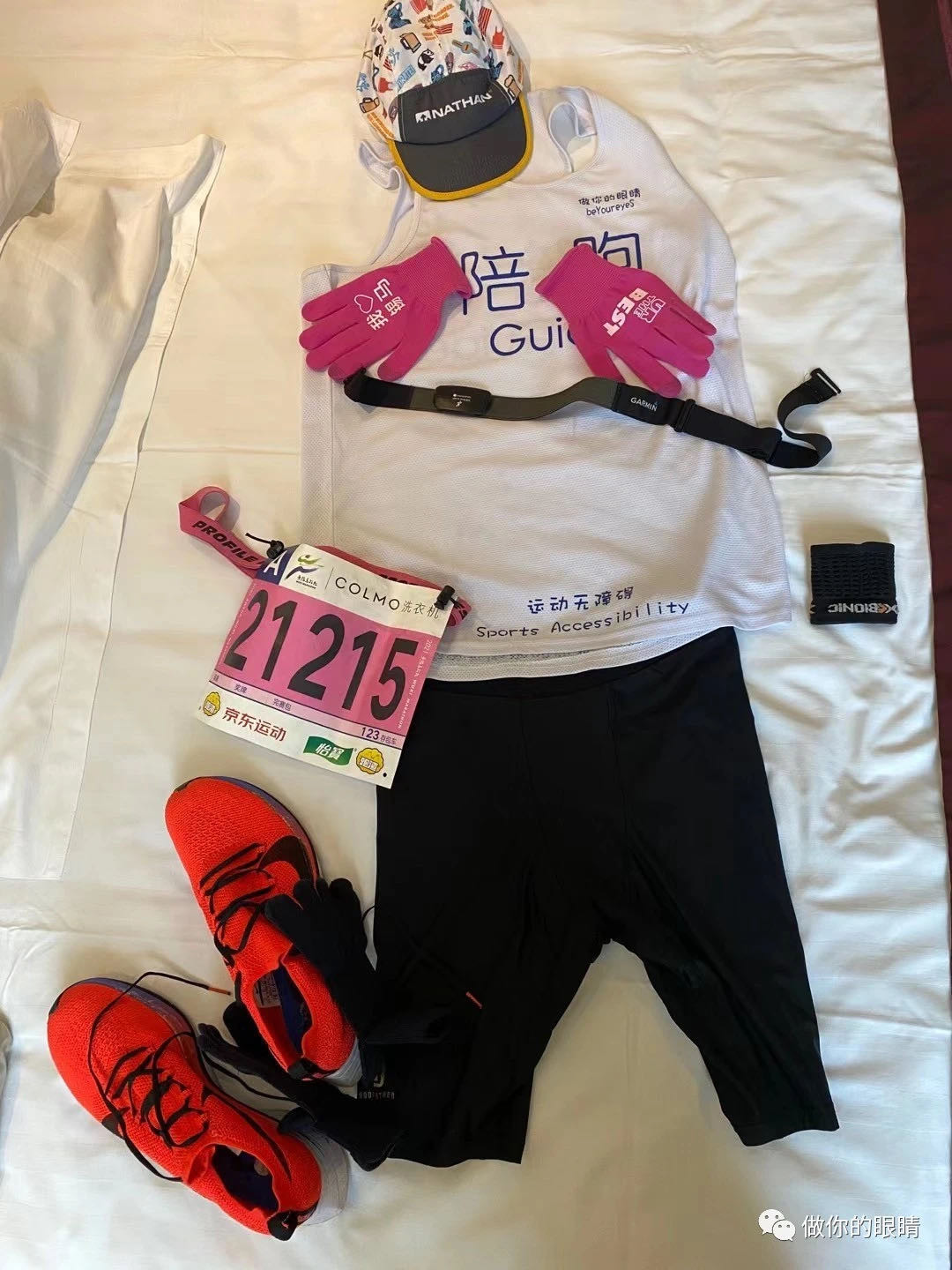 4月11日上午,在春意盎然、烟雨蒙蒙的太湖岸边,3组全马、1组迷你马蓝睛灵陪跑小组参加了2021年无锡马拉松赛事。
In the forenoon of April 11th, 3 full-marathon teams and 1 mini-marathon team participated in the 2021 Wuxi Marathon by the fog-wreathed spring-vitalized Lake Taihu.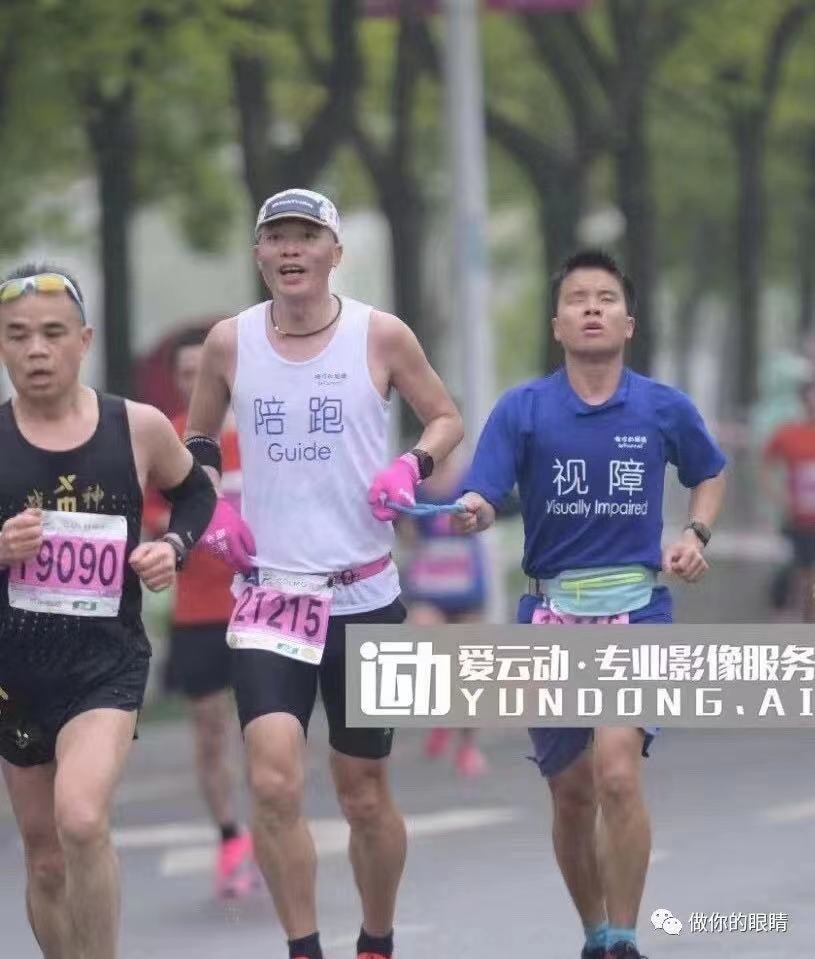 为了锡马,结伴训练的各组队员已经连续多个星期日早上集结世纪公园,进行25-30公里的集训,用汗水证明世上没有轻而易举的好成绩,只有埋头苦干才能达成的目标。
For this competition, teams have been training for numerous Sunday mornings in succession, each 25-30 km in length, demonstrating that no sweets come without sweats, and that hard work is the key to success.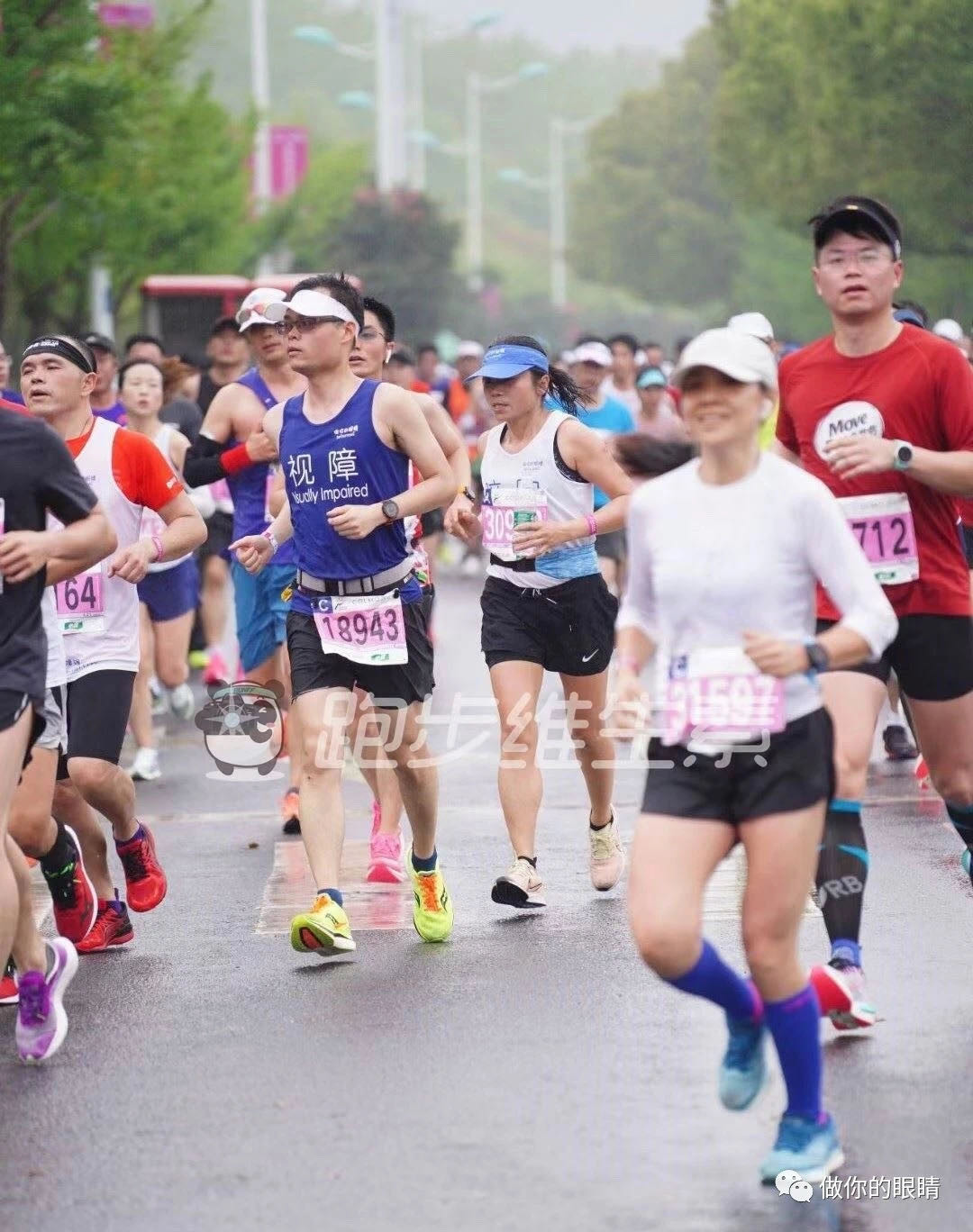 晨辉组以03:36:36、沈琳组以03:37:34的好成绩成功PB,墨麒麟以04:00:43的成绩成功完成了自己的首马。
With 03:36:36 and 03:37:34, Chenhui's team and Shenlin's team respectively made their PBs. Qilin Mo completed his first Marathon with a score of 04:00:43.
Lanjingling at Shanghai Half-Marathon
4月18日,蓝睛灵部分中签的幸运儿参加了上马半程马拉松比赛。
On April 18th, the lucky draw-winners from Lanjingling ran in the Shanghai Half-Marathon.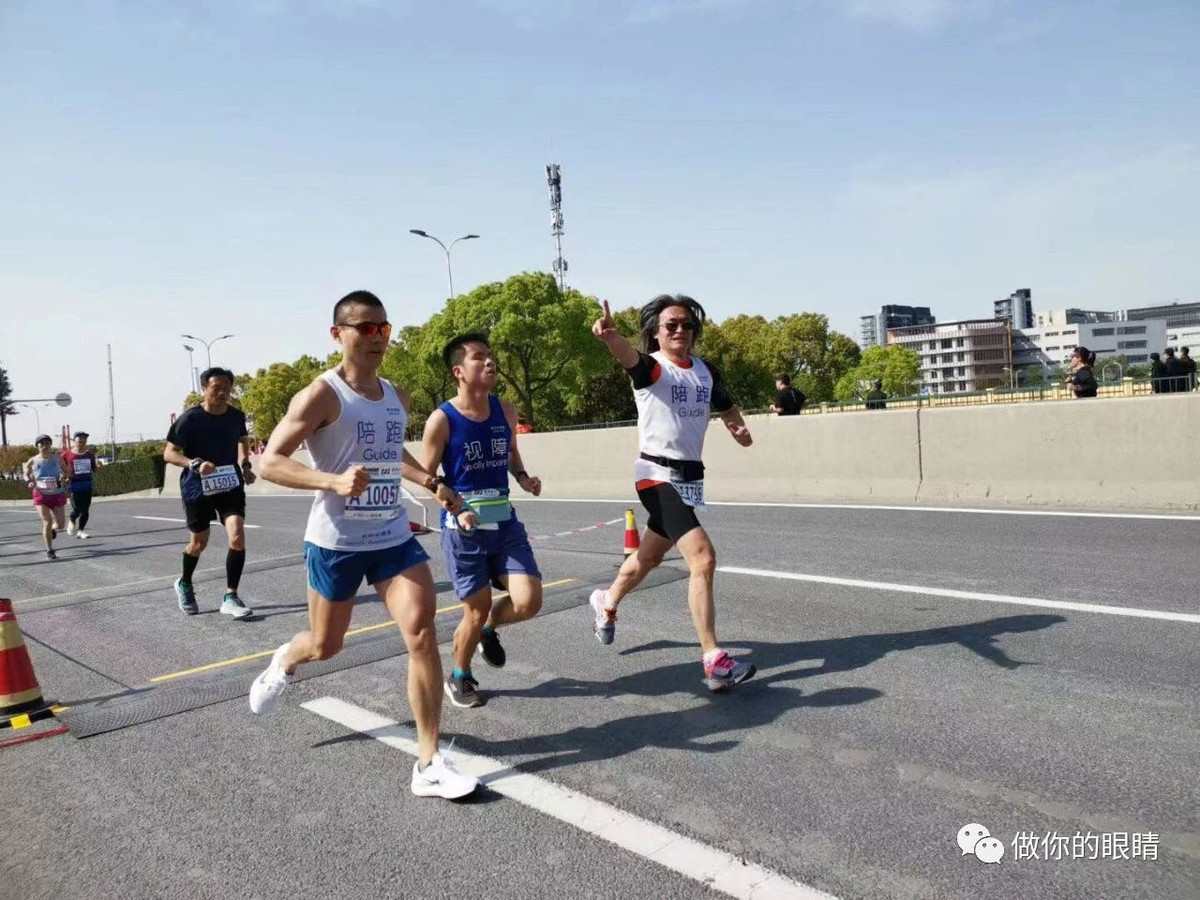 陆晨辉从最后区域起跑,在于老师和阿加西的陪伴下,克服种种不利条件,以1:40:59的优异成绩平安完赛。
Despite starting the race in the last block, Chenhui Lu completed the run with the great result of 1:40:59 under the guidance and accompaniment of Yu and Agassi.
Corporate Social Responsibility Activities 
Apple Conference About Employment Opportunities for People with Disabilities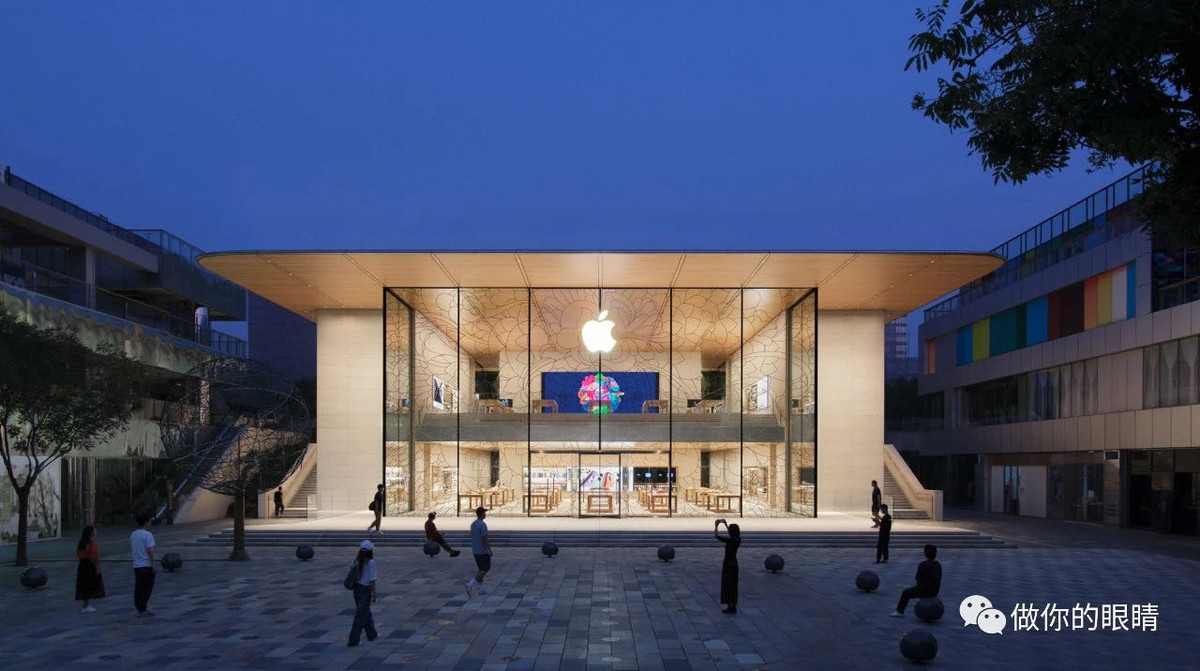 清明小长假过后,做你的眼睛公众号上发布了Apple面向各类残障者的招聘说明会的招募帖。
After the Qingming Festival break, beYoureyeS released on its subscription account the invitation letter of Apple's information session about employment for people with disabilities.
蓝睛灵作为Apple的合作方,负责与视障参与者的沟通和无障碍支持工作。
As a partner of Apple, Lanjingling was put in charge of communication and accessibility support work.
US Consulate X beYoureyeS CSR Experiential Charity Event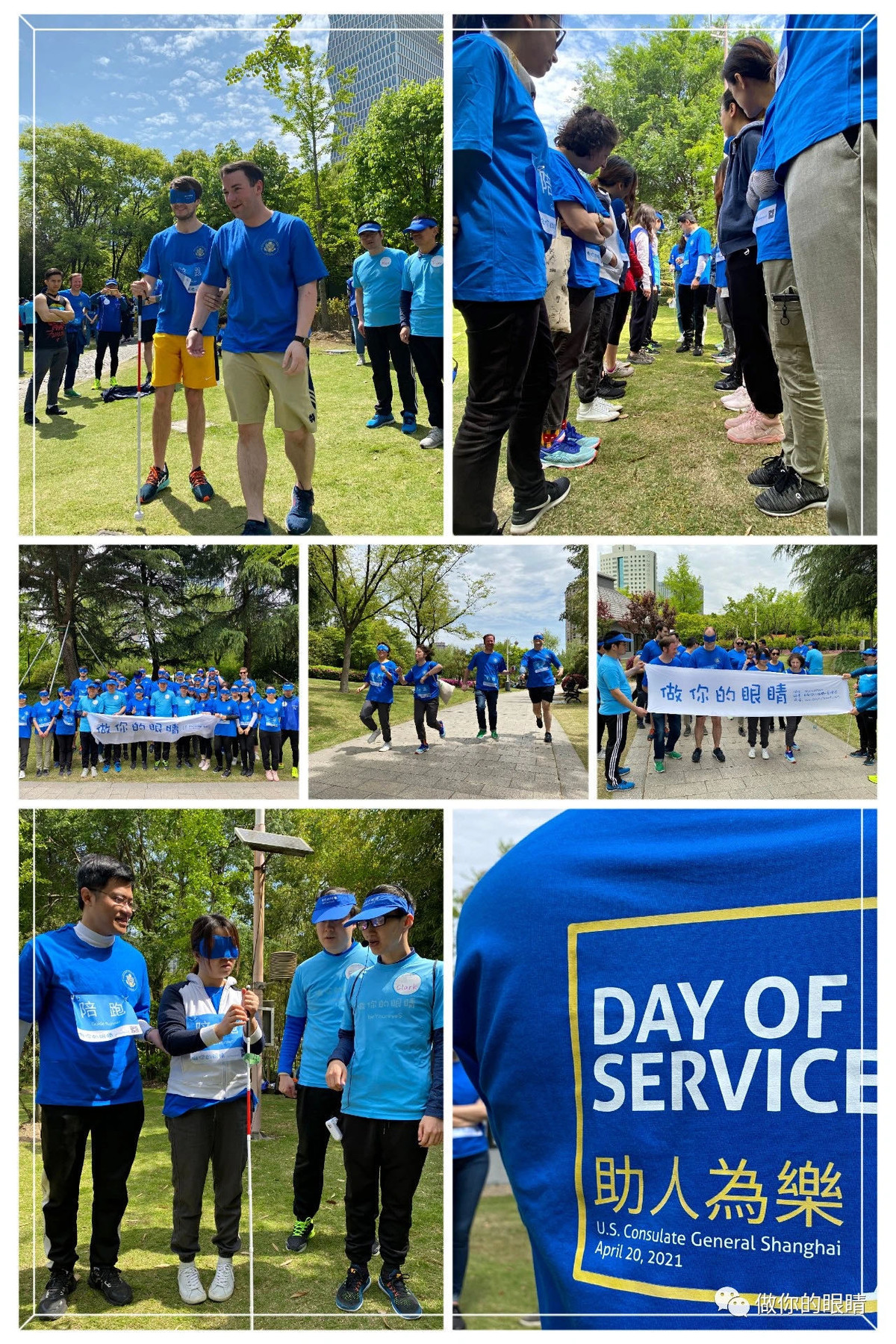 4月20日上午,恰逢美国驻上海总领事馆"Day of Service 助人为乐"年度主题日活动,美领馆30余位工作人员专程来到新虹桥绿地公园,参与"做你的眼睛"CSR体验式公益活动。大家在亲身体验的过程中了解并关注视障人士的真正需求,与蓝睛灵们一起推广无障碍理念。
In the forenoon on April 20th, US Consulate's "Day of Service" annual thematic activity day, around 30 officers from the US Consulate arrived at Hongqiao Greenland Park to participate in 'beYoureyeS' CSR experiential charity event. Participants learnt about the daily needs of the visually impaired through firsthand experiences, spreading the tune of accessibility further around.
Lanjingling Invited to Dow's Cultural Diversity Week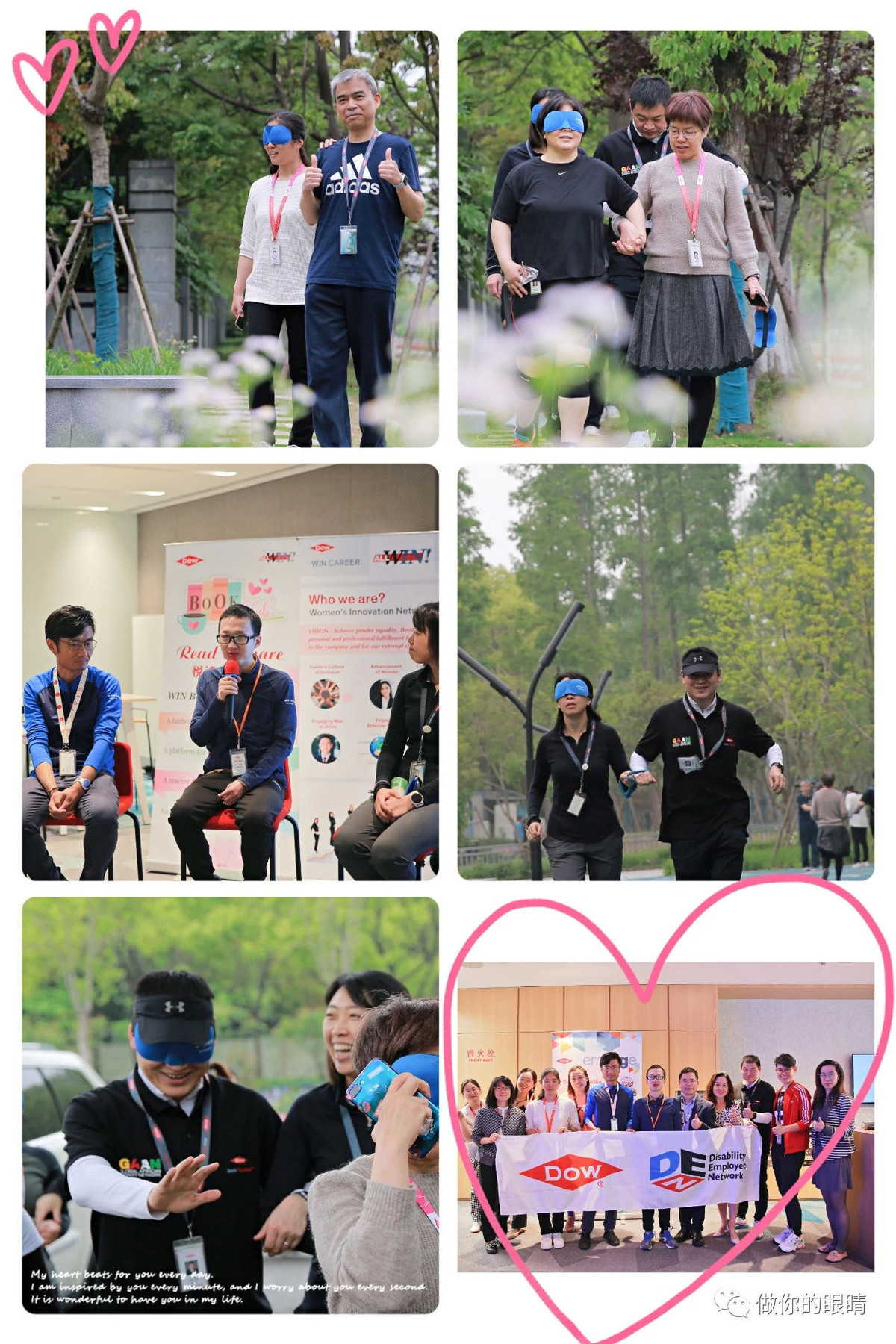 4月23日上午,蓝睛灵视障伙伴陈晓斌受邀参加陶氏化学大中华区总部举办的多元文化周活动——《当我谈跑步时我谈些什么》读书分享会。
In the forenoon of April 23rd, Xiaobin Chen, a visually impaired member of Lanjingling, attended under invitation the Cultural Diversity Week of Dow Chemical's Greater China Headquarter Office.
Lanjingling Accommodation in 'Charity Shanghai' Official Account, Charity Passport on the Way
3月末,蓝睛灵正式成为上海市民政局下辖的公众号"公益上海"的公益活动基地。参与活动的蓝睛灵可以通过在线预约或到相关银行直接办理的方式申请公益护照。
Late March, Lanjingling officially became a charity foundation under the government-supervised 'Charity Shanghai' official account.Lanjingling participants could apply for a charity passport via online bookings or at designated commercial banks.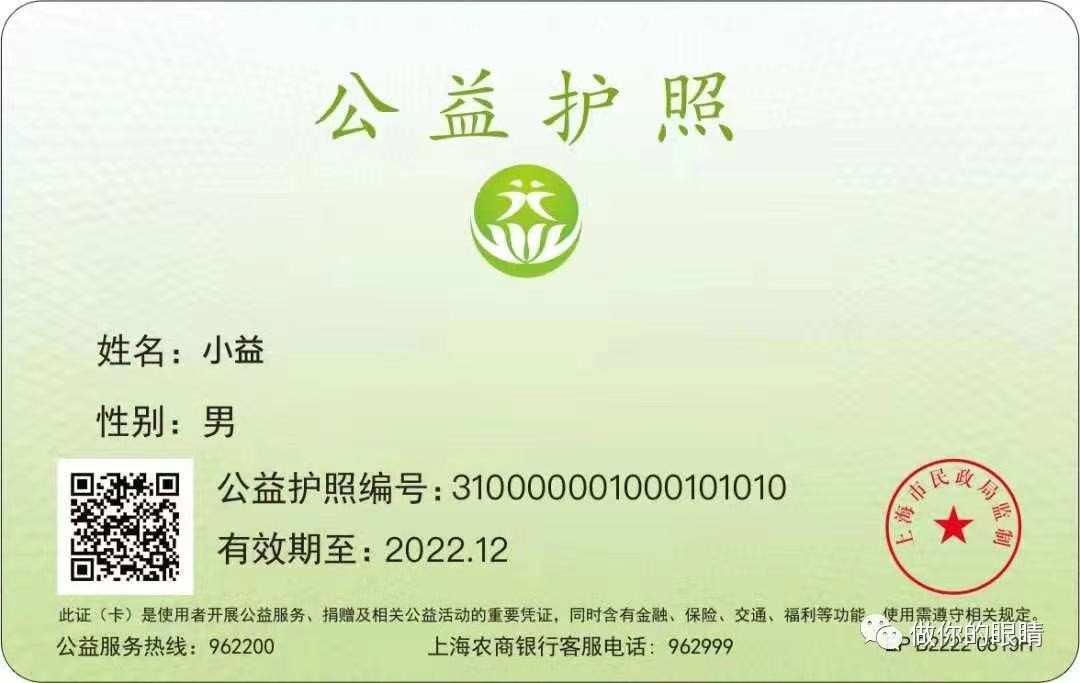 公益护照以信用卡为载体,用于标识志愿者身份,具有信息记录、权益保障、激励嘉许三大类功能。4月17日,蓝睛灵6周岁年会特别活动上,提前报名的蓝睛灵们在活动现场组团办理了公益护照。
The charity passport is one which resides on the credit card system, provides identification for charity volunteers, and handles the three main functions of information records, protection of rights, and promotion through incentives.
On April 17th, at the 6th Anniversary Celebration Event, pre-registered Lanjingling members applied for Charity Passports collaboratively.
Lanjingling 6th Anniversary Special Activity and Feast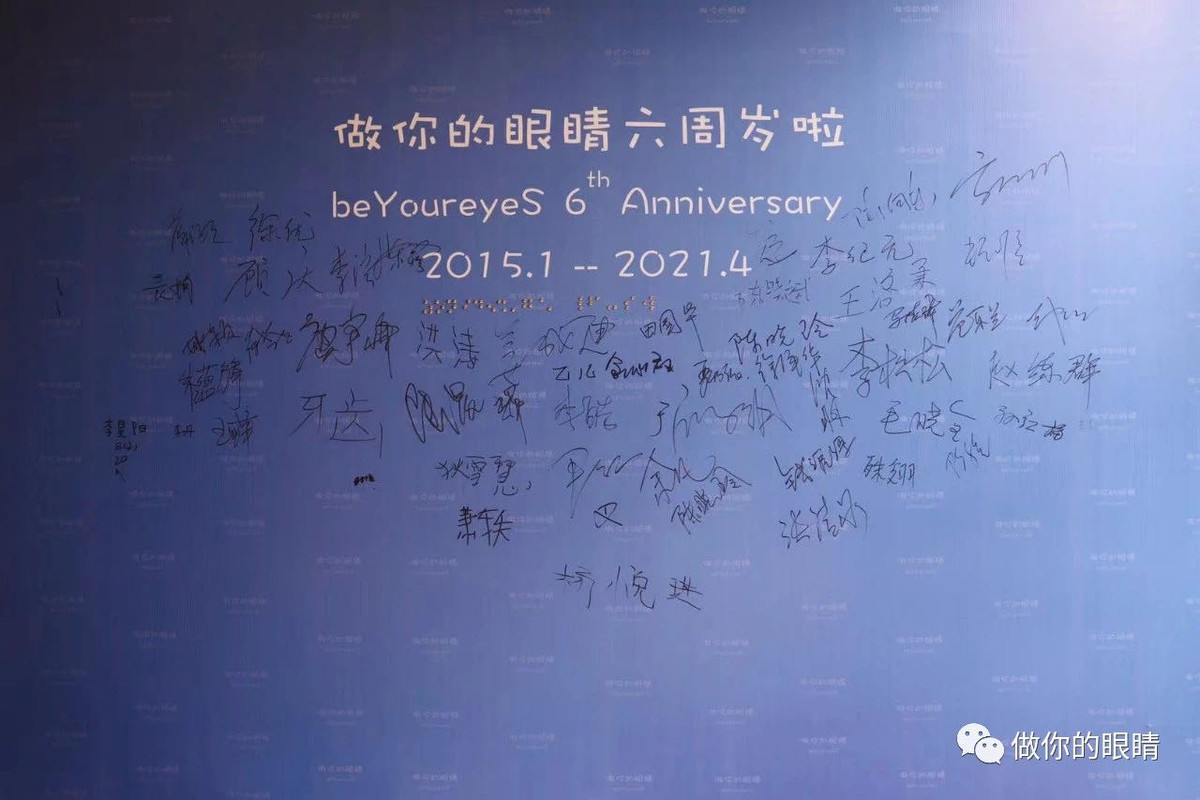 由于疫情影响,蓝睛灵的6周岁年会延迟到了4月举行。
Due to the impact of coronavirus, Lanjingling's 6th Anniversary Celebration was delayed to April.
4月17日上午,在闵行文化公园开展了年会的特别活动。
In the forenoon of April 17th, Lanjingling carried out special events at Minhang Cultural Park.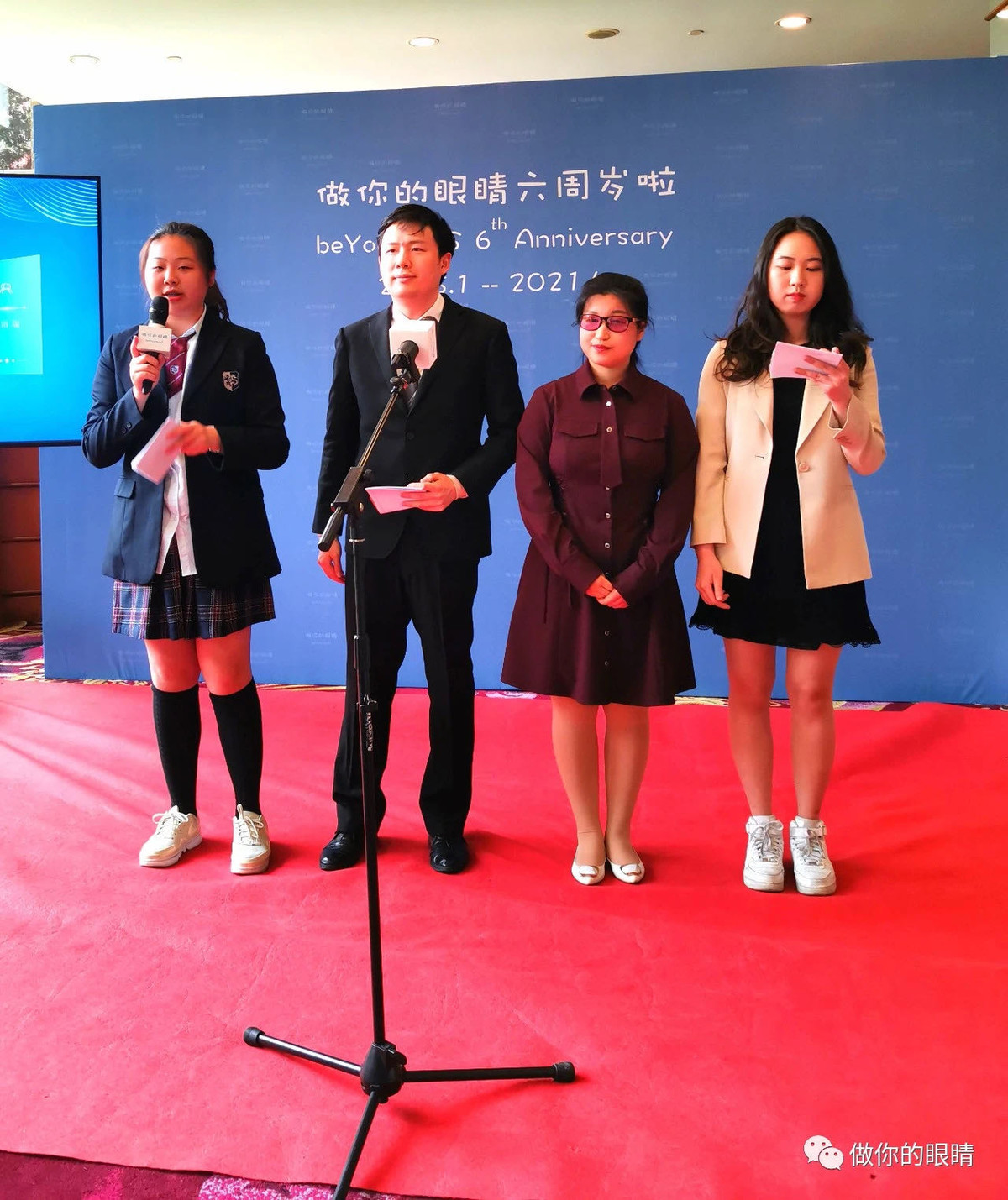 蓝睛灵伙伴们都穿着有蓝白元素的服装,美丽帅气地参加了上午的跑步活动,在活动后就直接赶往龙柏饭店。
Lanjingling members wore blue and white pigmented shirts and delightfully joined the run, and traveled directly to the Cypress Hotel afterwards.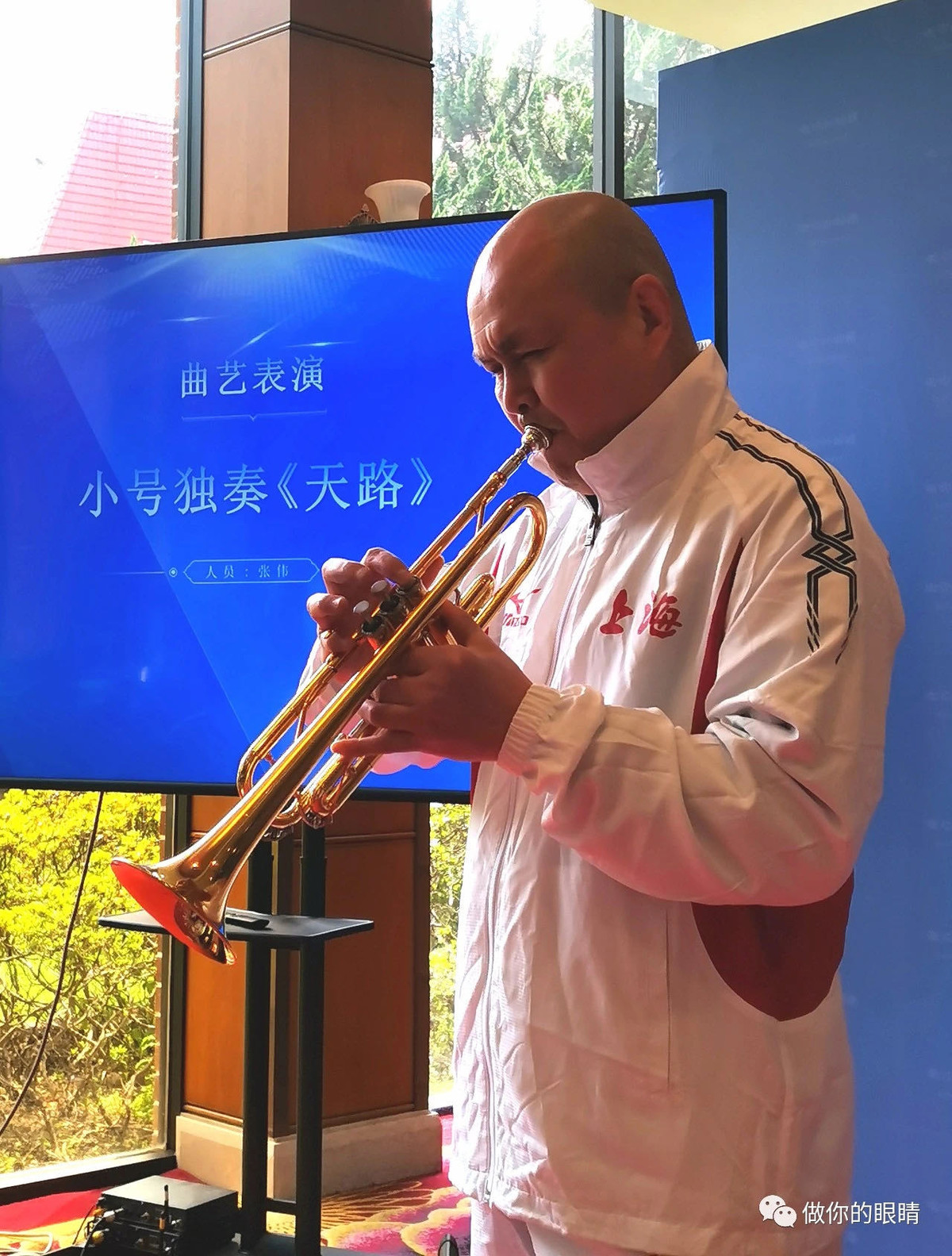 中午,陆续来到饭店的蓝睛灵小伙伴们神采奕奕,潇洒地在签到板上留下明星签字,还留下最美丽的靓装照。
At noon, incoming Lanjingling members elegantly signed their names onto the board, before leaving photograph prints with their vibrant rejuvenating outfits.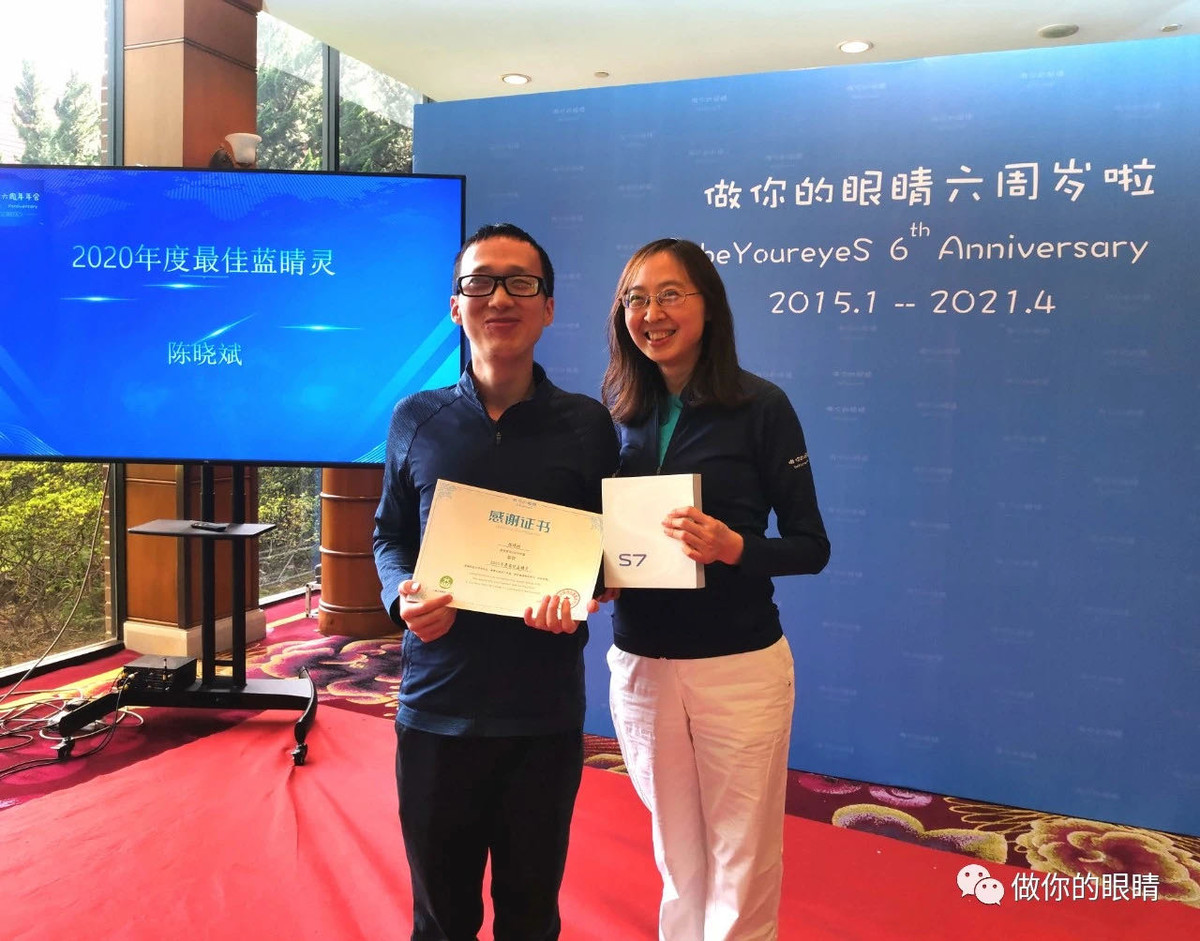 4 hosts delivered the opening remarks. Then, Jiyuan gave a speech.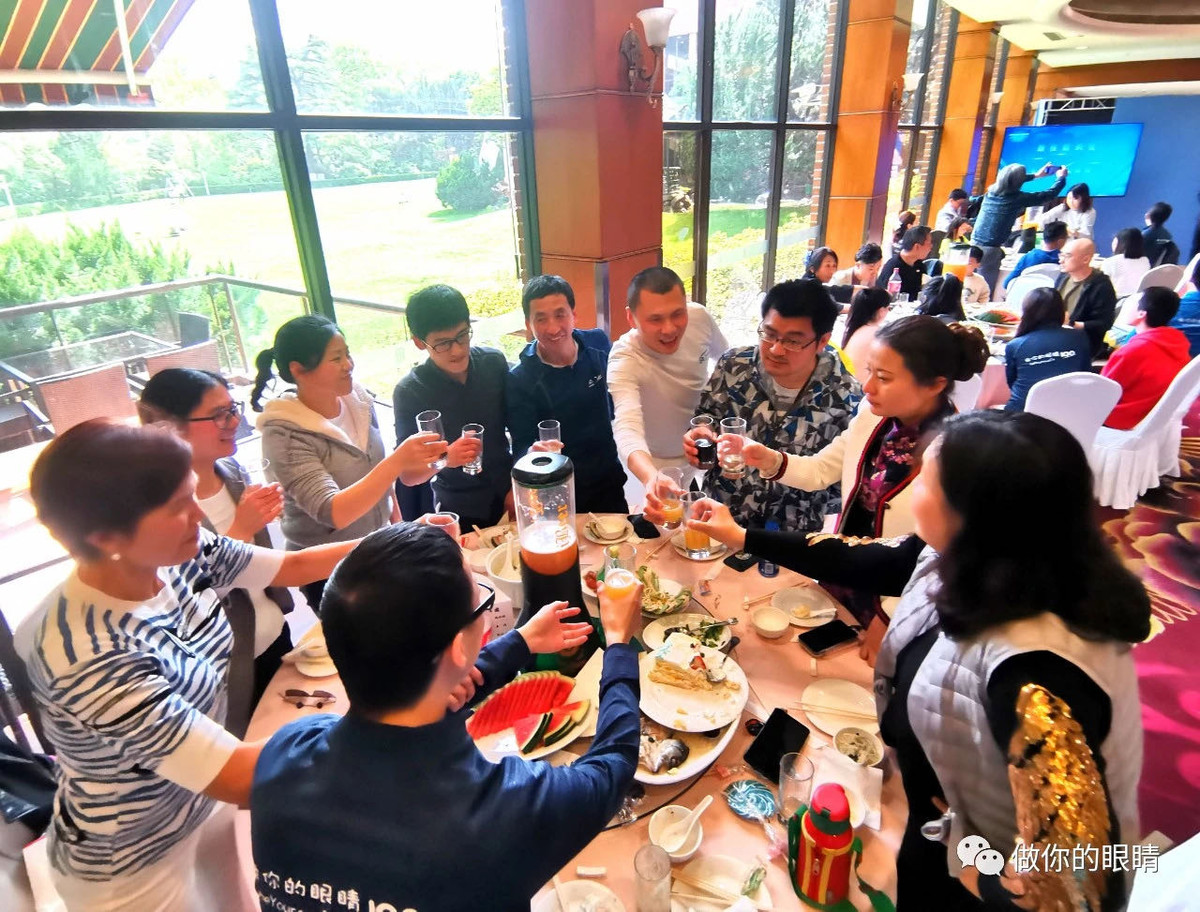 丰富多样的节目让大家鼓掌连连,感人的合唱生日歌环节让所有蓝睛灵的心情澎湃。
The excellent performances summoned loud applauses, and Lanjingling members surged with emotions as the Birthday Song chorus ringed.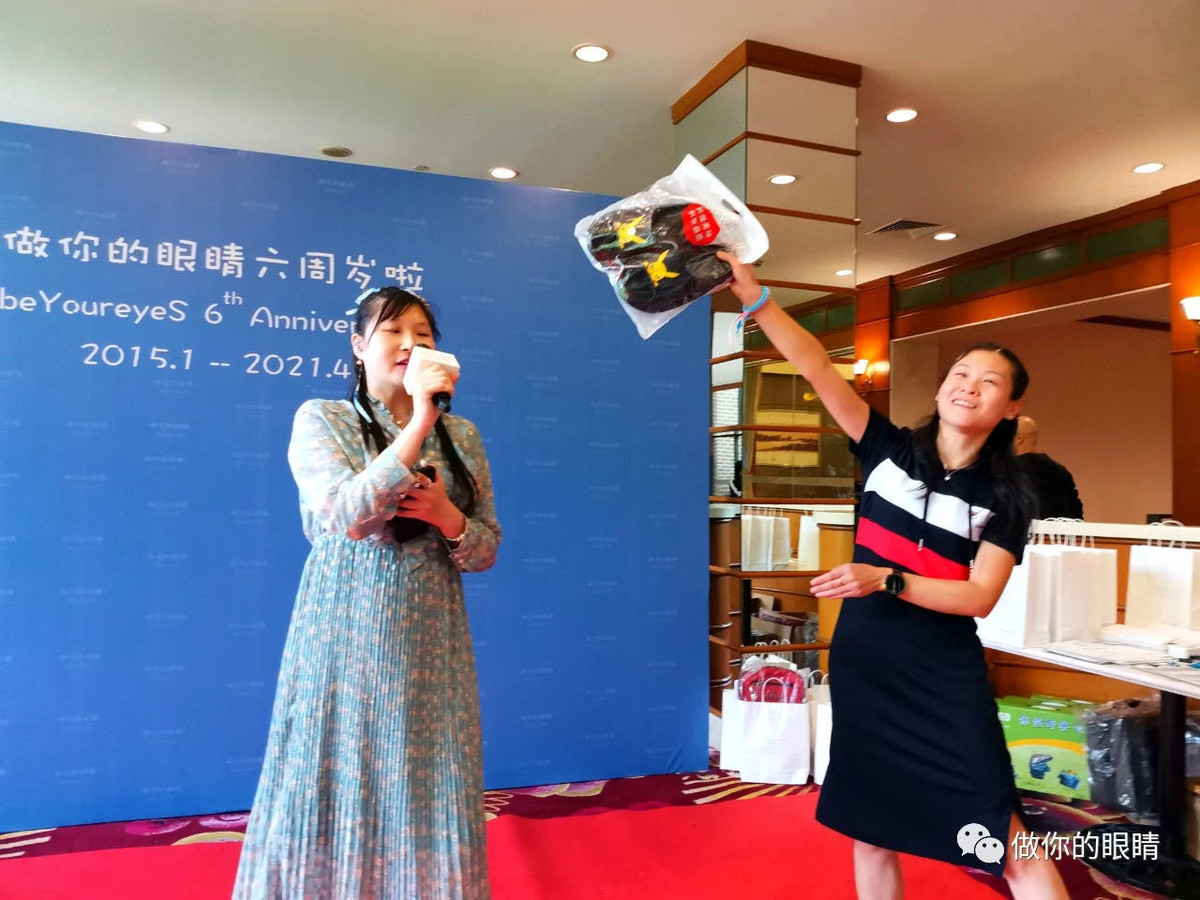 年会中的颁奖环节感谢了所有在2020年参与和支持蓝睛灵的伙伴。有大家一起的参与才能让蓝睛灵走的更远!
The award ceremony during the anniversary delivered gratitude to everyone who participated and supported our program in 2020. Only with you, will Lanjingling progress even further.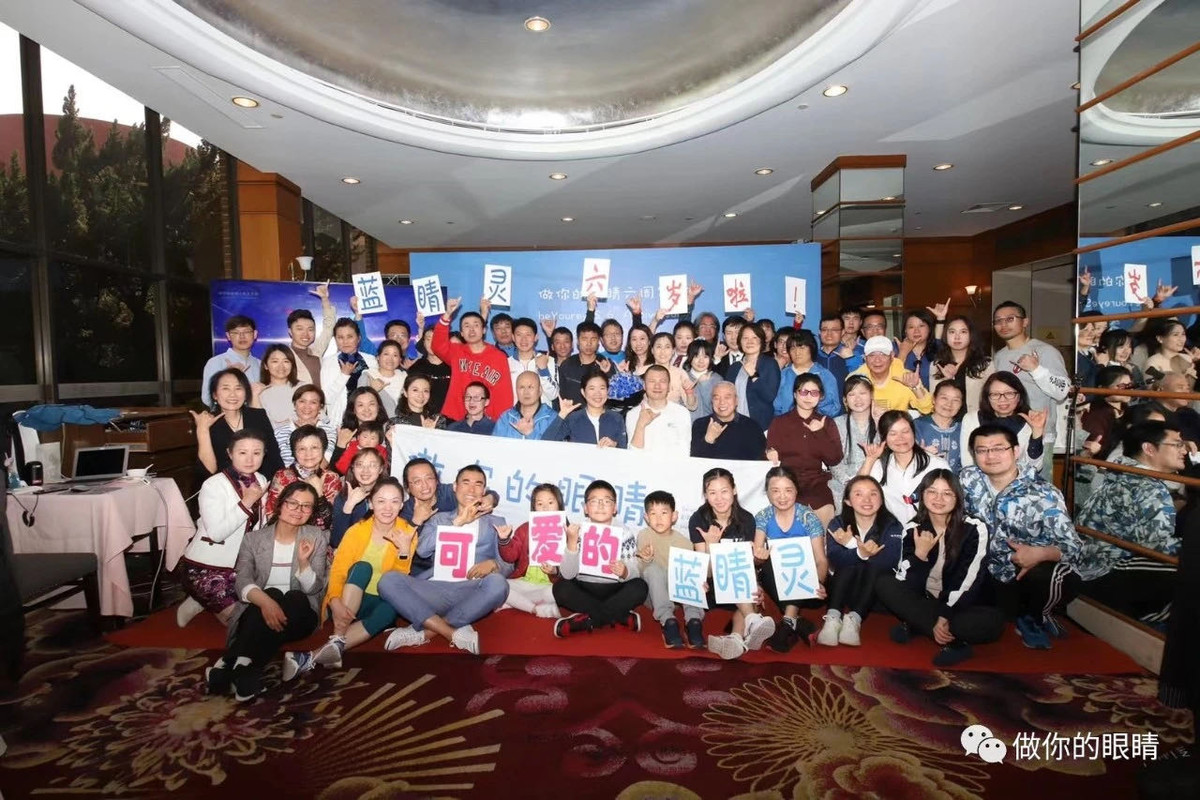 Fitness 100 Sustained, Interviews From Shanghai Morning Post
第22期至第24期看健100无障碍健身活动于4月5日、19日和26日持续开展。
The 22nd through 24th 'Fitness 100' virtual fitness activities were carried out on April 5th, 19th, and 26th.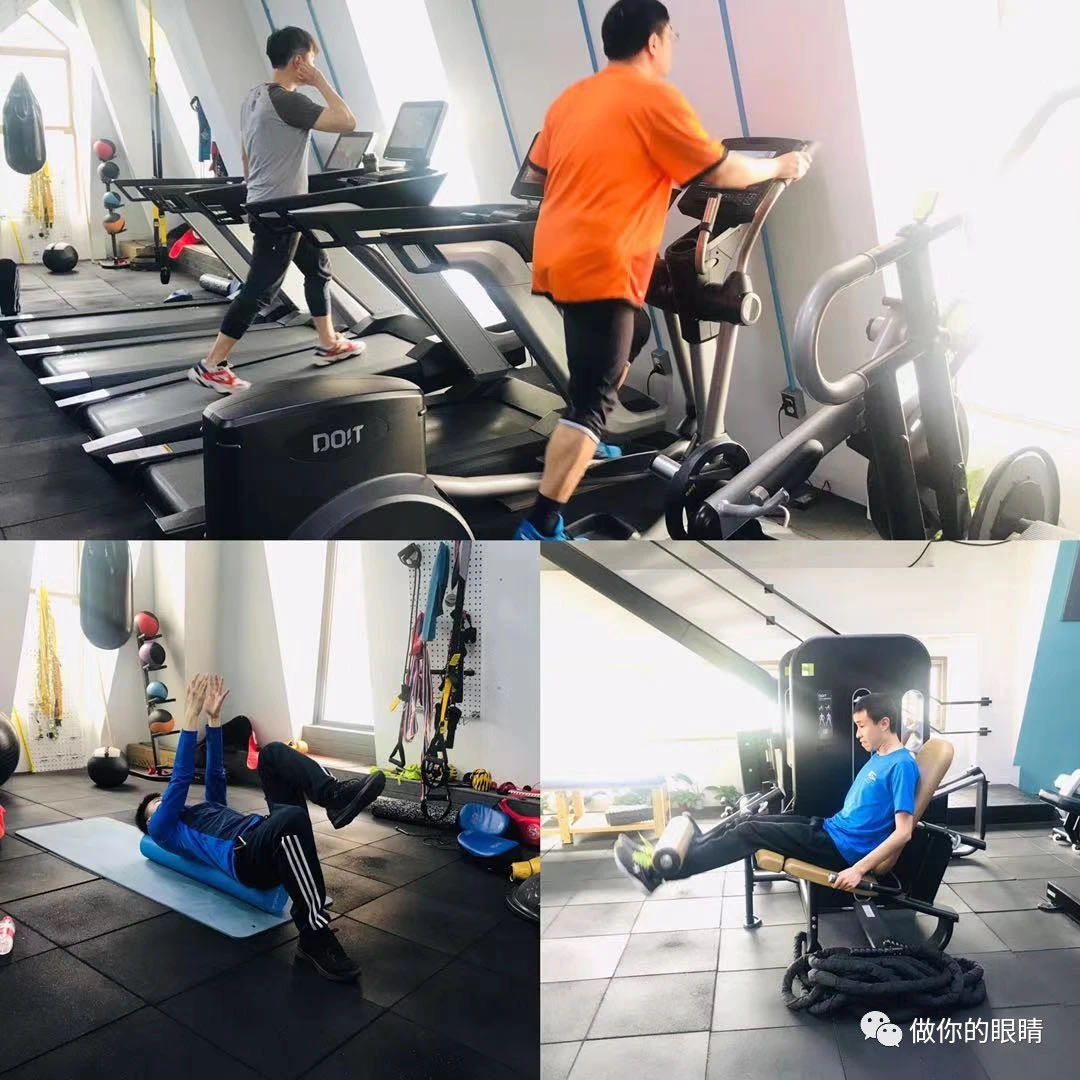 近几期的活动中,教练在自由训练之后,还增加了集体训练,HIIT训练让小伙伴们的心率明显上升,在趣味中加强了锻炼强度。
In recent activities, coaches scheduled additional group trainings after the free training time. HIIT activities warmed up the vibe, participants intensified their training without the loss of interest.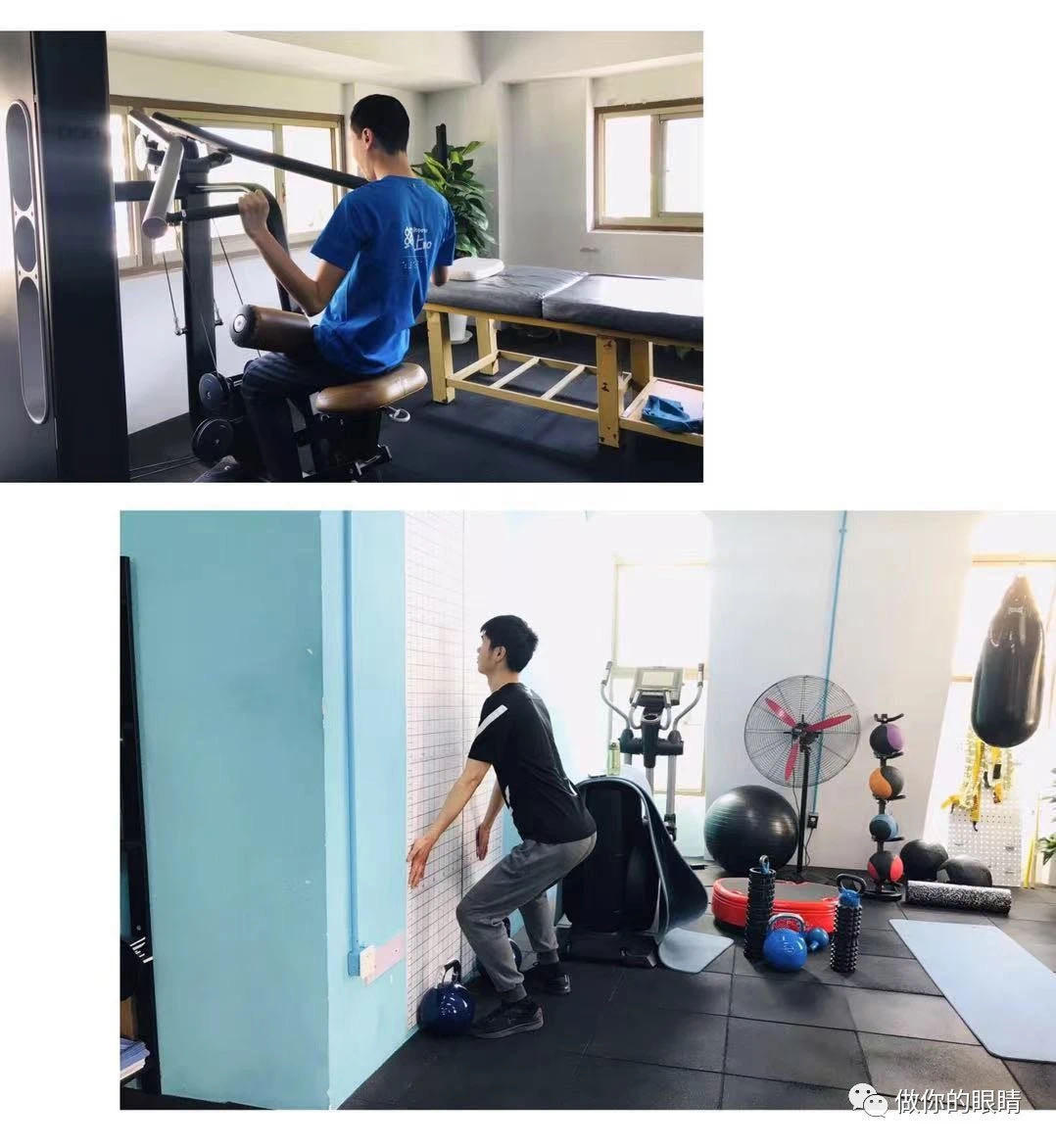 19日的活动中,教练和视障健身爱好者们还接受了上海新闻晨报的采访。
During the activity on April 19th, coaches and visually impaired fitness enthusiasts were interviewed by Shanghai Morning Post.
采访的内容于4月21日下午,在021微博视频号上发布。 
The interview footages were released on 021 Weibo video account in the afternoon of April 21st.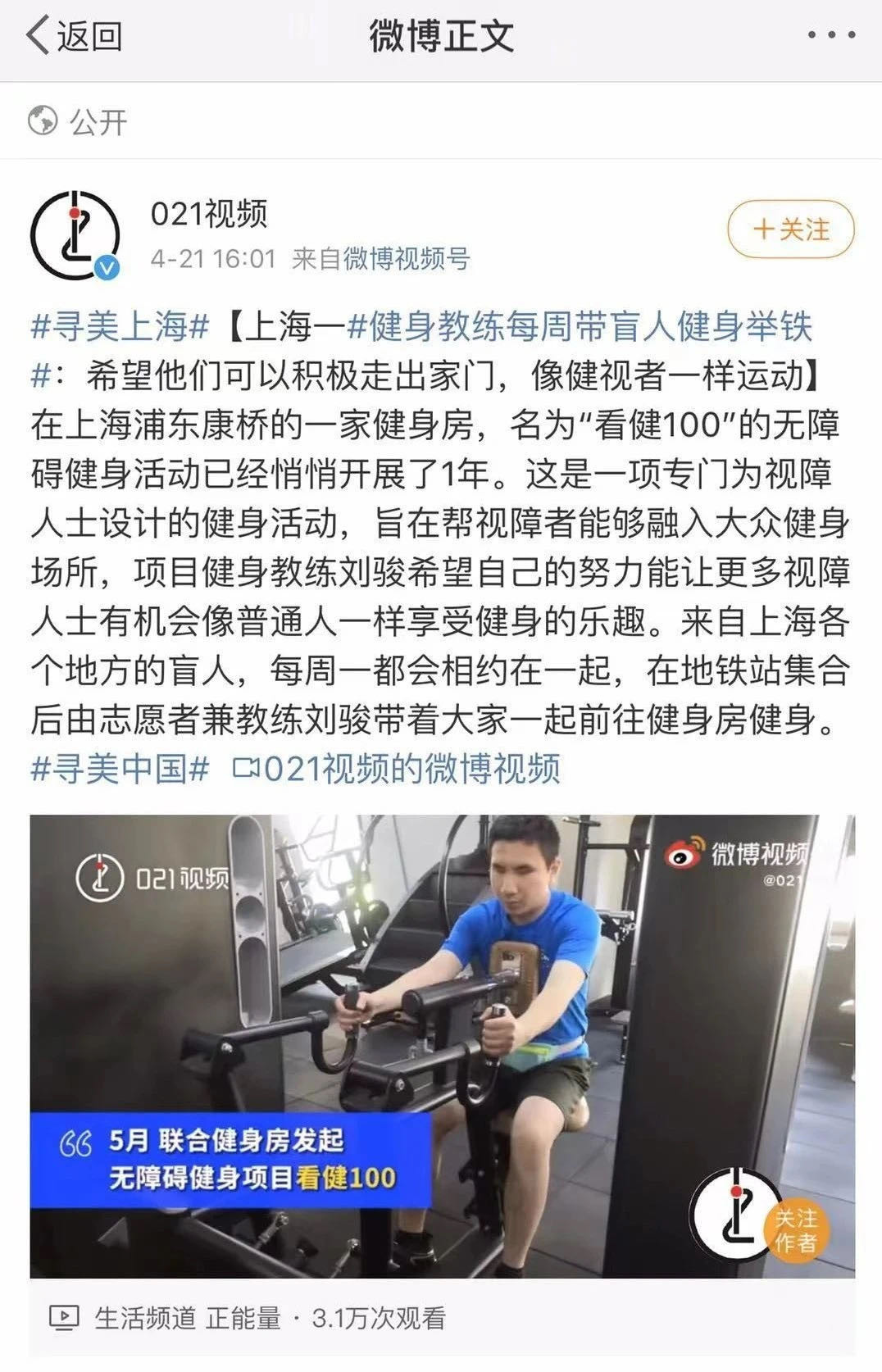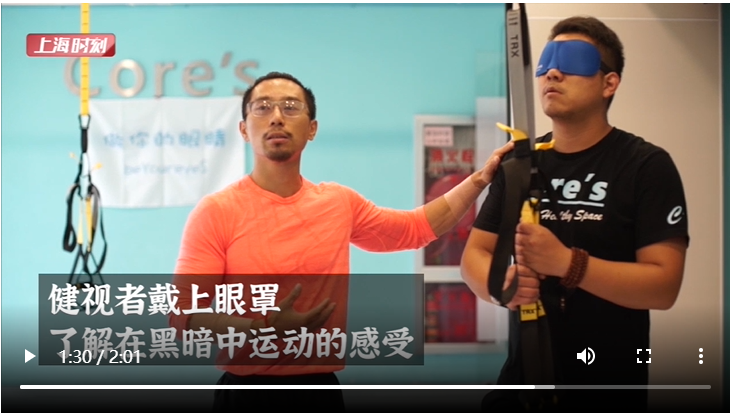 This marks the end to this Monthly Newsletter, thank you for reading.
做你的眼睛是一个民间自发的公益活动,于2015年1月在上海发起,致力于推动运动无障碍,让视障者参与运动变得简单。
beYoureyeS is a charitable activity, launched in Shanghai in January 2015, is devoted to promoting the concept of sports accessibility, making it possible for persons with visually impairments.
在我们的活动中,无论视障者,还是健视者,都称呼彼此为蓝睛灵,我们的公益组织也叫这个名字。
Everyone attending our activities calls each other Lanijngling, no matter what kind of physical condition he or she is in, and that is where our NGO's name came from.
我们认为,任何人都可以自由又自然的投入运动,平等的享受运动带来的快乐。
We believe that everyone can participate in sports freely and naturally, can enjoy the happiness, freedom and well-being derived from sports.
我们组织多样性的活动,鼓励各行各业参与运动与跨界,从本质上认可人的尊严。
We organize diverse activities, encourage all walks of life to participate in sports and cross-border, and ultimately be aware of human dignity.
我们知道,所行之路要有一颗铁人之心,需要体力和耐力、智慧和勇气,需要耐心和时间。
We know that the road to follow requires a heart of the Ironman, needs physical strength and endurance, wisdom and courage, patience and time.
Thank you for your support and your company along the way. 
体验式公益活动、企业社会责任活动、校园融合活动、无障碍赛事活动
Experiential Philanthropy Activity, CSR Activity, School Inclusive Activity, Adaptive Sports Race
Fitness 100、Rope 100、100Days Engagement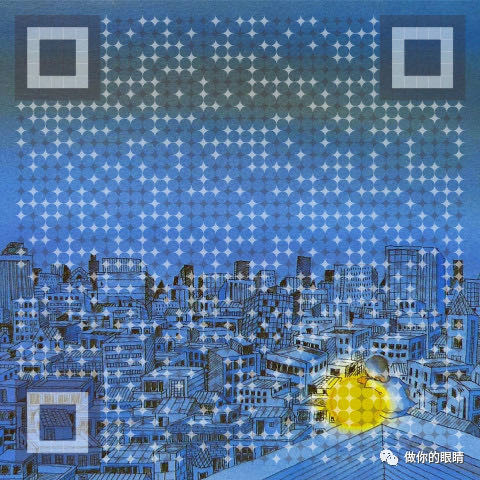 We hope that whilst we're in the competition together,
we may all converge our energy as one to make each and all strong,
We hope that whilst doing sports together,
we are able to find the nerve to be strong enough to face challenges head on.