2021年5月,做你的眼睛视障者职场赋能"百日计划"2期招募开启,蓝睛灵开展3期常规活动,参加4场赛事,开展2场企业社会责任(CSR)活动、4期看健100无障碍健身活动。
In May 2021, beYoureyeS' workplace empowerment project '100 Day Engagement 2' began enlisting. Lanjingling carried out 3 regular weekend activities, participated in 4 races, organized 2 CSR activities, and carried out 4 'Fitness 100' accessible fitness events.
翻译 Translator:王弘毅 Yoyo WANG
蓝睛灵编辑部 Lanjingling Editorial Office
做你的眼睛·视障者职场赋能 "百日计划" 第2期招募开启
Enlisting to '100 Day Engagement' beYoureyeS workplace empowerment program Season 2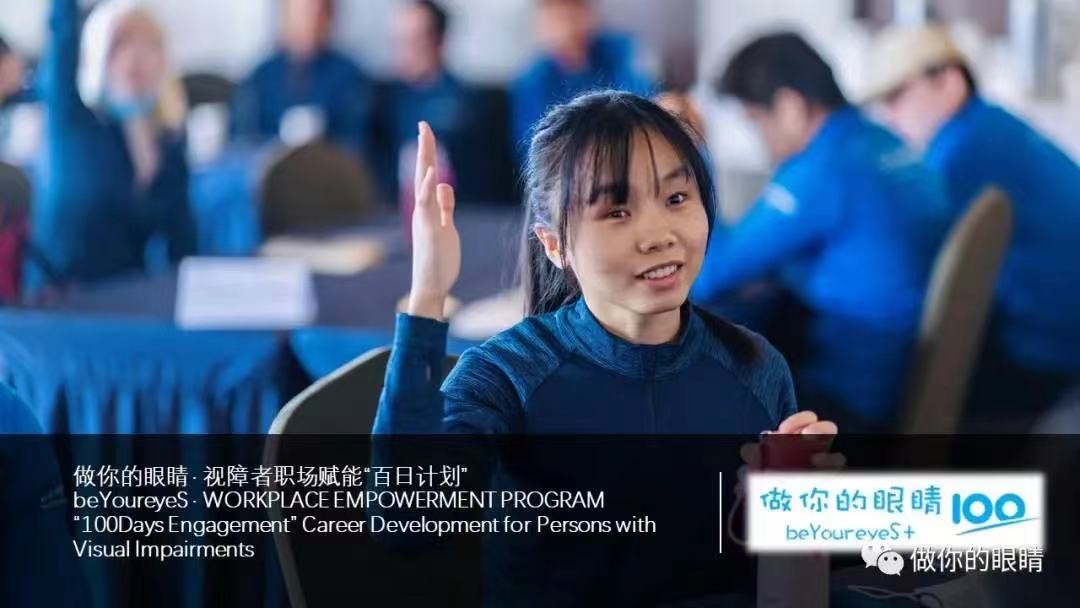 2020年12月1日,第1期百日计划在上海扬帆起航。时至今日,有多位学员今年6月将入职Apple多个岗位;有学员成功入职公益机构;有学员立足原有岗位,持续支持多位残障者实现就业。
On December 1st, 2020, the first season of '100 Day Engagement' set sail. Today, numerous participants are accepted to Apple Inc and will join the company this June; some participants joined charity organizations; others maintained their positions and will help more handicapped individuals to pursue their dream careers.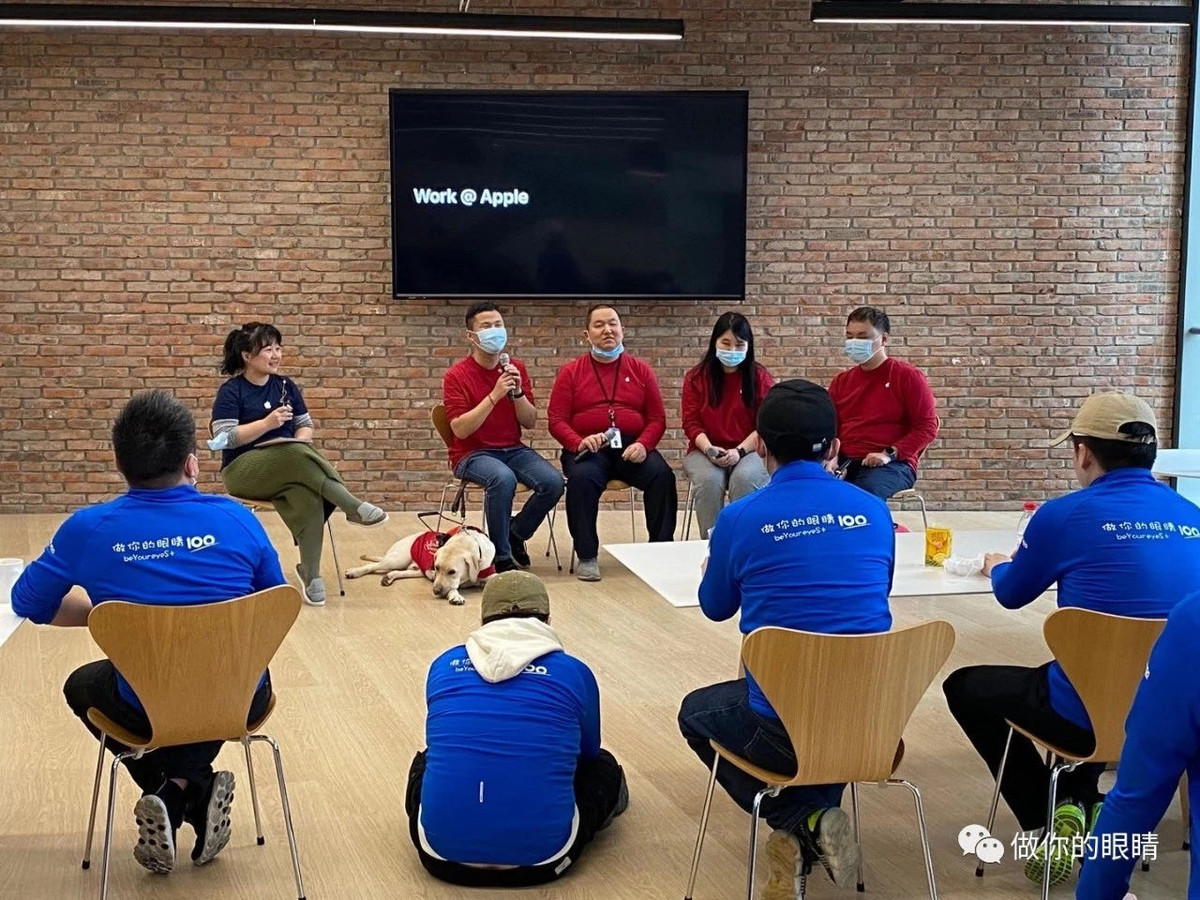 On May 21st, the last of Apple's global accessibility promotion days, the 2nd season of 100 Day Engagement opened its application channel. The editorial office then released a post where Luying Huang and Mingming Shi, participant and counselor of the first season, shared stories and experiences about the 100 Day Engagement program.
6月20日,学员们将在上海参与成长营,集中培训4~5天,学员分别实地探访知名公司,交流沟通,设定百日目标;回到居住地后,学员将执行完成自己的百日计划,并有机会获得一对一职业发展辅导支持,以及在相关企业实习/工作机会。
On June 20th, participants will congregate in Shanghai for a 4-5 day concentrated training camp. They will visit famous companies, communicate, and set their 100-day goals. Once back to their residences, they will practice the plans they made for themselves, with dedicated support to career development, and the opportunity of internships or jobs in simmilar corporations.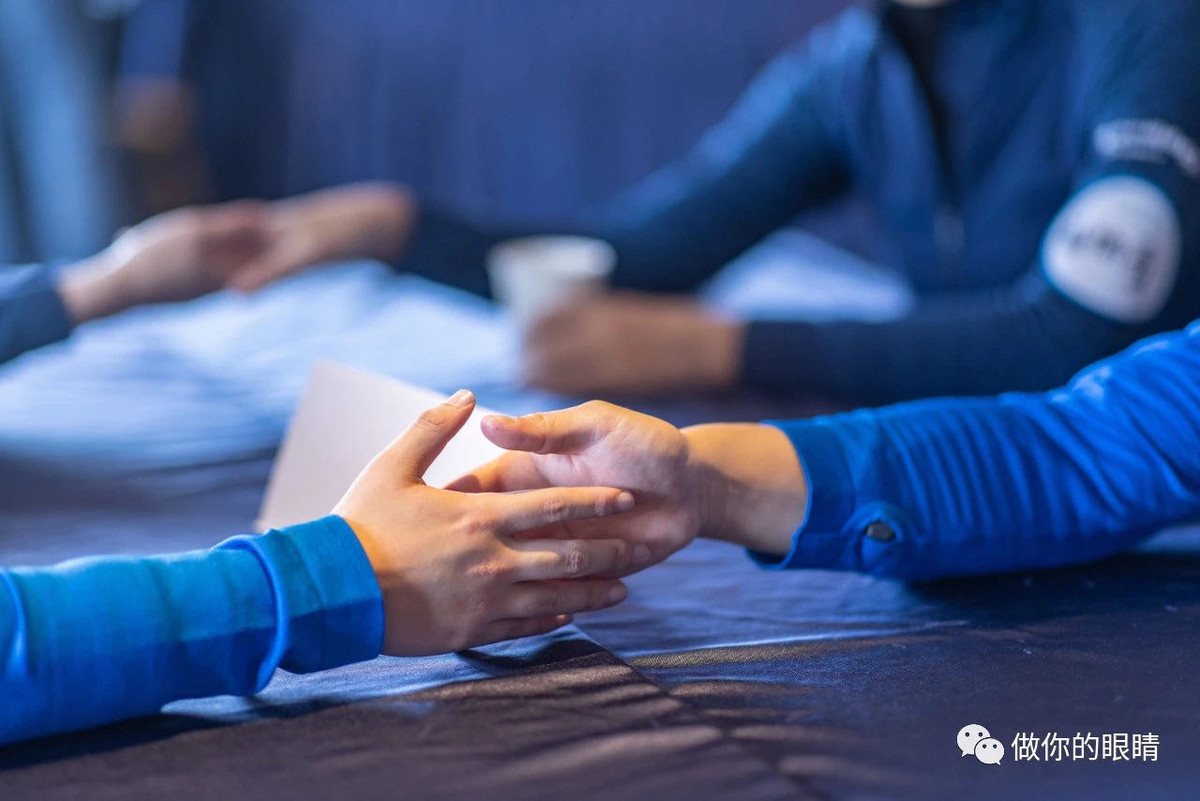 融合就业这条路并不好走,需要三个品质:"百折不挠的勇气、坚如磐石的心态、洞察万物的双眸。"
Workplace accessibility is a difficult goal, it needs 3 qualities: indomitable courage, persevering belief, and comprehensive vision.
这条路坎坷崎岖,筚路蓝缕,但充满希望,愿我们相伴一起走过。
The path that lies in front is full of obstacles and traps. Wish us a good journey with hope and companionship.
REGULAR WEEKEND ACTIVITIES 
做你的眼睛第241期至第243期的常规陪跑活动于5月9日、23日和30日在世纪公园、闵行文化公园开展。
The beYoureyeS 241st to 243rd regular weekend activities were carried out on May 9th, 23rd, and 30th respectively in Century Park and Minhang Cultural Park.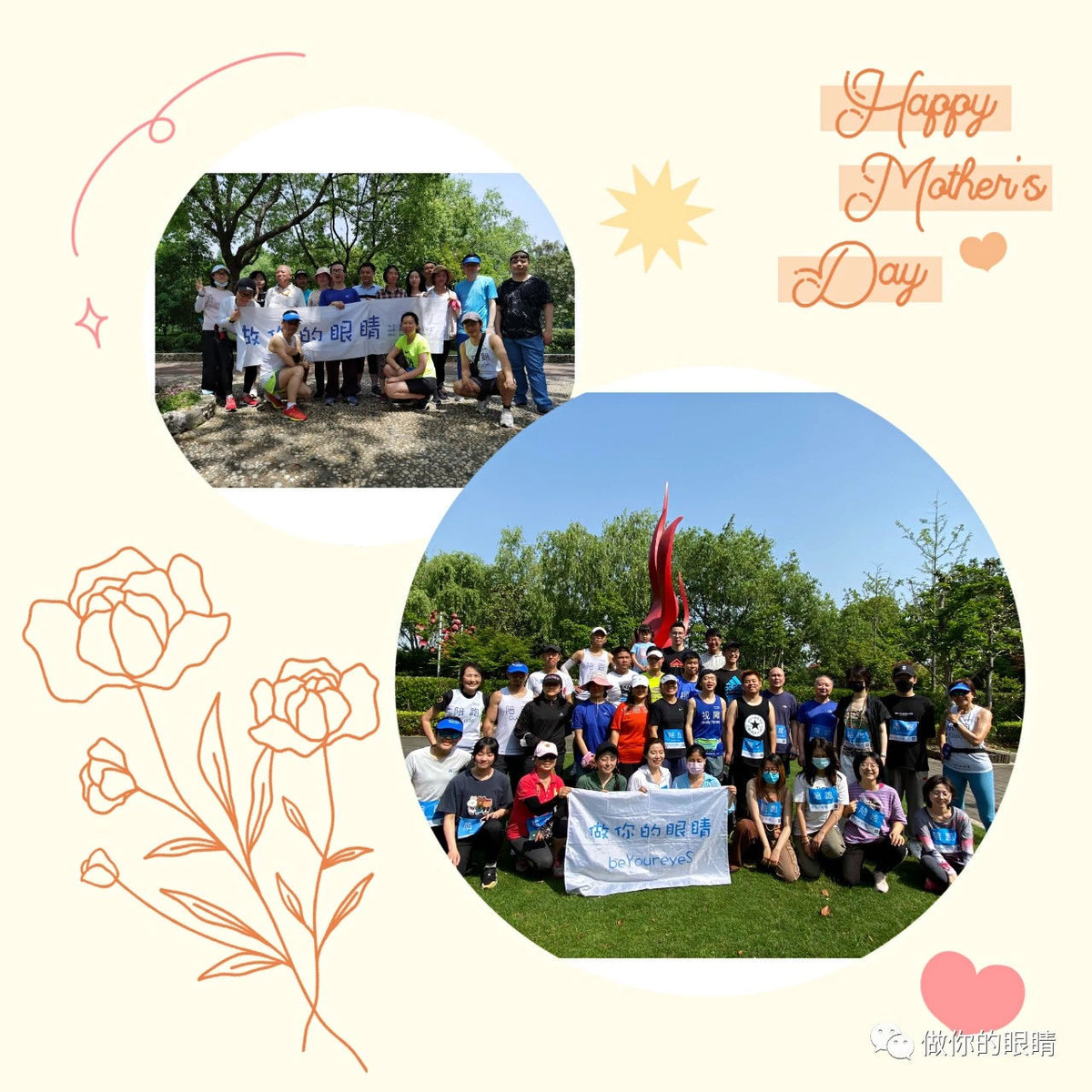 其中,5月30日的第243期常规活动在世纪公园一地举行,其他2期常规活动都在浦东和浦西同时开展。
Specifically, the 243rd activity on May 30th was carried out in Century Park, the other two were carried out in both Pudong and Puxi.
The scheduled activity on May 16th was cancelled due to unfavorable weathers.
5月,有5位视障伙伴张凌、张日敢、董晟捷、黄成君、李斌加入了蓝睛灵。
In May, 5 visually impaired members joined us Lanjingling, they are Ling Zhang, Rigan Zhang, Chengjie Dong, Chengjun Huang, and Bin Li.
新伙伴都是从朋友那里了解到了蓝睛灵的活动,来一起感受与健视、视障朋友一起运动和交流的开心。
Our new members learned of Lanjingling from their friends. They joined this big family of people with different vision conditions to experience the mutual delight of sports and chatter.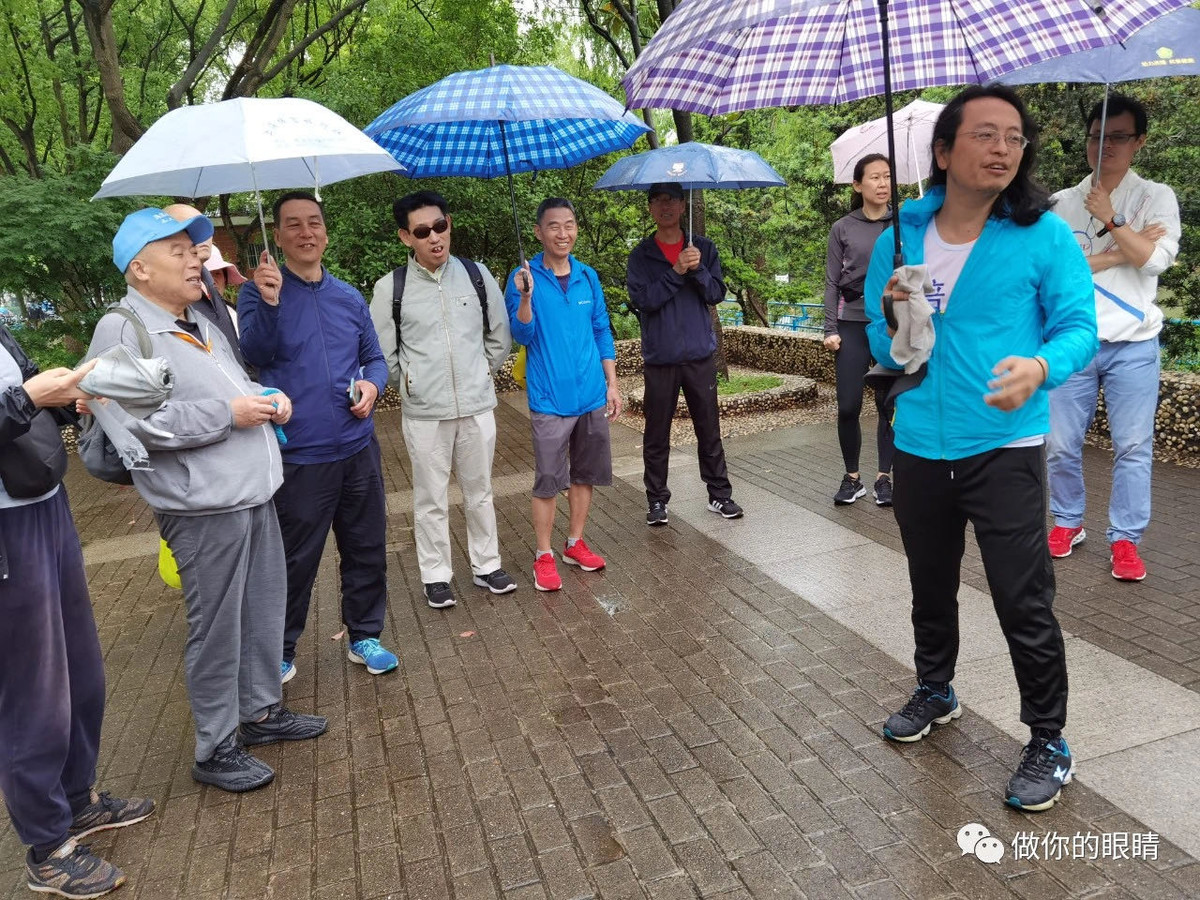 黄成君原来是运动员,由频飞扬陪跑,第一次就用20多分钟跑完了5公里。他说:非常爽,以后还要参加活动。
Chengjun Huang is a retired athlete. Accompanied by Feiyang Pin, he ran 5 kilometers in just 20 minutes. He said: 'it was brilliant, I will definitely come for a revisit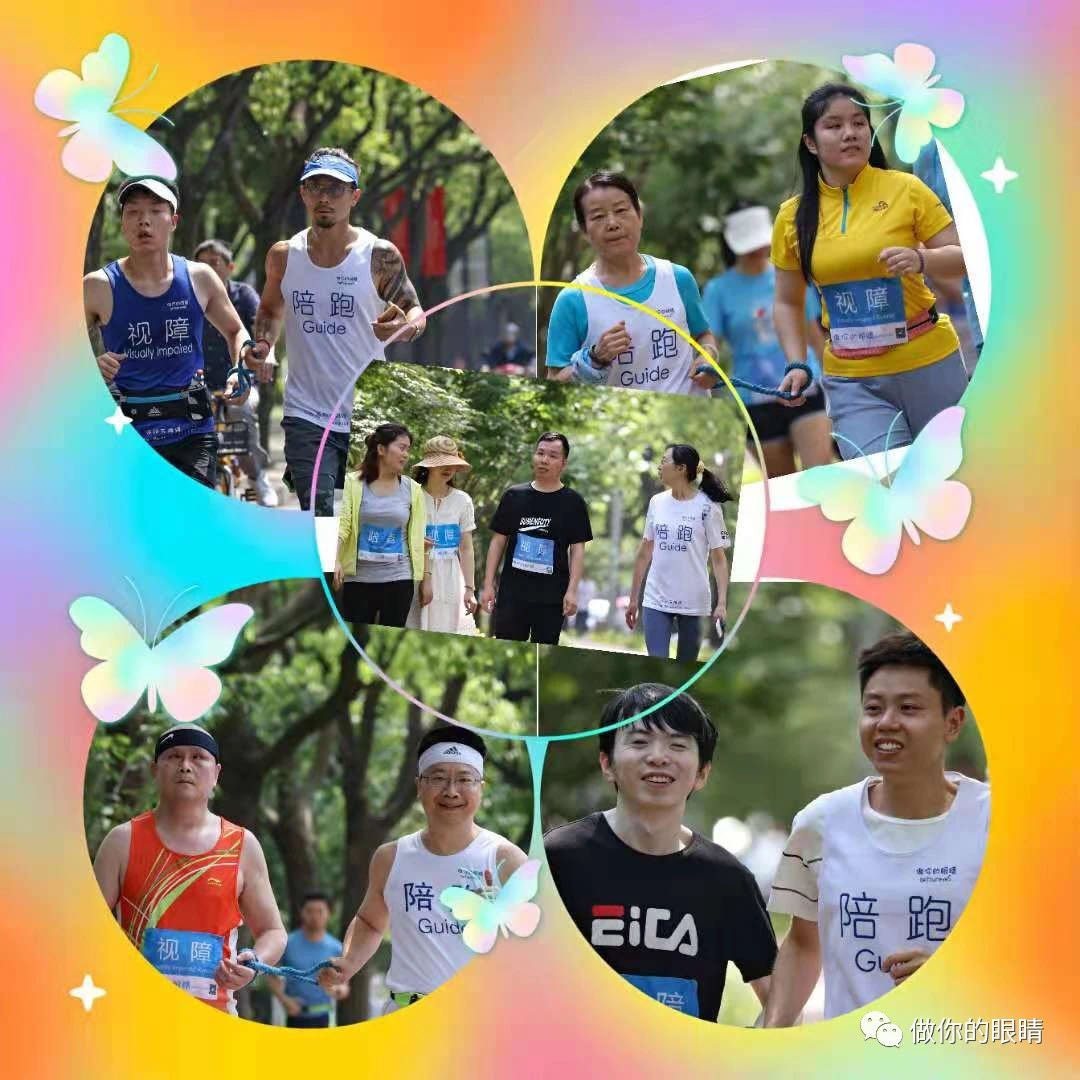 23日不时下着大雨的天气里,小白陪跑员王承蓉从地铁站到集合地点一路安全引导着大白考官晓斌走过长段窄道和障碍物,在公园里顺利通过现场考核成为大白陪跑员。
The rain's temper is volatile these days, it was no different for the 23rd of May. Despite that, Chengrong Wang successfully passed the Dabai examination after safely guiding Xiaobin from the subway assembly point to the park, after overcoming multiple obstacles and a long narrow path.
Lanjingling Members Spontaneously Participated in Races
Bank of Shanghai: 2021 Shanghai Female Half-marathon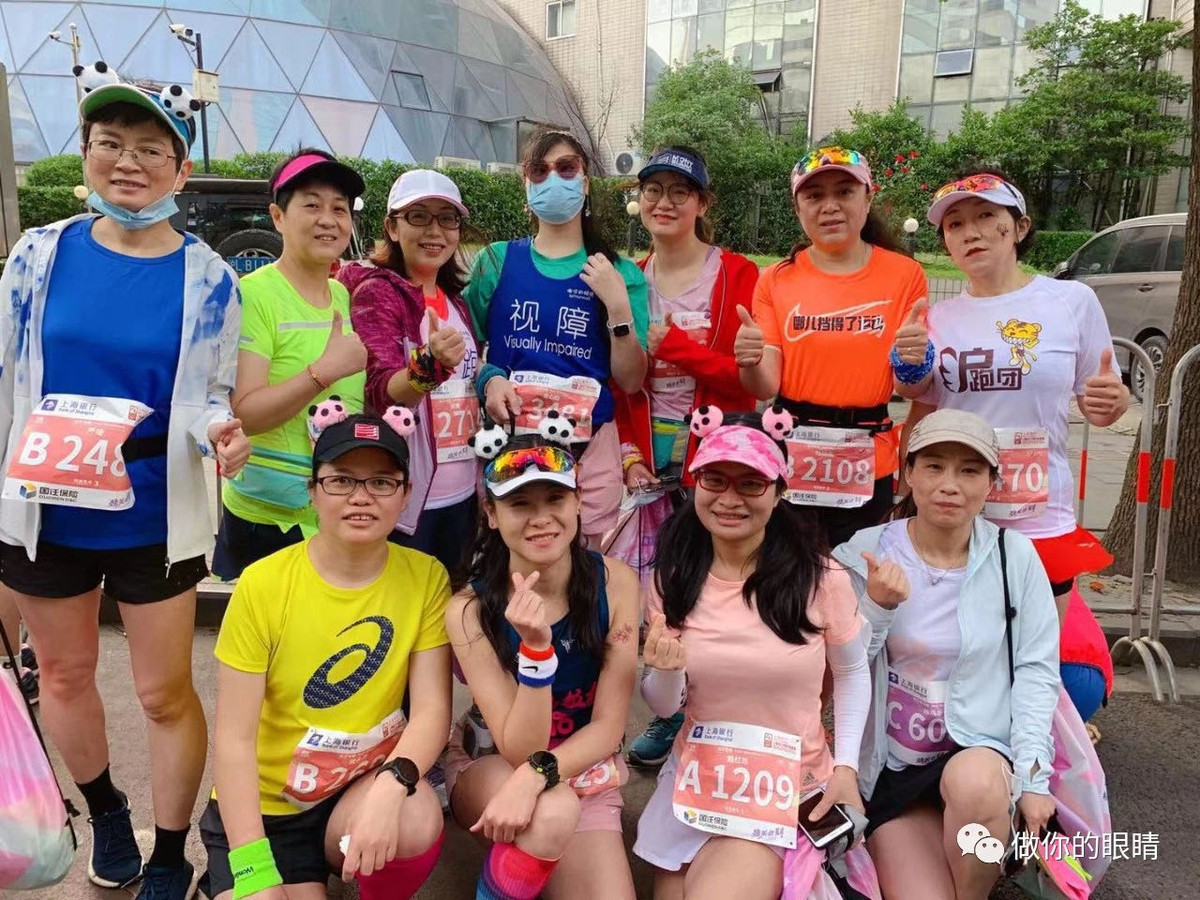 5月,山花烂漫的时节,各类鲜艳的花朵尽情绽放着自己的娇美容颜。5月1日上午,蓝睛灵集智慧美貌于一身的女神们,金心韵、姚颖、藏青、香丽、小飞侠等十几位伙伴,也在今日的2021上海女子半程马拉松赛道上大放光彩。视障跑者金心韵在施虹、小飞侠和陈菁的贴心陪跑下,与几次偶遇的湘丽一起冲线,以2小时39分安全完赛。
May is the season with fragrant grasses and blossoming petals. On May 1st, over 10 female members of Lanjingling participated in the 2021 Shanghai Female Half-marathon event, including Xinyun Jin, Yin Yao, Qing Zang, Li Xiang, and the Little Flying. The visually impaired Xinyun Jin completed the race with Li Xiang's team at 2 hours 39 minutes, her guide runners were Hong Shi, the Little Flying, and Jing Chen.
2021 Minhang 10km Challenge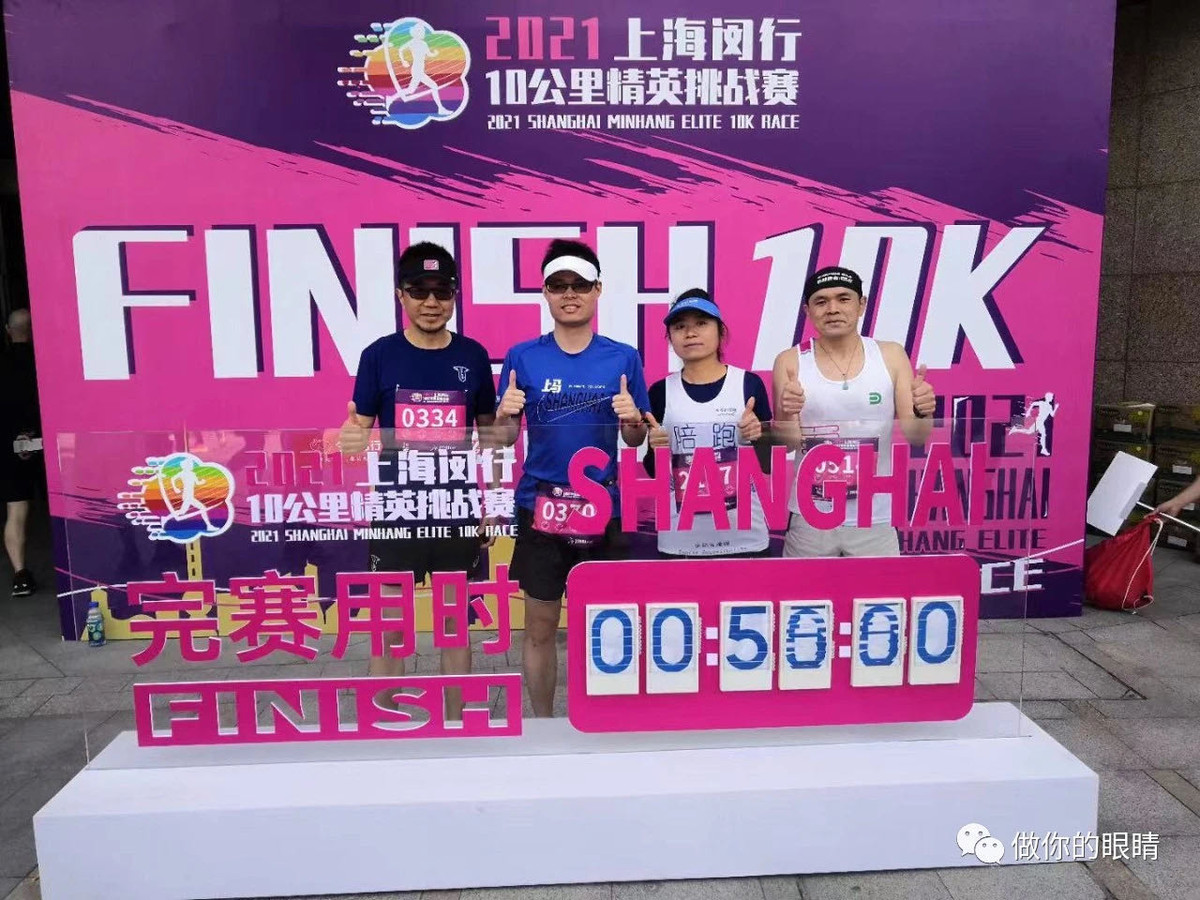 5月1日,蓝睛灵女神们参赛的同时,吴竞、王建频陪跑沈琳参加了2021闵行10公里精英挑战赛,取得了47分17秒的好成绩,PB了20秒。 
On May 1st, Lin Shen participated in the 2021 Minhang 10km challenge race, guided by Jianpin Wang and Jing Wu. He completed the challenge in 47 minutes and 17 seconds, breaking his PB with 20 seconds.
2021 'Radiant Walkers' Charity City Hike, Shanghai
5月9日上午8:30,蓝睛灵视障伙伴天保、天佑兄弟在姚颖、郭延年、吴建彬、蔡芸、宝叔的陪同下参加了2021行者公益徒步上海站活动。大家从东方体育中心出发顺利完成了20.21公里的挑战。根据活动规则,凡成功报名者,活动发起方将以参赛者的名义在旭辉林种下3棵梭梭树;成功完赛者再额外种下1棵胡杨树。
At 8:30 AM on May 9th, visually impaired brothers Tianbao and Tianyou participated in the 2021 'Radiant Walkers' Charity City Hike (Shanghai round) event, accompanied by Yin Yao, Yannian Guo, Jianbin Wu, Yun Cai, and Uncle Bao. They successfully finished the 20.21 km challenge which commenced at Shanghai Oriental Sports Center. According to the rules, the event initiator will plant 3 trees (haloxylon ammondendron) for every individual participation, and 1 additional poplar tree for every successful completion.
beYoureyeS Adidas Special Event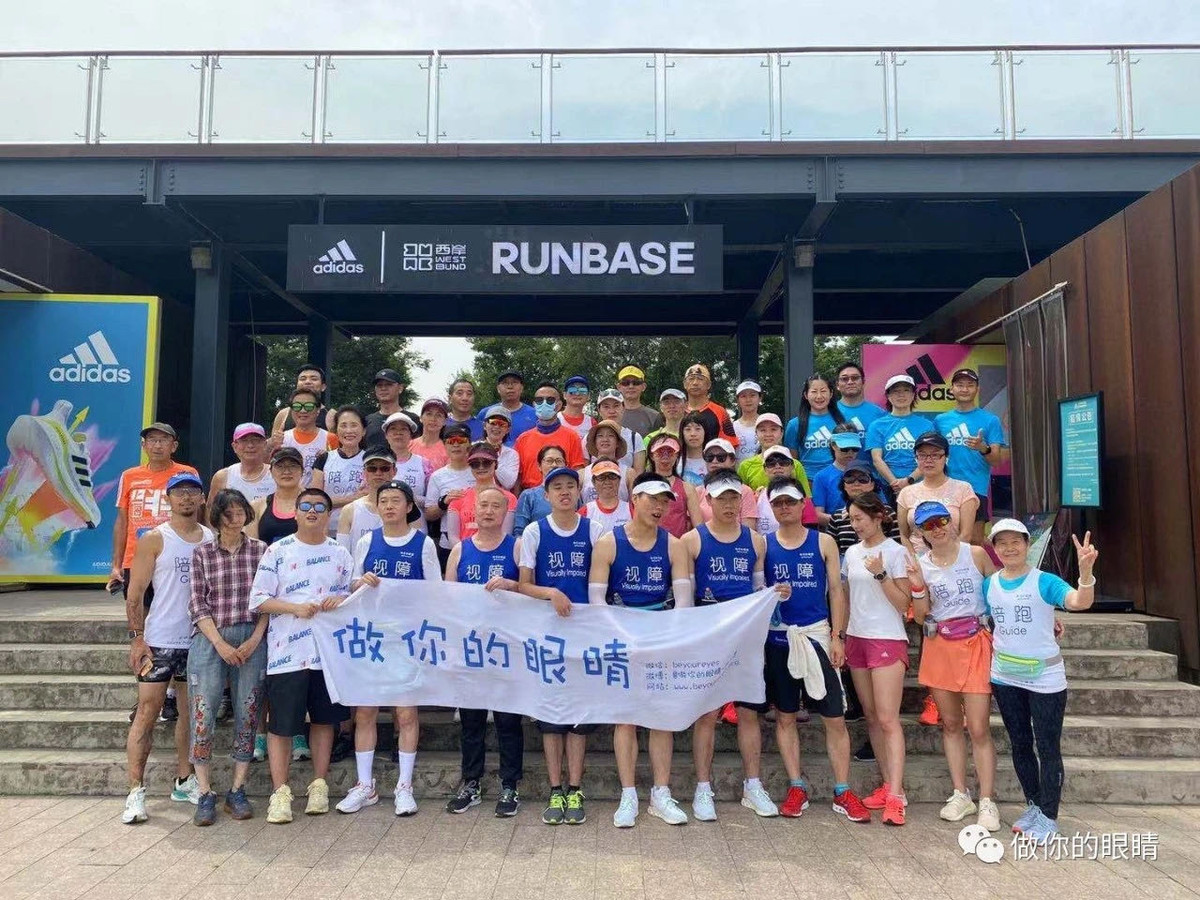 5月29日周六下午2~3点,"做你的眼睛"联合阿迪达斯在徐汇滨江adidas RUNBASE滨江基地进行专场活动。阿迪达斯还专门安排530/600/630/700不同配速的多组配速员协助开展活动。
At 2-3 pm, Saturday, May 29th, beYoureyeS carried out a special event in cooperation with Adidas at the adidas RUNBASE embankment matrix. Adidas arranged numerous teams of pacers at pace 530/600/630/700 to help out with the event.
Corporate Social Responsibility Activities 
beYoureyeS-IBM CSR activity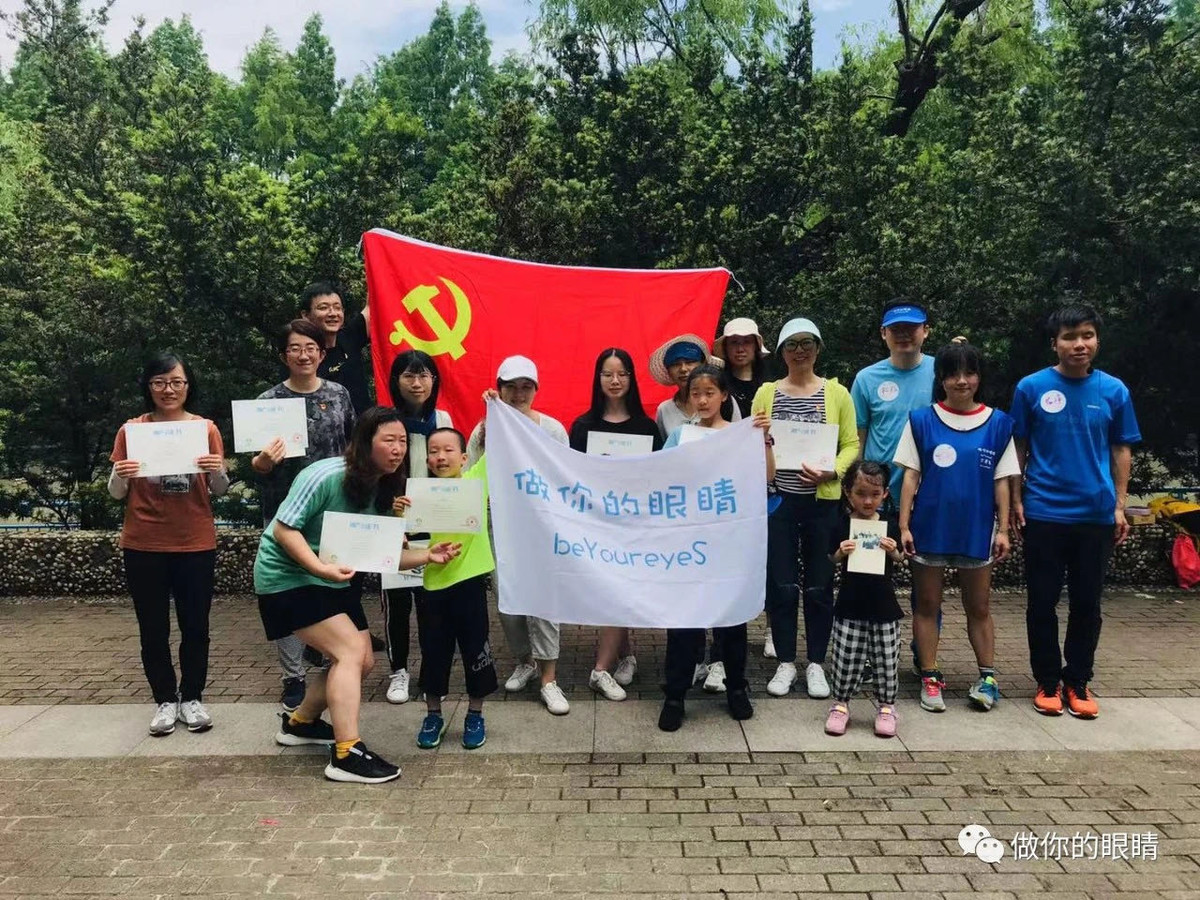 5月15日上午,蓝睛灵携手全球顶尖IT公司IBM,在浦东世纪公园开展了"做你的眼睛"CSR体验式公益活动。大家在培训师们幽默风趣的讲解及引导下,站在视障者的角度亲身体验,对于视障者的生活出行运动等方面有了更深入的理解,纷纷表示愿意在合适的时机为视障者提供合理便利。
beYoureyeS-IBM CSR activity was carried out in the forenoon of May 15th in Century Park, Pudong, with the world-leading IT company IBM. With interactive tutoring and guidance, participants stood in the shoes of the visually impaired, and developed a thorough understanding of the lifestyle of the visually impaired and how it's like for them to do sports. Afterwards, they all said that they are willing to offer convenience for visually impaired people.
Lanjingling and Apple Inc Global Accessibility Awareness Day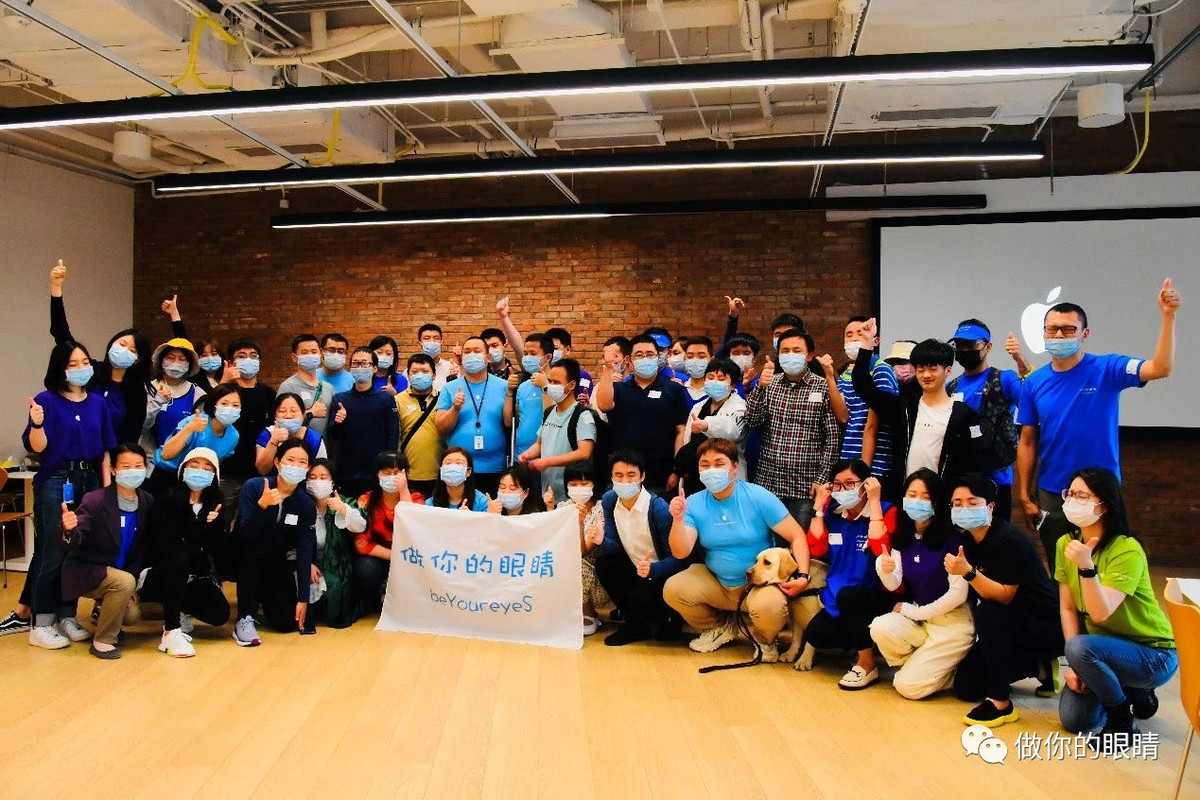 5月19日至21日,Apple 全球无障碍宣传日活动期间,蓝睛灵受邀参与了本次活动。在本次活动的伙伴展区中,蓝睛灵向来访者展示无障碍理念、介绍残障平等意识,介绍并体验蓝睛灵的各项活动。
On May 19th to 21st, Lanjingling is invited to participate in the Apple Inc Global Accessibility Awareness Day. In the cooperative exhibition area, Lanjingling presented the concept of accessibility and equality awareness, and introduced numerous Lanjingling activities to visitors.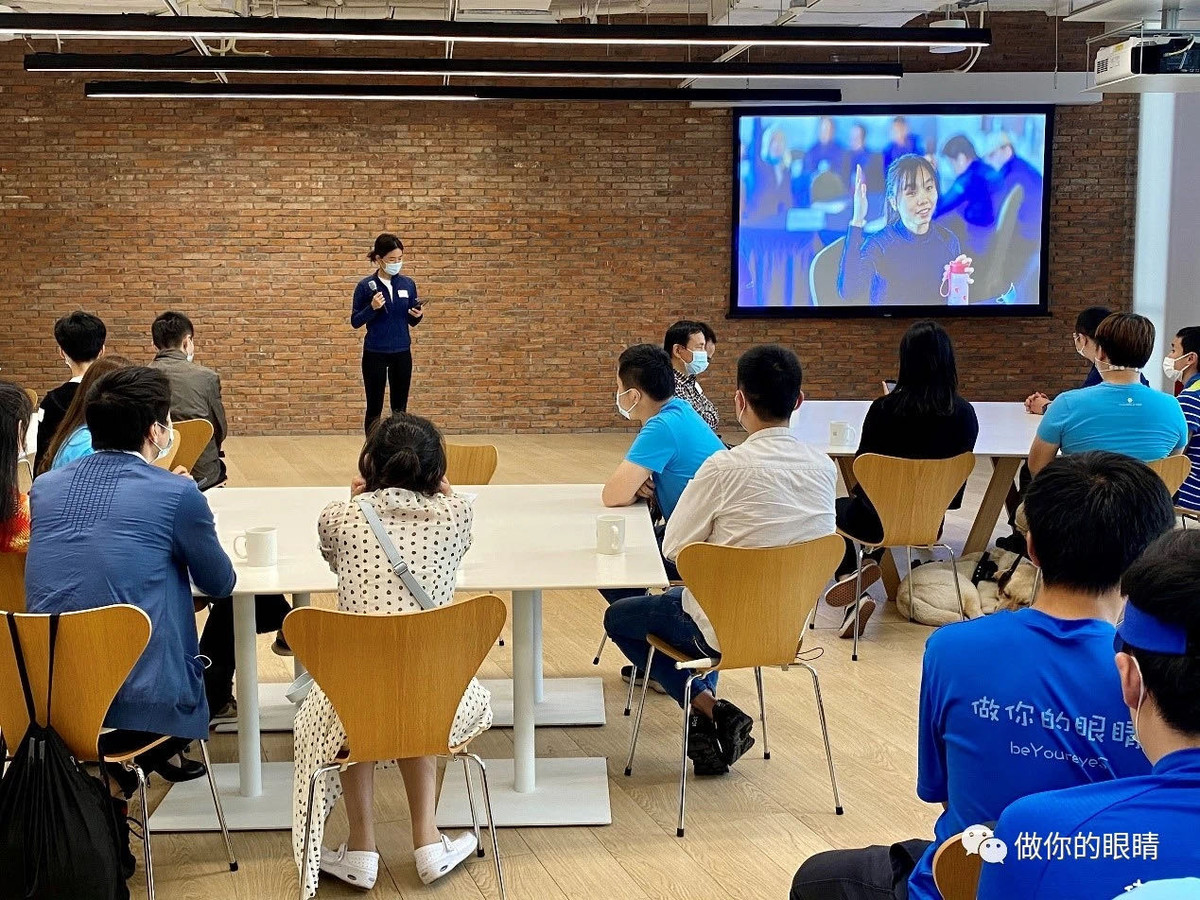 在5月21日下午的蓝睛灵专场,下午2点到5点,20位来自全国的视力障碍者参观了Apple的无障碍产品展区,并参加了面向视障者开放的Apple岗位的招聘说明会。
In the Lanjingling special lot at 2 to 5 PM, May 21st, 20 visually impaired people from nationwide residences visited the exhibition area for Apple's accessibility products, and attended the illustration conference on the job opportunities that Apple provides for the visually impaired.
活动接近尾声时,纪元进行百日计划分享,即将入职苹果的百日计划1期学员黄陆莹以音频的形式分享了她的"百日"故事,百日计划2期就此启动。 
As the event gradually came to the close, Jiyuan introduced the 100 Day Engagement program. Luying Huang, participant of the 100 Day Engagement Program and potential Apple employee, shared her '100 Day' story in the form of an audio. The second season of '100 Day Engagement' was launched.
1-year Celebratory of Fitness 100
第25期至第28期看健100无障碍健身活动于5月10日、17日、24日和31日持续开展。
The 25th to 28th 'Fitness 100' accessible fitness activities were carried out on May 10th, 17th, 24th, and 31st.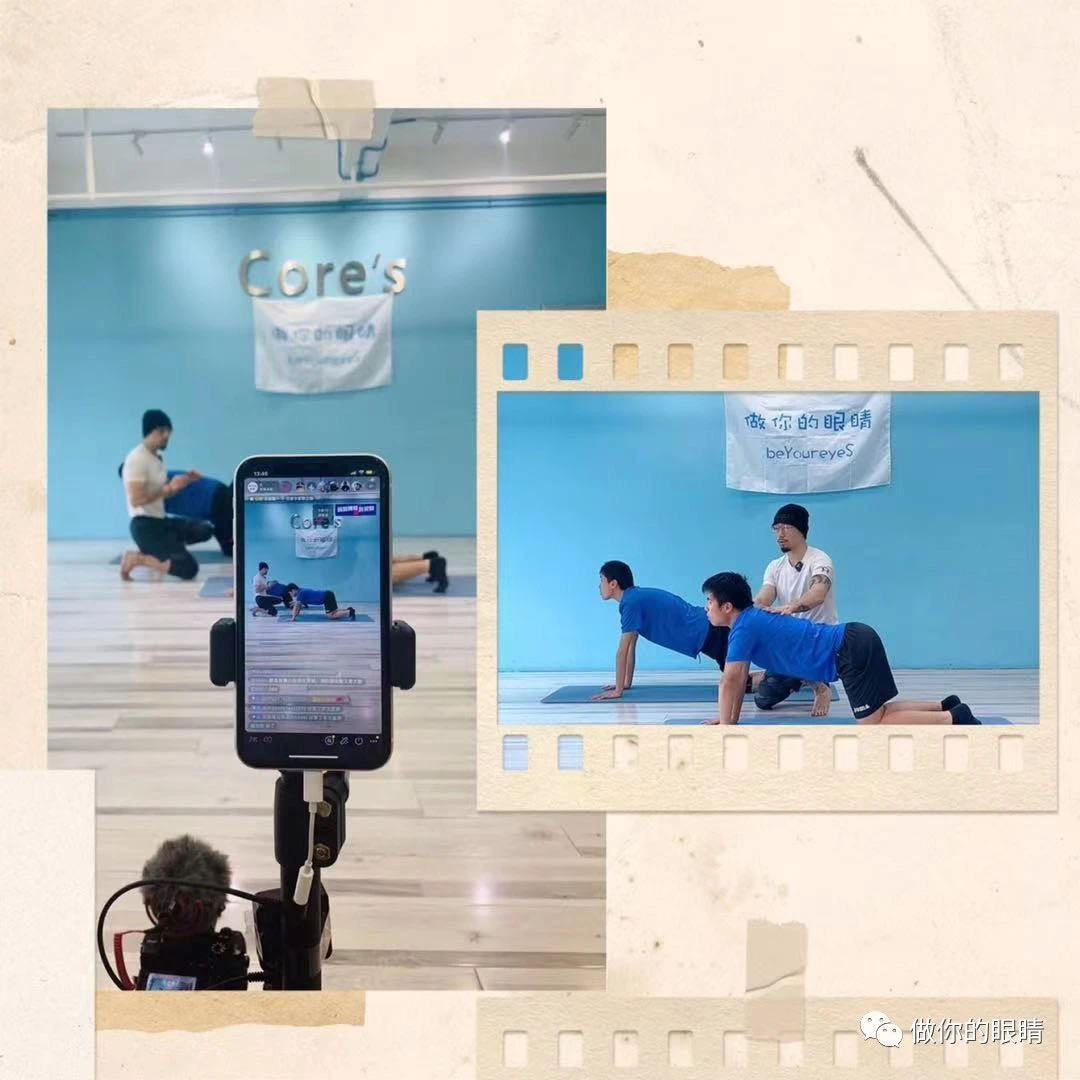 On May 10th, after the training session, coach Aidon shared a cake with several active participants to celebrate the 1st anniversary of Fitness 100
在2020年5月至8月期间,开展了11期的健身云直播。
Between 2020 May and 2020 August, 11 virtual fitness activities were carried out.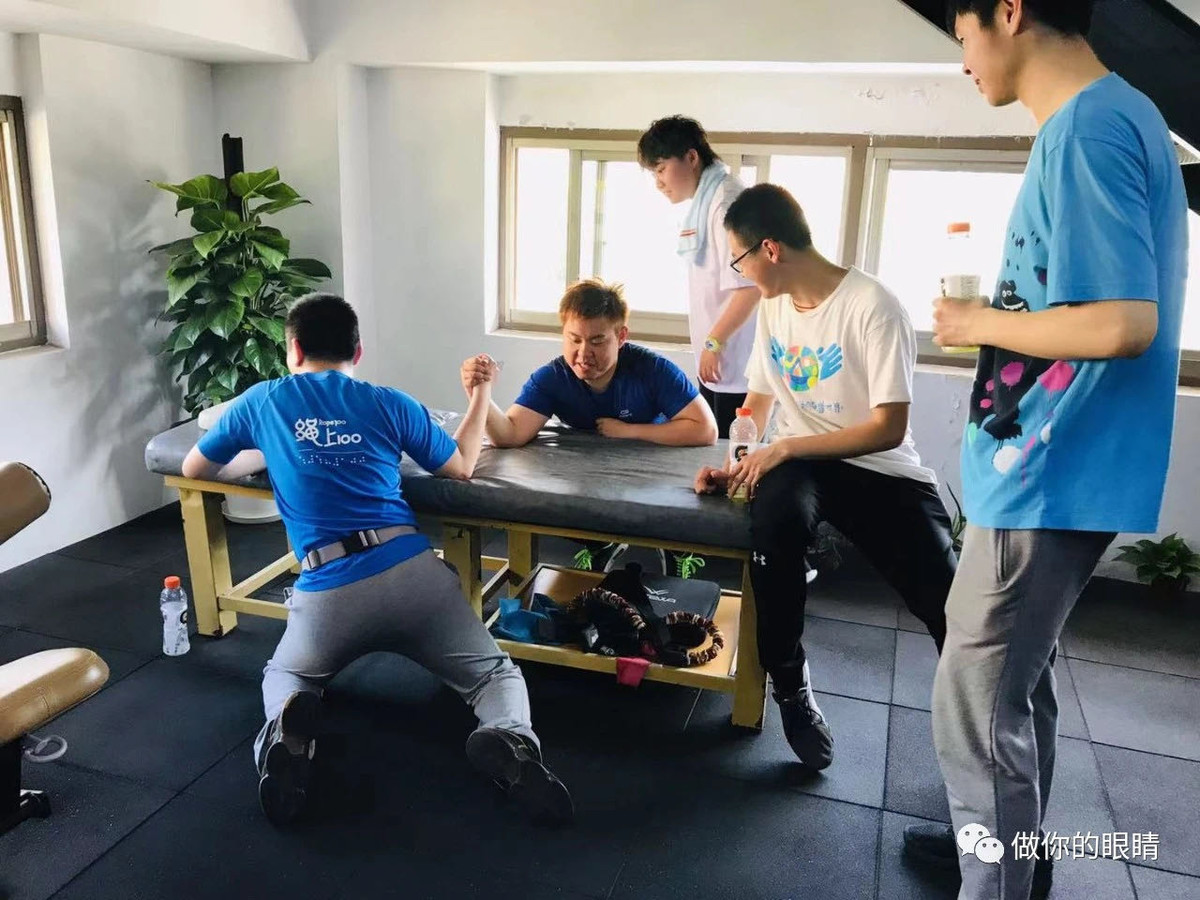 2020年9月9日,健身直播从云端落地,开始健身房的每周课程, 并正式取名"看健100"。
September 9th, 2020, virtual fitness officially grounded. This reformed weekly fitness program was officially named 'Fitness 100'.
教练Aidon说,"跟孩子们这一年的磨练,也是换了角度再看健身的一个难得的经历,这样的过程,再次演绎了健身的非凡意义。非常欣慰看着他们能在健身房,与常人一样的渡过健身时光,一样的使用健身器械,一样的开心,一样的快乐。我想我们可以更好,我们的"看健100"可以更辉煌。"
Coach Aidon said, 'The past year with them sweeties was a memorable experience for viewing fitness from an entirely new perspective, it reestablishes the incredible meanings behind fitness. I'm so delighted to see them practice in the gym, performing normal workout just like others, equally happy, equally enjoying. I think we will become better, our 'Fitness 100' will become more splendid in the future'
Lanjingling's Colorful Lives
4月,蓝睛灵视障伙伴陆晨辉、健视伙伴于老师、红姐和炼炼一行四人前往甘肃省敦煌市,参加了"2021丝绸古道万里行"沙漠戈壁百公里徒步挑战赛。
In April, visually impaired member Chenhui Lu travelled with Mr. Yu, sister Hong, and Lianlian to the city of Dunhuang in Gansu Province, and participated in the '2021 Silk Road 100' Gobi desert 100-km hike challenge.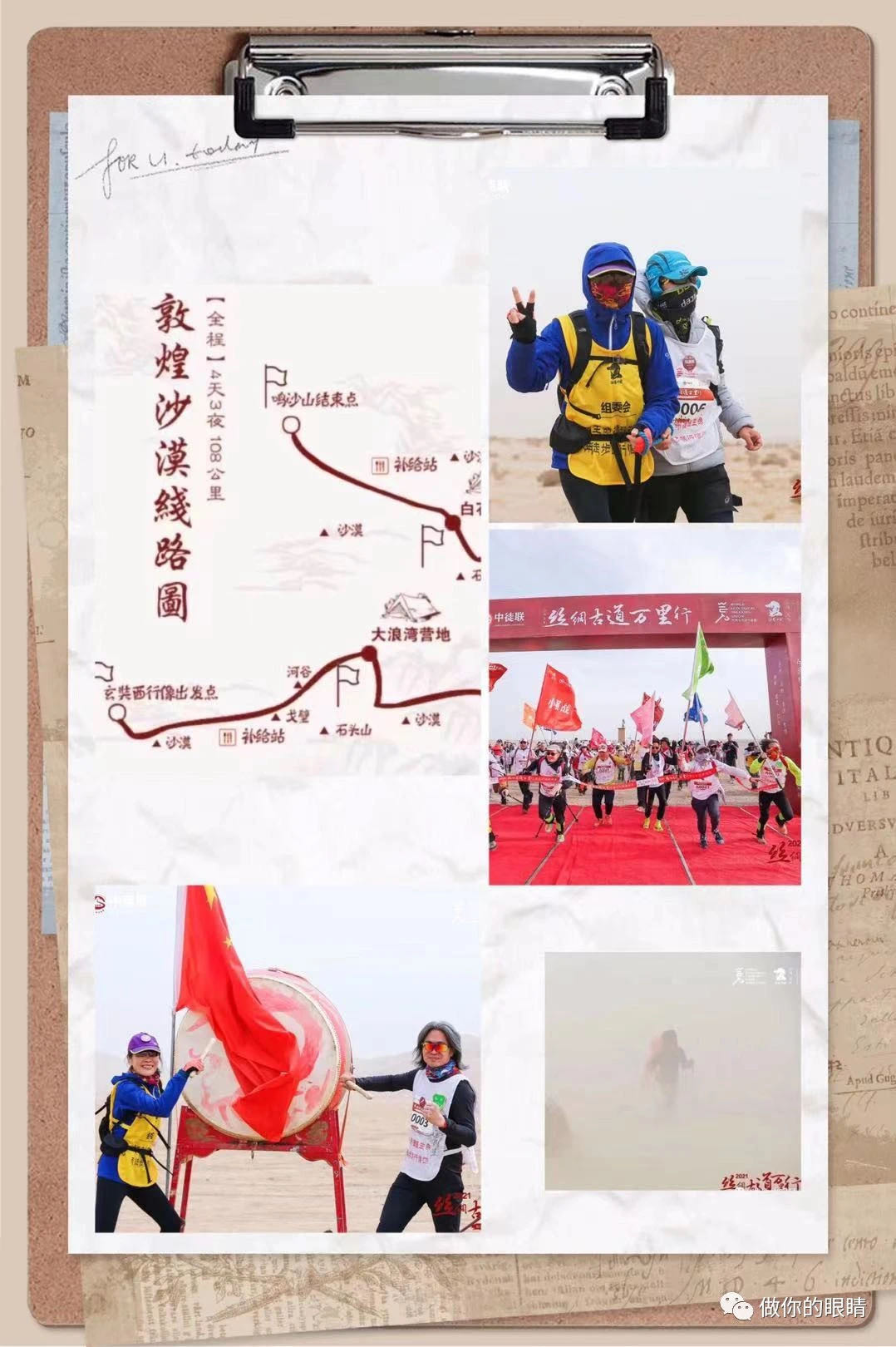 蓝睛灵编辑部发布了挑战无限可能、再一次蜕变与成长的蓝睛灵晨辉的故事。
Lanjingling editorial office released the courageous story of Chenhui's growth and metamorphosis throughout the years, and how he challenged himself to achieve the impossible.
This marks the end of this newsletter, see you next month!
做你的眼睛是一个民间自发的公益活动,于2015年1月在上海发起,致力于推动运动无障碍,让视障者参与运动变得简单。
beYoureyeS is a charitable activity, launched in Shanghai in January 2015, is devoted to promoting the concept of sports accessibility, making it possible for persons with visually impairments.
在我们的活动中,无论视障者,还是健视者,都称呼彼此为蓝睛灵,我们的公益组织也叫这个名字。
Everyone attending our activities calls each other Lanijngling, no matter what kind of physical condition he or she is in, and that is where our NGO's name came from.
我们认为,任何人都可以自由又自然的投入运动,平等的享受运动带来的快乐。
We believe that everyone can participate in sports freely and naturally, can enjoy the happiness, freedom and well-being derived from sports.
我们组织多样性的活动,鼓励各行各业参与运动与跨界,从本质上认可人的尊严。
We organize diverse activities, encourage all walks of life to participate in sports and cross-border, and ultimately be aware of human dignity.
我们知道,所行之路要有一颗铁人之心,需要体力和耐力、智慧和勇气,需要耐心和时间。
We know that the road to follow requires a heart of the Ironman, needs physical strength and endurance, wisdom and courage, patience and time.
Thank you for your support and your company along the way.
体验式公益活动、企业社会责任活动、校园融合活动、无障碍赛事活动
Experiential Philanthropy Activity, CSR Activity, School Inclusive Activity, Adaptive Sports Race
Fitness 100、Rope 100、100Days Engagement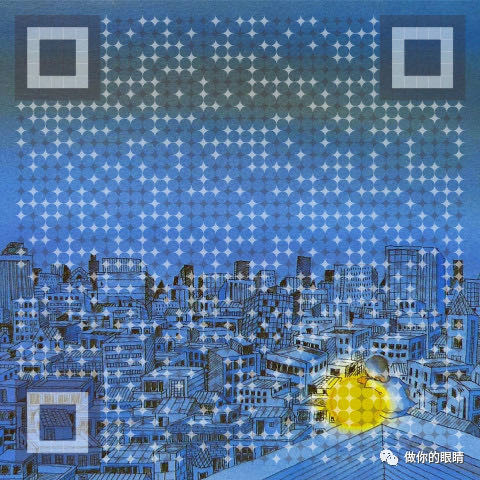 We hope that whilst we're in the competition together,
we may all converge our energy as one to make each and all strong,
We hope that whilst doing sports together,
we are able to find the nerve to be strong enough to face challenges head on.