2021年6月,"百日计划"2期线下成长营圆满开展。
本月,蓝睛灵共开展了4期常规活动、3场企业社会责任(CSR)活动,参加了2场特别活动,开展了2期看健100无障碍健身活动。
In June 2021, the offline growth camp of the second "100 Days Engagement" Program was successfully launched.
This month, beYoureyeS has carried out 4 regular weekend activities, 3 CSR activities, 2 "Fitness 100" accessible fitness sessions, and 2 specials.
翻译 Translator:胡文倩 Susie 王弘毅 Yoyo
蓝睛灵编辑部 Lanjingling Editorial Office
The Offline Growth Camp of the Second 100 Days Engagement Program Launched Successfully.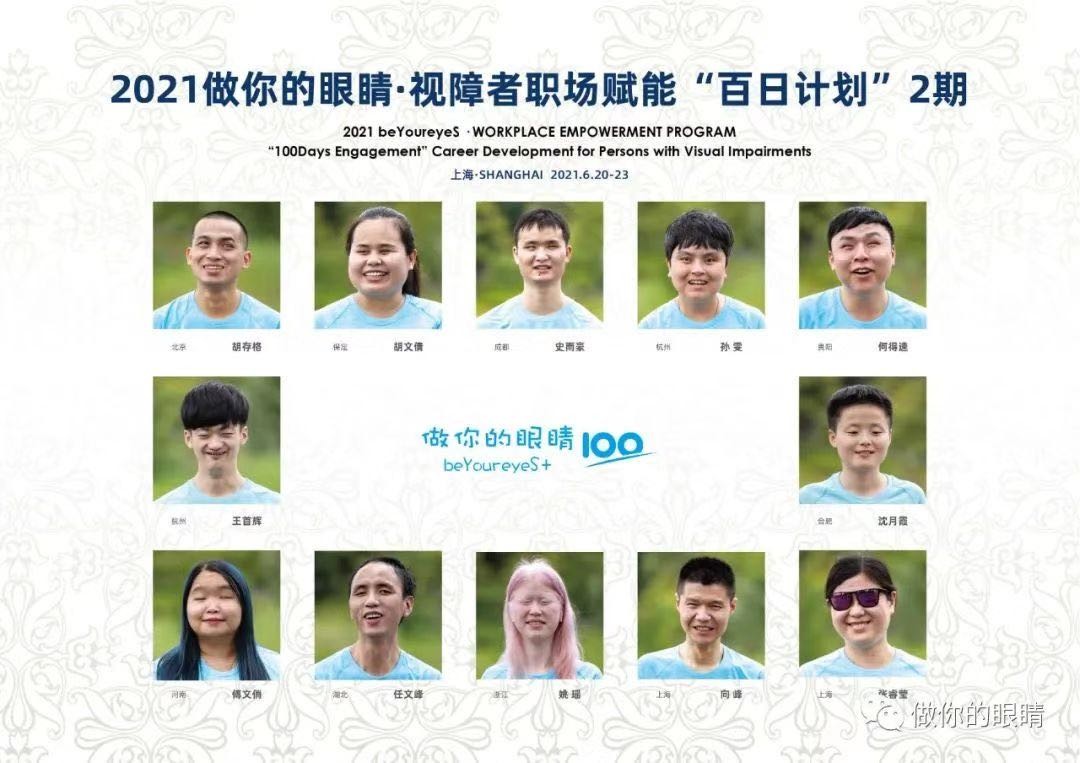 2021年6月20日至23日,第2期做你的眼睛.视障者职场赋能"百日计划"在上海圆满开展。
We successfully carried out the beYoureyeS·WORKPLACE EMPOWERMENT PROGRAM, "100Days Engagement" Career Development for Persons with Visual Impairments, from June 20 to 23, 2021. 
From June 20th through to 23rd, 2021, the second 100 Days Engagement workplace empowerment program was successfully launched in Shanghai.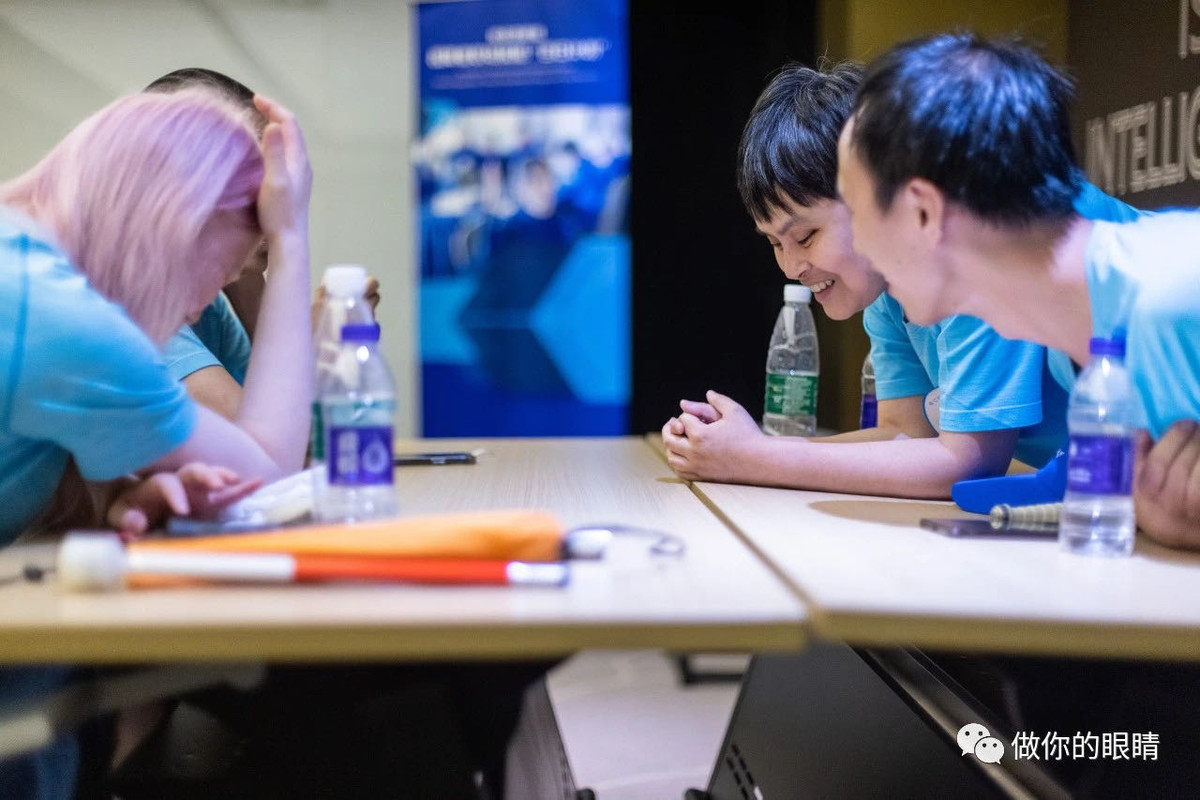 The program involves two stages
成长营,在上海集中培训四天,于6月20日开营,学员在此期间,分别实地探访Google、蚂蚁集团,交流沟通,设定百日目标;
The first stage is the Growth Camp, launched on June 20. In this stage, participants engage in 4 days of active training, through which they visit Google and Ant Group, communicate with their employees, and set 100 days goals.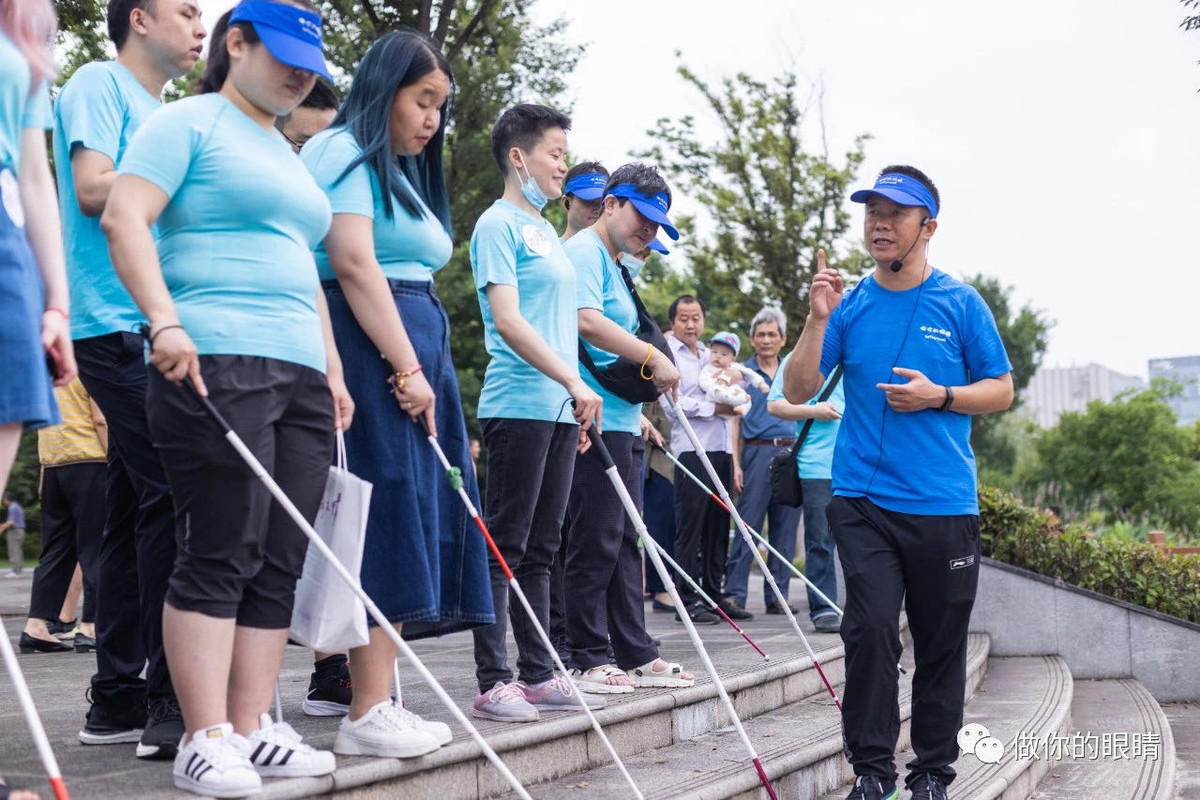 执行期,以百日为期,回到居住地,根据目标,设定并执行百日计划,有机会获得一对一职业发展辅导支持,以及在相关企业实习/工作机会。
The second is the implementation stage. Within 100 days, after returning to their places of residence, participants will formulate and implement their 100 days plan. They will also have work and internship opportunities in relative corporations.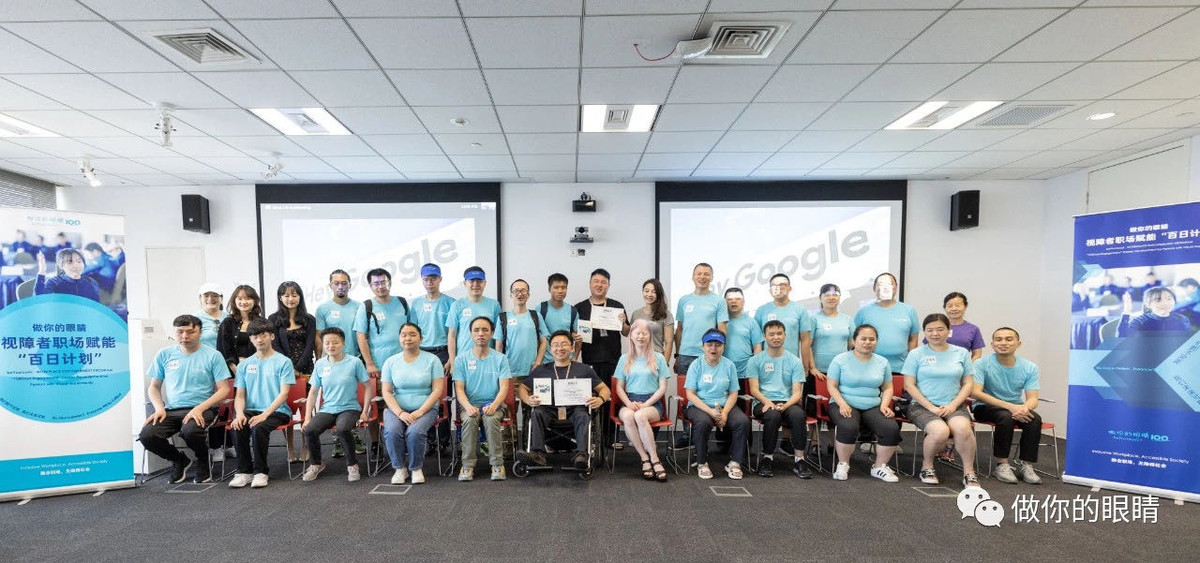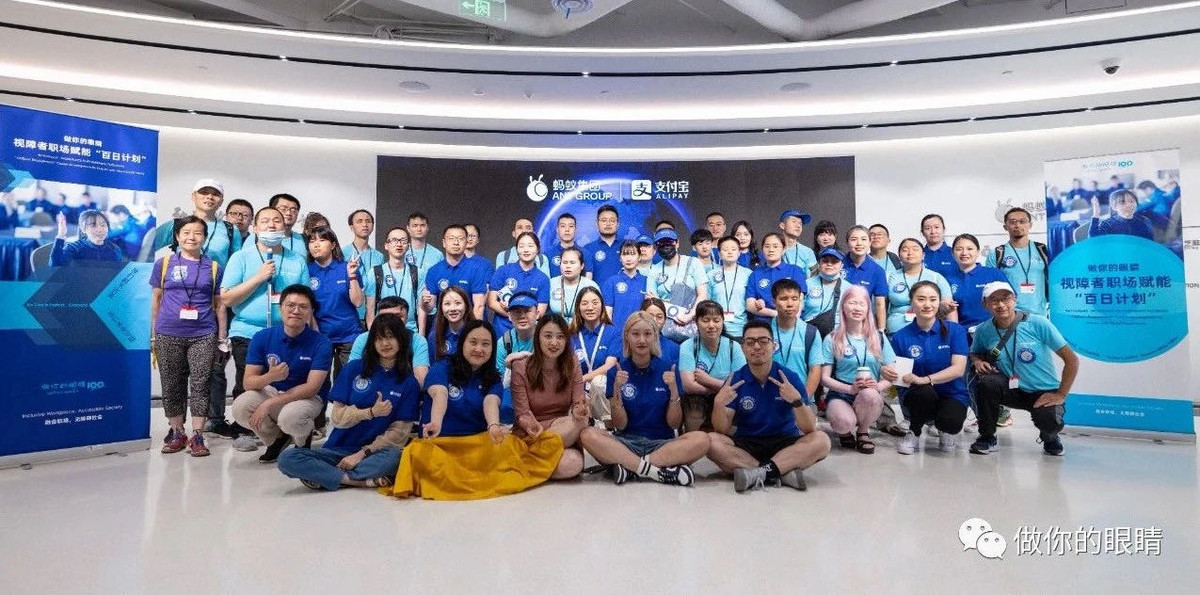 在2020年12月,蓝睛灵开启了百日计划「100 Days Engagement」,汇集各大企业志愿者团队,构建起一座视障青年走向职场的桥梁;在工作中实现自我价值,是一切尊严的根基。
In December 2020, Lanjingling initiated the 100 days engagement Program. Supported by volunteer teams from large enterprises, the program established a bridge through which youths with visual impairment can enter the workplace. The fulfillment of personal values through work is the foundation of dignity.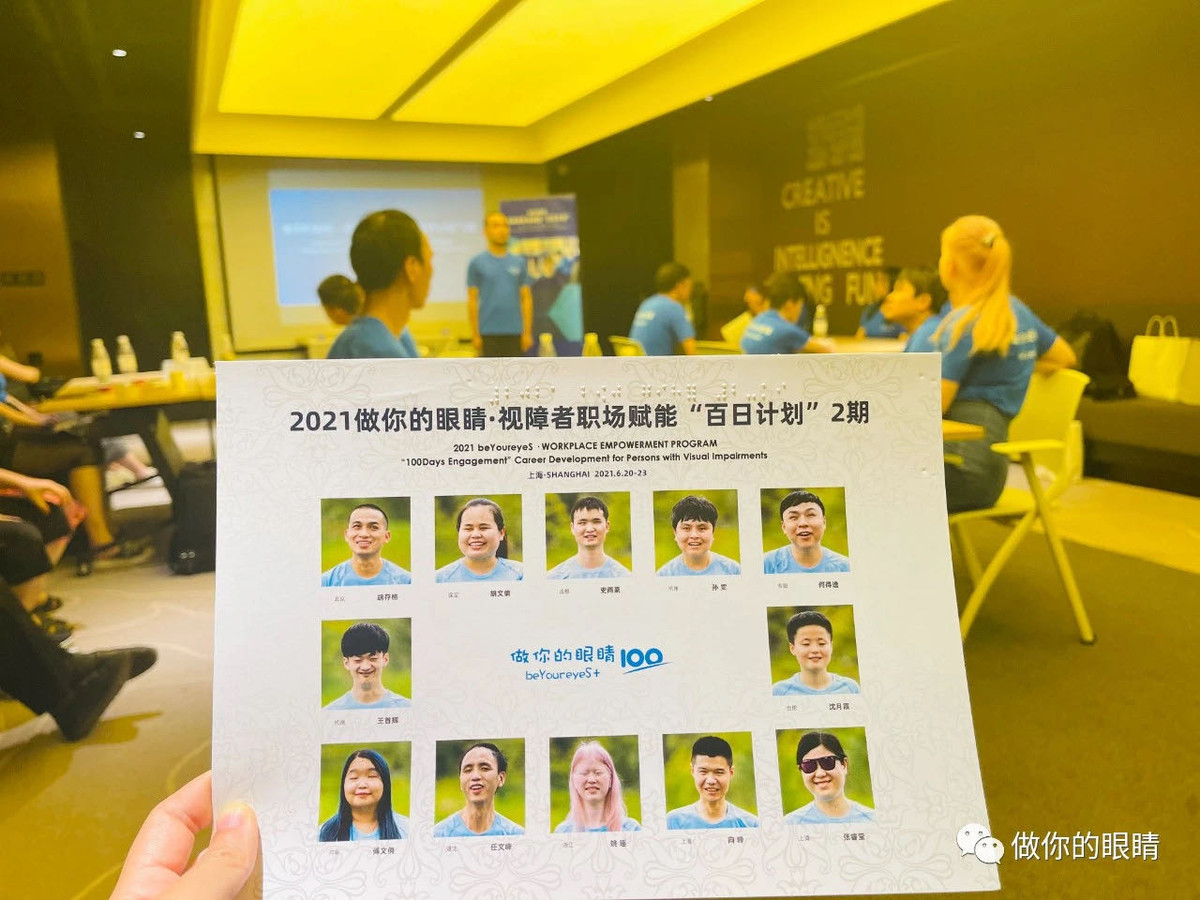 作为残障者,就业一直是一个巨大的挑战,融合就业更是难上加难。如果你选择融合就业,蓝睛灵会给予最大的支持!这条路坎坷崎岖,筚路蓝缕,但充满希望。
For long, employment has been a great challenge for people with disabilities, and inclusive employment is even more difficult. If you apt for inclusive employment, Lanjingling will give you any support you possibly need. In spite of potential twists and turns on the way, hope abounds.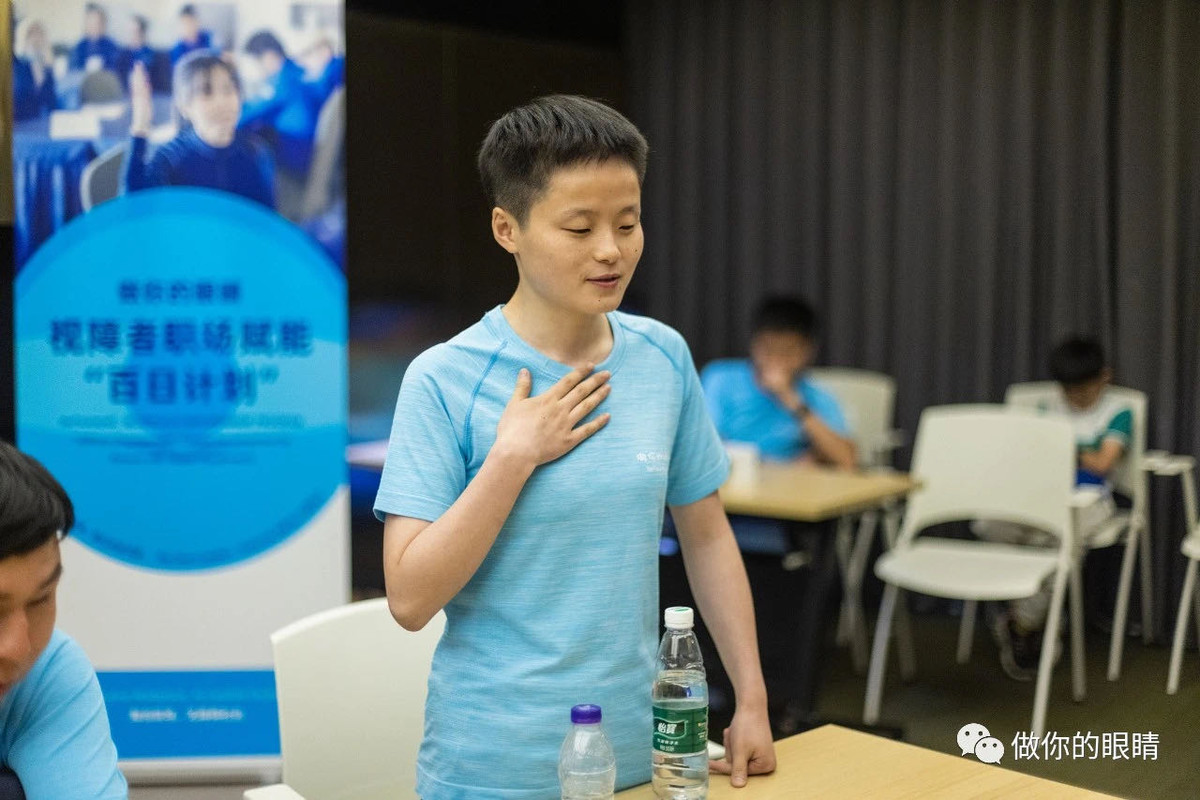 链接: https://mp.weixin.qq.com/s/go08nkC8ndzgIha0l_onKA
REGULAR WEEKEND ACTIVITIES 
做你的眼睛第244期至第247期的常规陪跑活动于6月6日、12日、20日和27日在世纪公园、闵行文化公园开展。
The 244th-247th beYoureyeS regular weekend activity took place in Century Park and Minhang Culture Park on June 6th, 12th, 20th, and 27th.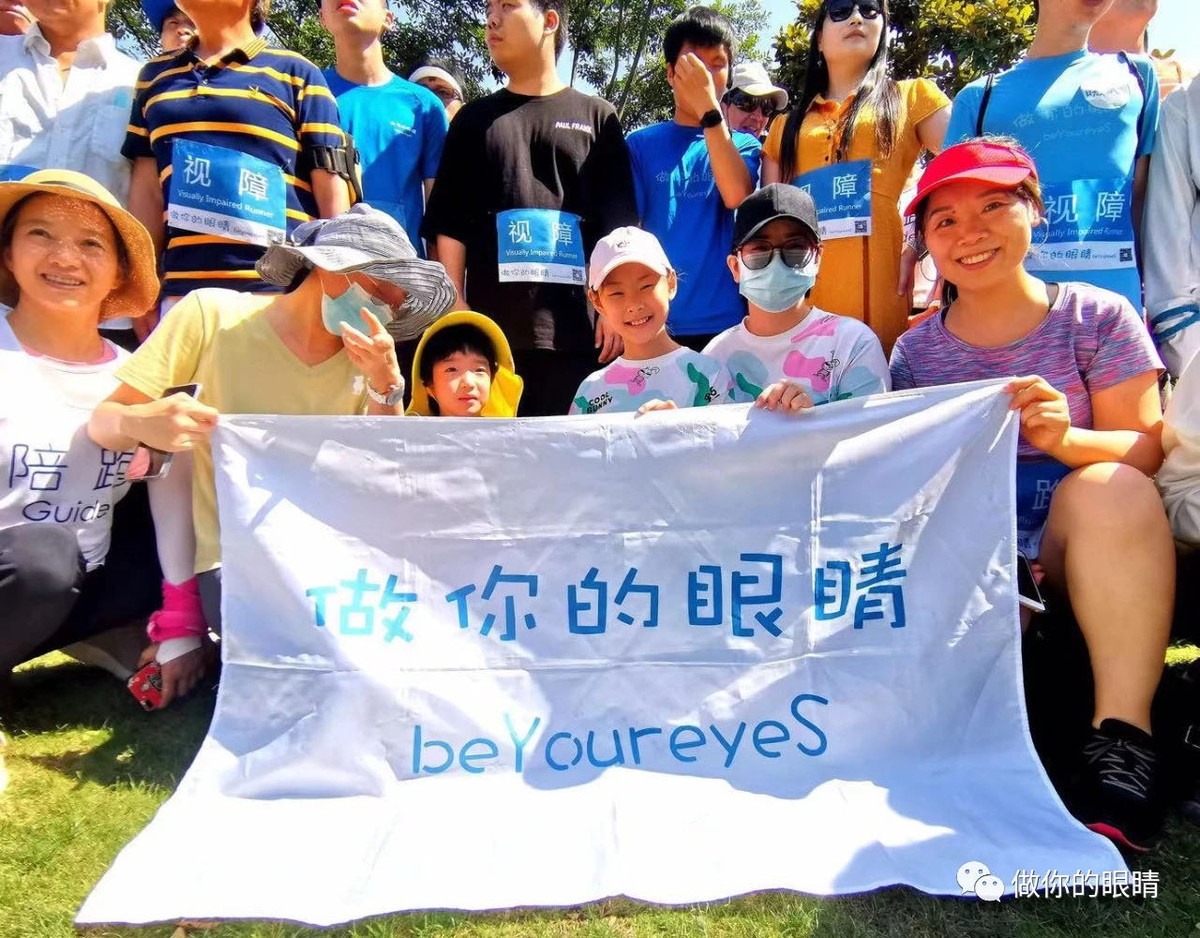 2021年6月开始,做你的眼睛常规活动恢复在一地举行。
From June 2021 onwards, regular weekend activities will again be held in one place only.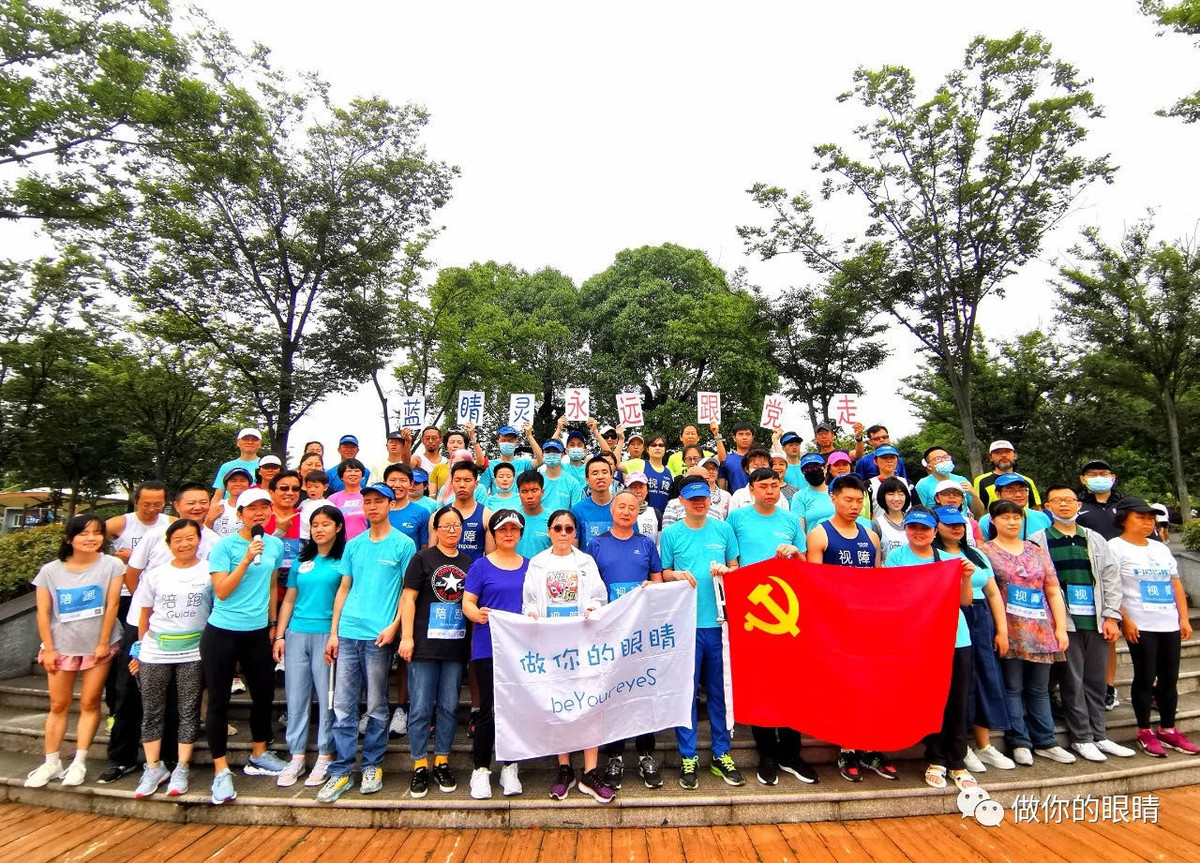 在20日的第246期常规活动中,来自全国各地的15位"百日计划"2期的学员参与进来,在独立行走能力训练营之后,也和蓝睛灵大白陪跑员一起,体验了奔跑的感觉。因视力下降在家中休息两年的阳光小伙金星宇参加了27日的常规活动,加入跑步大家庭。
15 nationwide trainees from the 100 Days Engagement Program participated in the 246th regular weekend activity. After finishing independent mobility trainings, they experienced running with Lanjingling guide runners. Jin Xingyu, a bright kid, participated in the activity on the 27th and became a member of the Lanjingling running family, after having stayed home for two years straight due to sight loss,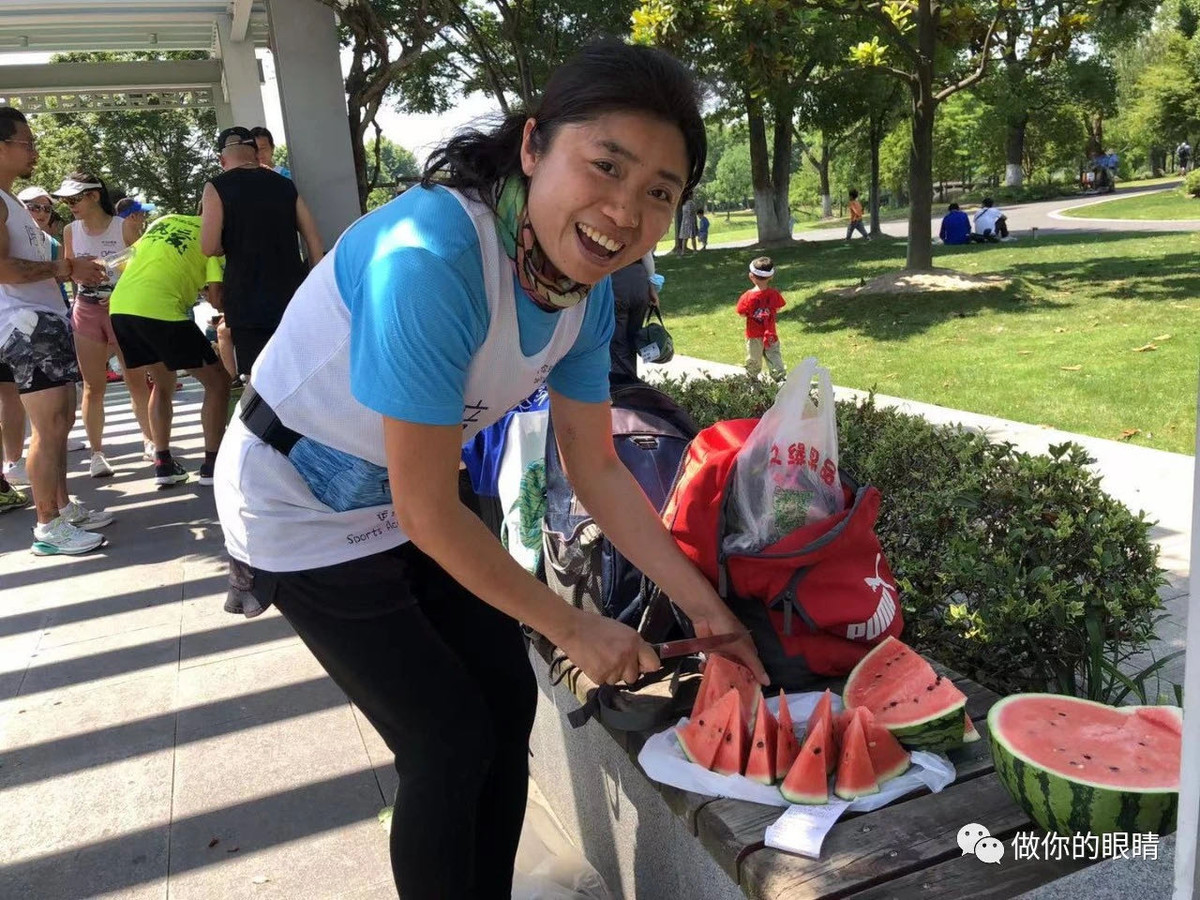 Additionally, Li Guanghui and Gaohui passed the DaBai exam, officially becoming qualified guide runners.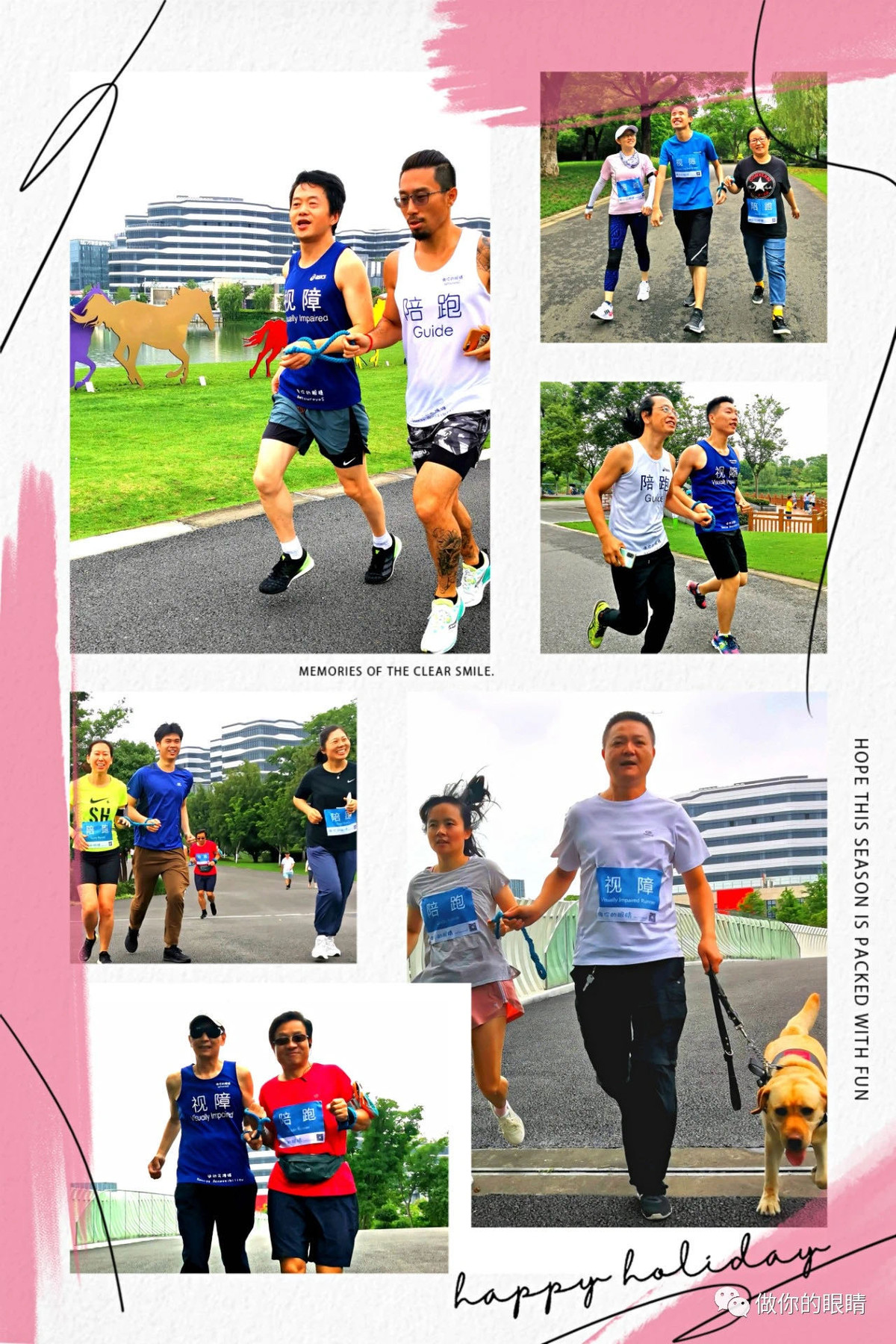 Corporate Social Responsibility Activities 
6月3日周四上午,蓝睛灵联合知名瑜伽服装品牌露露柠檬 (Lululemon),在闵行文化公园开展了"做你的眼睛"CSR体验式活动。活动中主持人以"无障碍"作为关键词分享了蓝睛灵培训师们各自的故事。随后培训师们边分享、边演示,让参与者们体验了视障者出行和运动的状态。
Lanjingling, in cooperation with lululemon, a famous Yoga clothing brand, carried out a CSR activity in Minhang Culture Park on June 3rd AM. During this activity, the host shared stories of trainers of Lanjingling with accessibility as the key theme. They talked about how members with visual impairment go out independently and engage in exercises, and led the audiences to experience these matters themselves.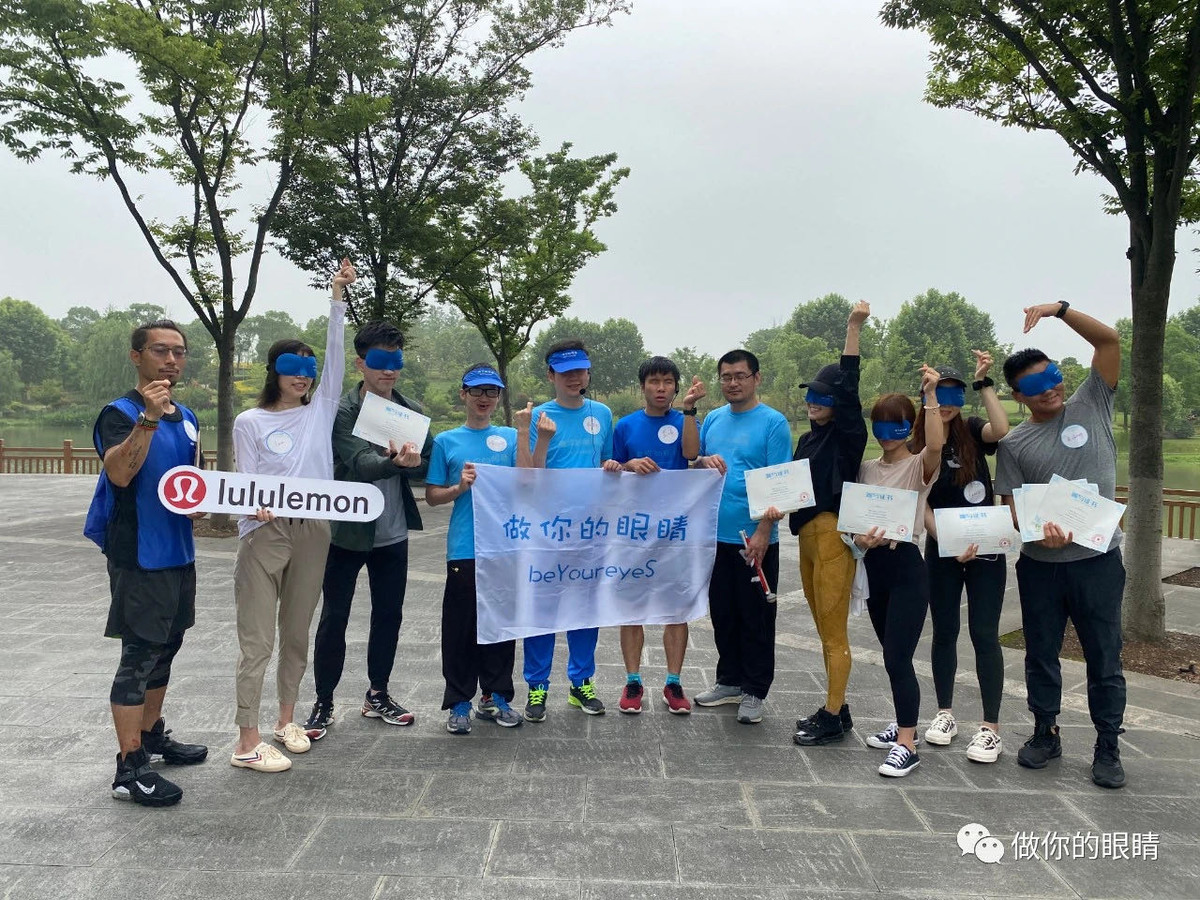 6月18日上午,为筹备6月22日的蚂蚁集团首次开放日暨蓝睛灵"百日计划"探访日,蓝睛灵提前走进蚂蚁集团开启一场别开生面的CSR活动。培训师用幽默风趣的讲解、生动形象的演绎让蚂蚁集团员工对视障伙伴有了更加深入的了解,并了解到如何在开放日为视障伙伴提供合理便利的支持。
In the morning of June 18, in order to prepare for June 22nd's first '100 Days Engagement Program' open day, Lanjingling arrived at Ant Group for a rather unique CSR event. Through trainers' humorous introduction and vivid demonstrations, employees from Ant Group furthered their insights into visual impairment and how to best support persons with visual impairment on the open day.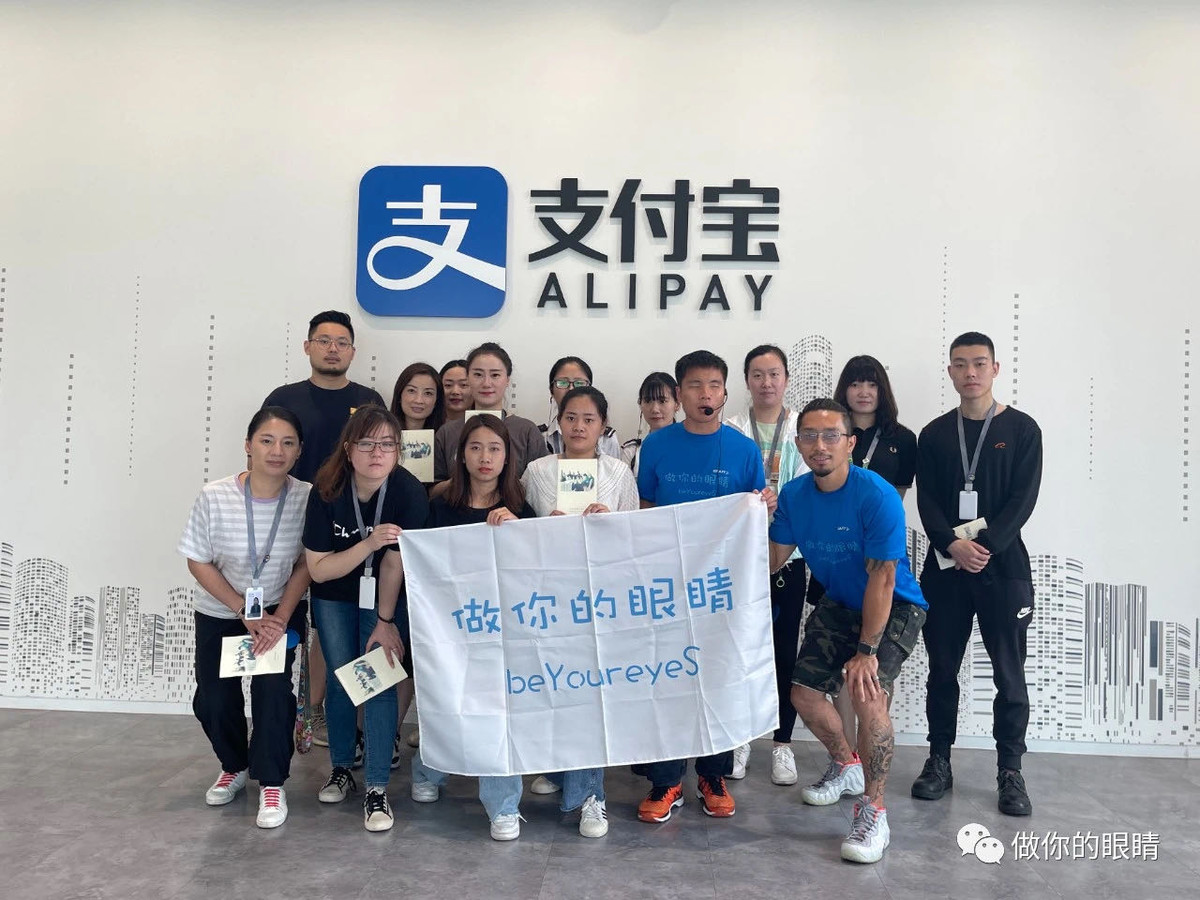 6月25日下午,蓝睛灵联合知名企业梅赛尼斯以及旗下的合作企业在新虹桥公园开展做你的眼睛企业CSR体验式公益活动。在初夏的阳光里,大家与蓝睛灵培训师们一起感受障碍、了解无障碍的理念。
In collaboration with Methanex, a well-known enterprise, and its cooperative companies, Lanjingling carried out an experience-driven CSR activity in New Hongqiao Park on June 25 PM. Upon bathing the warm summer sunlight, attendees from the corporation learned about accessibility and inaccessibility together with trainers from Langjingling.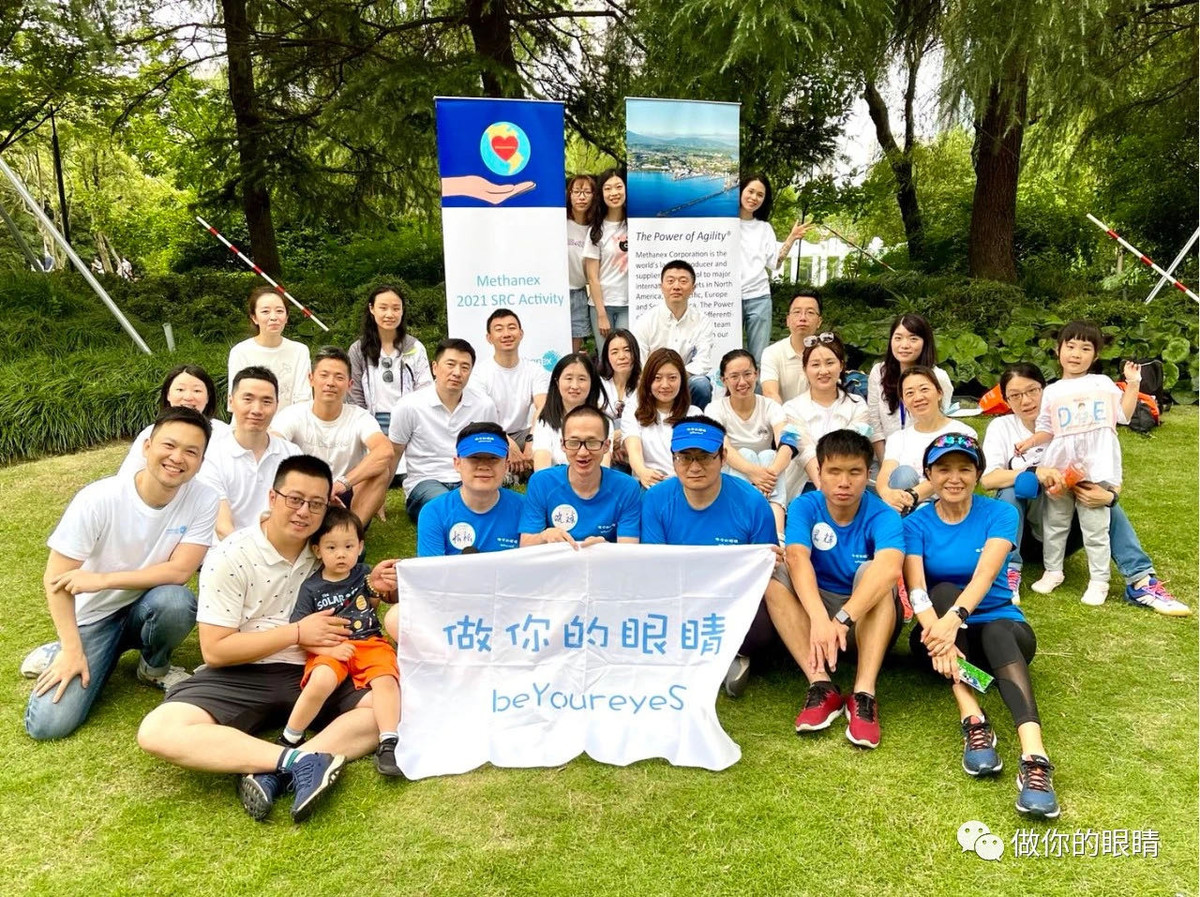 Lanjingling appreciating musical theater, The Orphan Of Chao
6月4日晚,50多位蓝睛灵齐聚在上海文化广场,欣赏了音乐剧《赵氏孤儿》。视障伙伴和陪跑员们一起享受了一次艺术大餐。
In the evening of June forth, more than 50 Lanjingling arrived at Shanghai Cultural Square to watch the live musical of 'The Orphans Of Chao'. They indulged in an art fantasy.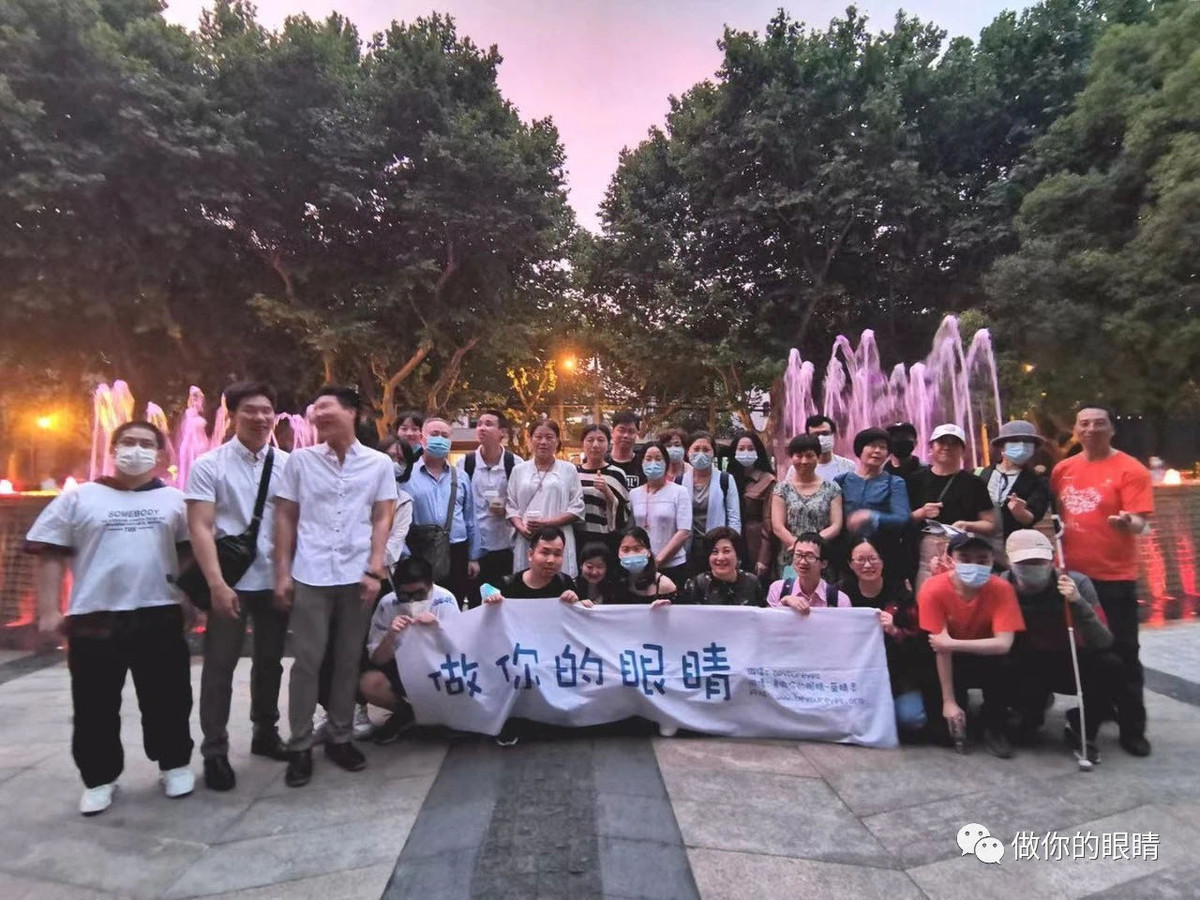 Lanjingling Invited to join the accessible screening premiere of 'Day and Night in Wuhan'
6月12日,在百丽宫影城环贸店,蓝睛灵受上海市电影放映协会的邀请,组织了10位视障者参与了第24届上海国际电影节"百年征程•红色光影展映单元"《武汉日夜》无障碍放映见面会,并观看《武汉日夜》的无障碍版。
On June 12, Lanjingling, under the invitation from the Shanghai Film Screening Association, organized 10 members with visual impairment to participate in the premiere of the accessible screening of the movie 'Day and Night in Wuhan' during the Shanghai International Film Festival 'Hundred Years March – Red Visionaries Unit'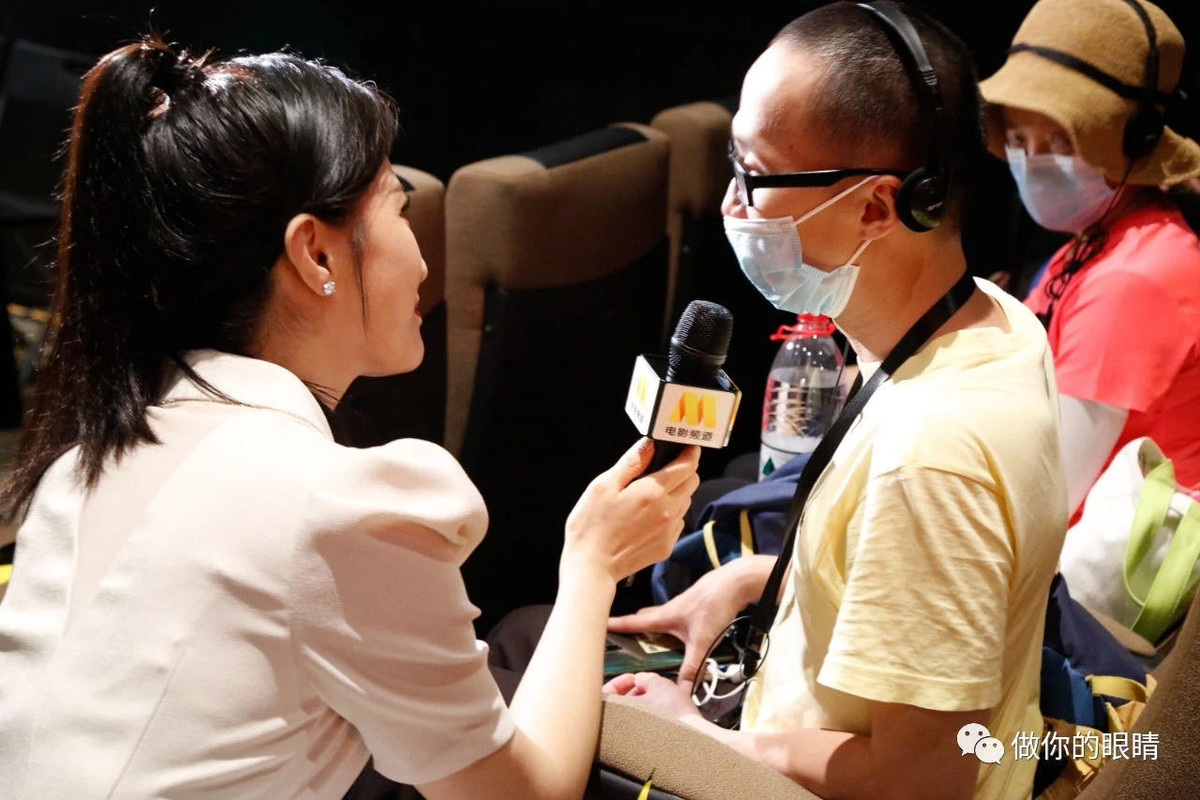 100 Days Engagement Participants Watch Accessible Movie
6月21日,百日计划的学员们来到电影院,观看《武汉日夜》。这是很多学员首次以无障碍观影的形式观览电影。学员文倩说:我感受到了在影院观影的魅力所在,它会让我对影片所呈现的故事,表达的情绪更加专注和投入。但目前国内大部分地方并没有类似的融合影院,真希望这种模式可以推广开来。
On June 21st, trainees of the 100 Days Engagement Program went to the cinema to watch "Day and Night in Wuhan", a movie about the journey of coronavirus containment in Wuhan. This is the first time for many of them to watch an accessible movie in an inclusive cinema. "I felt the fascination of seeing a movie in the cinema. It makes me focused on the storyline and the emotion that the film wishes to express. But there such inclusive cinemas are rare so I really wish that this concept can spread," said Wenqian, one of the trainees.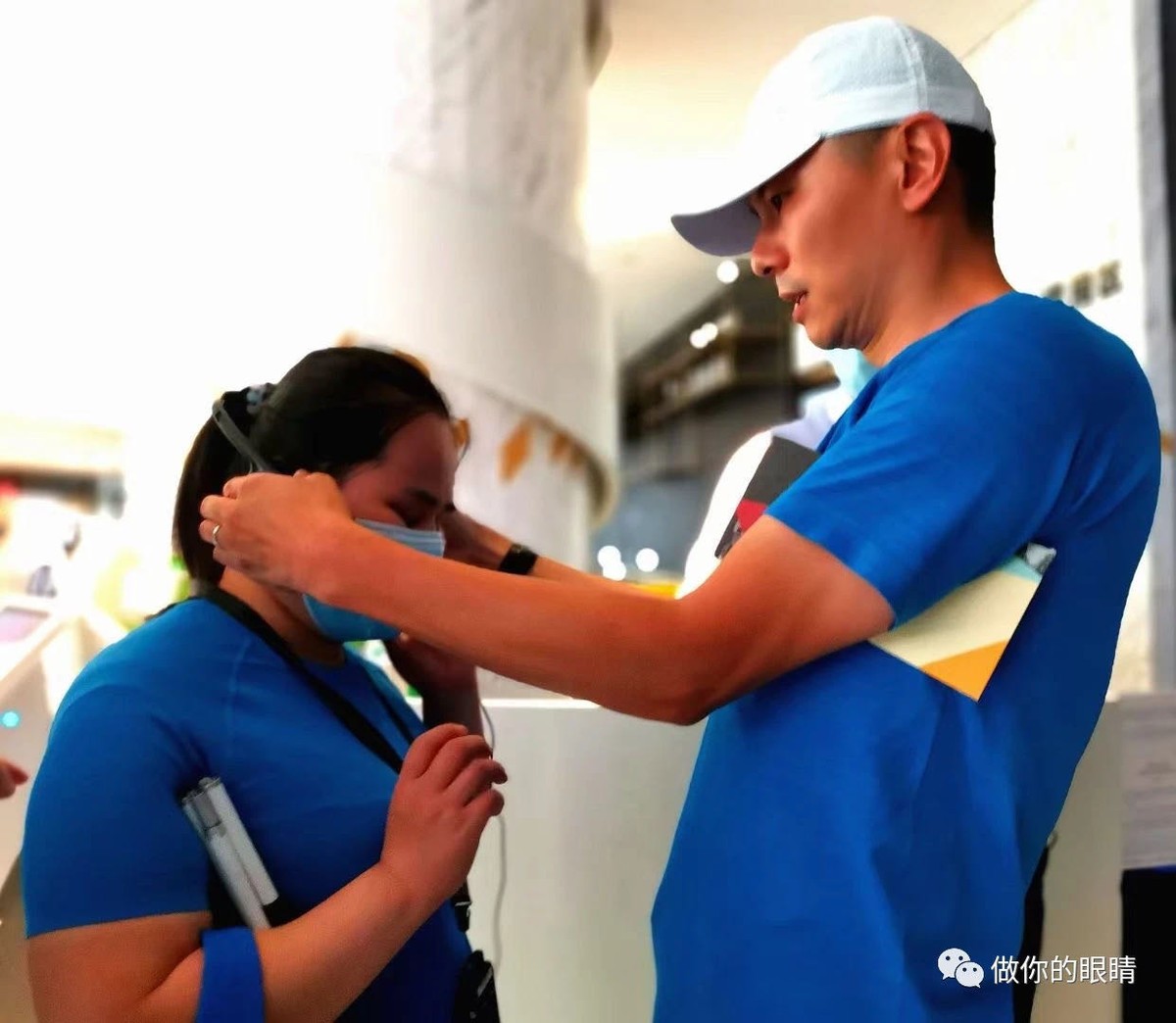 *「至爱影院 — 无障碍观影」影院只需安装无障碍观影的无线耳机及发射装置,视障人士就可以在任意时间、任意地点,走进任意一家影院,坐下来自由地看一场电影。
*「For Love Cinema — accessible movie-watching」By installing wireless earphones and transmission devices, people with visual impairment can enjoy a movie at any time anywhere, in any cinema.
6月7日和28日开展了第29期和第30期看健100无障碍健身活动。夏日炎炎下,健身活动继续如火如荼的开展,每一滴留下的汗水,都将带来更多的可能性。
The 29th and 30th 'Fitness 100' virtual fitness activities were held on June 7th and 8th respectively. Vigorous fitness activities continued despite the scorching hot sun. Every droplet of sweat brings greater possibilities.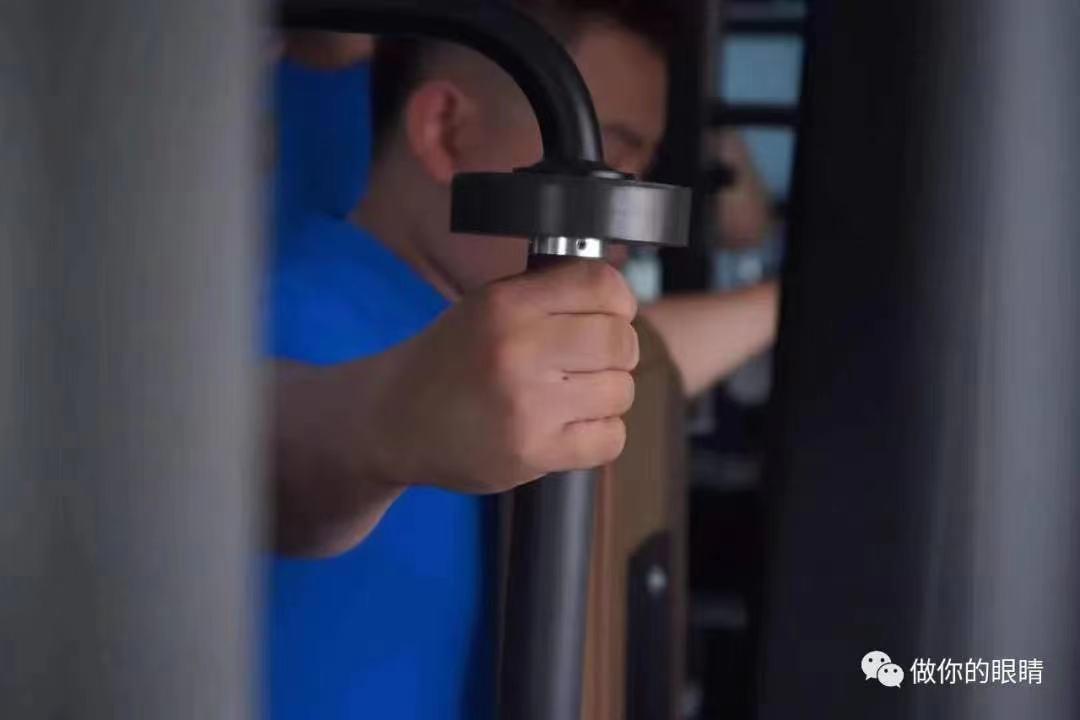 看健100作为蓝睛灵发起的无障碍健身项目,让视障者走进健身房,在专业健身教练的带领下,安全独立地完成个人锻炼。希望有更多的健身房和健身爱好者参与进来,让视障者的健身梦想不再被拒绝,让健身也能成为更多视障者的爱好之一
As an accessible fitness project initiated by Lanjingling, Fitness 100 encourages people with visual impairment to step into the gym and carry out their own exercises safely and independently under the guidance of professional fitness coaches. We hope that more fitness enthusiasts and gyms will join us in 'Fitness 100'. Let the fitness dream of people with visual impairment become reality and fitness squeeze into a page of their book.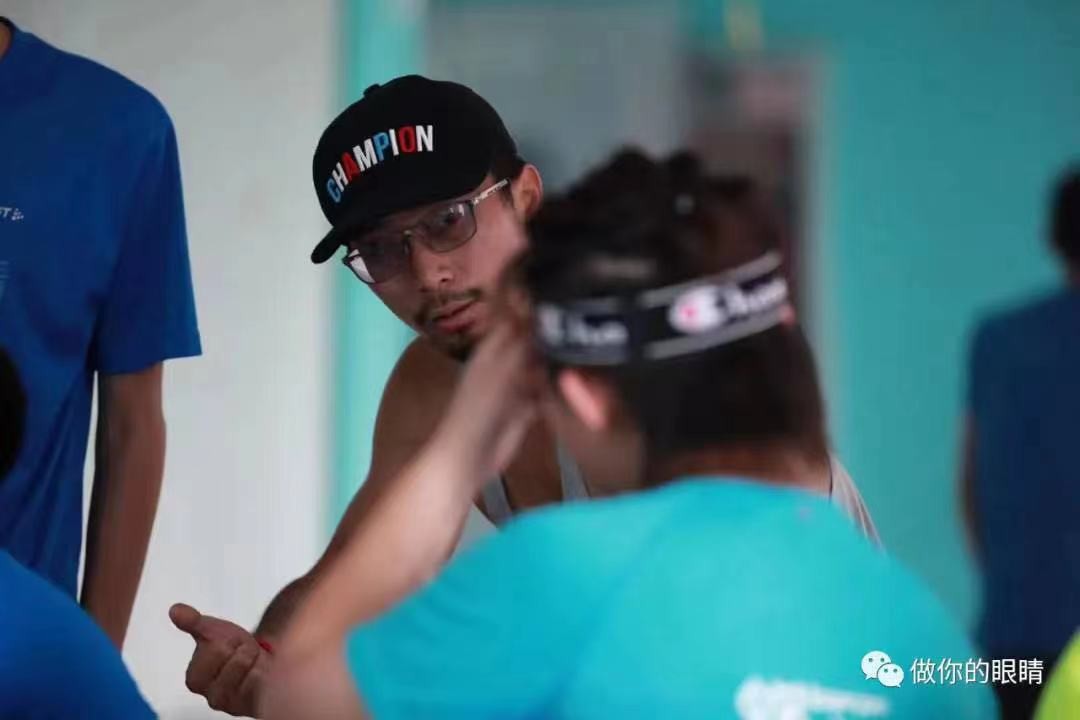 公益护照是上海市人民政府一网通办的公共服务事项,实施主体为上海市民政局。公益护照以上海农商银行信用卡为载体,用于标识志愿者身份,具有信息记录、权益保障、激励嘉许三大类功能。
The Public Benefit Passport is a public service item of One Network Handling All (a government affairs platform), which runs under the Shanghai Municipal Government. The main body of enforcement of the PBP is the Bureau of Civil Affairs, and its carrier is the credit card of the Shanghai Bank of Agriculture and Commerce; used for marking volunteer identities, its three major functions are recording information, securing rights and interests, and encouraging and awarding.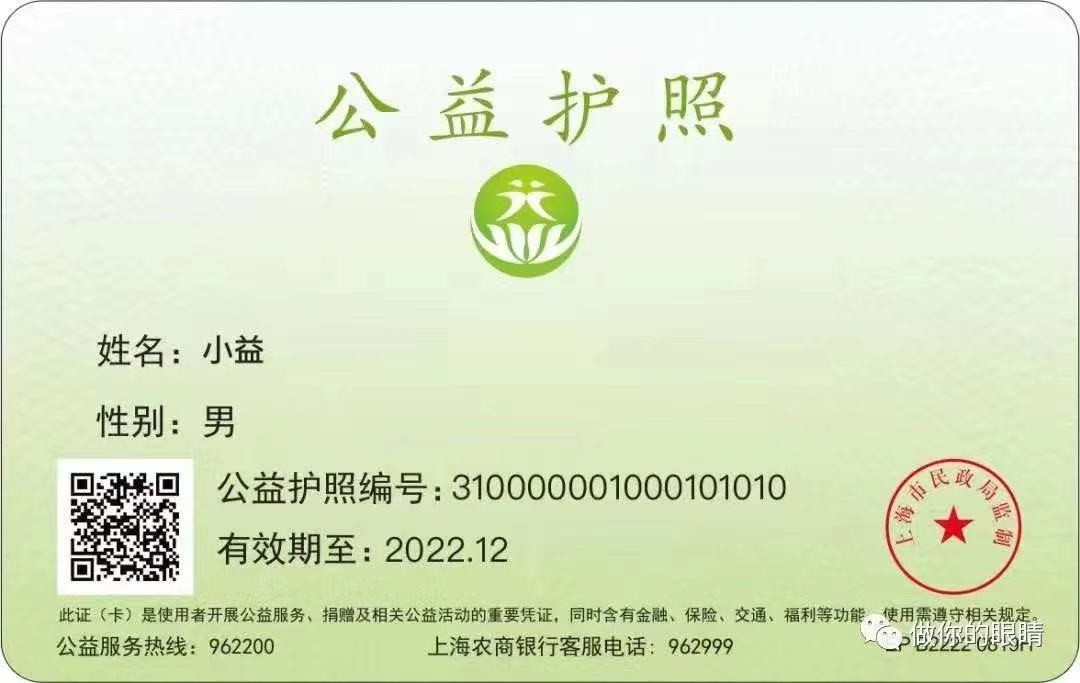 成功办理公益护照后,你就可以参与公益基地的志愿服务并获得相关权益保障。请在 "公益上海"公众号搜索蓝睛灵公益组织,关键词"蓝睛灵"(编号:02421),加入我们开展的各项活动。同时成为"公益上海"注册志愿者,记录参与志愿活动的服务时长、获得积分,并且获得意外保险保障。
After obtaining the PBP successfully, you can join volunteer services at NGOs and get secure related rights and interests. Please subscribe to the WeChat public account "上海公益", and search "蓝睛灵"(serial number: 02421) to join the various activities we organize. At the same time, you can become a registered volunteer of "公益上海", record volunteer service duration, gain credit scores, and obtain accident insurances.
*积分系统暂时不可用,官方还在测试阶段,积分系统尚未正式上线使用
*The credit score system is temporarily unavailable, the official is still in the testing stage, and the credit score system has not been officially launched.
This month's newsletter hereby ends, thank you for reading. See you next month.
做你的眼睛是一个民间自发的公益活动,于2015年1月在上海发起,致力于推动运动无障碍,让视障者参与运动变得简单。
beYoureyeS is a charitable activity, launched in Shanghai in January 2015, is devoted to promoting the concept of sports accessibility, making it possible for persons with visually impairments.
在我们的活动中,无论视障者,还是健视者,都称呼彼此为蓝睛灵,我们的公益组织也叫这个名字。
Everyone attending our activities calls each other Lanijngling, no matter what kind of physical condition he or she is in, and that is where our NGO's name came from.
我们认为,任何人都可以自由又自然的投入运动,平等的享受运动带来的快乐。
We believe that everyone can participate in sports freely and naturally, can enjoy the happiness, freedom and well-being derived from sports.
我们组织多样性的活动,鼓励各行各业参与运动与跨界,从本质上认可人的尊严。
We organize diverse activities, encourage all walks of life to participate in sports and cross-border, and ultimately be aware of human dignity.
我们知道,所行之路要有一颗铁人之心,需要体力和耐力、智慧和勇气,需要耐心和时间。
We know that the road to follow requires a heart of the Ironman, needs physical strength and endurance, wisdom and courage, patience and time.
Thank you for your support and your company along the way.
体验式公益活动、企业社会责任活动、校园融合活动、无障碍赛事活动
Experiential Philanthropy Activity, CSR Activity, School Inclusive Activity, Adaptive Sports Race
Fitness 100、Rope 100、100Days Engagement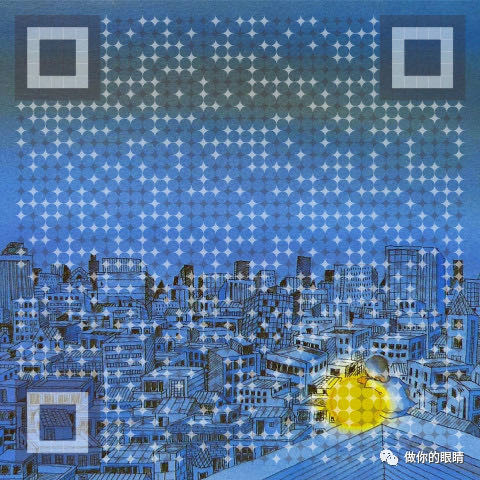 We hope that whilst we're in the competition together,
we may all converge our energy as one to make each and all strong,
We hope that whilst doing sports together,
we are able to find the nerve to be strong enough to face challenges head on.