2022年8月28日,蓝睛灵开展第300期常规陪跑活动!
本月蓝睛灵共开展4期常规活动、2场企业社会责任(CSR)活动、4期零基础英语课、1期"百日计划"融合就业经验分享会,受邀参加1期无障碍研讨会。
On August 28th 2022, beYoureyeS carried out the 300th regular weekend activity!
In August, beYoureyeS carried out four regular weekend activities, two CSR activities, four introductory English program lessons, an "100 Days Engagement" workplace engagement sharing session, and was invited to take part in a seminar on accessibility.
翻译 Translator:胡文倩 Susie HU 王弘毅 Yoyo WANG
编辑 Editor:张睿莹 Rain ZHANG 李纪元 Annie LI
蓝睛灵编辑部 Lanjingling Editorial Office
Release date:Sep 30st, 2022
Photo: beYoureyeS' 300 Regular Weekend Activities
300th Regular Weekend Activity
8月28日,在世纪公园,蓝睛灵开展第300期做你的眼睛常规活动。
On August 28th, Lanjingling carried out the 300th beYoureyeS regular weekend activity in Century park.
从2015年1月24日在世纪公园开始,300个周日,蓝睛灵们相聚在一起,陪跑、陪走,聊天、交流,挥洒汗水、绽放笑容,突破隔离的壁垒,汇聚视障群体和健视群体一起,组织各类融合活动,推动运动、文化交流、就业等多方面的无障碍发展,以及每个人,都能生活在一个融合而无障碍的社会里。
The story began on January 24th, 2015 in century park. 300 weeks of company, guide-running, guide-walking, chitchats, and talks evoked our collective memories of hardship, happiness, companionship, and togetherness, bringing together persons with visual impairment with persons without, organizing various different activities, ultimately promoting accessibility in sports, culture, career, and others with the hope that everyone may reside in a free and accessible social sphere.
REGULAR WEEKEND ACTIVITIES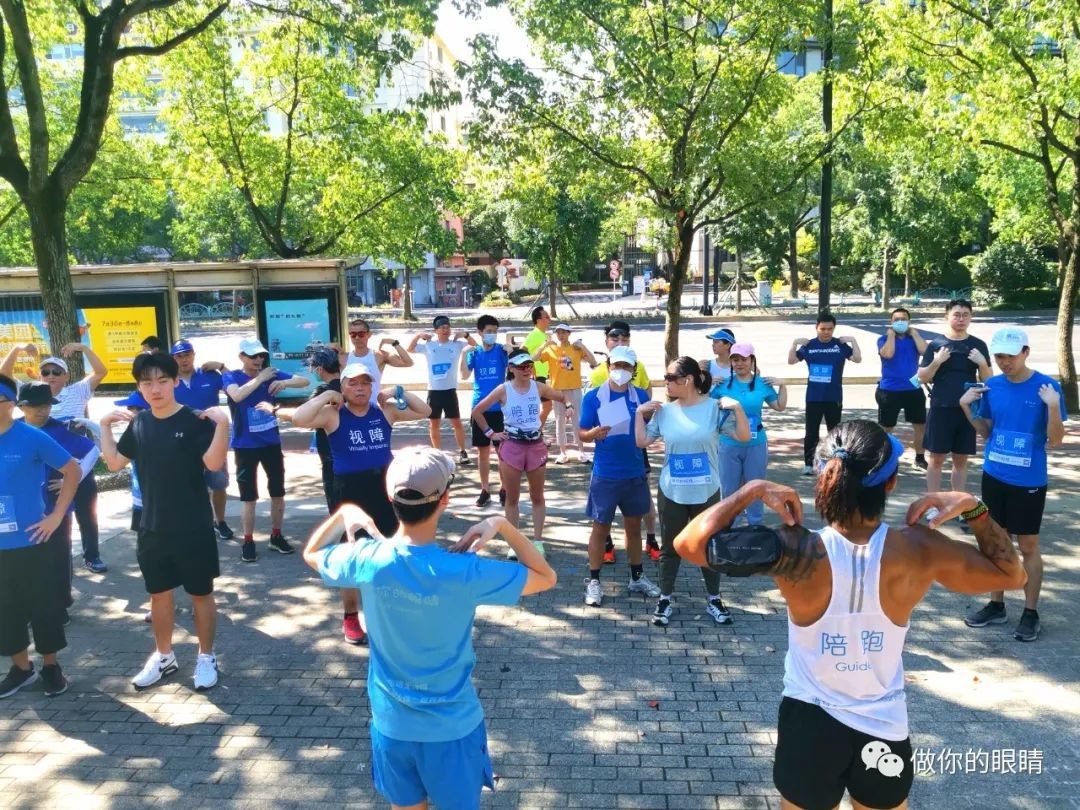 Photo: Warming up Before Running
做你的眼睛第297期至第300期的常规活动于8月7日、14日、21日和28日在世纪公园开展。
8月7日第297期常规活动,是蓝睛灵在上半年疫情隔离后首次线下活动。大家重新汇聚在世纪公园,欢声笑语不断。
The 297th to 300th beYoureyeS regular weekend activities were carried out on August 7th, 14th, 21st, and 28th in Century Park.
The 297th regular weekend activity on August 7th was the first offline activity post-lockdown.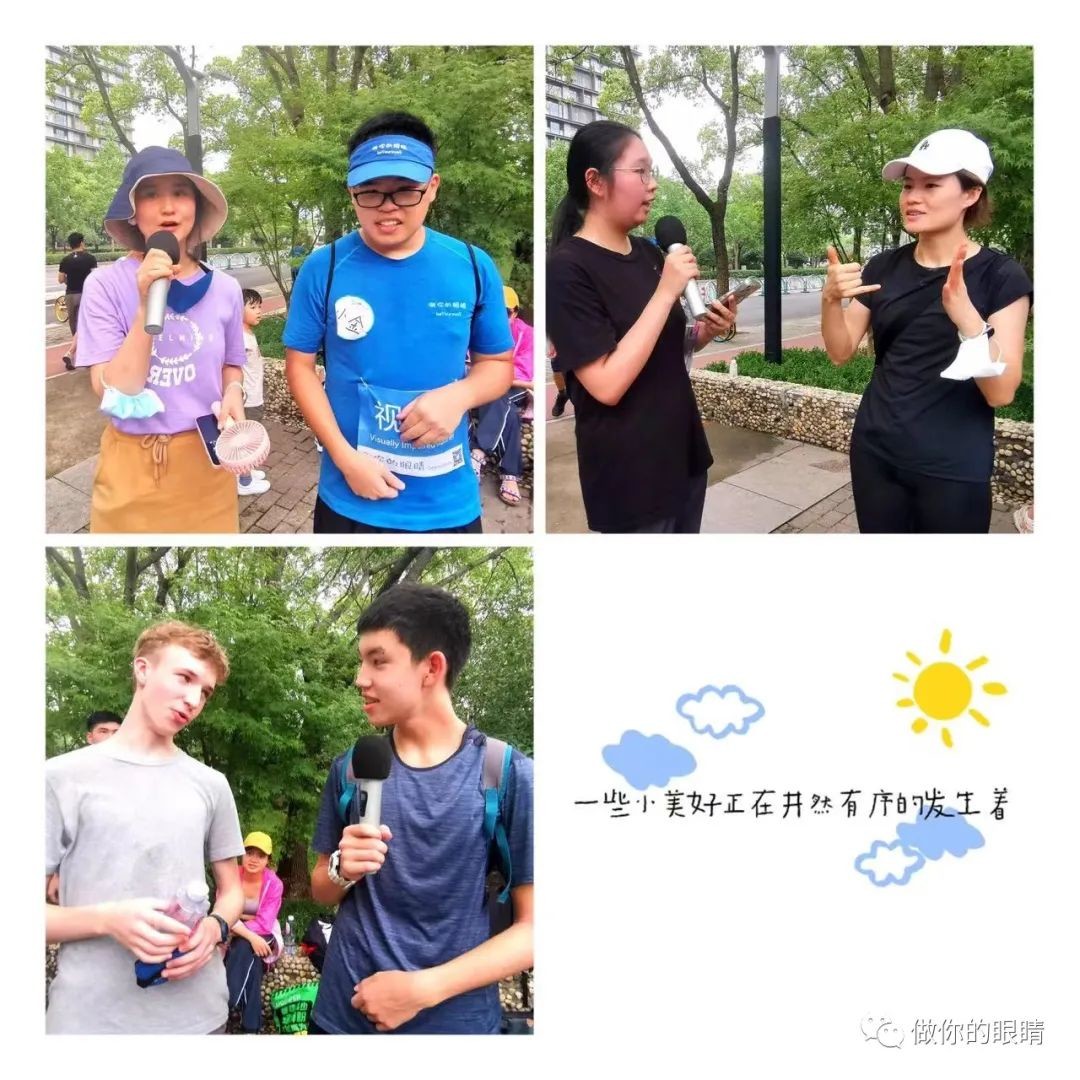 Photo: New Members Training
Photo: New Member Samean's Sharing
8月23日,第299期常规活动,高中生Sean Ghys分享:
At the 299th regular weekend activity on August 23rd, high school student Sean Ghys shared:
我们认为这次经历拓宽了我们的眼界。让我们可以理解不同人士的观点,有助于我们更加了解许多人在日常生活中所面临的困难。为了克服这些挑战并作为社会成员参与社会活动,我们认为掌握道德准则十分重要。同时作为社会成员,我们也认为,在自己的社群保持活跃非常重要。因此,这个项目有助于包容不同人事,有助于我们关注不同人士的观点,最终有助于体现社会的包容度。
We found it to be a very eye-opening experience. We were able to understand the viewpoint from these different people, which could help broaden our horizons on the difficulties which many people face within their everyday lives. We find this to be very important within teaches us the morals of discipline, and in order to overcome those challenges and participate within societal activities as members of society. As members of society, we find it very important to remain active within your community and therefore we find this project very helpful within including people and bringing perspective and light to the viewpoint of these people, ultimately showing the range and inclusiveness of our society. Thank you.
8月28日,第300期常规活动,我们按照以往的惯例,开展1公里欢乐跑。男子组和混合组都取得了4:11和4:34的好成绩。
On August 28th, the 300th regular weekend activity, Lanjingling carried out a 1km merry running activity. Both men's and mixed groups achieved excellent results, at 4:11 and 4:34 respectively.
本月,线下第1季 挑战100 赛事也正式开启,首次项目是深蹲。
"Challenge 100" races resumed as well. Full squat was the first in the que. The results are as follows: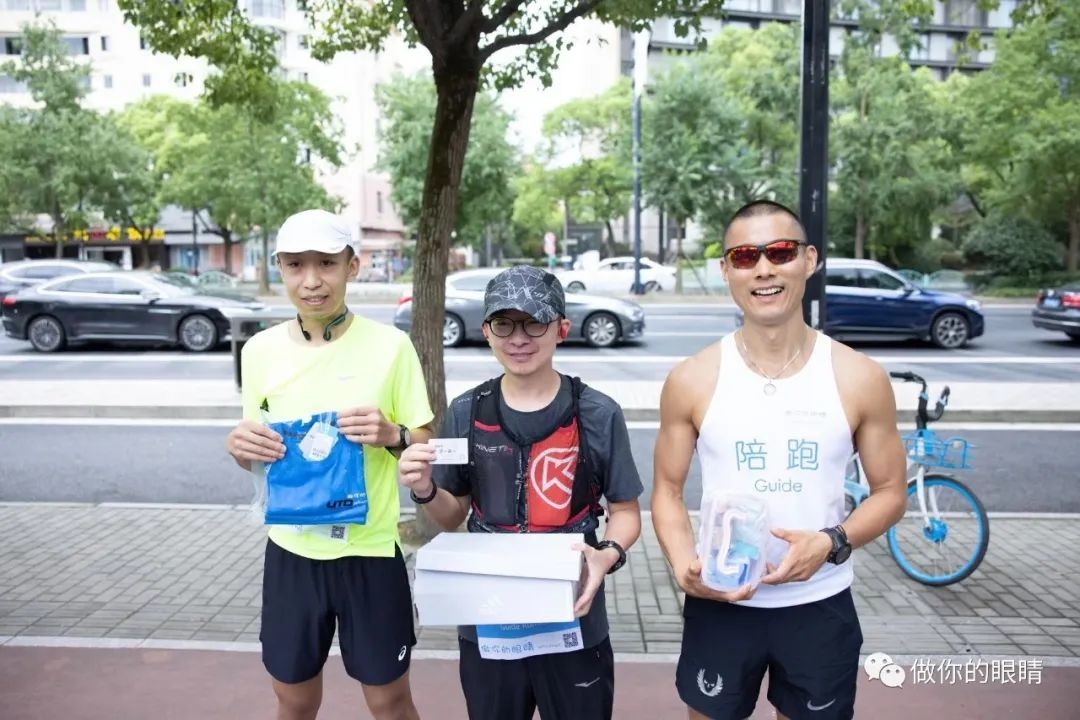 Photo: "Challenge 100" 100s Full Squat Challenge - Men's Division Awards
Photo: "Challenge 100" 100s Full Squat Challenge - Women's Division Awards
在300期活动结尾时,大雪为大家带来一个手语教学,把双手举在耳边,手掌向前轻轻晃动,是鼓掌的意思,也是集合时聚集在这里的意思。
After the mini competition, Daxue taught some basics of sign language. Hands near the ear, palm moving back and forth, means applause or "let's gather here".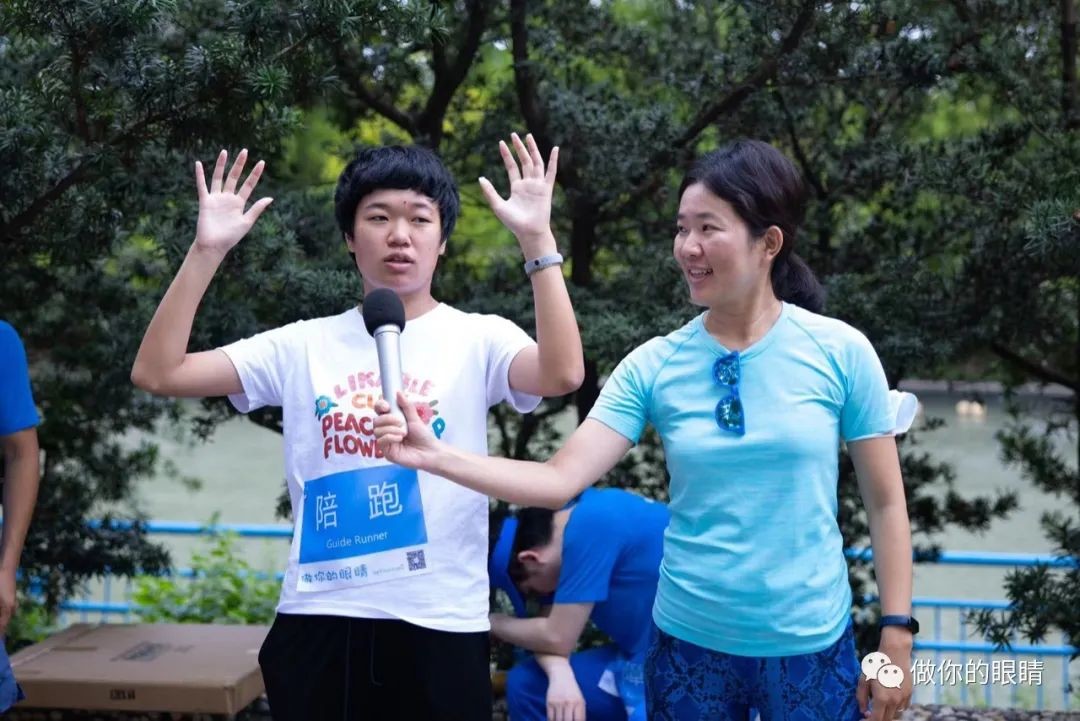 Photo: Daxue's Sign Language Lesson
纪元随后分享,这个手语还有一个适用场合,当我们开线上会议,在静音状态的同时想表达鼓掌、欢呼、欢迎时,也可以用这个手语手势。
手语是消除障碍的一种语言工具,当人们遇到永久性的听力损伤,或者遇到暂时性的无法应用声音时的场景,都可以运用手语,达到沟通的目的。
无障碍的意识就在这些小小的应用之中,像一粒种子,种在参与者的心里,希望每个人在参与和了解之后,能够把无障碍的理念像蒲公英一样传递出去,这就是做你的眼睛活动一期一会的意义。
Then, Ji Yuan shared her tip on using sign language during online conferences where members are muted.
Sign language is a tool to increase accessibility. During cases of hearing impairment, whether permanent or temporal, sign language is a useful tool to realize communication.
The awareness of accessibility is implanted into such daily applications, like a dandelion seed that, upon people's sharing and understanding, germinates across a big field. This is the significance of beYoureyeS' regular activities.
Corporate Social Responsibility Activities
1、Google Accessible Workshop
Photo: Google Share Meeting
8月11日下午,蓝睛灵受邀来到Google上海的办公地,与Google线上和线下的员工一起开展了以"无障碍"为主题的分享会。
活动中,蓝睛灵的工作人员通过现场与参与人员互动,从生活、工作、学习等多个角度与大家分享了有关无障碍的知识与理念。
大家在活动中意识到,无障碍就是让所有人在需要的时候,都能被这个世界善待。
Lanjingling was invited to Google's office in Shanghai in the afternoon of August 11th to launch a share meeting on the theme of accessibility with Google employees. Our representatives talked about accessibility from numerous perspectives including life, work, and study.
We realized, through the activity, that when everyone in need is treated with kindness, we have achieved accessibility.
2、Knowledge Feeds Understanding – Enterprise CSR Activity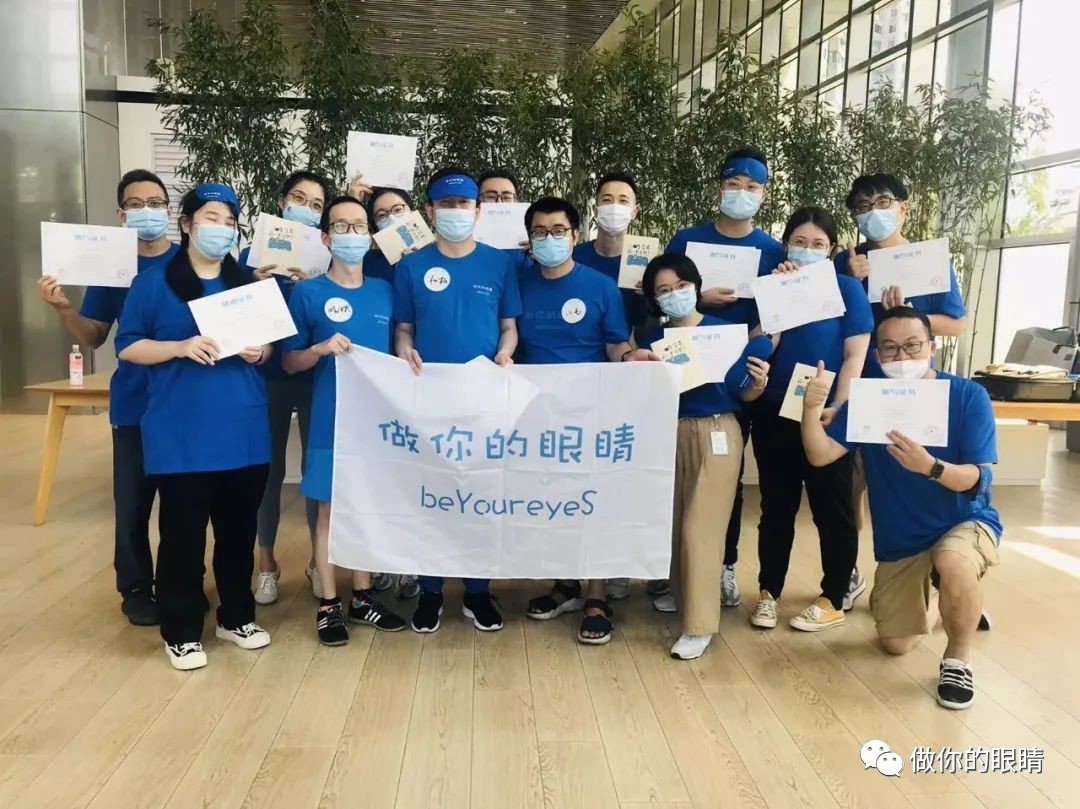 Photo: CSR Activity at a Tech Company
8月22日,蓝睛灵在某科技企业的办公楼,开展企业CSR活动,主题为"了解,让我们彼此理解"。
几位无障碍引导师互相配合,在第一阶段,以演绎的方式,向大家展示视障者的世界,以及无障碍所带来的便利。
在第二阶段,我们为参与者们带来职场沟通无障碍的分享和讨论,大家一起讨论在与视障同事沟通时,哪些是更恰当的方法,哪些符合平等沟通的理念。
参与者通过此次活动,增加了对视障群体的了解,了解到如何更恰当的沟通与交流。
希望我们都能从身边的小环境做起,未来一起创建一个无障碍的工作环境。
On 22nd of August, Lanjingling carried out a CSR activity in the office building of a tech company. The theme was "Knowledge Feeds Understanding".
In a short act, our lecturers showed the audience the world with no vision and the facilities of accessible designs.
Participants were then invited to share and discuss accessible communication in the work place. They talked about the most appropriate way to communicate with visually impaired colleagues and the way to uphold equality in communication.
The audiences' understanding of the visually impaired community and knowledge about appropriate communication methods were enhanced by this talk.
We hope that we could start from the surroundings and construct an accessible future work environment.
1、"Sail Your Dream" Introductory English Program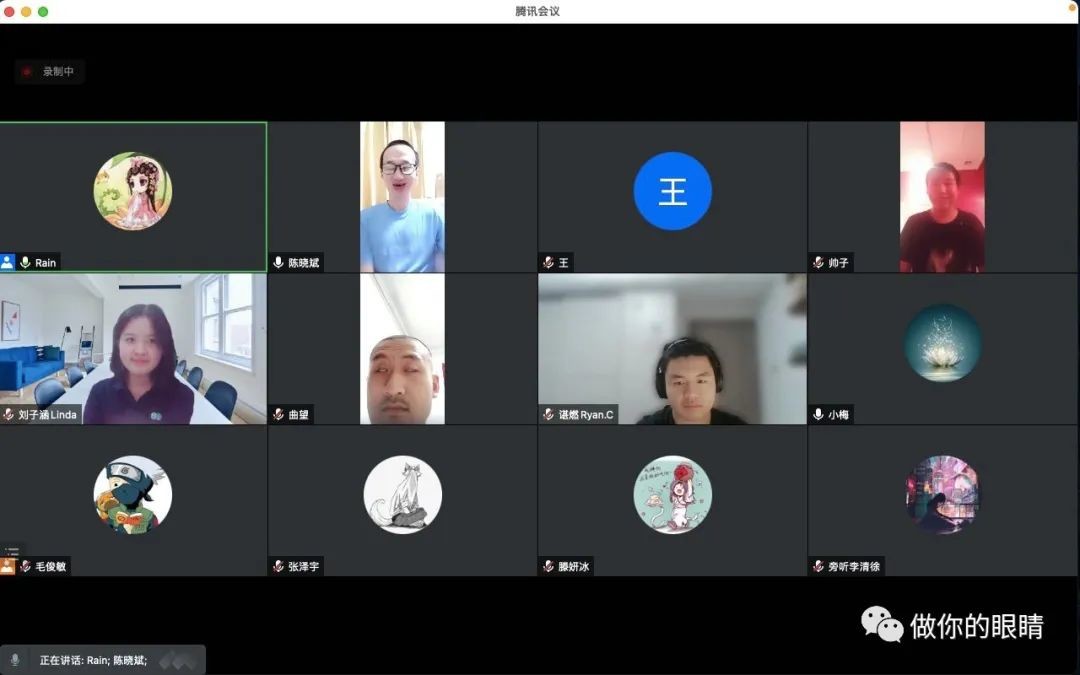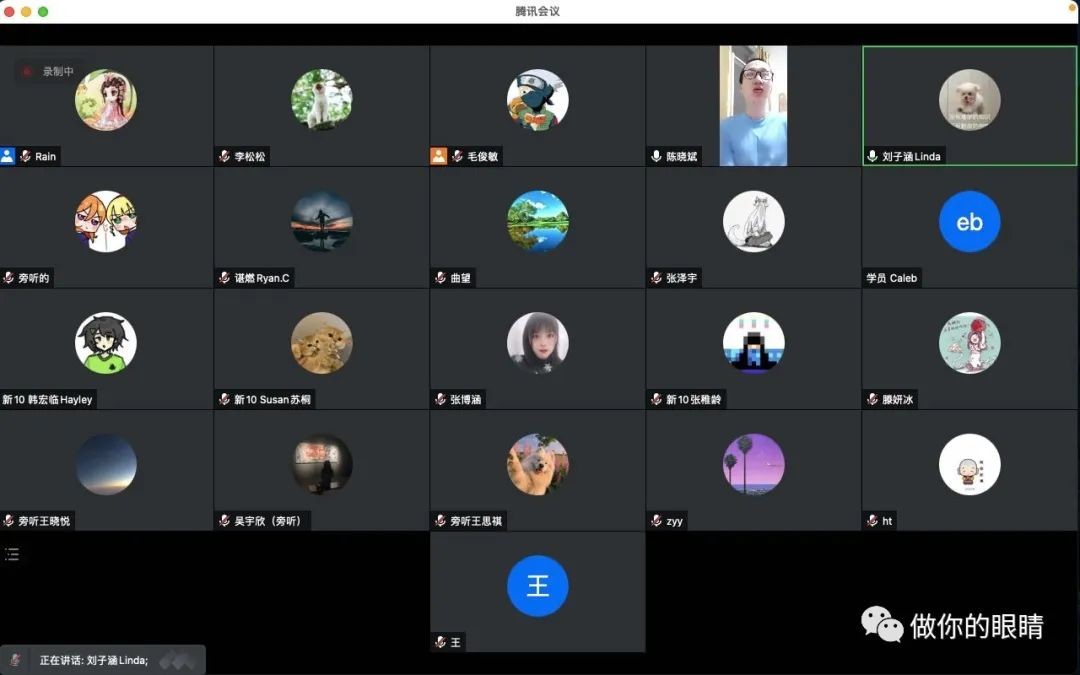 Photo: Shanghai World Foreign Language School - "Happy Learning Club" and Lanjingling
8月,蓝睛灵与世外悦习社的同学们联合开展了"梦想起航"零基础英语课。
课程主要由世界外国语学校的同学担任老师,由希望能够开启0基础英语学习的视障伙伴自由报名。课程在线上开展,第一期共4节。学员们学习了新概念英语第1册里的4篇课文中的句型和语法。
在课程中,志愿者教员引导学员们从聆听对话,到复述对话,再到学习句型和语法,一点点打开英语世界的大门。课后,悦习社与voice有声书社合作,为大家录制教材内容录音。
Lanjingling and students from the Happy Learning Club at Shanghai World Foreign Language School jointly held an introductory English program named "Sail Your Dream".
Students at the school became the English teachers; registered visually impaired participants became the students. The courses were carried out online and were divided into 4 lessons in the first stage. Participants learned syntax and grammar through the textbook New Concept English Volume 1.
Student volunteers guided the participants in English-learning, from listening to dialogs, repeating conversations, to learning sentence patterns and lecture syntaxes. After the lessons, student members made recordings of the learning material with the support from "Voice Audio Book Club".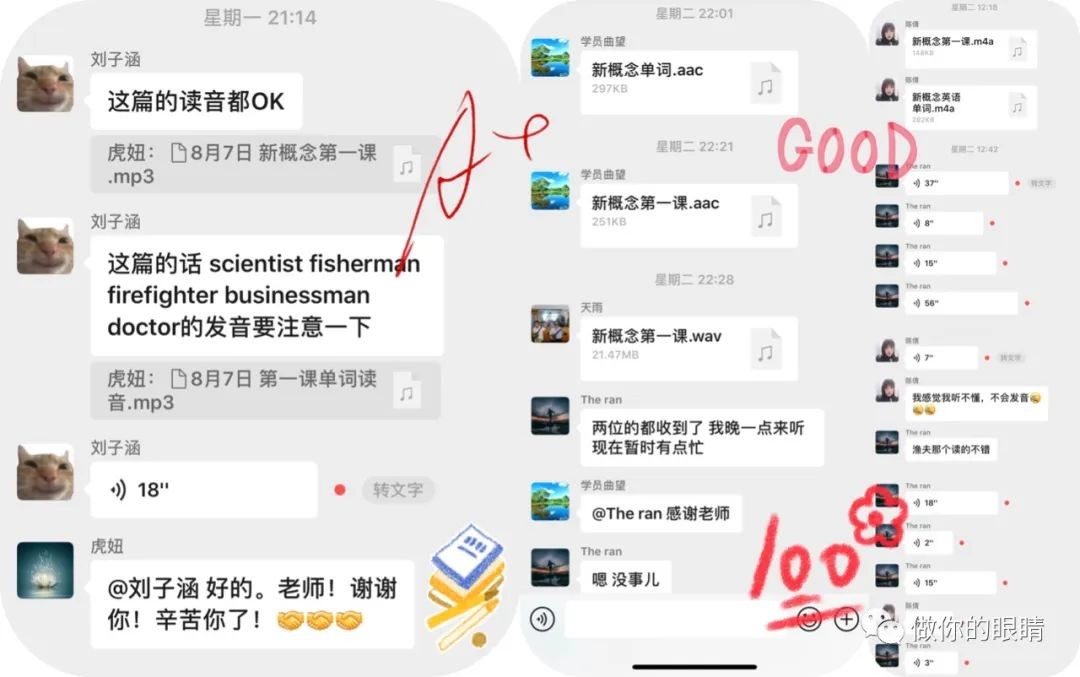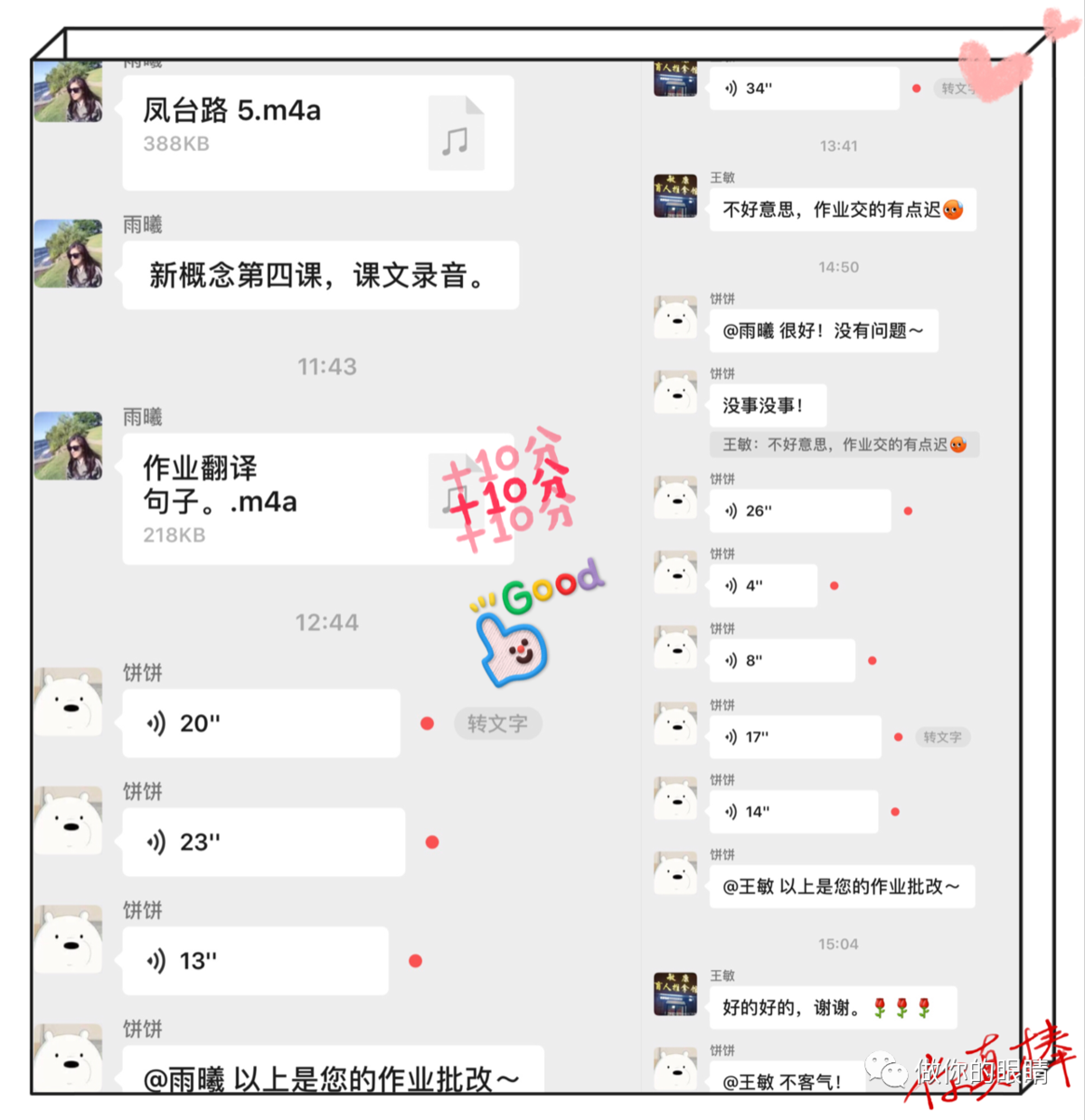 图:志愿者老师们批改学员们的作业并实时纠正和解答问题
Photo: Volunteer Teachers Marking Students' Homework & Correcting Errors
学员们跟读课文与单词,提交用心录制的作业,跟随老师的反馈反复练习,逐步接近标准发音。
这一阶段的课程作为一次尝试,希望能够在初建的视障者英语学习社群里,建立起英语学习氛围,分享合适的资料,增强英语学习的信心。也希望这样的活动能够长久的延续下去,唯有长久的可持续的投入,才是未来产生真正改善的基石。
Students read texts and vocabularies, handed in carefully recorded homework, exercised under teachers' guidance, and developed their English word pronunciations.
The first stage course was but an attempt. We hope that we could build a community, with helpful atmosphere, of English learners within the visually impaired community to share useful resources and collectively raise English-speaking confidence. We also hope for the continuation of such activities, because sustained efforts are the way to longer term positive changes.
2、Seminar on Accessible Arts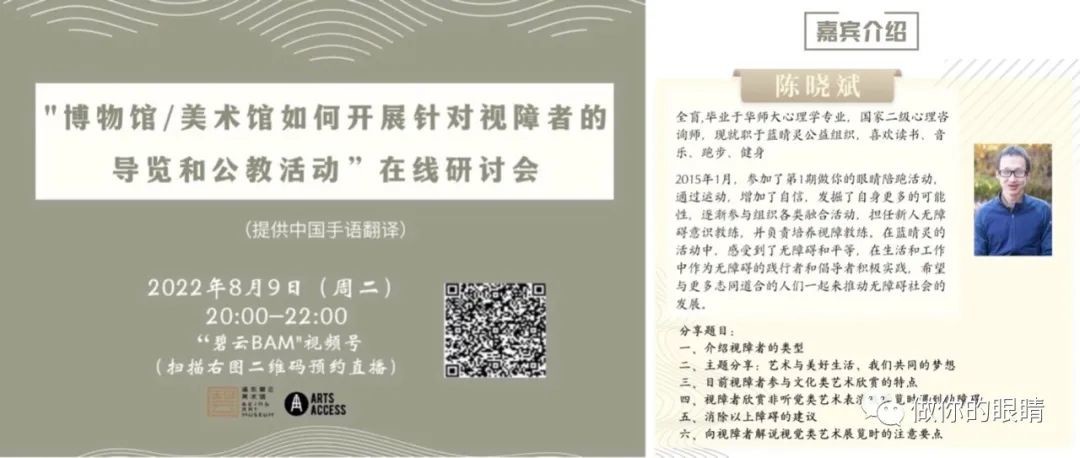 图:视障者与艺术导览主题研讨会分享者蓝睛灵工作人员陈晓斌
Photo: Accessible Arts Webinar Attendee & Representative Clark Chen
2022年8月9日晚8点,蓝睛灵受邀参与"博物馆/美术馆如何开展针对视障者的导览和公教活动"在线直播研讨会。晓斌为大家带来了"艺术与美好生活我们共同的梦想"的主题分享。
"视障者可以参观博物馆/美术馆吗?" "当然可以"
不同之处在于,"视障者需要听到他人看到的",需要一定的合理便利;
相同之处在于,对于美好生活的向往,对每个人来说,都是一样的。
8 at night on August 9, 2022, Lanjingling was invited to the webinar on "Guidance for Visually Impaired Visitors in Museums / Galleries". Clark Chen shared about the theme "art and a better life, our common dream".
"Can visually impaired people visit museums or art galleries?" "Of course!"
The difference is that "visually impaired visitors need to hear those seen", which requires certain implementations.
What's similar, though, is our collective desire for a more beautiful world.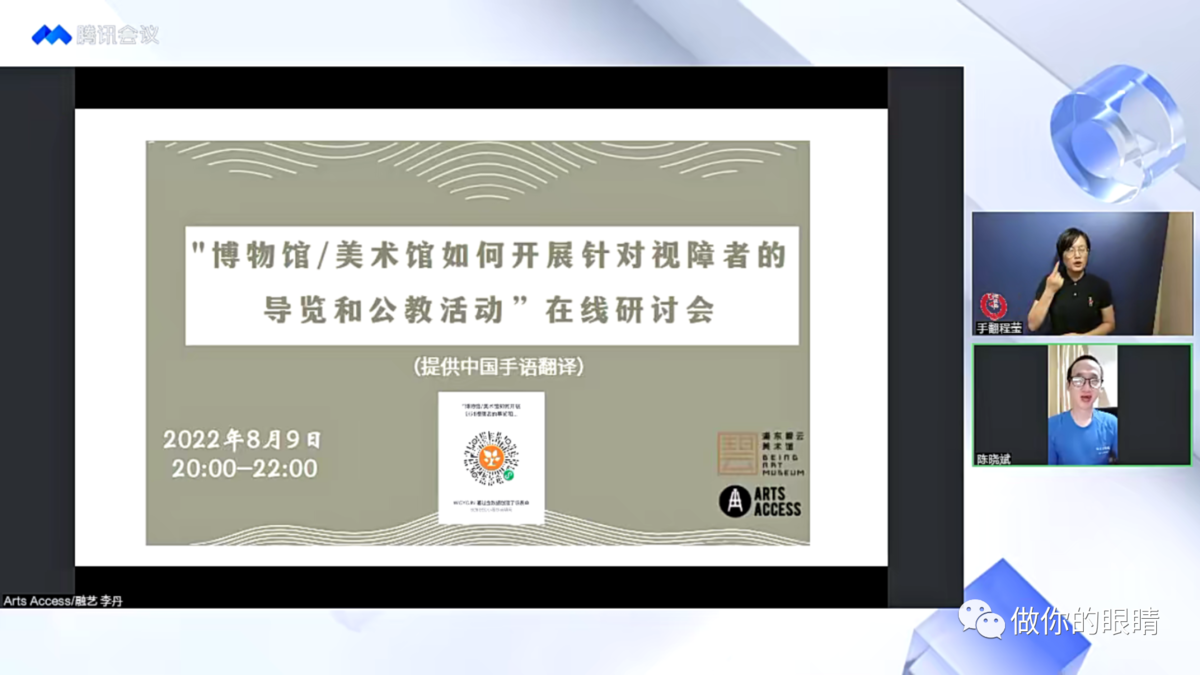 图:晓斌在线上做分享,同时手语老师将他的话翻译成手语介绍给听力障碍者
Photo: Online Sharing by Clark Chen, Sign Language Assistant Translating his Speech Into Sign Language
更多详情,请见 For more details:
转

|

我们聊了什么?——"博物馆/美术馆如何开展针对视障者的导览和公教活动"在线研讨会 (附完整音频)

问答篇——"博物馆/美术馆如何开展针对视障者的导览和公教活动"在线研讨会 (附活动视频)
"百日计划"融合就业经验分享会第3期面试技巧大分享
The third "100 Days Engagement" workplace engagement webinar: mastering the interview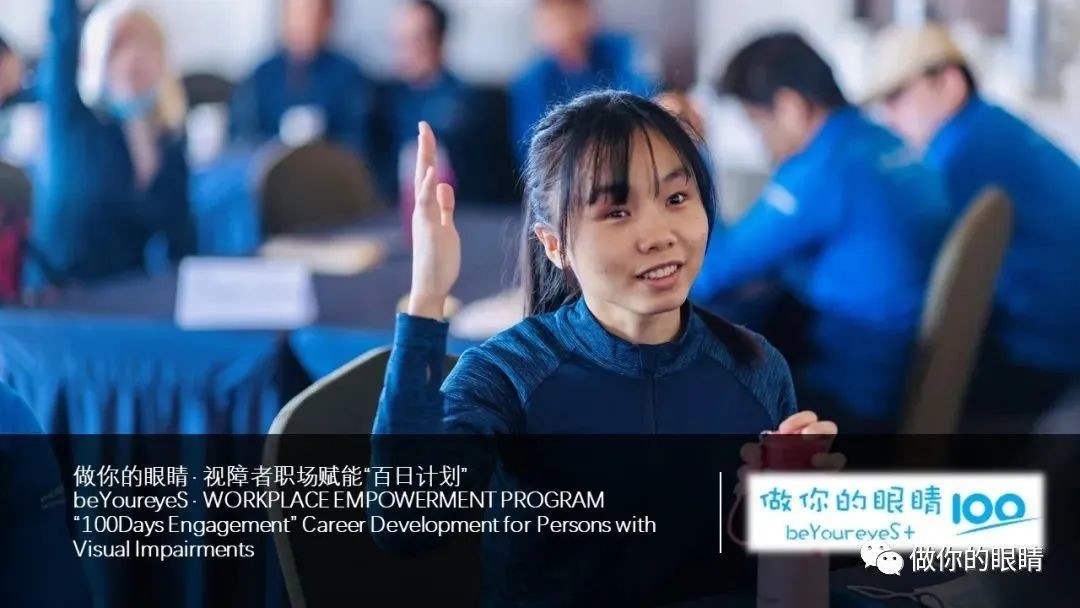 图:"百日计划"融合就业经验分享会第3期面试技巧分享会
Photo: The Third "100 Days Engagement" Workplace Engagement Webinar - Mastering the Interview
8月23日晚,蓝睛灵在线上开展了第3期"百日计划"视障者融合就业经验分享会,本期分享会邀请到第1、2期"百日计划"训练营主讲妮子老师,为大家带来丰富内容,包含面试技巧分享、面试10大避坑指南、1分钟自我介绍、现场一对一模拟面试演练,及问答环节。