2022年9月,做你的眼睛周末融合活动成为DAWA国际无障碍文化节主题活动之一。
9月蓝睛灵共开展了4期周末活动、1场企业社会责任(CSR)活动、1期看健100无障碍健身活动,参与3场特别活动,开展1次内部培训。
September 2022, beYoureyeS weekend activities became one of the activities of DAWA Festival.
In September, beYoureyeS carried out 4 Regular Weekend Activities, a CSR activity, a "Fitness 100"Accessible Fitness Activity, an internal training, and participated in 3 special events.
翻译 Translator:童雨萱 Barbie Tong 谢雪秋 Snow XIE
编辑 Editor:张睿莹 Rain ZHANG 李纪元 Annie LI
蓝睛灵编辑部 Lanjingling Editorial Office
Release date:Nov 18st, 2022
图:"生而不同,我就是我" – DAWA国际无障碍文化节视频
Photo: "Diverse As We Are" - DAWA Festival video
做你的眼睛活动成为DAWA国际无障碍文化节系列活动之一
BeYoureyeS activities became one of the activities in the DAWA Festival.
"生而不同,我就是我" – DAWA国际无障碍文化节在9月15日拉开序幕,从9月15日至25日,"生而不同,我就是我" – DAWA国际无障碍文化节将在全上海多个文化场馆举行。40余场活动,从戏剧到舞蹈,从电影到展览,从讲座到工作坊再到体育活动,上海观众将看到由国内外残障艺术家创作、聚焦无障碍共融主题的难得一见的艺术作品。
The "Diverse As We Are"-DAWA Festival was started off on September 15th. "Diverse As We Are"-DAWA Festival held in several Shanghai cultural centers from September 15th to 25th.
Appreciation of rarity art works by artists from China and aboard was occurred in Shanghai through more than 40 activities, from dramas to dancing, from films to exhibitions, from lectures to workshops and physical activities.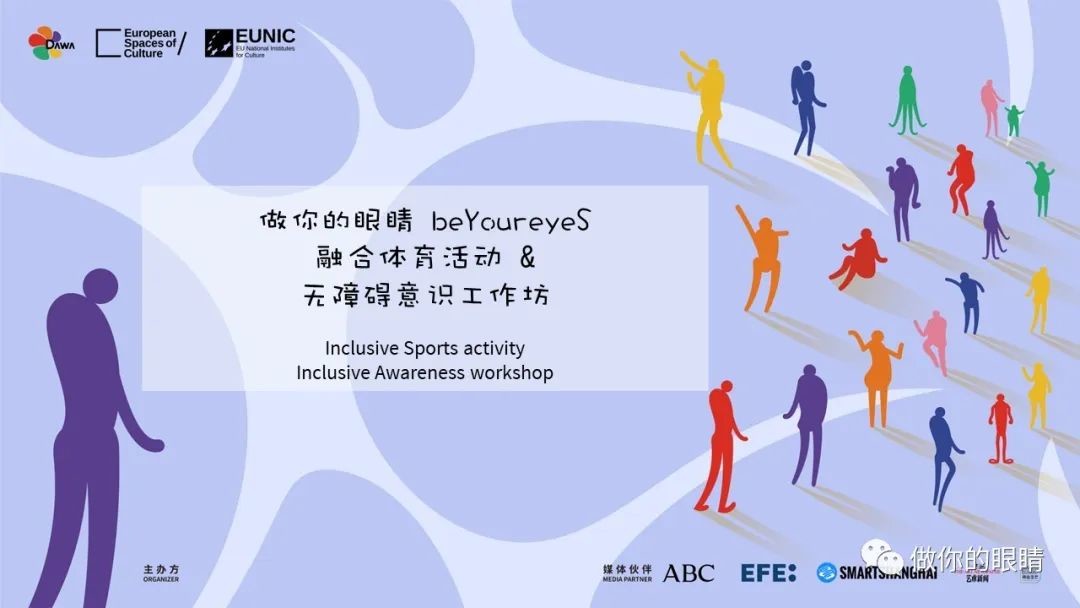 图:做你的眼睛 融合体育活动及无障碍意识工作坊Photo: BeYoureyeS Inclusive Sports activity & Inclusive Awareness Workshop
9月18日,第303期做你的眼睛周末融合活动暨DAWA无障碍文化节融合体育活动,在世纪公园开展,视障引导师带来的无障碍意识工作坊给初次参与者带来了特别的体验,做你的眼睛周末活动作为DAWA无障碍文化节系列活动之一,汇聚了不同身体特点、不同年龄、不同职业,不同运动能力的人们,以运动为纽带,彼此交流,增进理解,一起感受快乐,一起倡导无障碍理念。
September 18th, the 303th beYoureyeS regular weekend inclusive activity and DAWA Festival inclusive physical activity were carried out in Century Park. Accessibility awareness workshop, introduced by visually impaired teacher, provided special experience to the first-time participants.
BeYoureyeS regular weekend activities, as one of the DAWA Festival events, brought together the people of different physical characteristics, ages, occupations, sports abilities, using sports as bond to communicate with one another to promote understanding, enjoy happiness, and advocate the idea of accessibility.
BeYoureyeS Weekly Activities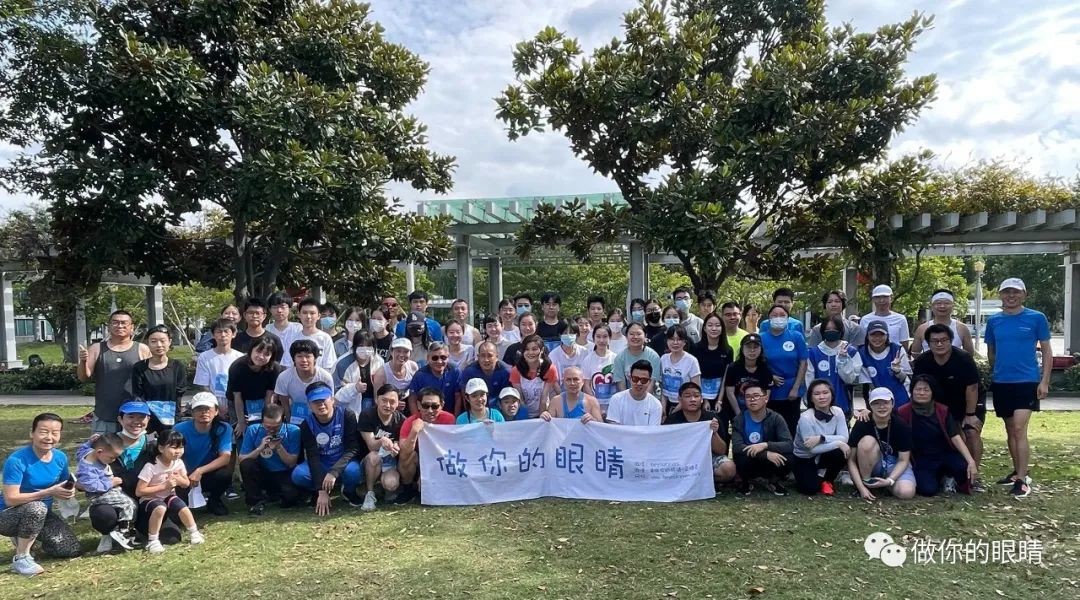 做你的眼睛第301期至第304期周末活动于9月4日、11日、18日和25日在世纪公园、闵行文化公园开展。
9月的周末活动,蓝睛灵开展了第2季挑战100赛事,比赛项目是开合跳。
The 301st to 304th beYoureyeS regular weekend activities were carried on September 4th, 11st, 18th, and 25th in Century Park, Minhang Cultural Park.
In September's weekend regular activities, beYoureyeS carried out the second season of "Challenge 100". "Jumping jack" was the challenge for September.
The results of the challenge are as follows: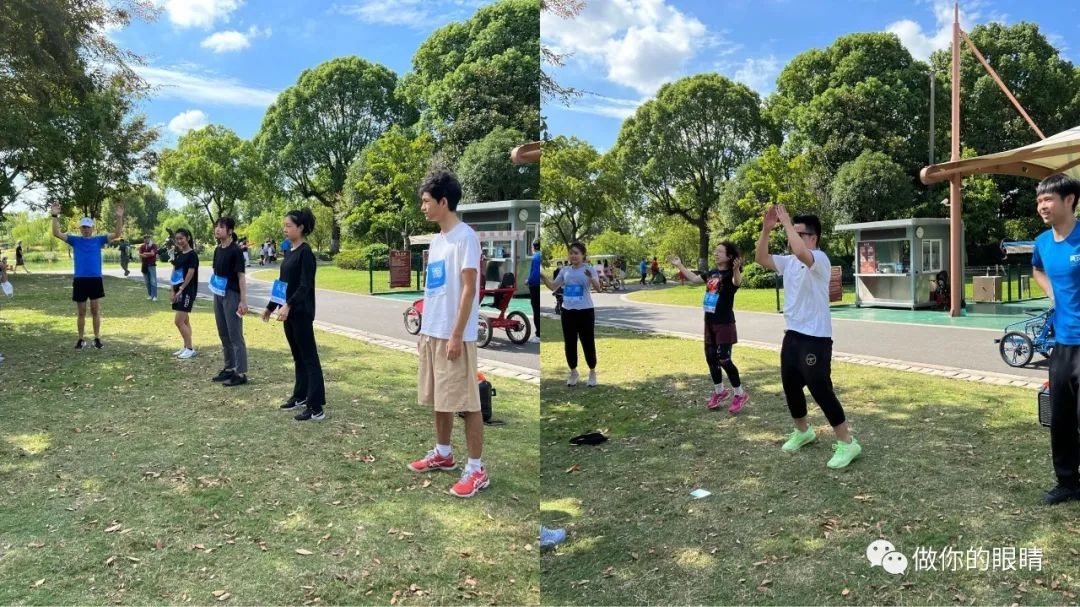 Photo: Jumping jacks game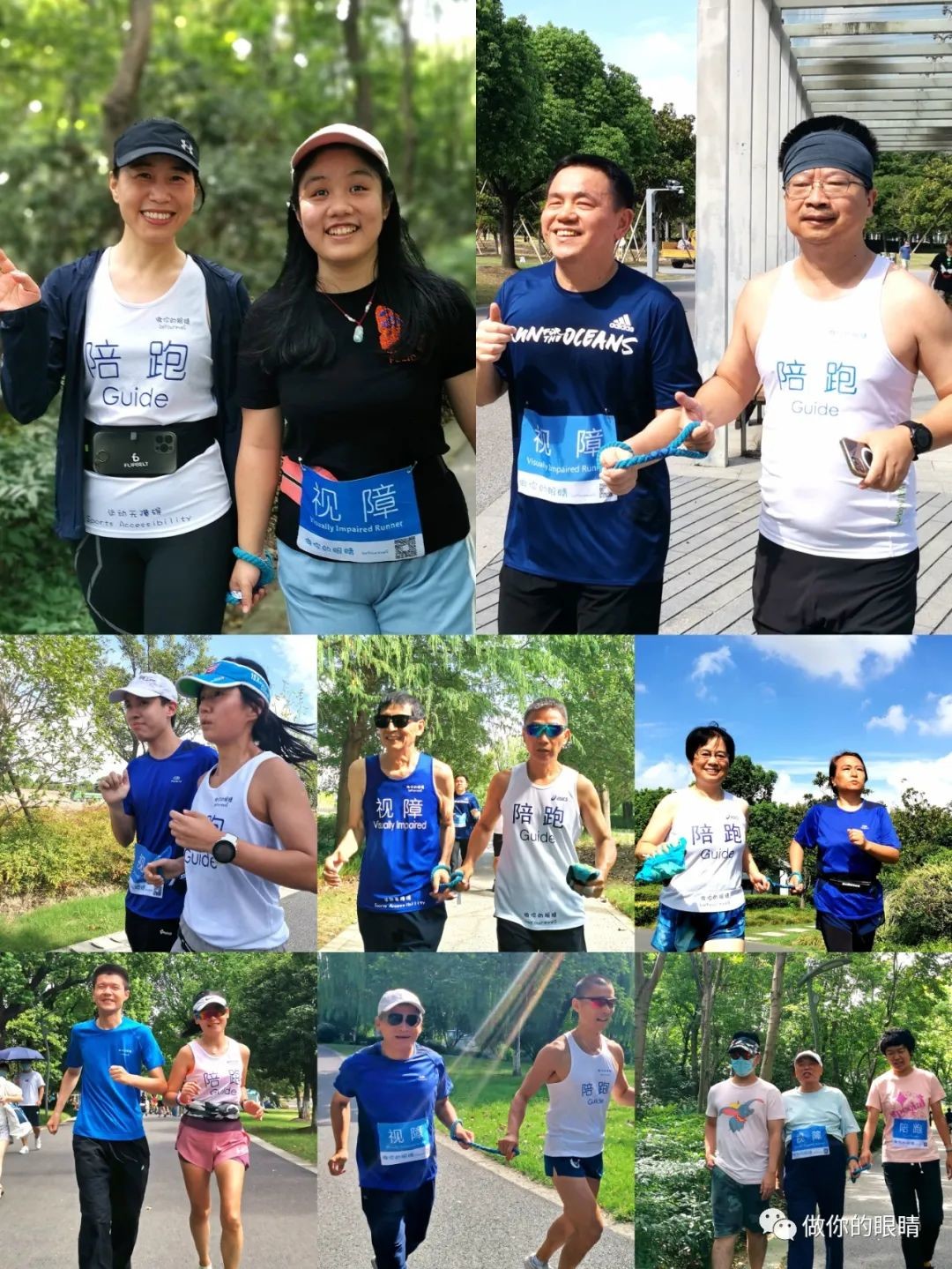 Photo: Run with them every week
9月11日,第302期周末融合活动之后,在闵行文化公园的风雨长廊下,按照蓝睛灵的传统开展了中秋野餐会。蓝睛灵伙伴们分享着大家带来的美食,三五成群边吃边聊。蓝睛灵组织也为大家准备了饮料和主食。大家彼此干杯,开怀畅饮、开怀大笑。感谢所有分享美食和饮品的蓝睛灵们。
On September 11st, after the 302nd weekend regular activity, the Mid-Autumn Festival picnic, as the tradition of beYoureyeS, was held in the Minhang Cultural Park. The members shared the food they brought while, chatting together. The organization also prepared drinks and staple food for everyone. The members were toasting, drinking, and laughing heartily. We appreciated all the members for sharing gourmet food and beverage.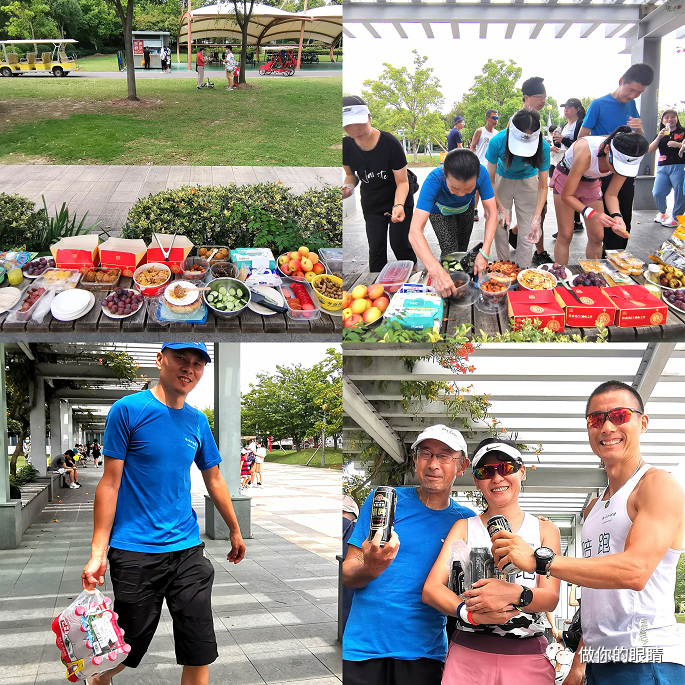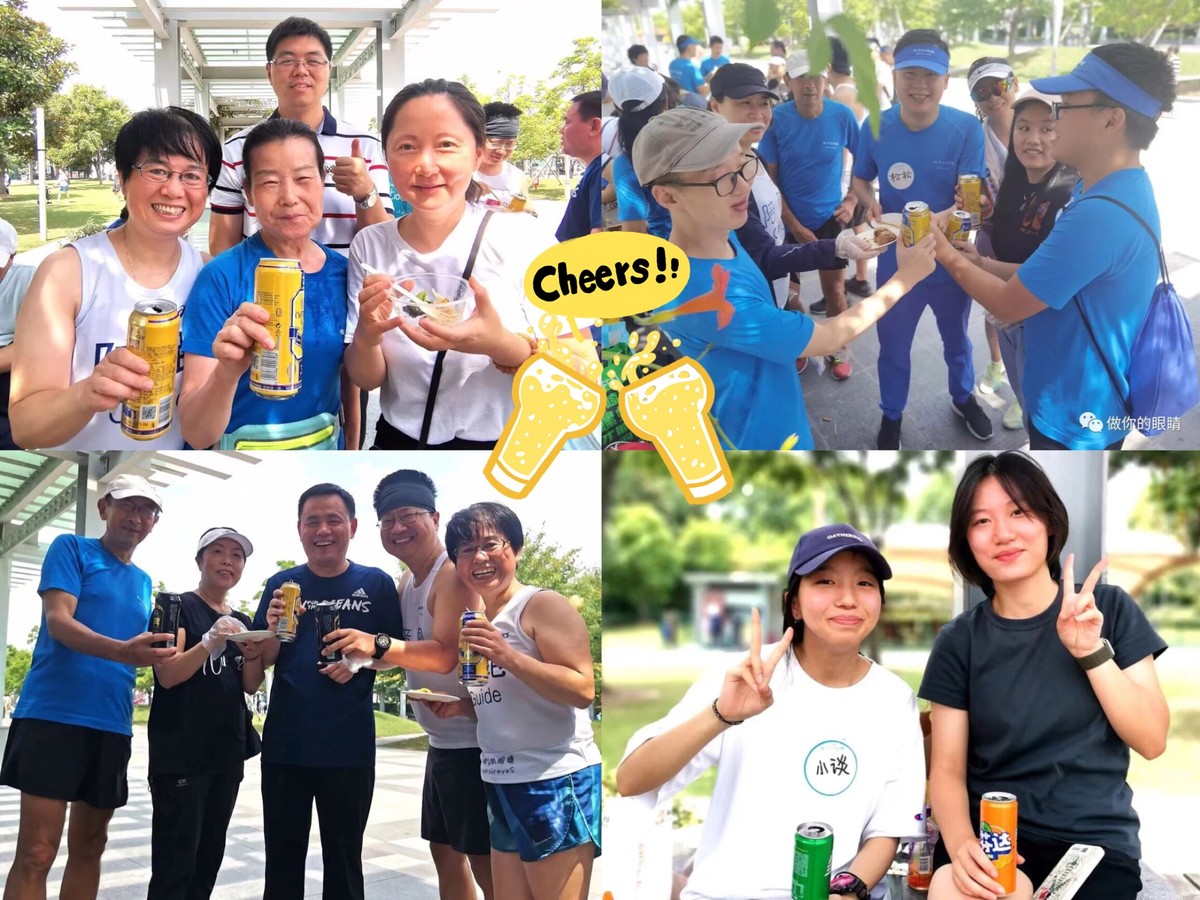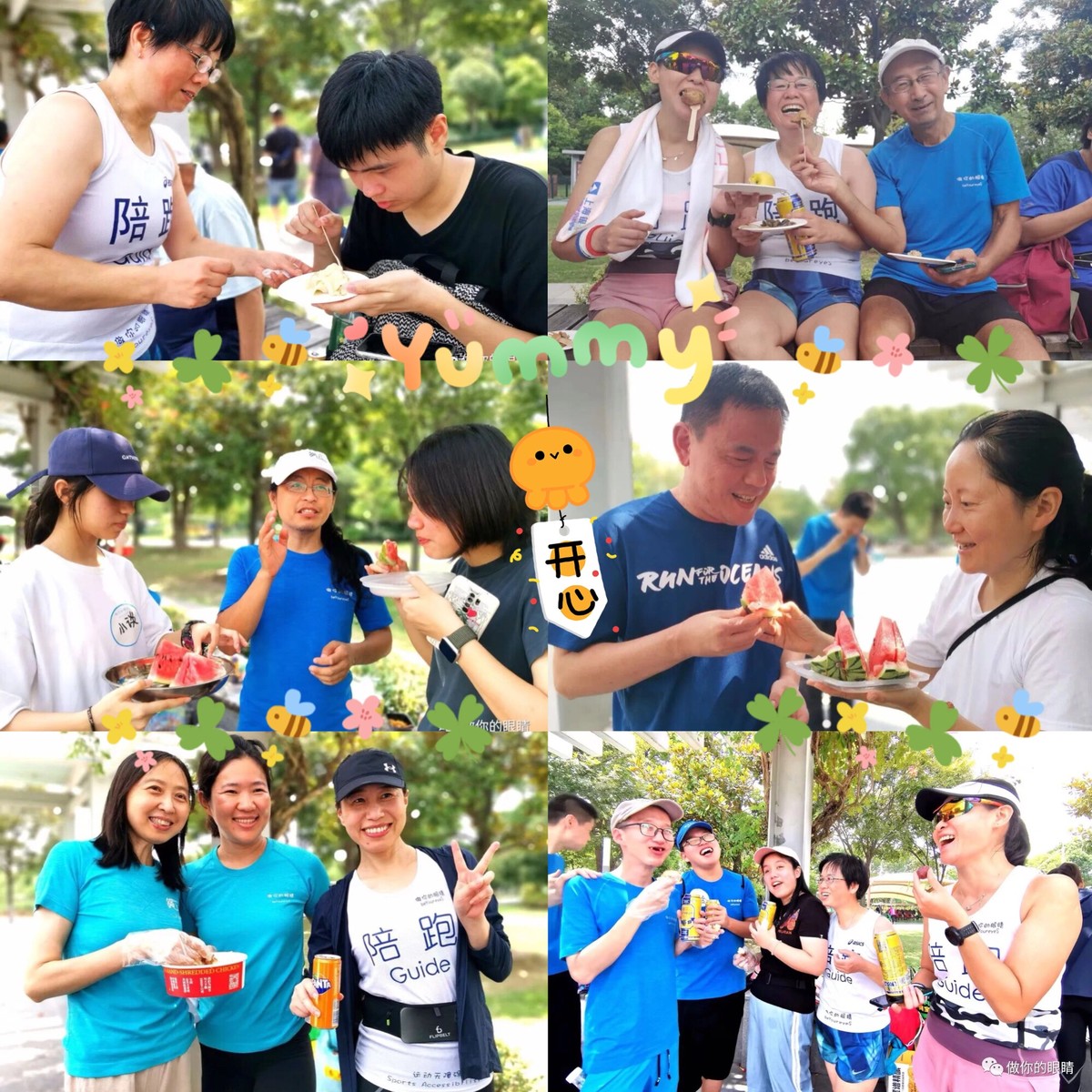 Photo: Have a good time, eat and talk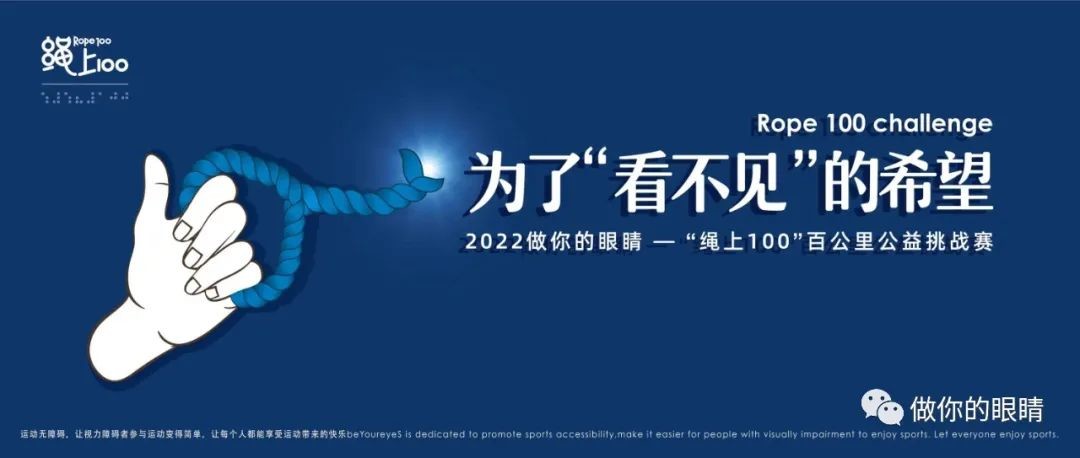 Photo: Rope 100 Challenge
2022绳上100报名开启,国庆长假组队挑战100公里
2022 Rope 100 registration began, National Day Holidays team challenge 100 kilometers.
9月28日至10月4日,2022绳上100挑战赛开始报名,并在长假期间内开始打卡。
本届绳上100挑战赛分3个组别:个人组、陪伴组和团队组。
成功组队的挑战者在国庆长假7天内完成100公里的累计有效运动距离既完成挑战。
From September 28th to October 4th, registration of 2022 Rope 100 began to clock in during the holidays.
The Rope 100 challenge was divided into 3 groups: personal group, company group, and team group.
Teams are considered as successful challengers by completing a total of 100 kilometers within 7 days golden week holidays.
Corporate Social Responsibility Activities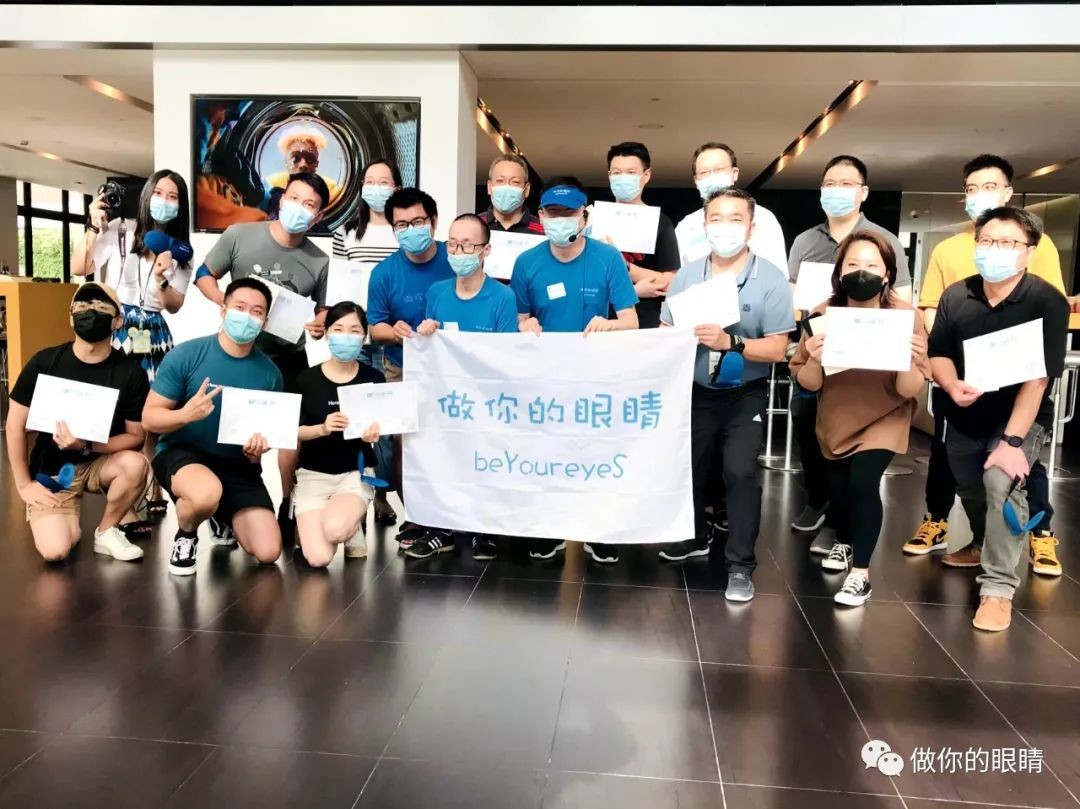 Communicate and understand one another, a technology company's CSR activity.
9月9日,蓝睛灵在某科技企业的园区,为该企业员工带来了一场做你的眼睛企业CSR活动。
活动中,两位无障碍引导师通过游戏和分享,让参与者们感受了障碍和无障碍的相关理念。
在这个园区里,这家科技企业招聘了多位全职视障员工。
因此,引导师特意向大家介绍了在就餐等场景下,如何与视障者沟通,如何安全地引导视障伙伴的细节。
在分享中,企业参与者们感受到了沟通是有效了解视障同事需求的好方法。以沟通促进彼此了解,以了解共建无障碍的办公生活。
On September 9th, beYoureyeS carried out a CSR activity in a tech company campus.
During the activity, two lecturers introduced to the participant the barriers and accessibility concepts by games and information sharing. In this enterprise park, the tech company had recruited several full-time visually impaired employees.
Therefore, lecturer specially introduced the details of how to communicate and guide visually impaired partners under the dining and other scenarios.
During the sharing, company participants understood that communication is the key to comprehending visually impaired colleagues' needs. Communication is way to promote muted understanding and build accessibility in office life.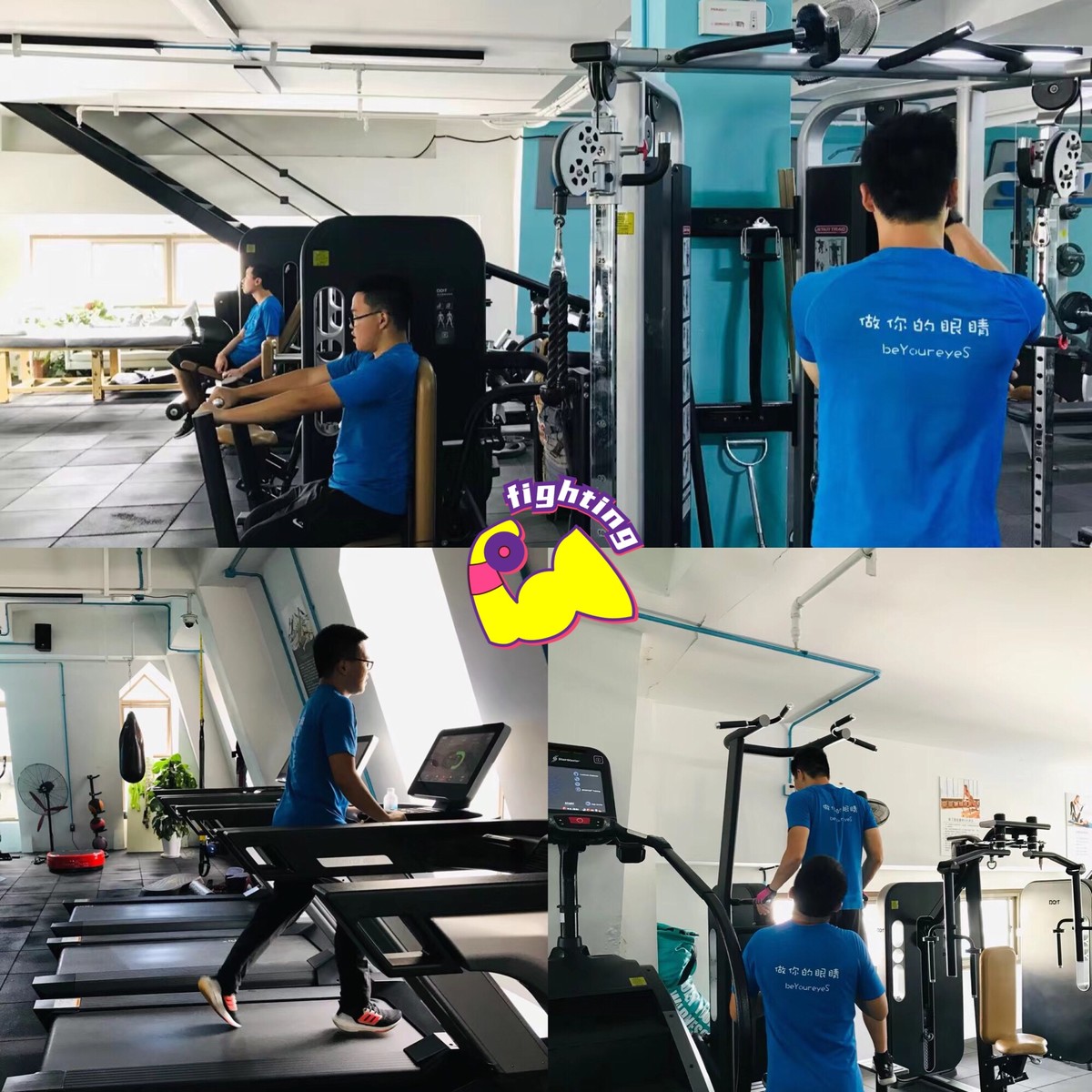 In the 61th Fitness 100, visually impaired participants returned to the gym.
9月27日下午,3位视障健身爱好者跟着Aidon教练来到了阔别两个多月的Core's健身俱乐部,参与第61期看健100无障碍健身活动。
视障伙伴们带着重逢的喜悦,复习健身器械的使用要点,大家很快就找回了健身的感觉。
On the afternoon of September 27th afternoon, 3 visually impaired fitness enthusiasts followed coach Aidon to the Core's fitness club, which had been closed for over two months, to participate in the 61th "Fitness 100" accessible fitness activity.
Visually impaired friends reviewed key points in using the gym equipment with the joy of reunion, and soon found the feeling of physical exercise.
1、当艺术遇见视障者,无障碍观展和体验一个都不能少
1、Accessible exhibition and experience are required when arts meet visually impaired.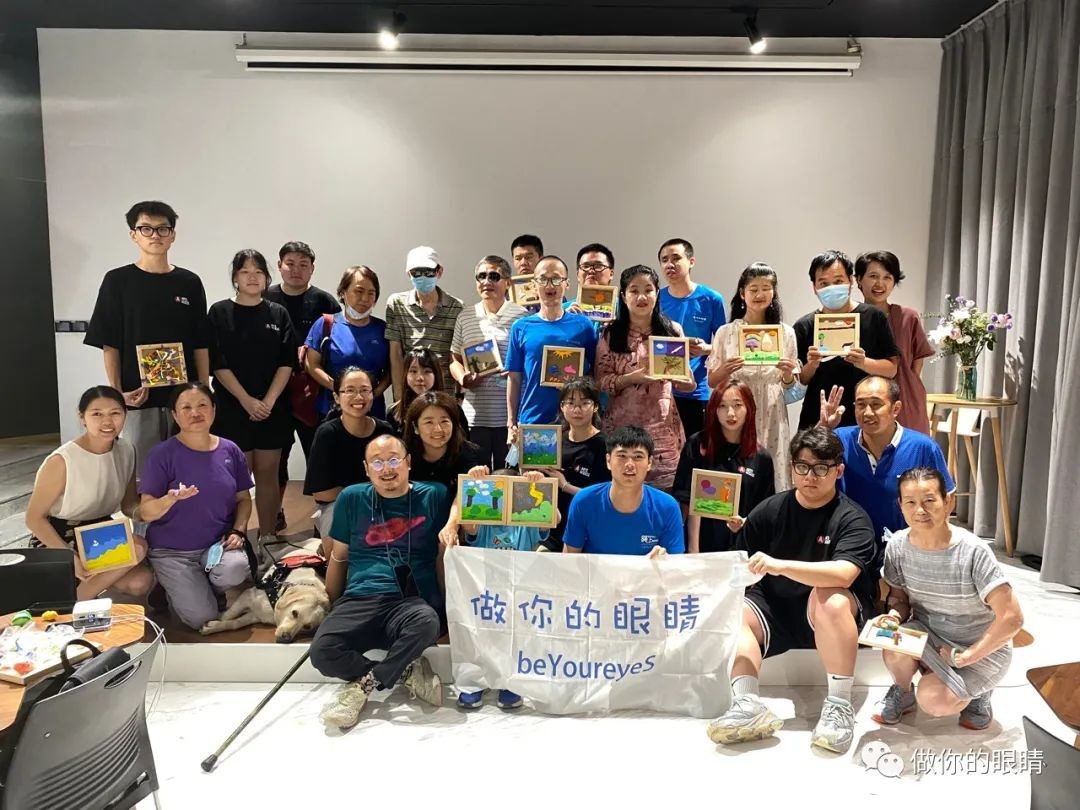 9月4日下午,10多位视障者及志愿者受邀来到了浦东碧云美术馆,参加了刘毅个展视障导览活动以及"我心中的自然"艺术工作坊。
本次无障碍导览活动由Arts Access融艺团队提供无障碍解说,开展了以触觉来创作作品的艺术工作坊,艺术家刘毅本人也全程参加了本次活动并与参观者们互动交流、分享关于艺术和人生的感悟。
On September 4th afternoon, more than 10 visually impaired and volunteers were invited to Being Art Museum to participate in Liuyi's solo exhibition of visually impaired touring activity and the art workshop of "The Nature in my Heart".
Arts Access inclusive art team provided accessible commentary for the accessible touring activity, an art workshop on recreating works by touch had been carried out. Artist Liuyi also participated in the activity and interacted with the visitors, shared thoughts about arts and life.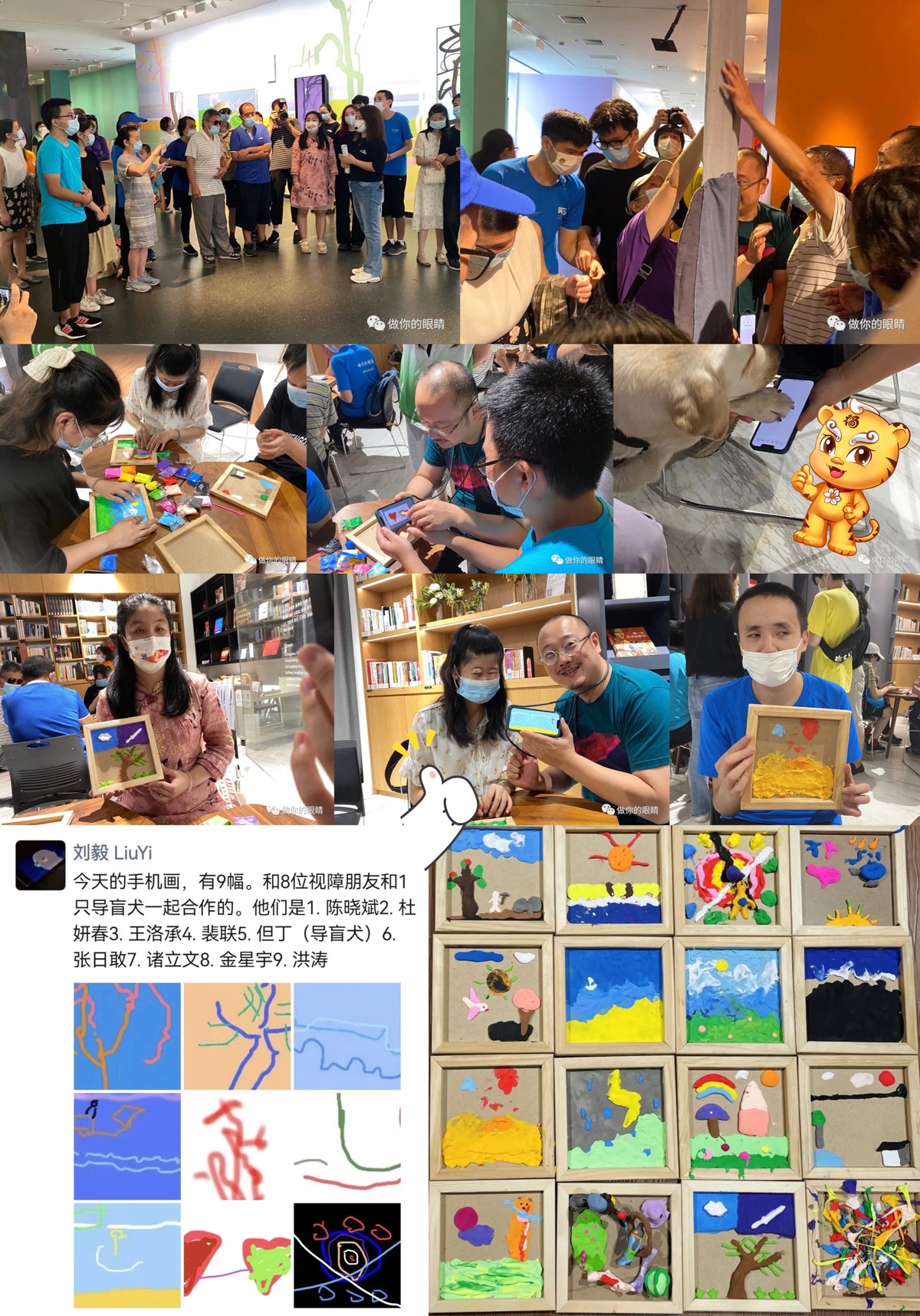 Photo: Accessibility experience
通过无障碍且多样化的活动形式,让包括视障者在内的所有参与者都能了解艺术作品的内容、艺术家的创作灵感和想要表达的思想,激发了大家的创作积极性,在工作坊中插上了想象的翅膀无障碍地体验了创作的快乐。蓝睛灵公益组织亦协同参与本次活动的策划和前期准备工作。
Through accessible and diverse forms of activities, all the participants, including visually impaired, could understand the contents of art works, artists' creative inspiration and the ideas. This motivated people's enthusiasm for creation, and allow them to experience the joy of creation in the work shop with the wing of imagination.
BeYoureyeS charity organization also participated in the planning and preparation work of the activity.
2、蓝睛灵受邀参与DAWA系列"十分之一(Black Dog)"展览开幕式
2、BeYoureyeS was invited to the opening ceremony of DAWA "Black Dog" exhibition.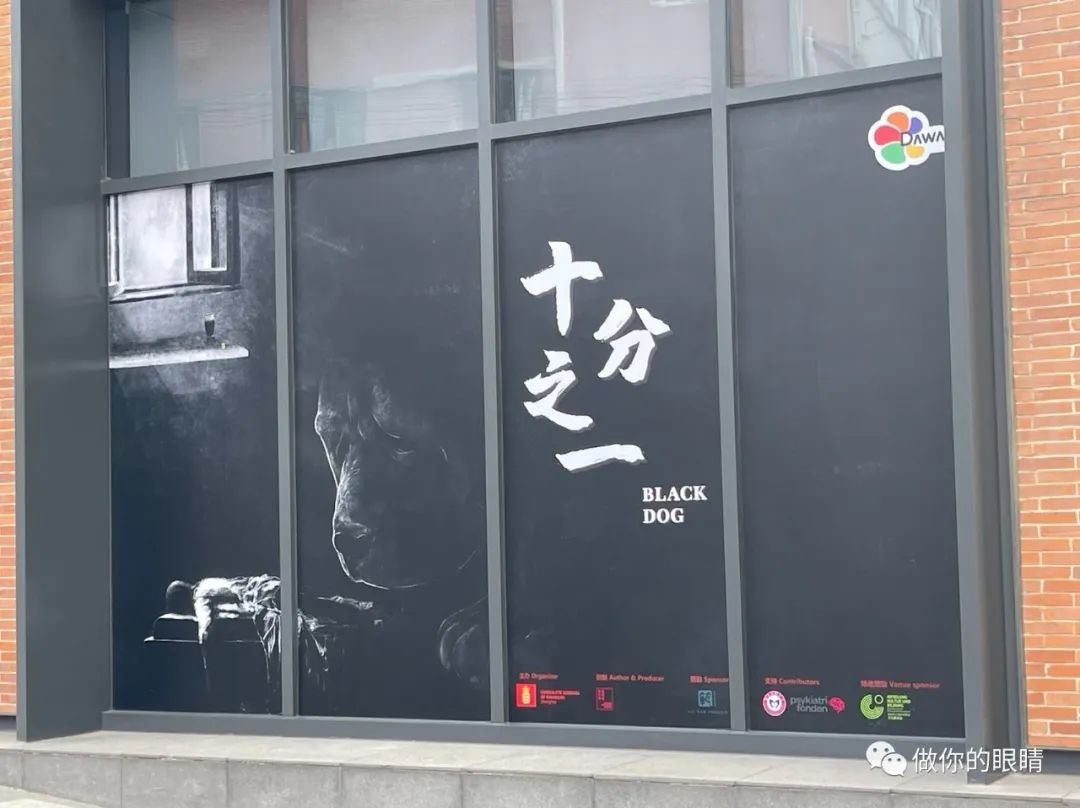 图:DAWA系列"十分之一(Black Dog)"展览
Photo: DAWA "Black Dog" exhibition
9月20日,4位蓝睛灵受邀来到德国驻上海总领事馆文化教育处,参加了DAWA无障碍文化节系列展览活动"十分之一(Black Dog)"展览的开幕式。
On September 20th, four of our members were invited to the Germany Consulate-Generals Education and Cultural Section in Shanghai to participate in the opening ceremony of DAWA Festival's exhibition, "Black Dog".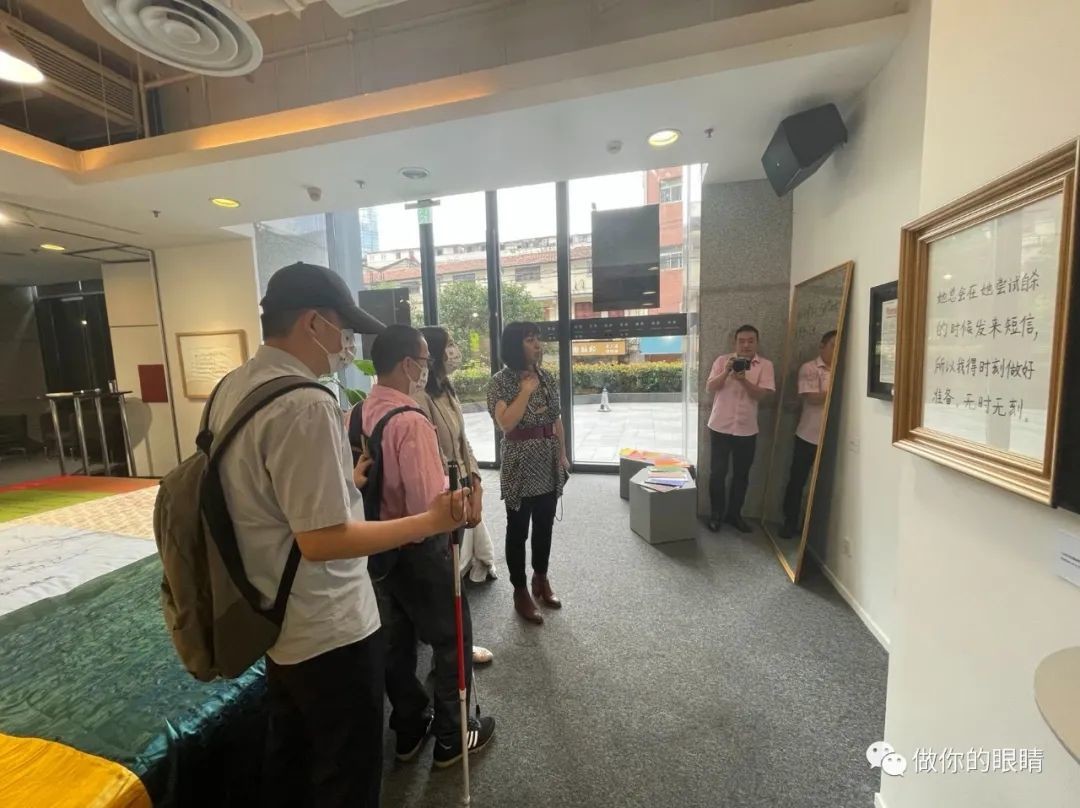 Photo: Experience accessible touring
本次活动由丹麦使馆主办,希望公众尝试了解抑郁症人群。本次展览提供无障碍导览支持和手语翻译,蓝睛灵的两位视障参观者听着现场的无障碍解说,与健视参观者一样观展,了解到陷入抑郁症的人们是如何不断尝试摆脱"黑狗"或者努力与"黑狗"共存。
The event was hosted by Danish Embassy, aiming at promoting public awareness of the people with depression. Accessible touring and sign language interpreting were provided by the exhibition. Two of our visually impaired members listened to the accessible commentary and visited the exhibition alongside the healthy visual visitors, learned about how people trapped in the depression are constantly trying to get rid of the "black dog" or to coexist with it.
3、BeYoureyeS was invited to the seminar on inclusive employment for disabled.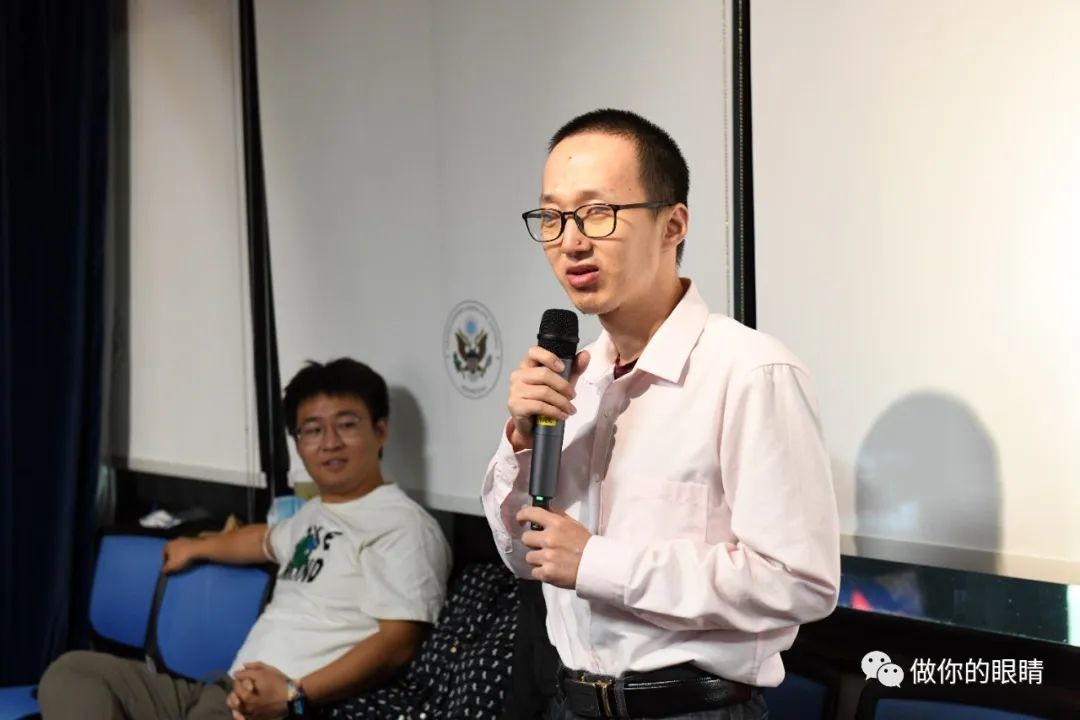 Photo: Seminar shared by Xiaobin
9月29日晚,三位蓝睛灵受邀来到上海美国中心,参加希儿森儿童服务中心与上海美国中心联合举办的残障者融合就业研讨会。
In the evening of September 29th, three members of beYoureyeS were invited to Shanghai American Center to attend the seminar on inclusive employment for disabled, which was jointly organized by Xiersen Children Service Center and Shanghai American Center.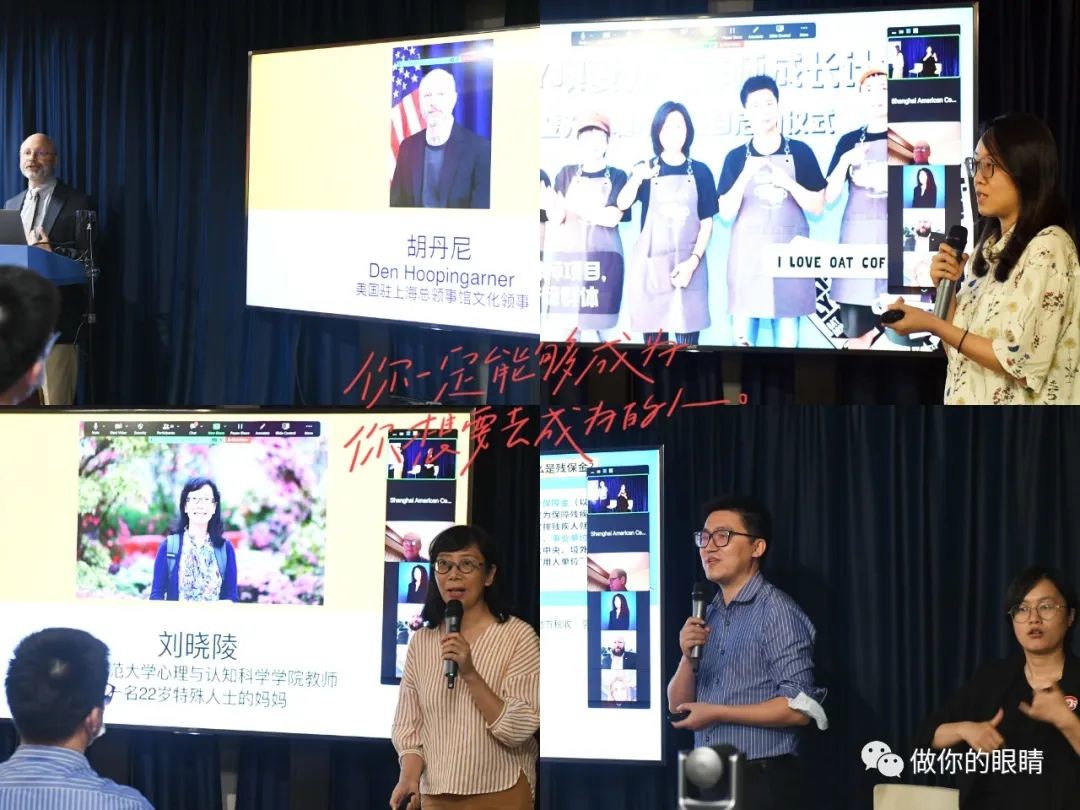 Photo: Seminar Guest Sharing
此次研讨会,4位嘉宾以不同角色,从多个角度,探讨了心智障碍人群和听力障碍人群学习职业技能和尝试融合就业的现状。
In the seminar, four guests, in different roles, and from different perspectives discussed the current situation for people with mental and hearing disabilities to acquire vocational skills and the attempt of inclusive employment for people with mental and hearing disabilities from different perspectives.
Lanjingling's Colorful Lives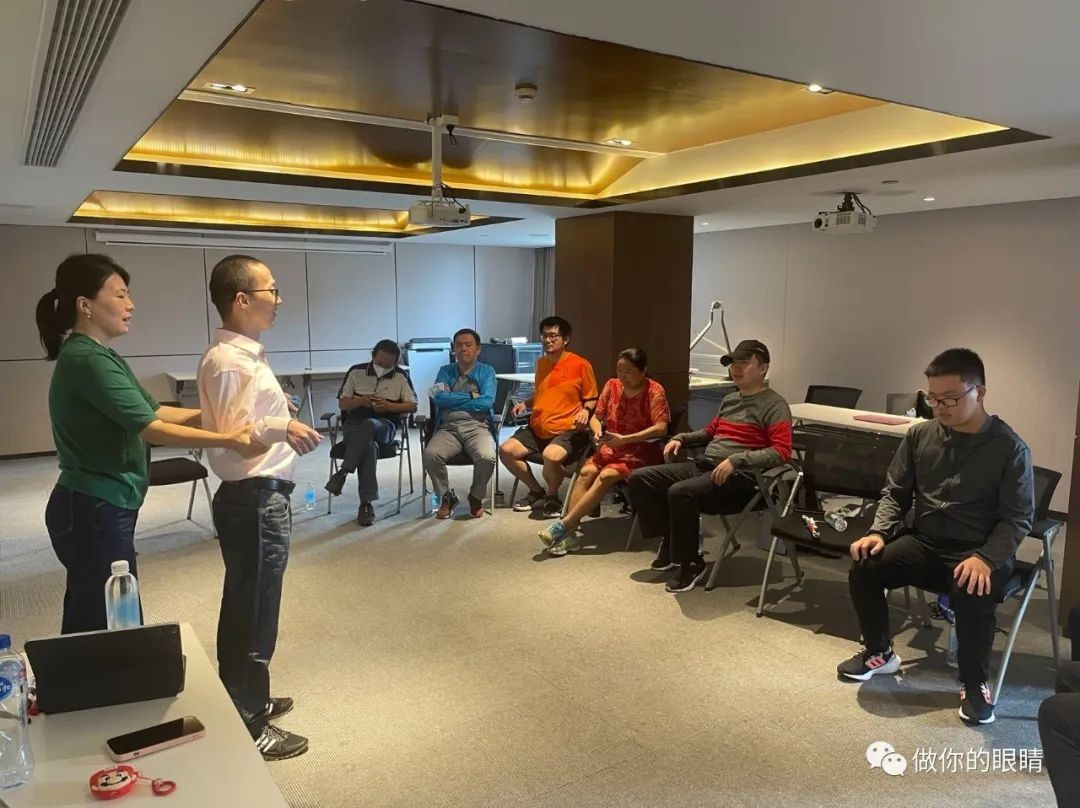 Lanjingling's inner training, enhance the professional ability of the team.
9月22日和24日,蓝睛灵工作人员和部分志愿者参加了为期两天的封闭式内部培训。
大家跟着Linda老师的引导,进行分享、讨论和现场演练,增加了专业技能、提升了职业素养。
On September 22nd and 24th, beYoureyeS staffs and some of the volunteers took part in two days of closed door training.
Under the guidance of teacher Linda, we shared, discussed, and conducted practice on strengthening our professional skills and enhance our professional qualities.
This marks the end of this month's newsletter, thank you for readingg, see you next month.
蓝睛灵周刊

|

刘毅个展视障导览,艺术无界,心有自然

&

抓住今夏尾巴常规活动301期,2022第36周(总第316期)

你感受过一棵树的悲欢吗

蓝睛灵周刊

|

月满中秋,做你的眼睛开展企业CSR活动、常规活动302期、中秋聚餐~2022第37周(总第317期)

DAWA国际无障碍文化节官宣!40余场活动虚席以待!

活动记录

|

阳光雨露,皆是礼物——写在9月4日浦东碧云美术馆视障导览及工作坊之后(附活动视频)

蓝睛灵周刊

| DAWA国际无障碍文化节融合体育活动&无障碍意识工作坊,常规活动第303期,~2022第38周(总第318期)

蓝睛灵周刊

| DAWA国际无障碍文化节之"十分之一"展,蓝睛灵团队内训,周末活动第304期~2022第39周(总第319期)

#做你的眼睛 很棒的阳光和很阳光的少年

百日计划|"百日计划"第三期拓展新企业合作,残障实习生岗位招聘信息
做你的眼睛是一个民间自发的公益活动,于2015年1月在上海发起,致力于推动运动无障碍,让视障者参与运动变得简单。
beYoureyeS is a local NGO founded in January 2015, in Shanghai, and is dedicated to promoting sports accessibility, making it easier for those who are persons with visual impairments to enjoy sports.